Traditional marriage cake designs in Nigeria
Creative traditional marriage cake designs are an imminent part of Nigerian weddings. You will hardly ever meet such a diversity of designs and styles in any other culture and any other country. There are several types of marriage cakes and all of them are astonishing, indeed. Just keep on reading and you will see incredible pictures of the most outstanding, unusual and lovely wedding cakes right from wedding!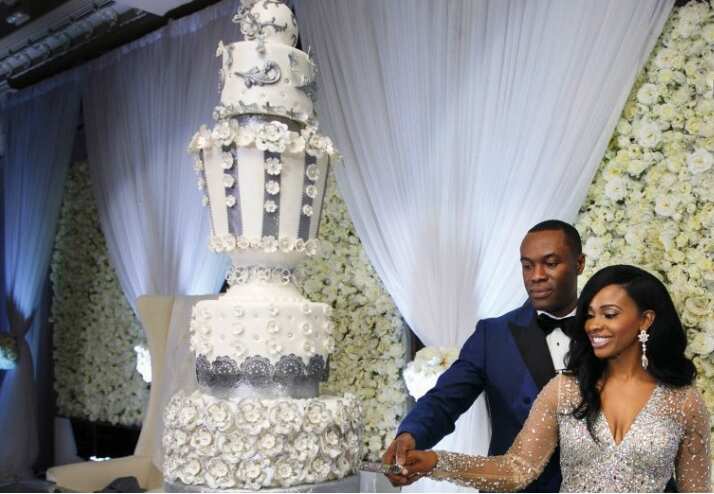 Image source: pinterest.com
What are the traditional wedding cake decorations in Nigeria?
The main feature of a wedding cake in Nigeria is its astonishing appearance. If you start to compare different wedding cakes made for different couples, you will see that there are hardly two similar ones. Each one is unique and as creative as possible. Actually, the creative design is a thing that makes Nigerian wedding cakes so special.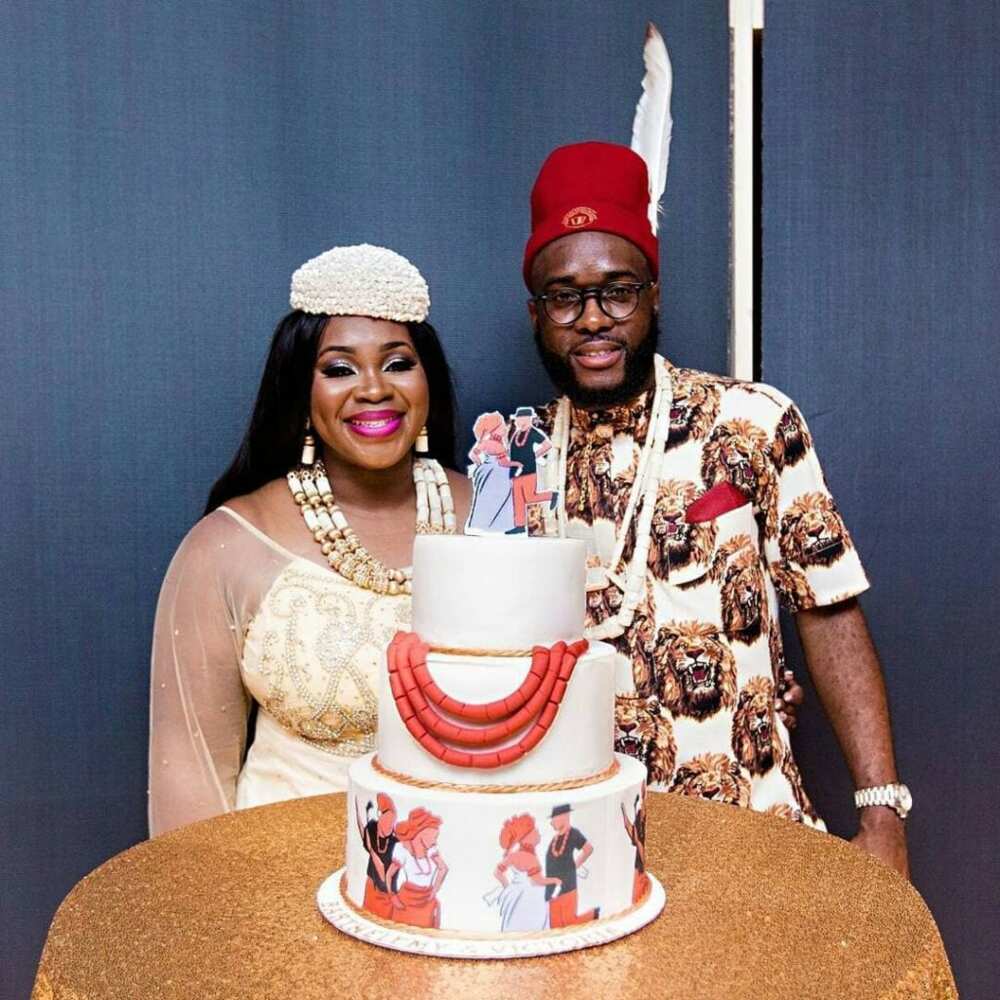 Image source: pinterest.com
READ ALSO: Nigerian wedding cakes: Bizarre designs
If you are making a wedding cake in Nigeria, you definitely have a recipe of the cake that's inside the luxurious decorations. However, from the outside, there's a masterpiece that's unique each time and for each couple.
When it comes to the exterior, you are to express all your imagination and creativity in the design of each separate cake. There's always something special about each couple that should be conveyed in their special cake. It's one of the things to remember from their wedding day.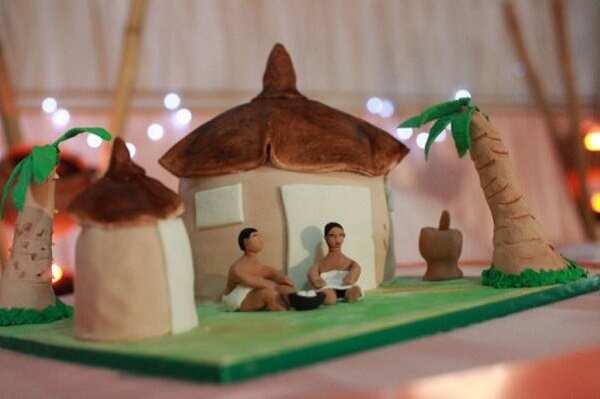 Image source: pinterest.com
There's a range of objects that can be seen among other decorations of a wedding cake. They are usually as follows: traditional Nigerian beads that can be seen on both brides and grooms, travel bags and clutch bags, walking sticks, traditional men's caps and gele, jewelry and elegant women's shoes, luxurious fabrics with golden decorations, fruit baskets and pots of rice, and even edible money.
Quite often, you can see dolls make in the shape of the bride and groom and dressed exactly like the couple. These figurines are also edible but they can be kept by the couple as a keepsake, as something from their wedding day. Decorating the cakes with mini-me is popular among all the tribes and ethnic groups in Nigeria.
Some Yoruba traditional wedding cakes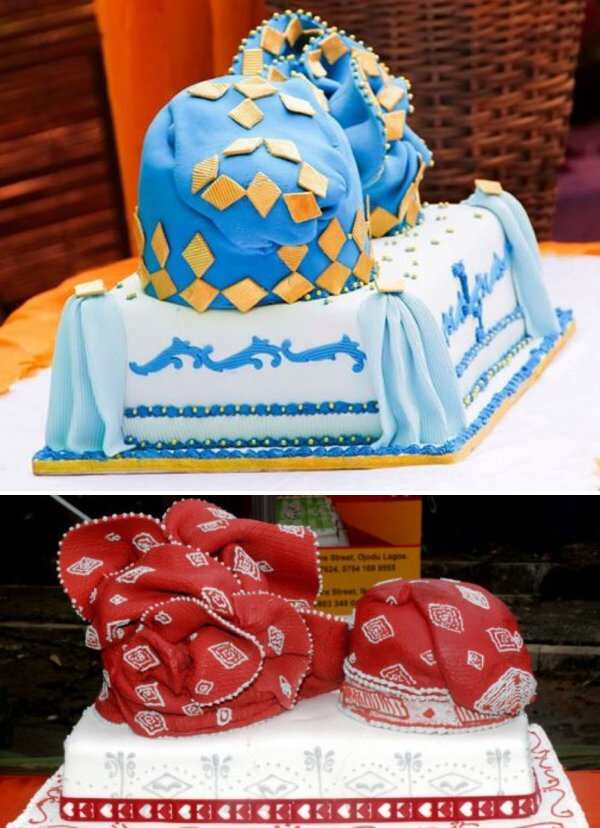 Image source: pinterest.com
Yoruba couples often decorate their wedding cakes with headgear like traditional fila caps that men wear and female gele. As a rule, these items match the ones that the groom and the bride wear on their wedding. In these pictures, you can see a blue set of headgear and a red one. These items exactly match the ones of the happy couple. As you can see, the cakes are decorated with the same colors to keep the color code of the wedding.
Yoruba couples like bright and unusual cakes, too, and often decorate their items with the dolls that depict the bride and the groom.
Ideas of Igbo traditional wedding cakes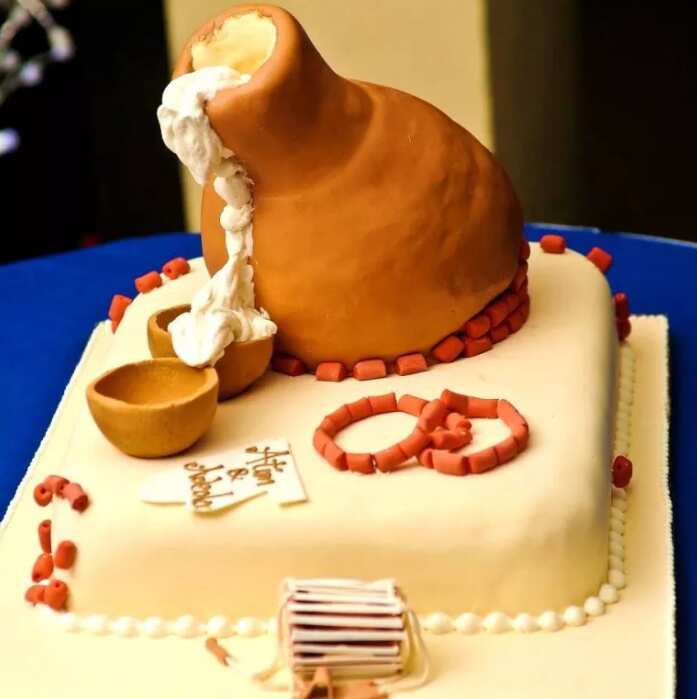 Image source: pinterest.com
READ ALSO: Igbo traditional wedding cakes
Many of Igbo traditional cakes for a wedding ceremony bear decorations made out of the items that play a big role in the Igbo culture. For instance, some of them are big edible pots filled with something that resembles diverse Nigerian gourds with their regular filling and handfuls of kola nuts that look very natural and tempting!
Quite often, such cakes have few additional decorations, just a surface where the gourd is installed and that's all. However, it's not a rule and you can encounter big and brightly decorated cakes of this type.
Other marriage cake topping designs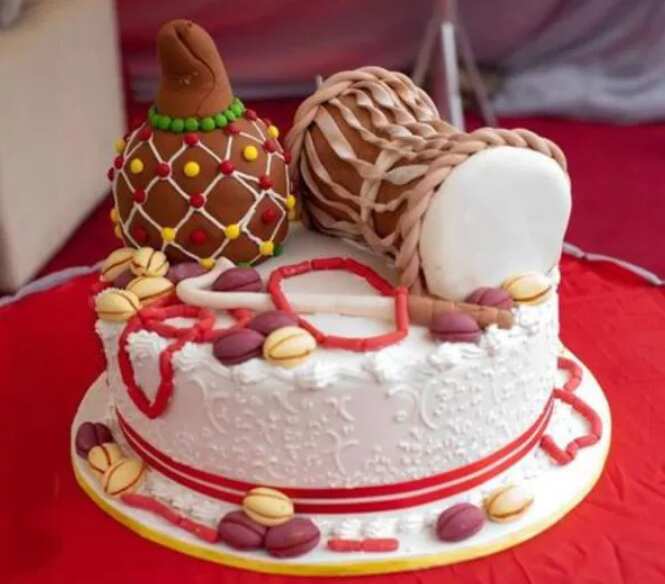 Image source: pinterest.com
Many Nigerian cakes are decorated with one of the most popular musical instruments in the country, the talking drum. Since it's a very important musical instrument for the Nigerian culture, it may appear on the cakes that belong to any of the Nigerian tribes or ethnic groups.
Another popular topping design involves suitcases of different sizes. As a rule, there is a set of suitcases ranging from a big one at the bottom and the smallest one at the top placed one on another and crowned with additional decorations. These can be fans, flowers, fruits, other fashion accessories, and, of course, the mini-me figurines of the couple.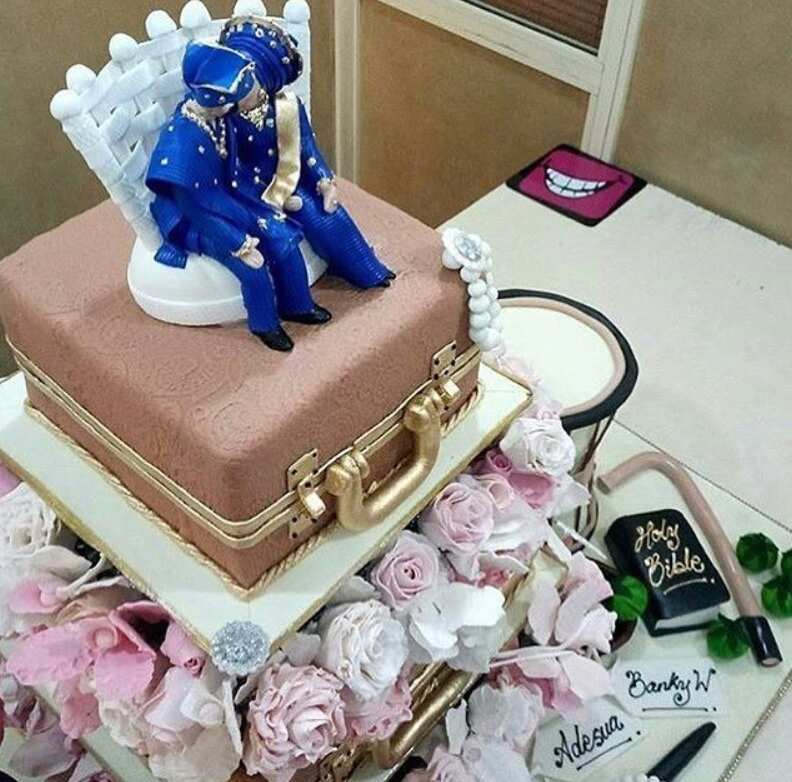 Adesua Etomi and Banky W's wedding cake
Image source: pinterest.com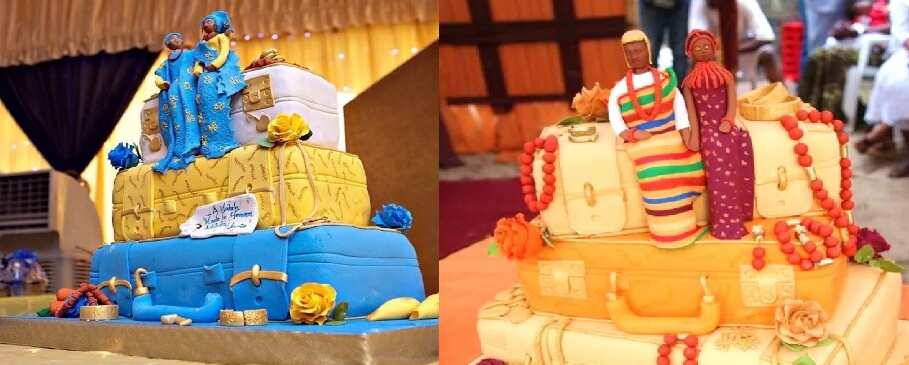 Image source: pinterest.com
These suitcases are usually brightly colored and richly decorated with golden or silver elements. They normally match the colors of the couple's wedding attire. In separate cases, one of the dolls is kneeled in front of the other in the sign of love and total worship of the spouse. In some cases, it's the bride, and sometimes, it's the groom. Quite rarely, you can encounter cakes, on which the groom is spread on the floor in front of the bride, just as the ancient custom says.
Sometimes, Nigerian wedding cakes are also decorated with small edible copies of the Bible. The Book is usually closed but sometimes its pages may be opened to reveal some of the most suitable quotes about love, marriage, and family.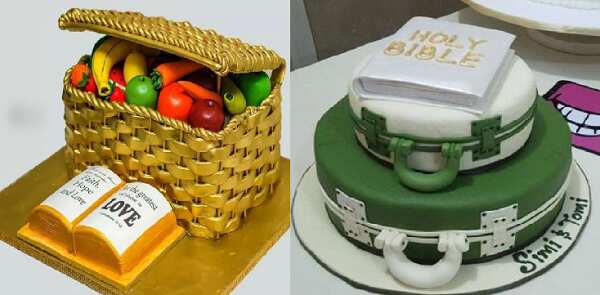 Image source: pinterest.com
READ ALSO: Wedding anniversary cakes with names in Nigeria
If the cake maker is very creative, the cake can be decorated with everything you can imagine. It can represent a tiny car, in which the couple is seated, or any other items of luxury. Sometimes, what's called a cake looks like the bride price the groom has to pay and involves exactly the same items: the Bible, yam, gifts for the parents, etc.
Some very lovely wedding cakes are finished in a so-called African style. This is a style that's often used in western interiors to give them an 'African' touch. It includes certain color combinations, ancient African patterns, crockery of a certain type, animal prints, and a lot of exotic bird feather.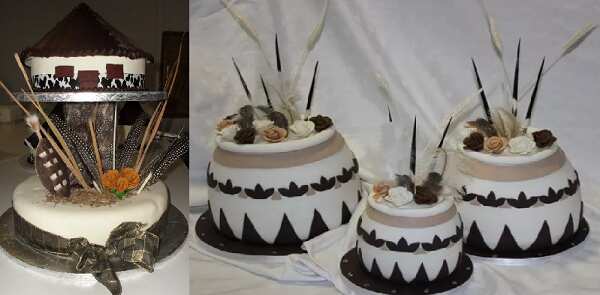 Image source: pinterest.com
In these ethnic cakes, the details and accessories are reproduced to the smallest details from edible materials. Such cakes really look very attractive and simply stunning.
White traditional marriage cakes in Nigeria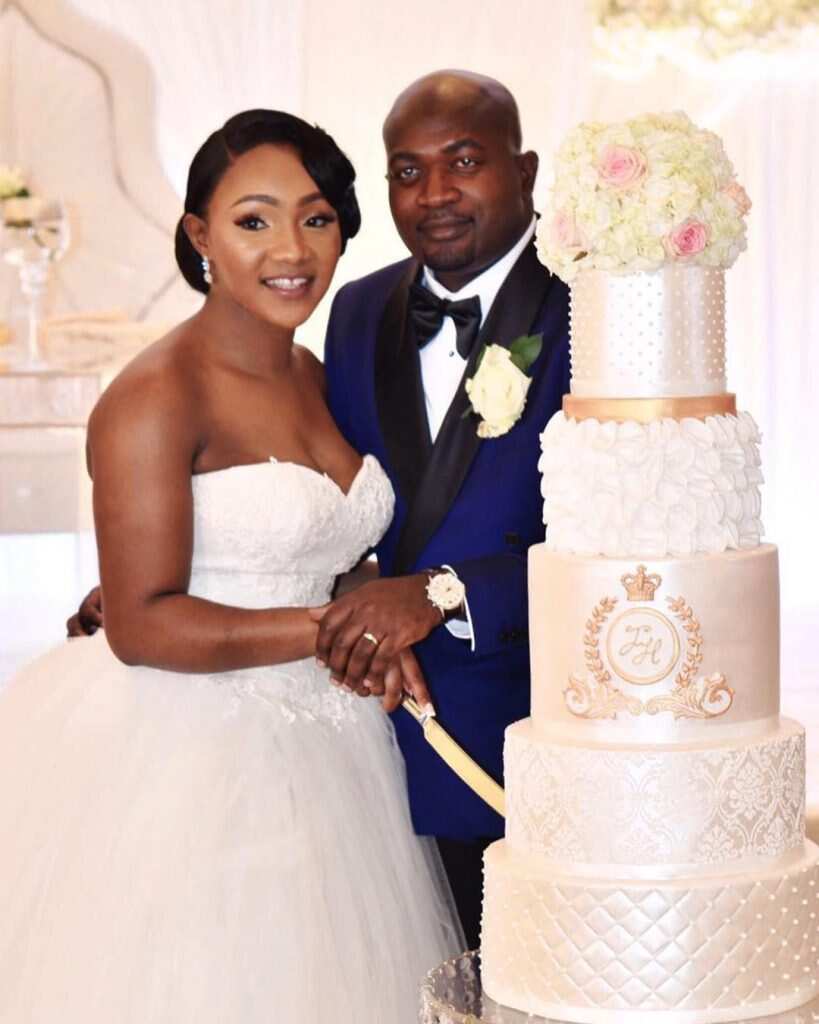 Image source: pinterest.com
Some couples prefer having a white wedding cake that looks like the western ones. It's normally composed out of several big parts decorated with cream and other means. Such cakes are masterpieces, too, because they are not just white: they are rich and luxurious just as everything connected to weddings in Nigeria.
Some are decorated with edible lace and it looks extremely elegant and delicate. As a rule, the style is created with the help of garlands of edible flowers, which either add color to the monotonous whiteness or, instead, emphasize the white purity.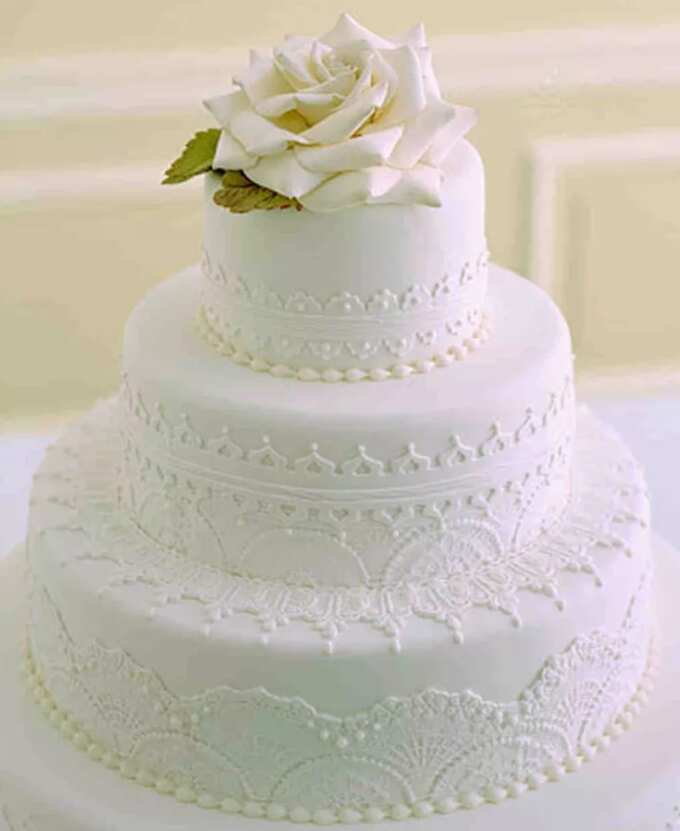 Image source: pinterest.com
Sometimes, white layers of such cakes interchange with colored ones. The colors are mostly pastel and delicate to sustain the atmosphere. Quite often, you may notice golden or silver letters attached to the cake. These are usually the first letters of the couple's names.
It's very popular and stylish to decorate such cakes with edible pearls or beads. They look stunningly beautiful and luxurious. Sometimes, decorative borders of white cakes are made out of white chocolate that's molded in a specific way and coated with some food golden paint.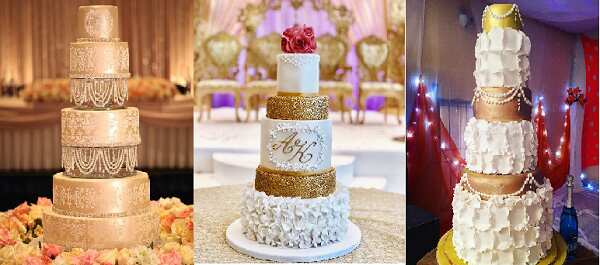 Image source: pinterest.com
There's a separate chapter in the cakes that look like western ones, and these are golden cakes. They are normally colored into a pale golden hue with the help of special food coloring and decorated with luxurious ornaments, strings of edible pearls, edible lace, and so on. Such cakes, certainly, appear at weddings of quite well-off people because the creation of such a masterpiece is really a tough work. However, such a cake is an accessory, which the couple will remember forever.
These are the most popular traditional cake designs to choose from. If you are searching for ideas of your own wedding cake, feel free to use any of these ideas and add your own imagination and creativity. If you have a good baker, there's nothing impossible!
READ ALSO: Yoruba traditional wedding cakes: Best ideas
Source: nigerianweddingguide.com
Source: Legit.ng