Yoruba introduction dressing for ladies
The introduction ceremonies are big deal in Nigeria, and the future bride always has to look fabulous. Do you want to make a great impression on your husband-to-be's family? Find your perfect attire for introduction ceremony. Learn about Yoruba introduction dressing for ladies and different options you can choose from.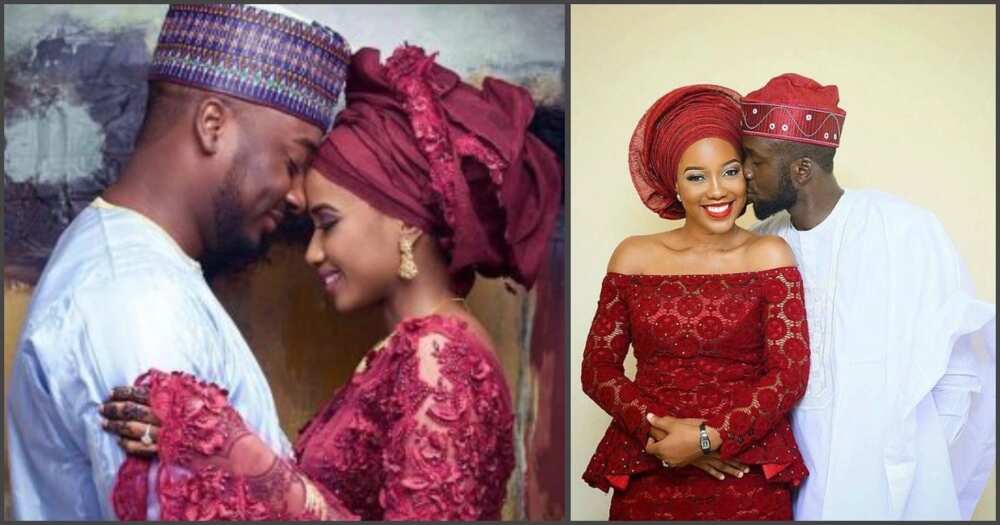 Yoruba wedding introduction: the importance of dressing
As we know, the Yoruba introduction ceremony is a really big deal in Nigeria when two people decide to get married. The first stage for two lovers to make their union official is a proposal, and the second one is the formal introduction to each other's families. This ceremony takes place before the couple gets married. Both groom and bride would like to look at their best during the introduction ceremony.
Of course, there are no particular rules about dress code, but usually, the bride is expected to be dressed appropriately. Often women put on the traditional wears. It is strongly recommended that for the introduction ceremony, you try out one of the Yoruba native wears. Your outfit should be fashionable and make a great first impression on the groom's family.
Sometimes it could be difficult to choose the outfit that completely matches your personality and taste, and is still fashionable and trendy. You do not have to wear anything that does not make you entirely comfortable, but you will definitely want to go beyond your usual limits this time. This post will bring you some of the trendiest Yoruba native wears. Get inspired!
READ ALSO: Yoruba introduction ceremony list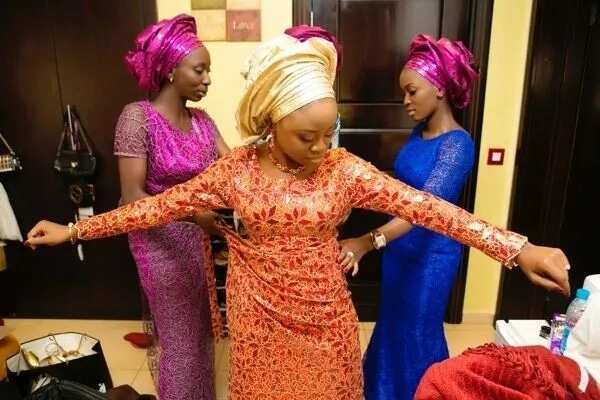 1. Classy black dress with yellow elements
If you are all for comfort and simplicity, you can opt for the regular black dress. However, you can also wear a yellow shoulder wrap and gele, which would go perfectly together with the classic. To complete your look, you can search for some cool and noticeable accessories, like big earrings and gentle bracelets.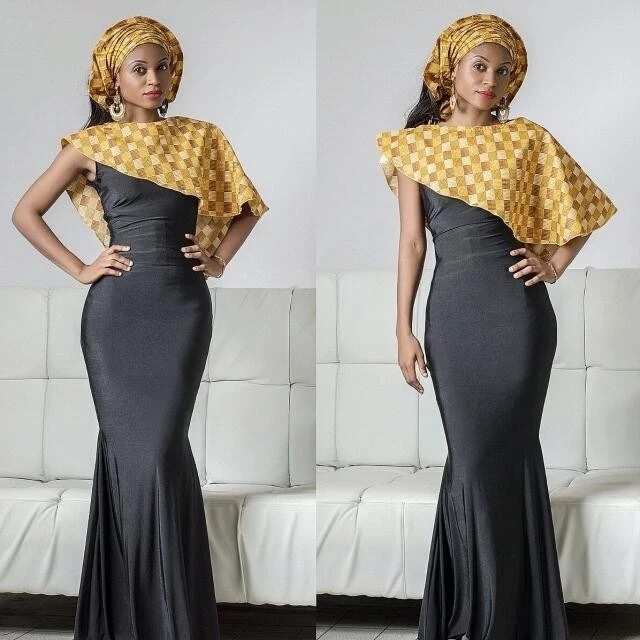 2. Red color dress
If you love the color red, this hot and elegant dress could be a top choice for you. You can balance the outfit with a shiny clutch bag and white accessories.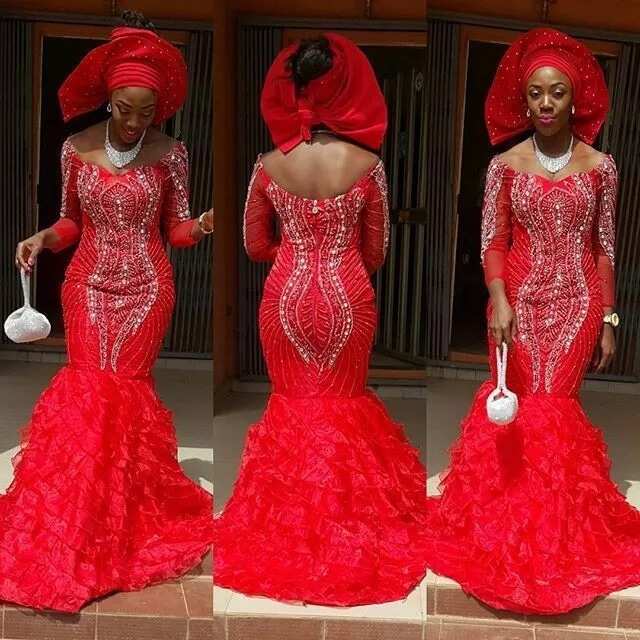 3. Charming white-purple mix
In case you are more of a two-colored outfit fan, you can mix the two tones that you probably would not usually think of combining – white and purple. It will also look well together with bright and appealing makeup. Do not be afraid – try bold tones!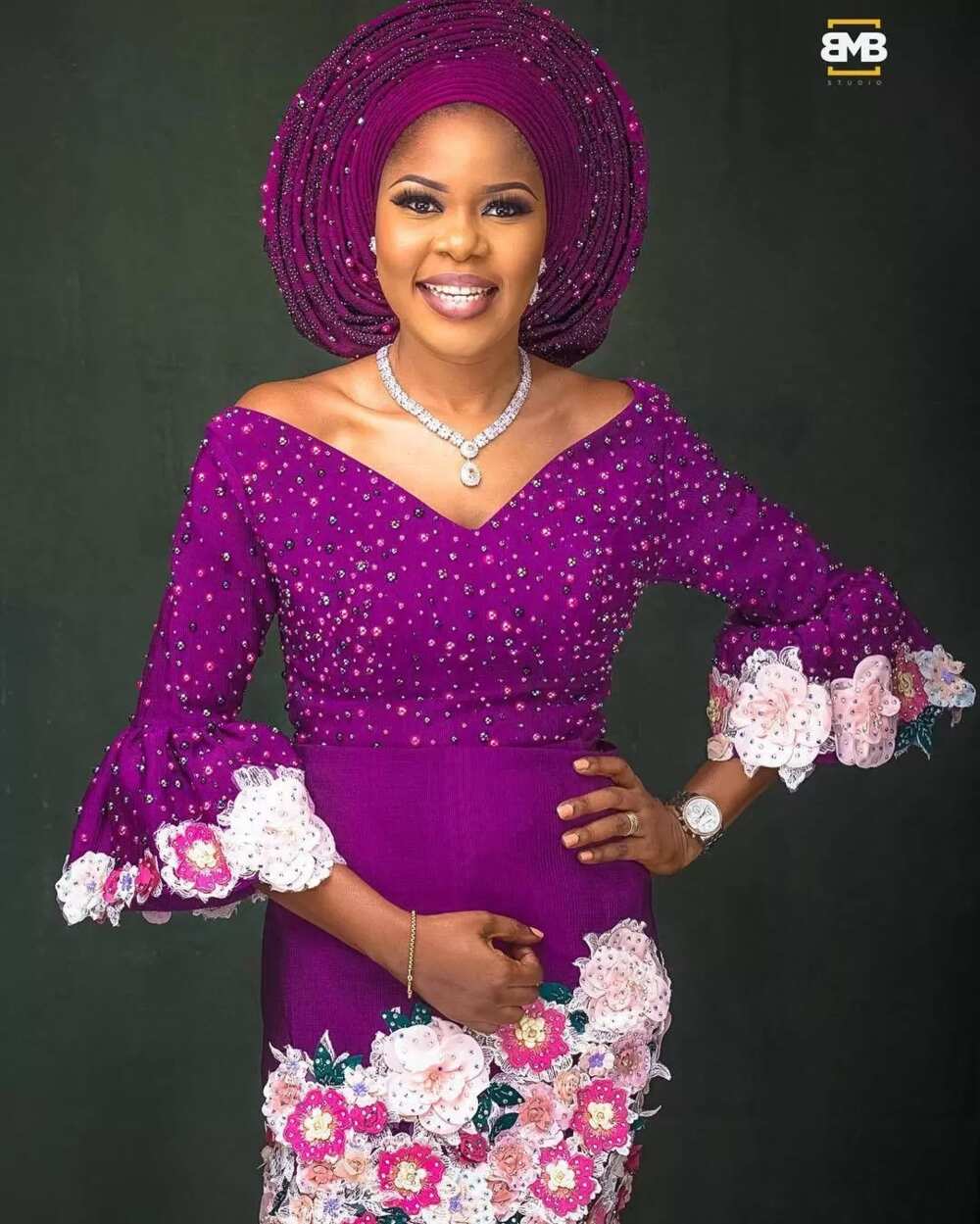 4. Magenta madness
Everyone will definitely remember you in this unforgettable magenta dress. This color is instantly noticed in the crowd, and if you are a lover of something deep and bright, you will probably appreciate this option. The ultra-bright pink color can be balanced with the modest pink or white head wrap with some rose-colored highlights. The silver or light pink clutch would add some glamour to this amazing look.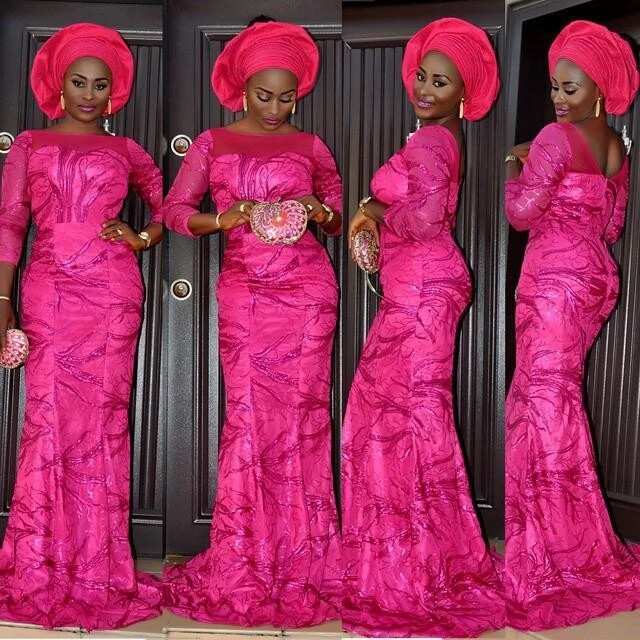 5. Aquamarine beauty
The aqua blue color will be always a win because it goes extremely well with the African woman's dark skin. This dress is one of the ideal options for the introduction ceremony.
READ ALSO: Fashion in Nigerian traditional styles: latest tendencies of 2018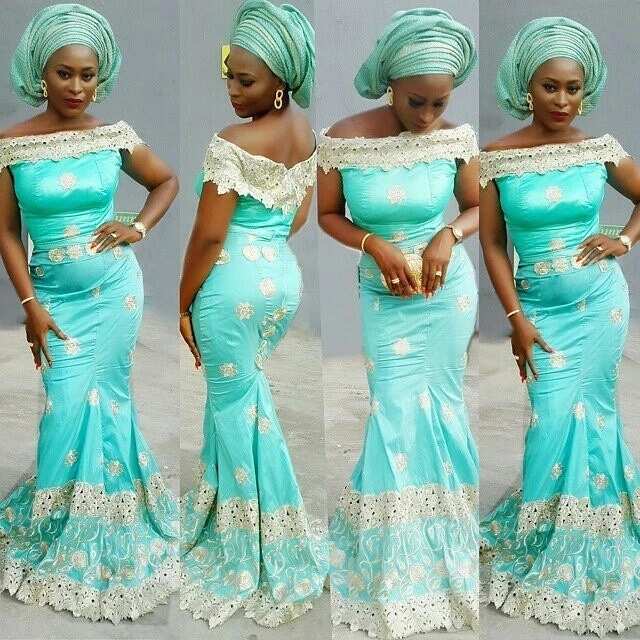 6. Navy blue dress with lace
This is a perfect aesthetic for someone who likes darker colors. Dark blue will emphasize on your figure very well, and hide some imperfections. You can also get a matching jewelry, because what is the introduction dressing without jewelry? Besides, this look requires some noticeable makeup. You will shine in this dress.
7. Blue and pink
Not everyone realizes this, but the blue and pink colors go extremely well with each other. So, you can put on a blue gele with pink highlights and a gorgeous crimson dress. Some modest accessories would be just right. For this, you can wear some natural makeup, because the look itself is already very captivating.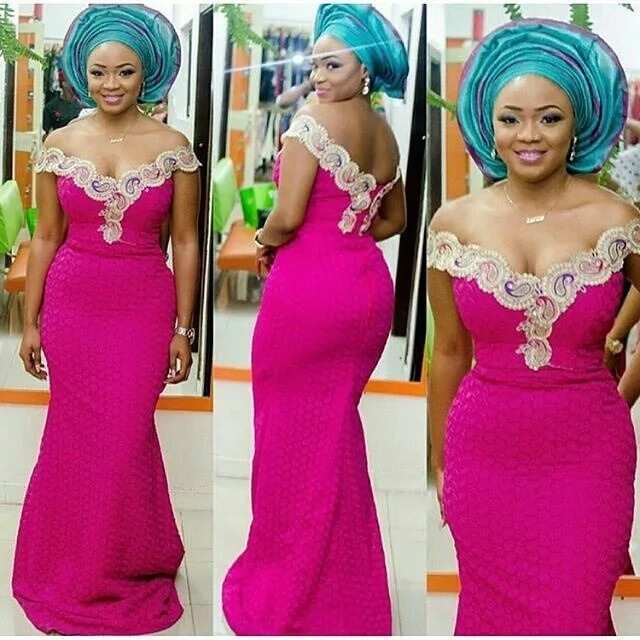 8. Lace festivity
One of the universal materials that you can always rely on in every situation is lace. Find a beautiful two-toned dress made out of it. It can be white and blue, white and red, black and white, or of any other color.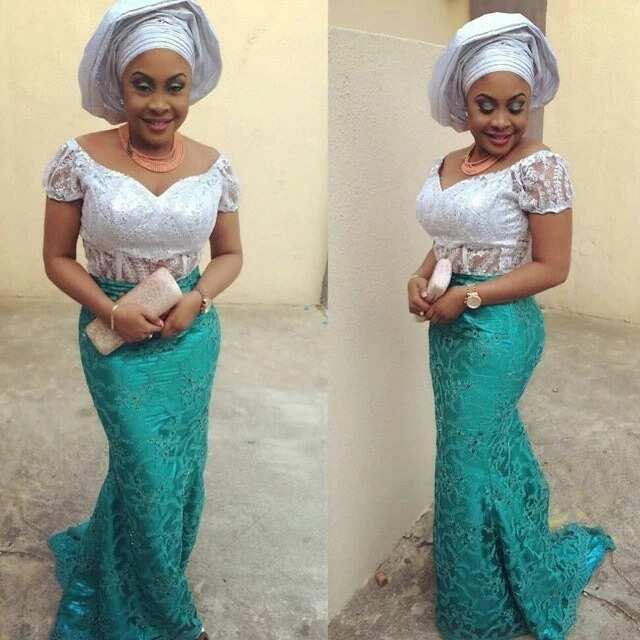 9. White elegance
The lovely white dress can not only suit for the white wedding. For the introduction ceremony, this look would indicate that you have a great taste. It will have a different feel from the wedding dress, and make you feel like an important guest. In this dress, you will also look excellent in the photos. Your head tie could be of a bright color, for instance, red.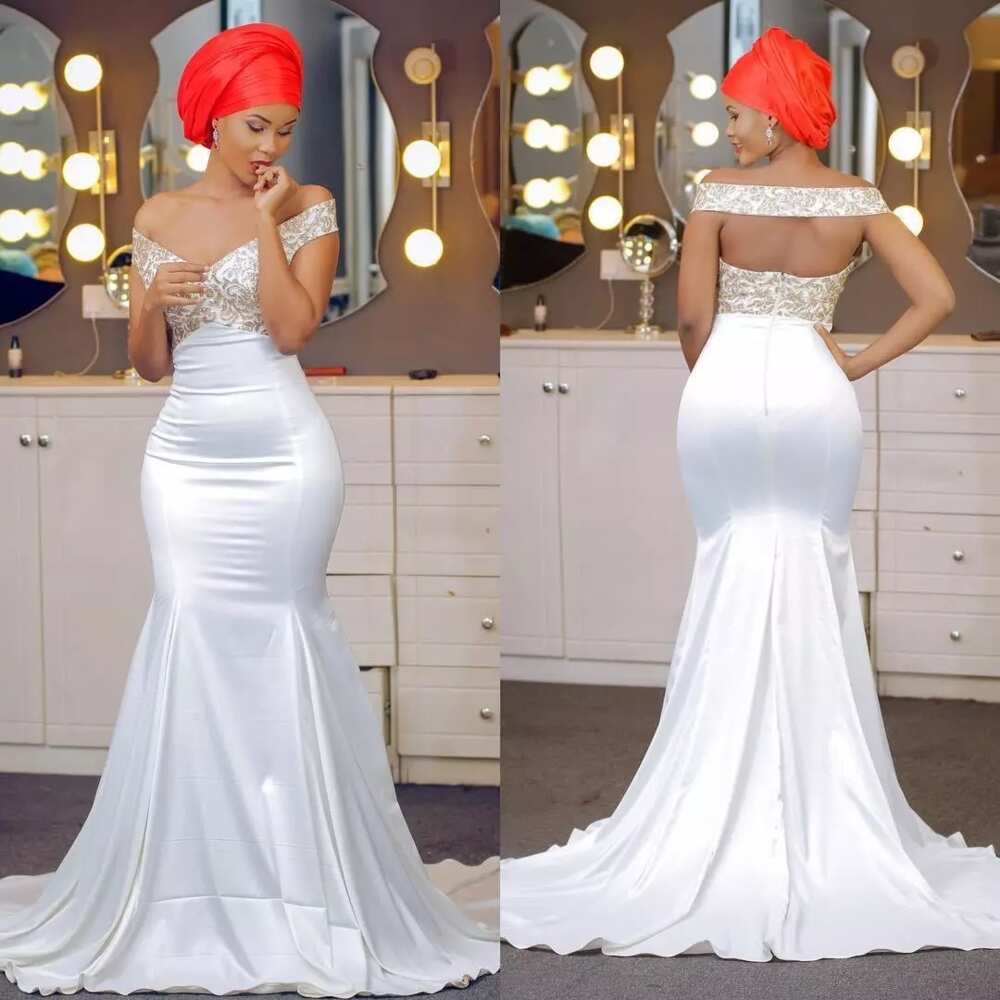 10. Geometric patterns
Why not choose a patterned dress for your introduction? You can go for a futuristic-themed dress with sharp shapes and a great patter and any type of head tie can go well with it – mostly those in the similar colours. Also, you can create a simple hairstyle and look gorgeous without a gele. Just choose some lovely accessories and you are done.
READ ALSO: Nigerian fashion dresses for weddings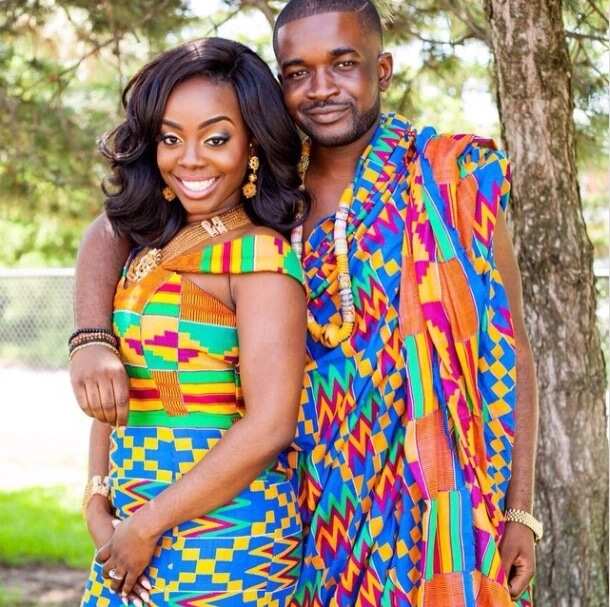 11. Glamorous mermaid
The mermaid dress is an awesome choice for every official ceremony, including the wedding introduction. Besides, some glitter and glamour would never hurt. Choose gold sparkling dress.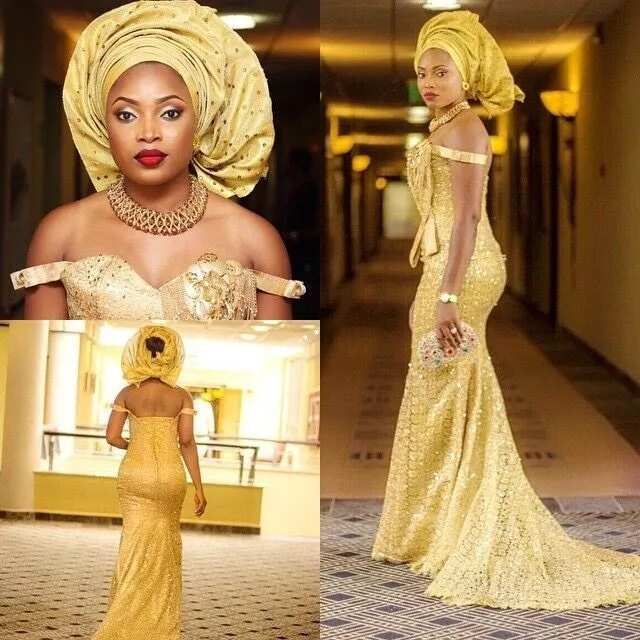 12. Gentle bubblegum
Light pink is a very soft and feminine color, and if it goes together with white, you will look like a princess from fairy tales. Beautiful necklace and shiny bracelet in these tones would add up to your beauty and charm.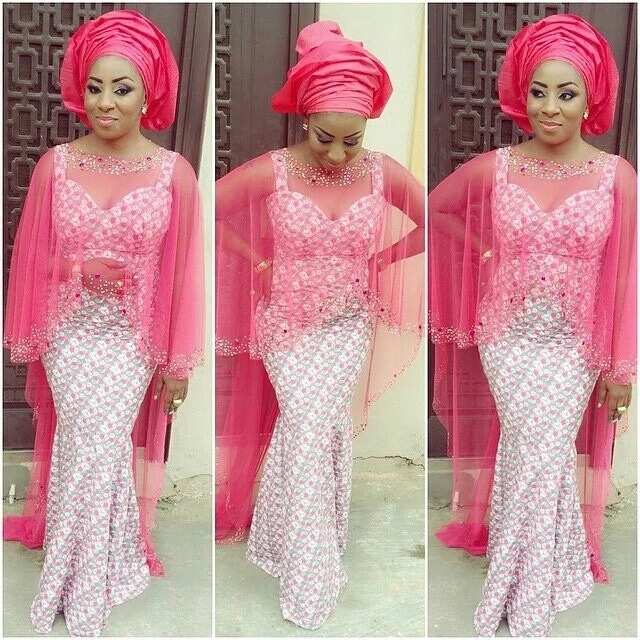 13. African print
You can use the option with a vibrant pink dress, but not the simple one. The same dress with colorful or transparent prints would make an instant impression on the guests. Also, you are recommended to wear some traditional Nigerian jewelry together with it. As for makeup, the bright pink lipstick, which matches the color of the dress, will make you stand out even more.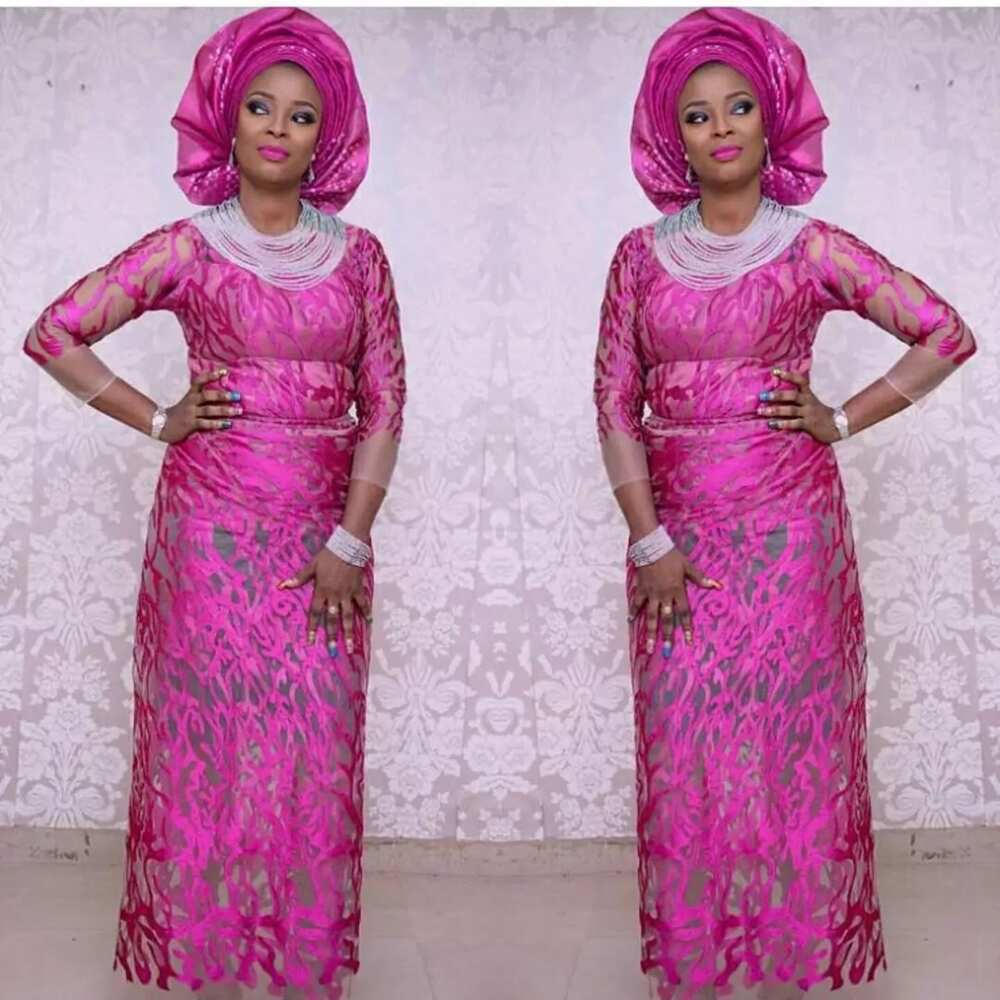 14. Coral or peach gown
Light peach and coral are the latest trends of the season! Nigerian women adore these colors and often use them as an inspiration for their outfits. They are very fitting for the women with every hair color and body type. Instead of doubting, try it out, and you will have no regrets!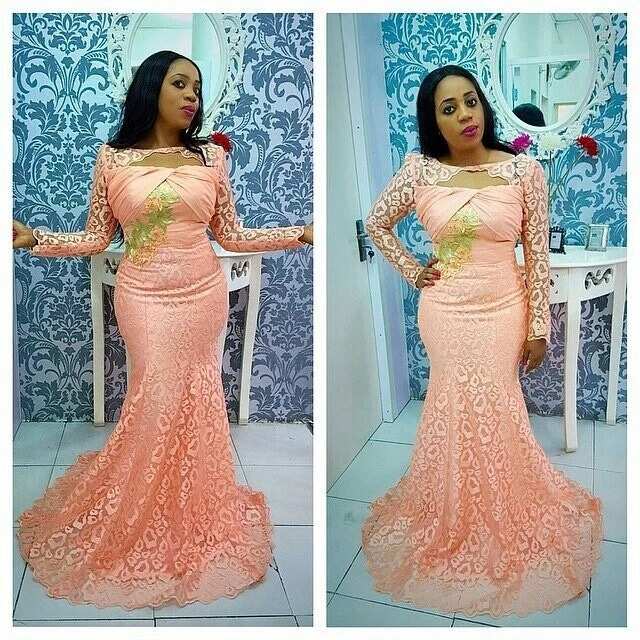 15. Light dress with a bow
The design of this dress is something unique and elegant. As you can see, it is magenta, but no matter which color it is, you could wear it for your introduction.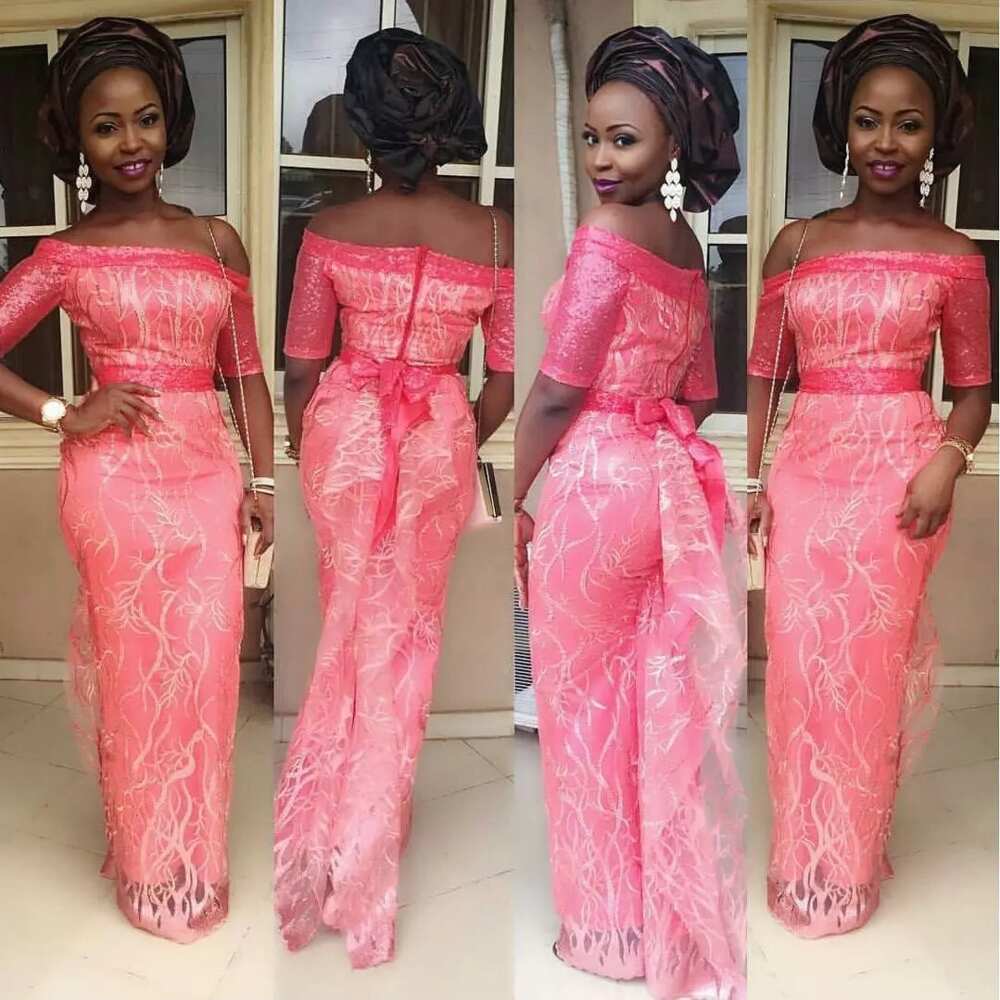 16. White gown with purple elements
The simple white dress is good, but if it is decorated with some purple patterns, it will stand out from the crowd and become a subject of excited discussions. For additional charm, you can use a purple necklace and head wrap. By the way, it does not have to be purple – perhaps, this look can inspire you for a similar one, but in different colour.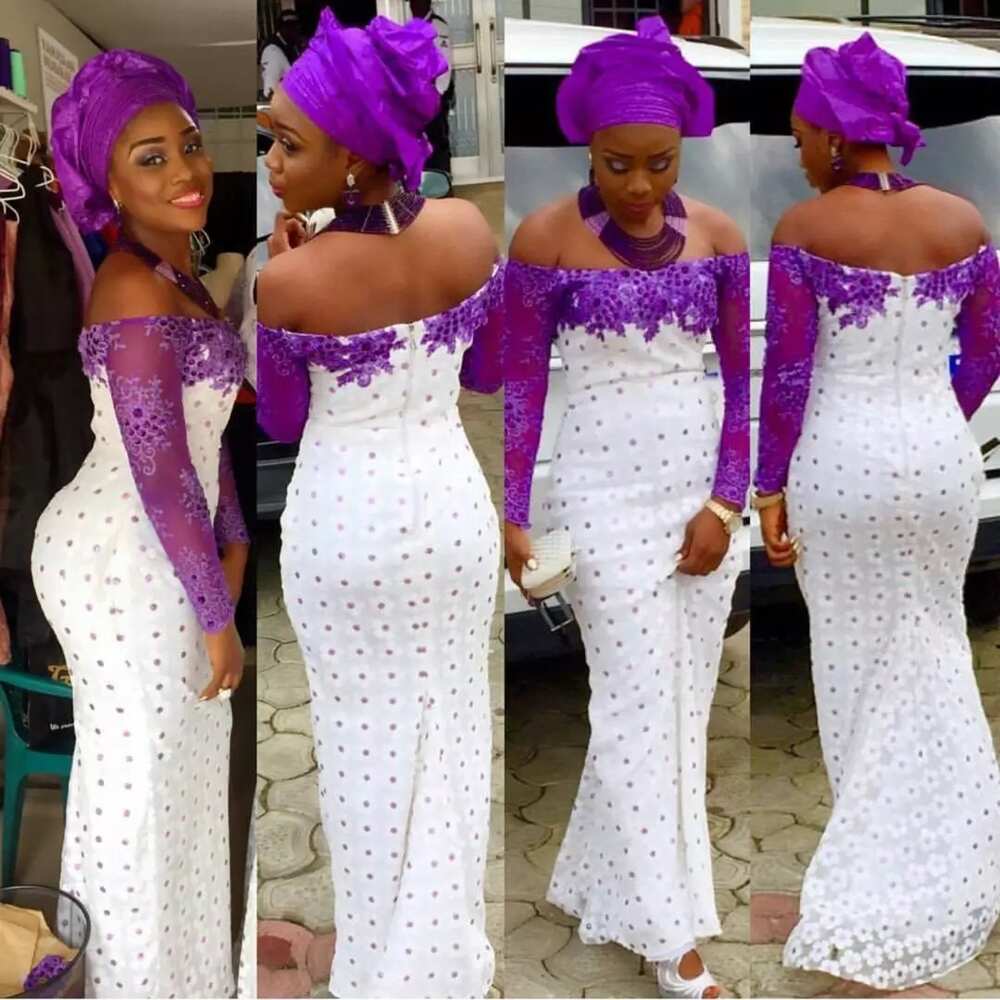 17. Blue and sweet pink
We have already mentioned that blue and pink go well together. In this case, these are slightly different tones, but as you can see from the picture, they are something new, fresh and unforgettable. Wearing a fan and a clutch that matches the color of the gele would become a nice touch.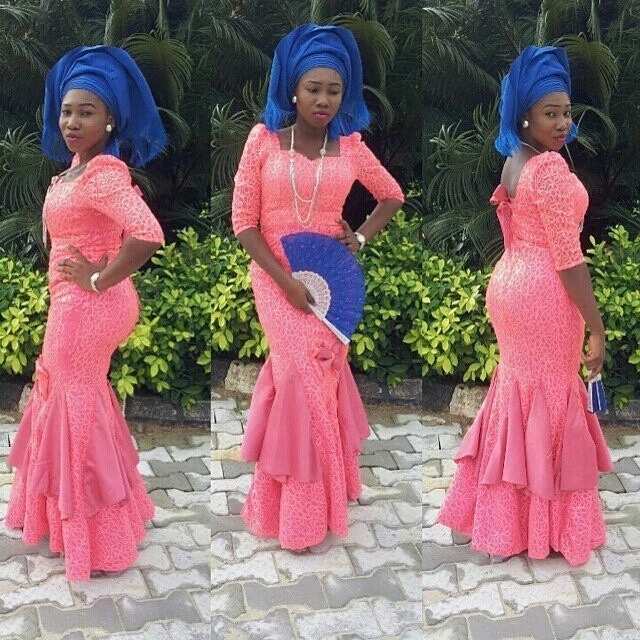 18. Multicolored dress
Maybe you are tired of all the classic looks and would like something exotic. In this situation, the dress of various colors – pink, purple, white, yellow, black – is definitely the one for you. This is an example of such dress, however, you can just take it as an inspiration for experimenting with some other colors. Some bright makeup in the dress colors would become a super cool addition.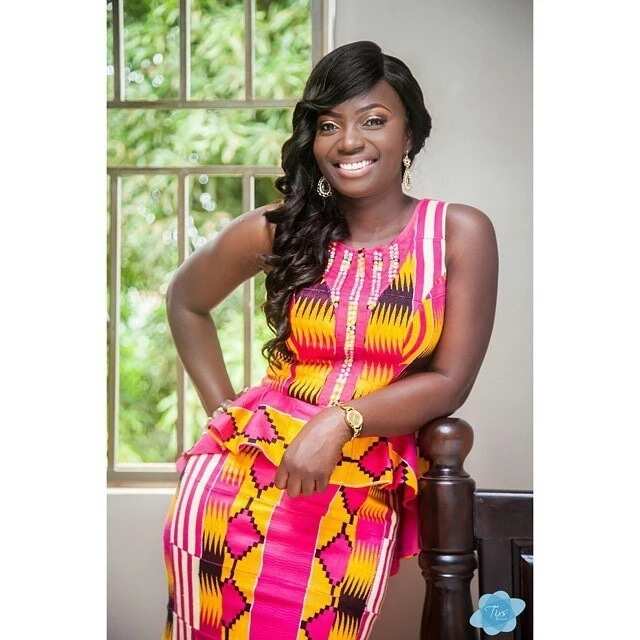 19. Super sapphire dress
Sapphire is another color that goes absolutely stunning with the dark skin. Besides, there is no way you will stay in the shadows if you are wearing this one. Want to make a long-lasting impression on the family of your groom? Perhaps this will be the clue to your success.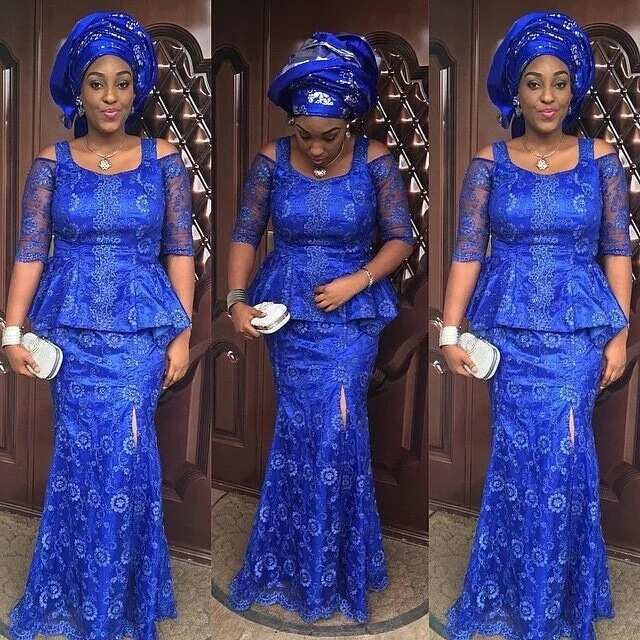 20. Knee-length dandelion dress
Maybe you are not entirely comfortable with the long gowns? Then you can pick this aerial yellow and white dress with a beautiful tutu. You will look like a spring flower, which is exactly what you will need for making the first impression of a sweet and lovely woman. Red shoes and necklace would look nice, though if you are unsure about them, you can just go two-colored and choose white or yellow ones.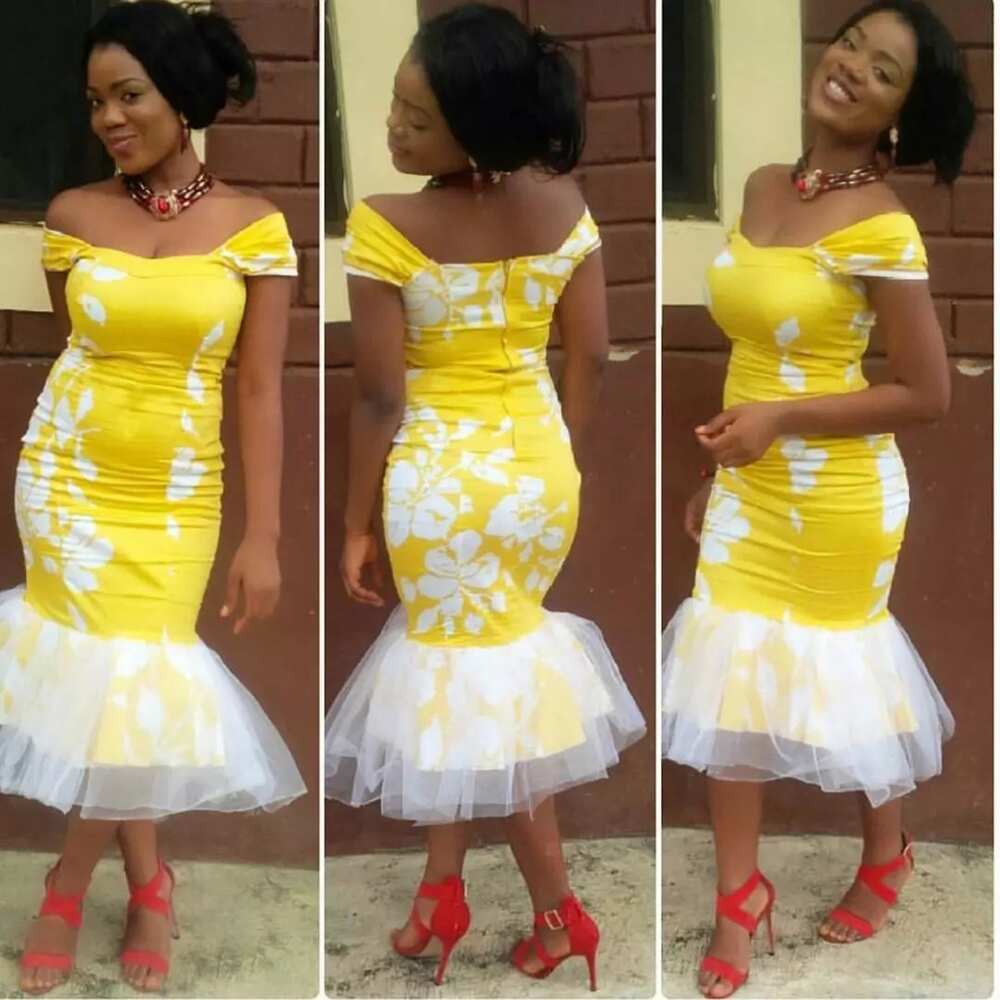 21. Candy red dress
We all love red because it automatically makes us look hotter and more confident. This is why the red dress would never be a wrong choice. However, you would probably want to insert some white in the look just for shadowing all the red. Another good addition to the red-centered look would be some traditional coral accessories.
22. Amazing blue dress
The simple light blue color is one of the favorites among Nigerian ladies because everyone knows that it makes every woman look like a beautiful Disney princess. You can add your own touch by combining the blue with the golden yellow.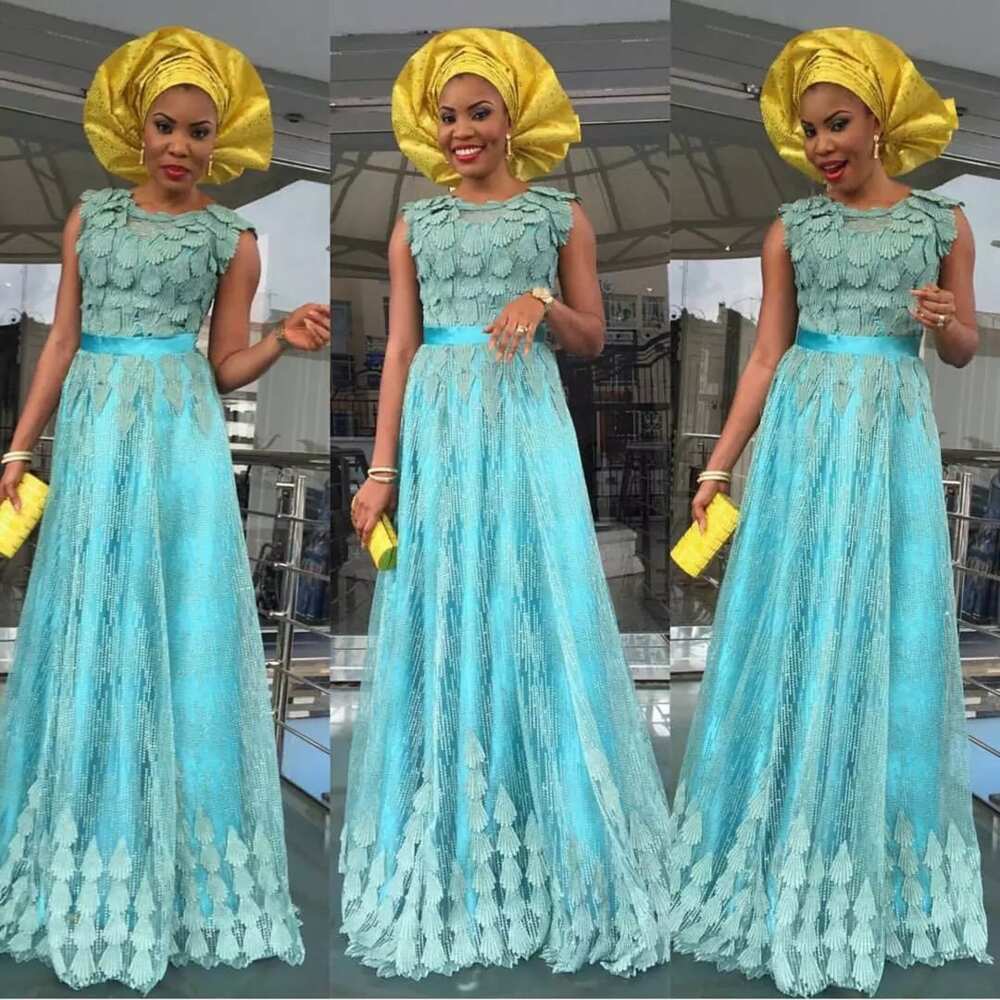 That is why Nigerian designers are so popular. For your introduction ceremony, you should follow the trends, but at the same time stay true to yourself and choose the outfit that appeals to you the most. There are thousands of options, and we sincerely wish you'll find your own.
READ ALSO: Latest wedding gowns in Nigeria 2017-2018
Source: Legit.ng