Silk and chiffon styles are by far the most popular in Nigeria. If you have a silk dress or a blouse, you will look great in any surrounding and in any situation, feel comfortable easy and definitely want more! A chiffon item will help you feel and look stylish and lovely even during the hardest heat. Check out this article for more fashionable items made of silk and chiffon and choose whatever design you like.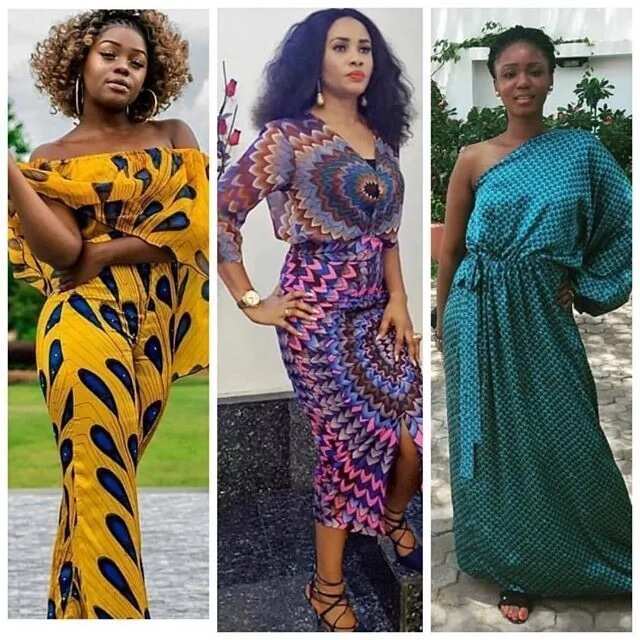 Why choose silk and chiffon gowns in Nigeria?
Silk and chiffon have a range of definite advantages. They are ideal for places with a very hot climate like Nigeria and other African countries. Below, you will find a list of doubtless pros of silk and chiffon and, if you still have nothing like the styles in your wardrobe, you may want to get several items of different colors, styles, and even types!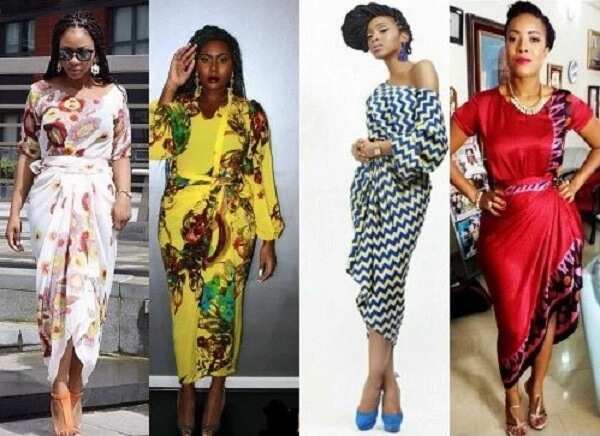 READ ALSO: Latest turban styles in Nigeria
Silk is made out of natural fibers. It's a completely hypoallergenic fabric, probably, the best among all natural ones
Chiffon is very lightweight and semi-transparent, which makes it a perfect choice for fancy dresses and gowns
Silk is one of the best fabrics for a hot climate because natural proteins in its fibers make it able to regulate the temperature of your body
Chiffon is often decorated with lovely bright prints, which look wonderful and very vivid on it
Silk has an ability to absorb moisture in huge quantities compared to its own weight and withdraw it from the body. After this, the fabric gets dry easily and quickly, without sticking to your body
Layered up, chiffon can create lovely puffy folds and draping without adding weight to a garment and making it too hot to wear
Silk looks very delicate and has a lovely elegant glow but it's very durable at the same time. If carefully worn, a silk dress or a silk blouse can serve you for many years
Both these fabrics can be mixed with whatever else you choose, even with thick ones that seem to be of a completely different texture, like wool or denim
The latest chiffon and silk designs in Nigeria
Let's now take a look at several most impressive silk and chiffon dress styles that are popular in Nigeria this year.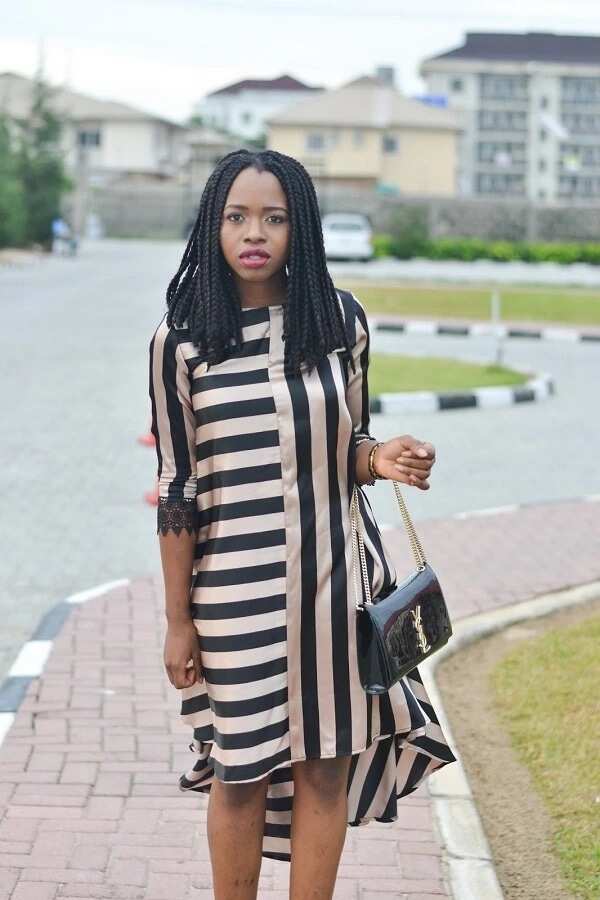 Shift dresses are very fashionable and popular these days in Nigeria and many other places around the world. A lovely shift dress made out of light and flowing silk with a pleasant contrast of black and white stripes is exactly what you need. Lovely half-sleeves decorated with lace will add comfort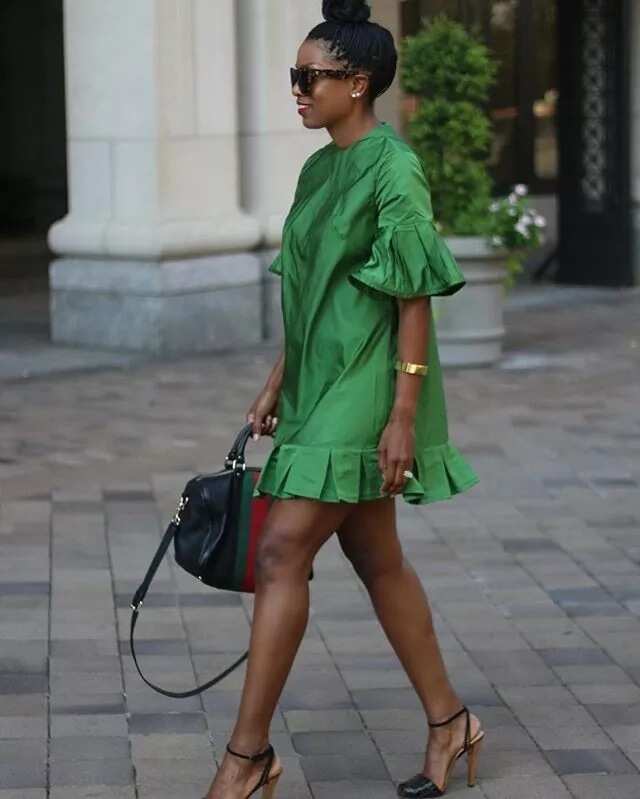 This is another shift dress that you may like from the very first glance. The bright color doesn't steal some formality and elegance from the look of this dress. Even the wide-plaited frills look stylish and slightly official. Such a dress is a great choice if you want to look elegant but flirty and feminine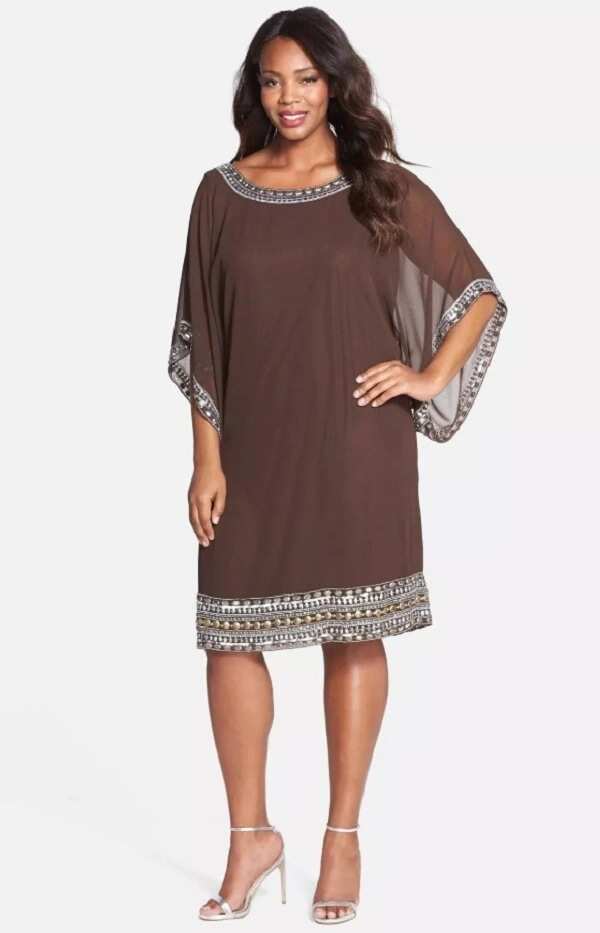 The third shift dress is completely different from the first ones. Made out of elegant brown chiffon, it looks very exquisite. The wide bands along the hemline, neck and sleeves add a touch of freshness and attract attention to every move of the wearer. This semi-transparent dress is a wonderful option for practically any occasion.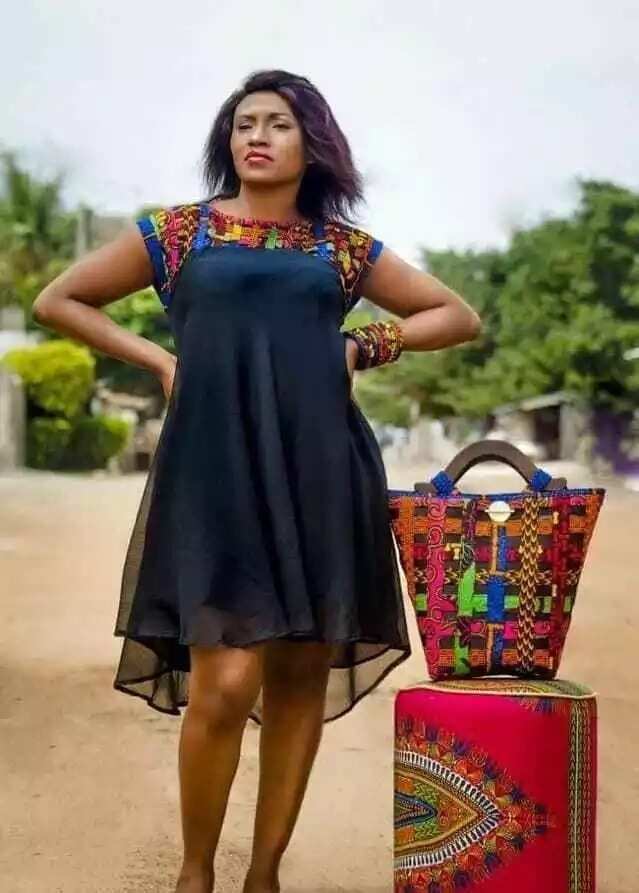 Another chiffon shift dress offers some tribal look due to the bright shoulder piece. The loose fashion of the flowy peplum-styled chiffon part provides a lot of comfort and an attractive appearance. There's probably no better option than such a dress for any informal occasion
Here we have several delicious silk and chiffon dresses for formal occasions:
Silk is also used to create sheath dresses that look especially elegant and emphasize every line and curve of a woman's body. This off-shoulder one-sleeve dress is a great example of how lovely silk of different textures can be combined and how lovely it looks then. It's notable that such a dress can be created out of silk and any other material like Ankara, lace, velvet, and whatever else you like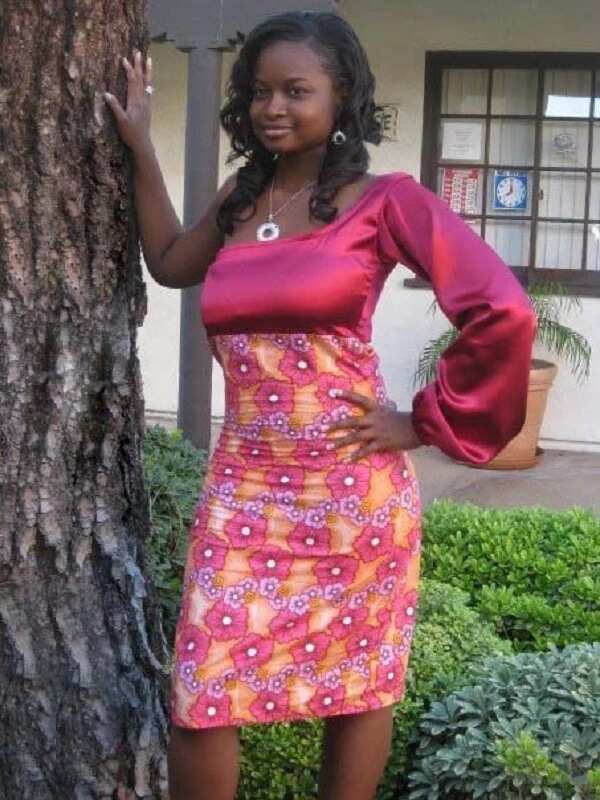 READ ALSO: Nigerian Ankara styles catalogue 2018
This complicated sheath dress is created out of several types of silk combined with lace. The dense and firm silk used for the body part keeps the shape of the dress and sculptures the body while the ruffles are made out of a lighter fabric that creates a volume without heaviness. Finally, the lace parts complete the look, adding a touch of unexpectedness to the whole picture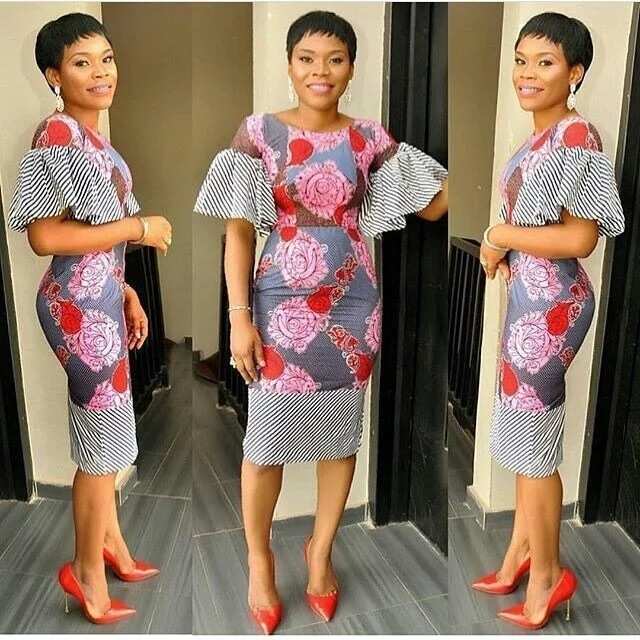 This awesome silk dress looks so formal, so lovely, and so flirty at the same time. The great print with juicy dark stripes and a surprisingly bright pink bow at the collar make this dress totally elegant and attractive. It's curious how suitable this dress can be for both formal occasions like business meetings and informal ones like parties with friends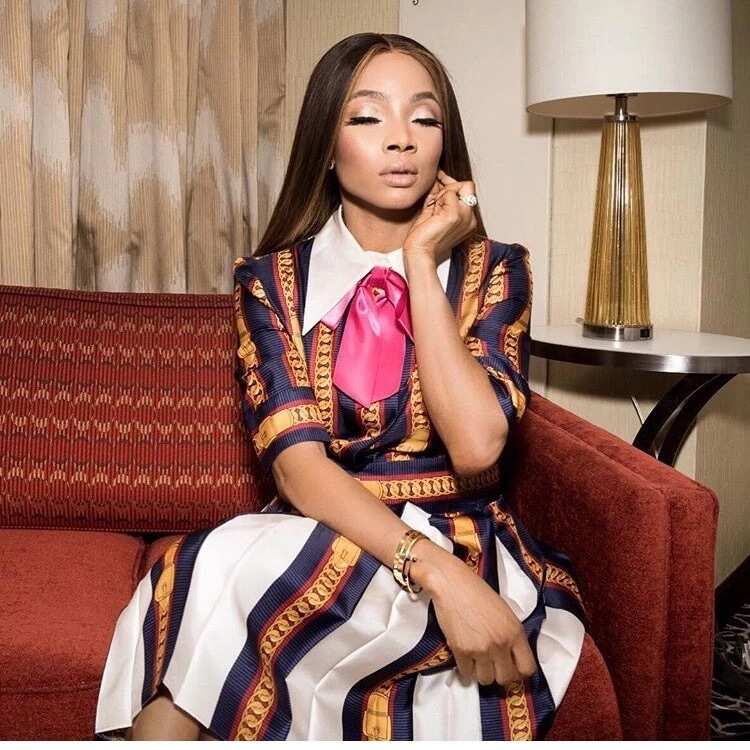 Now, it's time for silk and chiffon maxi dress – the most impressive part. Due to the flowy texture, silk and chiffon look especially attractive and great when they are used for bigger items. Just check out these styles and fall in love immediately!
This incredible silk dress of a bright yellow color with a colorful print is definitely what you need! The straight classic cut reveals the beauty of the material and the length provides a lot of comfort. Don't be afraid to experiment: try a kimono cut of the top part to create some volume or add a wide silk belt to create an accent on the waist.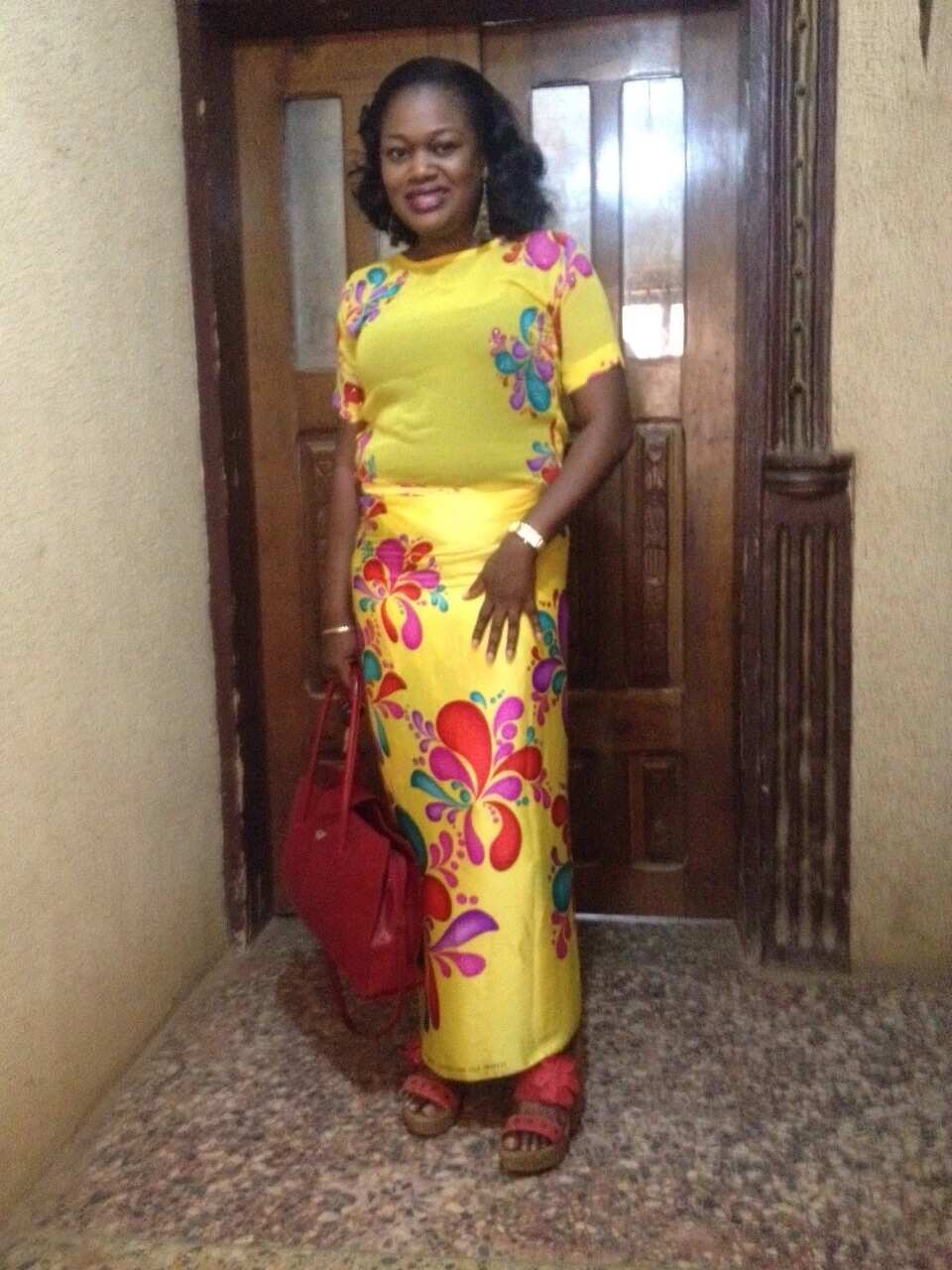 The floor-length chiffon gown like this will doubtlessly turn you into a centerpiece of everybody's attention when you just go outside. The bright juicy colors, the flowing texture and the length of the dress easily turn it into something royal and elegant. If you make it long enough to cover high heels, you can easily add as much to your height as you wish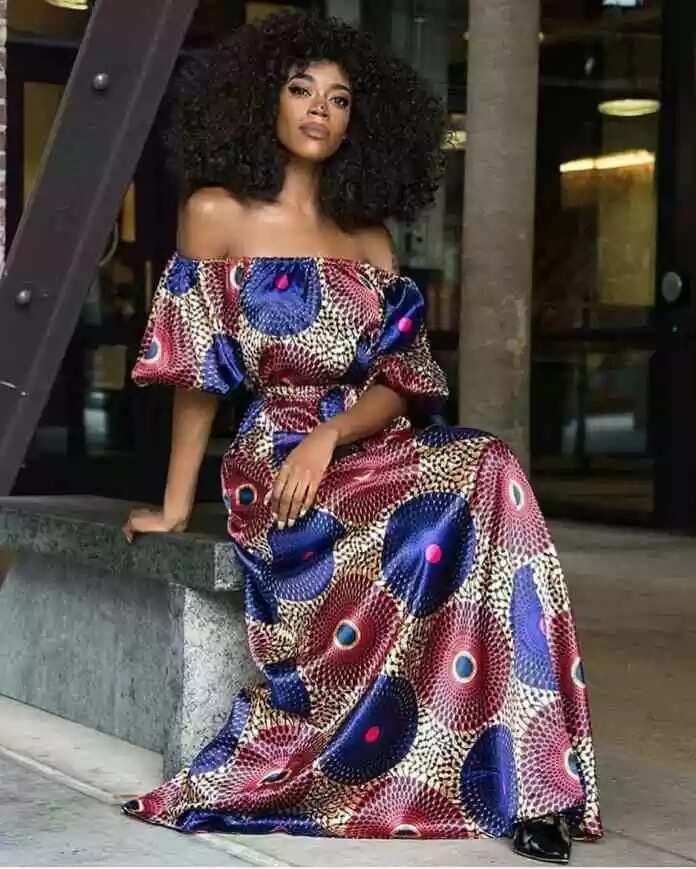 The shiny off-shoulder dress made of Ankara-patterned silk is a great choice if you need something impressive for everyday occasions and formal events. The floor-length skirt of this dress is loose and creates lovely fold, emphasizing the slenderness of the waist. The voluminous sleeves make an accent on the fragile shoulders and arms. There's probably nothing better to accentuate your feminine tenderness than a long silk dress like this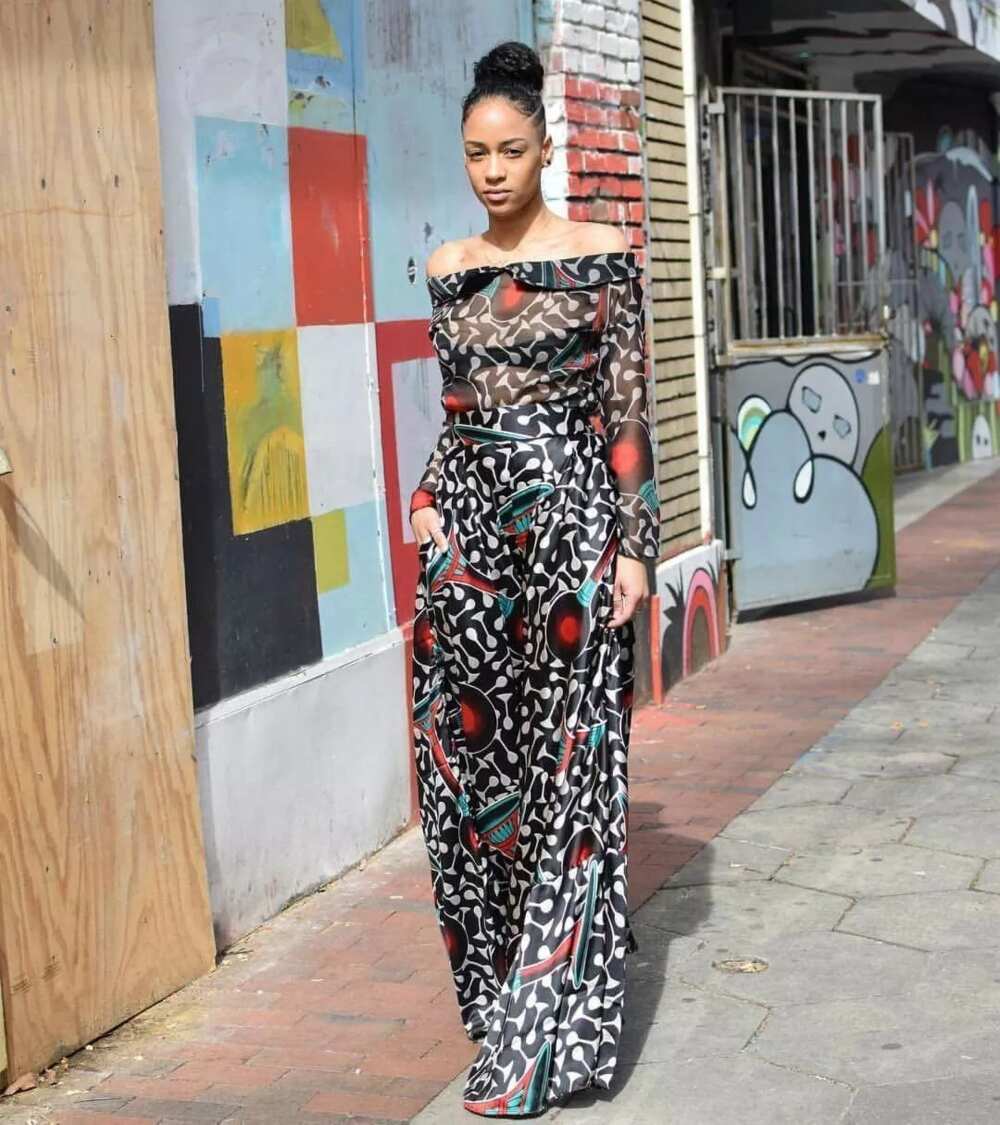 Another maxi silk dress will capture your attention from the very first glance due to the soft silky glow, unusual cut, lovely design of the neckline, and a comfortable fit. Pockets, decorative element around the shoulders, even the pattern create a wholesome picture that is really worth looking at. Wear such a dress and see how you will turn heads every time you go out!
What about silk and chiffon Buba and Iro styles? Buba and Iro are traditional Nigerian items that look so feminine and authentic! They are normally worn on formal occasions like wedding parties and so on. When made out of silk, these items look especially gorgeous.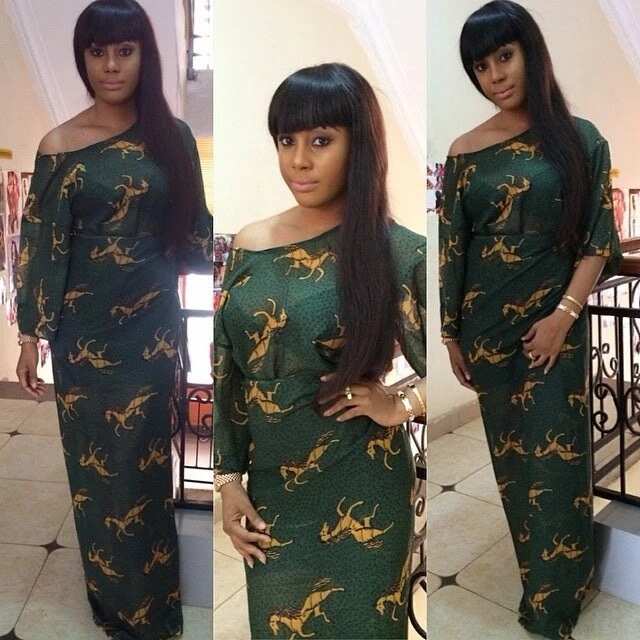 Doesn't this ensemble of a chiffon blouse and Iro look gorgeous? The dark green color and an unusual print make it outstanding. The off-shoulder fashion looks awesome when combined with long flowing sleeves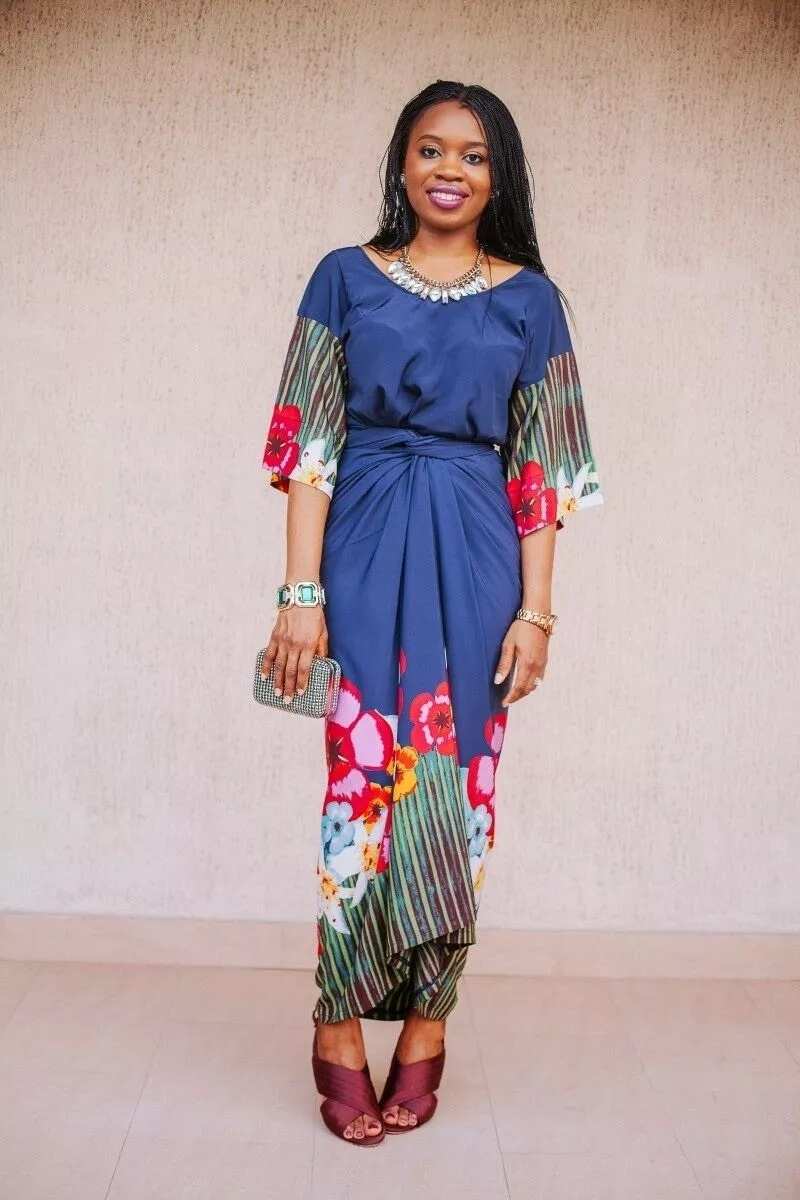 This dark blue Buba and Iro style looks amazing with the decorative border of thin stripes and flowers. Such a garment is perfect for any occasion, involving weddings and other parties. It can also be a great Aso Ebi option for the bride's maids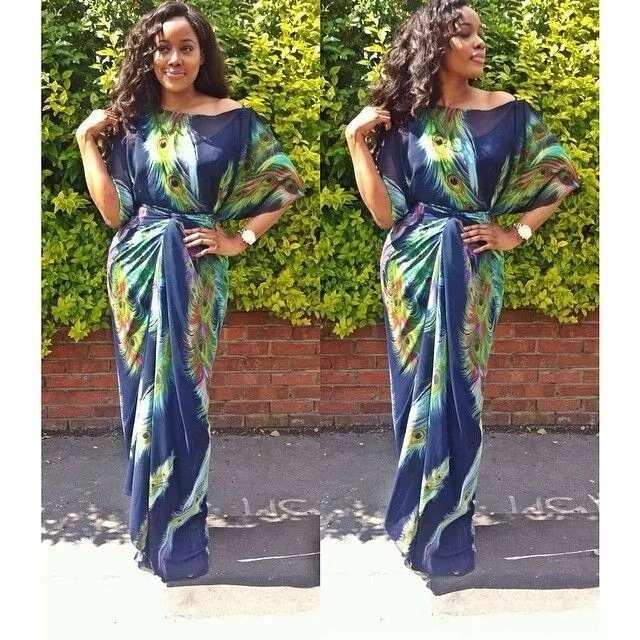 This outfit with the pattern of peacock feather made out of the flowing chiffon looks stunning and extremely feminine. The Iro style of the skirt attracts attention to the waist and hips while the kimono top adds some volume to the upper part of the body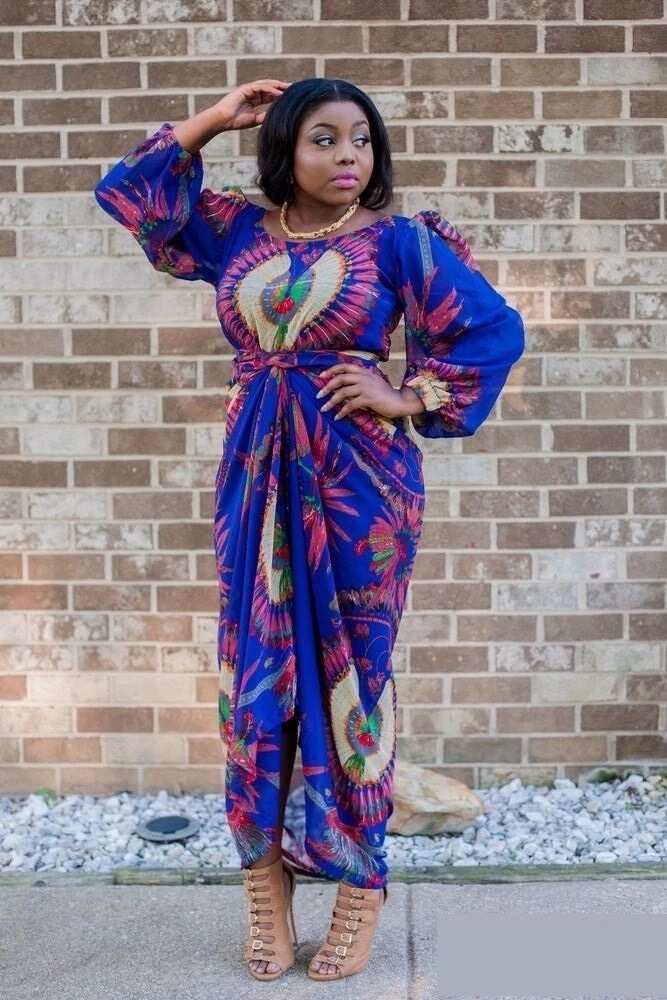 This bright blue outfit of Buba & Iro style is a wonderful example of the luxurious way chiffon creates folds and drapes. The proper choice of the pattern makes the garment look just awesome and bright enough for any occasion
Silk and chiffon are great fabrics for cute feminine dresses and blouses. Just try these options once and you will want more.
READ ALSO: Hausa dressing styles for ladies
Source: Legit.ng