Ghanaian lace style you will like
What is the latest Ghanaian lace style? What's the difference between Ghanaian lace and any other? Let's try to figure out what's so specific about these styles and which new ideas Ghanaian designers have to impress the fashionistas.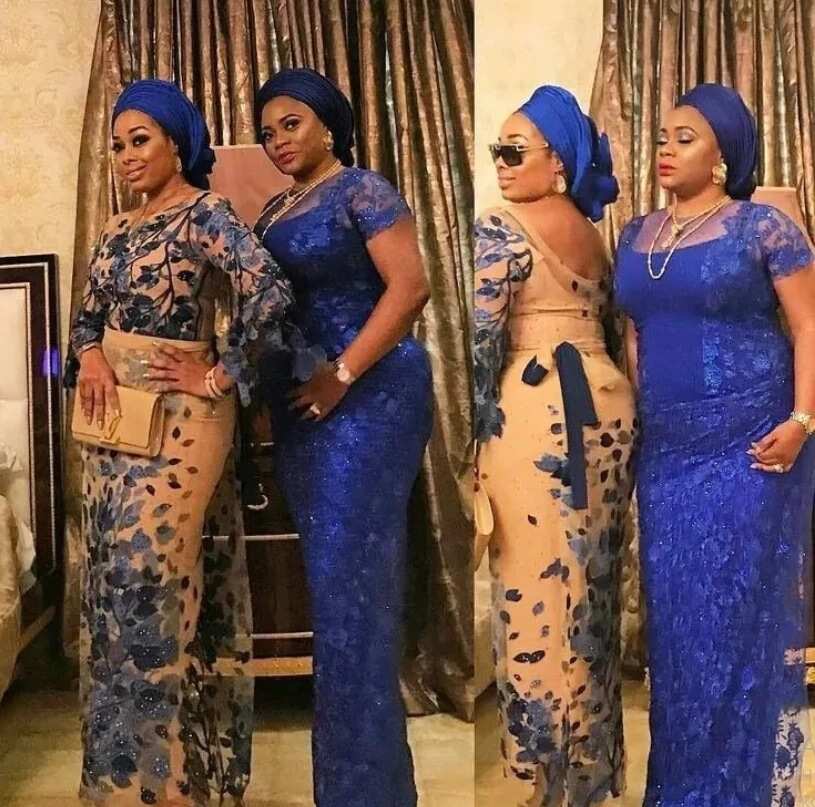 What's so special about the latest Ghanaian lace fashion?
Ghanaian women love lace. They wear it on many occasions, depending on the style of the dress. Long and short, tight and loose, these dresses give them special feminine look. It's interesting and notable that women in Ghana love combining lace with other fabrics like Ankara, kitenge, and others. The result is stunning: lace dress emphasize the beauty of African goddesses better than anything else.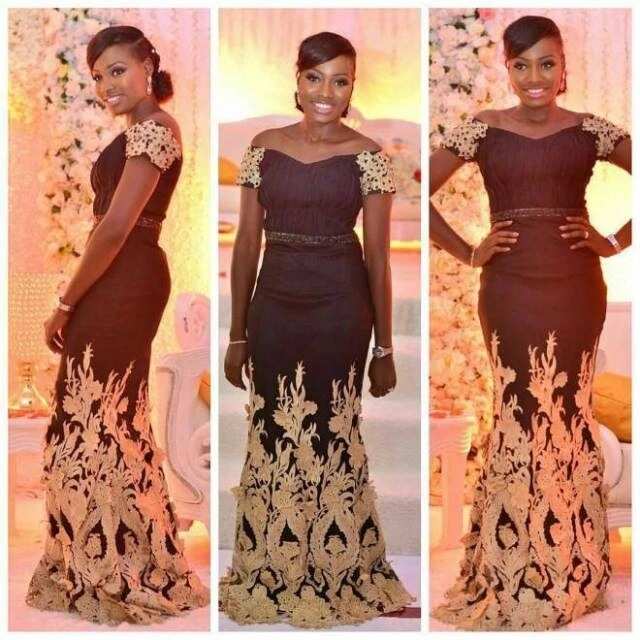 READ ALSO: Nigerian fashionable clothes for pregnancy
This is why lace dresses are used as the best option for weddings, birthdays and other formal occasion and big parties. Women love the exquisite and elegant look lace gives together with the effect of luxury even if the dress is not that expensive. Probably, the matter is in the choice of lace that comes in a number of variations.
Let's take a look at the latest lace designs in combination with other fabrics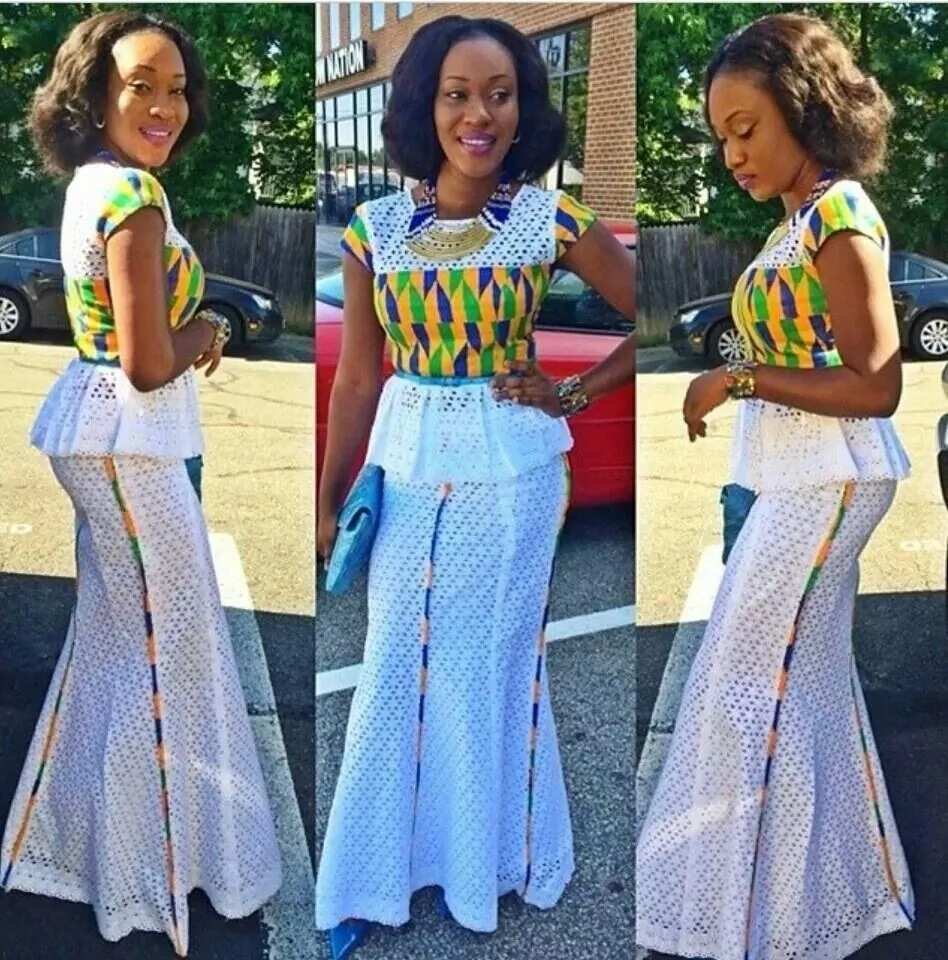 Lace looks great when combined with other fabrics like kente. This lively and vibrant patterned fabric can be matched with lace of practically any types and colors. Just try this combination. It will give you a touch of African genuineness and elegance at the same time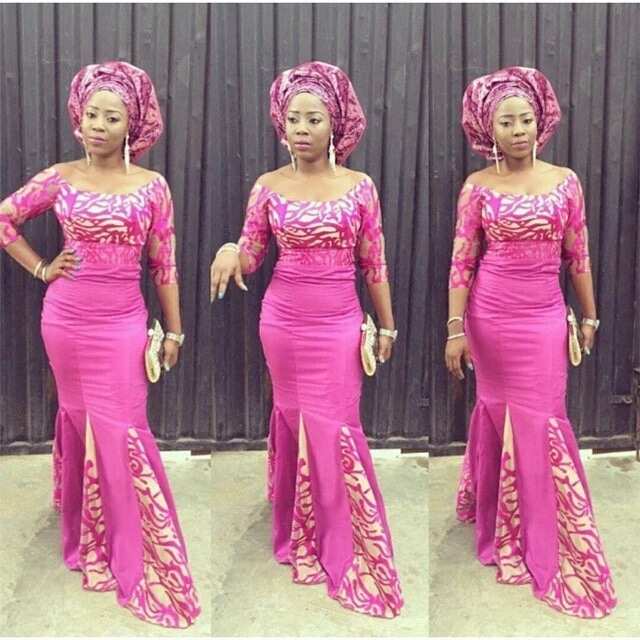 Even dresses for formal occasions, for example, weddings can be made out of lace combined with other fabrics.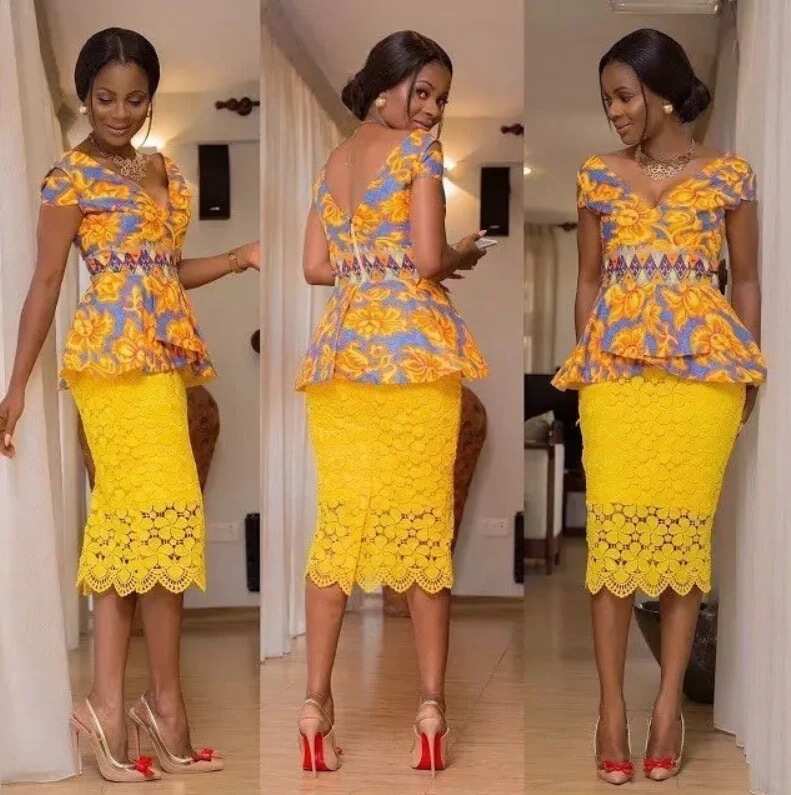 Ankara goes perfectly well with lace, especially if they are of matching colors or the same main color. Just like here, the bottom may be made out of lace (to create the lovely hem) while the top part is made of some solid fabric. You can also do vice versa and use denser textures for the bottom and lace for the top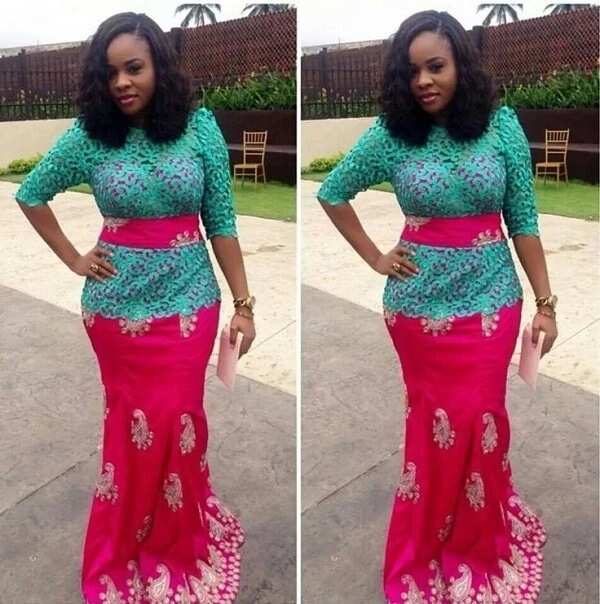 Green lace lined with crimson red is an unusual combination. However, it looks fabulous and boho-styled, so why not to try this match? If you have an idea to expose as much of the lining as possible, choose lace with wide openings that will reveal the fabric underneath. Some matching accessories are going to make your look unforgettable and really eye-catching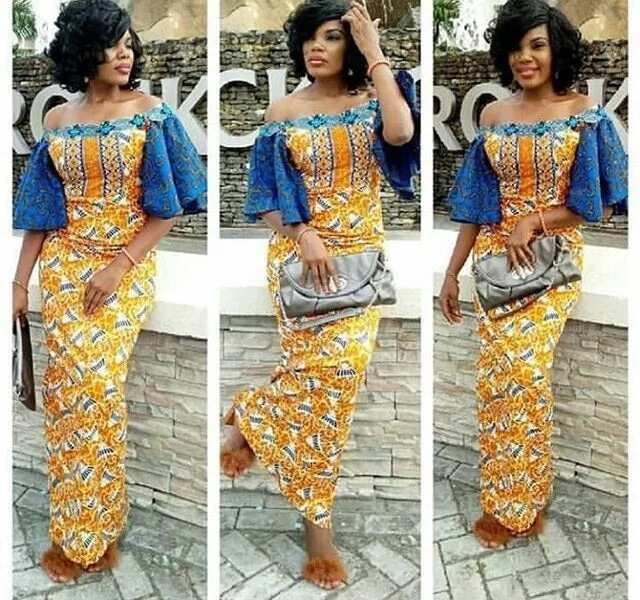 READ ALSO: Yoruba introduction dressing for ladies
Again Ankara with lace in a wonderful combination. The bright and vibrant yellow-grey pattern on the fabric matches the deep blue lace sleeves perfectly well. The cut of the dress offers plenty of comfort for any occasion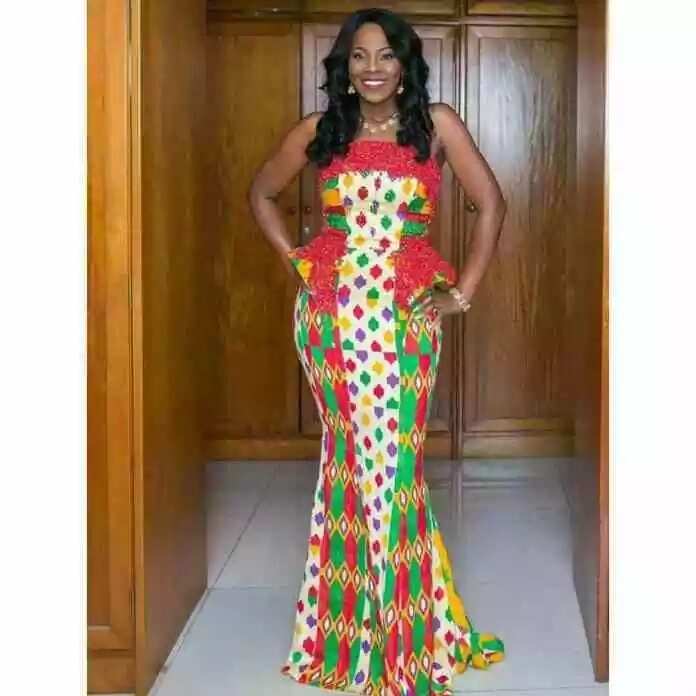 One more lace-kente dress that looks just amazing. Everything you need to recreate such a look is find lace that will match one of the kente colors and decide where you place the lace pieces. Due to the length of the dress, you will have plenty of space to place the decorative lace pieces
A short Ankara option with a folded skirt looks just wonderful. The soft pastel colors of the dress match the delicate hue of the lace in a magnificently charming way. You are free to choose whichever color you like.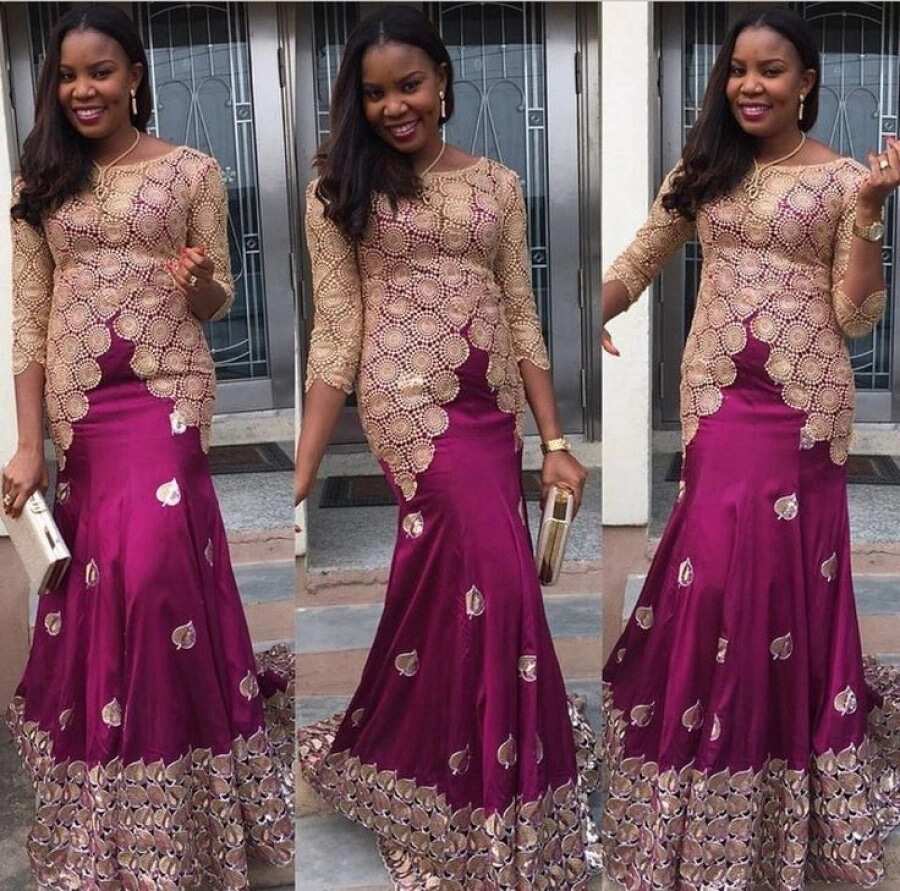 One of the most magnificent variations of fabric combinations is this dress. The luxurious wine-colored silk of the skirt combined with the light and creamy lace at the top and bottom creates an extremely sophisticated look and gives a touch of incredible elegance. It is one of the best options for a big occasion like a wedding
Dresses made out of pure lace with some lining only to prevent much exposure of the body also look stunning. Check out these Ghanaian lace dress styles and enjoy the visual delight.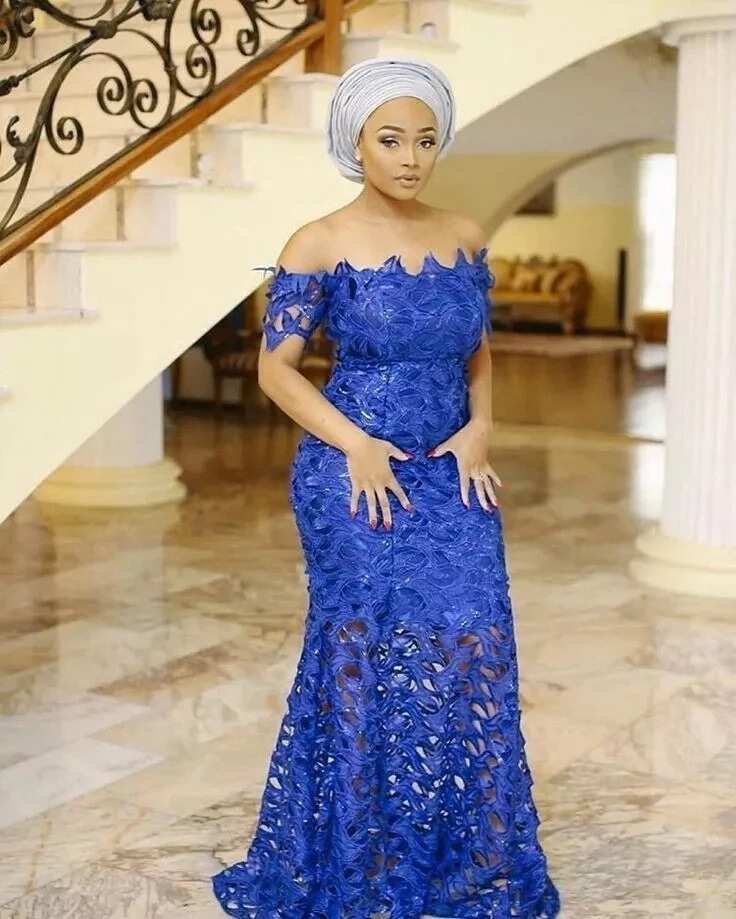 This royal blue lace seems to be the best thing on the Earth to emphasize the tender hue of the woman's skin. The off-shoulder cut allows to create a lovely border of the lace shape. Such a dress with only a little lining, exposing the skin on legs and shoulders, is a wonderful option for a festive occasion. It's not only a lovely item for a bridesmaid but also a perfect garment for a bride herself
This is definitely a dress that's meant for a special party. Long and straight, it reveals the delicate leafy pattern. Only a couple of accessories – and the fabulous look is complete and you are ready to turn heads wherever you go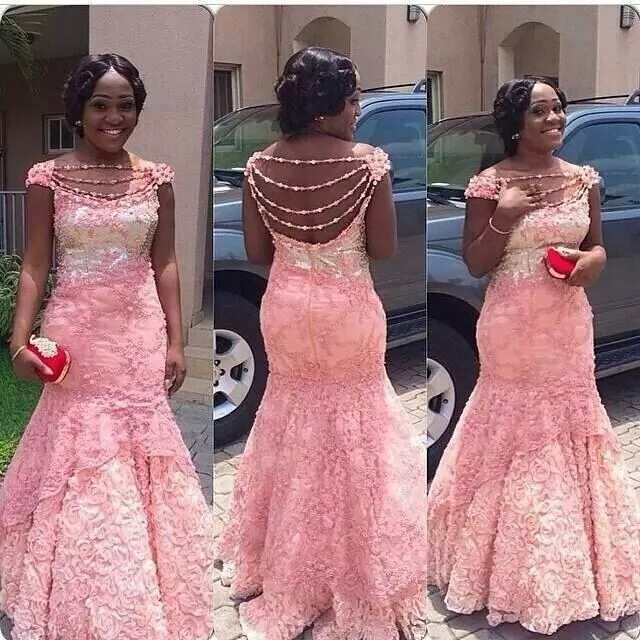 This amazing pink dress looks like it's built up out of rose buds. The unbelievably tender textures combined with each other and decorated with beads and strings of necklaces look as lovely as they can.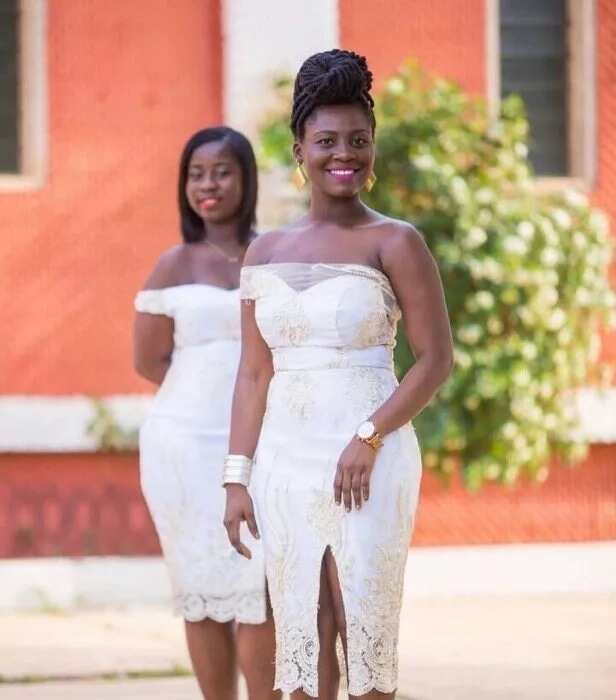 This wedding option is good enough for a bride and for her maids. The short and lovely white dress with interesting details and golden stitching over the white lace will certainly become one of your favorites. Nothing can draw attention to feminine curves better than a sheath dress and nothing can be better for a bride than being in the center of attention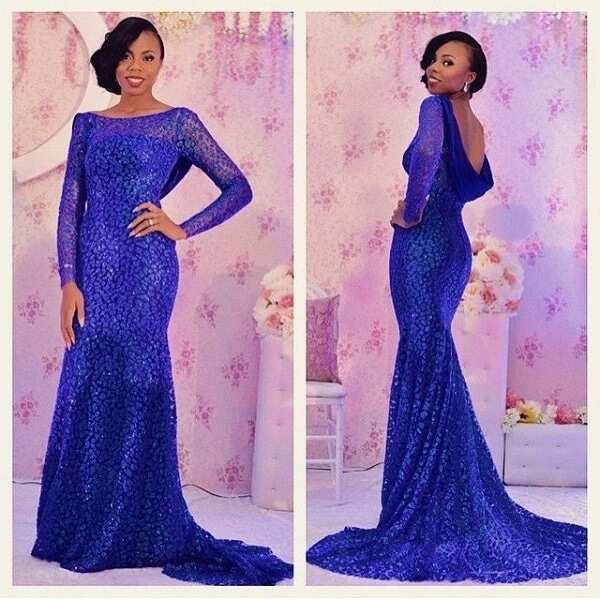 A gorgeous royal blue dress made with lace with an eye-catching detail on the back reminds of the so-called Golden Era of American Hollywood movies. Just wear such a dress to an event like wedding and watch the effect of your appearance. Use high heels to make your legs seem endless under that flowing skirt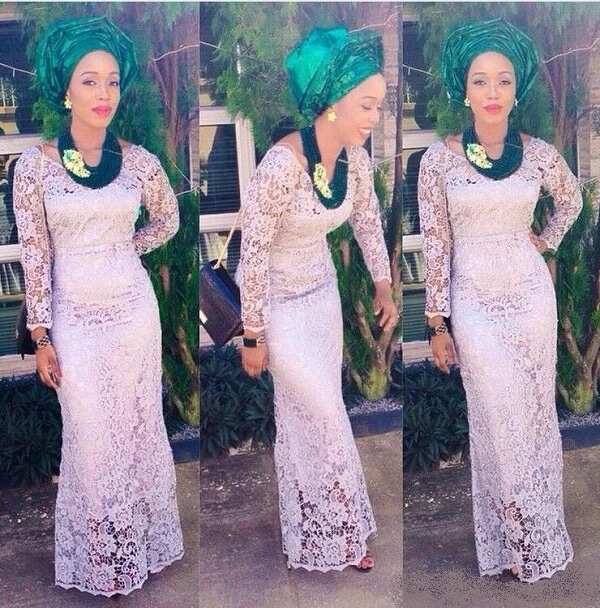 This is a simple and absolutely adorable option for bridesmaids. A pearly white lace dress combined with a big beaded accessory and a head tie of the same dark emerald color looks very delicate but totally stunning.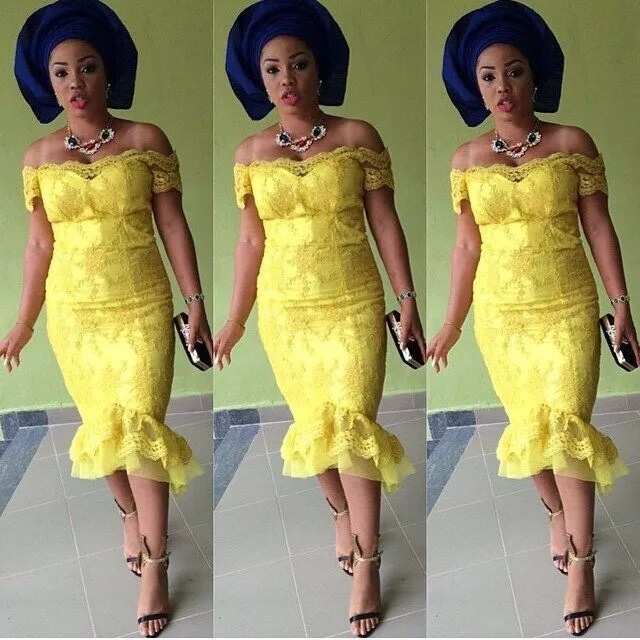 A sunny yellow dress with a dark blue head tie shows one of the most favorite color combinations in Africa. A lovely dress with a flirty frill at the hem is something you will definitely like. It provides relatively much space for comfortable movement and looks incredibly elegant. Together with high heels and a couple of accessories, you will receive an elegant and comfortable look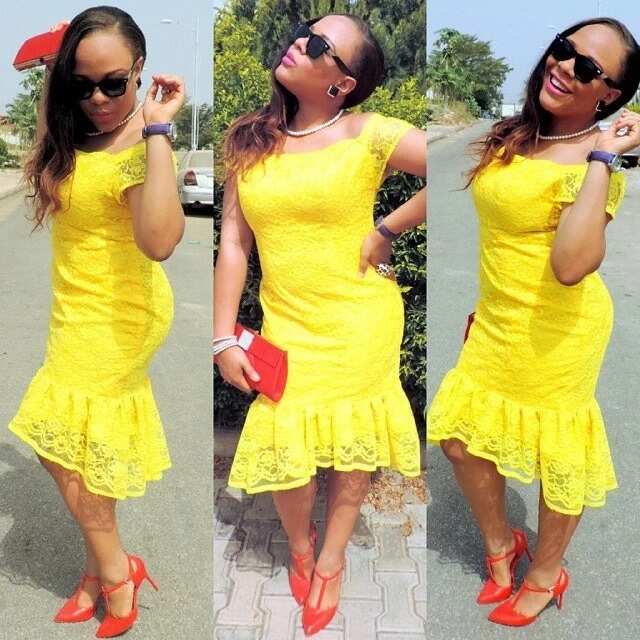 Here's another yellow option of a similar cut and design but with different details. This one looks less formal if you wear it like this. However, if you add a head tie of a matching color, it will become formal enough to attend a wedding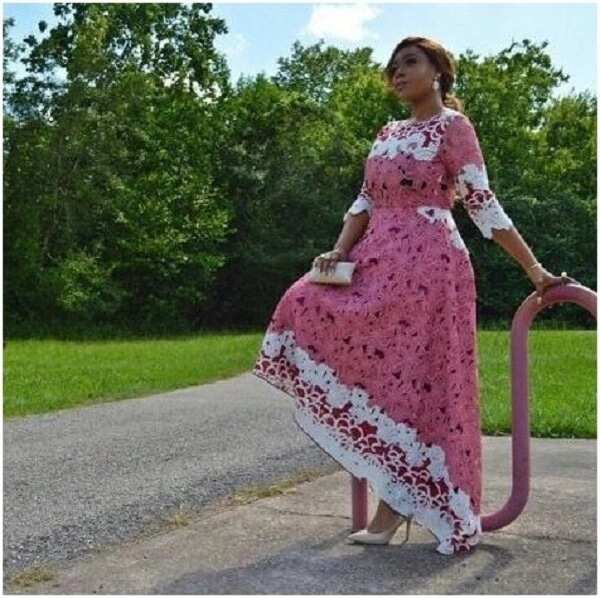 This stunning pink dress with white decorations demonstrates how different types of lace can be combined within one item of clothes. The peplum style with a longer rear part of the dress emphasizes the luxurious look of the fabrics and their textures. White accessories add the sense of freshness and beauty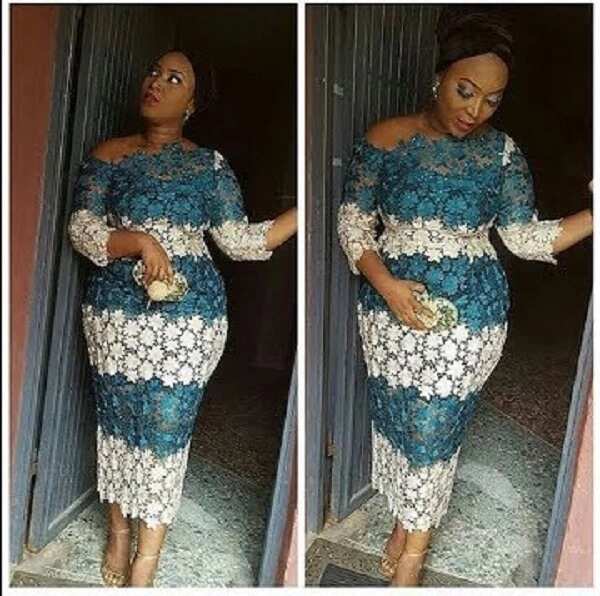 Finally, why not combine several colors of lace without any extra materials except the lining? If there are two, three types of lace of the same texture, with similar details but in different colors, don't doubt. Take them and create a lovely piece of fashion.
You've seen several of the best lace gown styles in Ghana in 2018. Which ones did you like? Which ones would you love to have in your wardrobe?
READ ALSO: Nigerian fashion dresses for weddings
Source: Legit.ng