African fashion style for couples
African fashion style ideas are extremely diverse due to the brightness and diversity of African cultures. It's always pleasant to see a person dressed in a traditional way and it's twice as cute to see a couple dressed in a similar style. In the post below, you will see how lovely a couple can look when dressed in a native African style and in similar attires.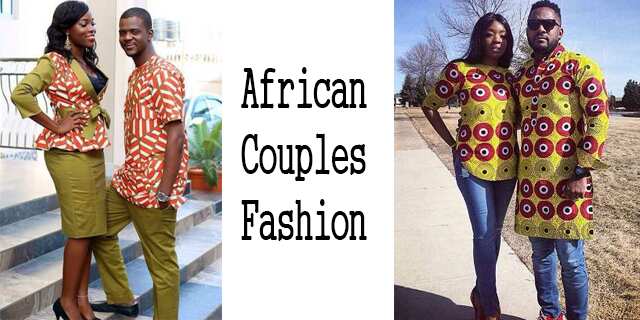 Modern ankara styles for couples
Ankara is one of the most beloved materials for male and female attires in Nigeria and many other African countries. It is bright, vibrant, very affordable and suitable for any occasion and any style. You can see all types of attires made out of ankara, starting with overalls teen girls wear and ending with evening dresses for formal occasions. ankara is used for couple attires, too, and it looks adorable.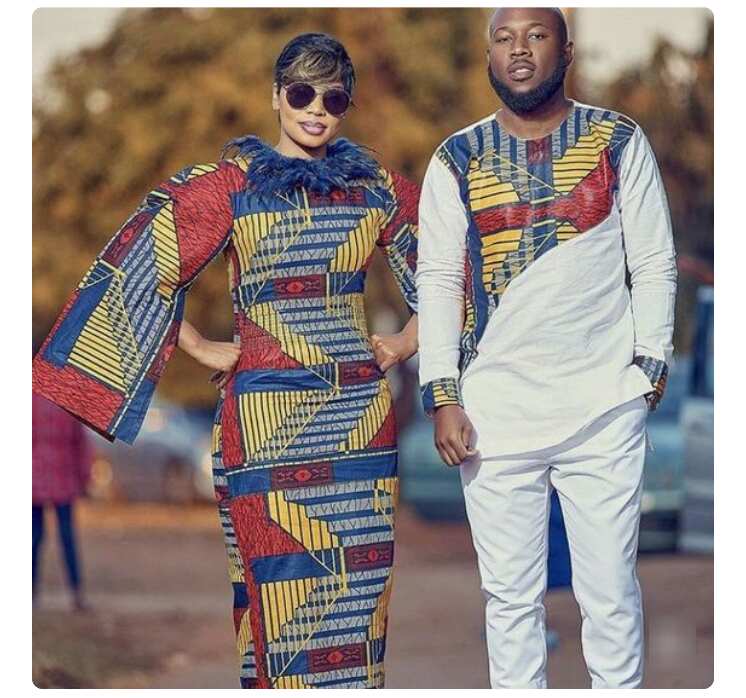 READ ALSO: Short dinner gowns: best tips for real fashionistas
This dress is very special due to the neck opening decorated with feathers and unusual sleeves. It looks very fashionable and exquisite in spite of the seemingly plain fabric and a simple cut. The male attire is very simple, too, and the main accent is the color piece inserted into the chest area and cuffs. Even though the outfits are different, they perfectly match each other due to the colorful patch.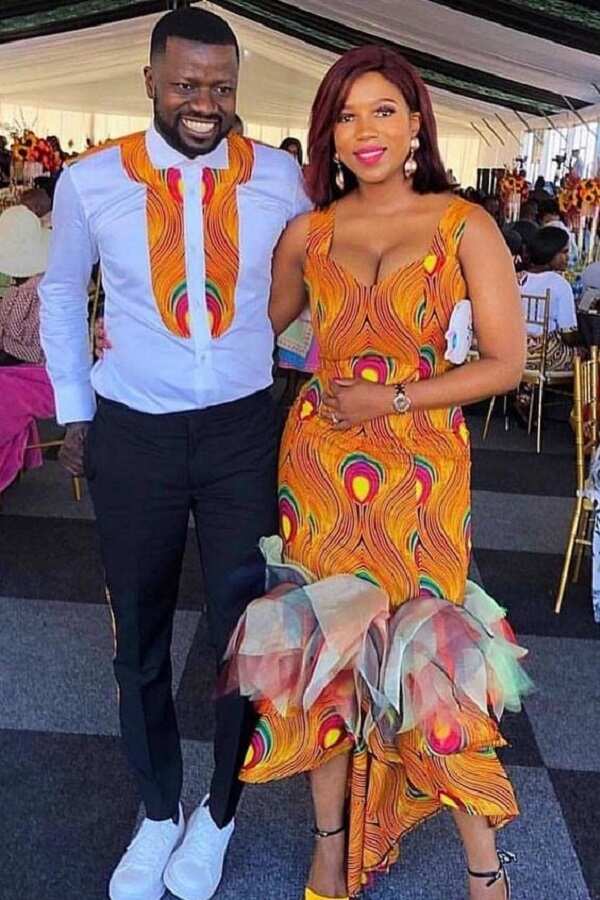 This formal couple outfit made with bright vibrant Ankara shows how perfectly well different styles can blend into something attractive and lovely. The bottom of the woman's dress looks so festive and lively like dresses of professional dancers. The snow-white shirt of her man is perfectly decorated with patches of the bright Ankara, and it makes the couple outfit look whole.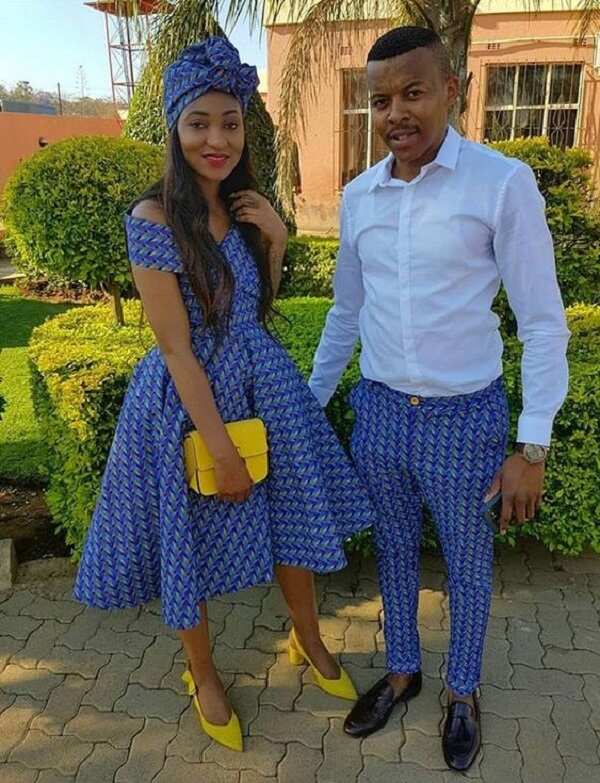 This blue ankara look is a great choice for a Sunday visit to a church, a friend's wedding, or a nice party. The couple is dressed in the same type of cool blue ankara and it looks just great. The stylish and elegant dress the lady is wearing is finished in a western style and so is the attire of her man. Bright accessories add a touch of style to their look and make their outfits look expensive.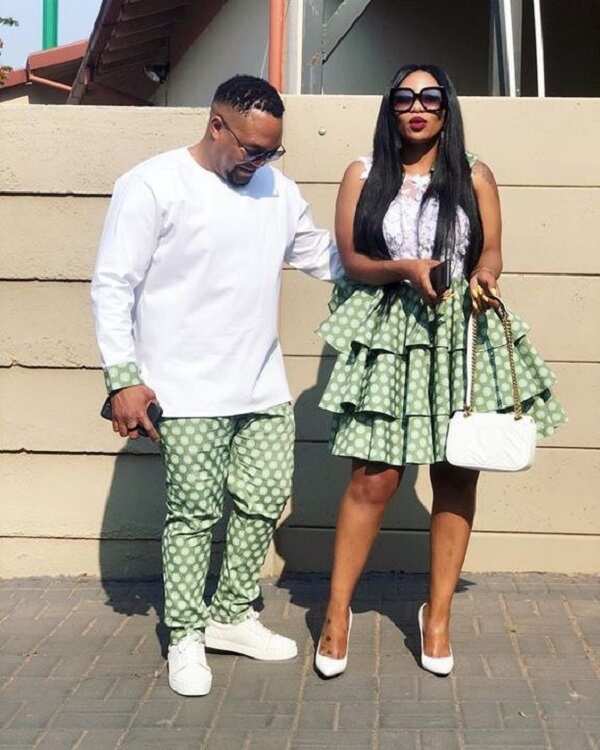 In this couple outfit both bottoms are made out of ankara of the same type. This joins the attires and give the couple a great look. It's possible to go further with such styles and create attires, which will have only details or accessories made out of the same material. The unity between the attires will be much more subtle but you will see how elegant this subtlety can be.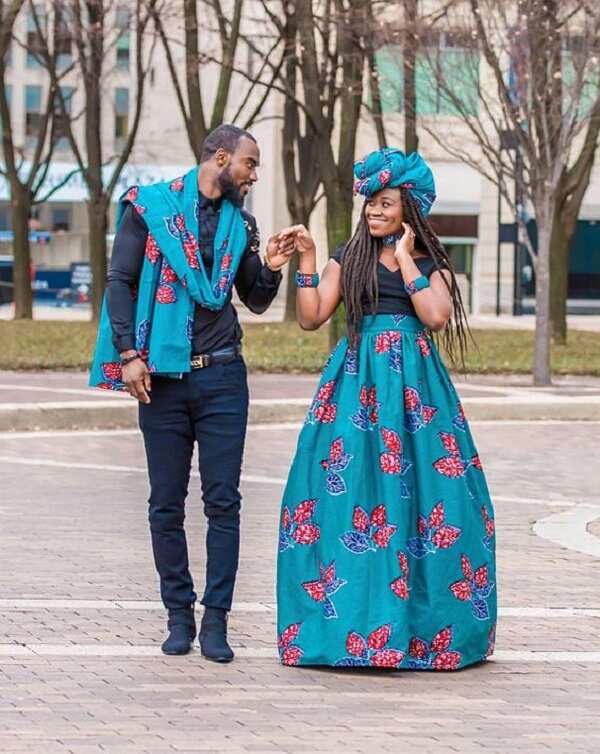 READ ALSO: Chiffon kimono styles in Nigeria for you to wear in 2019
Another formal attire made out of ankara is here! Such a gorgeous skirt that looks like a princess' attire finds its reflection not only in the head tie worn by the same madam but also in the scarf worn by her man. The couple looks so unusual, great and perfectly united in their attires. The styles are not exactly native but they look amazing and you should definitely try wearing something of this kind when you need a lovely look.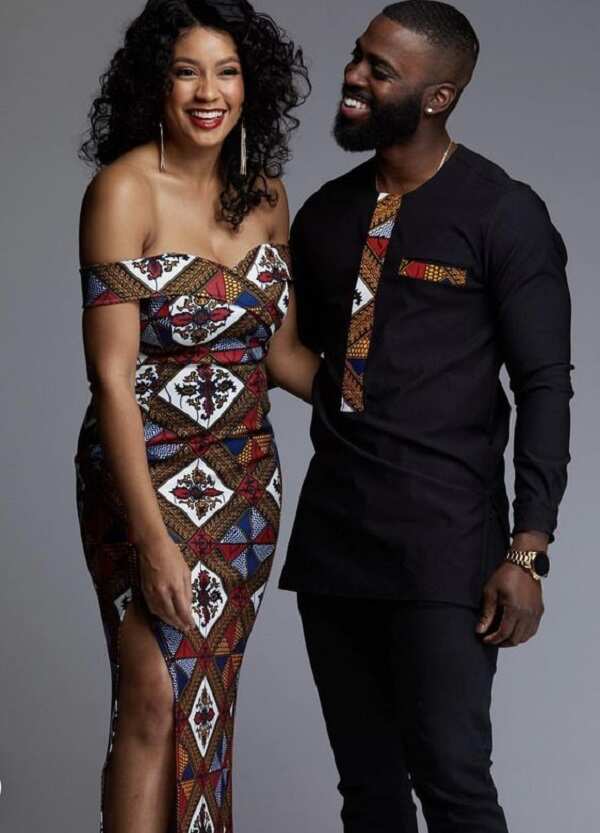 This dress finished in a western style looks just amazing when accompanied by the man's traditional suit with bright details. It's enough to add several patches of the same ankara to a total black look of a man to match the attires and give all people a sign that this couple is bound. It's a true delight to see how such a dress matches the native style of the man's outfit.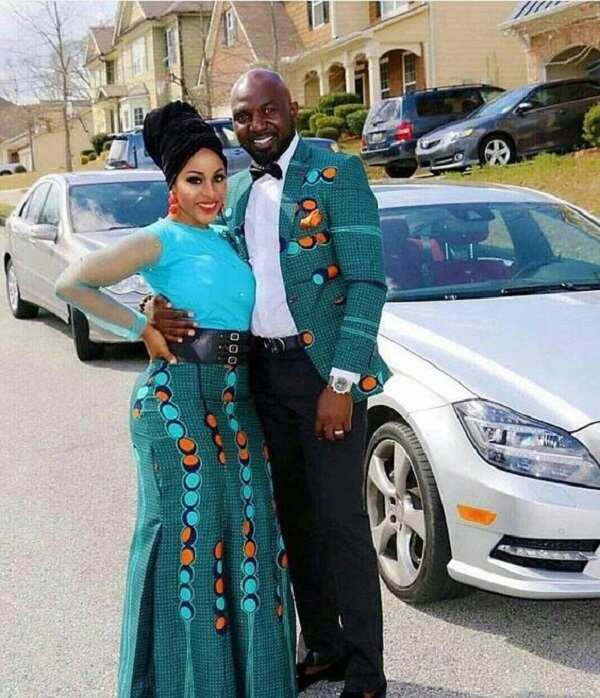 Sometimes, even jackets are made out of ankara and this is exactly the case. A bright a juicy jacket tailored out of the bright ankara looks amazing and it matches the woman's dress so well! An ankara skirt and a matching plain top are elegant and formal enough to be worn for an occasion like a wedding, for example. Bright and noticeable leather belts with metallic buckles both the woman and the man wear are different but still give another hint of the union between these two.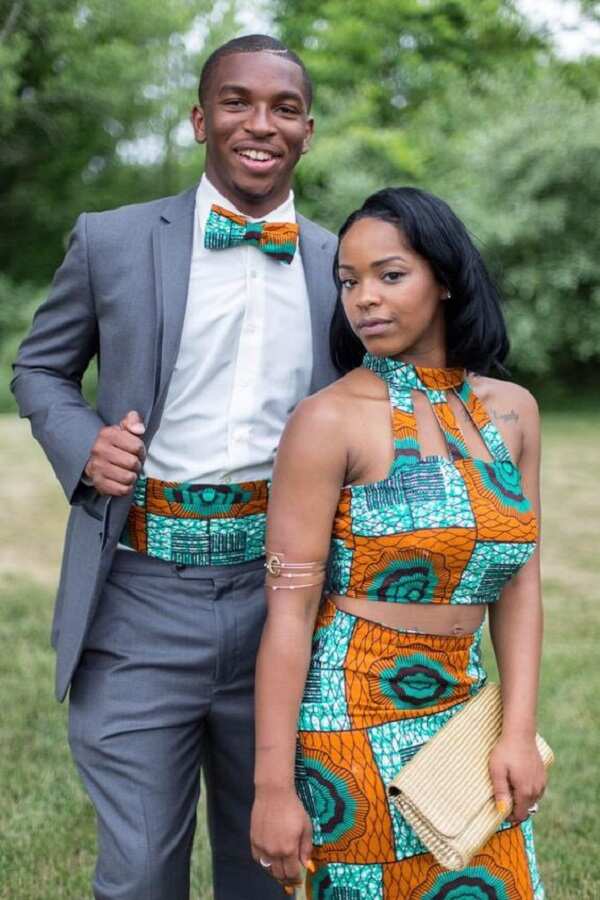 READ ALSO: African old school dressing for men and women
This bright ankara style is attractive and vibrant. A lovely crop top and a straight skirt with a high waist is amazingly native and tribal with the specific geometric print. It looks extremely fresh and lovely when accompanied by a European suit. However, the suit has several bright details like the bow tie and wide fabric belt made out of the same material. This is an awesome combination and it looks very lovely.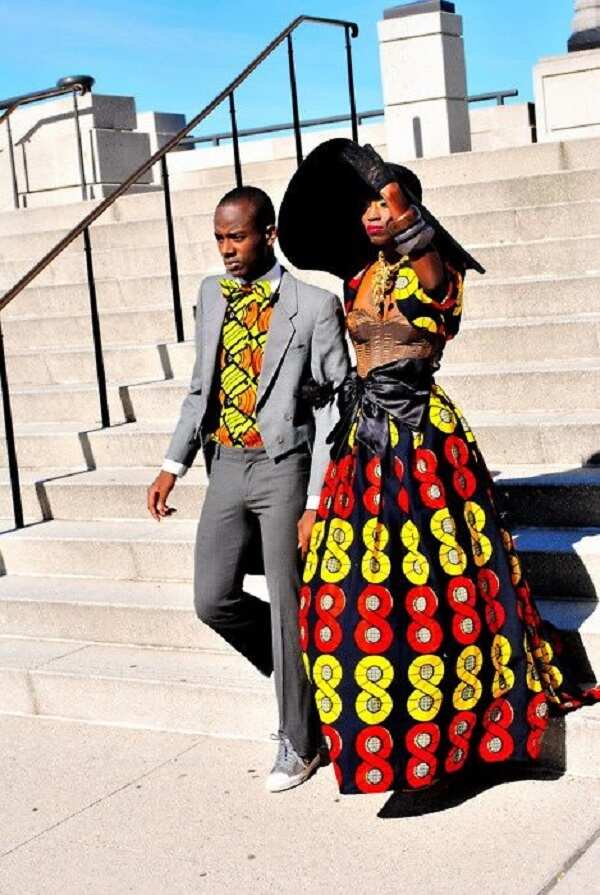 This amazing couple attire looks wonderful and unusual. The ankara they use has a simple but amazingly bright print, which makes it look stunning. The cut of the dress and the great hat complete the look of a lady from old times. The man dressed in a classical frock accompanied by usual sneakers and an ankara shirt with a huge bow tie has a really stylish look. By the way, this is one of the cutest wedding African styles for couples one can imagine today.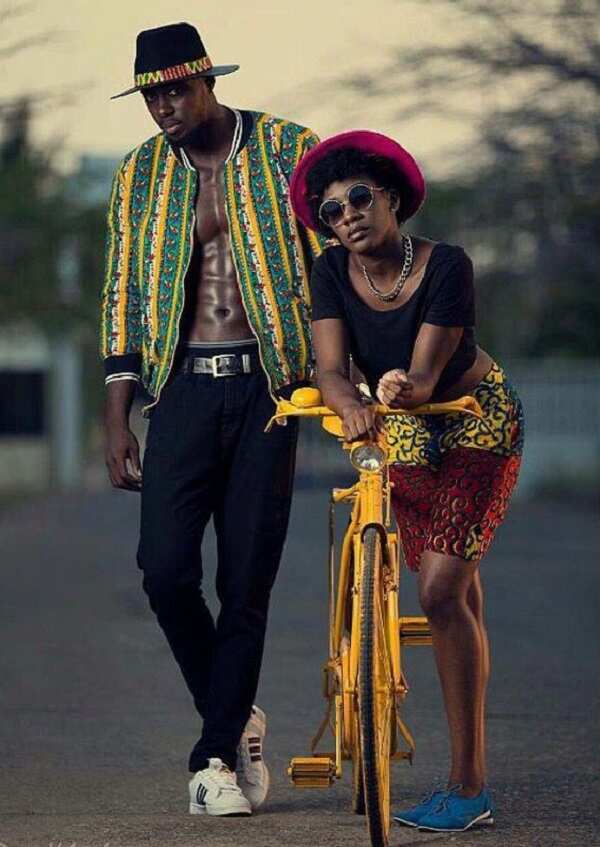 This couple is dressed in a completely modern way with their hats and other details of their attires. Here, the ankara patterns are not similar at all but their colors and the very presence of ankara accompanied with plain black show that these two are dressed as a couple. Their sneakers, the cropped top of the young lady and other details show how modern this style is but you can see a lot of traditional vibe in their attire.
Several native African styles for couples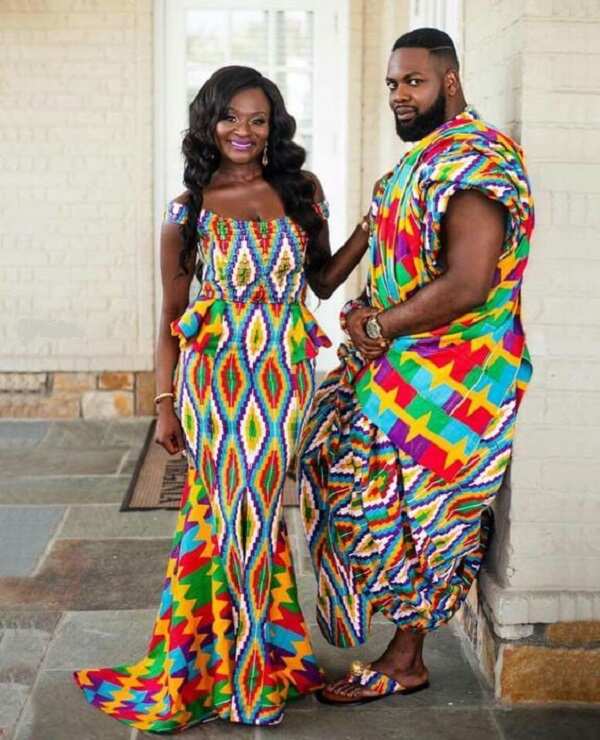 This amazing attire for two sweethearts looks so pretty and lively! This is a great choice for a stylish wedding with a natural atmosphere. The patterns and colors look so tribal, authentic and bright that it's impossible to take one's eyes off them.
Native African styles involve traditional decorations and fashions of clothes, fabrics with certain prints and vibrant colors. Here we have several examples of the prettiest native African attires for two.
Dashiki is another variation of popular African fabrics. With its characteristic patterns and their location, this fabric can be used for just every item of clothing, male or female. It's cute and bright and looks very attractive. Just check out this couple attire and see how well this fabric can work.
The dashiki fabric with a black background and bright patterns is a great choice for a couple outfit. Men's shirts look perfect when they are made out of this fabric. It's important that you can select the way the patterns will be located on the ready item. A female dress made out of this fabric is also a great example of style. A mini sheath dress is decorated with a long gown made out of dashiki that looks really luxurious with its golden borders against the black.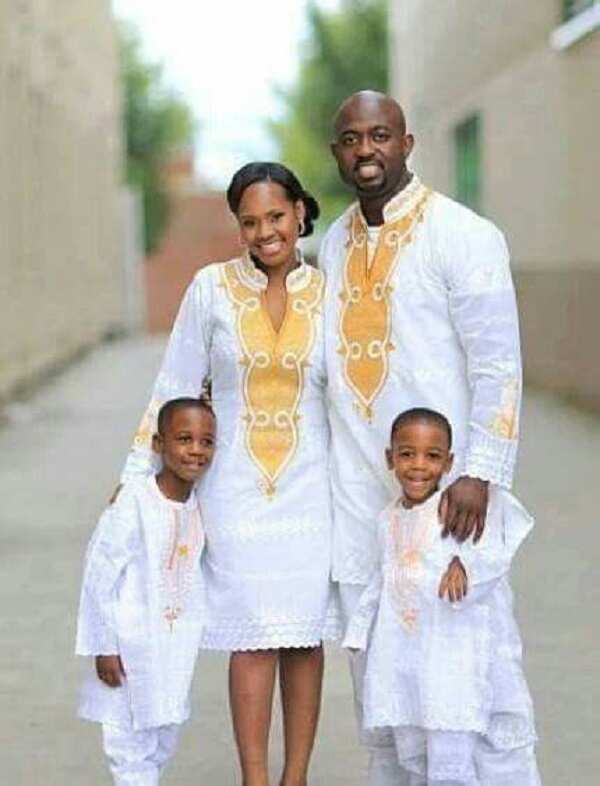 Couple styles usually look really cute but family looks are even cooler. There are many various styles that can work well for the whole family. Look at this lovely family in white traditional clothes with golden embroidery. The boys look so cute in their tiny suits and absolutely like their daddy who wears practically the same style. The female dress can be replaced with a female suit with pants, and this style may look even better in this case.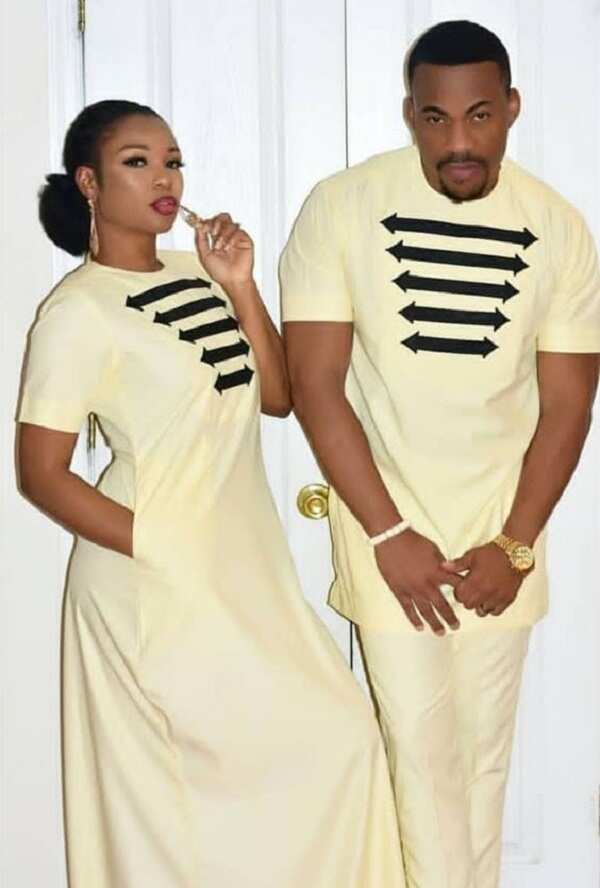 Double-ended arrows on the chest of the male shirt and the female dress look modern enough but, in general, the suit and the dress look really native and authentically African.
In fact, you can get dressed as you like when you are choosing clothes for a couple. Just add some accessories made out of the same material, in the same color, and so on. They will bind your African outfits for couples and show your idea of the union between two people.
READ ALSO: Best dinner gown styles in Nigeria
Source: Legit.ng