Best natural hairstyles for kids
Nigerian girls want to look pretty since they are little, and their parents can help them with this. Are you unsure about the perfect hairstyle for your little girl? Do you want to make her look beautiful, but are uncertain what the best hairdo for a child is? Here you will see some of the best natural hairstyles for kids and choose one for your little princess!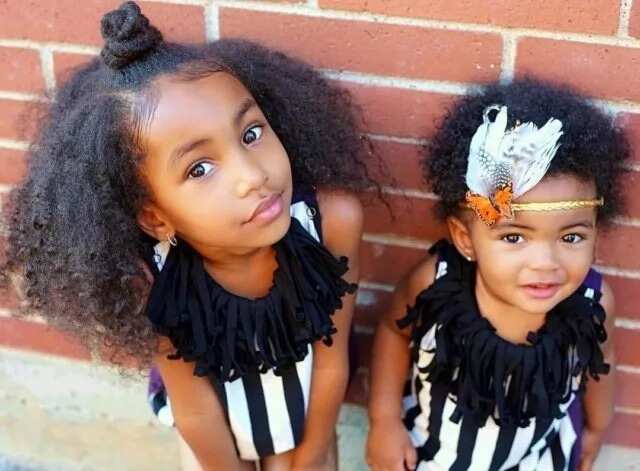 Nigerian hairstyles for kids
Children hairstyles are just as varied as the adult ones. In fact, most hairstyles for natural hair that are suitable for grown-ups can be appropriate for youngsters. We all know that Nigerian girls are the cutest human beings, and the well-suited natural hairstyles will make them look even better. Every caring parent wants their little daughter to be the sweetest girl, so that you can help your young fashionista out with her brand new look.
Here are some of the best hairstyles for kids that you can replicate for your little lady, either on your own or with the help of the stylist. Make her even cuter than she is by following the latest fashion trends for children.
1. Afro puff
Who does not love puffy hairstyles? With this one, your girl will be the sweetest little princess and showcase the true beauty of natural African hair. The only downfall will probably be everyone wanting to touch her afro and try out its softness. However, you cannot really blame them, as this natural hairstyle is so cute and lovely. By the way, you can decorate her head with an elegant hair band, bows or flowers. If you prefer making two afro puffs, you can try this instead – it will be even cuter!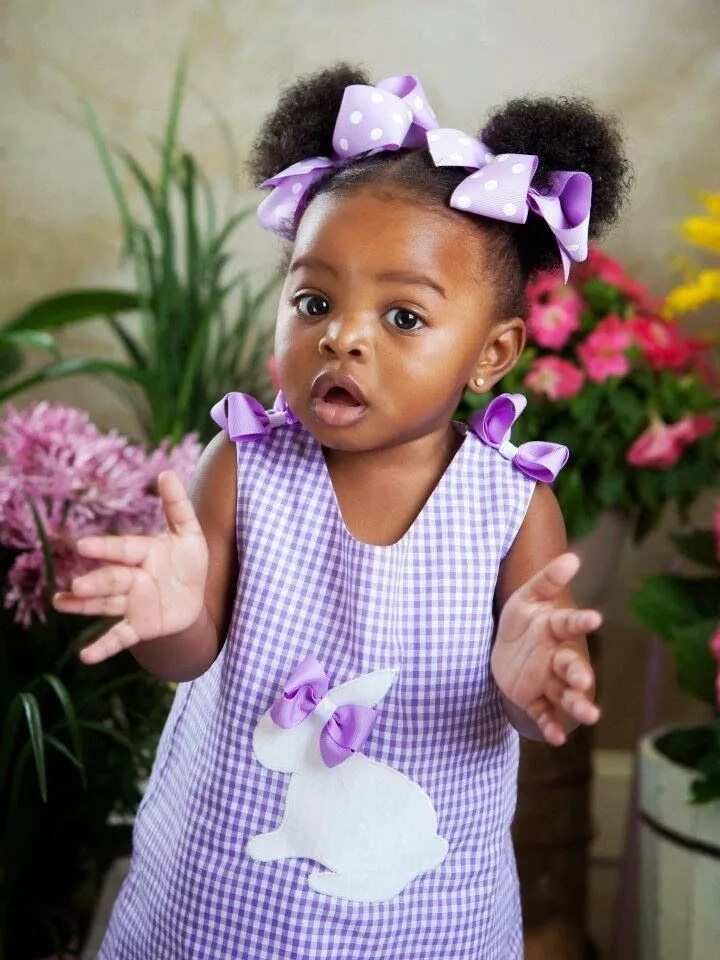 2. Protective braided bun hairstyle
This is one of the classic braided hairstyles that you can do for your little girl in order to preserve not only the beauty of her natural hair but also its health. African women need to take good care of their hair since they are little, in order to keep it just as strong and healthy as it was when they were children. So, the braided hairstyle would be the best way to take care of your baby girl's hair.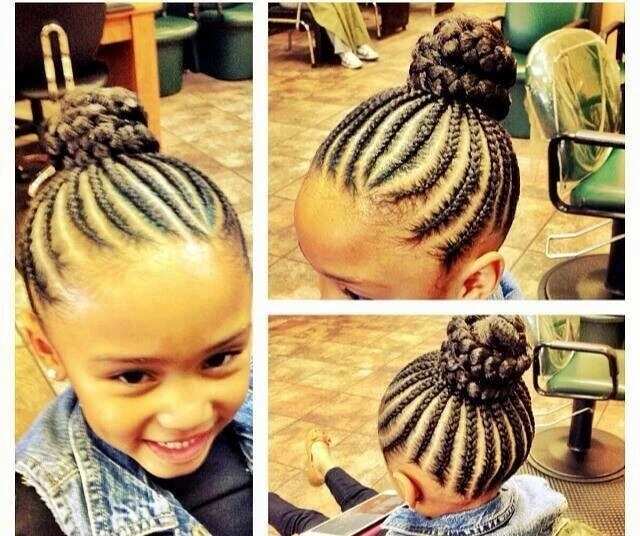 3. Bow ponytail updo
This sweet hairstyle will attract everyone's attention to your little fashion lover, and will also protect her hair from inner factors. In addition to the interesting hair pattern, the colorful bow will add some festivity to the hairdo.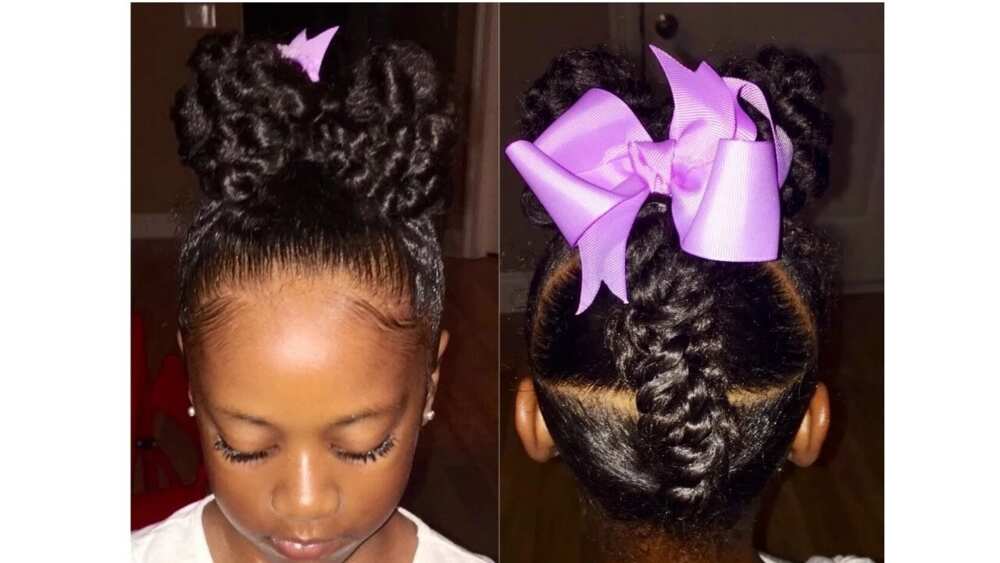 4. Side ponytail with twists
This ponytail is similar to the previous one, except that it is a side hairstyle. If your little girl is okay with wearing a ponytail to the side, then you should definitely create this adorable hairstyle on her hair, and make it even more beautiful with the help of a bow.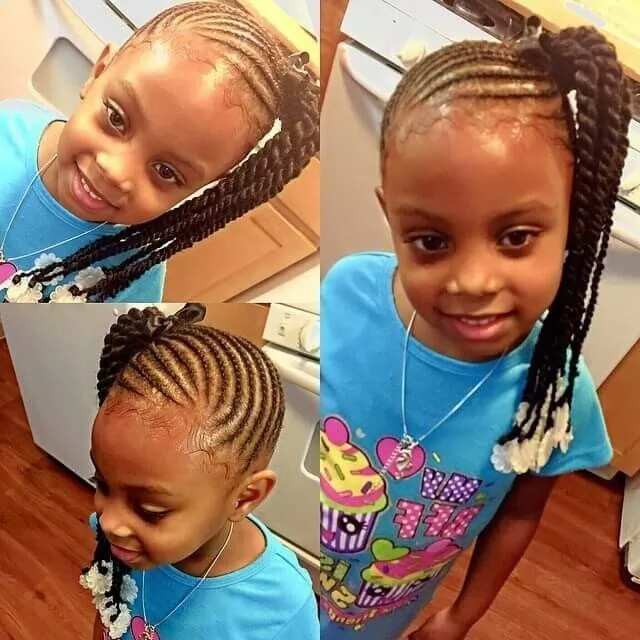 5. Box braids in bun ponytails
There is no hairstyle that shows the African fashion spirit better than buns made of box braids. These are basically a few popular Nigerian hairstyles combined into one. This is one of the most loved styles for the youngest ladies, and your child will definitely be happy to look like a little queen.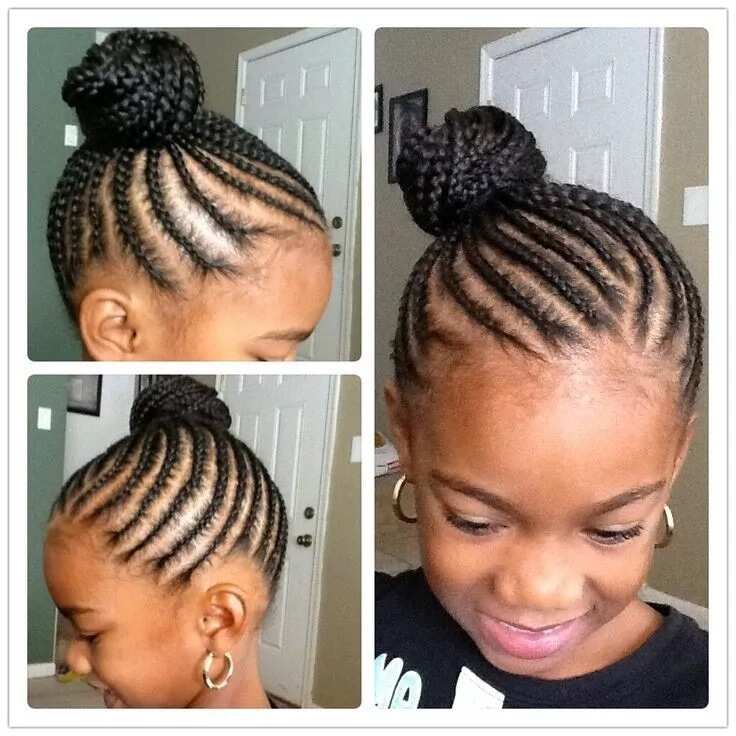 6. Box braids with a side ponytail
This style is playful, modern, and fresh, which is exactly what every child needs. It can be combined with a stylish outfit, or with a cute dress – the choice is yours, but the hairstyle totally works with both casual and formal wear. The patterns on your girl's head will make everyone go in awe, and her messy ponytail will indicate that both she and her parents have a good sense of style.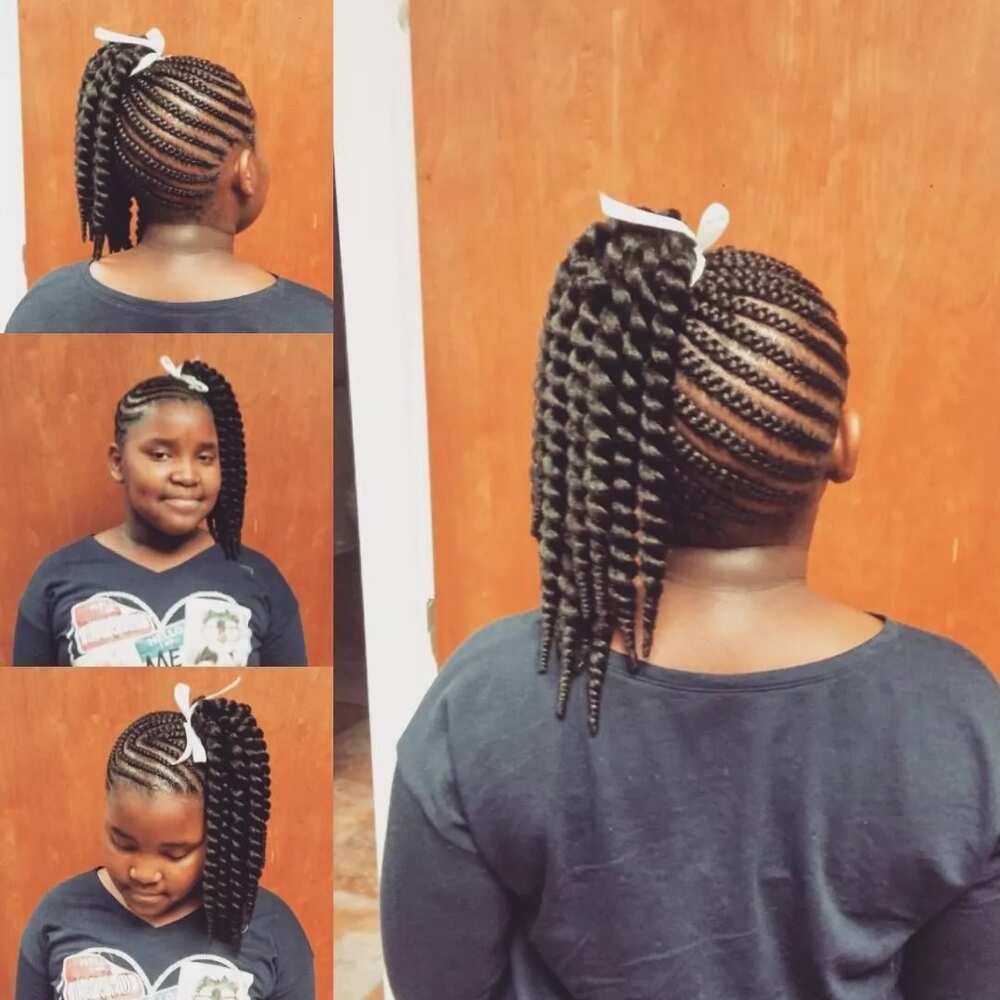 7. Curls and cornrows
For the most creative parents and their little beans! This hairdo might look like it is for adults, but children can rock it the same. If you want to make your little model a true star, you should opt for side sweep with the curls and cornrows.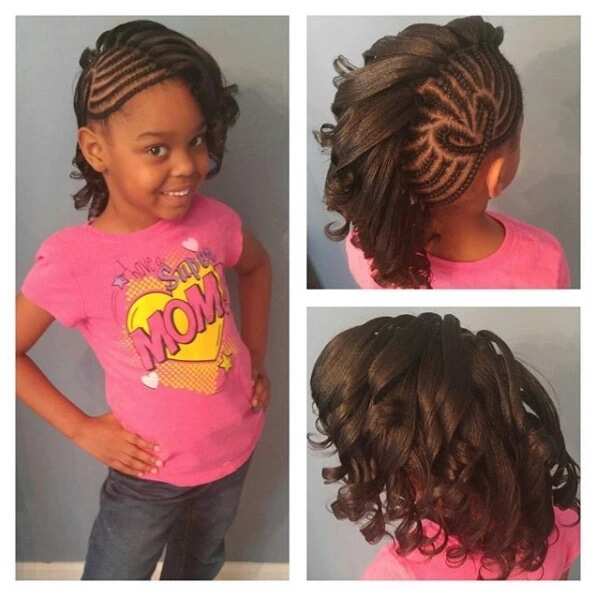 8. Bun ponytails with the bows
Everyone will die of cuteness when they see your little girl with these sweet buns. This one is for girls with fluffy and soft natural hair. If your daughter's hair is not long enough to make an afro puff, you should consider going for this one, because it is one of the best cute natural hairstyles for short hair.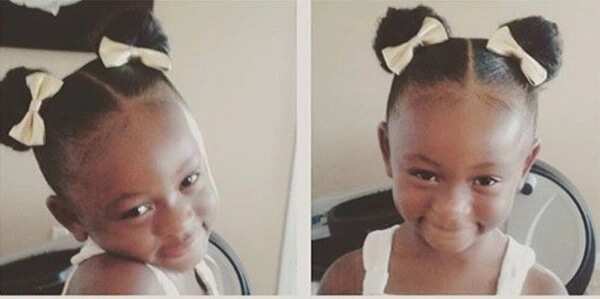 9. Cornrows with heart design
Express your love for your little girl with this original and unique hairstyle! The heart on the back of her head will look adorable and drive everyone's eyes at her. Cornrows will make her look innocent and sweet, and the colorful beads will be a great addition. This is one of the best styles for young girls.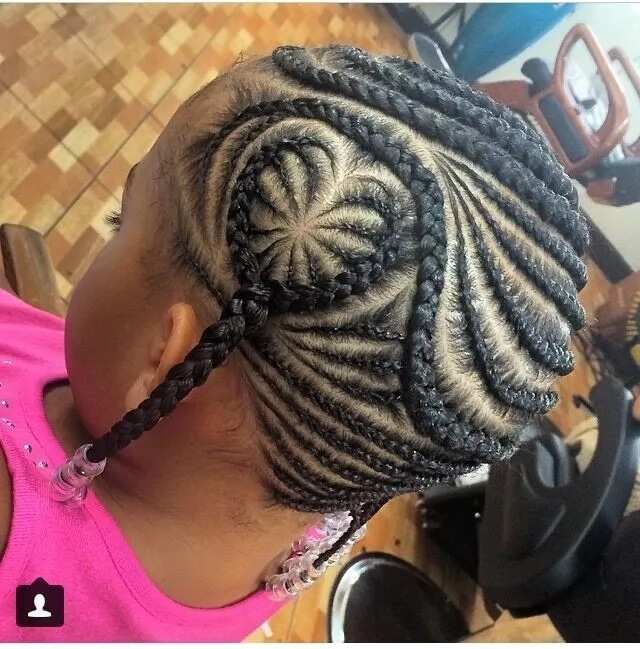 10. Crisscross braided ponytails
If your daughter is a little ball of energy, then crisscross braids gathered into ponytails will be just right for her. Bonus if you add some multicolored scrunchies that will show how young and funny is your girl.
READ ALSO: Baby wool hairstyles you should certainly try in 2018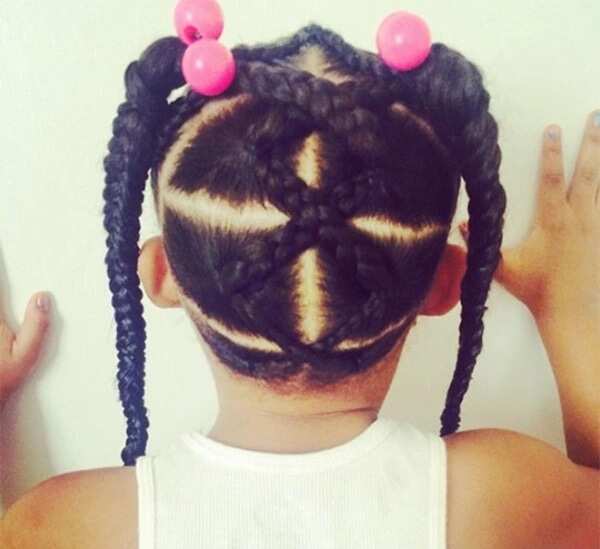 11. French braids with a twist out
This is a perfect hairstyle for little ladies who enjoy being elegant and classy. Your daughter will look like a princess with these cute braids and a twist out, especially combined with a lovely dress. And the bow will capture everyone's attention. This hairstyle is one of the most popular options when it comes to natural hair twist styles.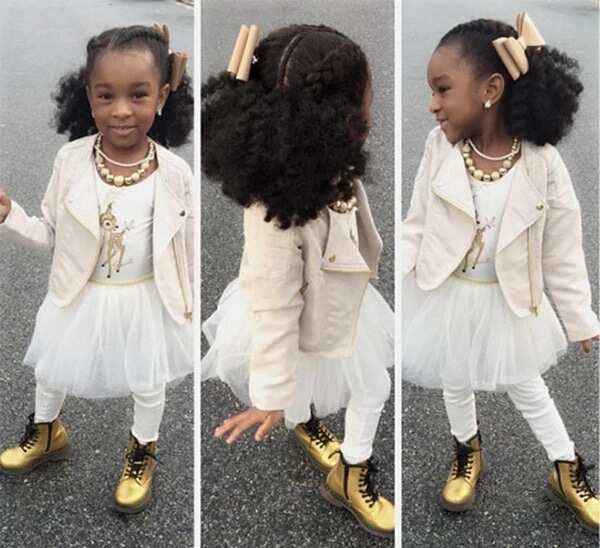 12. Cornrows with twists
This hair option is similar to curls and cornrows, but instead of curls, you can make some twists. Everyone will appreciate the fresh and creative outlook on your little girl's.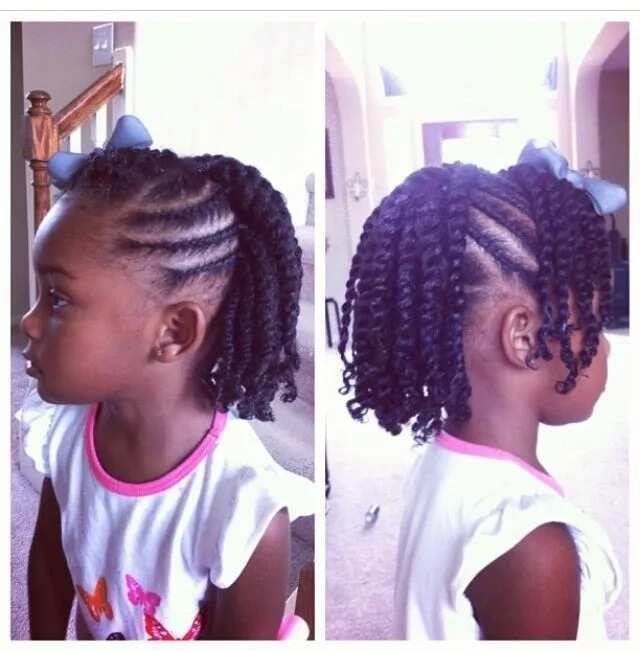 13. Pony hawk and perm rod curls
This innovative hairstyle will blow everyone's mind and make your child look extremely imaginative, as opposed to the regular popular hairstyles. It is also easy to wear, so the child will get only pleasant experience with this interesting hairdo.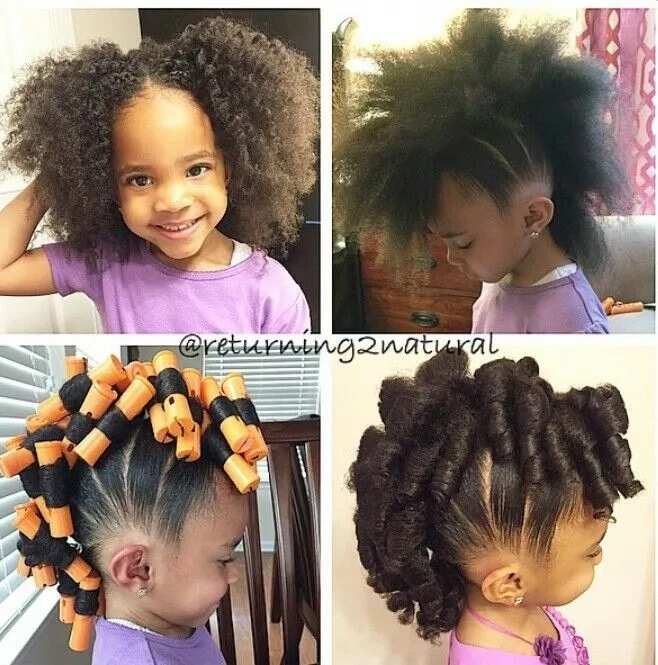 14. Cornrows and twists with ponytails
This one is something new and innovatory, but it truly carries the childhood spirit. It is another exciting combination of a few popular African styles. Your daughter will feel like a prank-loving youngster with these cute twisted ponytails.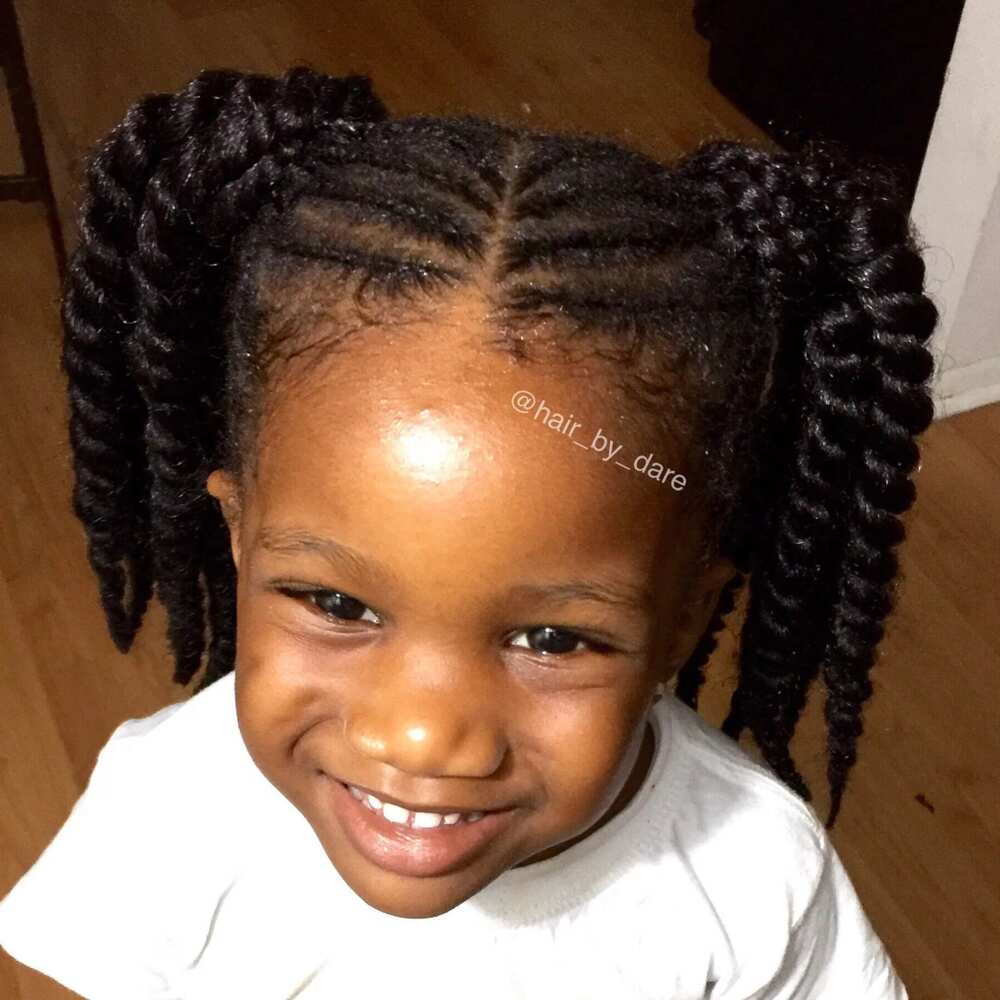 15. Twist-out with braid
The twist-out hairstyles are popular both among adults and children, because they make your look casual and at the same time charming. You can do a cute twist-out with a little braid for your girl, and add a large colourful bow. She will look like she just escaped from a fairytale!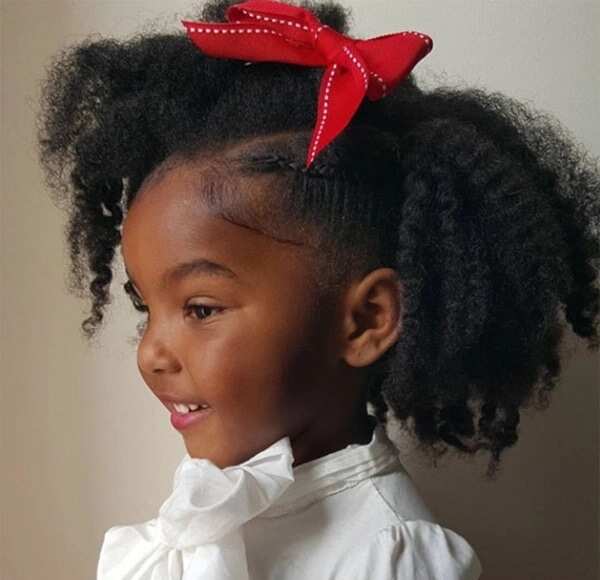 16. Two-stranded twists with a rose
If you like the possibility of letting the twists loose, then go for it! You can make the look even more appealing and sweet by adding a rose to your daughter's hair. Every girl looks beautiful with flowers in her hair, and your young fashionista will not be an exception.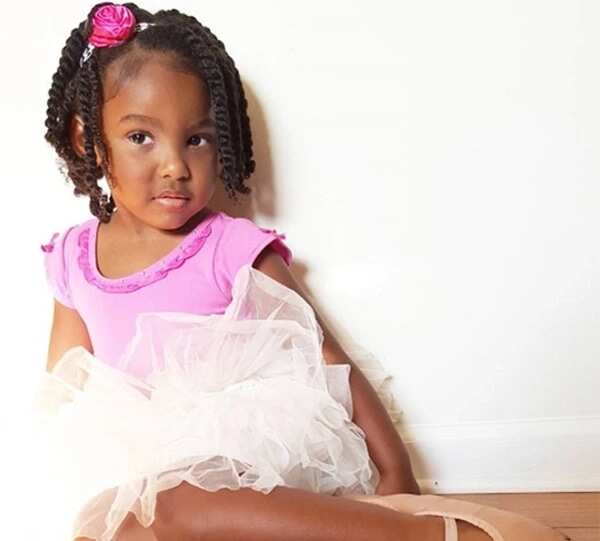 These are some of the best natural hairstyles for your child. If you have a cute baby girl with great natural hair, then use her potential to the fullest and help her with the amazing hairstyles. She deserves to feel beautiful!
READ ALSO: Nigerian hairstyles for kids
Source: Legit.ng