Girls with short hair are sure that beautiful and original hairstyles only long-haired beauties can do. Today we will dispel this myth and prove that a romantic and vivid image can be made for a short haircut. Every girl can easily do cute natural hairstyles for short hair.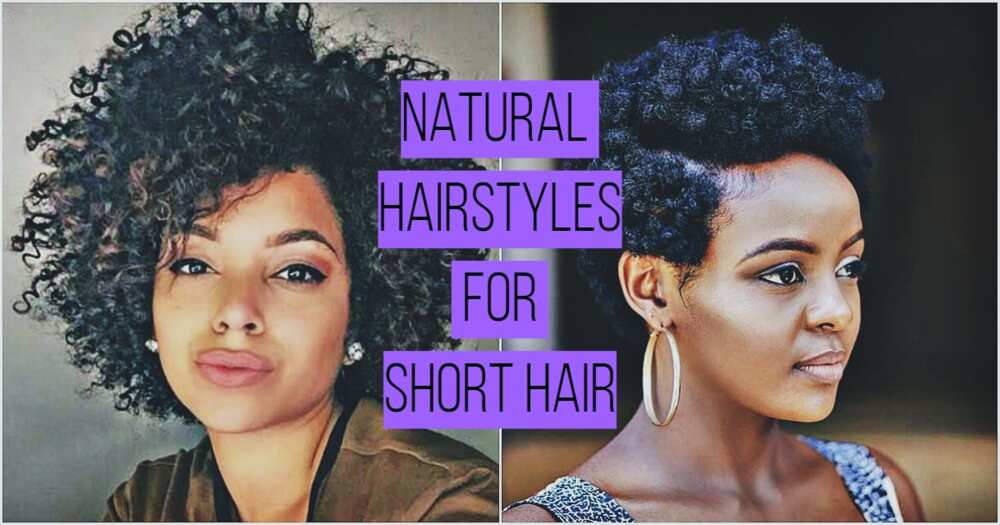 Cute styles for short natural black hair
Short hair is not only the most convenient but also very stylish and modern. Judging by the statistics, this length of hair is preferred by fairly emancipated, self-confident girls and women. For many people, hairstyles with short hair are associated exclusively with so-called boyish haircuts. However, as experience shows, not everything is so simple. Beautiful hairstyles for short natural hair provide different lengths, which allows you to create real masterpieces on your head, depending on the situation.
1. French bun for short hair
Fully collected hair is ideal if you do not have the opportunity to correct styling during the day. For this reason, we recommend paying attention to the hairstyles for short hair called "French bun." It not so easy to make it, but after a few times, you will manage to develop the necessary skills and significantly speed up the procedure. To make such a practical hairstyle for short hair perfect, follow the tips below:
Divide the hair into three parts.
Stir back the locks with a thin scallop.
Pick up the main part of the hair and twist it into a bundle, while hiding the free tip inside. Secure the shell formed with a large number of studs.
Twist hair, which is left on the sides, in a similar way, connecting them with the main beam. Use hairpins to strengthen your hairstyle.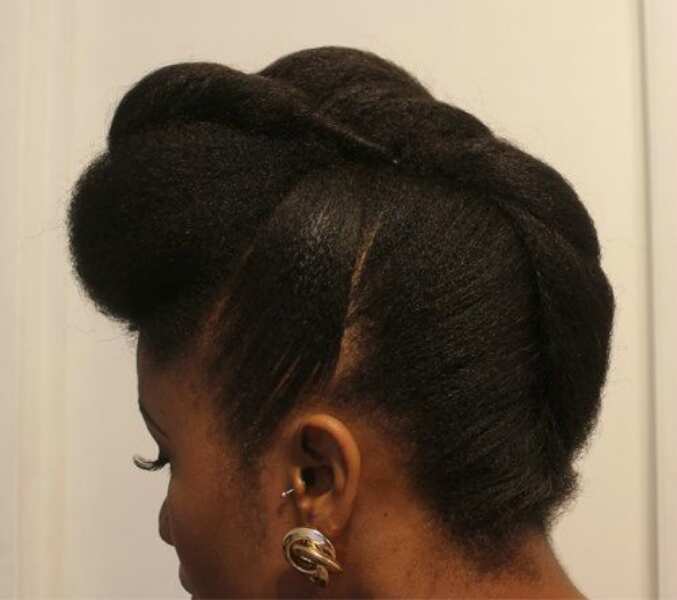 READ ALSO: How to make natural hair soft and curly
2. Low horsetail
The horsetail is one of the most convenient practical hairstyles for short hair. Its only drawback is that it still requires the presence of a certain length and very short haircut will not work. To create a similar installation is quite simple:
Leave two strands near the ears, and the rest of the hair gather in a low tail and tie a thin elastic band.
Take the side strands, pull back and cross them between themselves directly above the rubber band. Put the ends of the strands under the tail and fasten with the help of a hairpin or barrette.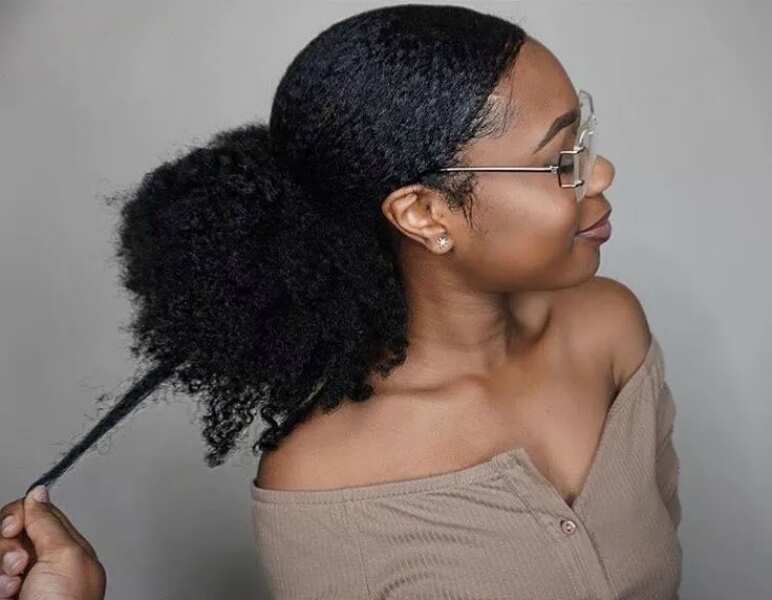 3. High horsetail
Hairstyles for short hair are very diverse. But if you need practical styling, then it is best to use a high horsetail hairstyle. For some girls, it seems too boring, and therefore we recommend using more interesting options. For example, you can also tie a high tail, and decorate its base with two side strands. If you want such a practical hairstyle for short hair to look more spectacular, you can decorate it with a beautiful ribbon.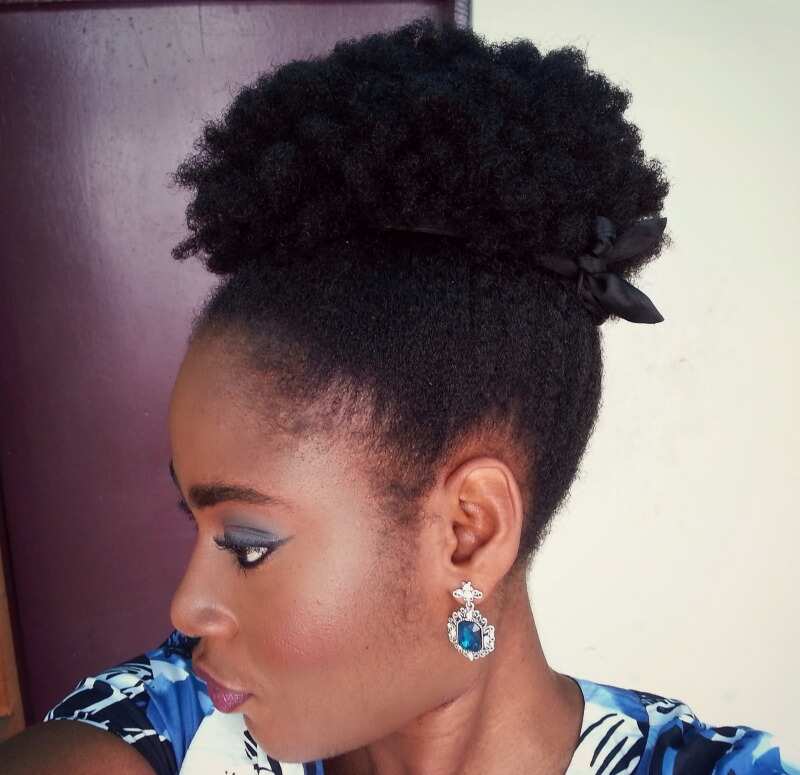 4. Plait of harnesses
Hairstyles on the elongated bob can also be very practical, especially if you decide to braid a classic braid of harnesses. To keep such a haircut on short hair as tight as possible, start weaving from the top of your head and gradually add other strands to the braid.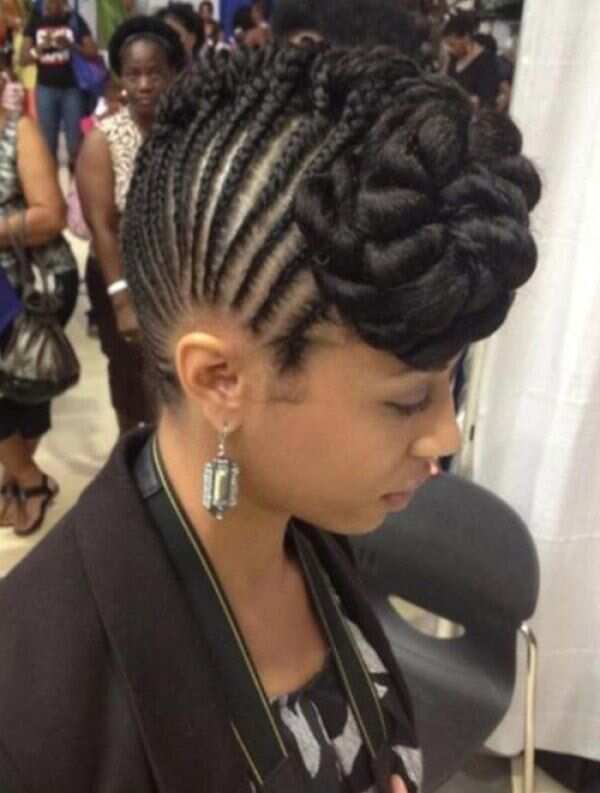 5. Romantic tail with braids
You have a romantic mood, but the day promises to be active? Then pay attention to the pigtails for short hair, combined with the tail. This hairstyle keeps without problems all day and at the same time attracts everyone's attention. You can make it at home, especially since, for short hair, this procedure does not take much time.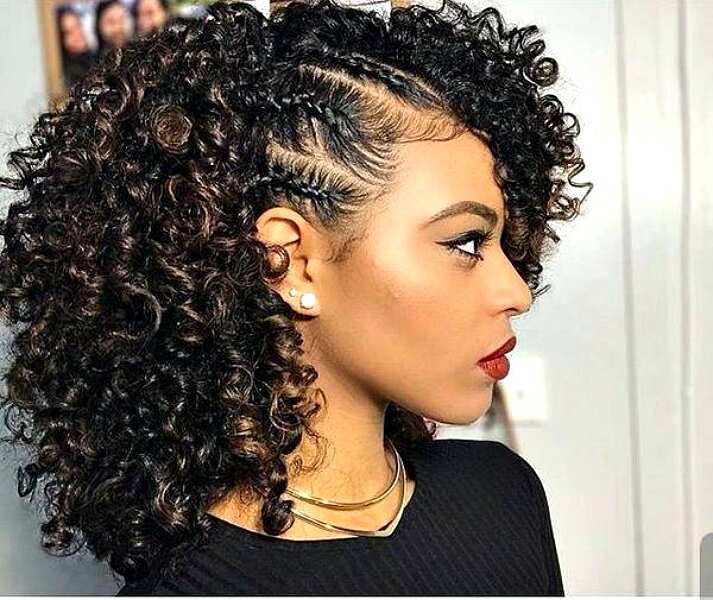 6. Garson
Another variation of the easy hairstyle for short hair is garson. Translated from French, the word means "boy" and is kept in the languages of all fashionistas for more than 100 years. Garson is a hairstyle that you should try at least once. With the help of such a transformation, you will be able to stretch your face, emphasize your cheekbones and bring some light French passion into your everyday look.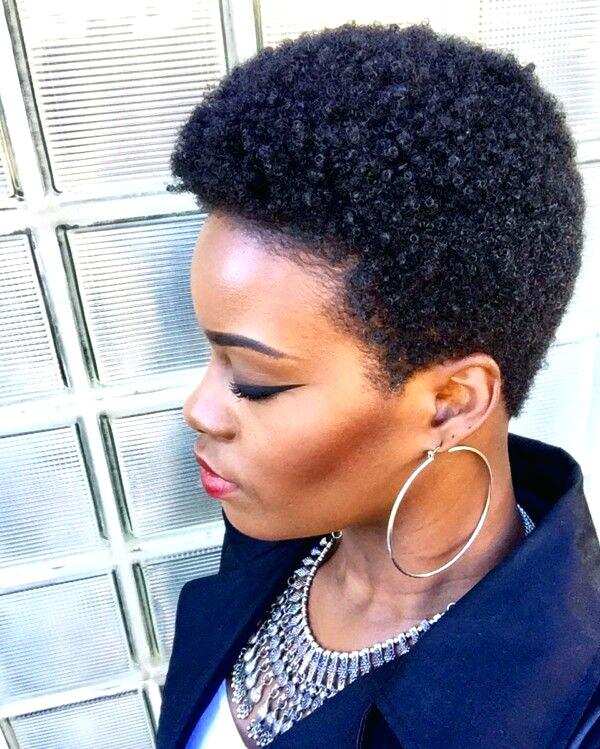 7. Bun of harnesses
Classical hairstyle bun is a great version of the hairstyle for short natural hair for a woman who spends a lot of time in the office. We advise you a more original version - a bun of twisted harnesses. It looks feminine and at the same time very elegant and restrained.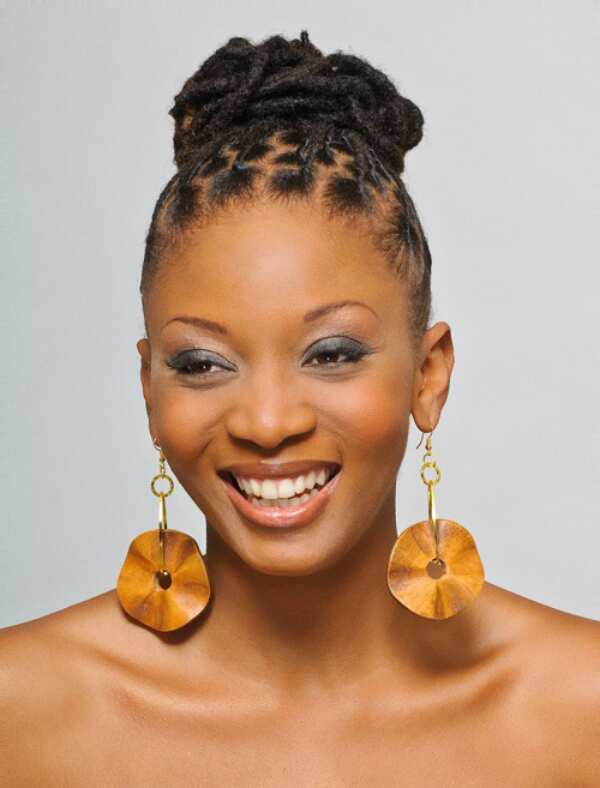 8. Short hair braid
Wearing a standard round bun, located just above the neck, it is difficult to attribute to the holiday hairstyles for short hair. However, if you add braids to it, then the situation changes radically. To do this, it is enough to braid two French braids on the sides, and twist their ends around the bundle. To make the hairstyle look as fresh as possible, we recommend making light waves with a curling hair before styling.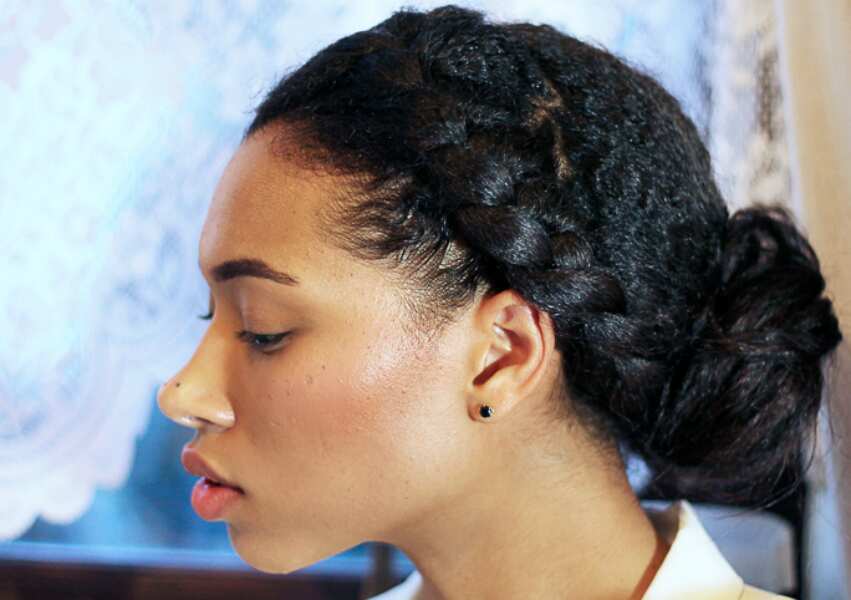 9. Crown braid
As you can see, braids are one of the most popular types of hairstyles for short natural hair. Most of all, they are suitable for young girls, because these elements emphasize the charm of youth in the best way. To make your look more gentle, braid the headband of two braids, starting in the forehead. Gradually weave all the hair into the bezel, then fix it with hairpins. The romantic headband looks exceptionally beautiful with light dresses made of flowing fabric.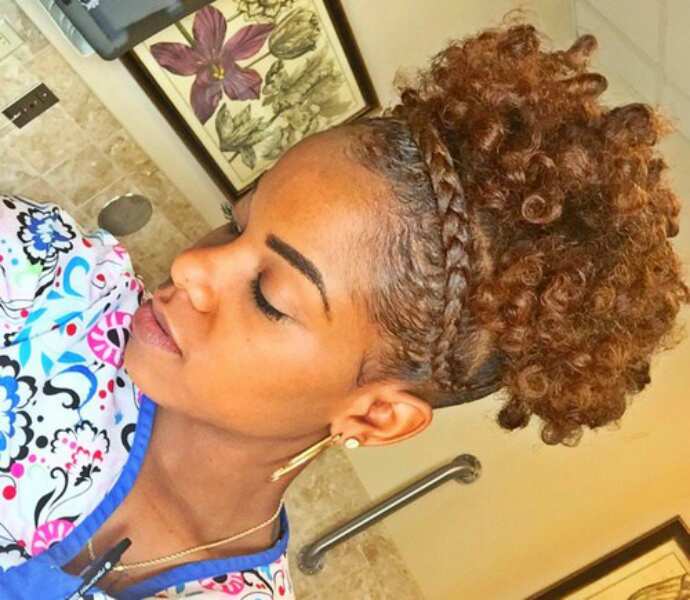 READ ALSO: Top low cut hairstyles for natural hair
Short curly hairstyles
10. Short natural curls
Who said that it is impossible to look incredibly stylish wearing your natural curls as they are. Light and funny curls will add a bob, and a shorter haircut, mystery and high spirits. All you have to do is to use some moisturizer for your hair, so it could look more silky and well-groomed.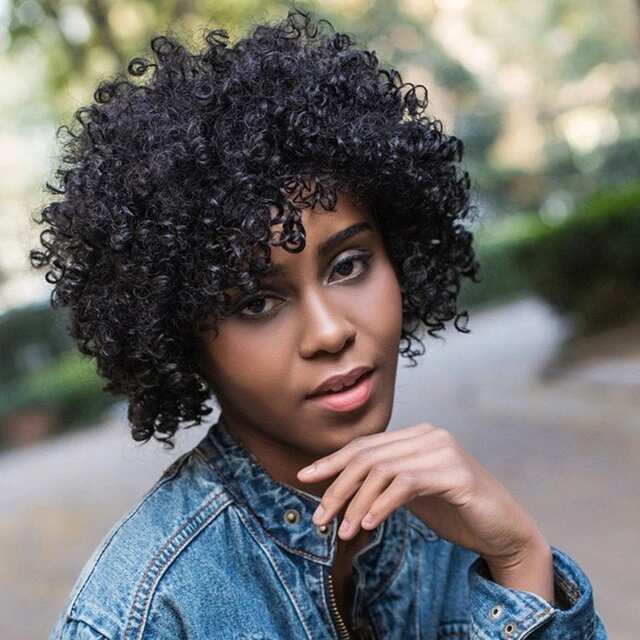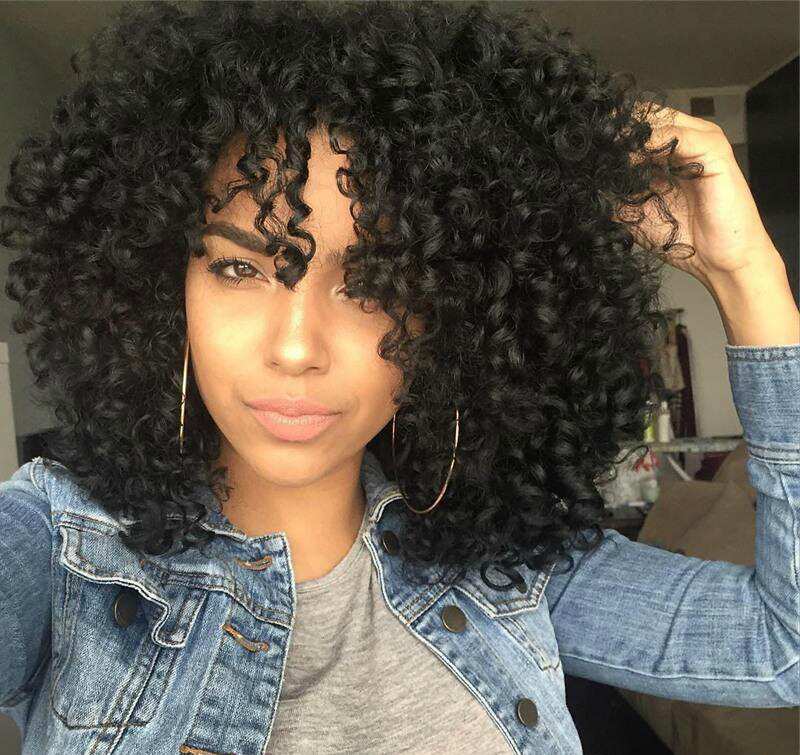 Short hairstyles for round faces
Many representatives of the fair gender consider the round shape of the face a significant lack of their appearance and mistakenly think that most modern haircuts do not suit them. Stylists and hairdressers strongly disagree with this opinion because for a round face, you can easily pick up a beautiful, feminine haircut, which can beneficially emphasize all the advantages of your appearance.
11. Coquettish pixie haircut
It is one of the most popular and stylish short hairstyles. Pixies at the expense of torn and knocked out strands will distract attention from the oval of the face. This hairstyle does not require complicated styling. Maintaining at home is easy. But do not forget about the regular correction of pixies in the hair salon (regrown strands should be trimmed in time).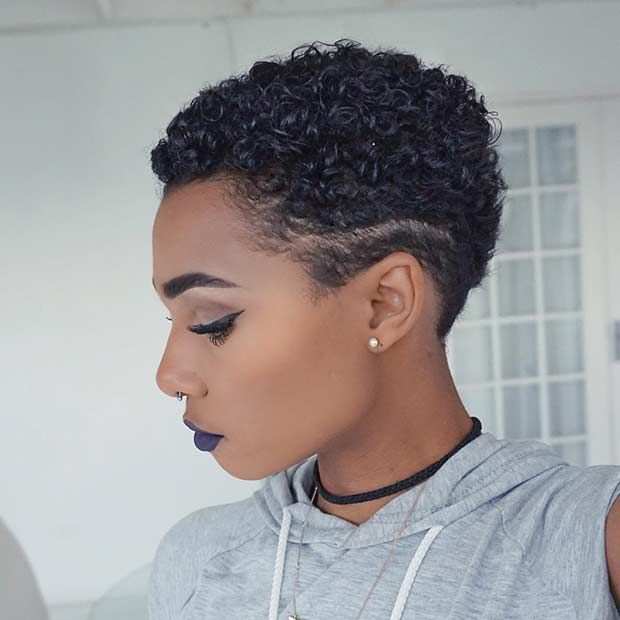 12. Bob hairstyle
The most common female haircut for short hair at all times is bob. This year, the trend for the undying classic is gaining momentum. A modern, easy-to-use, universal bob hairstyle will suit both curly and straight hair, and all shades, from ashy and golden to scarlet and inky black.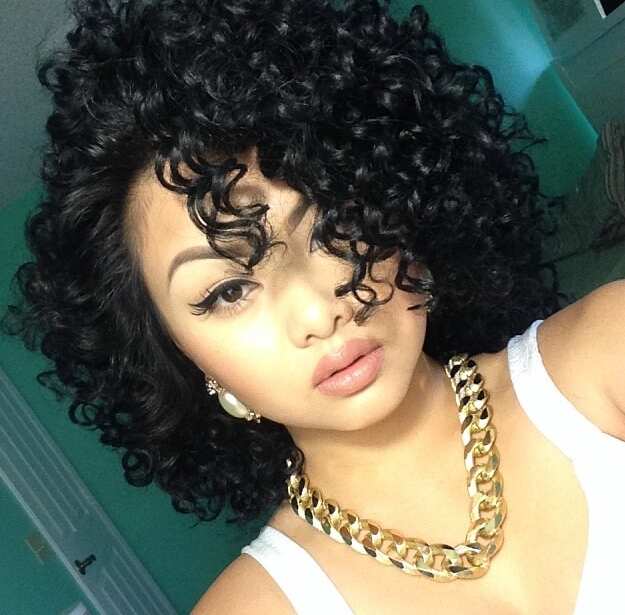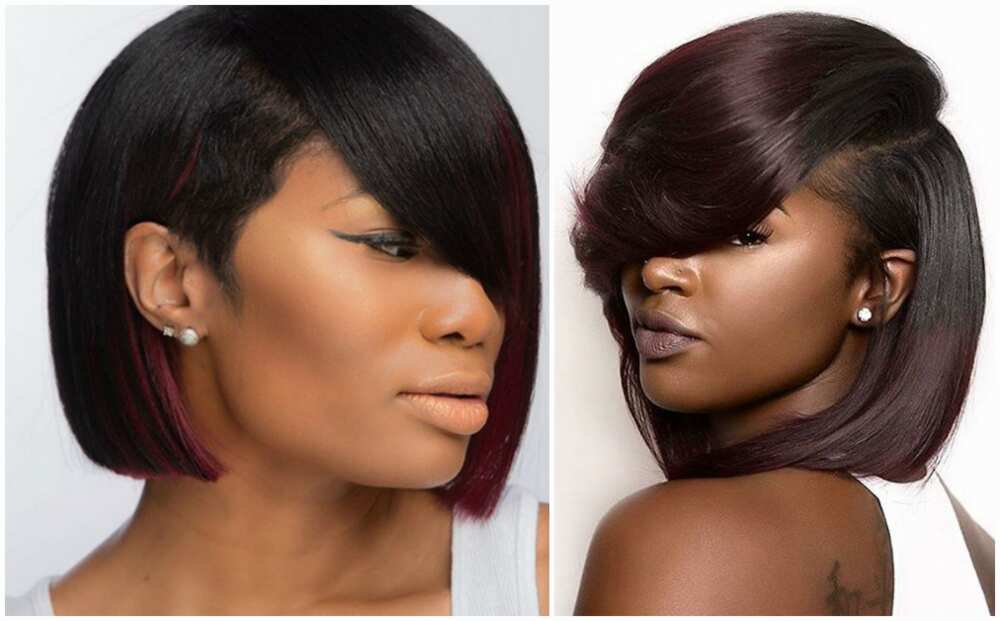 Short hairstyles for oval faces
For an oval face, it is easy to pick up trendy hairstyles and haircuts of different variations. Girls with this shape of face do not have to sacrifice the length of their hair to become more beautiful. After all, hairstyles for an oval face look good, especially on short curls. Consider the most common options for haircuts for an oval face with photos.
13. "On the leg"
This type of hairstyle, despite all its stylishness, is gradually getting out of fashion, so do not waste your time and try it until it becomes old-fashioned. Take a short cropped, shave or shortcut the bottom layer on the back of the head - and the effect on the leg is ready.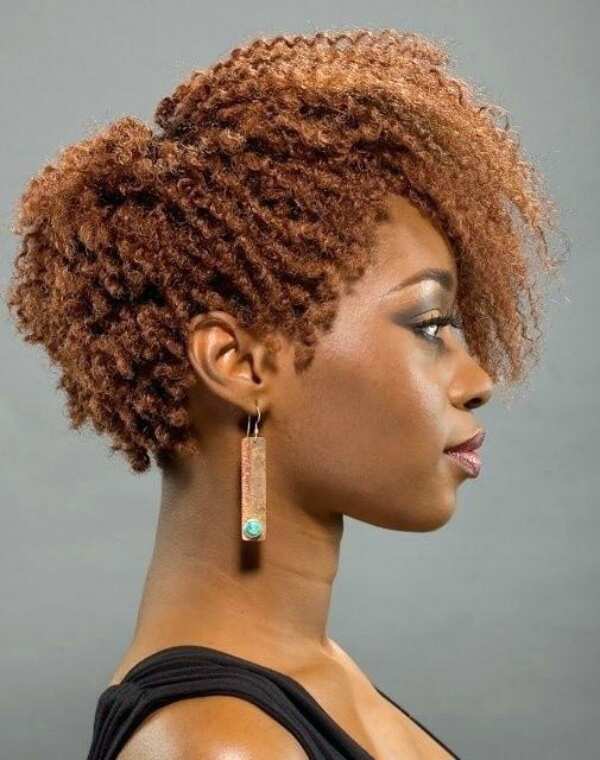 14. Retro hairstyle
The end of the 20th century is a time when girls with short hair began to come into fashion, shine on the screen and hit men with their attractiveness. That is why the light waves, hairs, and curls in retro-style especially suit short-haired girls. The stars of modern show business this year consider appearing on the red carpet with short hair and just such styling.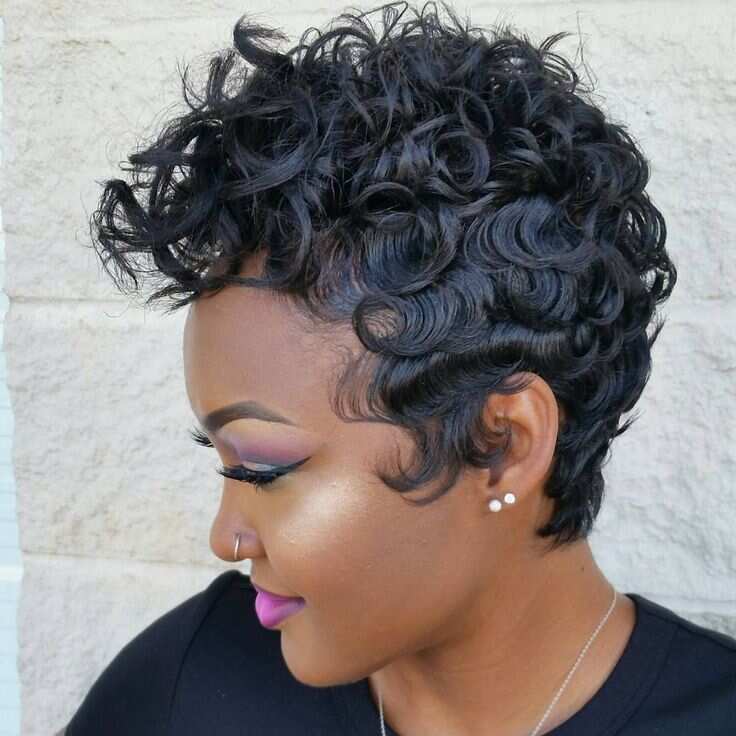 15. Very short haircut
Do you still doubt if a very short natural haircut will look good on the owner of an oval face? Look at one of the most beautiful ladies in the world and a very talented actress Lupita Nyung'o. She has exactly this kind of hairstyle and looks really amazing. By the way, very short haircuts are becoming more and more popular among African beauties. So, go ahead and left all doubts behind!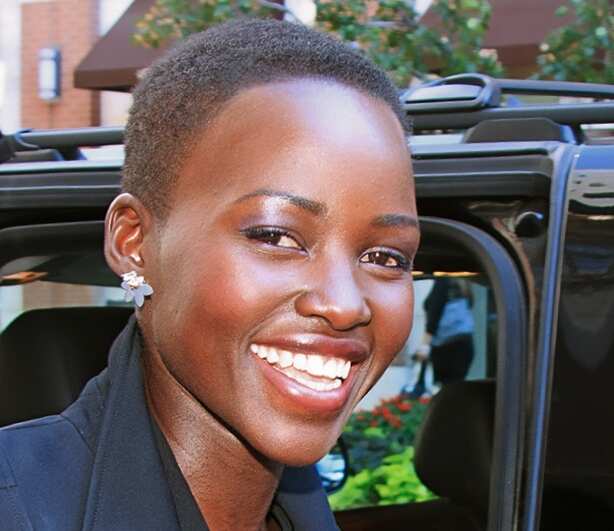 Lupita Nyung'o; photo: napturalhairlove.com
Surely you liked at least a few hairstyles for short natural hair from the above options. Write in the comments, which you liked the most. And also, we recommend saving your favorite pictures to create a hairstyle took a minimum of time. We are sure that you will arm yourself with new ideas and your hair will be treated every day with a new original hairstyle.
READ ALSO: Short hairstyles for thick hair