A stylish haircut is not only the basis of impeccable style and attractive appearance of men who love to be noticed but also a must have for every contemporary man. We present to you best haircuts for black men.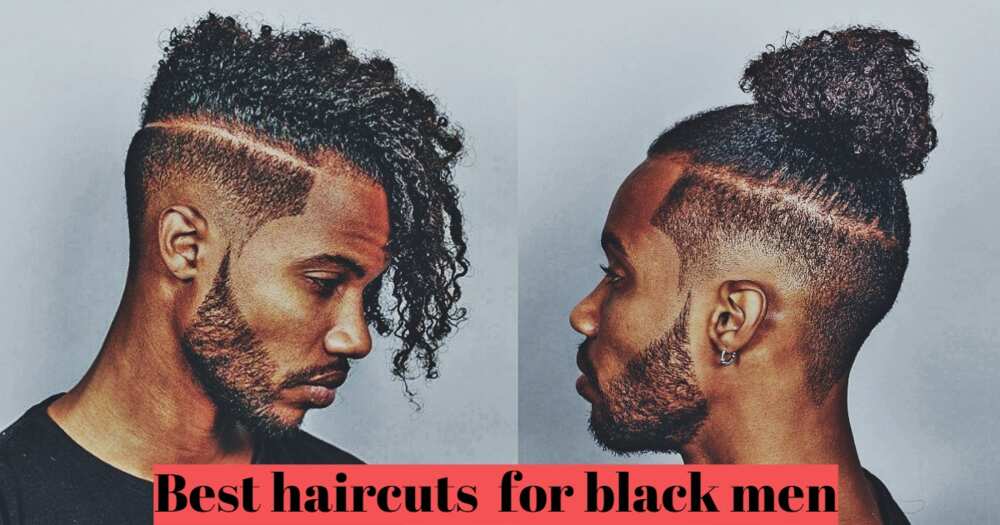 Best haircut for black male curly hair
To date, there are several hundred variants of hairstyles and haircuts, which can have many variations even with the same name. That is why we have gathered for you 17 bright ideas you can you use in your style. The haircuts presented below have different length, so we hope that at least one will capture your eye and heart.
1. Bob style
The simple but at the same stylish haircut below is made in bob. If you have nothing against this length and have pretty natural curls, you can give this haircut a try.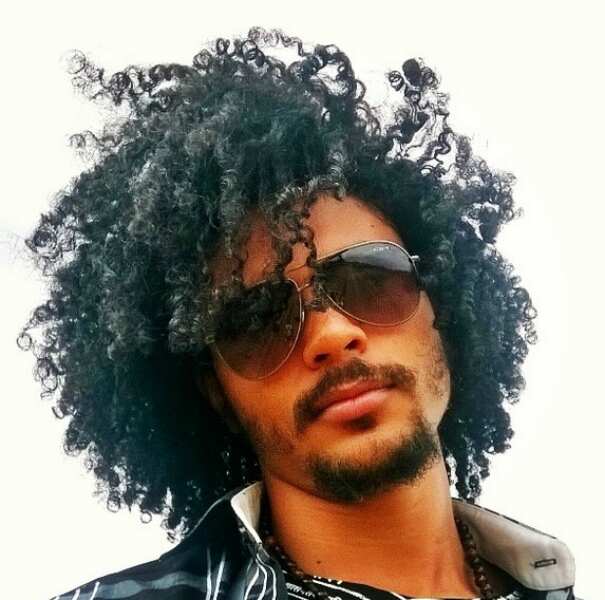 READ ALSO: 10 stylish haircuts for black men
2. Flat line from the temple to the temple
This is a cool hairstyle for African men. A feature of the haircut is a flat line from the temple to the temple. A short stylish beard is a great addition to the haircut.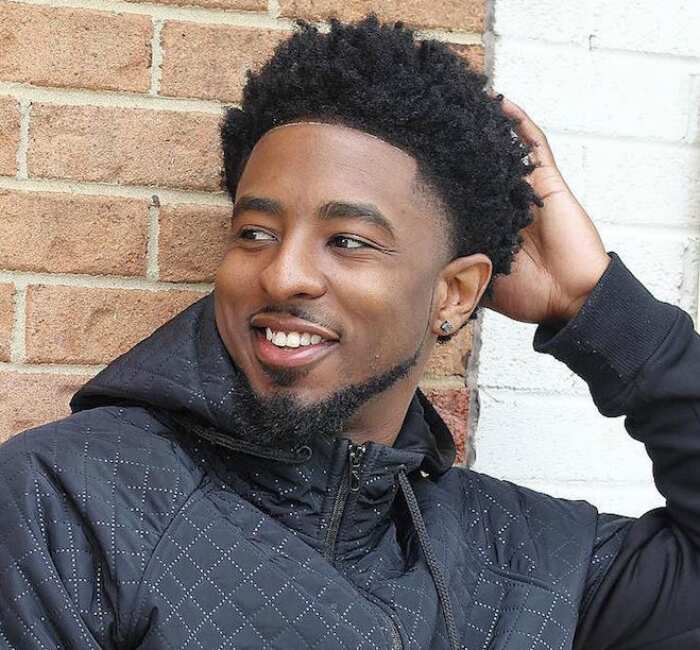 3. The Narrow Afro
If you like the Afro hairstyle, but you do not want a big volume, you can make a narrow Afro just by removing the length from the temples.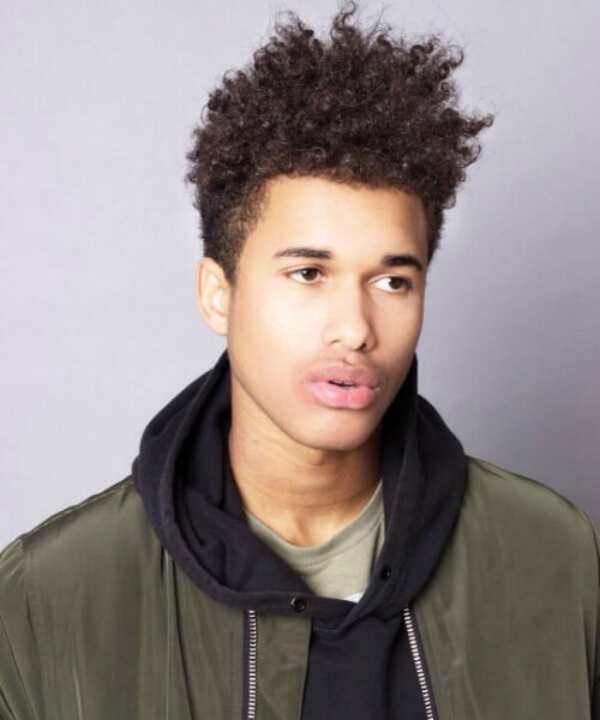 4. Extravagant undercut
Do you prefer extravagant and funny hairstyles? This option is for you. With the help of hair trimmer shave the temples and back of the head, completely opening the ears. The upper strands are about 20 cm long so that we could groan into the tail.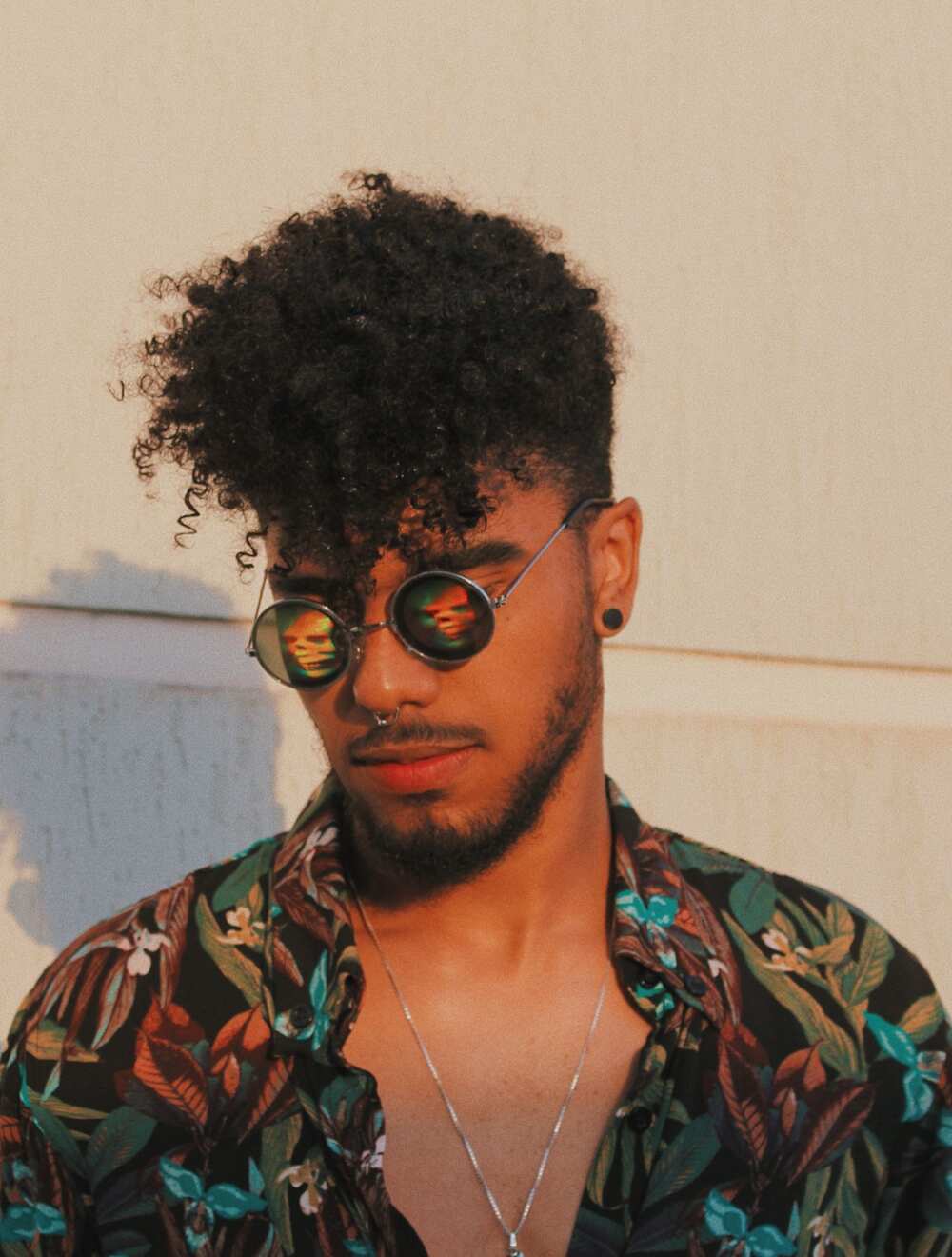 5. Shaved side with bang
Short smooth waves hairstyles are never boring. This haircut combines a shaved side and 360 waves, which are even easier to do on short hair.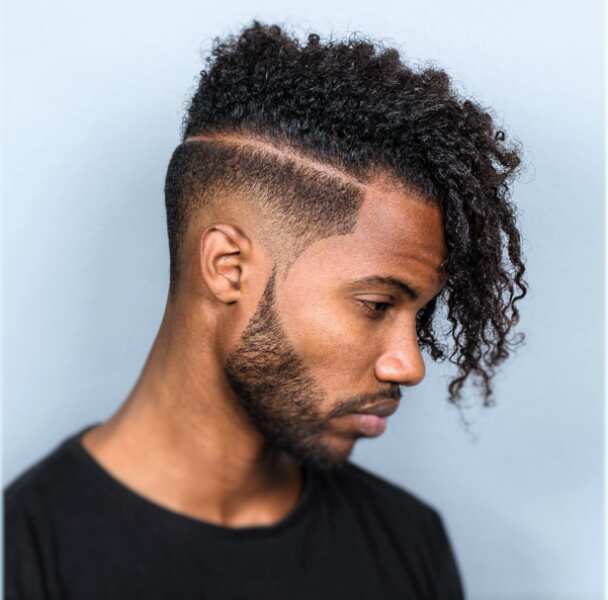 6. Brutal semi-box
This hairstyle is trendy and suits almost every man. This type of hair always looks well-groomed and does not require much effort in styling. A neatly shaved beard completes the brutal, masculine look.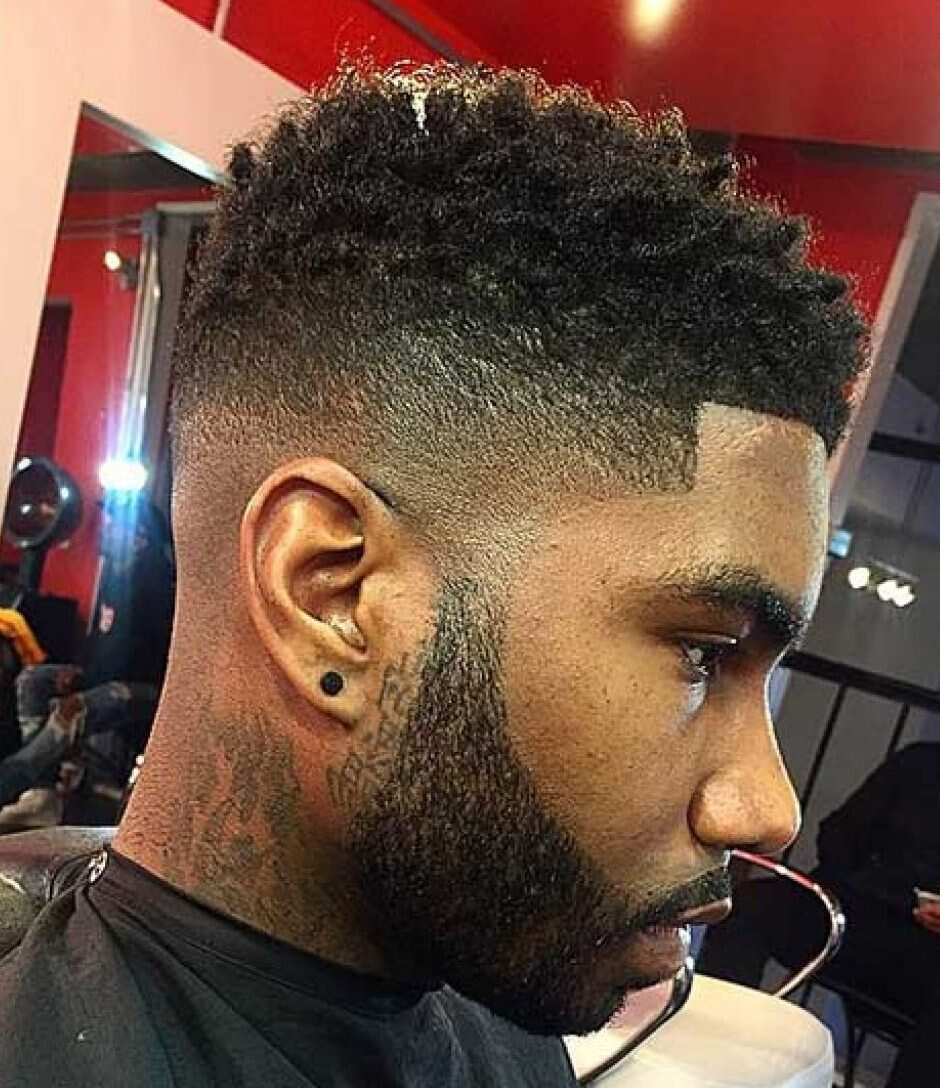 7. Shaved temples and back of the head
This hairstyle has a slight resemblance to the style of semi-box. Such haircut will suit only black men. Straight lines make this haircut even more stylish and attractive. By the way, you can either leave thin side-whiskers or shave them off at all.
8. Short haircut in the technique of hot scissors
Thick beard and tight hair are trendy among Africans. Cut curly hair shortly, use the technique of hot scissors.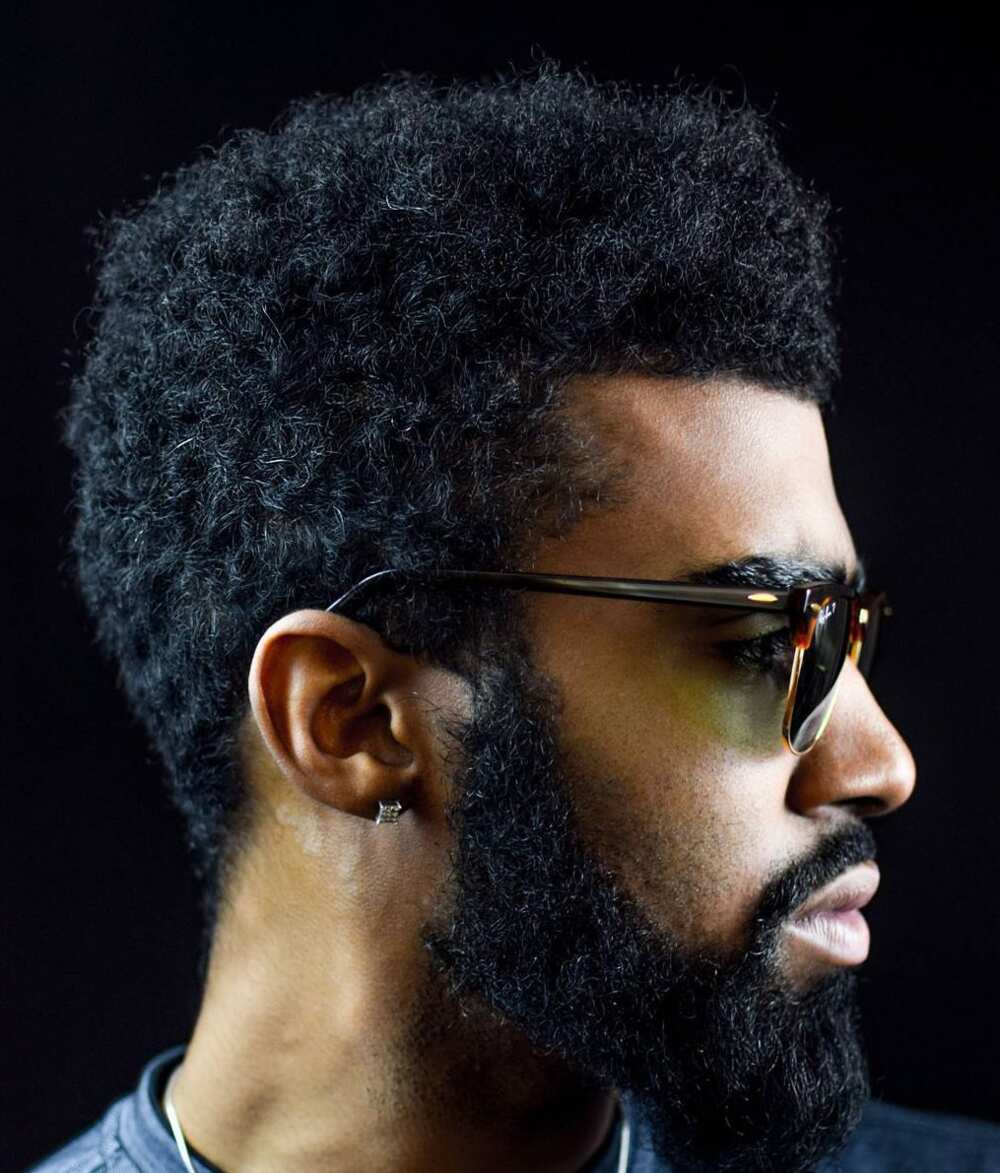 Black male haircuts
Many fashionable and topical hairstyles came to us from the past, but it is even more interesting to combine the retro style and modern technologies. Keep up with the times, experiment and remember that hair is the most crucial part of your overall image.
9. Box haircut
Box haircut is one of the most popular hairstyles in the world. The classic technique of its implementation suits all men. Box haircut is simple and does not require special styling. It is so popular because of this. If you do not have time to style your hair in the morning, this variant is exactly what you need.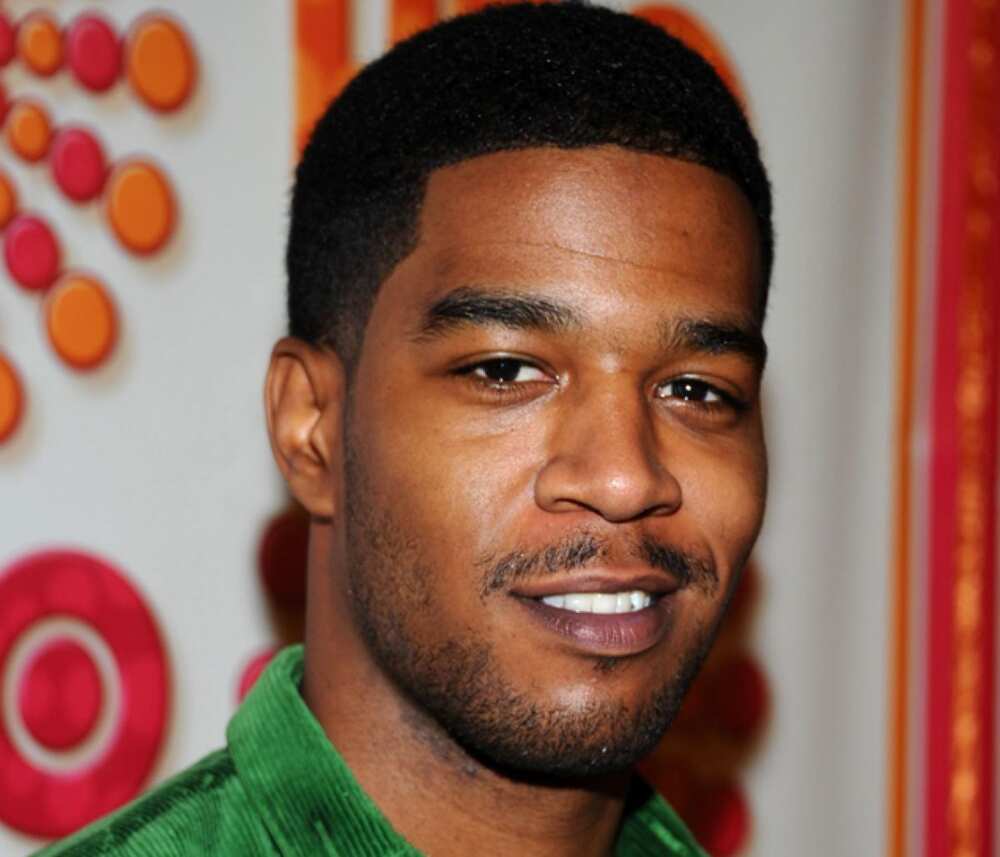 10. Sports haircut
Haircut, made in the technique of box, is very popular among athletes. The peculiarity of this hairstyle is the minimum length of hair.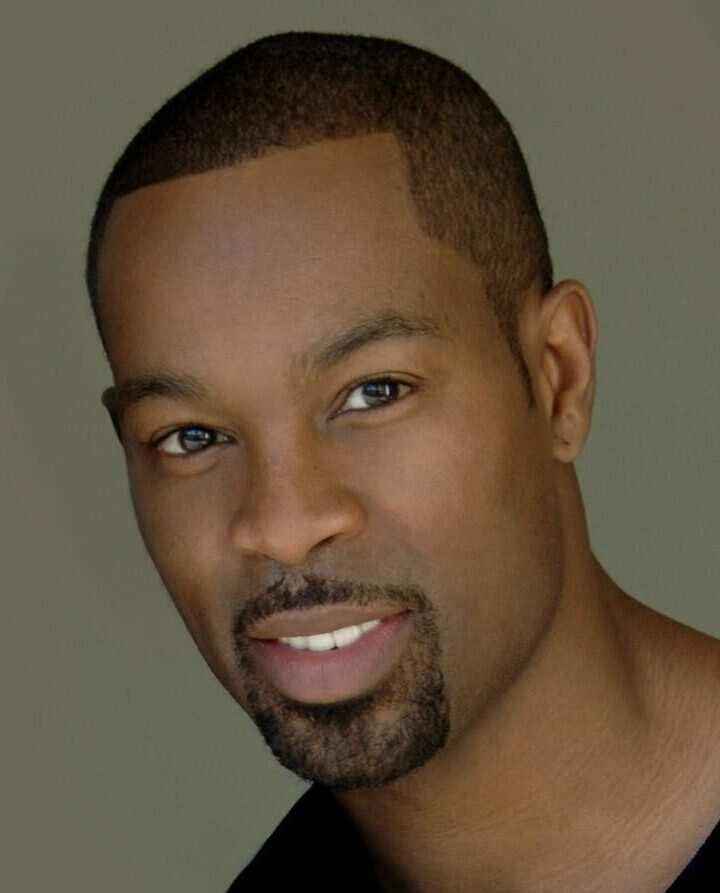 READ ALSO: How to style short box braids: Step-by-step guide
11. Haircut with shaved pattern
Black men's haircuts are synonymous to hairstyles with shaved patterns. The texture of black hair, especially short, the most common is straight line. Remember that geometrical patterns are at peak of popularity now, almost in everything.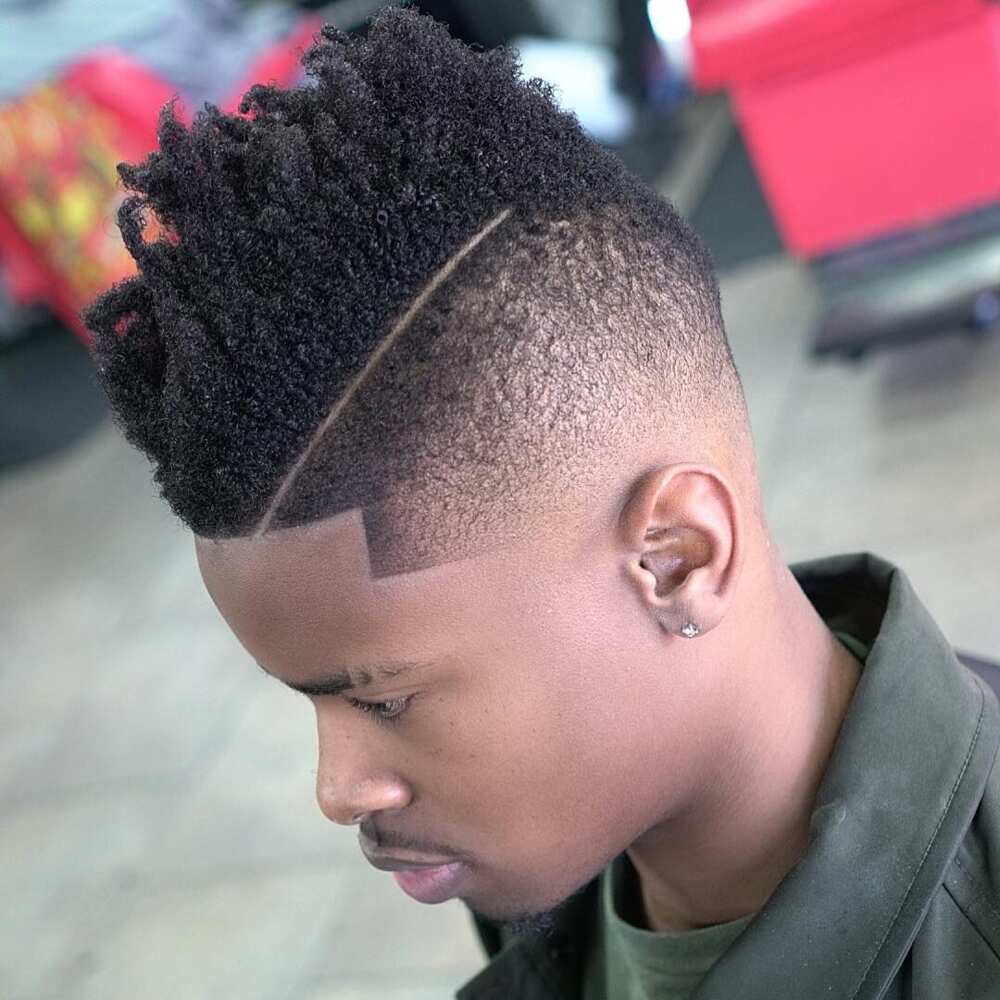 12. Fade haircut
Fade haircuts can be of the following types: low, high and medium conic, Temp Fade, very short, Drop fade, mohawk, Afro, and comb-over. This haircut will suit any shape of the face and hair structure. It has become one of the favorites among black men. The hairstyle gained such popularity due to its versatility and numerous options.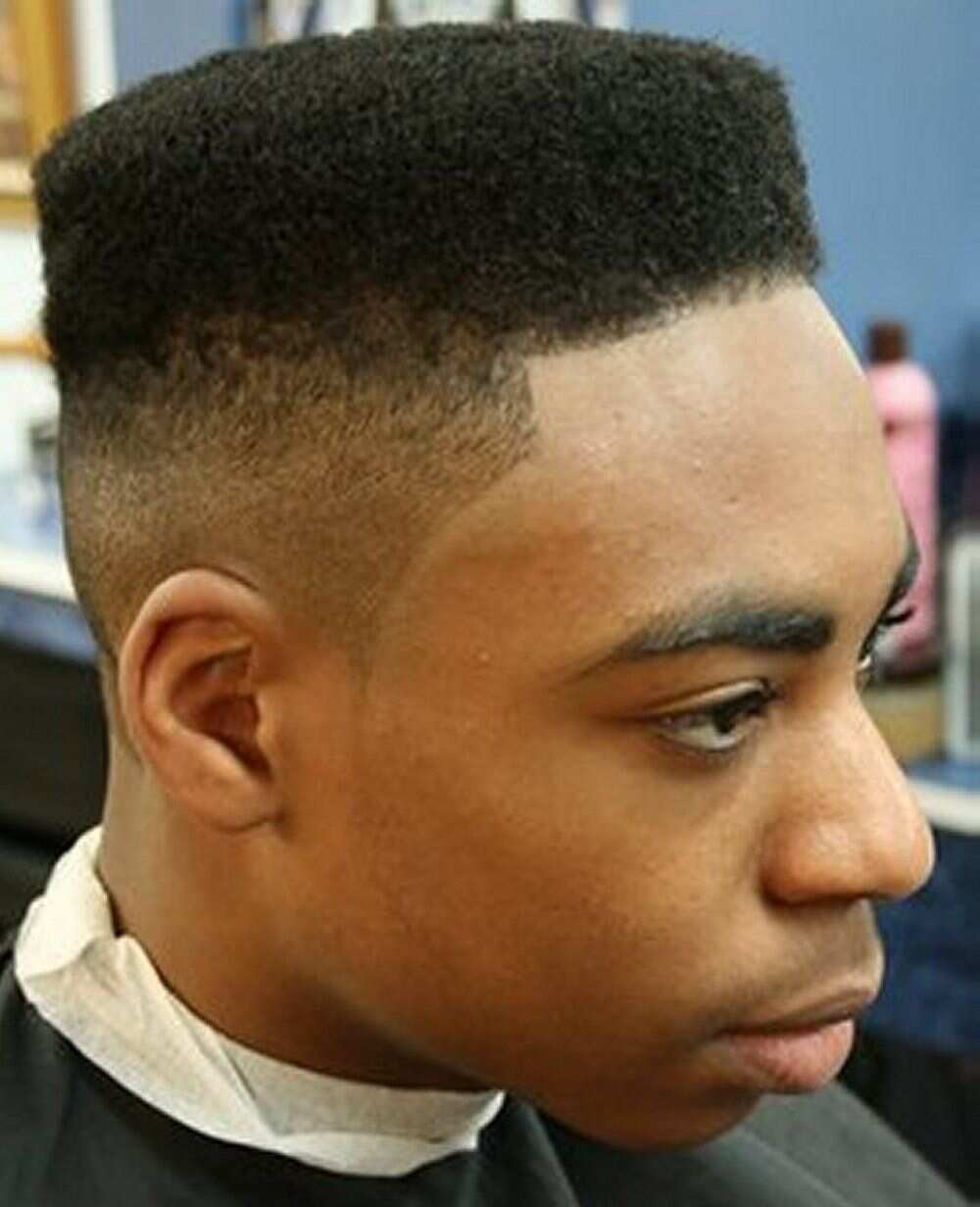 13. High upper mohawk
High upper mohawk is also possible on the natural hair. This haircut does not require any styling.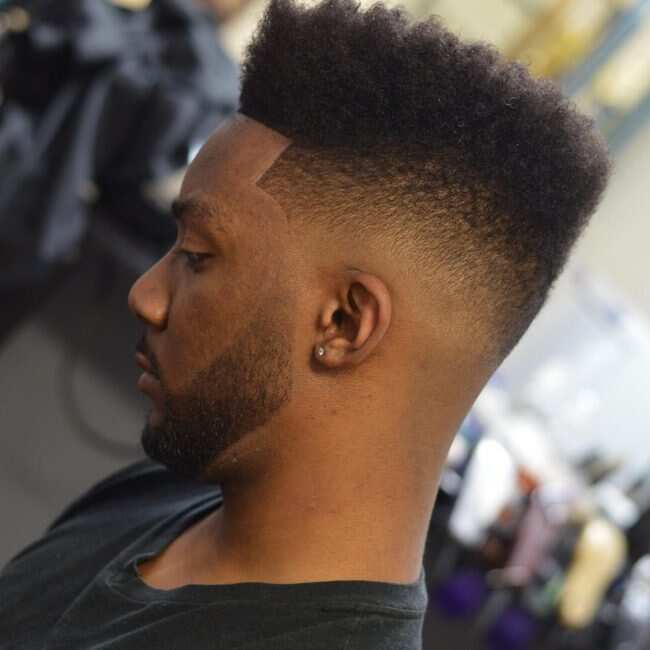 14. Semi-box haircut
The unusual version of the male haircut is semi-box. This hairstyle is characterized by short hair on the back of the head and temples. Hair is longer on the frontal area of the head. The peculiarity of this hairstyle is a clear line of edging. The wide parting and rounded lines are shaved using a hair trimmer. The hairstyle suits well the casual style.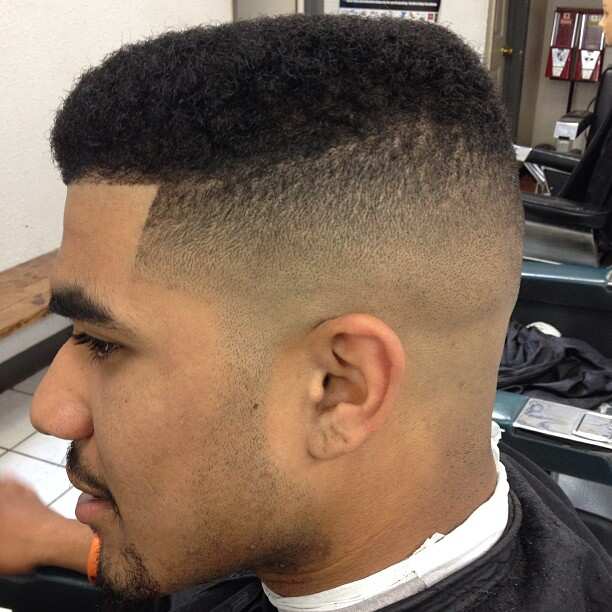 15. Haircut-ground
Haircut-ground is an interesting version of the hairstyle for sportsmen. A characteristic feature of this haircut is a kind of horizontal surface area. This area is located from the frontal part of the head to the vertex. This is one of the most convenient and stylish haircuts for black men.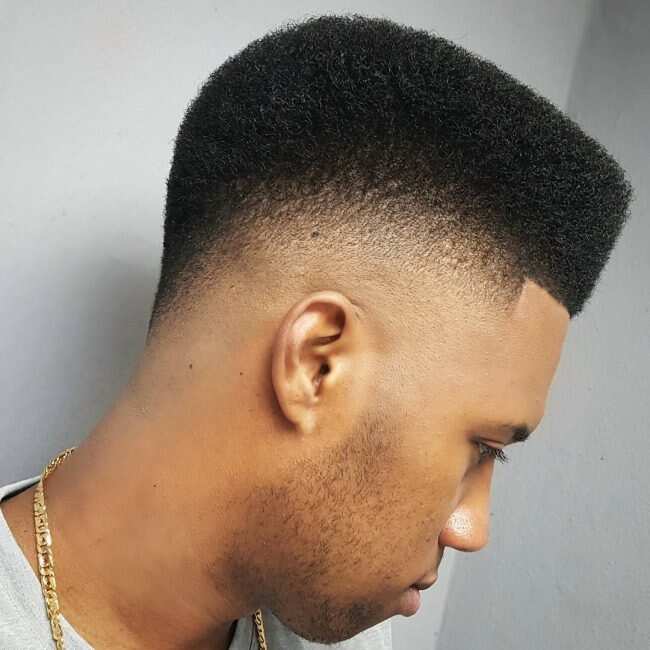 16. Mohawk with dreadlocks
Mohawk with dreadlocks refers to the ultra-hair hairstyle. It is very popular because of shaved temples and long dreadlocks. Dreadlocks hairstyle will give such hair neatness. If there is a desire to stand out from the crowd, then with the help of a gel, you can form spikes from the hair, which will give the image recklessness.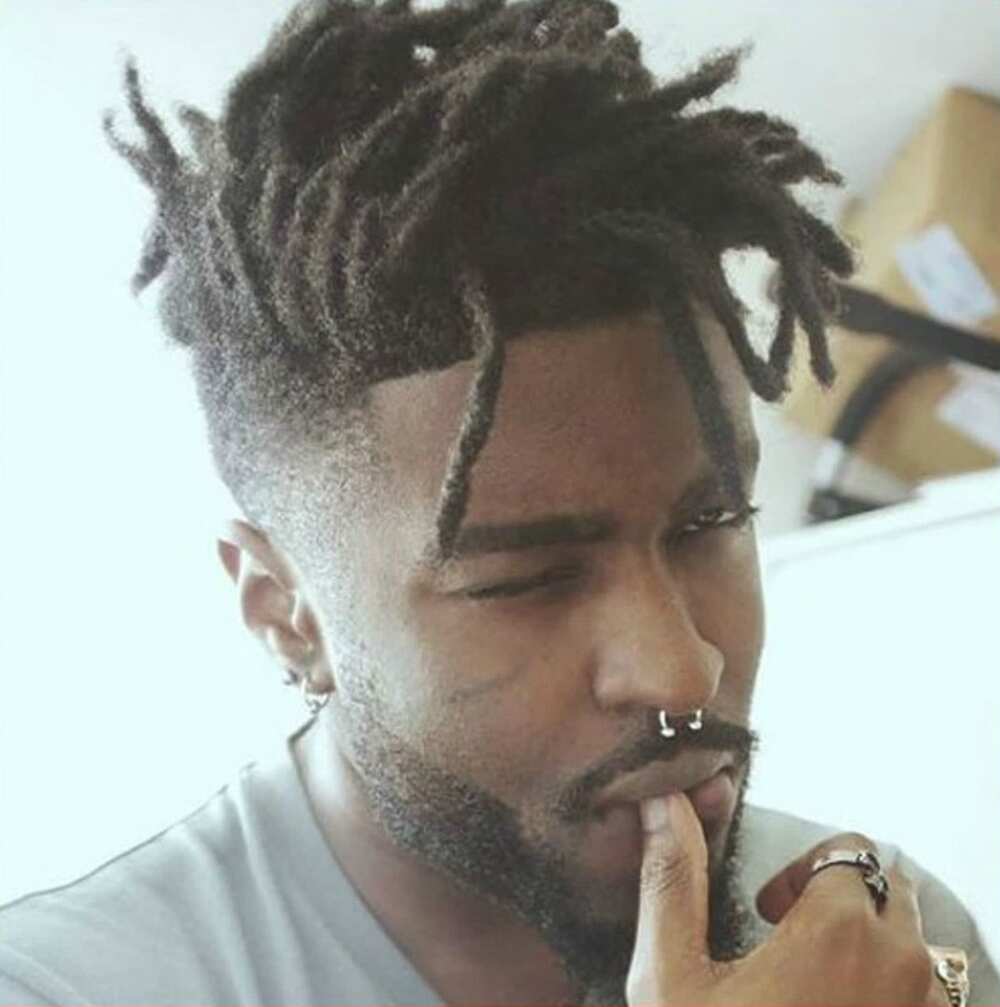 17. Stylish Quiff
Quiff is a fashionable modern hairstyle, which includes the so-called bangs Pompadour, or coca. This is a haircut with shaved temples, a long bang, and vertex, which is gradually shortened towards the back of the head.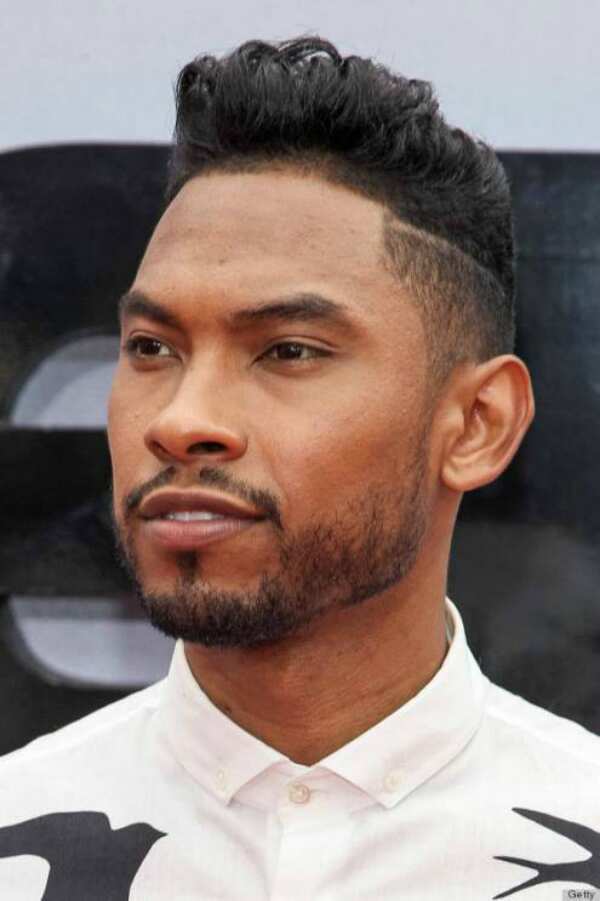 Most men prefer to disguise the natural beauty of curls in every possible way, cutting them to the very roots. But if you choose the right haircut, ensure proper care and styling for each day, then it is entirely possible to add individuality, originality, charm to your image.
READ ALSO: Cute natural hairstyles for short hair