Easy natural hairstyles for short hair
A hairstyle is one of the most essential parts of every woman's look. There are so many things that you can do with the natural African hair – this is a real blessing that African women have been endowed with. In this article, we will show you some easy natural hairstyles for short hair and list their benefits. We have gathered a lot of stylish short natural hairstyles for women who would like to experiment with their hair, so you can become one of the fashion icons of your neighbourhood!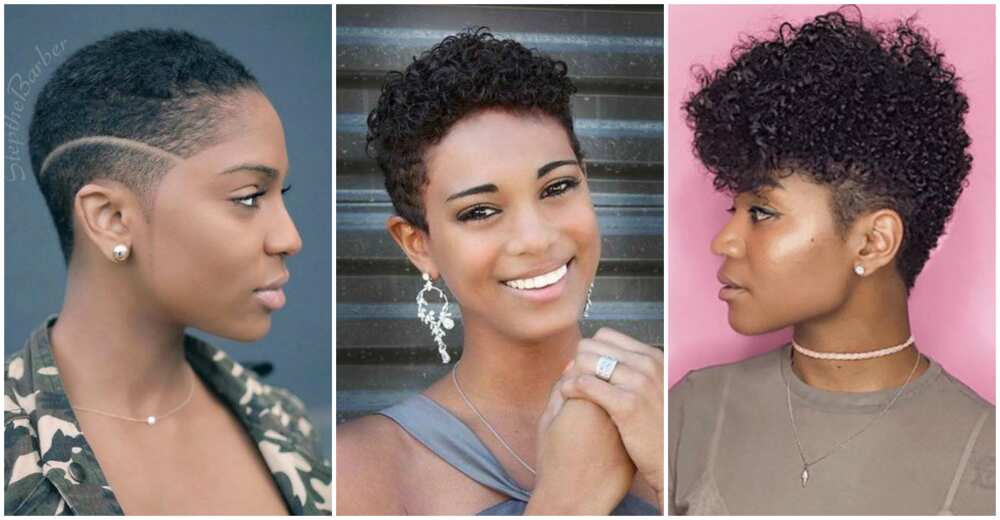 Quick and easy natural hairstyles for short hair
There are a lot of surprises and issues that can come from trying to create a hairstyle which is not only pretty and nice but also healthy for your hair. Most of the long hairstyles for natural hair cannot be done by everyone, because so many women have short hair and refuse to use extensions in fear of damaging their hair and making it dry because of all the hair experimenting.
If you have short hair and think that there is nothing special to do with it without using extensions, you are wrong. There are a lot of short hairstyles for black women that make them look incredible. Here, we will list some very easy hairstyles for short natural curly hair, which you will definitely like and enjoy. There will be a lot of options to choose from, and we sincerely hope that you will find yours. Here are some possible things you could do with the natural short hair:
Twists – which are probably one of the most popular hairstyles among the African ladies. They can be worn on both long and short hair. Besides, they look very fancy no matter if you let them loose, or gather them in the updo. Regardless, they preserve the volume and beauty of your hair.
Mohawks and fauxhawks – they are the perfect hairstyles for those women who still have a little bit of rebellion and daring nature left in them. They never go out of style and are ideal for ladies who are open to something extravagant and bold.
Puffs – this is the hairstyle that is loved by absolutely everyone since it is so cute and nostalgic and truly African. Puffs can be made out of regular natural hair, twists, braids, or everything at once – there are no limits to your creativity. You can always use your imagination and create a new take on this timeless hairstyle.
Finger coils – this one is for ladies who want to add some texture to their hair. This is why it is gaining more and more popularity among African women. Besides, finger coils are something brand new and memorable, so you will never get lost in the crowd with them.
Protective updo hairstyles – and finally, we introduce something simple, but elegant and nice. The updo can be done both for the office day and the formal event, there is no definite use for it. It will always look refined, and protect your delicate locks from the moisture and other harmful elements.
Now, after we have listed the most popular categories of the short hairstyles, we will show you some of them that we have picked as the trends of this season. Do you want to be trendy together with us? Join in and check out these awesome hairstyles for women with short hair!
1. Short haircut with the shaved sides
This style is created for combining a few different styles in one, and it does not look like there is something excess. Instead, it looks like the elements from a few various styles were joined in a very graceful way. For instance, if you have no desire to shave off your sides, but still want to try out shaving, you can do it just partially, with leaving the curls on top of your head. The small hair sections were sheared, but this haircut has a very modern look, and you are guaranteed to become one of the trendsetters of your community.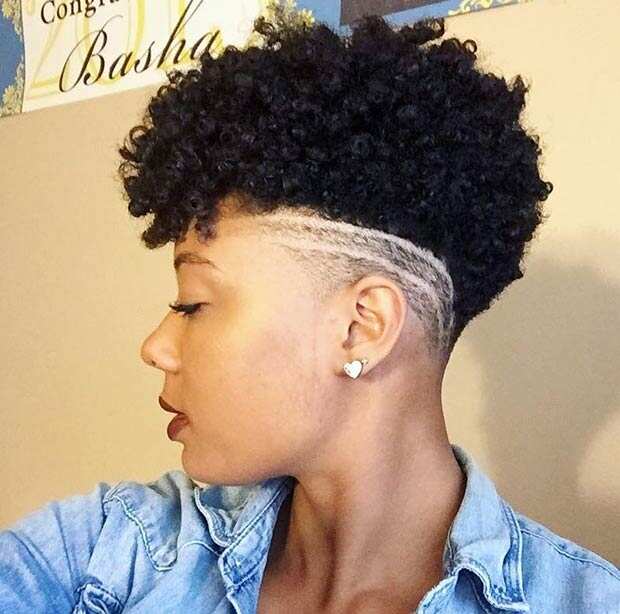 2. Natural Mohawk with the caramel highlights
This haircut is your proof that the caramel highlights will always look gorgeous on the natural black hair. It has always been a very nice combination, and since the caramel dye has a lot of lighter and darker tones, it also allows you to experiment with them and figure out which one is the best one for your hair.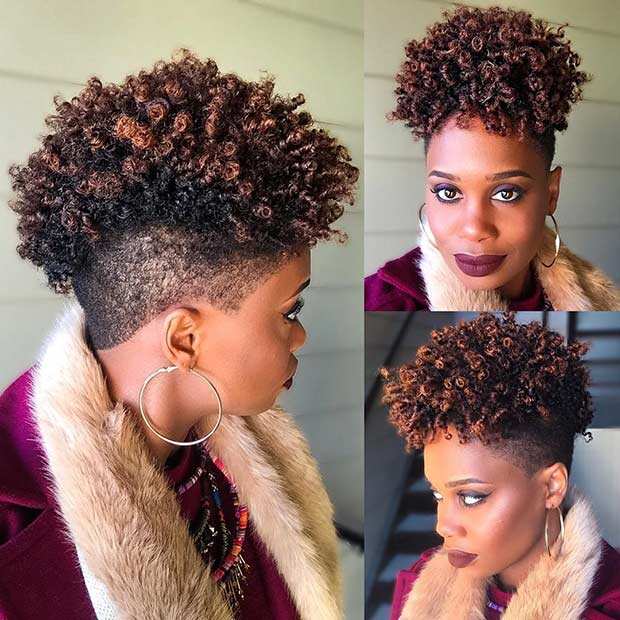 3. Beautiful extra-short twa-cut
The teeny-weeny afro is like a regular afro hairstyle, only it is very short, and the curls are barely visible. The African women who enjoy very short natural hairstyles often make this choice when it is summer, and they feel like they are unable to survive the hot season with long hair or extensions. And let us say, none of them has regretted about this choice, because teeny-weeny afro is not just lovely but also very practical.
As for the twa-cut, it is just like the mentioned before Afro but incorporated into a nice gradual haircut with the geometric lines behind the ears. The famous actress Halle Berry used to have the similar hairstyle once, and we are sure that if she pulled this off, we would also be able to rock it in our everyday life.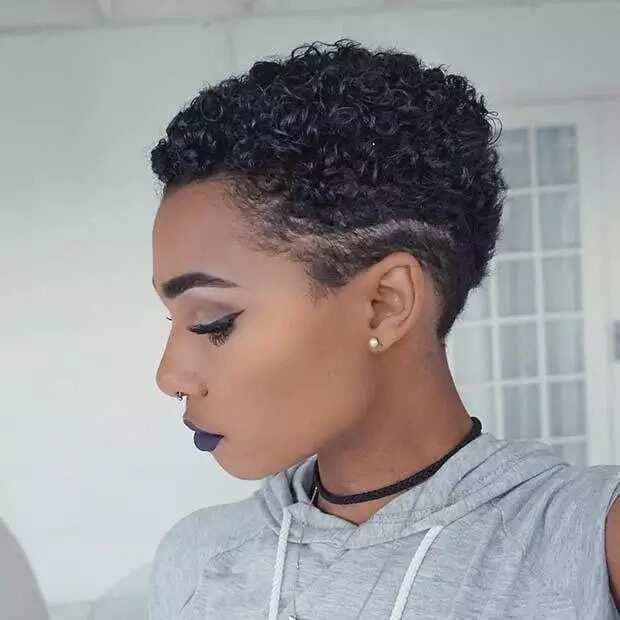 4. Golden blonde curly hair with the geometric side shaved designs
Look at this hairstyle – it truly requires a lot of courage and skills to create. But sometimes, when you want a truly unforgettable look that others will recognize you for, you have got to take some risks. The benefit of this hairstyle is that it frames your head very nicely, and also will be your friend on the especially hot days. It will also suit the party girls who are used to having fun until the sunrise.
The blonde colour looks very memorable together with the dark skin, and you will be accepted as a warm person with a big heart. Also, these intricate designs on your shaved sides are really something exceptional. They add a lot of mystery and originality to the look, making it very artistic. If you have never thought about golden blonde short hairstyle, then maybe you have finally found what you have been looking for?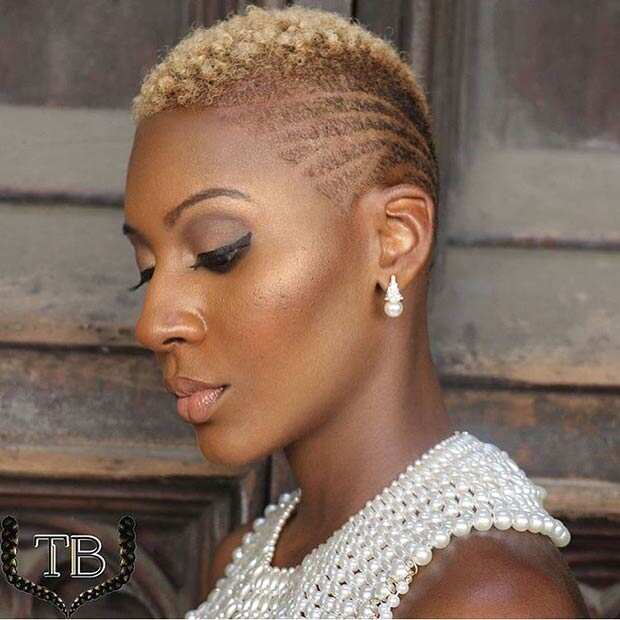 5. Colourful Afro with the pops of orange
The long afro looks beautiful, but it may be problematic to maintain such a hairstyle. Here is a solution for the women who prefer shorter hair – the short afro with a lot of colourful orange tons. This is the look which would be absolutely perfect for the start of autumn because when you look at all these colours, you start thinking of the beautiful falling autumn leaves and the multicoloured shades of the trees.
If you are into photography, your self-portraits could turn out really incredible. The curly spirals that the hairstyle is made of are very carefully blended into each other, so no one can see the start and end of each shade. If you are a lady who loves bright autumn and considers herself to have a fiery personality, you should absolutely go for this hairstyle!
READ ALSO: Trendy braids for short natural hair to rock in 2018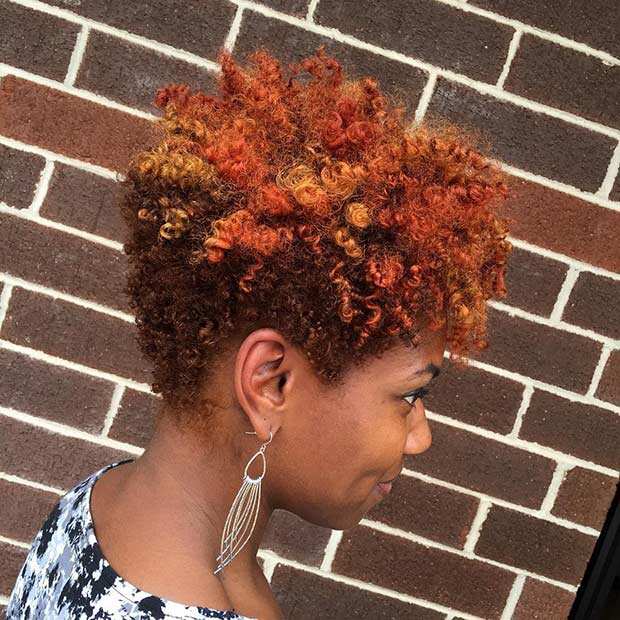 6. Natural hair with the shaved sides
What if you have a natural bunch of hair, and would like to do something special with it? This is possible if you choose a hairstyle like this one. First of all, the natural hair will have a rest from all the chemicals and hair care products, and get a nice break, while also looking on point. Second of all, you can add some warm brown colour, just to make things interesting.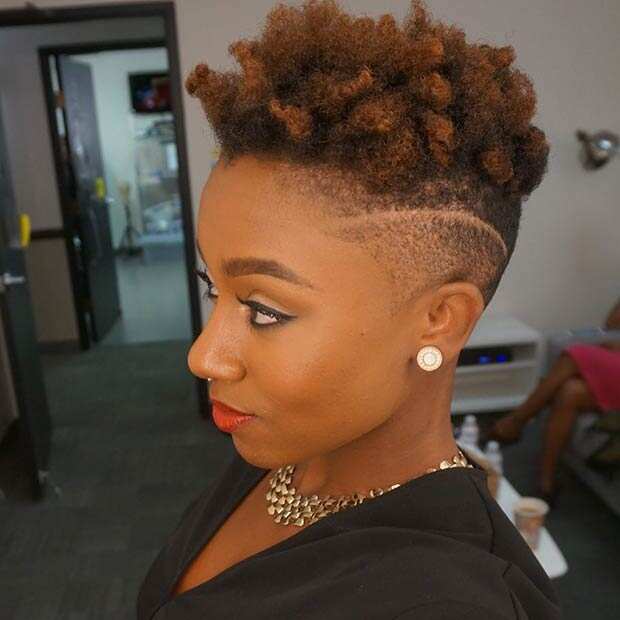 7. Nice summer haircut with highlights
You may have noticed that after a few days of having the same hairstyle, you start thinking that the hair looks slightly frizzy, which means that it is time for washing it again. However, washing is not always the best approach. Instead of going to shower, you can try something different. For instance, you can use some of your favourite hair care nutrients, like oils or wax, and add a considerable amount of them to your natural locks every three or four days, just when you start thinking it has lost its appeal.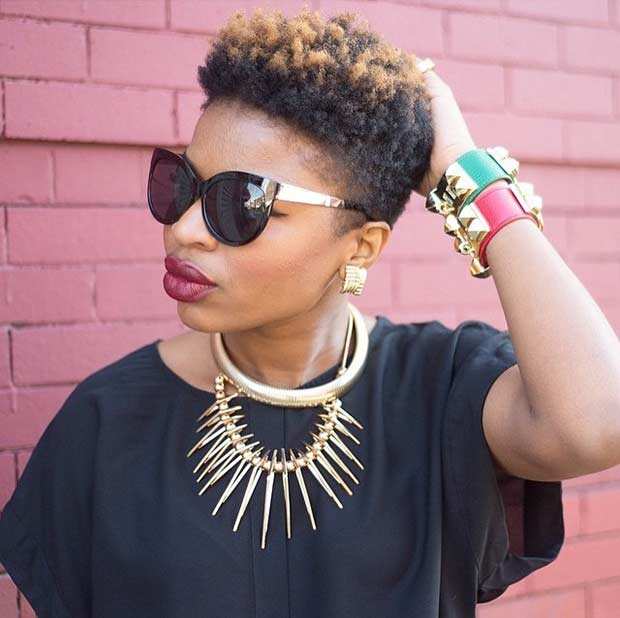 8. Twa cut with the straight line and shaved sides
This is one of the hairstyles which is a definition of "back to basics", but it does not mean that it is not cute and attractive. For the black women, there are a lot of very simple natural hairstyles that will always look very appealing.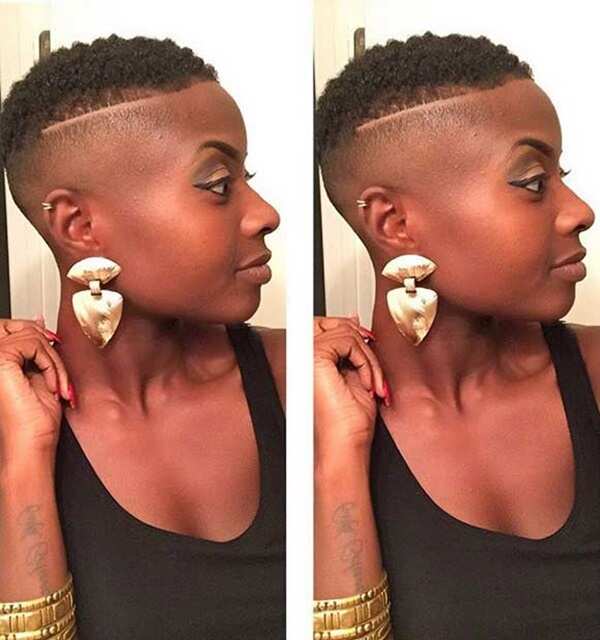 9. Short haircut with side parting
When your hair is extra short, and you are struggling to grow it, you are usually disappointed that there are not a lot of options for creating a hairstyle that will be trendy and will suit you. However, this is not true. Even with the short natural curls, you can do a lot of creative things.
For example, have a look at this natural haircut with the parting on the side. This adds an extra charm and originality to what seems to be the plain old short afro. If you are not a fan of anything edgy or rebellious, but would like your short hairstyle to be different from all the others, look healthy and push the curls out of the way when you are busy with something, you should go for this style with parting, or maybe even try to create some very small cornrows.
READ ALSO: Very short natural hairstyles for real fashionistas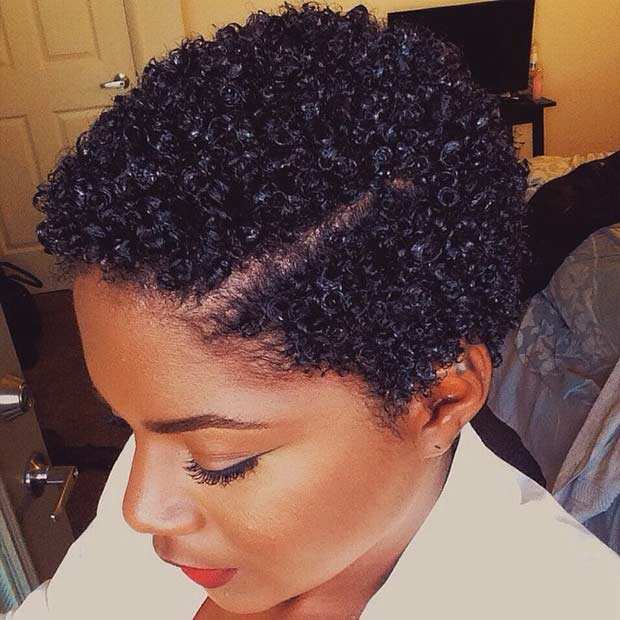 10. Short messy curls
This is also a very simple style that has a massive potential for creating some more interesting variations. It can make you look like a Hollywood superstar if you are up to dressing formally or help you rock the simple and elegant look when you are going out with your friends.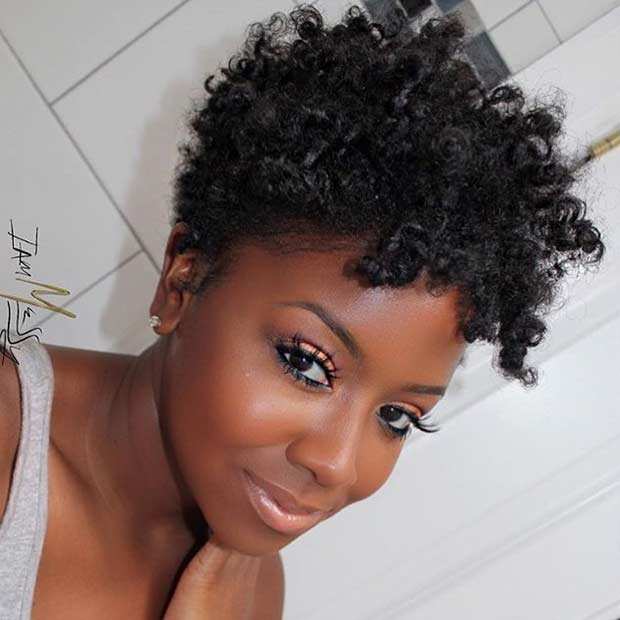 11. Two-toned natural curls
This is another example of how nicely the caramel highlights can look with the natural black hair. This is the look that would work out in a lot of situations because the caramel colour is a perfect match with the dark skin. Here is a little tip on how to preserve the definition of your curls. To keep them well-defined, you should shampoo your hair while being the shower.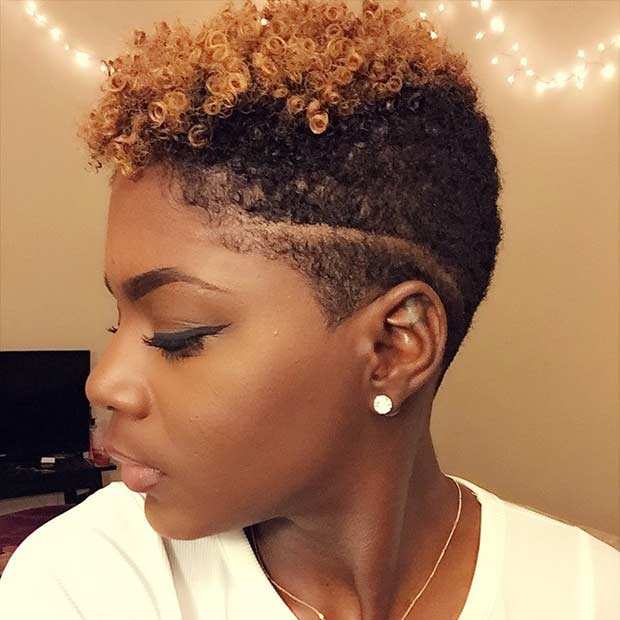 12. African Frohawk
If you are searching for the best way to add some fun and uniqueness to your natural hairstyle, then your first option would be, undoubtedly, the Mohawk haircut. However, not every person is completely ready to get a full-on Mohawk. This is why this chic and cheerful alternate option is ideal for those who would like to try something daring but are not up for the bold experimenting.
This frohawk looks amazing with the natural strands of hair, and it preserves the original edginess of its sister hairstyle – Mohawk, while also remaining very stylish and keeping its own charming nature. It will be a very nice choice for the sporty girls who are always in search of something new and lack some excitement in their lives.
READ ALSO: Rihanna's short hairstyles front and back view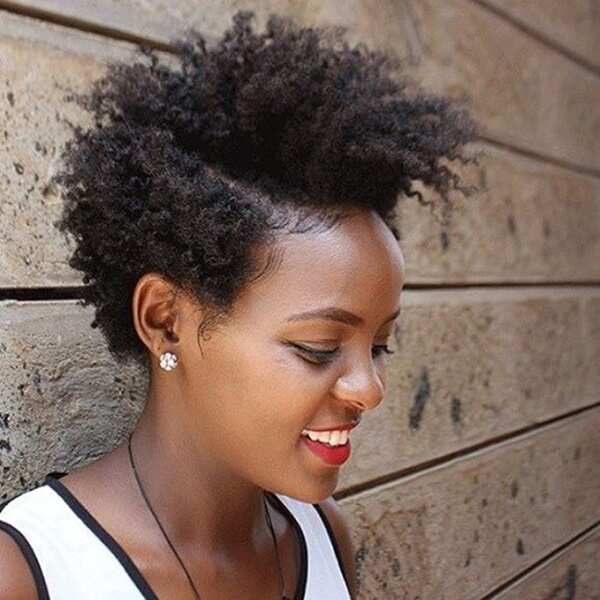 13. Short chick haircut with the burgundy red highlights
Do you want to add some colour to your hair, but are still uncertain on what would suit you? Perhaps you would like to try something different than the usual natural hair dye? Then, the burgundy red hue would be a perfect choice for the natural hair. It will make even the simplest short curly hairstyle more interesting and eye-catching. Besides, different shades of red would work here, no matter if these are copper-red or plum red tones. You have a chance to choose what works best for you.
This is a hairstyle that works as a reverse for the trendy and fashionable ombre because it fades upwards into the bright coils. If you add some more bright colour to your natural locks, soon you will also have more colour and impressions in your everyday life.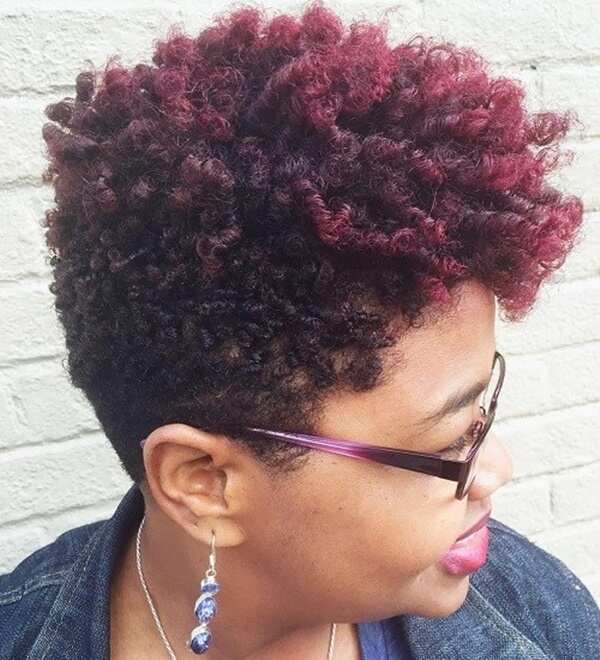 14. Vintage curls with the knotted headscarf
The accessory can change the look of every hairstyle, which is why so many African ladies tend to rely on them for adding spice and originality to their usual looks. The most popular accessories for natural hair are headbands, bandanas, and, of course, headscarves. This is a very timeless look, which reminds everyone of the last century fashion, but is still charming and makes people think of you as a gorgeous guest from the past.
It is very versatile and can be worn in many different ways, not just the one that is shown in the picture. Another benefit of this style is that the headscarf will protect your natural hair in a very effective way. Finally, this look is essential for the times when you feel like you have a "bad hair day", and are not a big fan of showing off your locks.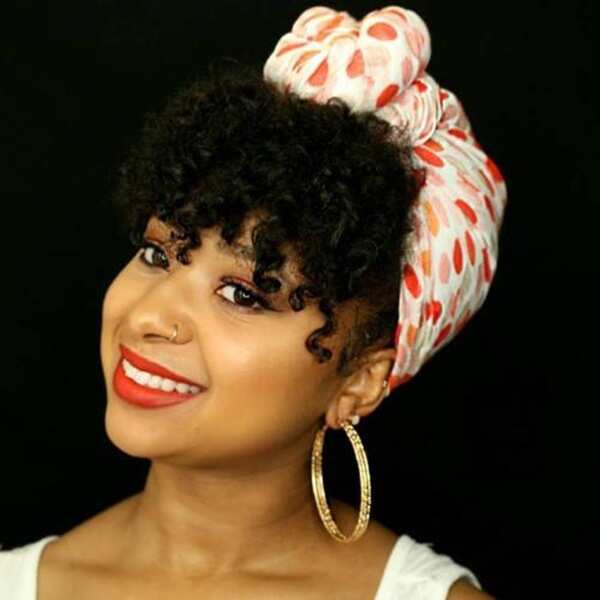 15. Tight tiny curls
Here is a hairstyle which screams uniqueness and elegance. This is a perfect hairdo for those ladies who are in a desperate search of a hairstyle that will be protective for their hair, and also very noticeable to everyone who ever encounters them.
Today, we have stepped into the era when more and more African women start embracing their natural hair, instead of hiding it under a lot of hair care production and styling. This is one of those hairstyles which will show just how much you accept and embrace it. These cute tiny curls are one of the modern trends, and the nice skilful makeup will only double your chances to impress everyone. Always remember about the power of simplicity!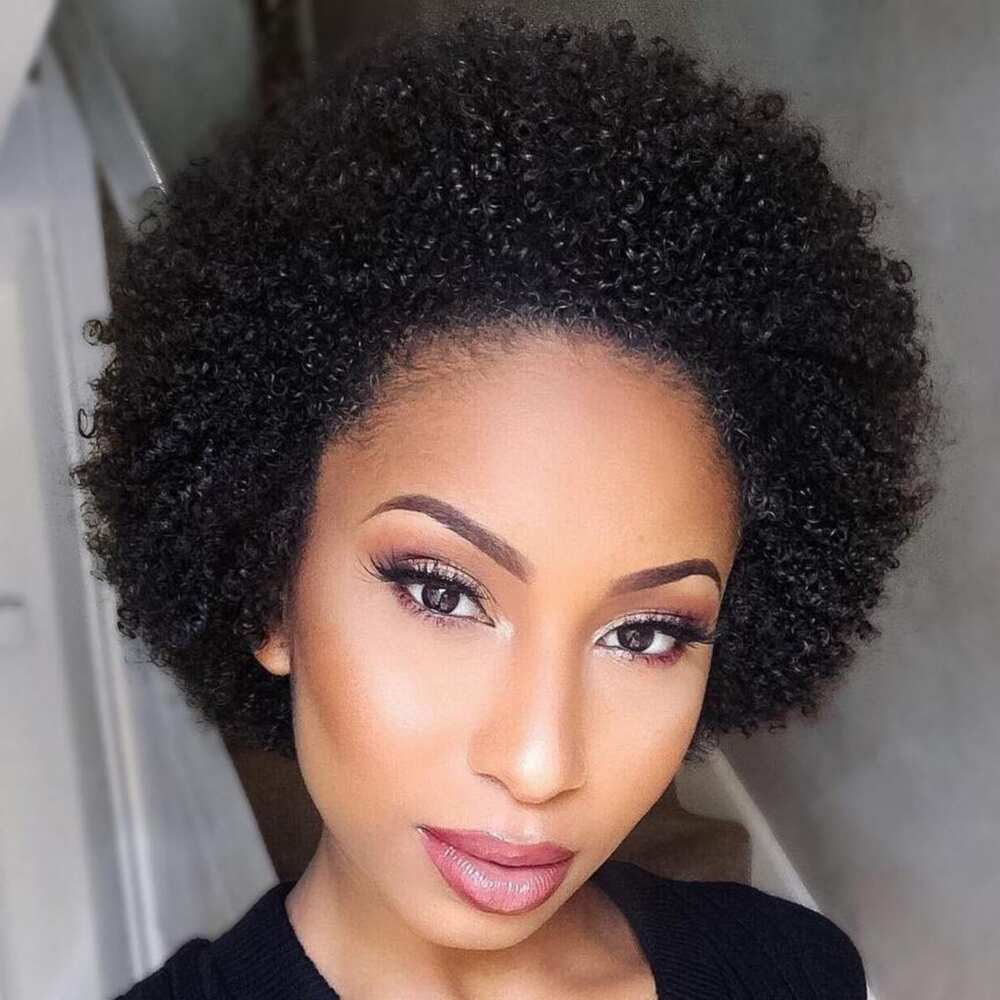 What is your opinion on all these protective hairstyles for short hair? Have any of them caught your eye, and have you imagined yourself with them? If yes, then let us know which hairstyles are the best for women with short hair!
All the photos used in this article are from stayglam.com and therighthairstyles.com.
READ ALSO: Trendy African hairstyles for ladies
Source: Legit.ng