Short fixing hairstyles in Nigeria
If you have natural hair that is hard to deal with, you should try one of the fixing hairstyles in Nigeria that we have for you. Get yourself all cute and pretty with minimal effort and expense. Check out the many options you can go for and find the perfect new hairstyle for yourself.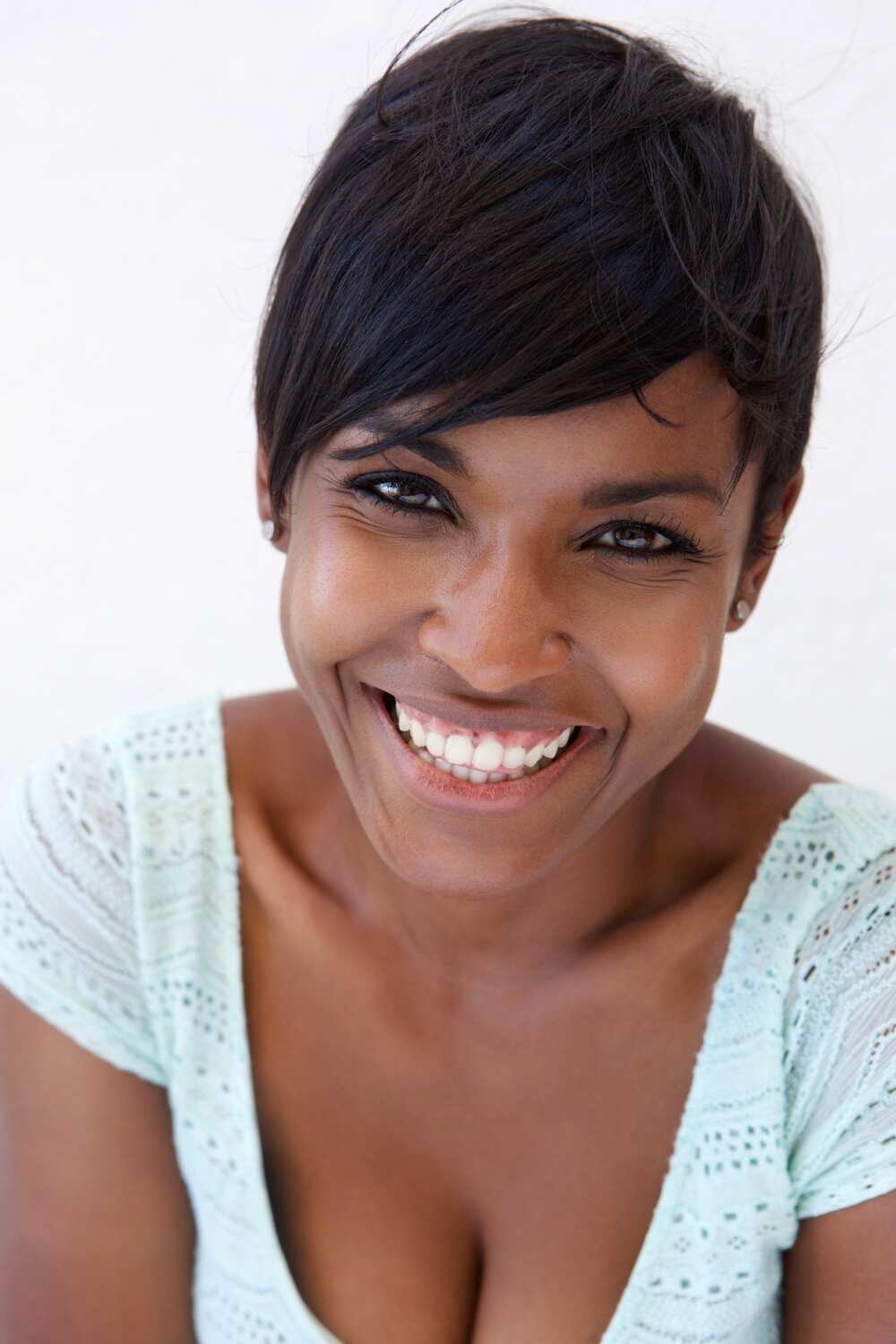 Photo: hairstylishe.com
Now, short hairstyles come in many different shapes and sizes; some might only consider pixie cuts short, while others think that a bob is also not very long. Therefore, we have decided to offer you a choice and give you the opportunity to see all the options available.
Thus, our selection of latest fixing hairstyles in Nigeria is divided into really short ones and those that almost reach the shoulders. You can scroll to the section you are more interested in or check them all out! Without much further ado, here are our top picks of nice fixing hairstyles.
Short weavon fixing hairstyles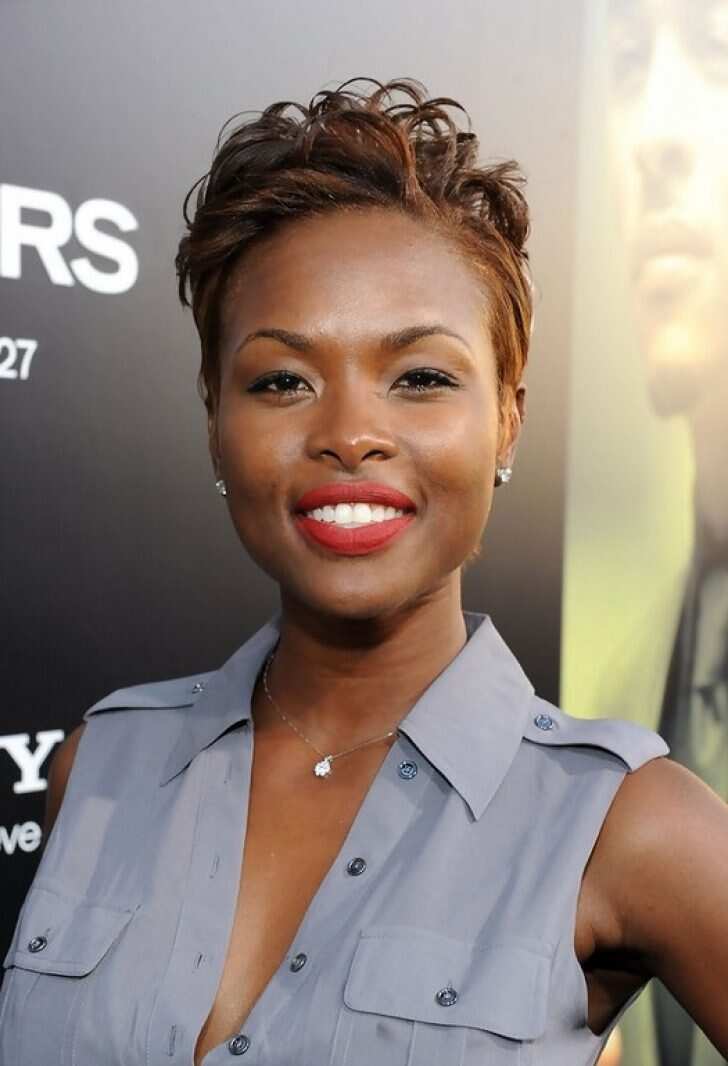 Photo: afterhairstyle.com
Let's start this out with this short light brown feathery pixie cut. This is one of the easiest and fastest ways you can style your short weave, so if you want to copy this look, just fix your hair, get some hair wax or clay and get to styling! Besides, it looks really fascinating, both thanks to the colour and the overall shape.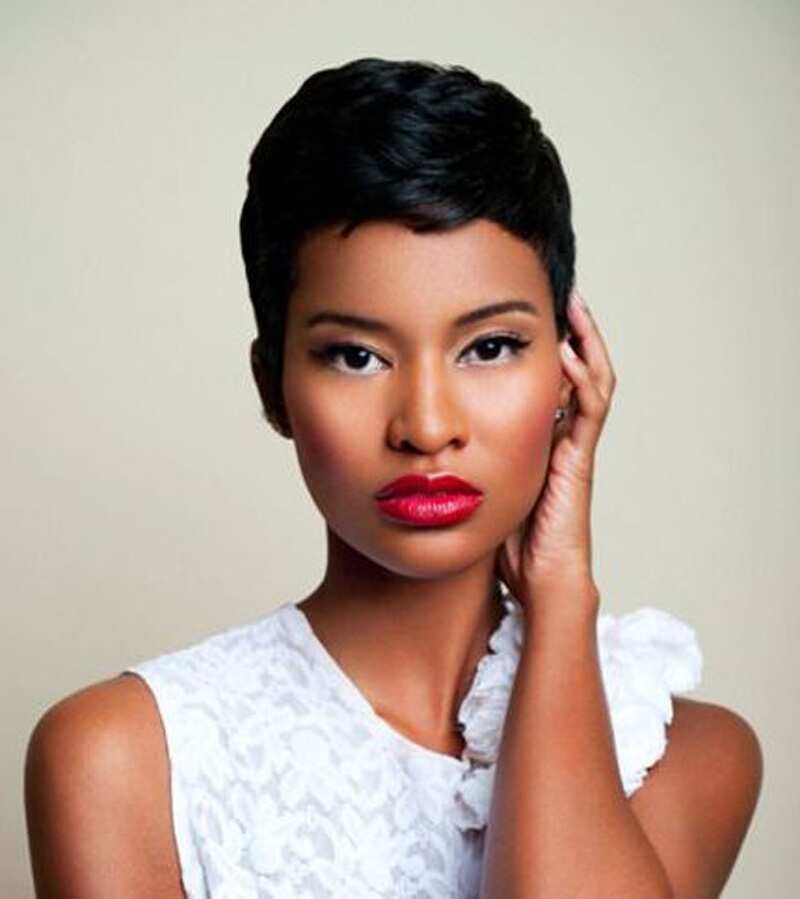 Photo: aibolit.us
Here is a classic among all short weavon styles: closely cropped hair on the sides and slightly longer hair on top, but no bangs. Such hairstyle is fairly easy to maintain, and the hair will not annoy you by getting in your eyes or your mouth. It should also be on the cheaper side, as there is not much hair involved in making it.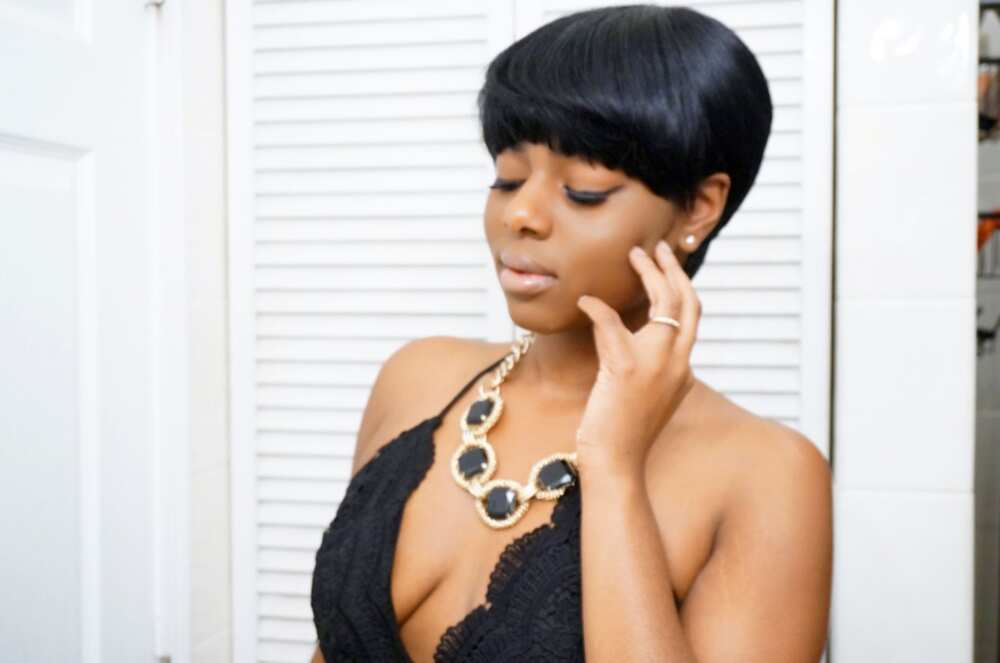 Photo: blackhairinformation.com
If you were looking for something slightly more unusual, then this mushroom bowlcut would be a perfect option. When everyone around you is walking with a regular pixie cut (not that there is anything wrong with that hairstyle), you are definitely going to stand out from the crowd. This hair looks so beautiful and slick that you can easily rock the red carpet with it.
Photo: buysteroids.us
Let us tell you a little secret: we absolutely love an asymmetric cut and a long bang. It is even better when the hair is curled. This hairstyle can fit any occasion, be it a fancy outing at an expensive restaurant or a rock concert. It all depends on the clothes you wear with it.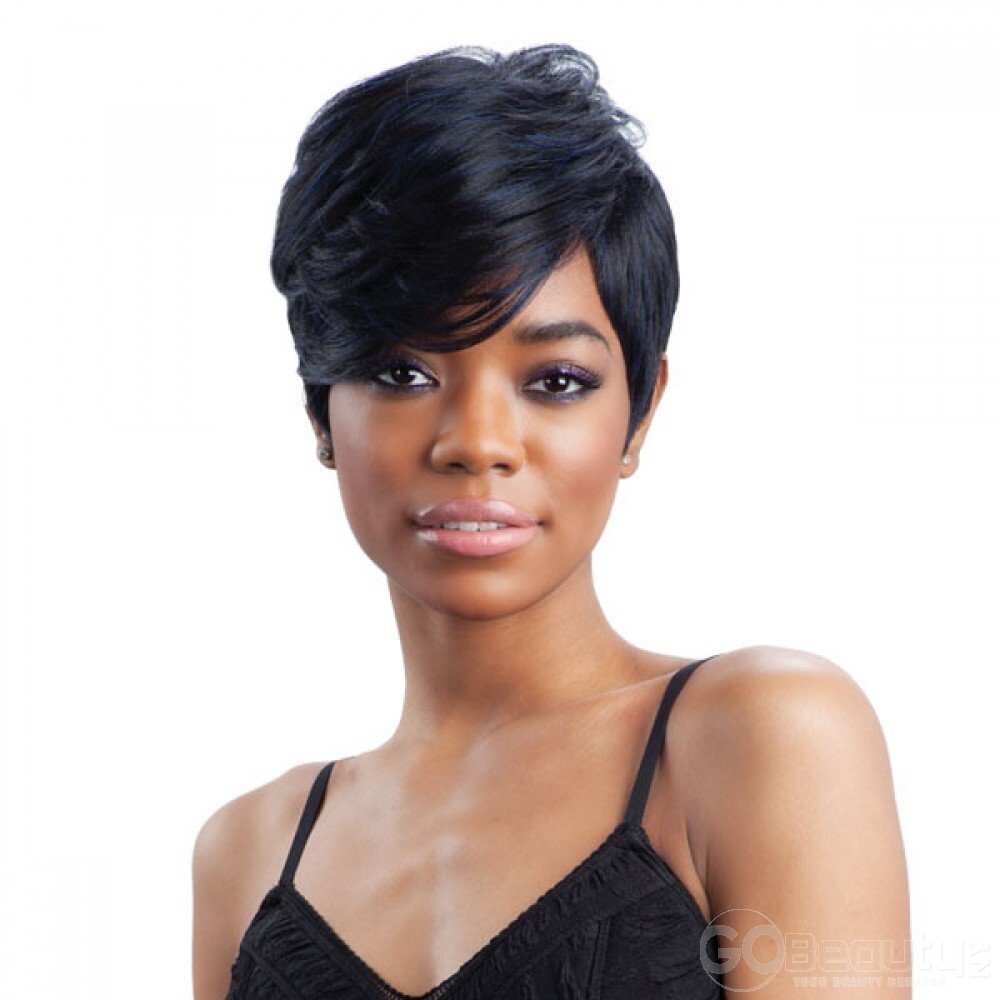 Photo: gobeautyny.com
READ ALSO: Latest weavon fixing styles in Nigeria
Sometimes you just want a plain old pixie cut: no shaved sides, feathery tops or cut up bangs. Just an ordinary looking classic hairstyle that requires little to no effort to maintain. In such cases, this is a great choice, so save this photo and show it to your hairdresser on your next visit.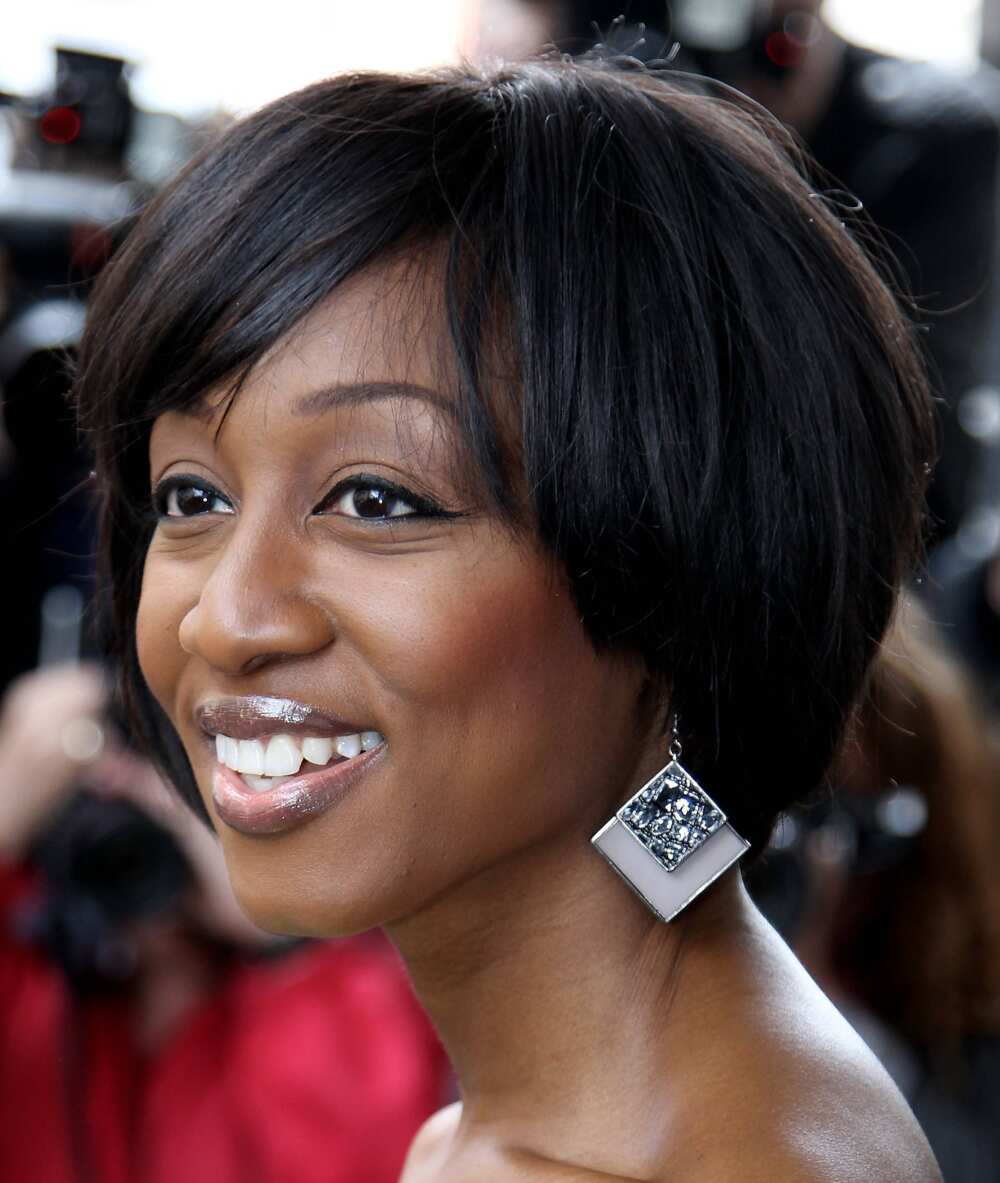 Photo: haircut-img.com
If you cannot quite decide whether to go for a bob or something shorter, you should try this transitional length. The few extra centimetres give you an opportunity to experiment with your look, and it is one of the best weave hairstyles for the office.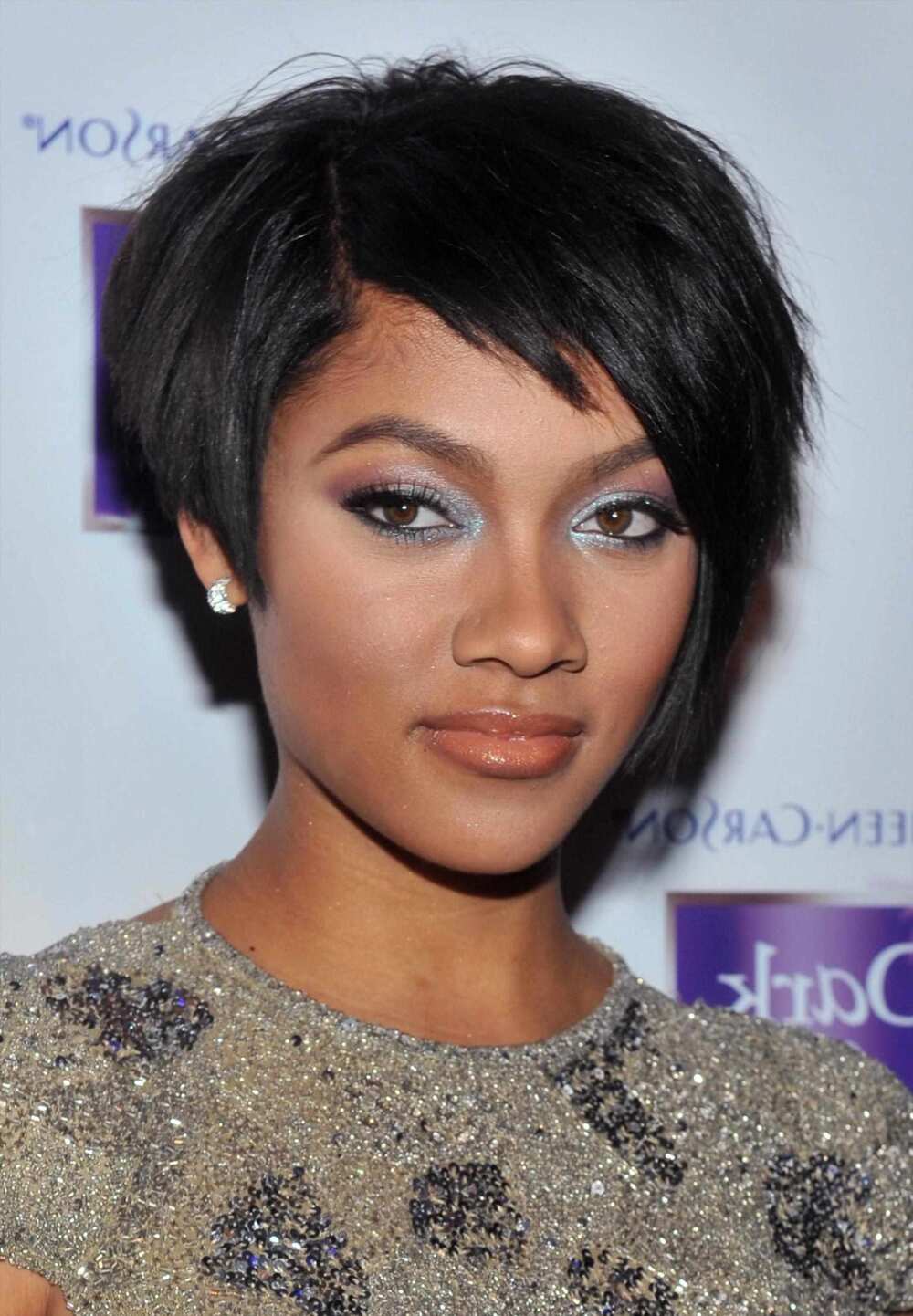 Photo: hairstyle.cutewheat.site
This is a slightly unusual take on an asymmetric hairstyle. It looks somewhat choppy and rough, but that adds to the appeal. By the looks of it, the person in the photo is wearing a closure weave, which means that it was most likely inexpensive, or at least not as pricey as a lace front or a full lace wig.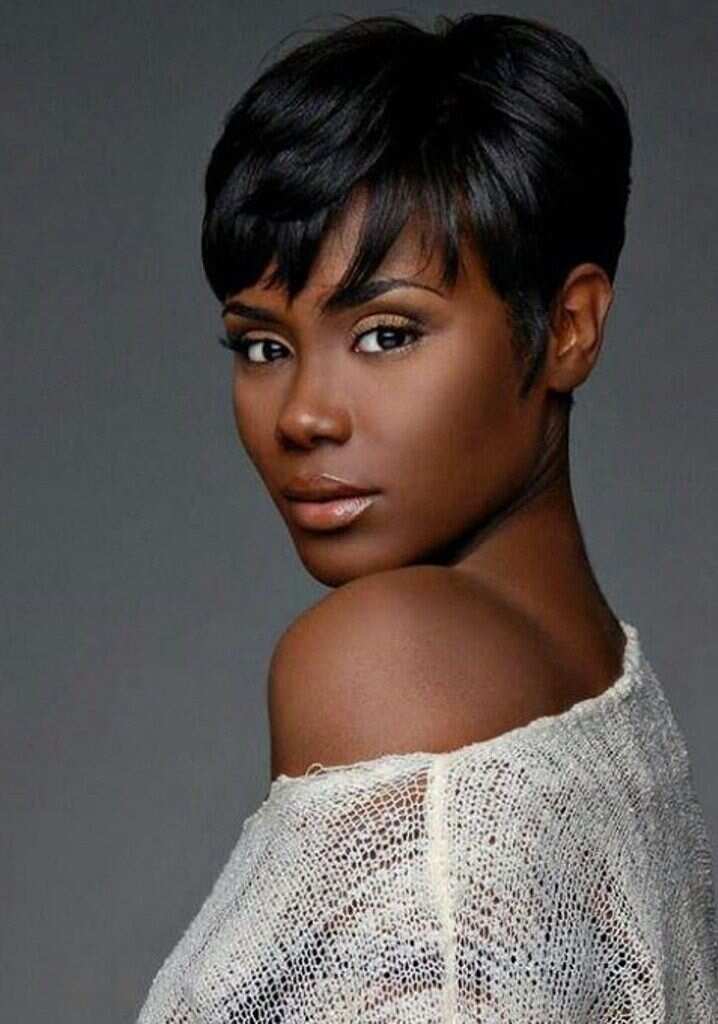 Photo: seralega.com
Here is yet another pixie cut, but what can we say, it is one of the most popular short fixing hairstyles. It is, once again, a classic pixie, but this time with feathery bangs, so if you do not like a solid fringe, you should definitely try something like this.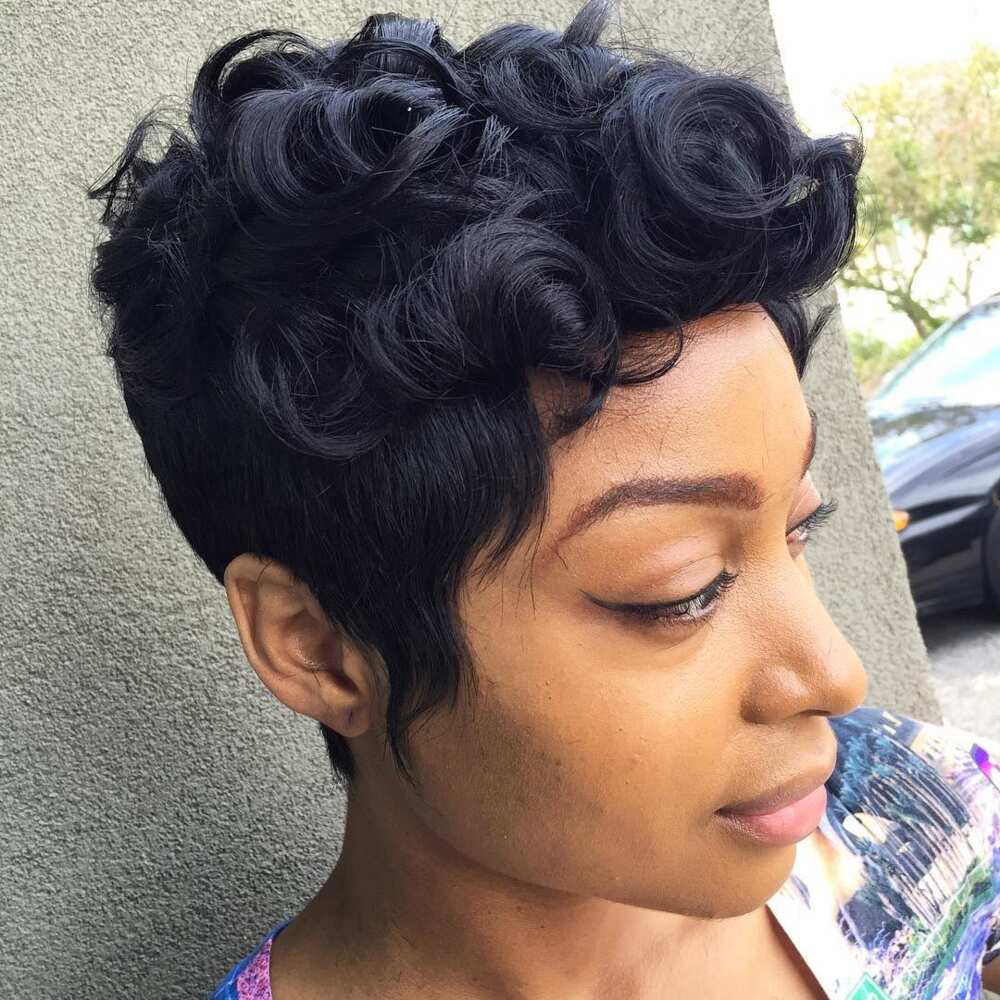 Photo: yousense.info
Short hair does not have to be boring. You can always add some lovely curls and make your hairstyle ten times more beautiful. The gorgeous thick curls gathered at the top of your head can take your whole look to another level.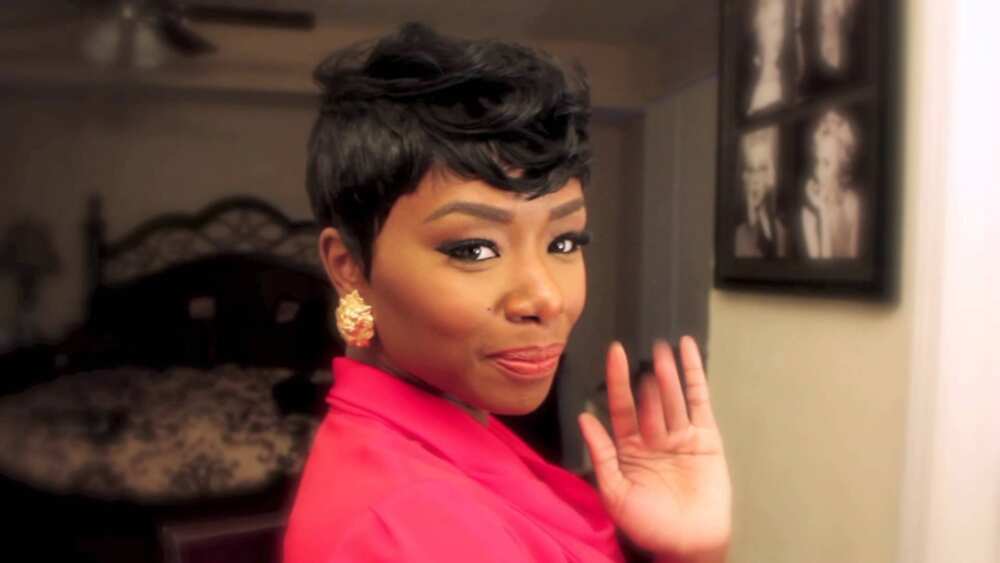 Photo: youtube.com
We have previously looked at pixies with bangs swooped to the side (or no bangs at all), but have you considered gathering them in the middle? It might sound slightly odd in written form, but look how stunning the person in the photo looks with their bangs falling on their forehead in feathery strands. Consider wearing your hair like this at least once if you go for a short hairstyle.
Slightly longer fixing weavon hairstyles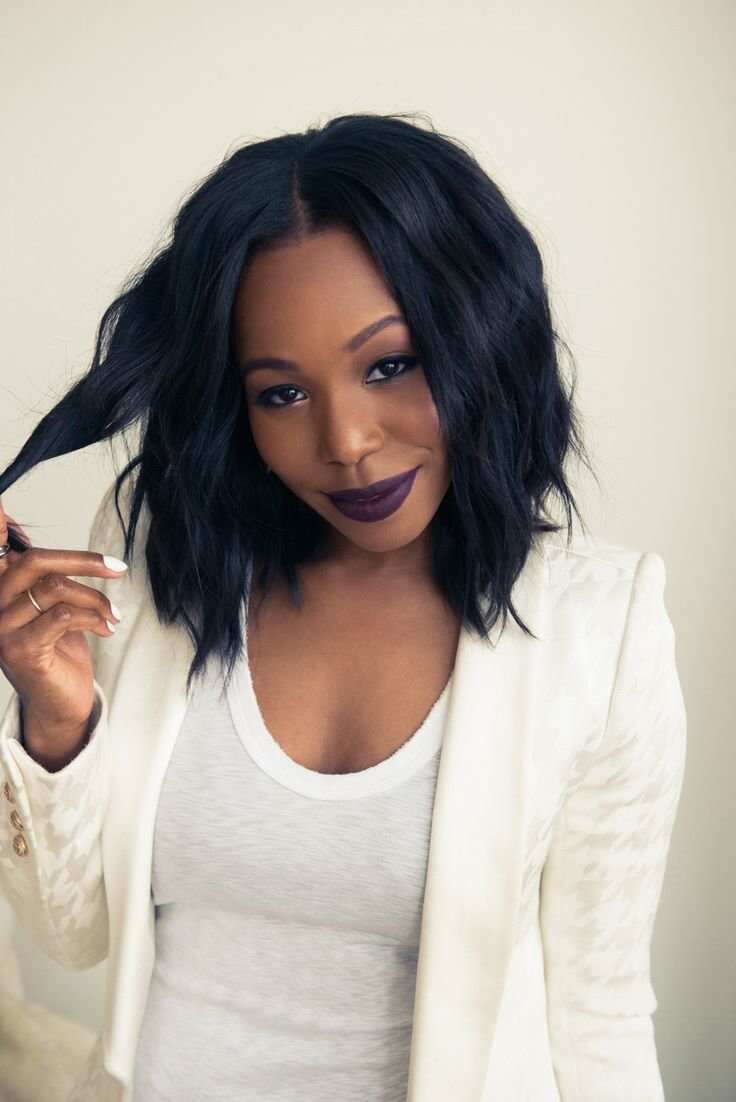 Photo: cosmopolitan.co.za
READ ALSO: Quick short natural hairstyles for Nigerian ladies
Now that we have talked about the different fixing hairstyles for really short weaves, let's consider some styles that are slightly longer, starting with this wavy bob. With this length and style, you have a whole plethora of possibilities, so try it out if you have been looking for a versatile style.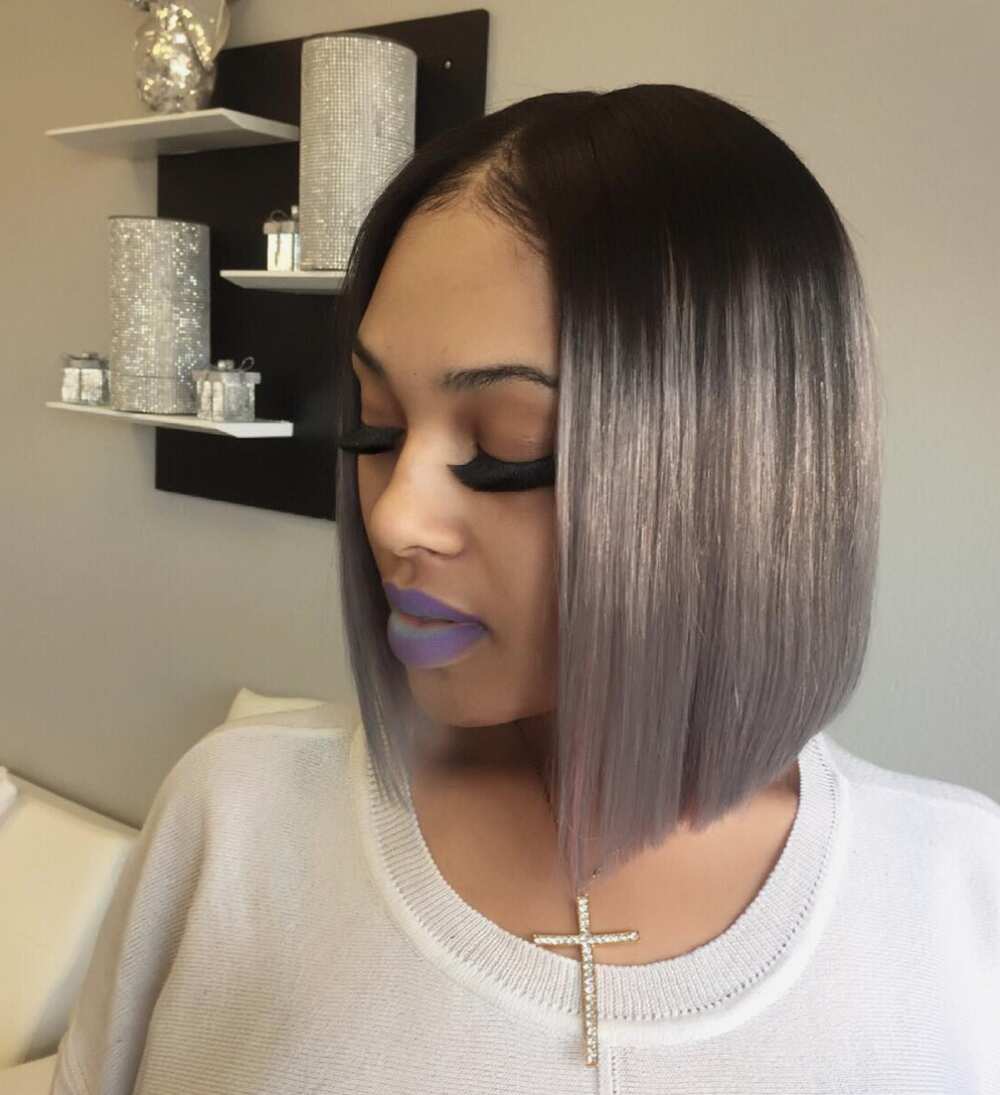 Photo: detroitairportshuttles.us
Ombre hair is still in trend, and so is the simple straight bob. Get this hairstyle if you are a fan of symmetry and gradients :) But on a serious note, such hair could be perfect for both the office and a fun party, and you do not even have to worry about styling it.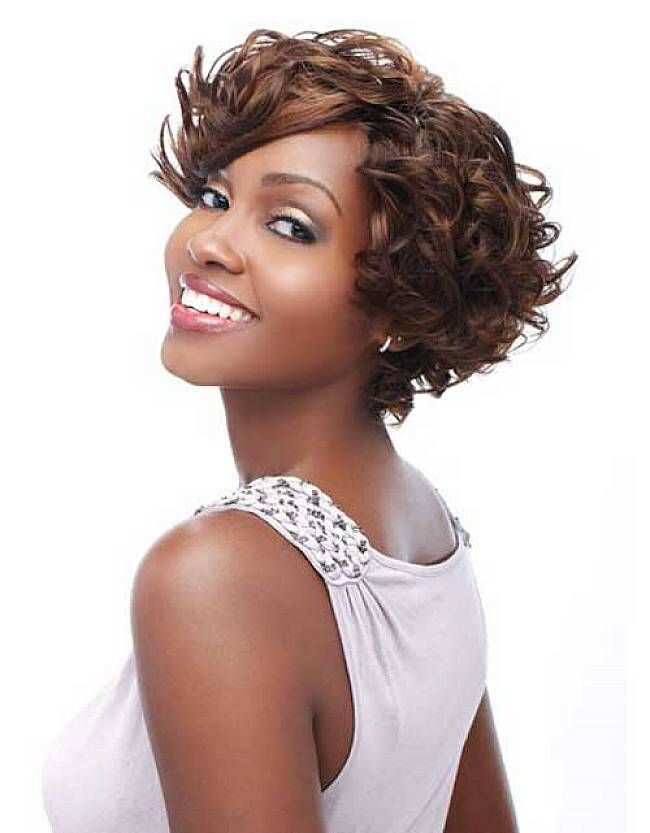 Photo: hairstyle.icu
Curls are always cute, especially if they are somewhat on the short side. This hairstyle can make you look dreamy and young, and the hair colour beautifully complements slightly lighter skin. So try this out if you want something new, fresh and fun.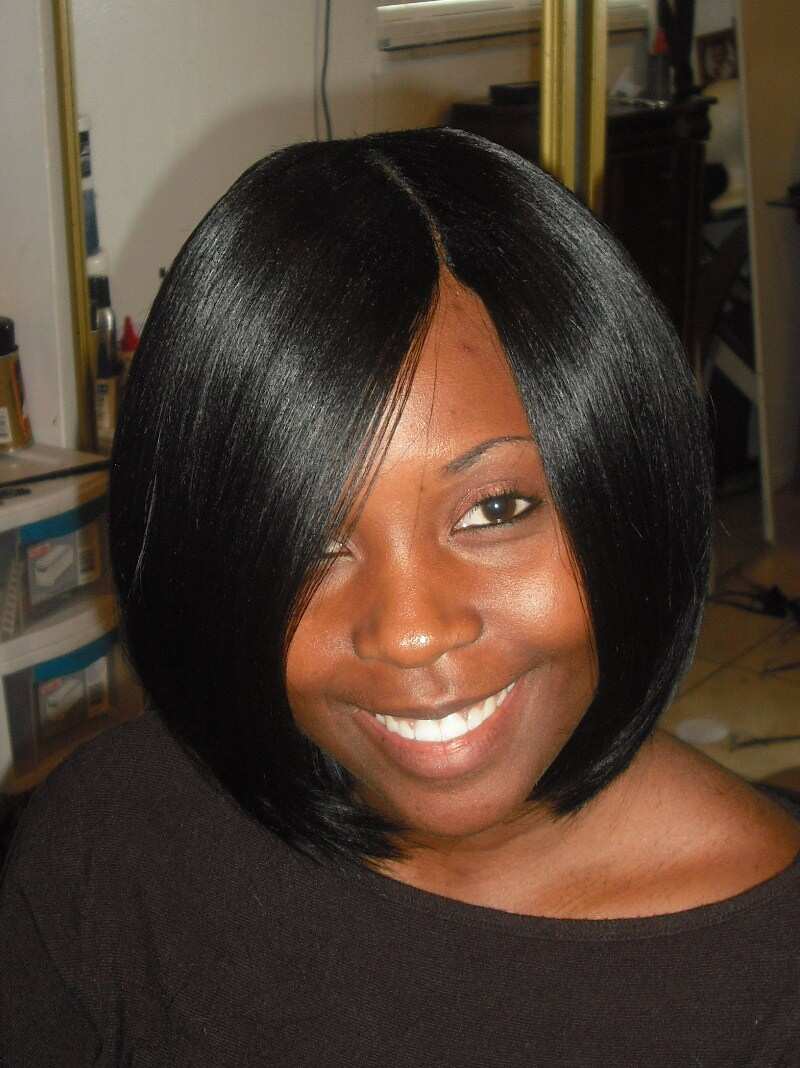 Photo: immodell.net
Here is another classic bob, but this one is with a slightly asymmetric part. We particularly love this style for the ability to tuck the hair behind the ear whenever it falls too far forward. It can make you feel like you are a star of a romantic movie.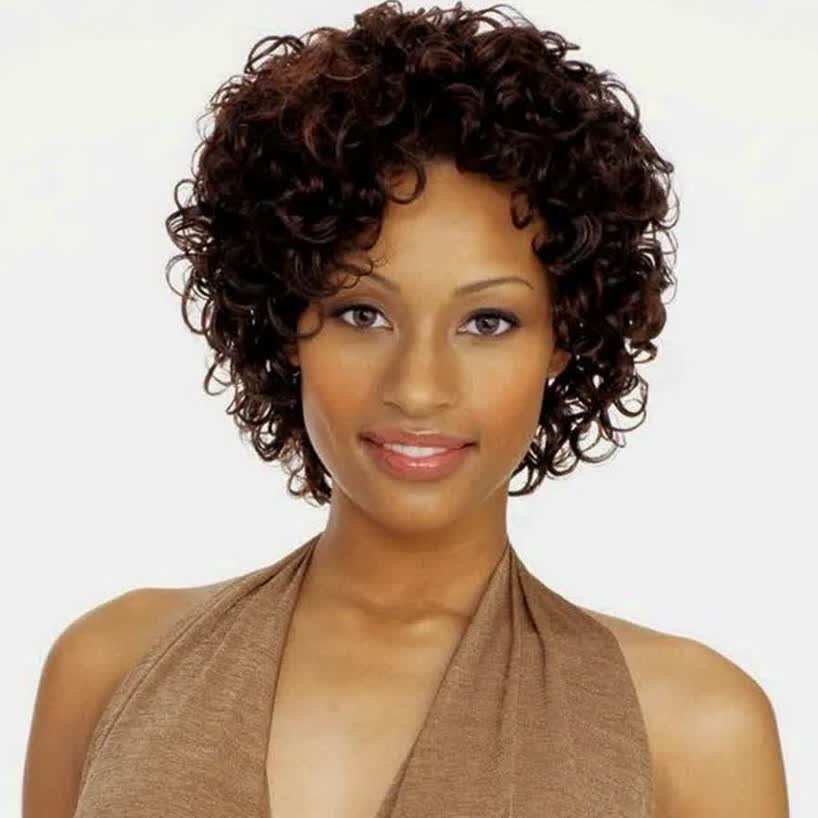 Photo: langleymatson.com
You know what is fun? A full head of bouncy curls! They look great, they feel great, and they will never go out of style. On the practical side, the fact that this hair looks so dense makes us believe that you do not have to worry about flashing some tracks or anything else that might ruin the illusion. It is all safely hidden under that lovely helmet of curls.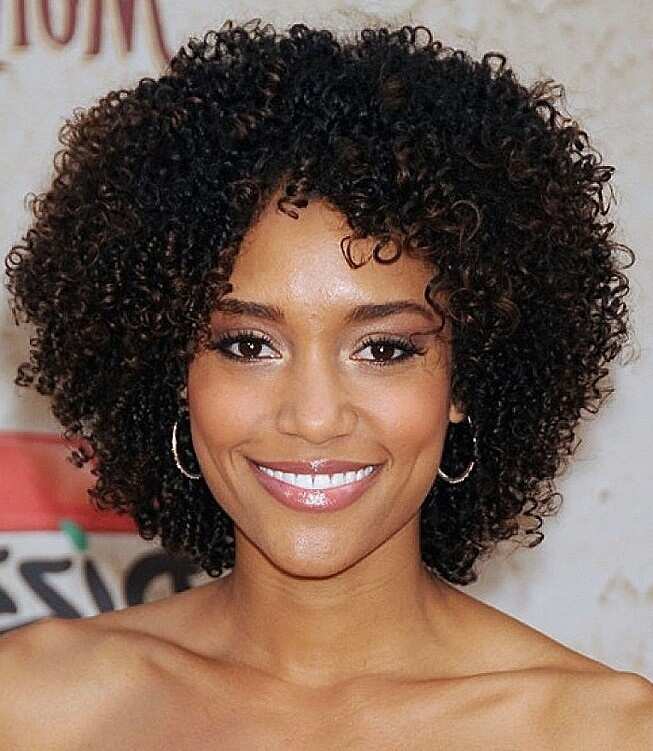 Photo: marakesayan.com
READ ALSO: Latest weavon hairstyles to fix in 2018
If you are looking for a tighter curl pattern, consider something like this. Once again, it is convenient because everything is hiding under the hair, but this type of curls might prove a little harder to maintain. But if you are up for the challenge, go for it!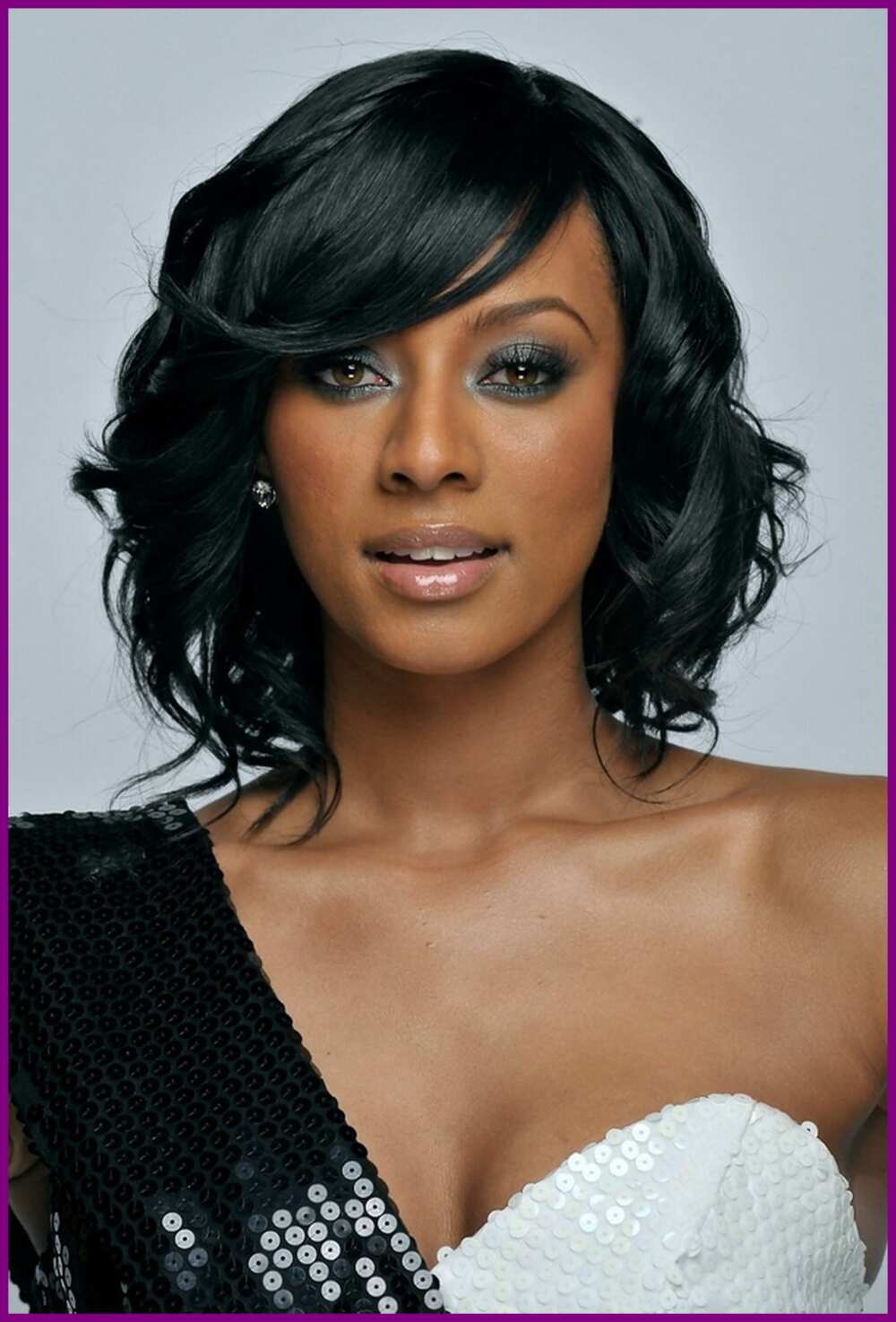 Photo: swallowfieldvelo.co.uk
Some feathery waves can take any look to the next level. Whether you are going on a date to the park, clubbing with friends or attending a cocktail party, you can make this hair work in your favour. The added length offers you a wide variety of styling options, so go wild!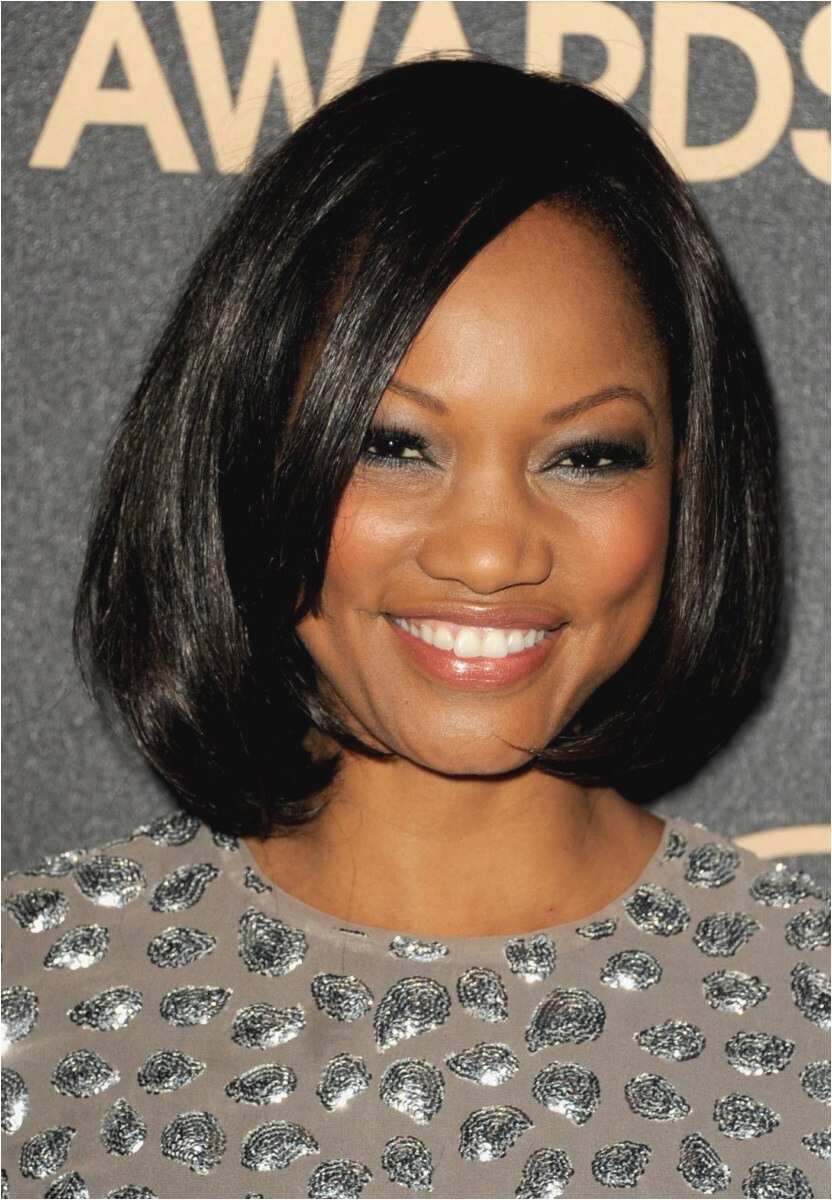 Photo: thegalaxys8.com
This is another asymmetric bob, but this one has way more volume to it. We are quite certain that it bounces a little when you walk. This hairstyle is more appropriate for slightly older women, but if you are 20 and you want to try it out, who are we to tell you what to do? :)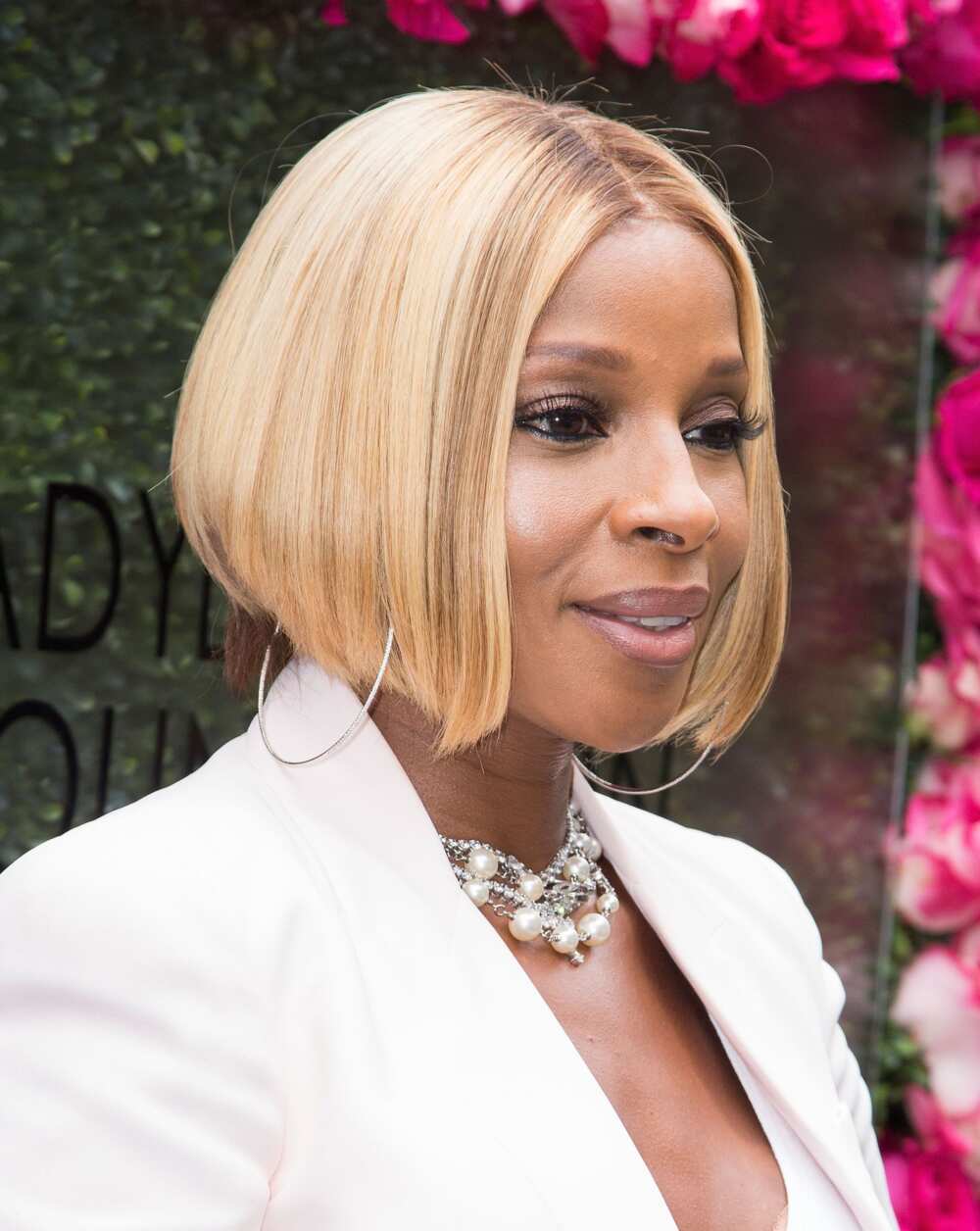 Photo: uternity.me
It is always fun to step away from the natural colours every once in a while a try something like sandy blond hair. Both the style and the colour are universal, and it can fit almost anyone. That said, you will most likely only have to wear it like this, because there is not much freedom to improvise.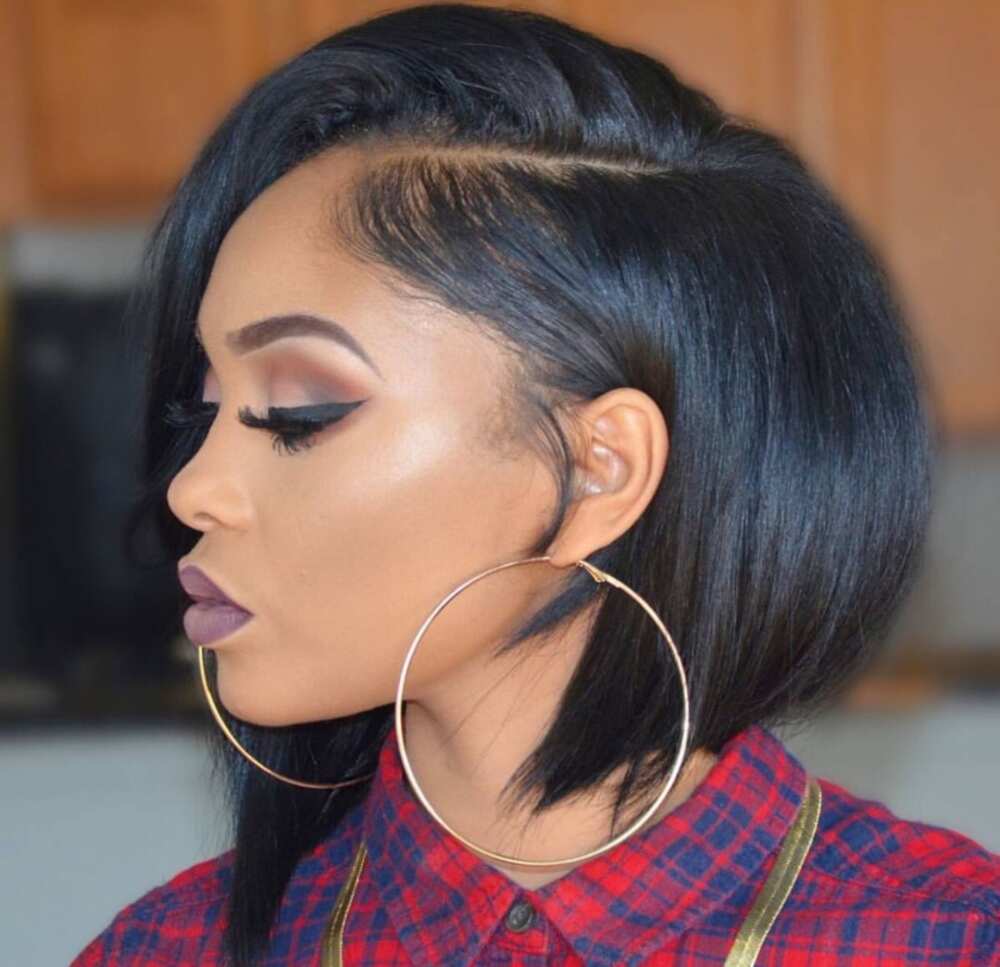 Photo: yousense.info
Last, but certainly not least is this voluminous asymmetrical bob. It is yet another style that can fit pretty much everyone, and you can wear it to any occasion. And we absolutely love the volume on this one, it looks so dense and beautiful.
Those have been 20 short Nigerian hairstyles for fixing hair. We hope you have been able to find the perfect hair for you!
READ ALSO: Nigerian weavon hairstyles 2018
Source: Legit.ng