Trendy braids for short natural hair to rock in 2018
Have you always had short natural hair and thought that there are no possible creative hair options for you? Well, you should not worry about this anymore, as the braids for short natural hair are the latest trend! The African braids truly depict our culture and uniqueness, so you should consider making a braided hairstyle your own. See the coolest and the most popular braids hairstyles for short natural hair, and choose whichever speaks to you the most!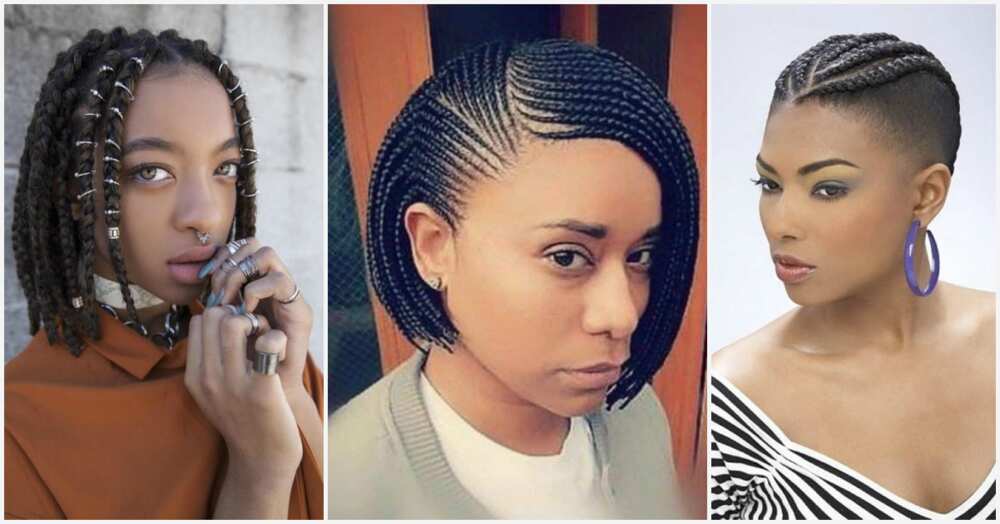 Braided hairstyles for short natural black hair – make a pick!
Sometimes, no matter how much you try, you are just unable to grow your hair out into gorgeous natural locks. Not always the hair is exactly the same length as you want it to be. So many women go through actual hell to trim their short natural hair, and some of them just lose their patience and chop it all off.
However, you do not have to worry if your hair is not as long as you wish it could have been. You will probably be surprised and excited to know that there are still many gorgeous and wonderful simple braids styles for short natural hair. There are no exclusions when it comes to braids – they are basically perfect for everyone.
So, if you are already wondering how the braids would make your hair protected from the damaging external factors and beautifully frame your face, you have come to the right place! Here, we have gathered the best list of short braids examples for women who would like to create this kind of hairstyle for themselves. You can stay with the short braided hairstyle for a long time, or you can rock this hair option until you grow out long hair. Still, it is very possible that you will fall in love with your new braided hairstyle along the way. Hop on our short braids train and see which hairstyles have inspired us to create this list for you!
1. Chunky two-strand braided updo
This hairstyle is among the most popular ones in the category of twist braids for short natural hair. The thing we like the most about this charming hairstyle is how sensual, gentle, and soft it looks. This is the perfect hairstyle for the bad hair days when the curls are not shaping in the right way, or the ends of your hair are refusing to cooperate with you.
To create this hairstyle, you will have to divide the hair into three equal sections in the back part of the head, then twist the hair to make the chunky plaits, and then intertwine these plaits around all the other ones, to create the circular shape on top of the head. This hair option has a few layers, so you should make sure that you have got some bobby pins with you, as well as a good moisturizer and the light spray to preserve the hairstyle in its initial state.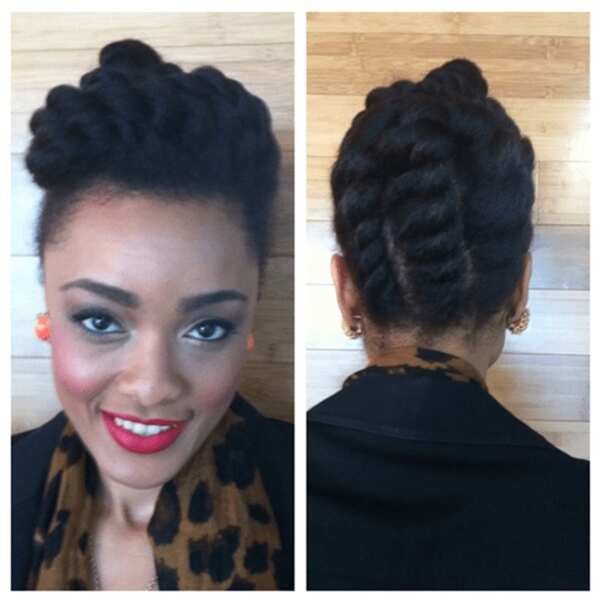 2. Bantu knots with cornrows
The Bantu knots are the universal hairstyle for all the black women with short hair, and no matter how long your hair is, you can still achieve an amazing result when you attempt to create Bantu knots on your head. For the shorter-haired women, it will just be slightly smaller knots. Instead of making your entire head Bantu-knotted, you can try going for something different by securing the sides of your hair, making them into cornrow braids, while all the other hair of yours is gathered into actual Bantu knots.
One more recommendation on preserving such a hairstyle is using the twist gel which contains the organic root simulators. This way, the gel can easily seal your hair and secure it together, and it will not look too dry or frizzy. This is a lovely hairstyle for short periods of time, and do not forget that when you take your Bantu knots out, you will have a beautiful curly twist-out hair pattern which will look appealing on your head.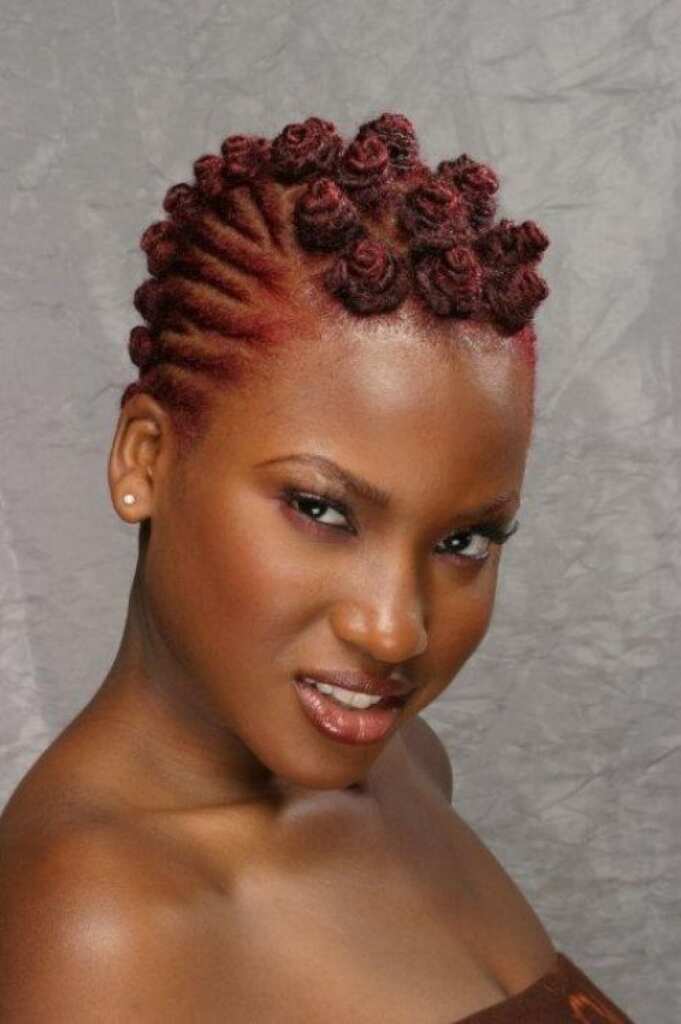 3. Mini-Mohawk with the cornrow braids
If you love braids for short hair, as well as curly Mohawk style, you can very simply combine both and achieve the stunning result. This is the hairstyle that short-haired ladies definitely should try, and in this case, the length does not really matter. When you cornrow the sides of your head, you should make your cornrows as tiny as possible, to create the illusion of having more hair by preserving cornrow braids on the sides.
On top of your head, you should do the same thing by twisting your hair into little twisted braids. This way, when you take them out, your pattern of curls will be tight and will have a more polished look. If you use the light mousse after twisting your hair, you get a chance to preserve the hair definition for a longer time, and also add some shine to your hair, for making it look healthy and radiant.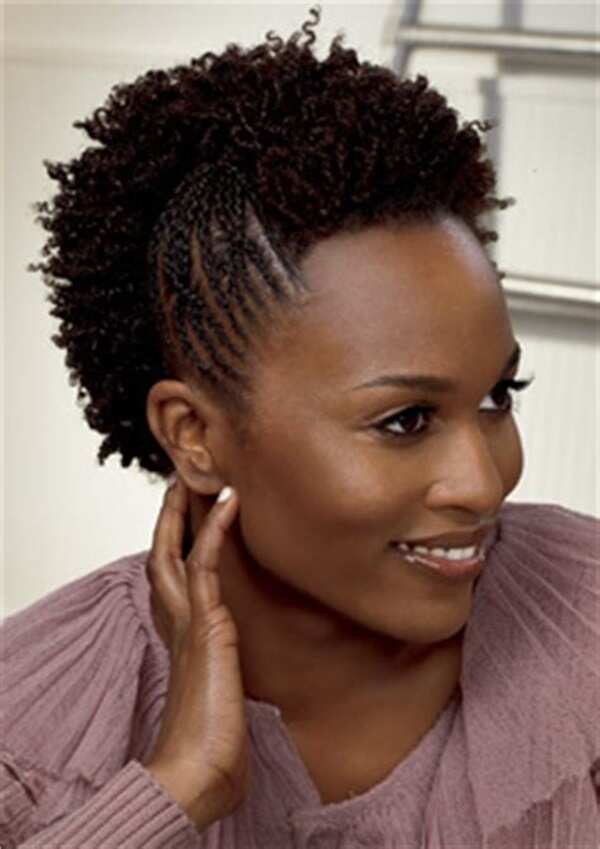 4. Triangle Mohawk braids with the medium-sized coils
This approach is quite similar to the previous one. However, one thing that makes them different from each other is the variety of cornrow braid designs, which are parted into curious triangle shapes on your head's each side. You will have to leave some hair out on top of your head, so you will get defined and fiery curls. You can make your hair slightly damp on top because this way rolling your hair with a curl will give a defining effect to your braided hairstyle.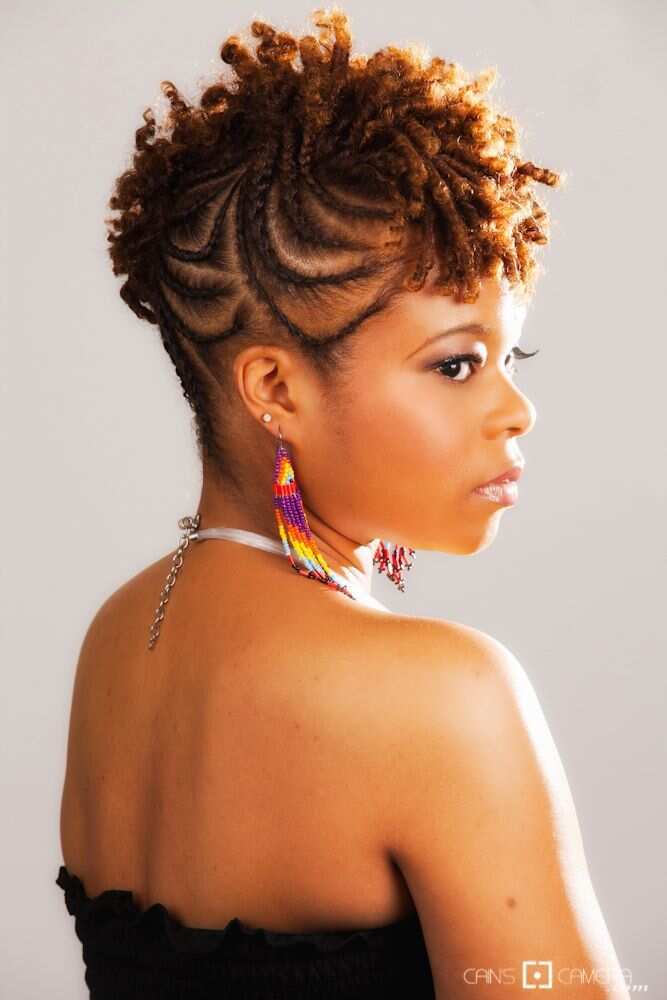 5. Thick cornrowed Mohawk with shaved sides
Here is a hairstyle for the most fearless and courageous ladies who would not mind having the extra short hair, especially when this hairstyle actually has a special feature that can make you different from the rest.
This hair option can be done with the help of extensions, but at the same time, if you have short hair, you can create the braided Mohawk without them. The choice is completely yours, depending on the circumstances. Also, here is a tip for you: instead of braiding back your hair in a straight way, you can give a patterned look to the cornrow braids that are on top of your head, so it can add a more edgy look to the hardcore hairstyle that you are creating.
READ ALSO: How to pack natural hair: best styles in 2018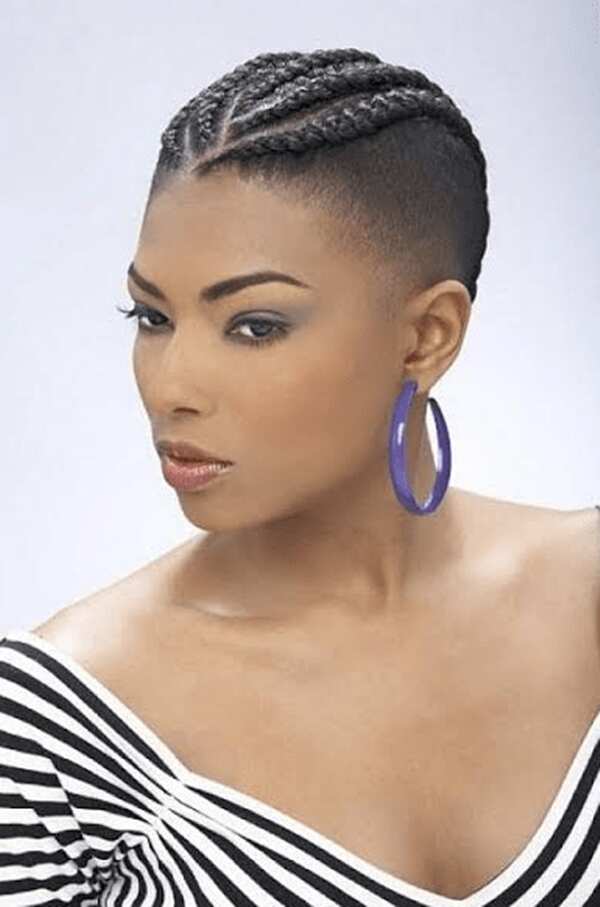 6. Natural braided Mohawk
If you want to use cornrows to your advantage, but still let some curly natural hair loose on top, this one hairstyle is a perfect choice for you. It is very inspiring and cool, and it will definitely capture the attention of everyone around you. We guarantee that this look will make you a bold and confident woman who is never afraid to chase her biggest purposes and dreams.
To reach this effect, you can create a perfect hairstyle starting from your nape and going up to the forehead. To make it even more individual and creative, you can unleash your creative side and make some braids thicker while some will be thinner. These designs can be very intricate and appealing – it depends on what you, or your hairstylist, want to create. Your hairstyle can be whatever color you want, but the caramel is the latest trend. Also, it is a good recommendation to wear plaited T-shirts together with this hairstyle, as well as some accessories like round earrings, because it will make you look even more determined.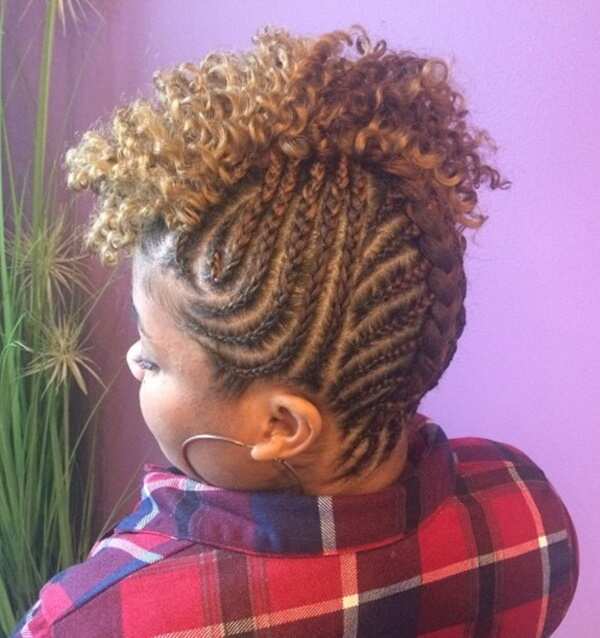 7. Protective short cornrow bob
If you have short hair and want to protect it from different factors like drought, humidity, and pollution, you should turn your whole attention to the cornrows, because this hairstyle is one of the most helping when it comes to protecting your precious locks. Besides, this cute bob works perfectly for short natural hair and makes it not only healthy but also attractive and stylish. If you pay a visit to the salon and trust your hair to the experienced professional hairdresser, as well as sit through a few hours of the intricate cornrow designing, you will leave the salon refreshed and filled with confidence for the next days, weeks, and perhaps even long months.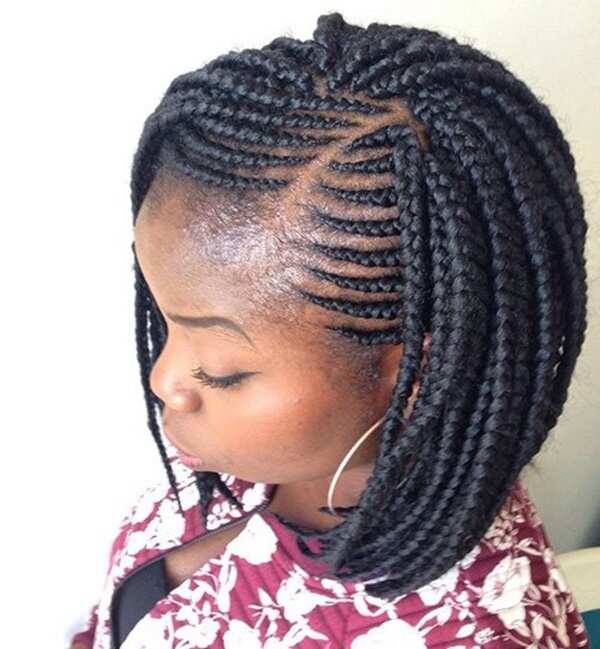 8. Classic short braids
The braids do not have to be super fancy and original to look cute and appealing. When it comes to the shorter hairstyles that are basically eternal and can make your hair adorably messy, the classic short braided hairdo will come in handy. This is like a previous bob hairstyle, but more youthful and light-hearted, with the glimmer of joy.
It will be perfectly fitting for those women who always have a bright smile on their face and enjoy trying different options for their hair to find the one. One of the best parts about cornrow braids is that they last for long weeks, and for a while, you will not have to worry about hair care at all. Besides, they will not need a lot of effort to maintain, except maybe some regular moisturizing.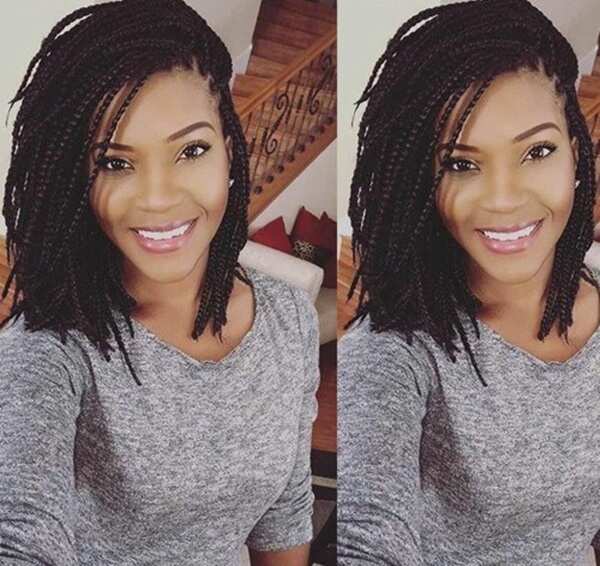 9. Upswept flat-twist updo
This is a very unique take on the regular braided hairstyle. Now, you can gather your kinky curly hairs into the upswept contemporary updo, combined with the twisted braids. However, the use of twists is not entirely necessary – you can do the exact same this with cornrows. They will keep your hair healthy and make it grow out quickly. Besides, it also keeps your skin from unnecessary sweating, especially in the hot weather. To spice up the hairstyle, adding the lovely hair cuffs and beads will be just the right choice for you.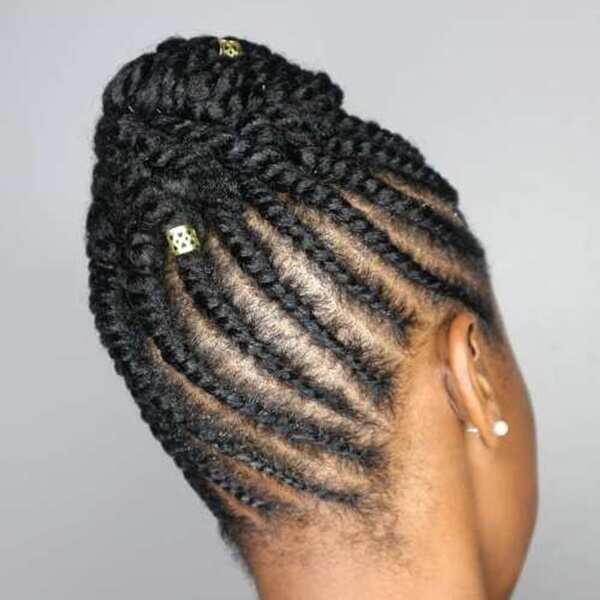 10. Asymmetrical braided updo
This hairstyle is just right for women with short and middle-length natural hair, who would like something more protective than just wearing their hair loose and letting the natural factors damage the healthy growth. There is a little issue concerning the individual box braids – they can usually become bulky, and their weight will pull on your hair edges, which causes them to break. To avoid this problem, you could replace the box braids with asymmetrical cornrows, gathering them into the cute ponytail or a classy side bun. This can cut down on the heaviness of your hair, and provide you a hairstyle that you will be proud of.
READ ALSO: Protective hairstyles for short natural hair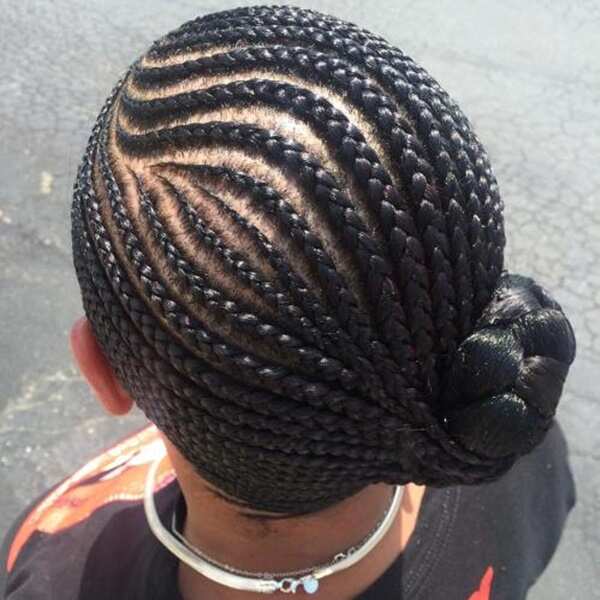 11. Sleek and serious braided hairstyle
If you would like something serious, but at the same time charming and attractive, this choice will certainly not let you down. First of all, the protective hairstyles are usually a mix of many different components, which can be perfectly combined with each other. This hairstyle shows us the bun and the braid, as long as some angled parts of the hair, being thoroughly combined to create a neat result. With this hairstyle, you will always look witty and smart in the office, and fun-loving at the parties.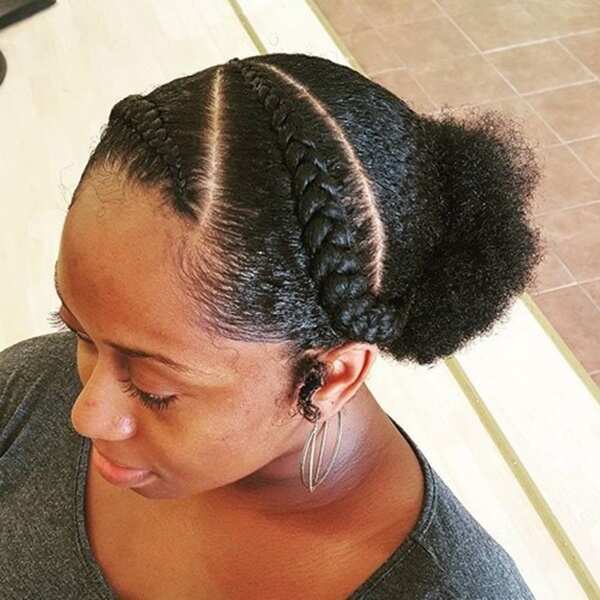 12. Nape-to-forehead cornrow updo
If you want something connected with the braided hairstyles, but would not like to braid your entire hair, you should probably choose the nape-to-forehead updo with a braid, which looks really innovative and cool if you think about it. This is the right hairstyle if your hair is damaged and you would not want to overload it with different hair extensions and tight braids. It will be your daily protective option which, at the same time, looks really cute and could use some additional touches to it. For example, you can give some subtle burgundy highlights to drive more attention to your hairdo, or add various hair accessories. Simplicity is what defines this hairstyle and makes it so adorable and pretty. It emphasizes your femininity and makes the face look longer and more defined.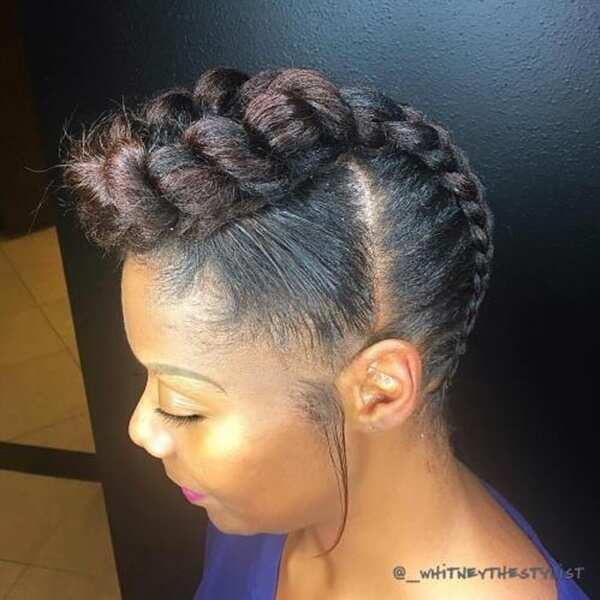 13. Sweet cornrows with a twisted crown
It is true that the curly hairstyles can be as charming and cute as the relaxed ones. This is the lovely and protective updo which would also serve nicely for all the occasions of life. The twisted crown would add the extra appeal to your general image, and the accurately made cornrow braids will show that you are proud of your heritage. This is one of those hairstyles which are both protective against damage and very attractive. You can also do it on the short hair, so it is not necessary for you to be a long-haired woman.
READ ALSO: Quick short natural hairstyles for Nigerian ladies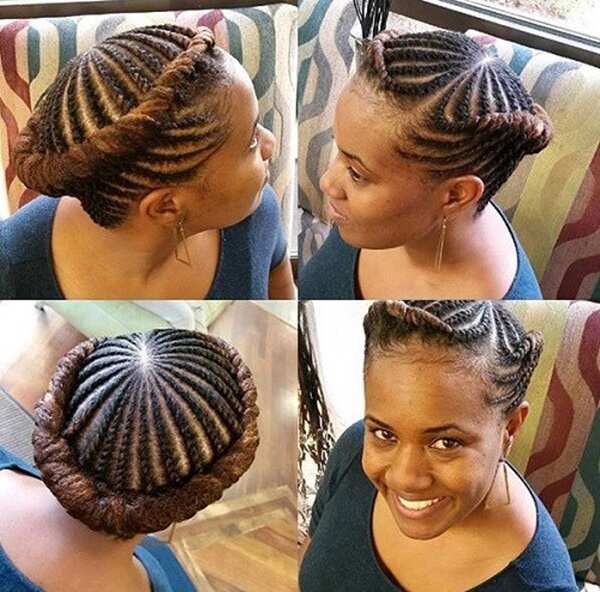 These were 13 trendy and fashionable hairstyles for short hair which have to do with cornrow braids! Hopefully, we have dispelled the myth that cornrows only look good on the long hair. You have to agree, all these hairstyles looked very tempting! Probably, the one you like the most will become yours one day!
READ ALSO: Top twist hairstyles for natural hair
Source: Legit.ng