May 29: "You're father of all, symbol of unity", Kenyatta tells Tinubu
Nigeria's president-elect, Bola Ahmed Tinubu, has been charged with preparing for the task ahead as President
This charge was given to him by former Kenyan leader Uhuru Kenyatta at the inauguration lecture in Abuja
He described Tinubu as the father of all and the unifying factor of Nigeria's unity and prosperity
FCT, Abuja - The former President of Kenya, Uhuru Kenyatta, has revealed that there is a huge task ahead of Nigeria's president-elect, Bola Ahmed Tinubu, as he prepares to be sworn in as the 16th President of the Federal Republic of Nigeria.
Kenyatta gave this charge on Saturday, May 27, at the inauguration lecture in Abuja in honour of the president-elect.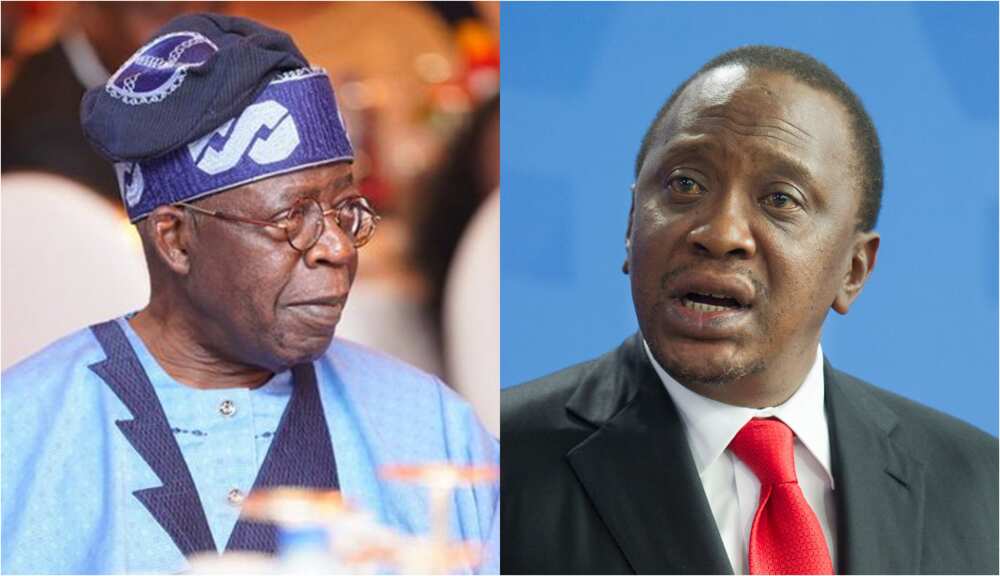 The former Kenyan leader said Tinubu's role is much bigger than most people think, as he is now the ''father of all" and the "Symbol of unity" for Nigeria and the African continent.
As reported by Channels TV, he said:
"Upon assuming the office of president, you would be wise to transcend from the tactical politics of an election and assume your role as Nigeria's vision bearer.
"This will demand a complete overhaul of the adversarial mindset that we as politicians are conditioned to embrace during the electoral process.
"As president, you must learn very quickly to lead those who love you and those who don't with equal passion and commitment because now, you are the father of all."
He also charged Tinubu to be alert as he would be the one to mend the wounds of the ethnic and religious divides that may have transpired over the past few years, adding that he must reach out to the opposition to complete this pattern of unity.
Kenyatta noted that it is time for Nigeria to correct its wrongs and take its rightful place globally.
According to The SUN, he said:
"As your fellow African, I look forward to a Nigeria that emerges from this transition ready to flex and fight for its rightful place on the global stage with both hands."
"You Will Beg Tinubu to Contest for 2nd Term," APC Women Leader tells Nigerians
In another development, the APC national women leader, Dr Betty Edu, has predicted that Nigerians will beg President-elect Bola Tinubu to contest for a second term in office.
Edu also disclosed that Tinubu would work on the "low points" of President Muhammadu Buhari's administration.
She added that Tinubu's programmes for the first 60 days in office are written, and he will "hit the ground running."
Source: Legit.ng