Nigerian Students Reveal What They Want from President Tinubu's Administration
Nigerian students have revealed their expectations from the administration of President Bola Tinubu
A UNIBEN student, Oamen Winifred Eseose, said she wants an engaging curriculum that is relevant and up-to-date and for government to address ASUU's incessant strike
A student from UNN, Comrade Okehielam Clinton Obinna, urged the Tinubu's administration to resuscitate the bursary scheme and tackle insecurity
Nigerian students have made a list of what they expect from the administration of President Bola Tinubu after he was sworn in as Nigeria's 16th President on Monday, May 29.
Legit.ng spoke with some Nigerian students who, among other things, urged President Tinubu to address the incessant strikes by members of the Academic Staff Union of Universities (ASUU).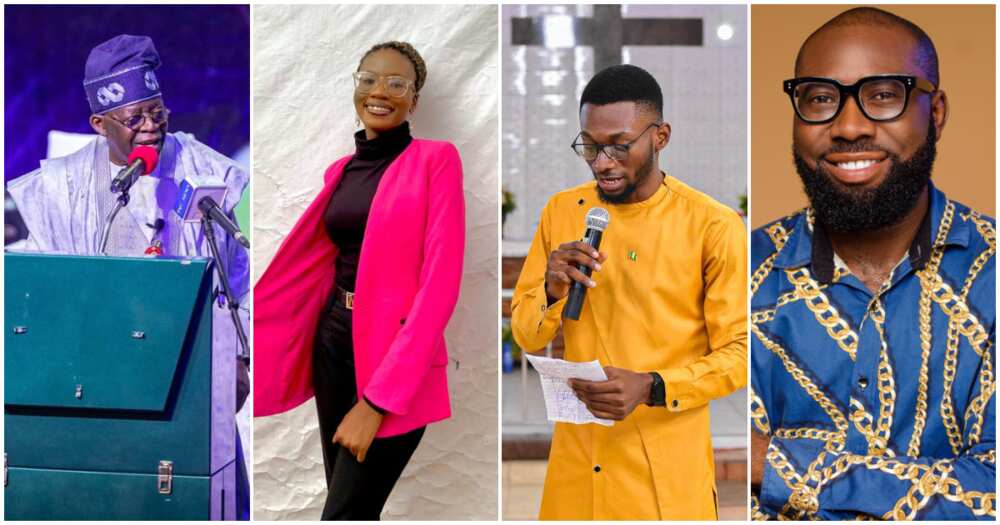 Oamen Winifred Eseose, a student of social work at the University of Benin, Edo state, said she desires a transformed and inclusive nation that addresses critical challenges and fosters sustainable development for all citizens.
Winifred explained that she envisions an educational environment that empowers Nigerian students to become lifelong learners, critical thinkers, and responsible citizens.
PAY ATTENTION: Follow us on Instagram - get the most important news directly in your favourite app!
Outlining her expectations for quality education, she said:
"Firstly, I expect an engaging curriculum that is relevant, up-to-date, and fosters critical thinking, creativity, and problem-solving skills.
"Secondly, encourage student participation in decision-making processes, such as through student councils or committees, to give us a voice and a sense of ownership in our educational experience.
"Thirdly, the problems associated with ASUU should be addressed, so as to stop the constant strikes that result in students staying longer than their speculated duration of schooling. This has created doubt on the credibility of the country's certificate and this tends to cause issues outside the country."
"Fourthly, develop our digital literacy skills through effective integration of technology in teaching and learning, empowering us to thrive in the digital age and access a world of knowledge and resources."
Winifred said she hopes the incoming government will diversify the economy, create jobs and support small and medium enterprises.
Her words:
"Prioritize economic diversification by supporting non-oil sectors such as agriculture, manufacturing, technology, and renewable energy. Implement policies that attract domestic and foreign investments, fostering job creation and reducing unemployment, particularly among the youth.
"Establish an enabling environment for small and medium-sized enterprises (SMEs) through access to affordable financing, business development support, and simplified regulatory processes, enabling their growth and contribution to the economy."
Tinubu presidency: Healthcare and Social Welfare
The student urged the government to ensure affordable and accessible healthcare for all Nigerians
"Implement policies that ensure affordable and accessible healthcare for all Nigerians, strengthening primary healthcare systems, expanding health insurance coverage, and reducing the burden of out-of-pocket expenses.
"Establish comprehensive social welfare programs that provide support to vulnerable populations, including the elderly, people with disabilities, and those living in extreme poverty, ensuring their well-being and inclusivity in society."
Security and National Unity
Speaking on her expectation on security, she said:
"Intensify efforts to combat terrorism, insurgency, banditry, and other forms of criminal activities through the strengthening of security agencies, intelligence gathering, and regional collaboration to ensure the safety and security of all Nigerians.
"Promote dialogue, understanding, and tolerance among Nigeria's diverse ethnic and religious groups, fostering national unity and social cohesion."
Oamen concluded by saying she hoped that her expectations would be considered and implemented in collaboration with Nigerian students to create a fulfilling educational journey for all.
Meanwhile, the national secretary general of the National Association of Imo State Students Nationwide and Worldwide, Comrade Okehielam Clinton Obinna, called on Tinubu's administration to improve the education sector.
Okehielam said the issue of poverty could be well tackled if all adult citizens received secondary education
He said:
"According to UNESCO, poverty could be more than halved if all adults received secondary education. Sahel Women's Empowerment and Demographic Dividend (SWEDD) is one organization that aims at accelerating the demographic transition, enhance the demographic dividend, and also reducing gender inequality in the Sahel region. When organizations tackle the issue of access to education, they as well tackle global poverty. Programs like these allow children to learn without worrying about money and give them the ability to reach their full potential."
Tinubu urged to tackle insecurity on campus
Speaking on security, Okehielam added that government should develop effective strategies to end insecurity in tertiary institutions around the country.
"The government should initiate and set up effective strategies to end insecurity in our institutions. The rate of kidnapping, molestation, and killing of students is at rapid increase and when safety isn't guaranteed, the zeal and passion to study won't be seen amongst the students. Using the North East of the country as a case study, a lot of students has dropped out of school as a result of fear of the unknown.
"Secondly, security and communication devices/equipments should be provided to institutions and made available for her security personnel which will aid them discharge their duties properly."
Bursary resuscitation
The student leader also urged Tinubu's administration to resuscitate the bursary scheme for Nigerian students. He argued that bursary funds would help lift many students' financial burdens.
"The government should ensure they resuscitate the bursary scheme for Nigeria Students which will aid the recipients and give them an opportunity to excel in their academics without carrying any financial burdens or stress."
Another Nigerian student, Emmanuel Imeh from the University of Calabar, said he's not expecting much from the Tinubu administration but hopes there will be an end to the insecurity ravaging the country.
The student of the Department of Linguistics and Communication Studies said:
"I'm not expecting so much from the incoming administration based on the antecedent and scorecard of the previous administration, but silently I hope and wish that there's going to be a lasting end to security issues in Nigeria; from insurgency to kidnapping and all that comes with security.
"I'm also worried and hope that the economic situation of the country will be better and that there'd be reasonable policy in place to encourage Nigerians to do business effectively, but with the huge debt record the current administration is handing over to the incoming administration we're all worried.
"Power is an integral part of the nation's growth and development; I've been looking for an administration that would sort out the long-lasting issue of light in the country and this incoming administration isn't left out.
"Lastly, I'm worried about the fuel subsidy removal plan, what effort or strategies is the incoming administration taking to cushion the effect on the citizens.?"
What religious leaders expect from Bola Tinubu
Meanwhile, Legit.ng had reported that religious leaders across the country had congratulated President Bola Tinubu.
A cross-section of the religious leaders who spoke with Legit.ng want Tinubu to tackle Nigerian youths' migration and unemployment, reduce the cost of governance and reform the education sector.
Source: Legit.ng