Shaquille Oneal net worth, height, shoe size, girlfriend, wife, kids
For the basketball fans, you must have heard of the famous Shaq. He is a retired basketball player, currently serving as a sports analyst. What makes him famous is his 19 years of dedication in his basketball career. He played for six teams and became one of the greatest players in NBA history. Beyond basketball, Shaq has also released four rap albums and several TV shows and films. With such dedication and performance, you can be sure that Shaquille Oneal net worth is impressive. How old is Shaq? Too young to become one of the wealthiest basketball stars in the world.
How old is Shaquille O'Neal? Shaquille Rashaun O'Neal was born on March 6th, 1972 in New Jersey. He is 47 years old. His father had long suffered from a drug addiction problem which saw him imprisoned for drug possession when O'Neal was still young. Hence the two never enjoyed the father-son relationship, and his father gave up his parental rights to the stepfather. His stepfather largely contributed to Shaquille Oneal net worth and his career success.
Shaquille O'Neal profile summary
Full name: Shaquille Rashaun O'Neal
Date of birth: Mar 6, 1972
Birthplace: Newark, New Jersey, United States
Shaquille O'Neal age: 47 years old
Education: Barry University (Ed.D), University of Phoenix (MBA)
Profession: Basketball player, actor, rapper, film producer, television producer, real estate entrepreneur
Marital status: Divorced
Children: 6
Ethnicity: African-American
Nationality: United States of America
Shaquille O'Neal height: 7 ft 1 in (2.16 m)
Shaquille O'Neal weight: 324 lbs (147 kg)
READ ALSO: Emma Stone net worth, house, tattoo, parents, brother, relationship
Though Shaq had such a sad story with the father, he quickly became a star when he decided to venture into basketball. This also gave him a chance to explore other careers, both in the film and rap industry. In 1996, O'Neal was part of the gold-winning Olympic basketball team. During his basketball tenure, he announced his plans to join the Los Angeles Lakers, being a part of his $121-million contract that would go for seven years.
In 2000, Lakers won the NBA championship. They also won two titles in a row for both 2001 and 2002. In 2005, he signed a contract with the Miami Heat that saw him get $100 million. Such career journeys marked an important wealth map for Shaquille O'Neal which has helped him live a good life to date. Some of his major career highlights are included below:
NBA Champion (2000, 2001, 2002, 2006)
NBA Finals MVP (2000, 2001, 2002)
15 Time NBA All-Star
NBA All-Rookie First Team (1993)
Olympic Gold Medalist (1996)
Shaquille O Neal net worth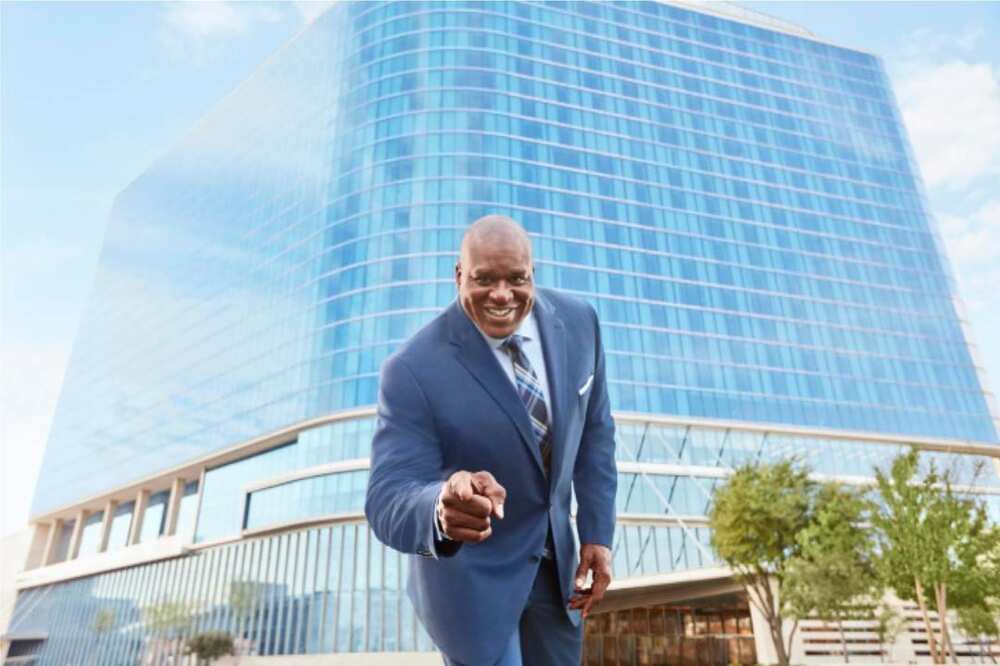 According to Forbes, Shaquille O'Neal was rated among the highest paid retired athletes. Shaq net worth is estimated at $400 million.
Other business ventures that have boosted Shaquille O'Neal net worth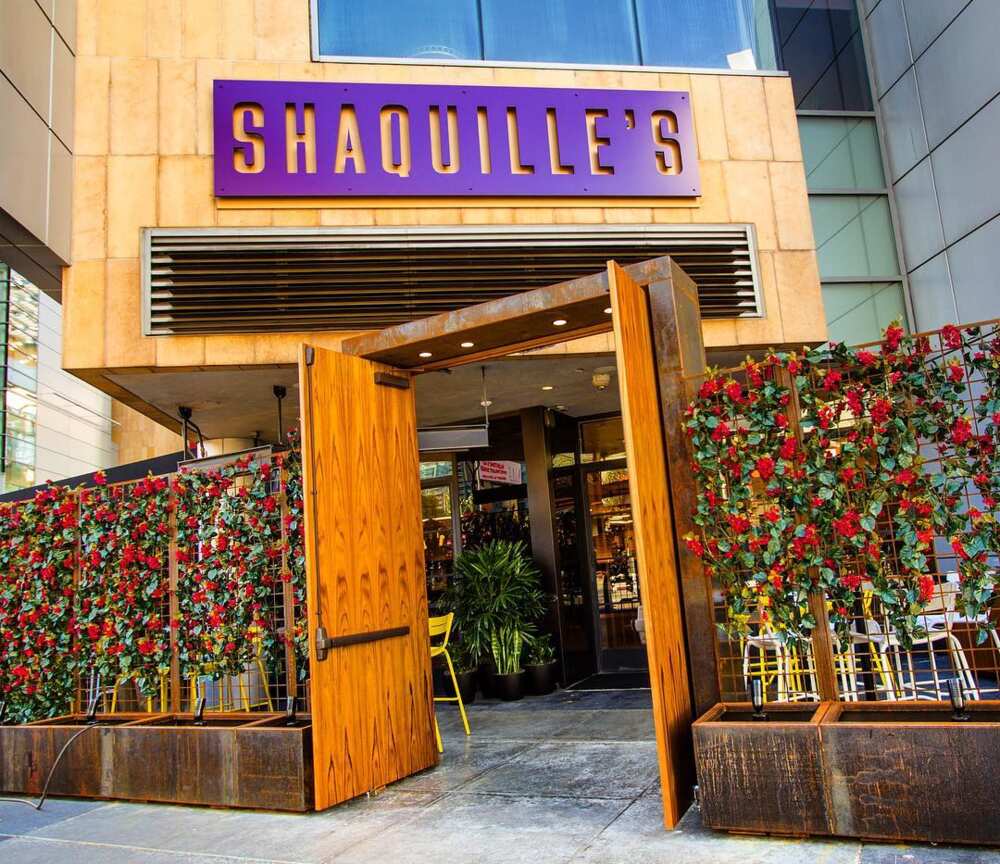 Shaq has invested in other businesses which have adversely increased his net worth. These investments include:
Restaurant business
These investments include the following:
Five Guys franchises
Most people would probably know of O'Neals Five Guys franchises. However, what you may not know is that this retired-basketball star owns 155 locations. He holds more than 10% of this company's franchises.
Auntie Anne's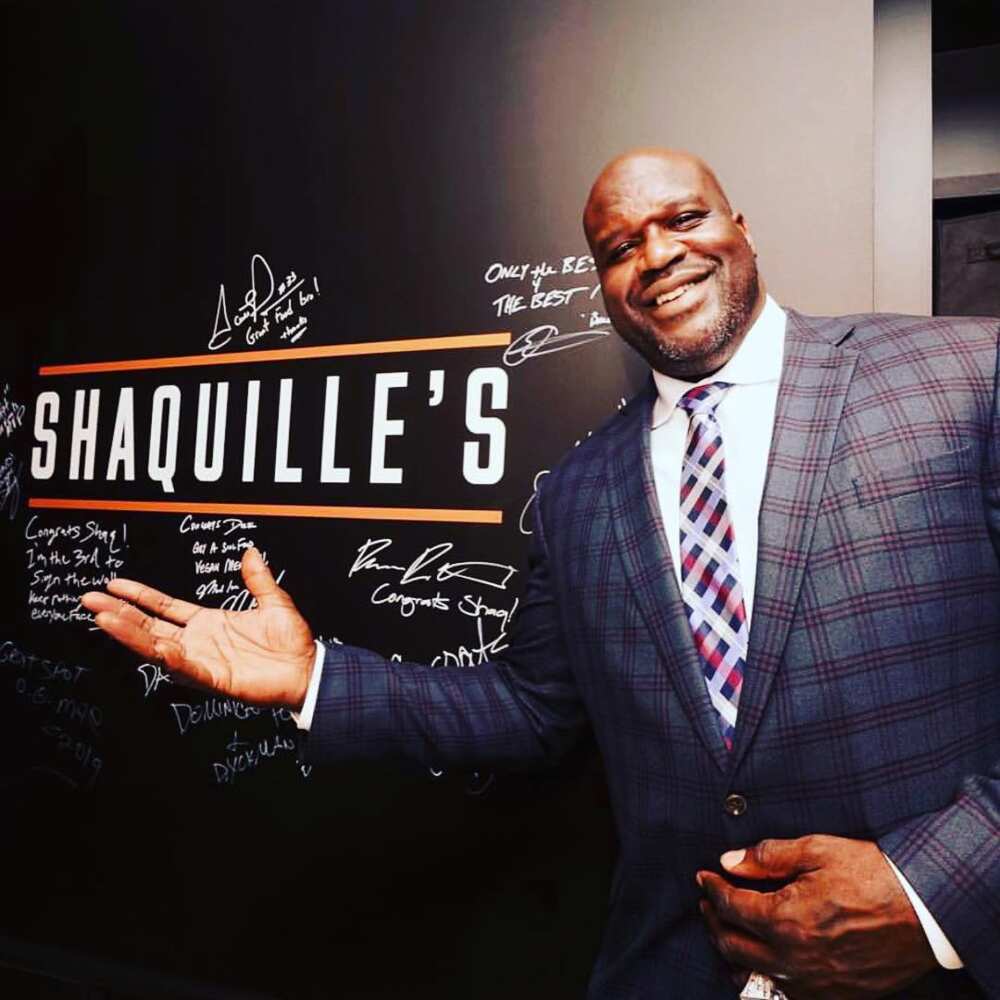 This is another food franchise that Shaquille has put some money on, quite heavily. He owns 17 of the stands across the US, which earns him some good returns.
Shaq endorsement deals
In addition to being a successful restaurant franchisee, a significant portion of his net worth, more than $20 million that Shaq makes each year from endorsement deals comes from food and beverages. Muscle Milk, Vitamin Water, Fruity Pebbles, and AriZona Cream Soda are just a few of the food companies and brands that have helped him rake in good money. AriZona launched Shaq Soda in June, and it was the most successful beverage launch in the company's history.
READ ALSO: Rihanna net worth, age, full name, life before fame
Shaq/Dunkman shoes
His Shaq/Dunkman lines of shoes are low-priced and hence have sold 100 million pairs globally. You will be amazed by his endorsement rules; he endorses products he uses. Due to this strict discipline, he has turned down several high profile deals including that of Starbucks and Wheaties as he simply does not use their products. He says he wants his dealings to be authentic.
Real estate business
Another investment area that has raised Shaquille's income is real estate. He adds to the many athletes who have invested in this field earning tens of millions from the venture. His stake is both on the commercial and residential properties. In 2006, he created the O'Neal Group, which as of now has an impressive portfolio.
His first venture was The Met Miami, a residential property which sold more than 1,000 units. In LA he also invests in night clubs. He has also invested in Newark properties which include CityPlex12, a theatre that Shaq bought and did some renovations, now giving some good returns.
Fitness franchise business
Of all the things that Shaq has become famous for, it is sports. He is a good athlete, and you cannot help but respect his dedication and efforts that have produced wins. Having grown in the world of athletics, it is no surprise that O' Neal has invested in gyms. To be exact, he has 40 fitness franchises that operate 24/7.
Nevertheless, if you thought of them as just another gym, you are wrong. Shaq particularly puts his personal touch on all the details giving a true reflection of his commitment to fitness and to offer mentorship to an active lifestyle. He makes quite a good sum from his gyms annually.
Tech investment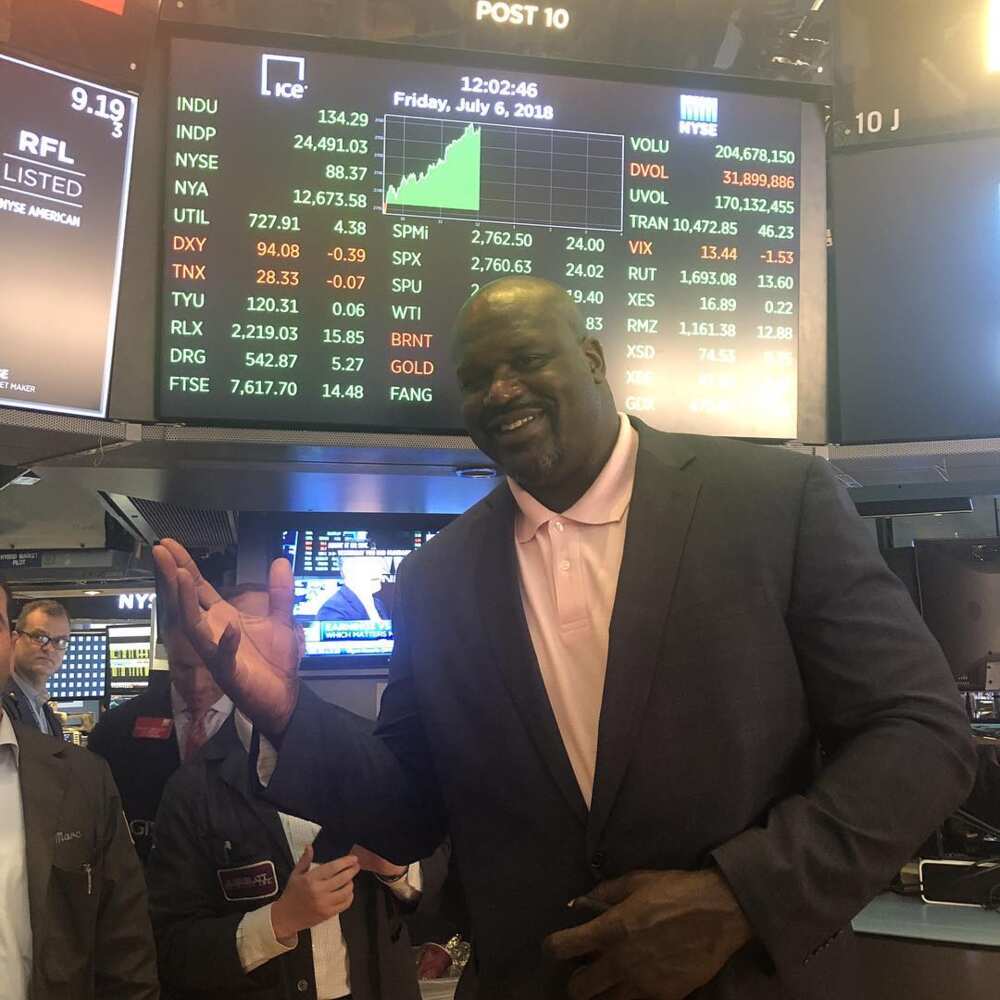 Shaquille O'Neal is also a wise man. He does not put his eggs in one basket. Another investment platform has been on Google. He invested in the company before it went public. For any businessman, you very well know that this was a wise move.
Google went public in 2004; by then the company's stocks were going for $85 per share. As of now, one share is going for over $700.
Google was not the only tech company O'Neal ventured in; he is also a trader on penny stocks which he does for fun and at the end of the day, has given him good returns. He also invested in Loyal3, a San Francisco startup that offers individual IPO access.
READ ALSO: What is Leonardo DiCaprio net worth in 2019?
Auto industry
Several high-profile companies have regularly approached O'Neal for some endorsements which he has turned down. However, the latest company that was successful in making a deal was The General auto insurance company which is offering insurance products to 44 states in the US. In addition to his auto insurance investment, he owns 150 car washes. With such investments, you can be sure that he gets worth returns.
Homes
Apart from the real estate business, this star has also invested in his homes. Among those homes includes:
Palatial Orlando mansion
This home features 12 bedrooms with 15 bathrooms, a recording studio, and an aquarium room. On the outside, you also get a 17-car showroom garage and an indoor basketball court. This home nears the Shaqapulco on hot days. This house was sold at $21.9 million. He said he cut the price down from earlier $28 million to show his seriousness to sell the property.
Florida mansion
This basketball legend also has eyes on the Floridas best. He bought the Florida mansion for a whopping $28M. The lakeside home includes a 6,000 square foot indoor basketball court. This home lies on a three-acre posh, in a gated golf community of Isleworth. This has also been home to the golf star Tiger Woods. Outside the mansion is a 15-feet deep pool with custom rock waterfall, tiki-style open cabana which overlooks Lake Butler and a sunken hot tub. On the main level are five en-suite bedrooms and a bar. The second master bedroom features a 900 square feet bedroom area and a balcony. You will also get four en-suite bedrooms with 4-room, master closet.
Two homes property in Metro Atlanta
Shaquille also found himself a slide of the Peach State, which he bought for $1.15 million. This home is located 30 miles east of Atlanta. It includes a three-stall barn and a swimming pool. The two-home property seats on a 14-park-like acre of land. On the main house, it has a two-story foyer, a master suite, and an office. You will also be amazed by the 12-set home theatre, a gym, and a game room. The second home has 3 bedrooms and two bathrooms. It is also designed with a sun porch as an extra. Hence, the two houses combined give a total of 8 bedrooms and ten bathrooms sitting on more than 7,400 square feet. A large motor court lies off the entrance to the home.
Cars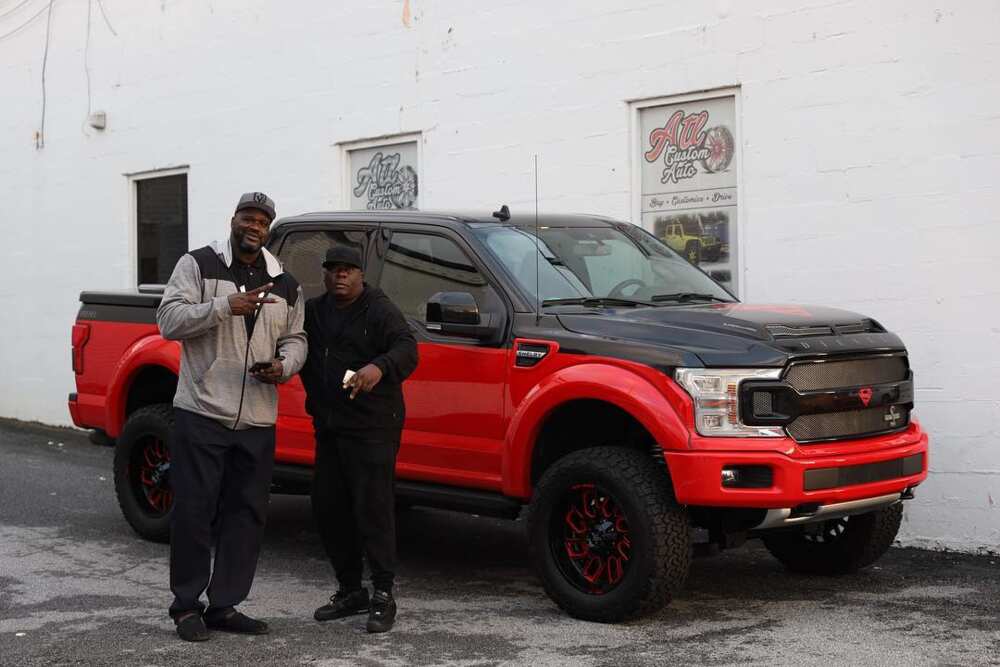 Talk of car collection, O'Neal has quite a collection which includes the following vehicles:
Hummer H2S
This car has a Superman logo engraved on both sides and some Kumho tires. The car also features Strut Grille package, 18' kicker subwoofer and ProFit custom fuel door. The 2003 version boasts a 6.0L engine releasing 316 hp with an auto transmission.
Chevrolet G1500
The 2001 model is a van. It may not be one of the car collections you would expect from a former basketball player, but Shaq does. The customised vehicle has some authentic interior featuring 100 by 100 HD projector and Xbox.
READ ALSO: Cameron Diaz net worth, age, height, sister, husband, pregnancy rumors
Ford F650
With the huge body nature, this truck does give O'Neal some excellent service. Under the hood, this beast boasts a 6.7L V8 diesel engine delivering 330 horsepower and 750lb torque. This piece of his is highly customised, hence giving a value of $124,000. Other cars that Shaquille owns include:
Buick Lacrosse
Cadillac Escalade with modified doors
Convertible dodge challenger
Customised chopper trike
Customised Polaris slingshot 4-seater
Customised sprinter Mercedes van
Customised tour bus
Customised two doors Vaydor
Dodge challenger hellcat
Extended Ferrari 355 spider
Ford Bronco II
Mercedes smart car
Rolls Royce Phantom
Stretched Lamborghini Gallardo
Super-sized Polaris slingshot
Terminator-themed F-650
Vanderhall Venice 3 wheel roadster
Charity foundations
Shaquille O'Neal has supported the following charities:
Phoenix House
PeyBack Foundation
Kids Wish Network
Free the Children
Centre ValBio
Boys & Girls Clubs of America
Be the Match
Fundraising support
Shaq also donated $20,000 in support to Lafayette High School. The support was geared towards fundraising meant to remodel its weight room.
Shaq shoe size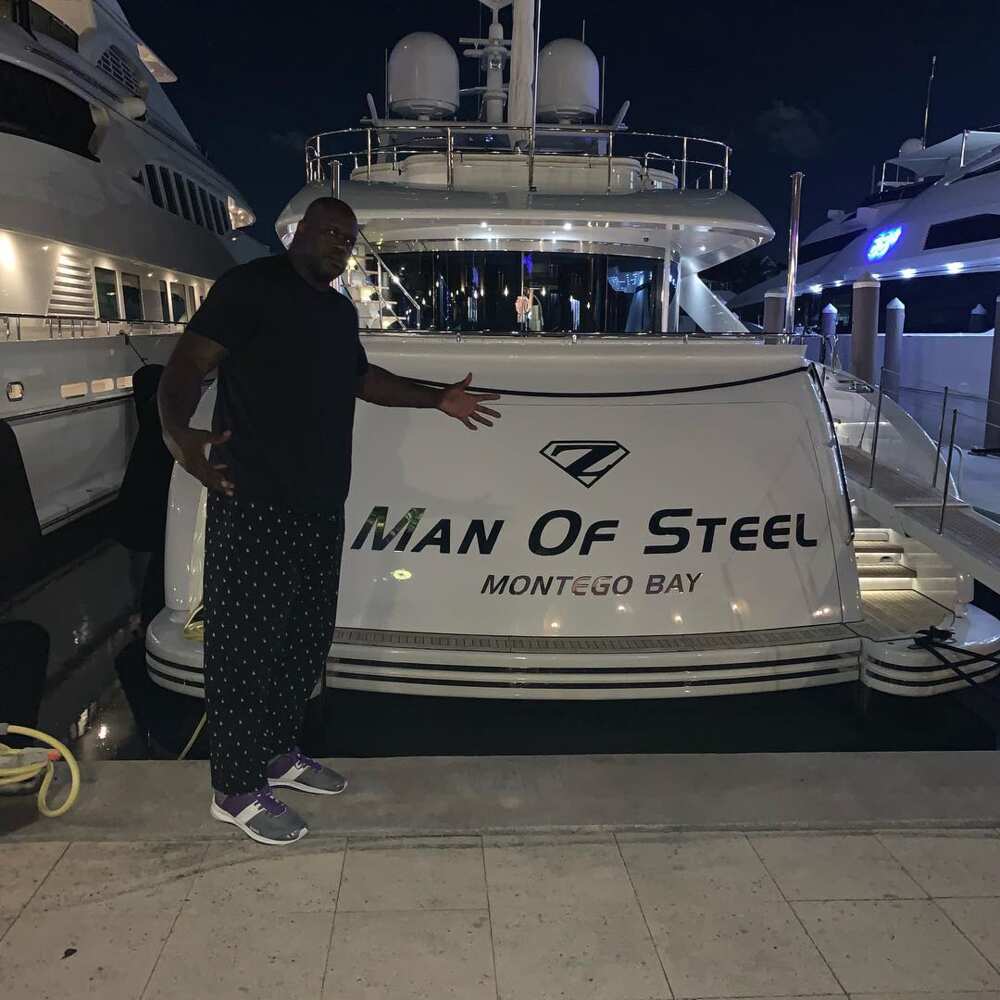 Besides being one of the heaviest players to ever play in the NBA, Shaquille O'Neal shoe size is among the biggest. He is listed as having size 56, but sometimes even wears a 57.
Shaquille O'Neal girlfriend
Who is O'Neal dating? The NBA superstar has dated several ladies. In 2002, Shaq married Shaunie Nelson. They had four children. However, they divorced seven years later. In 2010, he also dated Nicole Alexander. The relationship ended in 2012. There were also rumours that Gilbert Arenas' ex had an affair with Shaq in 2008. However, both have denied the rumours. Now Shaq's latest is Annie Ilonzeh, an actress who stares Chicago Fire. She is 35 years old. Shaq and girlfriend were spotted in NYC some time back.
Shaq's wife, Shaunie O'Neal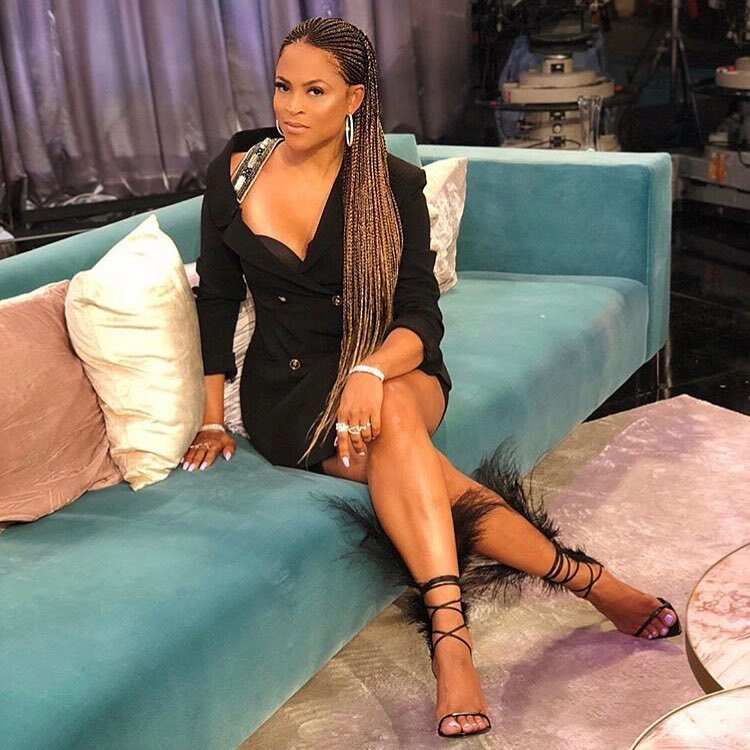 Shaquille O'Neal wife, Shaunie was born on 27th November 1974. She is an American TV personality, executive producer of VH-1 series, Basketball Wives VA, Basketball Wives, and Baller Wives. She is the former wife and film marketer of Shaq O'Neal. Their love life marked a good height on 26th December 2002 when they married at Beverly Hills Hotel. Before the marriage, they had four children.
Shaq kids are Shareef Rashaun, born in 2000, Amirah Sanaa born in 2001, Shaqir Rashaun born in 2003 and last born, Me'arah Sanaa born in 2006. Shaq's ex-wife also has a son from a previous relationship while Shaq has Taahirah, whom they had with the former girlfriend, Ametta Yardbourgh. Hence, the number of Shaquille O'Neal children are six. Though the couple divorced in September 2007, they later reconciled and agreed to co-parent together.
READ ALSO: Chris Pratt net worth, age, height and weight
How tall is Shaquille O'Neal?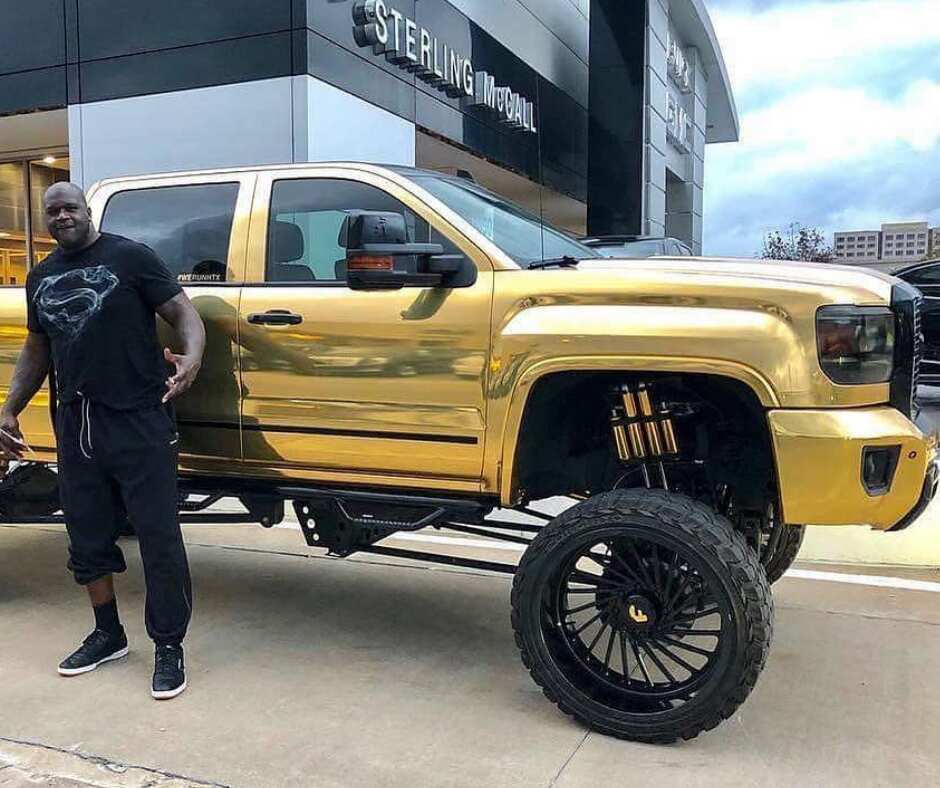 Shaquille O Neal height is 2.16m (7 ft 1 in) tall and 147 kg (325 pounds). He has been one of the tallest and heaviest players yet.
Heavy social media presence
The NBA's sixth all-time top scorer boosts his brand through the big social media following that includes 14.7 million Twitter followers, which is the second-most among U.S. athletes behind LeBron James with 42.5 million followers.
O'Neal's financial prowess grows each day
The former NBA basketball star is undoubtedly famous for his incredible talent as a player. However, when it came to money matters, he learned a lot from Harrison, his late stepfather. He trained him to become self-disciplined, an attribute Shaq says is essential for young savers. That has seen Shaquille Oneal net worth grow as time pass by, becoming one of the best-paid ex-athlete and investor.
READ ALSO: Brian Baumgartner: weight loss, wife, net worth
Source: Legit.ng