2023 Polls: Atiku, Obi, Tinubu Risk Jail Term for Religious and Ethnocentric Campaigns, Electoral Act Reveals
A stipulation in the Electoral Act of 2022 has confirmed that the three major candidates in the 2023 general election may face prosecution
Bola Tinubu, Atiku Abubakar and Peter Obi have violated sections 92(3) and 97 of the Electoral Act
The section's clause frowns at the use of religious or ethnic-motivated types of campaign
An emerging report has confirmed that the three major candidates in the recently concluded presidential polls, Bola Tinubu, Atiku Abubakar and Peter Obi, risk jail terms for using ethnocentric comments during their various campaigns.
In the report published by Premium Times, it was gathered that a review has indicated that all three candidates at one time or the other used religious or ethnocentric comments thereby violating sections 92(3) and 97 of the Electoral Act.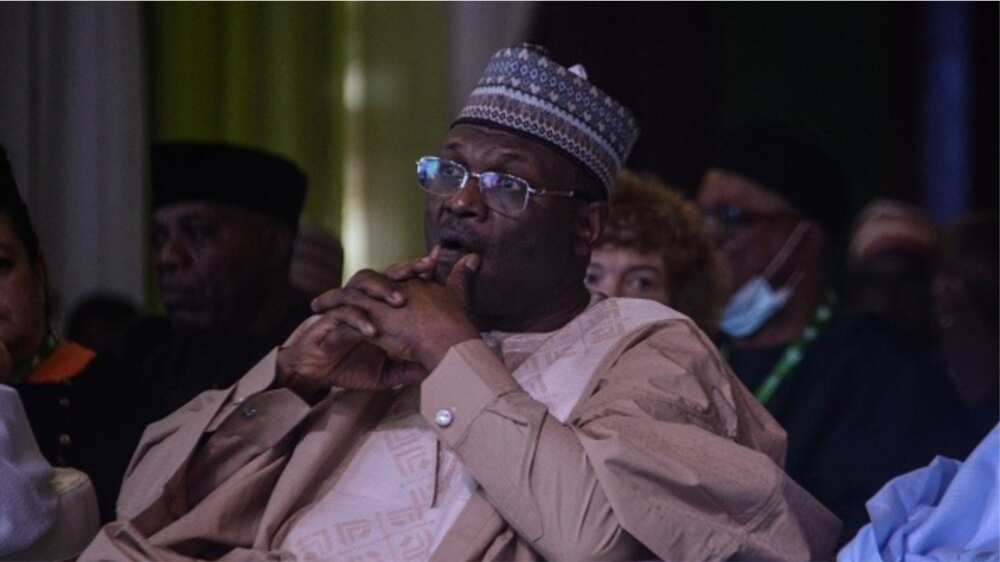 Peter Obi's electoral offence
In the case of Peter Obi, the presidential candidate of the Labour Party, he was caught in the web of an infamous and controversial telephone conversation with the Bishop David Oyedepo of the Living Faith Church.
The leaked conversation sparked much controversy when the alleged Obi's voice was heard saying that the 2023 general election was a religious war.
On the other hand, Obi has since denied the authenticity of the phone conversation, while others also believed it was artificial intelligence-generated audio.
Tinubu's ethnocentrism
However, Tinubu's case was more of an ethnocentric statement when he used the famous catchphrase "emilokan" in June 2022.
The word "emilokan" is a Yoruba phrase meaning "It is my turn" in English.
Tinubu said this in the build-up to the 2023 APC convention when he visited Abeokuta, Ogun state, to solicit the support of party delegates in the state.
Before the convention, there were rumours that Tinubu was not favoured for the presidential ticket in the camp of the presidency and some top party leaders.
This development triggered Tinubu's rage, and he said:
"If not for me that led the war front, Buhari wouldn't have emerged; he contested first, second and third times and lost.
"He cried on television that he won't contest again. I went to his home in Katsina, I told him you would contest and win, but you won't joke with the matters of the Yorubas.
"Since he has emerged, I have not been appointed a Minister; I neither get nor request a contract. This time, it's Yoruba's turn and in Yorubaland, it's my turn."
Atiku's ethnocentric bias
Atiku, on the other hand, suffered a series of backlash when he visited party leaders in Kaduna state.
While speaking with party members in the northwest state, Atiku told his northern brethren to vote for him because he was one of their own.
He said:
"I know the whole of this country. I have built bridges across this country. I think what the average northerner needs is somebody who is from the north, who also understands the other parts of Nigeria and who has been able to build bridges across the rest of the country."
"This is what northerners need. He (northerner) doesn't need a Yoruba candidate or an Igbo candidate. This is what the northerner needs."
What does the law say?
As stipulated in section 92(3) of the Electoral Act 2022, places like religious worship, police stations, and public offices are not allowed for political activities.
Similarly, section 97 stipulates that:
"any candidate, person or association that engages in campaigning or broadcasting based on religious, tribal, or sectional reason to promote or oppose a particular political party or the election of a particular candidate commits an offence under this Act and is liable on conviction — (a) to a maximum fine of N1,000,000 or imprisonment for a term of 12 months or both; and (b) in the case of a political party, to a maximum fine of N10,000,000."
However, the Independent National Electoral Commission (INEC) is yet to evoke these laws for the prosecution of all three candidates who have, one way or the other, breached the statutory provisions of the Electoral Act of 2022.
Tinubu Funded Peter Obi's Campaign to Reduce Atiku's Chances, Labour Party Gov Candidate Alleges
Meanwhile, Tawfiq Akinwale, the LP candidate for governorship in Oyo State, claimed that Bola Tinubu asked Pat Utomi to withdraw his candidacy in favour of Peter Obi.
Akinwale made these allegations on a radio program in Ibadan, where he accused Obi of receiving campaign funds from Utomi, whom he referred to as Tinubu's "son".
Recall that Obi defected from the PDP, joined the LP, and later secured their presidential ticket after Utomi stepped down in June 2022.
Source: Legit.ng