2023 Elections: Keyamo Leaks Top Secret, Airs Tinubu's Ex-lead Campaigner's 'Dirty Laundry' in Public
A former chieftain of the All Progressives Congress has been accused of spreading disinformation about the party and its presidential candidate
Festus Keyamo alleged that Naja'atu Muhammadu travelled all the way to London to meet with Bola Tinubu in order to lobby for a position
According to Keyamo, the APC directorate for the presidential election has always known that Muhammad was a mole within the party
The past two weeks have been loaded with a barrage of exposé made by Naja'atu Muhammad, the former lead campaigner for the All Progressives Congress' standard-bearer, Bola Tinubu.
In several interviews granted television stations and dailies, Muhammad exposed never known details of the APC and its 2023 presidential candidate.
However, in reacting to her outburst, the minister of state for Labour and Employment, Festus Keyamo, said all indications show that Muhammad has been a mole within the party.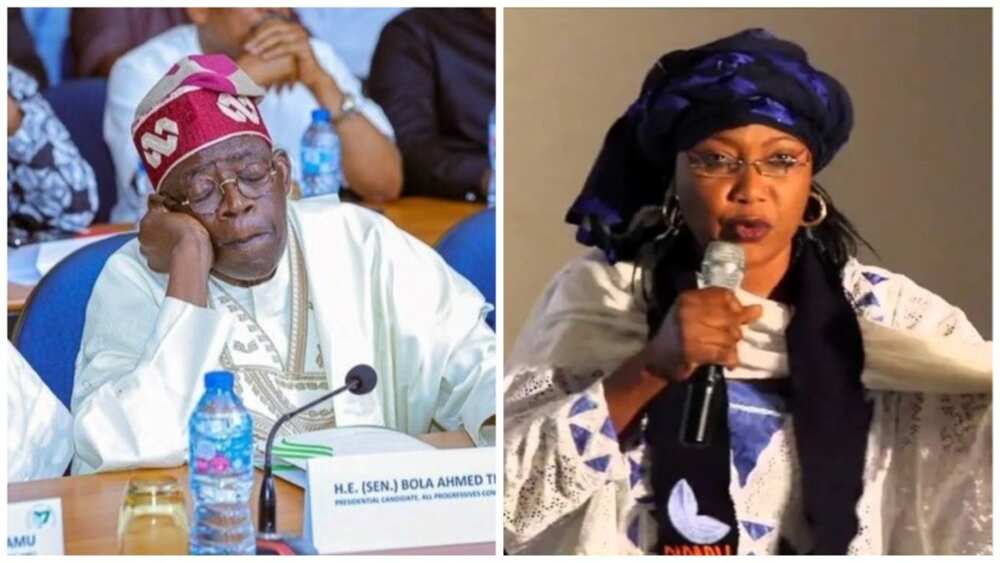 Keyamo in an interview with The Punch said contrary to Muhammad's claim in one of her outbursts, there was no internal wrangling within the ruling party.
He said that the former Tinubu's lead campaign had already been identified by the party and the Presidential Campaign Council as a mole before her resignation and exit from the APC.
Keyamo also noted that Muhammad was never an important member of the party as members of the directorate had registered their discomfort about working with her.
His words:
"There was no internal wrangling. She had already been identified as the mole before then. They had told her orally to leave.
"Members of our directorate had complained. She has not been an important member of the party's structure before."
Muhammad lobbied for her position in London
Speaking further on becoming the director-general of the APC PCC directorate of civil societies, Keyamo said Muhammad went all out by travelling to London to meet with Bola Tinubu.
He added:
"She lobbied for that position. She chased Asiwaju all the way to London to lobby for that position. But all along, the council kept an eye on her. They knew she was a mole.
"So, if she went to London and saw that there was something wrong with Asiwaju, why did she come back to accept the position and waited four months before backing out?
"What she went to London to do was to grovel and lobby. We don't see people who are worth their salt pursuing Asiwaju all over the globe. Why did she not meet him in Nigeria? Why chase him to London?"
"Don't forget top terrorist was found in Shettima's house," Tinubu's ex-campaign DG warns
Meanwhile, Legit.ng recently reported that Nigerians have been cautioned against voting for the 2023 presidential candidate Bola Tinubu and his running mate in the forthcoming election.
The warning was given to Nigerians by a former campaign director general of the Bola Tinubu Presidential Campaign Council.
Naja'atu Muhammad urged voters not to forget that a notorious terrorist was found and arrested in the house of Tinubu's running mate.
2023 presidential election: Tinubu's ex-lead campaigner breathes fire, leaks Jagaban's secret
The 2023 presidential candidate of the All Progressives Congress had earlier been described as a man who lacks honour.
This description of Bola Tinubu was given by his former lead campaigner and APC member, Naja'atu Muhammad.
Muhammad said the only thing Bola Tinubu cares about is money, even as he denied governors the opportunity to sponsor party campaigns at the state level.
Source: Legit.ng