2023 Presidential Election: Tinubu's Ex-lead Campaigner Breathes Fire, Leaks Jagaban's Secret
The 2023 presidential candidate of the All Progressives Congress has been described as a man who lacks honour
This description of Bola Tinubu was given by his former lead campaigner and APC member, Naja'atu Muhammad
Muhammad said the only thing Bola Tinubu cares about is money, even as he denied governors the opportunity to sponsor party campaigns at the state level
The former director-general of the Directorate of Civil Society Organisation of the All Progressives Congress (APC), Naja'atu Muhammad, has described Tinubu as a man who lacks honour.
Speaking on Arise TV which was monitored by Legit.ng, on Thursday, January 26, the former APC leader said the ex-Lagos state governor only understands money and nothing more.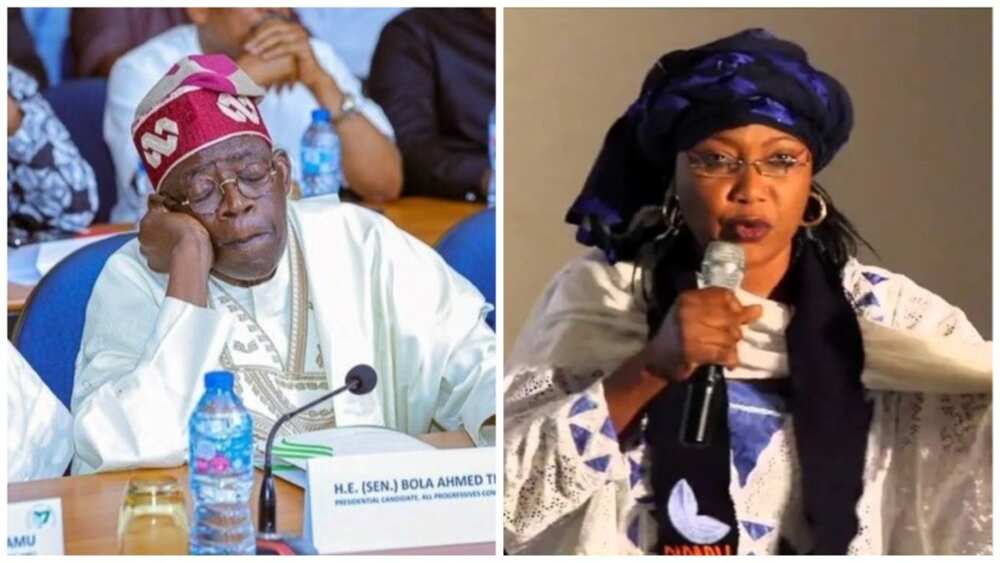 Muhammad speaking on the preparations for the 2023 general elections said Nigerian governors across various states are a disgrace to the people
Her words;
"Governors! such a disgrace. This is the first time that I know that governors do not even sponsor presidential campaigns.
"Normally the governors sponsor presidential campaigns in their states but this time around it is Asiwaju that is doing it because everything about Asiwaju is about money, there is nothing like honour."
Why Nigerians must be focused ahead of the 2023 general election - Naja'atu Muhammad
Speaking further, Muhammad called on every Nigerian to remain focused ahead of the 2023 general elections.
She added that several things were going wrong with the country and these challenges, ranging from a bad economy to corruption and insecurity, must all be nipped in the bud.
She said;
"Nigerians need to be focused, we have a very very serious problem. Nigeria is on the brink."
"We shouldn't forget top terrorist was found in Kashim Shettima's house," Tinubu's former campaign DG warns
Nigerians have been warned against voting for the 2023 presidential candidate Bola Tinubu and his running mate in the forthcoming election
The warning was given to Nigerians by a former campaign director general of the Bola Tinubu Presidential Campaign Council.
Naja'atu Muhammad urged voters not to forget that a notorious terrorist was found and arrested in the house of Tinubu's running mate.
"Bullion van found in Tinubu's house during 2019 election missed its way," APC claims in new video
Nigerians have been assured that the bullion van found in Bola Tinubu's house during the 2019 elections had no money in it.
This assurance was given to Nigerians by the organising secretary of the All Progressives Congress, Adewale Ayodele who also said the bullion van had missed its way into the residence of the former Lagos state governor.
Source: Legit.ng