"Don't Forget Top Terrorist Was Found in Shettima's House," Tinubu's Ex-campaign DG Warns
Nigerians have been cautioned against voting for the 2023 presidential candidate Bola Tinubu and his running mate in the forthcoming election
The warning was given to Nigerians by a former campaign director general of the Bola Tinubu Presidential Campaign Council
Naja'atu Muhammad urged voters not to forget that a notorious terrorist was found and arrested in the house of Tinubu's running mate
A former civil society director for the All Progressives Congress Presidential Campaign Council, Naja'atu Muhammad has urged Nigerians not to forget some of the atrocities committed by leaders vying for positions in the 2023 presidential election.
Muhammad, who has been very vocal since she dumped the ruling party, has implored Nigerians to scrutinise the character and capability of the APC presidential candidate, Bola Tinubu and his running mate.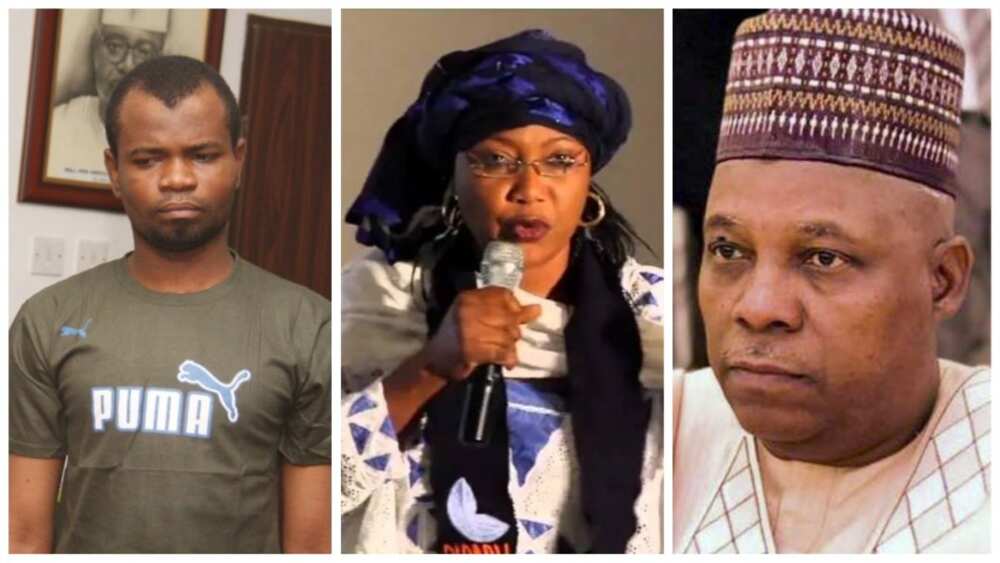 Speaking on Arise TV which was monitored by Legit.ng, on Thursday, January 26, the former APC leader said there are security concerns surrounding the person of Kashim Shettima, the running mate to Tinubu and a former governor of Borno state.
Her words;
"Especially as it concerns security, you must have an enabling environment in order to do anything. So you can not take someone that is actually senile and another person that has been associated on several occasions with funding terrorism.
"Where is Kashim Shettima? Kashim Shettima we should not forget, Kabiru Sokoto was one of the most wanted terrorists and he was found and arrested in his house."
Kabiru Umar Abubakar Dikko popularly known as Kabiru Sokoto was convicted by the court for being the mastermind of the Christmas Day bombing of the St Theresa Roman Catholic Church on 25 December 2011 in Madalla, Niger State.
A total of 37 worshippers were killed in that single incident in Niegr state.
Terrorism, an enterprise in Nigeria
Also stating that terrorism is a huge enterprise controlled by leaders and governors across states in the northern region, Muhammad said those in authority now connive with foreign mercenaries to establish acts of terrorism in their environment.
She said;
"Let us understand and let us not forget that this terrorism, carnage and banditry is not just happening by mistake; it is a multi-billion dollar industry because it takes a lot of money on the defence budget. It has a lot to do with the sale of drug, mining and illegal bunkering.
"And look at the areas that are affected by it for instance, the northeast, where you have the blue diamond that is a strategic mineral, you have oil at the Chad Basin that is been exploited right now illegally. You have Zamfara, if you go to Zamfara, Zamfara has more gold than Ghana. Zamfara's Gold is being traded in Dubai and other parts of the country.
"There is a market called Nigerian gold in Dubai, go and check. So who is doing this mining? Most times there are the governor, the people in power in connivance with foreign machinery."
"Don't allow PDP return to power," Tinubu begs Nigerian voters ahead of 2023 presidential election
Meanwhile, Nigerians have been urged to ensure that the opposition, the Peoples Democratic Party (PDP) does not return to power in Nigeria.
Atiku Abubakar is PDP's 2023 presidential candidate. The call was made to Nigerians by the standard-bearer of the All Progressives Congress (APC), Bola Tinubu.
According to Tinubu, it is important that Nigerians vote for responsive and responsible leaders in the forthcoming 2023 general elections.
"I Want to Become Yoruba's 1st-Ever First Lady," Atiku's Wife Begs in Fresh Interview
Titi Abubakar said she wants to break the jinx of Yoruba not producing a First Lady since the inception of democracy.
The wife of the Peoples Democratic Party flag bearer said the people of the southeast are yet to produce a first and she would like to be the record breaker.
Titi Abubakar said all Nigerians of Yoruba descent should support her husband's candidacy to enable her to achieve her dream.
Source: Legit.ng