Peter Obi: Nigeria Labour Congress Reiterates Support for LP Presidential Candidate
The Nigeria Labour Congress has reiterated its support for Labour Party presidential candidate, Peter Obi
The labour unions had earlier endorsed the aspirations of the former Anambra state governor ahead of the 2023 elections
The president of the congress, however, noted that despite the endorsement, Nigerian workers retain the right to choose whoever they want to vote
FCT, Abuja - The Nigeria Labour Congress (NLC) on Thursday, January 26 said that its decision to support Peter Obi, the Labour Party (LP) presidential candidate, was non-negotiable.
Giving reasons for its stance, the NLC said that Nigerian workers will only vote for candidates that are workers-friendly in the forthcoming elections.
This is as the NLC has demanded urgent action from the nation's apex bank, the Central Bank of Nigeria, CBN, to review the Naira Redesign policy including the extension of its timelines.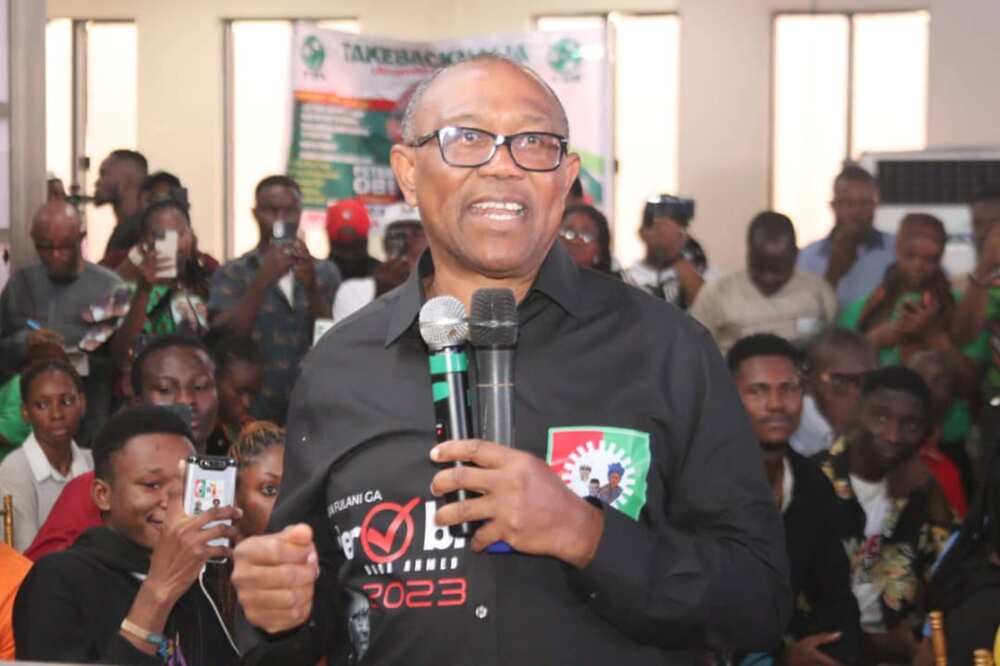 While interacting with journalists in Abuja, the outgoing president of the NLC, Comrade Ayuba Wabba said people are fed up with all forms of bad governance and the suffering it has brought upon the masses over the years.
He prompted workers in the country to make certain that they use their votes to bring about credible leadership in the coming general election.
Comrade Wabba also implored workers to ensure that they deny political parties and candidates with anti-people policies access to power.
According to him, workers are in large numbers in the country, stressing that their impact will go a long way in installing a popular government in the coming election.
Vanguard quoted him as saying;
"Our workers are already in the field mobilizing and campaigning to make sure that only labour-friendly persons are elected into offices at the next general election. We are tired of those false promises by politicians."
He, however, said that the support for the Labour Party is not wholesome as workers reserve the right to support any candidate of their choice.
Peter Obi will secure Nigeria, ensure production nationwide - Okonkwo
On his part, one of the spokespersons of the LP presidential campaign council, Barr. Kenneth Okonkwo, has assured Nigerians that an Obi-led government will secure them and ensure citizens are productive.
Speaking to Legit.ng on the sidelines of an event in Abuja, Okonkwo said:
"If elected, Peter Obi will ensure that Nigeria ia secured, united, productive and prosperous country. So, if you don't remember anything, remember these issues things I listed. This is what Labour Party is bringing to the table.
"Today, in Nigeria, there is no production. Of course, how can there be production when farmers go back to their farms to farm. Not in the north, not in the south.
"In Imo state, a sitting local government chairman was behe*aded. If a man like that, that ought to be protected, can be gruesomely murdered, then you can imagine farmers, going to the forest to farm."
Peter Obi pays surprise visit to Southern Borno, makes history
Recall that Obi made a historical visit to the Southern Borno region as part of his presidential campaign tour recently.
Labour Party officials say Obi is the first presidential candidate to visit the insurgency-ravaged region.
The former governor of Anambra state received a rousing welcome from the people of the area who came out to catch a glimpse of him.
Elections: 'Peter Obi better than other candidates,' Obasanjo insists
On his part, former President Olusegun Obasanjo has said Obi is better than other candidates in Nigeria's forthcoming presidential election.
Obasanjo made the comment on Thursday, January 19, 2023, in Abeokuta, the Ogun state capital, while featuring in an interactive session.
The former president had, in a New Year message, titled 'My appeal to all Nigerians, particularly young Nigerians', expressed his support for Obi.
Source: Legit.ng