2023: Miyetti Allah Rejects Peter Obi's Candidacy, Gives Strong Reason
The presidential aspirant of the Labour Party for the 2023 election, Peter Obi has received yet another major setback
This time around, Miyetti Allah has refused to support his candidacy citing he is a promoter of the 'Biafran interest'
Reacting, the spokesperson for Peter Obi Support Network, Jones Onwuasoanya, maintained the former governor of Anambra state Obi has only the interest of Nigerians as a nationalist
A report by The Punch has it that The Miyetti Allah Kautal Hore, also known as Miyetti Allah, has said it has instructed every Fulani in the country not to vote for the presidential standard bearer of the Labour Party, Peter Obi.
According to the group, Obi is a 'tribal bigot' and represents 'the Biafran interest', which would not 'favour the Fulani nation in Nigeria'.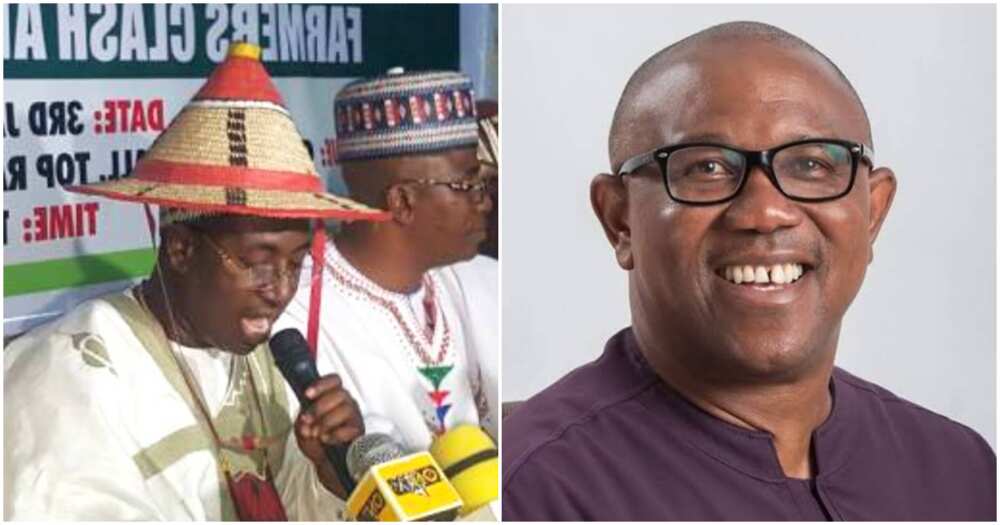 Miyetti Allah gives reason
The national secretary-general of the Fulani socio-cultural group, Mr Saleh Ahassan, in an interview with the newspaper noted that as far as Miyetti Allah was concerned, Obi was out of the options of persons to be voted for in the forthcoming elections.
PAY ATTENTION: Follow us on Instagram - get the most important news directly in your favourite app!
He stated thus:
"As far as we are concerned, we know those we cannot vote for. You see that they call Obi or OBIdient, any Fulani man who votes for him must be questioned because he may not be a true son of the soil.
"Obi represents the Biafran interest. So, we know those we cannot vote for and those that cannot be president of Nigeria. He is a tribal bigot."
Alhassan also stated that when Obi was the governor of Anambra State, he "destroyed the businesses of northerners and chased plenty Hausa and Fulani people from entering Anambra".
Obi's men react
Reacting, the spokesperson for Peter Obi Support Network, Mr Jones Onwuasoanya, said Obi was a nationalist whose interest was only with Nigerians.
According to him, Obi believes in 'One Nigeria' and is irreversibly committed to the One Nigeria dream and to making Nigeria a successful nation.
Nigerians react
Nigerians in their usual manner took to the official Facebook page of Legit.ng and reacted to the development.
Hon Umennadi Chukwujekwu Peter said
"Obidient movement is a movement of rescue. We must rescue Nigeria from sinking."
Ahmed Ayuba Ahmed stated
"Lie from the pit of hell. Who tribe help? Obi'dient is a shining light to this Nation called Nigeria. Don't be a bigot come and join the queue while it's day, night is coming when no one will listen to you."
Usman Ahmed urged
"Dont mind them please this people are like Ohinaze in south east,they are just representing their pucket and stomach."
Ahmed Adeyemi stated
"Thank you, what about Buhari that has divided us across the nation due to nepotism ."
Abiodun Marcus Temitopeoluwa queried
"In the same vein Tinubu is representing the Muslim folks that is why he opted for a Muslim running mate."
Adetunji Williams asked
"So buhari isn't a tribal bigot. Animals in human skin."
Damilola Lawoye said
"Another good reason why I support him."
Abdulazeez Abubakar noted
"If Obi represents Biafra and he's ready to make Nigeria great again I will vote for him."
Susan Omalicha Stanley maintained
"That's to tell you how much resentment and hatred this people have for an Igbo indigene, why always the Igbos."
Multi B Osiri said
"Who are they sef, that wants to decide for Nigerians. This country is not owned by Fulani herdsmen."
2023: If Peter Obi becomes president, it'll be alright - Prominent APC governor
The governor of Ondo state, Rotimi Adekeredolu, has said the presidential candidate of the Labour Party, Peter Obi, can win the 2023 presidential election. He would be fine with it.
Akeredolu said this on Wednesday, August 10, while featuring on Channels Television's interview programme.
Akeredolu is one of the leaders of the All Progressives Congress (APC), the ruling party where the former Lagos state governor, Bola Tinubu, is its presidential candidate.
Peter Obi knocks federal government over debt servicing, says borrowing to consume must stop
The presidential candidate of the Labour Party, Peter Obi has warned Nigeria to stop borrowing to consume, saying borrowings must be limited to 5 per cent of the previous year's revenue.
In a slew of tweets on Wednesday, August 10, 2022, the presidential hopeful warned that Nigeria must limit borrowing for consumption.
Obi said:
"As a matter of urgency, Nigeria must stop borrowing for consumption, but only borrow to invest in regenerative development projects and other productive ventures.
Source: Legit.ng