Ifa Priest Speaks on Paternity of Mohbad's Son, Liam, Sends Message to Kemi Olunloyo, Tunde Bakare
An Ifa priest has taken a swipe at Kemi Olunloyo and Tunde Bakare for their derogatory remarks about Mohbad
The priest condemned their actions and defended the child that Mohbad accepted as his own during his lifetime
Netizens who watched the video gave the Ifa priest full support, stating that everything he said was true
An Ifa priest has gone viral on social media after criticising the remarks of popular journalist Kemi Olunloyo about the late Mohbad.
The Ifa priest strongly opposed Kemi Olunloyo's claim that the child Mohbad accepted as his own was no longer his.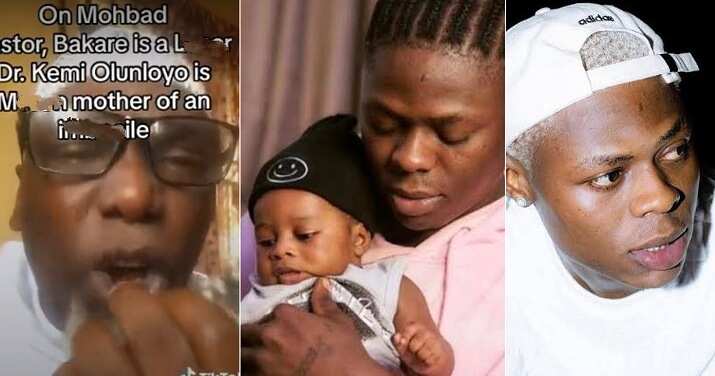 He stated that when a man publicly acknowledges a child as his own, that child is indeed his, regardless of biological ties.
The priest emphasized the importance of preserving the child's future and urged Olunloyo to focus on her responsibilities instead of seeking unnecessary attention by undermining others.
Ifa priest condemns Pastor Bakare's controversial statements
Expressing disappointment, the priest criticised Pastor Tunde Bakare for suggesting that Mohbad deserved his fate.
He found it very troubling that a pastor, who represents the European God, would make such statements.
The priest deemed Bakare's behaviour as unbecoming and highlighted the insensitivity of implying that someone should die based on the company they keep.
He said:
"As the priest and preacher of the gods of our land, it is my duty as prescribed by the Ifa oracle to intervene on behalf of any individual that is being harassed and oppressed by any influential person.
"That is why I'm taking on Pastor Bakare and Dr. Olukemi Olunloyo over their continuance derogatory utterances on the family of Late Mohbad, the young musician that passed recently.
"It has come to my knowledge that Dr. Kemi has been saying that the child of the late singer that he accepted as his child when he was alive is no longer his child. Let me clarify something to Kemi Olunloyo, anytime a man comes out and says this is my child, that child is his.
"Any man raising a child whether it's his biological or not and he comes out and says that's his child, it is his child. Mohbad introduced that child to the world as his and it stays like that, no more no less.
"What you are doing is destroying a baby's future. Go and take care of your own child and stop seeking attention unnecessarily with other people by stepping them down and when it comes to Pastor Bakare he said Mohbad deserves what he got.
"For a pastor of the European God to utter such utterances it's very disappointing but every body know Bakare to be the biggest loser of all times, he always seeks attention and that is what he is doing.
"It's extremely bad for him to be using that boy to be preaching and saying to the word that he deserved to die. His mother is alive and you are making such statement that he deserved your die because of the group he kept. That is the word of someone who has brain tumor."
Reactions trail video of Ifa priest
Netizens have taken to the comments section to share their thoughts
@austaraphael reacted:
"This is what happens when you're learned, I don't care what you do but once you're sound upstairs I can listen to you all day and this man right here is. Tank you daddy."
@seyrahsbukka commented:
"As long as Mohbad introduced the boy to the world as his child, then YES, IT IS HIS CHILD!"
@eyinjuoluwaa001 said:
"God bless this MAN. The ifa of the land bless him and whoever he believes in and worships bless him."
@iyalodeofabuja commented:
"Ifa worshippers are way better than Nigeria Christians!"
@_velvetmystique205 reacted:
"As a Christian I'm disappointed in pastor Bakare. We all know kemkem is a werey right from tym tho. Dem nonDey listen to datwan. Buh daddy Shey we can consult Ifa on mohbad's killers and send thunder sharp sharp? Cox this police investigation is taking a long tym."
@leaddyskincare reacted:
"As long as Mohbad didn't deny nor argue he is the Father's child when he was alive,leave the DNA thing alone. Period!"
@iameniolamyde said:
"I may not believe in what you believe in but everything you said, I completely agree with. May what you believe in continually work for you Sir. You're an epitome of wisdom."
Watch the video below:
Girl who predicted Mohbad's death weeps
Meanwhile, Legit.ng previously reported that a Nigerian lady has painfully mourned the demise of the late singer Mohbad days after he lost his life. She recounted a dream about the late singer months before his sudden death.
The heartbroken lady shared a screenshot of a post she made in November last year to warn the singer about her dream where she saw him dead.
She said: "Do you know the worst part of it? I had a dream about this guy last year. I had a dream about him that he died and I commented on his post but he didn't reply. I prayed for him not to die young now see what is happening to him. Jesus, not now! not even Mohbad in all this at all."
Source: Legit.ng