"Good Governance Protects Children Against All Forms of Exploitation": Expert Says
The Nigerian government has been called upon to ensure that they deliver good governance to the people
The call was made by an expert on child protection, Jide Johnson, during a UNICEF workshop in Enugu
Johnson said the right of a child is indivisible and must be respected by all including parents and guardians at all times
PAY ATTENTION: Сheck out news that is picked exactly for YOU ➡️ click on "Recommended for you" and enjoy!
An expert in child rights and protection has opined that good governance protects children from all forms of exploitation.
Speaking at the media dialogue organised by the United Nations Children's Fund and the ministry of information in Enugu on March 23 and 24, Jide Johnson, the director of special programmes at the Nigerian Institute of Journalism said a nation's development is hinged on foundations made available for the growth of her children.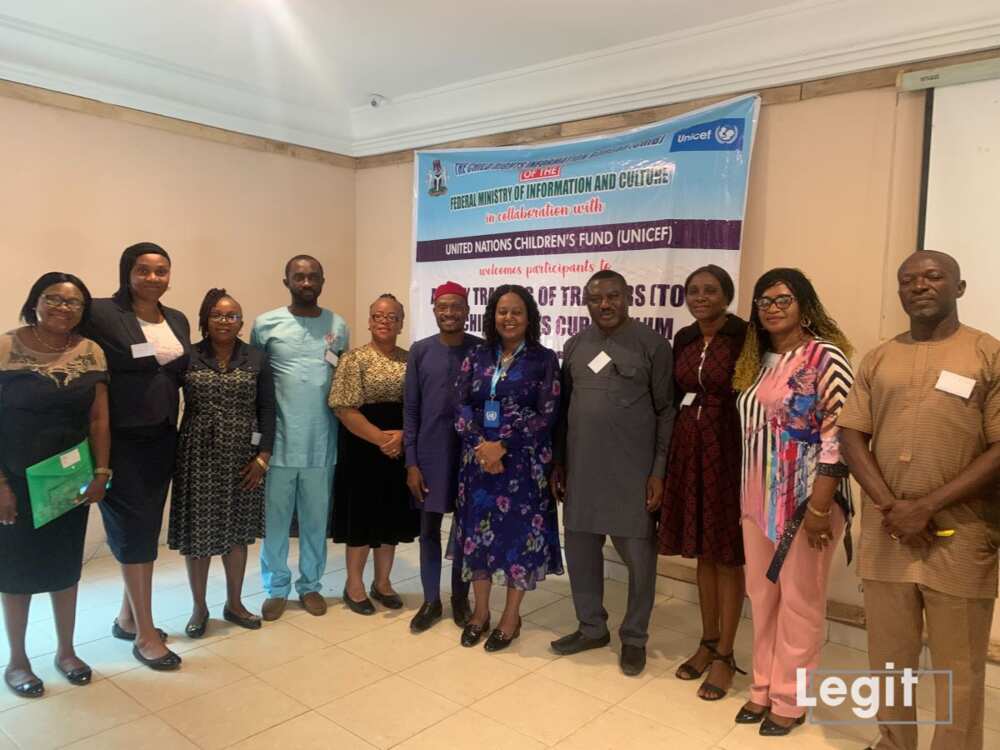 The dialogue was aimed at equipping trainers of the journalism training institution with a new curriculum for child rights reporting for polytechnics and exposing the trainers to the concept of the four baskets of rights, survival, development, protection and participation.
The curriculum, a new country programme which will run from 2023 - 2027 and made available to journalists by Dr Geoffrey Njoku, UNICEF's communication specialist, aims to achieve an environment where every child in Nigeria, especially those who are mostly excluded thrives, survives, learns and its highly protected to reach his or her full potential - free from poverty in a safe and sustainable environment.
Continuing Johnson noted that there is a need to align the content, process and purpose of Child Rights Education (CRE) in institutions to ensure coherence between the means and ends of CRE, with both focusing on children's capacity to act as rights bearers and defenders of others' rights.
Highlighting further, Johnson said that children in Nigeria are treated with much levity and are mostly neglected with their rights abused - sometimes due to class, poverty level, and lack of literate parents among others.
Also explaining that he said:
"The right of a child in Lagos should not be different from that of another child in Sokotoo or even Enugu or any other part of the country.
"This right is indivisible no has premium over the other, they are inseparable like conjoined twins."
Johnson listed also listed some of the significant challenges children face, Johnson said it is the society that causes division among children.
He added:
"Each day countless children around the world are exposed to dangers that hamper their growth and developed.
"Children suffer immensely as victims of war and violence, racial discrimination, agreession, foreign occupation and annexation, refugees and displacement and neglect among others."
In his address, the minister of information, Lai Mohammed, said the instructional guide was developed to fill the knowledge gap on children's rights for journalists and communications schools.
According to Mohammed, the new curriculum will facilitate the movement of all journalists from the present level of Child Rights awareness to a certain degree of knowledge bringing about the needed paradigm shift in reporting issues as it affects children.'
He said knowledge of the curriculum and its factual reporting will expose children to their rights to survival, development, protection and participation.
Also, for the chief of field office, UNICEF in Enugu, Juliet Chiluwe, communicating children's rights remains a challenge considering the broad range of abuses against children as a result of ignorance of what constitutes the rights of children.
She said the media reserves a critical role in communicating and ensuring the wider spread of information on issues of the Child Rights Act.
Chiluwe said:
''I am proud to say that the media remains UNICEF's very close ally in ensuring the wider spread of information on issues of children's rights.
''Let me also use this opportunity to congratulate the Nnamdi Azikiwe University (NAU), Awka, Anambra State for taking the first step to mainstream child rights curriculum, by electing the CRRC as a general studies course, making it compulsory for in-school mass communicators.
''This great opportunity will help broaden the scope of knowledge and exposure of the communication students and practitioners of Mass Communication by way of infusion of the Child Rights concerns, which are also topical concerns for human development."
"7.3 million adolescent Nigerian girls malnourished": New report warns
The lives of many Nigerian babies are at risk, a new report from United Nations Children's Fund has warned.
The report said that this risk can be attributed to the spiking number of malnourished girls which rose from 5.6 million in 2018 to 7.3 million in 2021 in Nigeria.
According to UNICEF, there is a need for a holistic approach towards ensuring that girls and women of reproductive age consume the recommended diet of at least 5 out of 10 food groups.
'We need more girls to go to school in Nigeria,' says 13-year-old Abdullahi Buhari
Meanwhile, Nigerians have been urged to join in the move to get more girls enrolled in schools across the country.
This call was made by 13-year-old Abdullahi Buhari of Government Day Secondary School Abukur in Rimi Local Government Area of Katsina state.
Buhari's advocacy comes as UNICEF in partnership with the Ministry of Education, and the UK FCDO has successfully facilitated the enrollment of 1.5 million girls in schools in northern Nigeria.
Source: Legit.ng