Alex and CeeC, Ike and Mercy, 4 Other BBNaija All Stars Duo That Might Have Big Clashes on Reality Show
The BBNaija All Stars show came with a lot of excitement for fans as they looked forward to seeing how things will play out
On July 23, 2023, 20 housemates were ushered into the Big Brother mansion to have a chance to compete for the N120 million grand prize
Interestingly, some of the housemates introduced on the show were stars from previous seasons who had relationships that might lead to a clash on BBNaija All Stars
The first BBNaija All Stars show kicked off with a lot of fanfare and excitement on July 23, 2023, as many fans of the show looked forward to the drama it would bring.
During the show's launch, 20 housemates including two winners from previous Big Brother Nigeria seasons such as Pepper Dem, Shine Ya Eye and Level Up, were brought together to compete for the N120 million grand prize.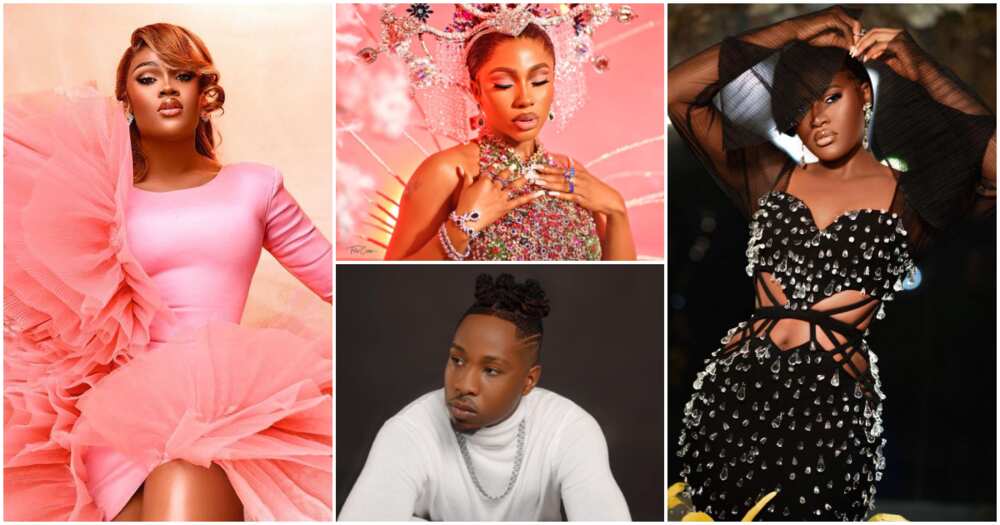 It did not take long for BBNaija All Stars to start trending on social media after the housemates participating in the show were unveiled. It was discovered that some of them were people who had clashes or interesting relationship dynamics in previous seasons that might bring about drama on the All Stars show.
Today, Legit.ng will be taking a look at BBNaija All Stars housemate pairs who might bring drama this season due to their relationships in past seasons.
1.Ike and Mercy:
Ike and Mercy are two BBNaija All Stars housemates who were previously on the Pepper Dem show. Even though they were a couple during and after their season, they have since parted ways. Their breakup was however not drama free as they was some name calling and accusations on social media from both parties. Now that Mercy and Ike are both on the BBNaija All Stars show, fans are wondering what drama it would bring to have them both living in close proximity to each other. So far, Ike and Mercy seem to have been getting along fine and some netizens believe they are mature exes.
2. Venita and Neo:
While Neo was originally on the BBNaija Lockdown season, Venita was on the Pepper Dem season. Despite that, both of them brought drama for BBNaija fans when it was discovered that they are cousins. Neo and Venita started to make headlines when they both fell out allegedly due to Neo's relationship with his co-star at the time, Vee. Even though their issues were later settled, it caused a huge buzz while it lasted. Now that Neo and Venita are both in the BBNaija All Stars house, fans are wondering how they would relate with each other. So far, they seem to be getting along well with Venita even butting in and defending Neo in issues that do not directly concern her.
3. Whitemoney and Pere:
Whitemoney and Pere were both BBNaija housemates who were originally on the Shine Ya Eye season. Their rivalry was quite epic especially after Pere openly expressed his distrust for Whitemoney and claimed he used cooking for the housemates as his strategy. Now that Pere and Whitemoney are both on the BBNaija All Stars show, fans can't help but wonder how their relationship would be and if hostilities between them will resurface.
4. Doyin and Adekunle:
Doyin and Adekunle were both housemates on the BBNaija Level Up show and they were quite open about their dislike for each other. Both housemates had initially tried to start a friendship during the Level Up season but things did not work out and it degenerated into a dislike for each other. Doyin and Adekunle being introduced as housemates on the BBNaija All Stars show raised excitement among fans as they looked forward to how it would play out. They wondered if their beef would continue on the new show considering that it wasn't long ago when the Level Up season aired.
5. Alex and CeeC:
Alex and CeeC were originally housemates on the BBNaija Double Wahala show and it was no news that they were not fans of each other. At the time, their beef was centered around fellow housemate, Tobi Bakre, and CeeC is said to have revealed during their reunion that Alex and Tobi got cosy under the sheets at their hotel after the show. Alex and CeeC's beef was one for the books at the time as it took over social media. Now that Alex and CeeC are both housemates on the BBNaija All Stars show, fans are no doubt looking forward to drama from them. They did not even have to wait long seeing as less than a week into the show, they both engaged in a shout-off as they had a disagreement about their wager task. Days after the fight happened, CeeC continued to speak on her dislike for Alex and stated emphatically that they can never be friends. She was also heard speaking to Cross about if they were outside the house, she could have easily paid about four boys small money for them to beat up Alex.
6. Cross and Angel:
Cross and Angel were both housemates on the BBNaija Shine Ya Eye season and at a time, they were even shipped together as #Crossgel. Despite their close relationship during their season, both of them fell out badly and this was revealed during their reunion show. Seeing Angel and Cross as BBNaija All Stars housemates have raised questions from fans about whether there would be drama from them.
Out of the total 20 housemates introduced on the BBNaija All Stars show, 12 of them have past relationship dynamics that might lead to drama on this new season and fans are wondering if they would either let sleeping dogs lie or resurrect their issues.
Fans go gaga as Uriel shares steamy kiss with Neo on BBNaija All Stars
BBNaija All Stars housemate, Uriel, is now making headlines over an unexpected turn in her relationship with co-star, Neo.
The reality show which is just one week old has continued to give fans interesting highlights including Uriel sharing a steamy kiss with Neo.
It all started after their first Saturday night party and Uriel and Neo were seen sitting at the lounge. The female star who seemed to be a bit intoxicated after the party boldly showed Neo her interest in him.
Source: Legit.ng