Mr Ibu: Jasmine's American Ex-husband Speaks on Allegation of Her Sleeping With Actor's Son
Mr Ibu's family drama has continued to be aired on social media after the movie star's wife made some allegations against his adopted daughter, Jasmine
In a new development, Jasmine's American ex-husband opened up on the alleged relationship between her and Mr Ibu's son
A video was posted online of the American claiming that Jasmine and Mr Ibu's son sleep with each other, among other things
The drama in the family of Nigerian actor John Okafor, aka Mr Ibu, has taken a new turn following the involvement of the ex-husband of Jasmine, his adopted daughter.
Recall that Jasmine got married to her American lover in 2022, and the marriage lasted only nine months before they both ended things publicly.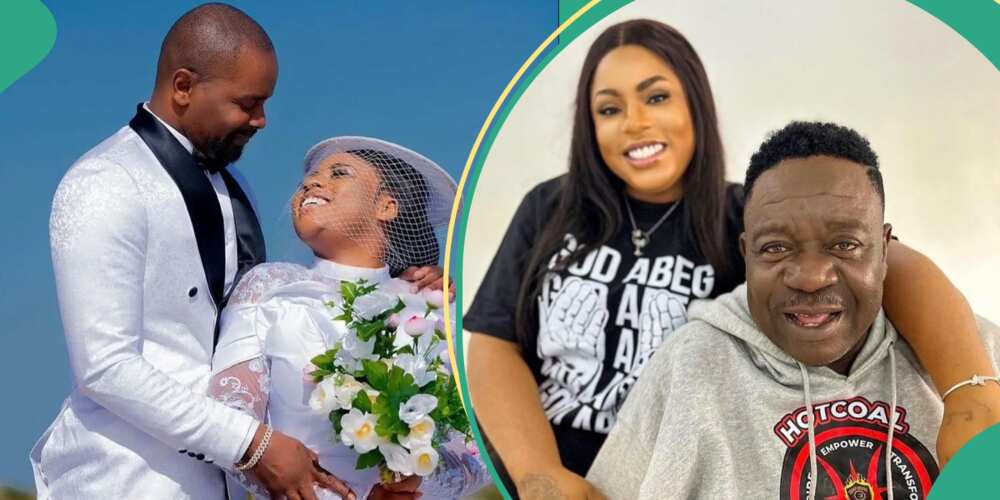 Shortly after claims and counterclaims started to fly around about the misappropriation of funds donated to the ailing actor, Jasmine's ex-husband reacted to allegations of her sleeping with the actor's son.
In a video posted on Instagram by celebrity blogger Tosin Silverdam, Jasmine's American ex-hubby talked about how he fears for his life because of her and Mr Ibu's son.
Not stopping there, he reiterated the trending rumours that they were lovers and slept together.
He said in part:
"I just want to prove my point that they were sleeping together, so if anything happens to me, it's because of Dan Okafor and Jasmine."
See the video below:
Reactions as Jasmine's ex-husband speaks on her relationship with Mr Ibu's son
The video of Jasmine's American ex-husband speaking about her sleeping with Mr Ibu's son raised mixed feelings online. Read some of the comments below:
poshest_hope:
"Just imagine!! Someone that couldn't even manag£ her home wants to manag£ another woman's own."
mima_the_1st:
"Very dark Mumu used very dumb conspiracy to sabotage mohbads case till today those who he asked us to hold walked freely ! Very dark Mumu has now started pushing the narrative that mrs ibu is a bad wife ! Hence scattering the whole case when jasmine is an imposter."
mima_the_1st:
"The thing you people did to wunmi, you want same to happen to mrs ibu , because you're such a misogynist Mumu that hate women ! Very dark man your karma is close."
deebillz001:
"This is a wrong move and wrong timing, someone is on the hospital bed fighting for his life, you are here digging out things against him and his family, I hope if you demoralise all the people trying to help Mr. Ibu and Mr. Ibu himself and no one to properly take care of him you won't be the same blogger post RIP if something we don't pray for happens to him?"
bomaawobajo:
"No one is draggin Mr. Ibu. I love that Tosin is posting this cause people are trying to frustrate Mr. Ibu's wife."
just__jossy:
"Someone is in the hospital fighting for his life……Y'all here tearing his family apart!‍♀️ Com'on!!!!!"
mheenarh__:
"Honestly Mr Ibu deserves better instead of sending him prayers and donations. Una dey dr@g his family."
puremakeover1_:
"It's irritating how jasmine and the wife is taking all the blames now. What about Mr. Ibu, he should be taking majority of the blame bcos if he kept his trousers zipped all of these wouldn't be a topic for discussion."
little_sunshine_ng:
"Omo, This girl eeh. She really used mr.ibu very well …..I feel for the wife ….16yrs of marriage and a stranger comes in between and start claiming rights. Can never be me ooo, I no know whether Mrs.ibu no get family members , dem suppose don change am for jasmine one time from when this matter never reach like this."
sabigal1:
"How did this Jasmine enter this family to this extent... Kai. They really let the devil in physical form into their home. "
bukkie_martinz:
"Jasmine if na another woman dey do all these things to you inside your marriage how you go feel???"
aloly_sughar:
"No matter how bad your woman is!! No woman go ever like make another woman Dey manage her home .. even jasmine as a woman can never want such!!! But I don't blame the lady though."
naija_fashiondesigners:
"My own is that why is all these coming out now? For what purpose??"
seeplaceswithada:
"Mr ibu doesn't deserve all this wahala this time around."
preye.dominic:
"Na wah oo all this na because of donations money oo."
Mr Ibu's son debunks actor's wife's viral allegations against daughter
Daniel Okafor, the second son of Mr Ibu, refuted his stepmother, Stella Maris' claims about the bank account through which donations were sent.
Recall Legit.ng reported that the ailing actor came online to solicit help and monetary assistance from the general public regarding his illness.
According to new information, Daniel addressed the allegations about the medical care funds being mismanaged.
Source: Legit.ng