Best of Pete Edochie movies: 10 films that made him an icon
Pete Edochie is one of the famous and successful Nigerian Nollywood actors. He rose to prominence in the 1980s when he portrayed Okonkwo in Things Fall Apart. The actor has since appeared in over 200 Nollywood films and television shows where he often plays the role of a king. What are some of the best of Pete Edochie's movies that made him an icon in the film industry?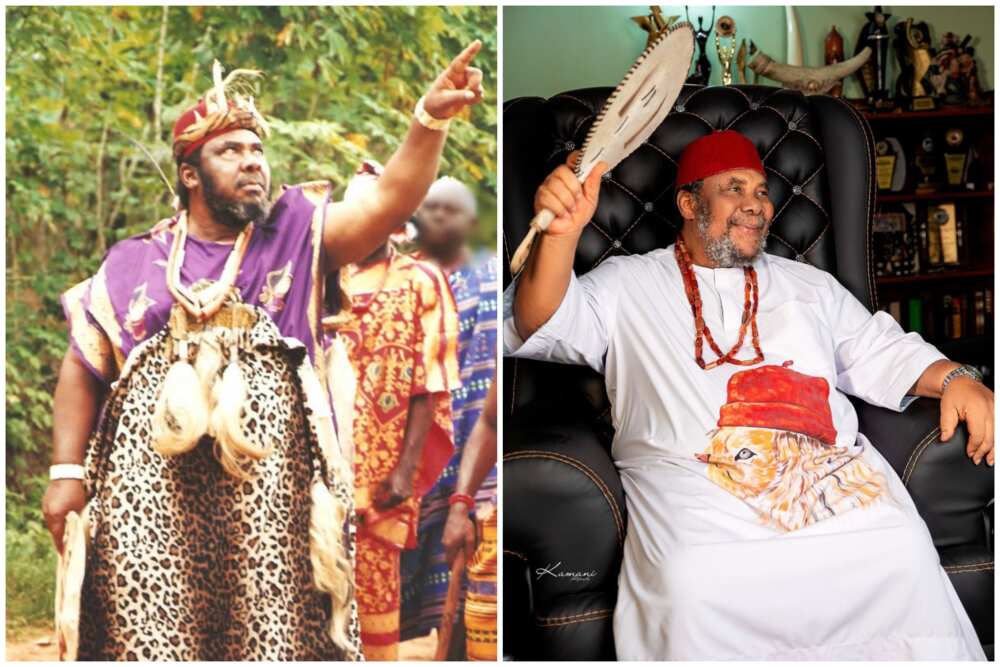 The Nigerian actor has been recognized as one of the best in Nollywood following his immense contribution to the industry's growth. He received his first recognition and was tagged the 1999 Movie Personality of the Year by the City People magazine. Some of the best Pete Edochie's movies are shared below.
Best of Pete Edochie's movies
Pete Edochie has been featured in some of the best Nollywood films in Africa. Here is Pete Edochie's movie list you might find interesting.
1. Lionheart
Lionheart is one of Pete Edochie's movies on Netflix that was released on 24 August 2018. Genevieve Nnaji directed the Nigerian film, and the cast members included Genevieve Nnaji, Nkem Owoh, Pete Edochie, and Onyeka Onwenu. It is about a female trying to prove her worth in the business world in a male-dominated industry.
2. Things Fall Apart
Things Fall Apart was released in 1987. The main cast members include Funso Adeolu, Fabian Adibe, Pete Edochie, and Justus Esiri. The Nollywood film is about an Igbo man named Okonkwo (Pete Edochie), who lives in the village of Umoufia in Nigeria. The film's plot was adapted from one of Chinua Achebe's novels, Things Fall Apart. Edochie plays Okonkwo, a powerful and respected leader in an Ibo village in Nigeria.
3. Billionaires Club
The film's director is Afam Okereke, and was written by Sunny Collins (story) and Constance Daniels (screenplay). It was released in 2003. The main cast members in the movie are Fabian Adibe, Pete Edochie, Nebechi Adione, Sam Ajah, Chuma Ajoku, Mercy Akanyak, and Chinelo Anaedumaka.
The story revolves around a secret society of men who use occult powers to manipulate people and make blood money. Once they succeed in tricking them into joining the occult, the secret society fails to deliver what they promise.
This film is a Nigerian cult classic that marked the beginning of the new era of Nollywood. The movie tells the story of a wealthy businessman, Andy (played by Kenneth Okonkwo), who sacrifices his own brother, Paul (played by Ramsey Noah), for wealth and power, but his actions lead to dire consequences. Pete Edochie plays the role of Chief Uzowulu, a powerful and respected traditional leader.
5. Idemili
Idemili was directed and written by Ernest Obi. It was released in 2014, and the main cast members include Pete Edochie as King, Patience Ozokwor as Queen, Ebele Okaro Onyiuke as Ijele, Eve Esin as Ekemma 'Mma' and Ernest Obi as Prince.
It revolves around a lady from a lineage of Osimili named Ekemma being betrothed to an honourable prince. When her v*rginity test was carried out, the native doctor discovers that she was from a lineage of powerful diviners. She embraces an adventurous and fearful journey to seek her foundation and realizes how powerful and gifted she was during the quest.
6. Unroyal
Unroyal is yet one of Pete Edochie's movies on Netflix that was released in 2020. The director of the Netflix film is Moses Inwang, and the writers are Christabella Ike (screenplay), Matilda Gogo Lambert (story), and Mary Jane Okoronkwo (screenplay). The cast members in the film included Kingsley Abasili, Weme Charity Ada and Femi Adebayo.
It is about the story of an Okirika King's daughter, Princess Boma, a beautiful young lady who sees the world as her footstool. The princess treats everyone as though they aren't humans, but the tables turn around when she has an accident.
End of Money is a film directed by Andy Chukwu. It is written by Majiri Anthony and Arinze Ezeanyaneche. The film stars Precious Adefemi, Patrick Agbale, and Chiege Alisigwe. Pete Edochie appears in the film as Okagbue.
The film tells the story of a bank manager who falls victim to the hands of a "Yahoo King," a term used to describe a person who engages in fraudulent activities using the internet. The film likely explores themes of corruption, fraud, and the consequences of illegal activities in the digital age.
8. C.O.L.D
This Nollywood film was produced by the Nigerian director Bakia T. Thomas in 2022. The main cast members of the movie were Pete Edochie, Femi Branch, Hilda Dokubo, and Iretiola Doyle.
The film talks about the church today and how the devil infiltrates the church. It also addresses how most churches have turned from serving God to accumulating wealth. Bishop Charles Richardmon is determined to do whatever it takes to become the most influential black preacher and seeks assistance from a strange ally.
Ikemba is one of Pete Edochie's latest movies and was directed by Godwin Onwuneme Obiora and written by James Oguejiorfor. The release date for the film was on 29 April 2022. Pete Edochie featured alongside other Nigerian actors, including Chiwetalu Agu, Ramsey Noah, Yul Edochie, Kanayo O. Kanayo, and Zubby Michael.
The film is about the happenings in Africa. The Nollywood movie addresses the chaos observed in Africa, which the colonial masters caused in their land. The film promotes and educates Africans to open their eyes and enlighten each other.
10. Egg of Life
The Nollywood movie was produced in 2003 and directed by Andy Amenechi. The movie's writers include Kabat Esosa Egbon (screenplay) and Ojiofor Ezeanyaeche (story). Pete Edochie appeared in the film together with other popular actors like Padita Agu, Sam Ajah, and Funke Akindele.
It is about a chief priestess who tries to unravel the mystery of the death of the king's only son. To make her ritual possible, she sends a group of girls into the evil forest to retrieve the magical Egg of Life.
Pete Edochie is a veteran Nigerian actor and one of the most respected and iconic figures in the Nollywood industry. His performances in films such as Living in Bondage, Things Fall Apart, and Billionaires Club have solidified his place as a leading actor in the Nigerian film industry and a cultural icon. His portrayal of powerful and complex characters has left a lasting impression on audiences and has cemented his legacy as one of the greatest actors in Nigeria.
READ ALSO: Top rom-com series to watch while cuddling with your partner
Legit.ng recently published the top rom-com series to watch with your partner. Watching a romantic and funny series is one of the best ways to bond with your better half. There are numerous TV series and movie streaming platforms for great entertainment, and you can find them on popular streaming platforms such as Netflix, Amazon Prime Video, and Hulu.
Sometimes finding the best top rom-com series to watch can be challenging. However, with numerous streaming services available, you can always have a good romantic comedy to watch. Read on and discover the multiple choices of rom-com series you can enjoy watching with your partner.
Source: Legit.ng