15 types of office equipment and supplies and their uses (pictures)
An office is a must-have in a place of work because it offers space for productivity, collective innovation, and the well-being of employees. Most contemporary workspaces are furnished with various office equipment for ease of work and comfort. A well-equipped office enhances productivity and public image.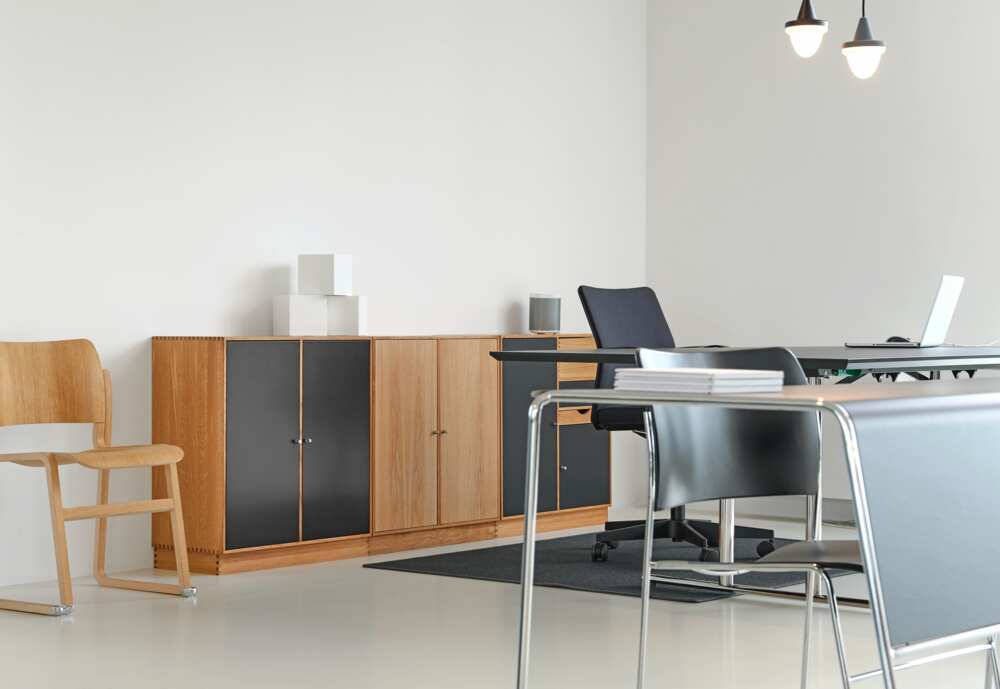 To run a successful business, one must hire the right people. These people need office equipment to perform their jobs effectively. There are multiple tools, machines, and supplies needed in the modern-day workspace.
Types of office equipment and their uses
Office equipment is an umbrella term for the machinery, tools, and supplies normally found in an office. In today's world, the appearance of a workspace is crucial.
Technological changes have made what was once regarded as state-of-the-art equipment obsolete. Today, we have multiple supplies, tools, machinery, and electronics. Below is a list of office equipment required in all modern places of work and their uses.
1. Computers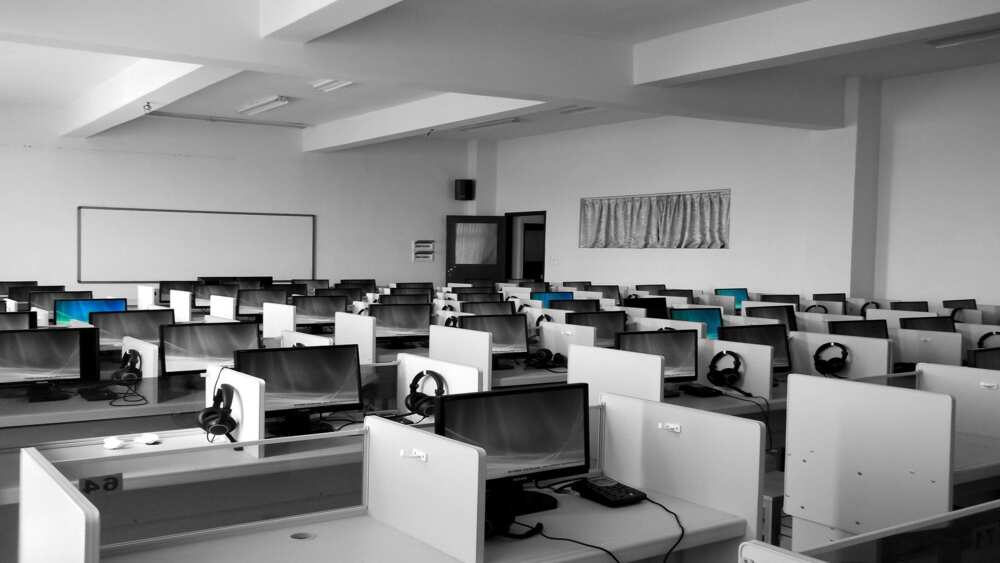 A couple of decades ago, typewriters' loud noises permeated offices, and large piles of paper filled large cabinets and desktops. Today, things have changed, and computers are among the office machines and equipment needed.
Computers replaced clumsy and antiquated typewriters and calculators. They also reduced the need for information to be physically stored.
A computer is used for gathering, calculating, and storing crucial corporate data. The stored data is easy to access. Additionally, computers offer practical internal and external communication solutions if the office has internet access.
There are multiple brands of computers available in present-day Nigeria. Below are factors to consider when purchasing a computer for your office.
Your budget
The processor speed
Memory
Storage
Operating system
Warranties and returns
2. Telephones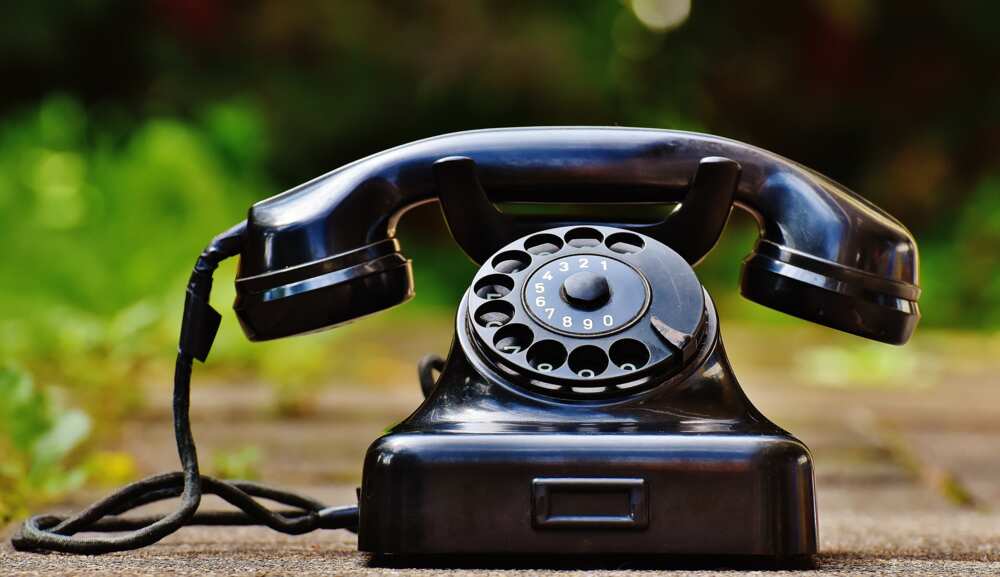 Although the internet is gradually eliminating the need for telephones, they are still necessary in modern workplaces. After all, not everyone likes to communicate in writing. Some people find it easier to make a call.
A telephone is needed if you want to be reached at your workplace. Besides, modern office phones have a wide range of useful features, e.g., access to social media accounts and data storage.
You can install a landline or buy mobile phones, depending on your needs. Below are things you should consider when choosing a business phone system.
The type of phone system
Cost
Compatibility with other business tools
Scalability
3. Printers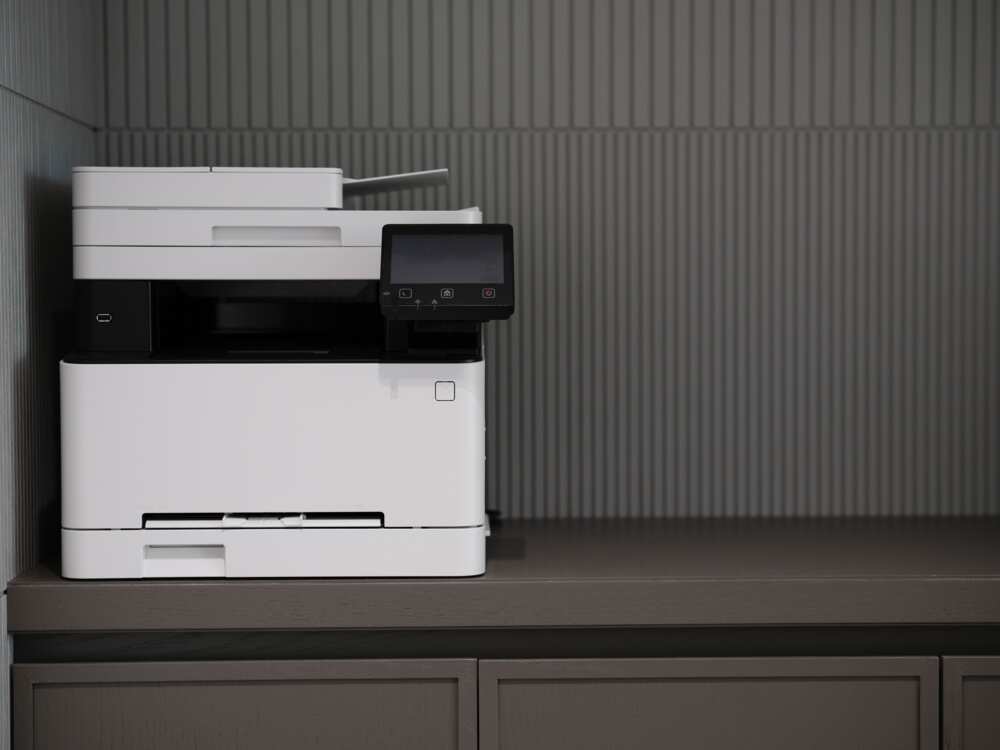 There are instances when e-files alone are insufficient, and hard-copy documents are needed. To avail the latter, you must have one or more printers in your place of work.
Printers come in different sizes. A printer is a machine for printing text or pictures, usually when linked to a computer. Some of the factors to consider when purchasing a printer are explored below.
Size
Cost
Printing capability
Sustainability
Environmental safety
User-friendliness
Security
Network connectivity
4. Document scanners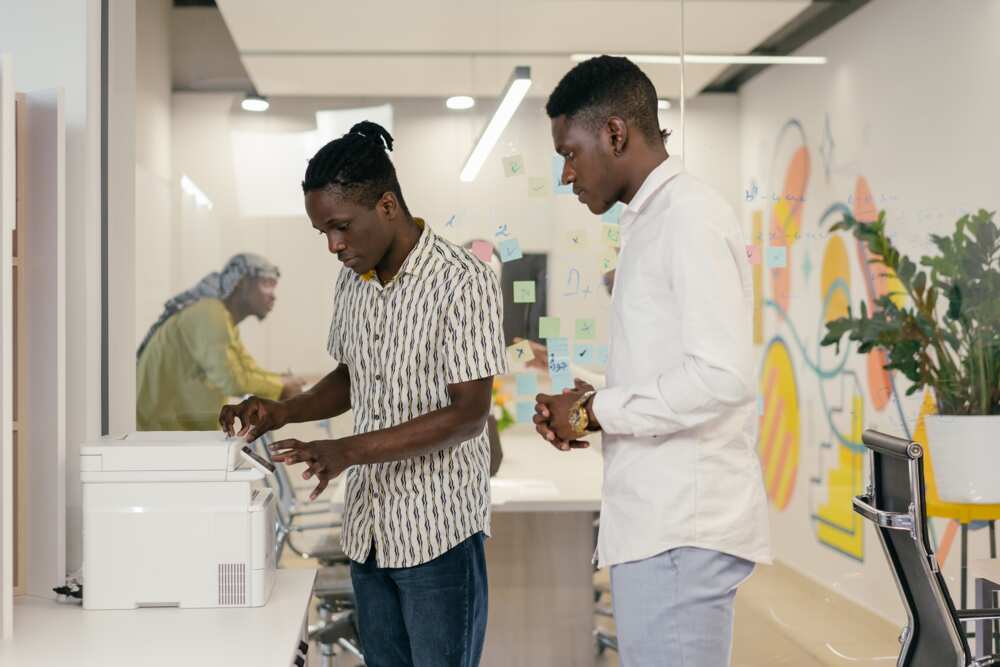 One of the uses of office equipment is to convert printed documents into a digital format. This can only be done using document scanners. These machines convert images, pictures, faces, and written documents into a digital format, usually in PDF.
Before purchasing a scanner, consider the factors listed below.
Performance
Maintenance, parts, and consumables
Hardware interface requirements
Support for dropout color
Overall size and noise
Price
Software required
5. Copiers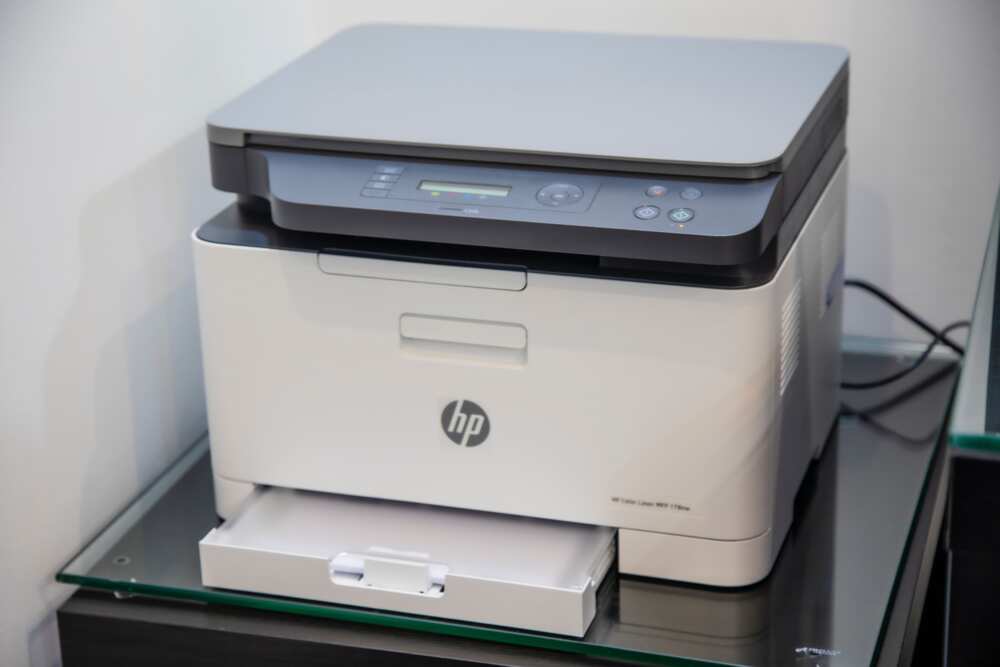 Copiers or photocopiers are among the most used office machines and equipment. A good copier lets you make copies of documents. Copiers can make copies without computers, although printers and scanners depend heavily on them.
Nowadays, most offices buy machines that combine the capabilities of a printer, scanner, and copier. They are more expensive and heavier but are more practical because you can print, copy, and scan with only one device rather than three.
Consider the following factors before purchasing a copier.
Copy speed
Brand
Copy volume
Budget
Network capability
Available space
6. Desks and chairs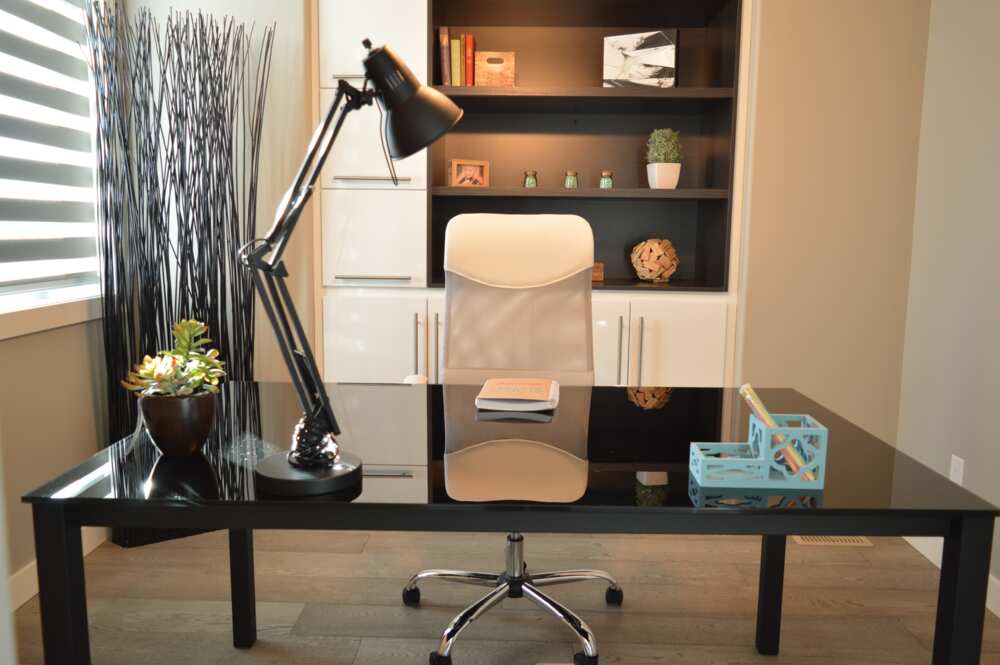 The right office desks and chairs make your office look pleasant and professional. They also make the space comfortable and accessible for employees and customers.
Employees feel more comfortable working in a pleasant environment. Therefore, you should use the right colors and lighting to increase productivity. Consider the following factors when purchasing office furniture.
Quality
Space available
Aesthetics
Privacy
Cost
7. Shredders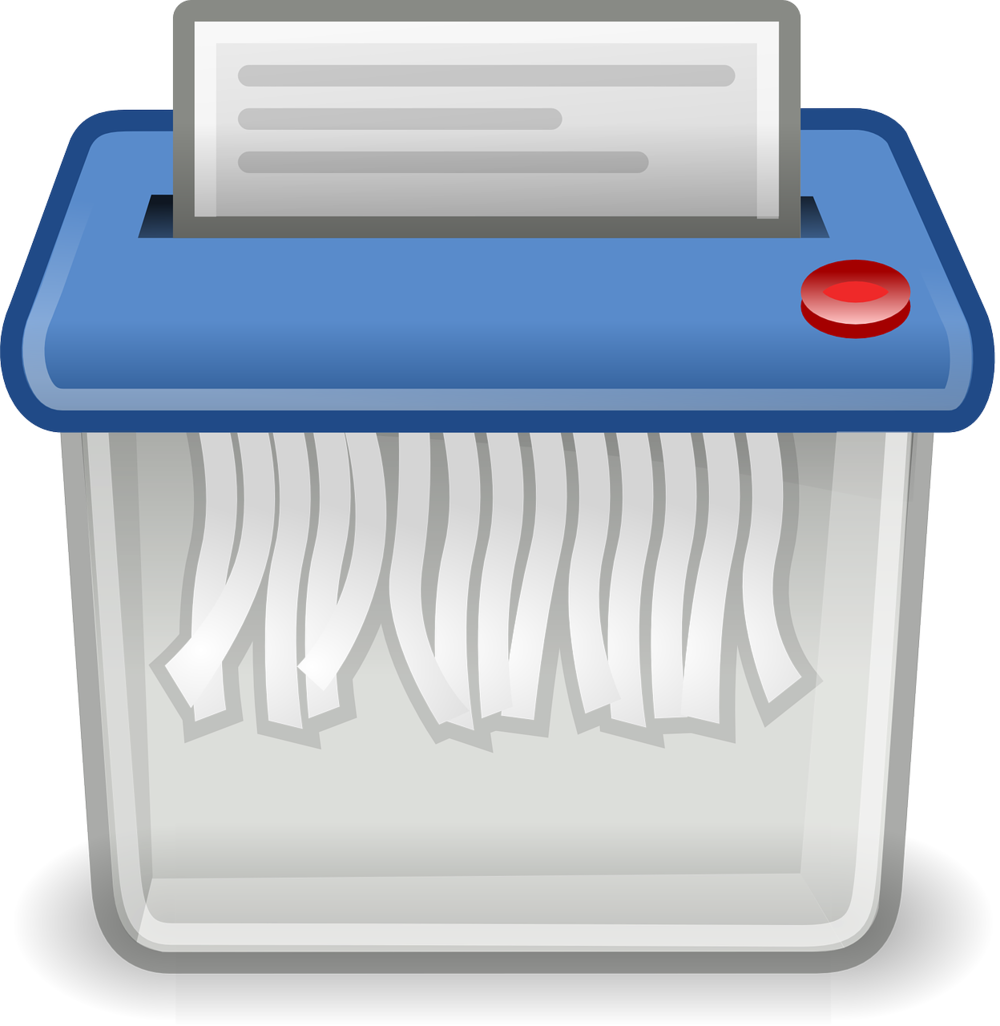 Every business has private information that should not get into the wrong hands or unnecessary documents. It is inappropriate to dump these documents in the garbage as they are because other people may access them from the trash.
Shredders are among the business office equipment you need to discard documents without the risk of information leakage.
Shredders cut paper and other media into tiny fragments so that the information can no longer be retrieved. Consider the following aspects before buying a shredder.
Cost
Storage capability
Speed and power
Cutting type
Jam resistance
8. Office stationery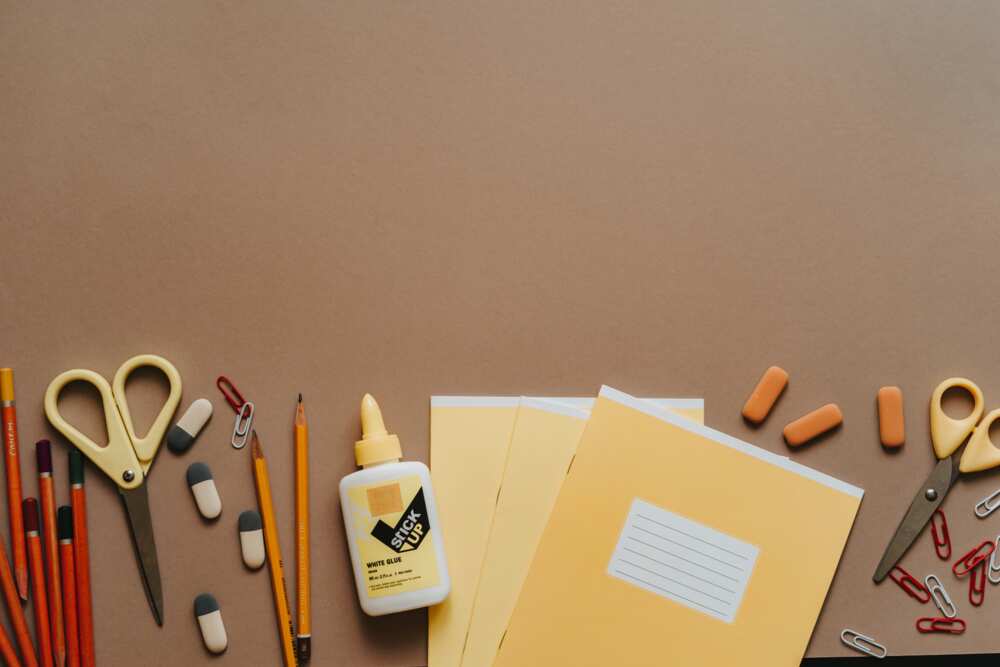 Office stationery refers to materials used for writing or typing, e.g., paper, pens, pencils, staples, sticky notes, notebooks, and ink.
The uses of stationery range from labeling to binding tools. There is a wide array of stationery, so you should contact your office equipment suppliers with a list of the things you need. Consider the following factors when choosing and buying stationery.
Quality
Suitability
Cost
Performance
Durability
9. Internet connectivity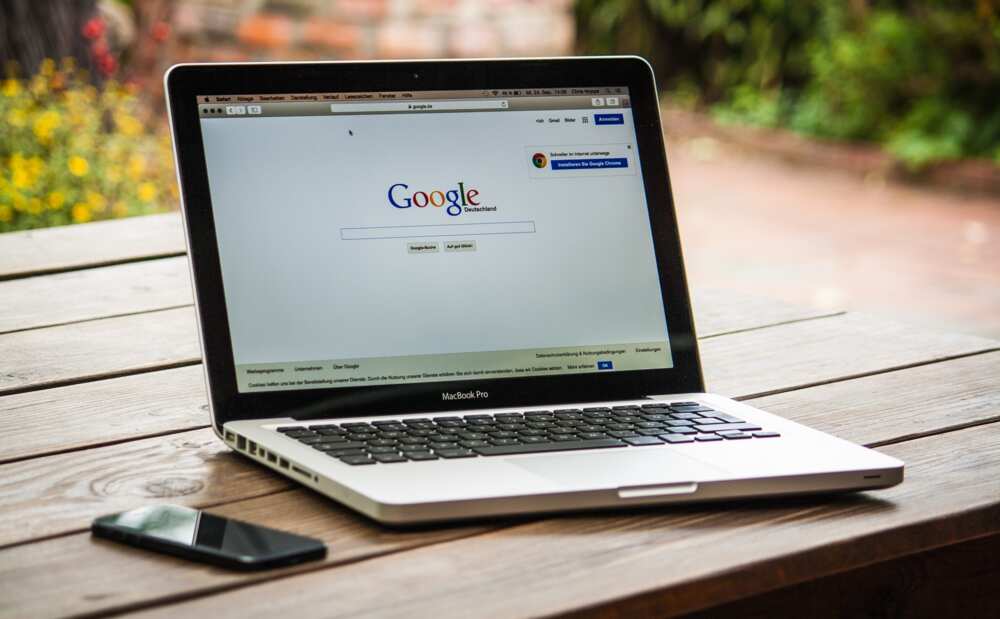 Having a high-speed internet connection is mandatory for every contemporary business. Many businesses operate online, and a good internet connection contributes to daily tasks.
Today, many office equipment can connect to the internet. There are multiple internet providers, and here are factors to consider when choosing an internet service provider.
Speed and bandwidth
Customer support
Cost
Reliability
Availability at your business location
Security
10. Kitchen supplies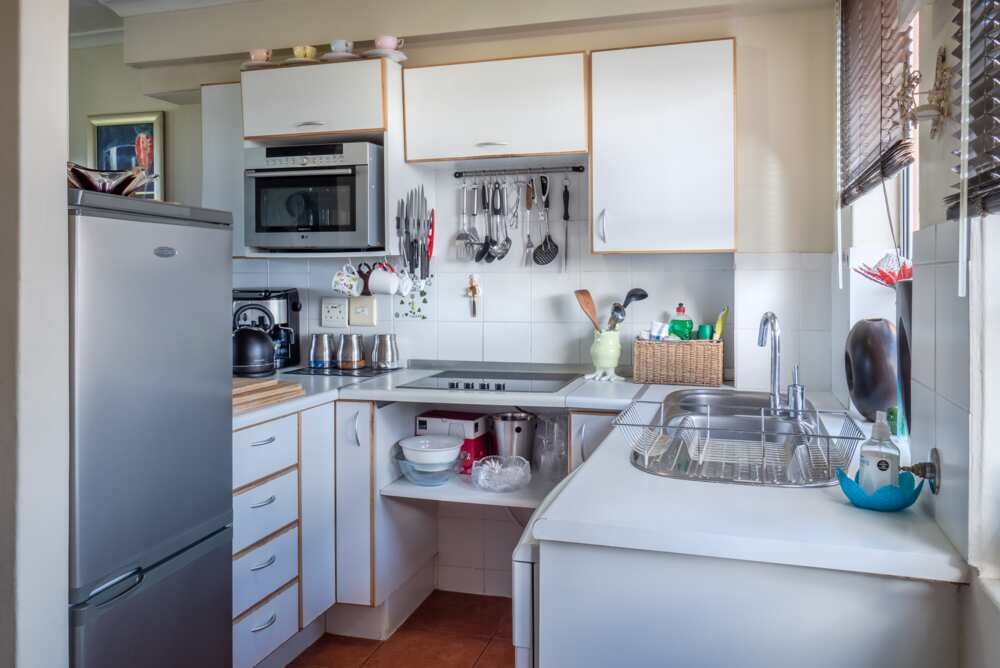 Many modern offices have kitchenettes or basic kitchen supplies. In fact, basic kitchenware is among the must-have office supplies because employees and clients should be kept hydrated and satisfied with food and drinks.
Providing employees with free coffee and water keeps them motivated and effective. Some of the essential kitchen equipment and supplies you should consider buying are listed below.
Coffee machine
Beverages
Sugar
Cutlery, crockery, and glasses
Water dispenser
Condiments
11. Storage equipment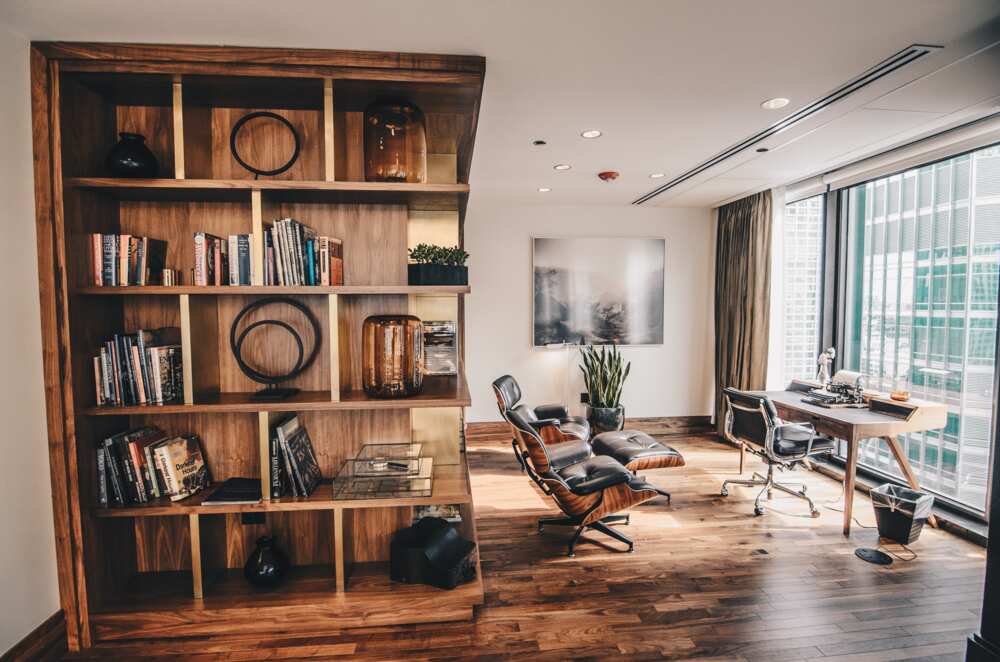 Although many businesses are going paperless, workplaces cannot be 100 percent free of hard-copy documents, files, folders, and books. It is crucial for an office to have storage equipment, e.g., desks with storage drawers, safes, shelves, and cabinets.
Below are the factors you should consider before buying office storage equipment.
Available space
Size
Budget
Aesthetics
12. Office collaboration tools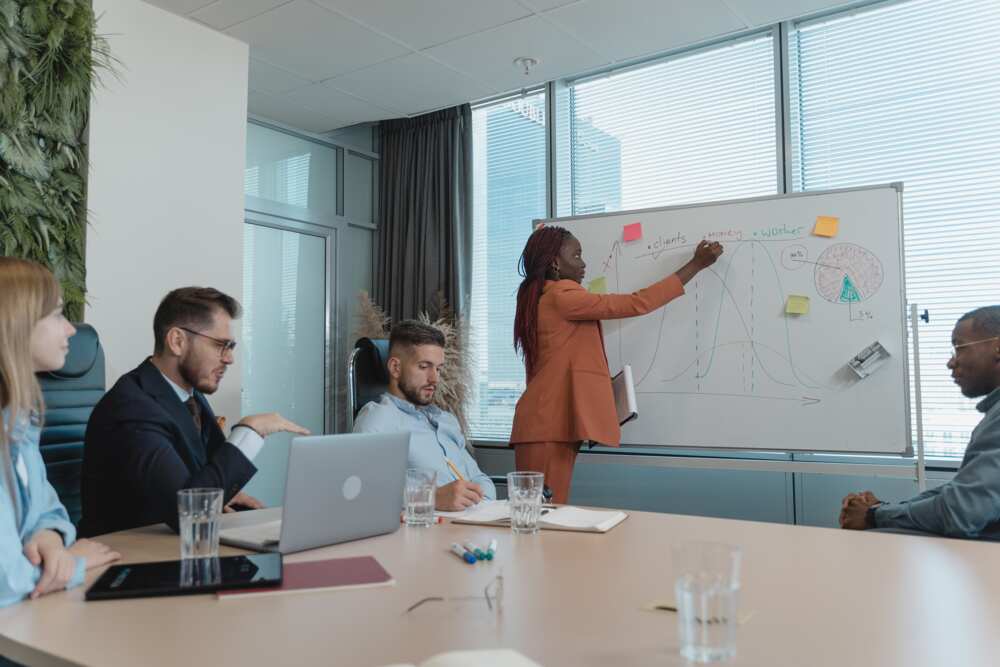 Office collaboration tools is a collective term for all office instruments and tools used for sharing knowledge and skills to achieve the best result. These include projectors, whiteboards, and bulletin boards.
These tools make it easier to keep ideas within a business organized. The factors to consider when purchasing these tools are listed below.
Budget
Durability
Ease of use
Performance
Size
13. Label makers and applicators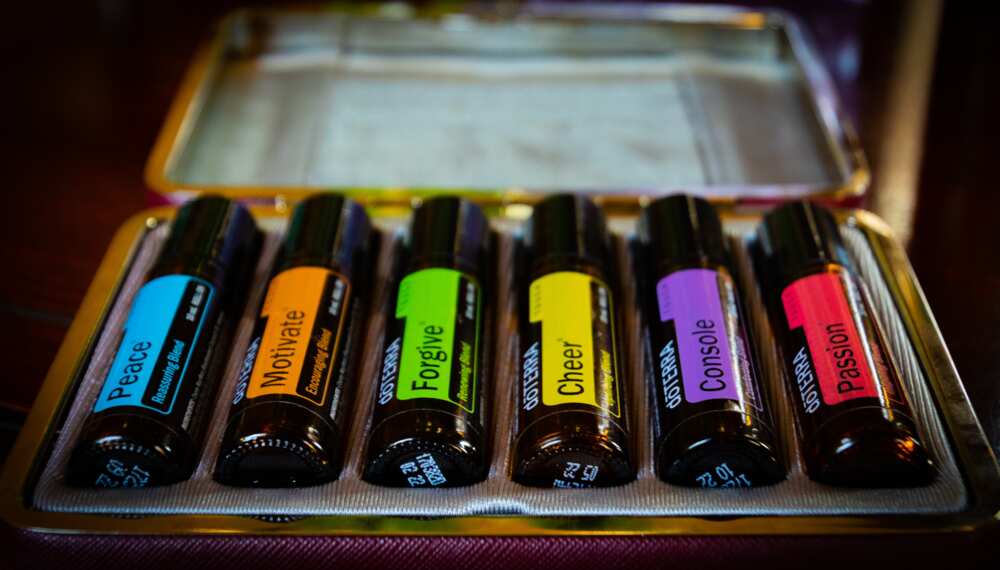 Many offices have equipment logs, where every table, chair, computer, and mouse are accounted for. As a result, label makers and applicators are required.
Making inventory taking simpler and keeping organized workspaces can be achieved through labeling. Office owners should invest in label makers and applicators to help differentiate people's things, mark various items, or attach important notes.
Consider the factors listed below before purchasing a label maker and applicator.
Manufacturer credibility
Customer support
Budget
Ease of use
Speed
Reliability
Size
14. Office equipment software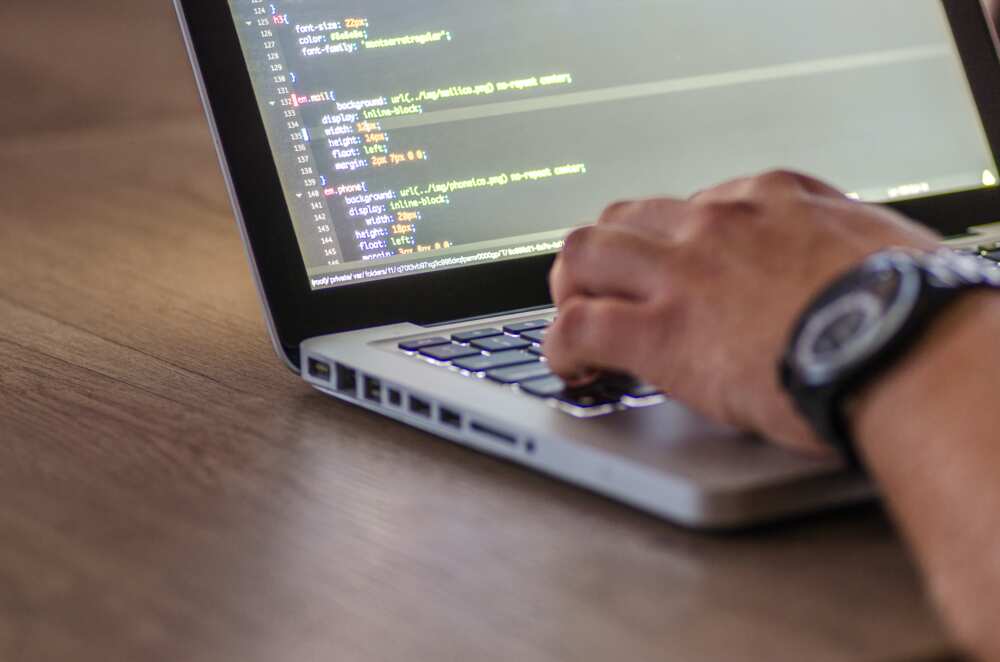 Software makes your computer hardware perform important tasks and helps employees to work more efficiently. The right software can lead to new ways of working.
You should choose your software carefully so that it matches your business needs. Below are factors to consider when choosing office equipment software.
Cost and value
Installation and ease of use
Frequency of updates needed
Customer support
Security
15. Laminating machines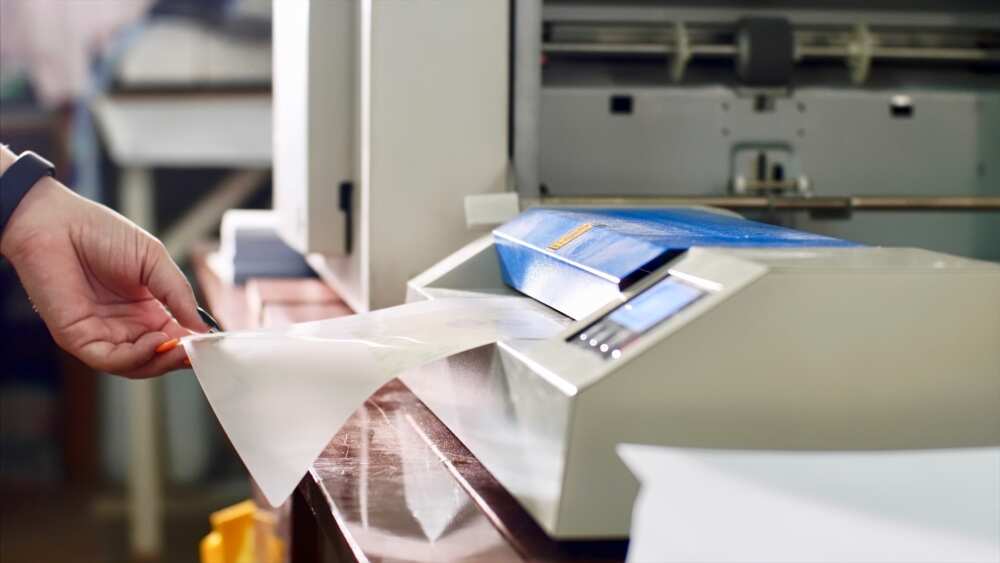 Offices have special documents that require preservation. Laminators can preserve important documents, create durable business cards, make ID badges, and do other cool things.
Small offices may not require them, but they are important to have. Consider the following factors before buying a laminator.
Document size
Film thickness
Number of users
Cost
What are the uses of office equipment?
Office supplies are primarily used to enhance business operations and enable workers to perform their jobs more effectively.
What are examples of office equipment?
Examples of equipment found in an office include computers, telephones, printers, stationery, and internet connectivity.
What is needed in a new office?
A new office needs desks, office chairs, telephones, storage cabinets, computers, copiers, scanners, and applicable software.
What is the basic office equipment?
Basic office equipment includes furniture, internet connection, kitchen supplies, stationery, telephones, printers, and copiers.
Knowing the basic office equipment and their uses is important for anyone starting a new venture soon. The items and supplies listed above will ensure work is done effectively and efficiently.
READ ALSO: 12 most popular festivals in Nigeria, their locations and importance
Legit.ng recently published the most popular festivals in Nigeria, their locations, and their importance. Nigeria is renowned for many things, one of them being its diverse culture.
The country has over 200 million citizens divided into more than 300 tribes. This diversity makes it the perfect place for traditional, religious, social, and cultural festivals.
Source: Legit.ng