Christina Hendricks bio: age, height, husband, career
You cannot think of the TV series Mad Men without thinking about Christina Hendricks. The beautiful and voluptuous star made the series what it was. In a set made almost entirely of men, Christina always stood-out, not only because she was incredibly beautiful and a woman, but also because of her incredible acting skills that ensured that she stole every scene she was in.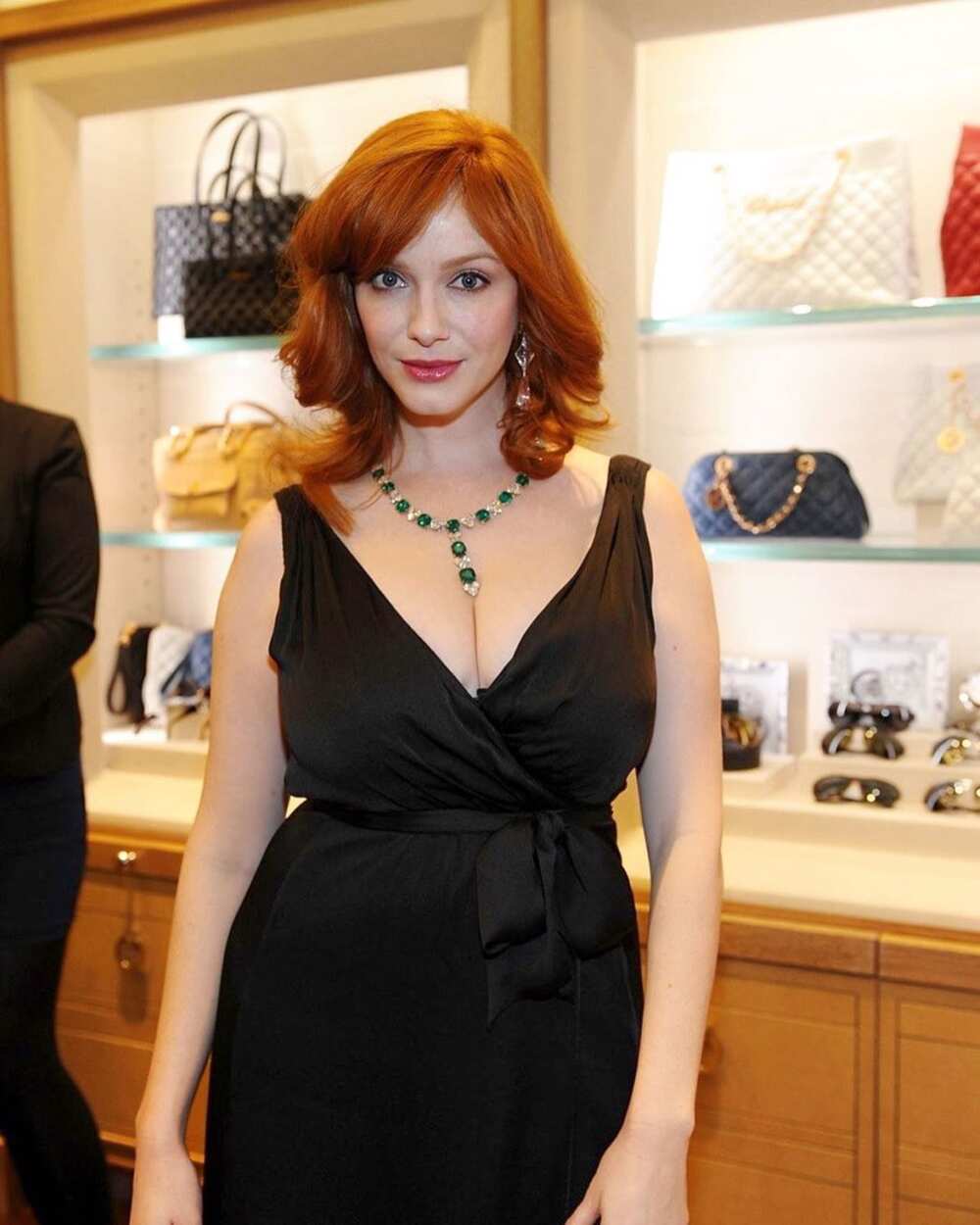 She is beautiful, successful and very talented. Christina Hendricks is among the top Hollywood success stories that many acting hopefuls envision when they think about their careers. She has worked steadily since she made her debut.
Learn more about her background before acting, her personal life, and her career successes.
Profile summary
Name: Christina Rene Hendricks
Nickname: Christy
Age: 44 years old
Place of birth: Knoxville, Tennessee in the USA
Zodiac sign: Taurus
Nationality: American/British
Ethnicity: Caucasian
Sibling: Aaron Hendricks (brother)
Spouse: Geoffrey Arend (Separated)
Height: 5 feet 7.5 inches
Weight: 73 kgs
Eye colour: Blue
Hair colour: Red
Profession: Actress, former model
Net worth: $10 million
Family and background
Christina was born on 3rd May 1975 to parents Robert Hendricks and Jacky Sue. Her parents worked as a United States Forest Service employee and a psychologist, respectively. While she was born in Knoxville, Tennessee, the future actress grew up in Twin Falls, Idaho. Her family later moved to Fairfax, Virginia to get close to their father whose job had transferred him to Washington D.C.
Christina Hendricks young attended the local Fairfax High School where she was mercilessly bullied. Her saving grace was the school's drama department where she practiced and appeared in plays.
Despite finding solace in the school's drama department, the bullying was so intense and stressful that in her senior year at the school, she dropped out and opted to complete the year's studies at a local community college.
Apart from acting, she was also a ballerina. After high school, she applied and got accepted into the Virginia Commonwealth University where she studied drama.
Christina Hendricks before she was famous, worked various jobs. She worked as a receptionist and at a salon as a shampoo girl.
Her first big break came in the form of a modeling contract. The actress entered into a beauty contest held by Seventeen magazine. She went on to win and thus was signed by IMG Models as one of their models. While most of her modeling work is not known worldwide, the actress revealed that her hand was used in the poster of the iconic 1999 movie American Beauty.
She worked as a model for nine years (from when she was 18-years-old to 27-years-old).
Christina Hendricks hot
The model/actress has a figure that most women would give anything to have. She has the perfect hourglass figure that many desire.
In 2010, she graced the cover of Esquire Magazine and was named the 'Sexiest Woman In the World' by the magazine's readers. She has such a fantastic hourglass figure that one would wonder what Christina Hendricks measurements are.
Her bust-waist-hip measurements are 42-30-39 (in inches). She wears a 36F bra cup size, and she is a size 12 (American) in dresses.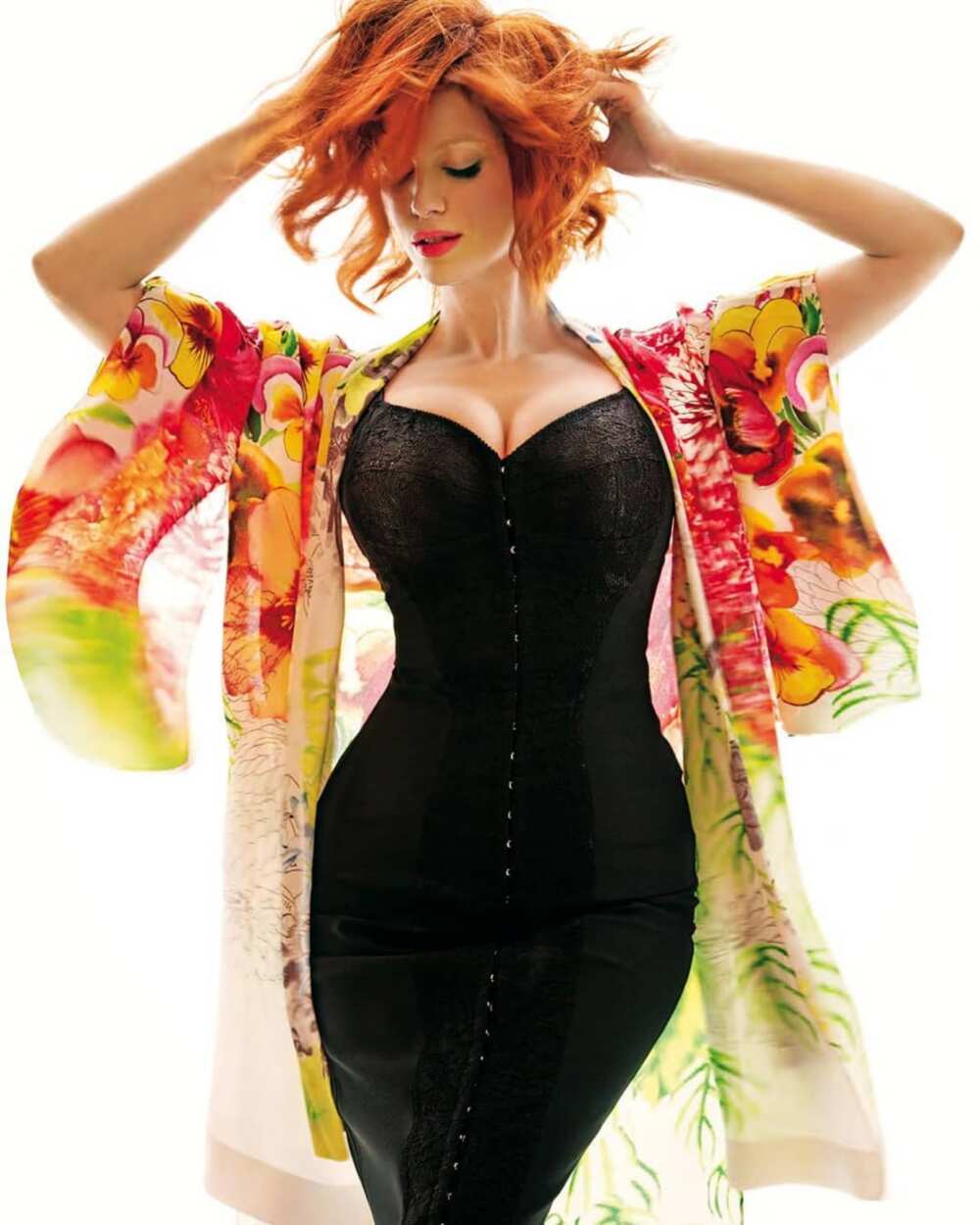 Christina Hendricks height
The gorgeous star is quite tall. She stands at 5 feet 8 inches while barefoot. As for Christina Hendricks weight, she weighs 73kgs. She maintains her figure by eating healthy and working out through cardio and lifting weights
Christina Hendricks age
She will be turning 45-years-old come 3rd May 2020. She is aging gracefully as she is still very youthful even as she approaches her mid-40s. A fun and surprising fact about the actress is that she is not naturally a red-head. At the tender age of 10, she chose to dye her naturally blonde hair. She has never looked back since.
Christina Hendricks husband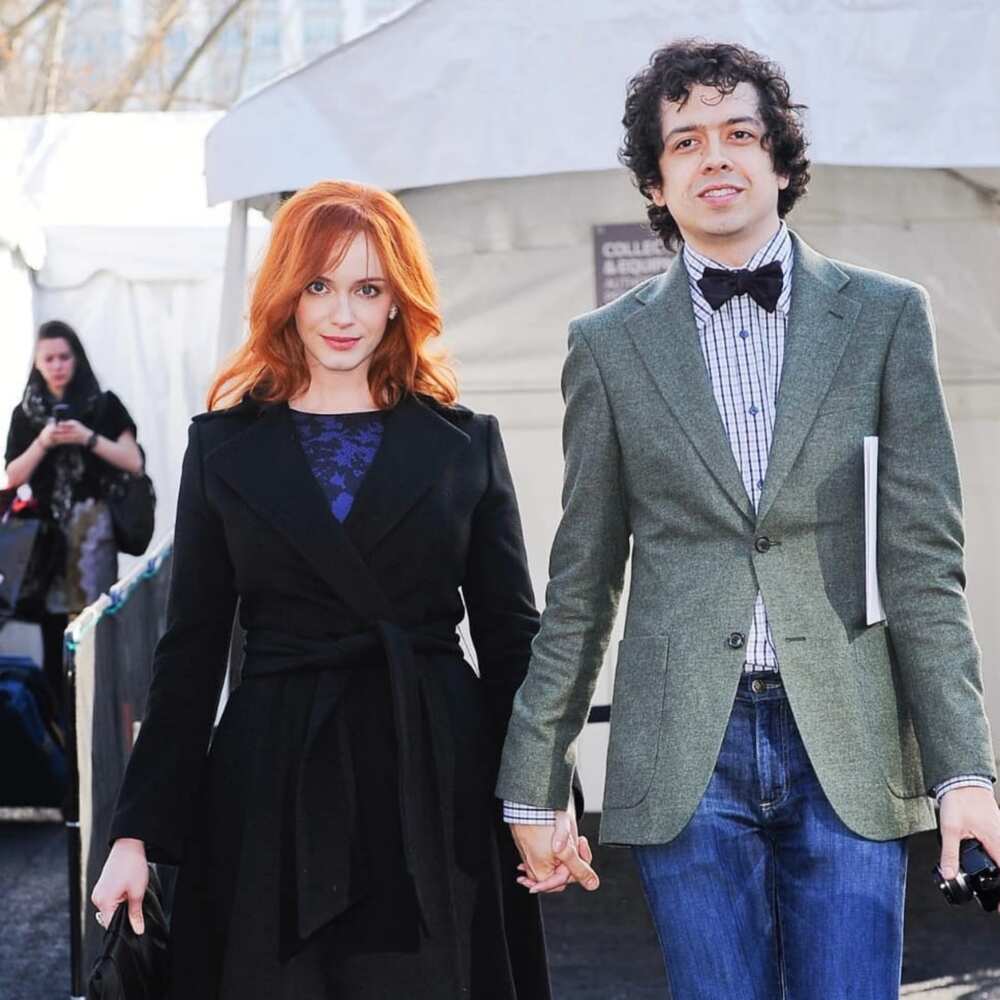 Christina got married to fellow actor Geoffrey Arend on 11th October 2009. The two appeared on major red carpets together but otherwise kept their relationship relatively private.
Sadly, on 18th October 2019, Geoffrey took to his Instagram page to announce their separation. Later, Hendricks filed for divorce at the Superior Court in Los Angeles. The documents cited 'irreconcilable differences' as the reason for their divorce.
Christina Hendricks movies and TV shows
While she is mostly known for playing Joan Holloway in the series Mad Men, the actress has been in the acting industry for more than twenty years. She made her acting debut in 1999 in the TV series Undressed where she played the character, Rhiannon, in four episodes. Since then, she has gone on to appear in a multitude of TV series such as:
Beggars and Choosers - The series aired from the year 2000 -2001 and she played the role of Kelly Kramer in nineteen episodes
ER - She played the character, Joyce Westlake, for four episodes
Firefly - She played the roles of Saffron/Bridget/Yolanda Haymer in two different episodes in the years 2002 and 2003
Kevin Hill - This series lasted for one season. The star played the role of Nicolette Raye for all twenty-two episodes of the season.
Jake in Progress - In 2006, she played the role of Tanya for four episodes
Life - This series aired from 2007 to 2008 and the actress played the role of Olivia in four episodes
Hap and Leonard - This TV show aired for three seasons (from 2016 - 2018). The actress was a part of the first season where, for six episodes, she played the role of Trudy Fawst.
Another Period - In this period drama, the star played the role of Celine aka Chair for 17 episodes.
Tin Star - In this crime-thriller, the star plays the role of Elizabeth Bradshaw. The series was renewed for a third and final season set to be released this year.
Good Girls - She plays Beth Boland, a housewife turned criminal mastermind in an effort to make ends meet and support her family. The series will air its third season from 16th Feb 2020.
Mad Men - As Joan Halloway on this TV show, she captured and captivated the hearts of both fans and critics with her fantastic acting skills, enviable fashion, and amazing figure. The series aired for seven seasons (from 2007 to 2015) and Christina was present for all ninety-two episodes.
Her role in the celebrated series earned her several award nominations and wins. She has been nominated six times for an Emmy under the 'Outstanding Supporting Actress in a Drama Series' category.
She has also had acting roles in movies.
Christina Hendricks movies
The Big Time - She played the character, Audrey Drummond.
Hunger Point - She played the role of Frannie Hunter in this 2003 movie.
Leonie - She played the character, Catherine.
Detachment - She played the role of Ms. Sarah Madison.
I Don't Know How She Does It - She played the character, Allison Henderson.
Dark Places - She played Patty Day in this 2015 mystery movie.
The Strangers: Prey at Night - She played the role of Cindy in this 2018 horror movie.
American Woman - In this 2018 movie, she played the character, Katherine.
She has also lent her voice to characters in series, movies and videos such as The Pirate Fairy, Need for Speed: The Run (video game), From Up on Poppy Hill (English version), American Dad! and Rick and Morty.
Christina Hendricks 2019 was a year of ups and downs for her. While her career was flourishing with series and movies such as Good Girls, Tin Star and Toy Story 4, her personal life took a hit with her separation and divorce from her husband. Hopefully, 2020 will be a better year for her.
Christina Hendricks found success early on in her acting career, and she has not stopped aiming higher ever since. She is still working hard and portraying characters that fans cannot help but fall in love with and root for.
Source: Legit.ng