Cafes and restaurants in Abuja: 10 best eateries to check out
Abuja is one of the biggest metropolises in Nigeria, and it serves as the nation of Nigeria's main administrative, cultural, and economic hub. In addition, the city is home to some of the best and most modern restaurants. The culinary culture in the city has been expanding recently, with new cafés, pubs, and restaurants opening up all the time. With such a large number, one would wonder which restaurants in Abuja serve the highest-quality food.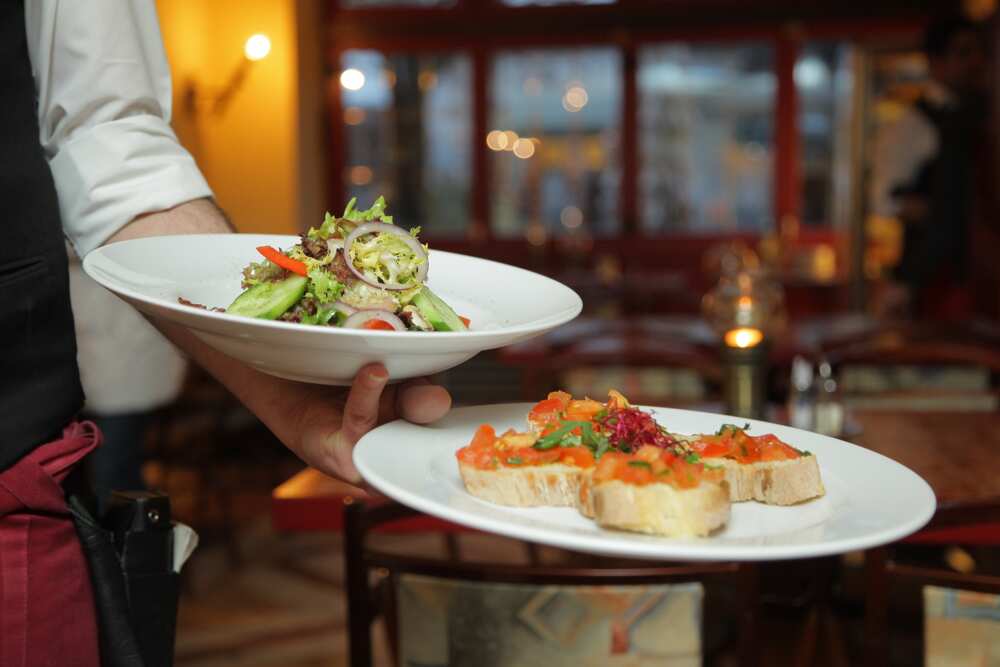 Abuja is home to numerous fantastic restaurants serving both continental and international cuisine. They are affordable and suitable for many preferences. Check out some of these top restaurants in Abuja where you can enjoy various meals prepared by professional chefs.
Top 10 best cafes and restaurants in Abuja
When you think about eating out, you usually imagine some upscale establishments offering delectable cuisine. Choosing the greatest eateries in Abuja might be challenging in a city where the best cuisines in the world are more likely to be found. Fortunately, this post can direct you to the best restaurant in Abuja.
1. Sketch Restaurant
Physical address: Inside Art-Tech District, 7 Hombori Street, Wuse 2
Contact number: +234 810 928 2084
Sketch Restaurant is one of the most popular cafes in Abuja, known for its white and black artistic 2D and 3D walls. They offer breakfasts, salads, seafood, pasta, noodles, and sandwiches.
They also offer beverages such as coffee, tea, smoothies, fresh fruit, cocktails, milkshakes, and mocktails. Generally, their meals are prepared by professional chefs who combine the appropriate ingredients.
2. Blucabana Restaurant & Cafe
Physical address: 1322 Shehu Yar'adua Way, Mabushi 900108
Contact number: +234 810 090 0000
Blucabana Restaurant & Cafe provides a wide selection of local and international delicacies served by well-trained and friendly staff.
With its lovely yet unique table setting, you will surely enjoy meals with family and friends. The staff is pleasant and provides high-quality services. Nonetheless, the food at this restaurant is reasonably priced.
3. La Taverna Restaurant
Physical address: 5th Floor, Statement Hotel, First Ave, Wuse 900103
Contact number: +234 908 513 0280
La Taverna Restaurant is one of the more affordable restaurants in Abuja you can go for a solo date or hang out with friends. It is a flat-roof restaurant with outdoor and indoor seating areas offering Spanish food.
The cooking philosophy revolves around seasonal, fresh, and organic produce typically served in authentic yet contemporary presentations. Each dish has the touch of a professional chef.
Whether you need a delicious outdoor lunch or a private room for up to 20 guests, the restaurant has you covered. Their lunch, breakfast, and dinner prices are comparable to the professional chef services you will receive.
4. A-Class Restaurant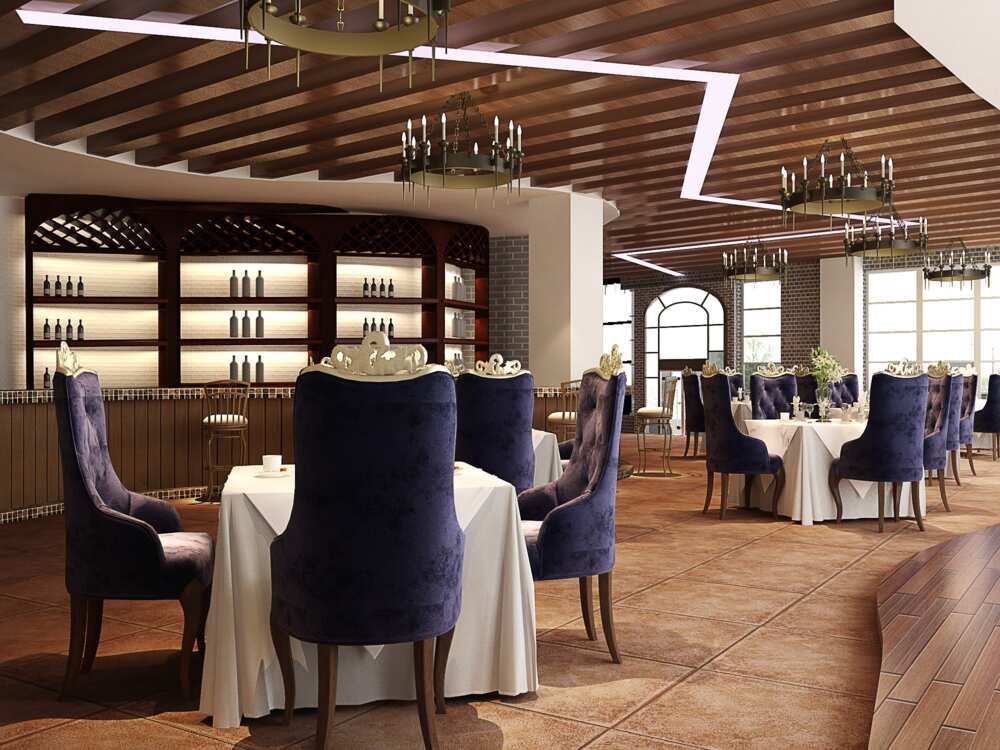 Physical address: Plot 102, along Kashim Ibrahim Way, Maitama
Contact number: +234 816 144 4002
A-Class Restaurant offers a fusion of Nigerian, Sudanese, and Mexican meals and drinks. They have an indoor space as well as an outdoor sitting area. There is a gazebo space that can fit a small group of people. The restaurant can be suitable for private events such as small wedding receptions.
5. Tulip Bistro
Physical address: 141 Adetokunbo Ademola Cres, Wuse 904101
Contact number: +234 802 285 3845
Tulip Bistro is a nice restaurant in Abuja with a diverse menu. You can have your meal indoors or outdoors, viewing the city through the transparent glass. The café has the most relaxed atmosphere, and its décor is explicitly designed with family and friends in mind. It is also perfect for people who like trading stories.
6. The Secret Garden
Physical address: 979 Ahmadu Bello Way, Wuse 904101
Contact number: +234 806 072 2177
The Secret Garden is among the good restaurants in Abuja and is loved by many. You can enjoy your favourite meal there while listening to great music. Their menu accommodates a lot of courses ranging from a quick lunch to an exclusive wine list that will fit your tastes, among other tasty foods.
7. The Pasha
Physical address: 11 Cassandra Crescent, off Usuma St
Contact number: +234 807 766 7766
Many highly recommend The Pasha because of its broad menu and beautiful indoor and outdoor seating. They offer outstanding delectable selections of grilled meat that usually go along with a full buffet to choose from.
There is a set price per person, which is reasonable given the quality. Their surroundings are incredible and will provide a great experience as you enjoy delicious meals for whatever occasion you celebrate, such as an anniversary, graduation, or birthday.
8. Lagos Bistro
Physical address: 7 Humbori Street, Adetokunbo Ademola Cres, Wuse 2
Contact number: +234 704 380 0000
Lagos Bistro provides interaction as well as a more private experience. In this quiet setting, appropriate foods and beverages can be thoroughly enjoyed. The café's professional chefs ensure that you are served imaginative, carefully prepared, and presented dishes worldwide. It is ideal for birthday celebrations and romantic dates.
9. Kapadoccia Restaurant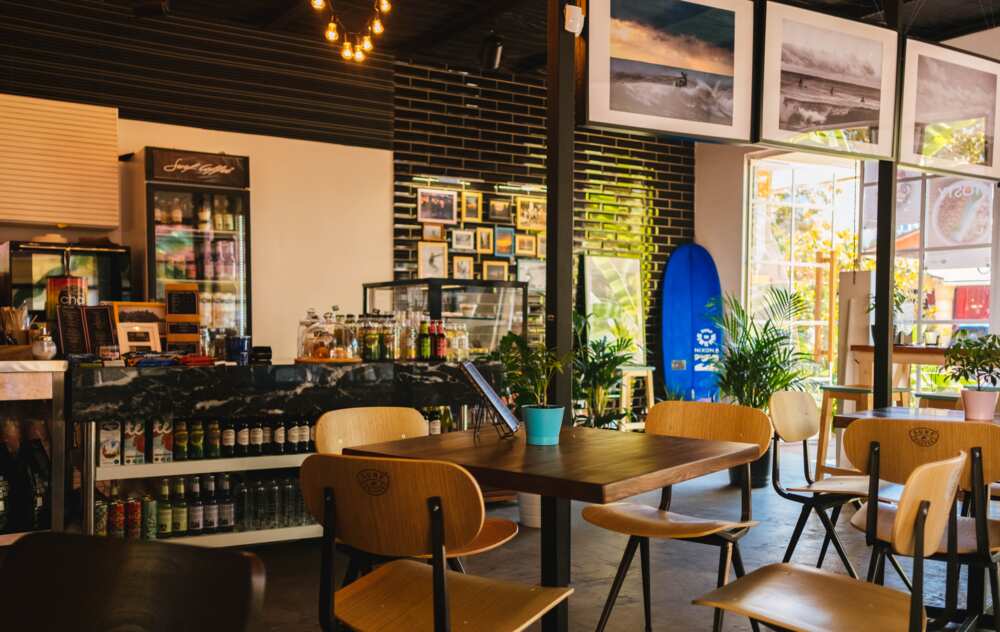 Physical address: 2 Kinda street, Wuse 2 900288
Contact number: +234 802 061 5379
Kapadoccia Restaurant is a cave restaurant perfect for exotic meals and romantic dates. The restaurant is warm with blue light that heightens your emotions, and they offer a reasonable price for soup, salads, pasta and various dishes.
10. The Vue Restaurant
Physical address: Novare Mall in Wuse
Contact number: +234 817 888 8812
The Vue Restaurant is a popular cafe in Abuja known for being the best Asian restaurant in the city. It offers sushi, teppanyaki and many other Asian meals. There is an outdoor terrace with sofas, palm trees and graffiti and an indoor location with warm, beautiful lights.
The best restaurants in Abuja have a wide selection of expertly prepared meals. They are clean, serve the best meals and offer great services. The list above can help you if you are currently in the city and are asking what the top eateries are.
READ ALSO: Best rapper in Nigeria: top 10 artists that have earned recognition
Legit.ng recently published about the best rappers in Nigeria. Nigeria has produced some of Africa's most talented musicians, many of whom have achieved international acclaim. Some of the country's music heavyweights have won prestigious music awards and performed at international music festivals.
Who is the best rapper in Nigeria? The Nigerian music industry is exploding with talented rappers, making determining who is at the top of the list difficult. This article discusses some rappers who have gained fame in the entertainment industry due to their rap abilities.
Source: Legit.ng