75+ meaningful father-son quotes about that unbreakable bond
A father is the first superhero to a child, more so a son. A father-son bond is always unique. Often, fathers wear many hats; they may act as their son's friends, guides, cheerleaders, and mentors. The son also inherits not only his father's genes but also his values; he always wants to make his father proud. Therefore, father-son quotes are great to celebrate their unbreakable bond.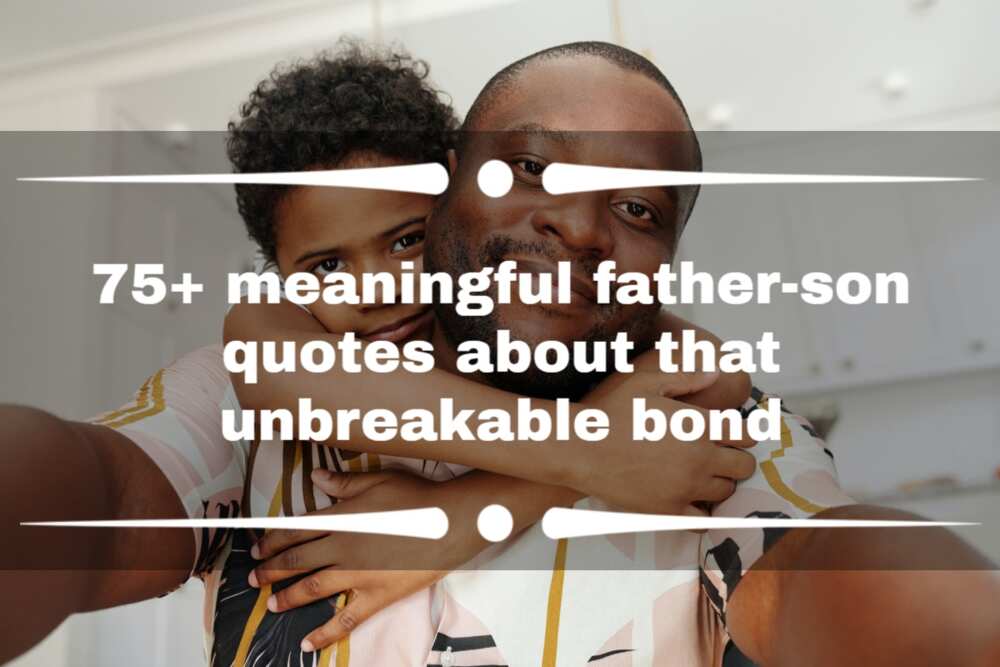 A father-son's relationship is irreplaceable as they influence each other in life. Both father and son may influence each other's personalities and be a source of joy to each other. It is hard to express this relationship in words, but father-son quotes always comes in handy. You can share these quotes on National Sons Day or Father's Day to celebrate this bond.
Best father and son quotes
One of the strongest bonds in a family is that of the father and son bond. Here is a list of quotes to appreciate the father and son relationship.
Like father, like son; every good tree makes good fruits.
A son may outgrow a father's lap but never outgrow his heart.
When you teach your son, you teach your son's son. — The Talmud
If the relationship of father to son could be reduced to biology, the whole earth would blaze with the glory of fathers and sons. — James A. Baldwin
Every father should remember that one day his son will follow his example instead of his advice.
If the past cannot teach the present, and the father cannot teach the son, then history need not have bothered to go on, and the world has wasted a great deal of time. — Russell Hoban
Father and son relationships can be complicated—mine certainly is. Love. Hate. Respect. Fear. Worship. Disdain. Pride. Disappointment. Happiness. Anger. Joy. Sadness. The list goes on. — John H. Clark III
Boys do not ache for their father's masculinity. They ache for their fathers' hearts. — T. Real
When your son grows up, become his brother.
Nothing is dearer to an ageing father than his son.
Sons always identify fathers as their greatest heroes, while fathers always look at sons as their biggest accomplishments.
No love is greater than that of a father for his son. — Dan Brown
Every son's first superhero is his father, and it was the same for me. For me, he was Superman and Batman combined. — Tiger Shroff
A son does not pass judgment on his father, but he is his father's conscience.
Inspirational father-son quotes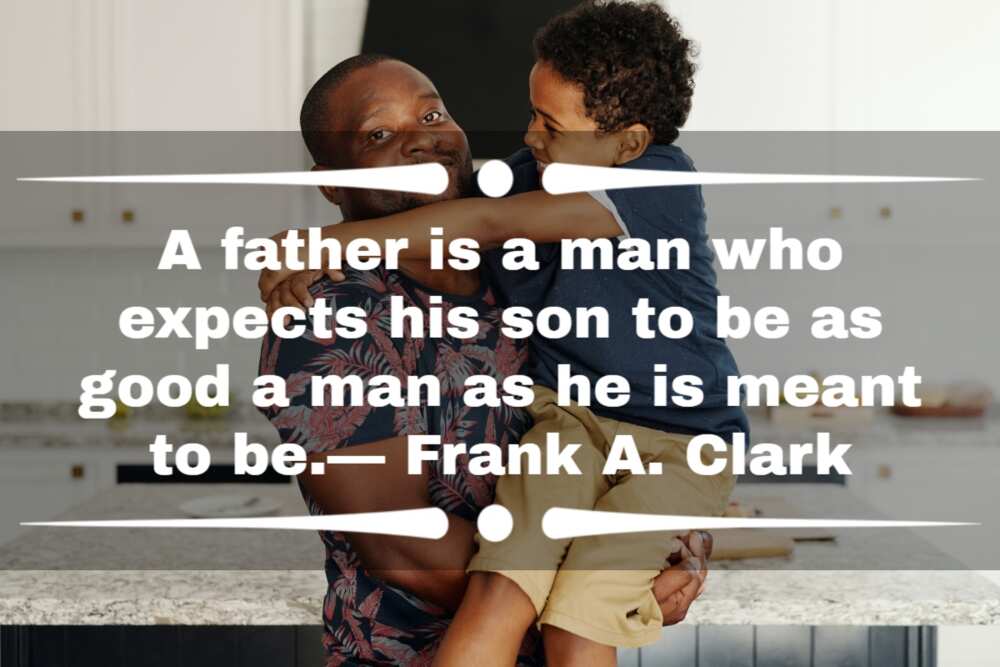 The special bond between fathers and sons is inspiring from when the boy is born to when he becomes a father. Boys revere their fathers just like superheroes. Below are inspiring quotes about a father-son relationship.
Being a father means a lot of things, but most importantly, it means being a good role model for your son.
Don't wait to make your son a great man — make him a great boy.
If you want a son to grow up into a man you can be proud of, be a man he can be proud of.
Every father should remember one day, his son will follow his example, not his advice. — Charles F. Kettering
By the time a man realizes that maybe his father was right, he usually has a son who thinks he's wrong. — Charles Wadsworth
Never fret for an only son; the idea of failure will never occur to him. — George Bernard Shaw
A father loves completely, gives quietly, teaches gently, and inspires deeply.
You will never know what that means until you have a son of your own. You will never know the joy beyond joy, the love beyond feeling that resonates in a father's heart as he looks upon his son. — Kent Nerburn
Life doesn't come with an instruction book—that's why we have fathers. — H. Jackson Browne
If you are going to help your son, you first need to show support and appreciation for the person he is so that you can build that person up. — Clayton Lesser
One of the greatest gifts you can give your teenage boy is the gift of letting him know you get it. You've been there. — Sebastian R. Jones
Every son quotes his father in words and in deeds. — Terri Guillemets
A son needs his father in every situation he faces present, and a father needs his son in every situation he faces for his son in past. — Nishan Panwar
It was my father who taught me to value myself. He told me that I was uncommonly beautiful and that I was the most precious thing in his life. — Dawn French
Father to son quotes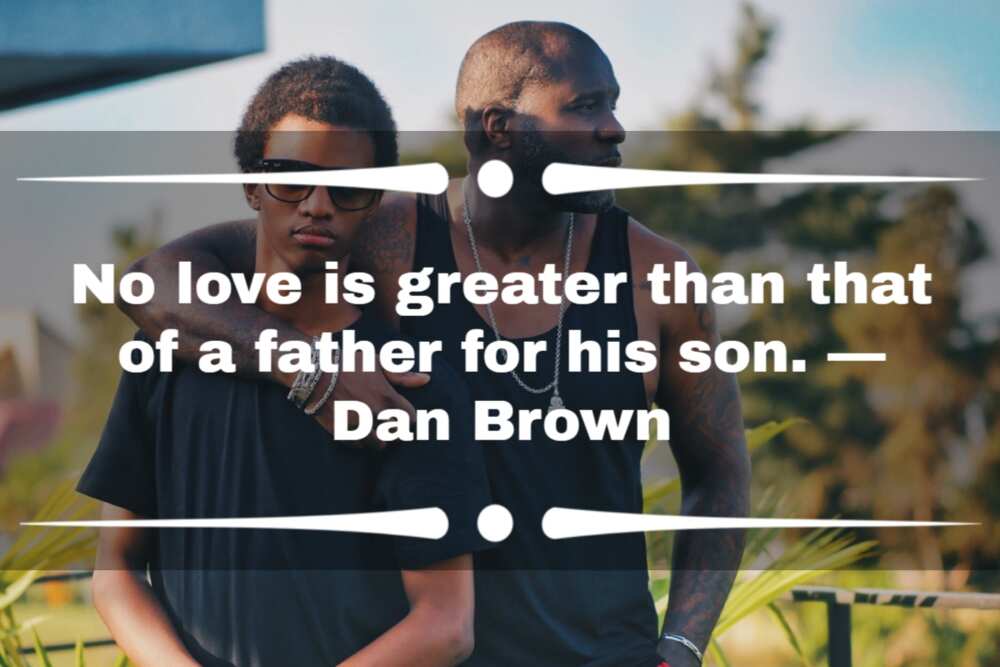 Fathers and sons should tell each other what they mean to each other, although they don't like using words. Here are touching father quotes to son to make him feel appreciated and inspired.
I will be right behind you, son. I will always be near. I'll follow where you want to go. You have nothing to fear.
At the g*mbling table, there are no fathers and sons.
Join me, and together we can rule the galaxy as father and son. — George Lucas
My wild, wild son, run free. Ooh, you'll know it when you're where you're supposed to be. — Armin van Buren
If you need me, just call out to me, and I will be there. Dad.
I would want my legacy to be that I was a great son, father, and friend. — Dante Hall
I'm so proud of you; it makes me proud of myself.
To my son, never forget that I love you. Life is filled with hard times and good times. Learn from everything you can. Be the man I know you can be.
A dad will always need his son, no matter how old he is.
From the first time the doctor placed you in my arms, I knew I'd meet death' fore I'd let you meet harm. Although questions arose in my mind, would I be man enough? — Will Smith
Meaningful emotional father and son quotes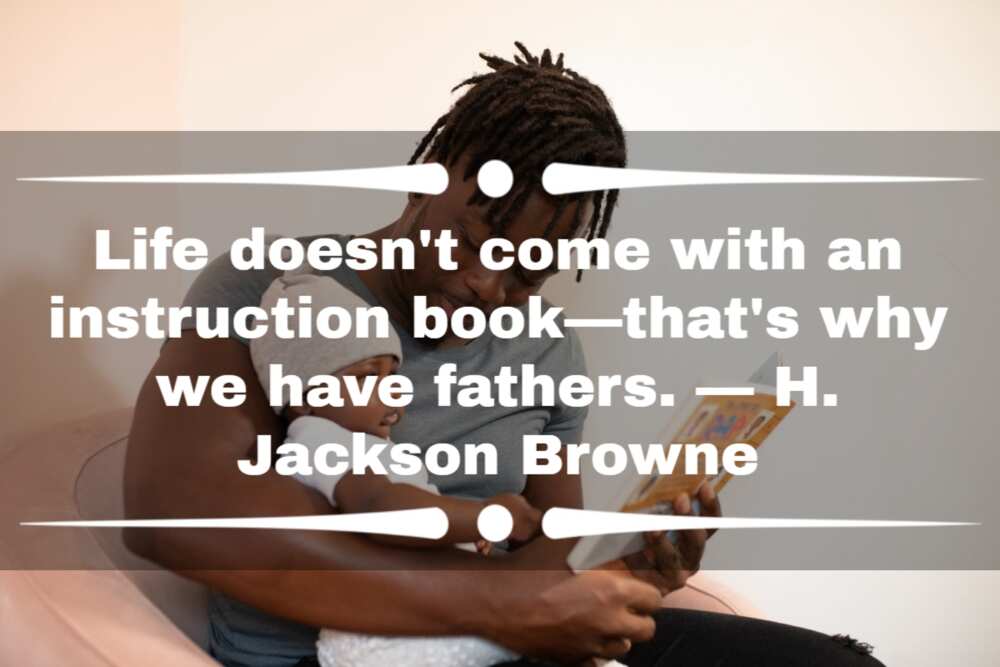 The expression of love between a father and a son can be emotional, even though most men do not like showing their emotions. Here are quotes that convey meaningful emotional love between fathers and little boys..
When a father gives to his son, both laugh. When a son gives to his father, both cry. — William Shakespeare
It is not flesh and blood but the heart which makes us fathers and sons. — Friedrich Schiller
You don't raise heroes; you raise sons. And if you treat them like sons, they'll turn out to be heroes, even if it's just in your own eyes. — Walter M. Schirra, Sr.
As a father, you want the best for your son. You want to create the best memories for your son.- Bill Goldberg
The fact that my relationship with my son is so good makes me forgiving of my father and also appreciative. — Anthony Kiedis
For thousands of years, father and son have stretched wistful hands across the canyon of time. — Alan Valentine
It's a father's duty to give his sons a fine chance. — George Eliot
I am a family man, and my most important role is a father to my son. — Ed Skrein
A father is a man who expects his son to be as good a man as he is meant to be.— Frank A. Clark
A good father is one of the most unsung, unpraised, unnoticed, and yet one of the most valuable assets in our society. — Billy Graham
With sons and fathers, there's an inexplicable connection and imprint that your father leaves on you.— Brad Pitt
A father is neither an anchor to hold us back nor a sail to take us there but a guiding light whose love shows us the way.
What a father means to his son growing up will become what a son means to his father growing old.
Sons have always a rebellious wish to be disillusioned by that which charmed their fathers.— Aldous Huxley
A man's desire for a son is usually nothing but the wish to duplicate himself in order that such a remarkable pattern may not be lost to the world. — Helen Rowland
Don't wait until your son is a man to make him great; make him great as a boy.
You can tell what was the best year of your father's life because they seem to freeze that clothing style and ride it out.— Jerry Seinfeld
Dad and son quotes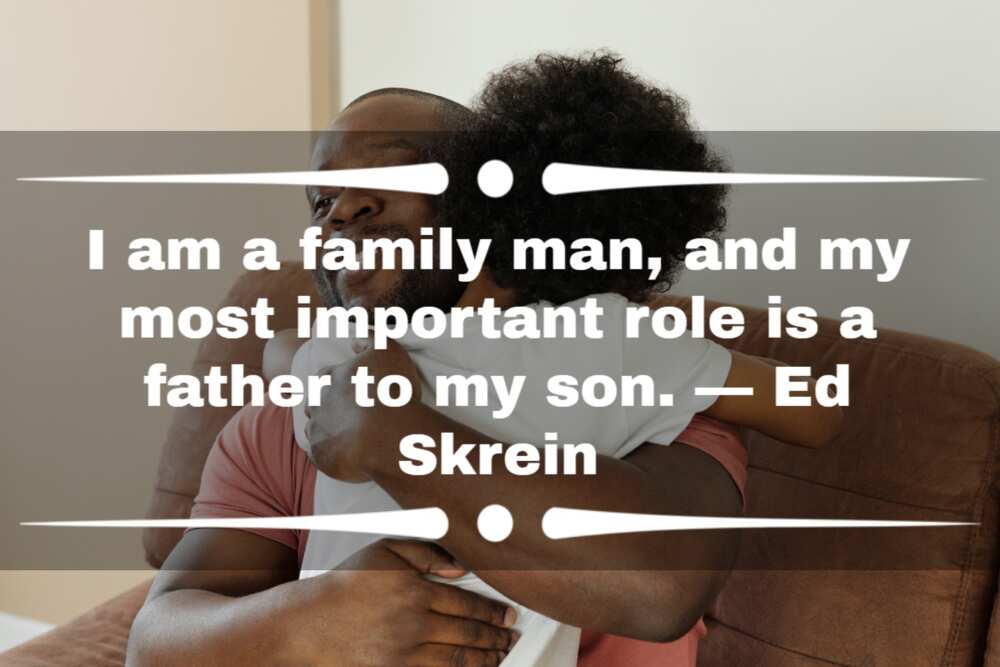 It takes a remarkable man to be a dad to his children, which means he is always there for them. A great dad is usually connected to his sons emotionally and physically. Here are amazing dad and son quotes to celebrate this connection.
The greatest gift I ever had, came from God; I call him dad.
No matter how tall a son grows, he will always look up to his dad.
Anyone can be a father. It takes someone special to be a dad, and that's why I call you dad because you are so special to me. You taught me the game, and you taught me how to play it right. — Wade Boggs
Dads share wisdom with their children in the hopes they spread it throughout the world.
Becoming a dad means you must be a role model for your son and someone he can look up to.— Wayne Rooney
A dad is someone who holds you when you cry, scolds you when you break the rules, shines with pride when you succeed, and has faith in you even when you fail.
My dad taught me everything I know. Unfortunately, he didn't teach me everything he knows. —Al Unser
Dads and sons are two sides of the same coin. They complement each other in ways only fate understands.
Becoming a dad is one thing—being a dad is many things.— Steve Champman
Dads are the most ordinary men turned by love into heroes, adventurers, storytellers, and singers of song.
The older a man gets, the more he values what his dad gave him.
Daddies don't just love their children every now and then. It's a love without end. — George Strait
Father and son bonding quotes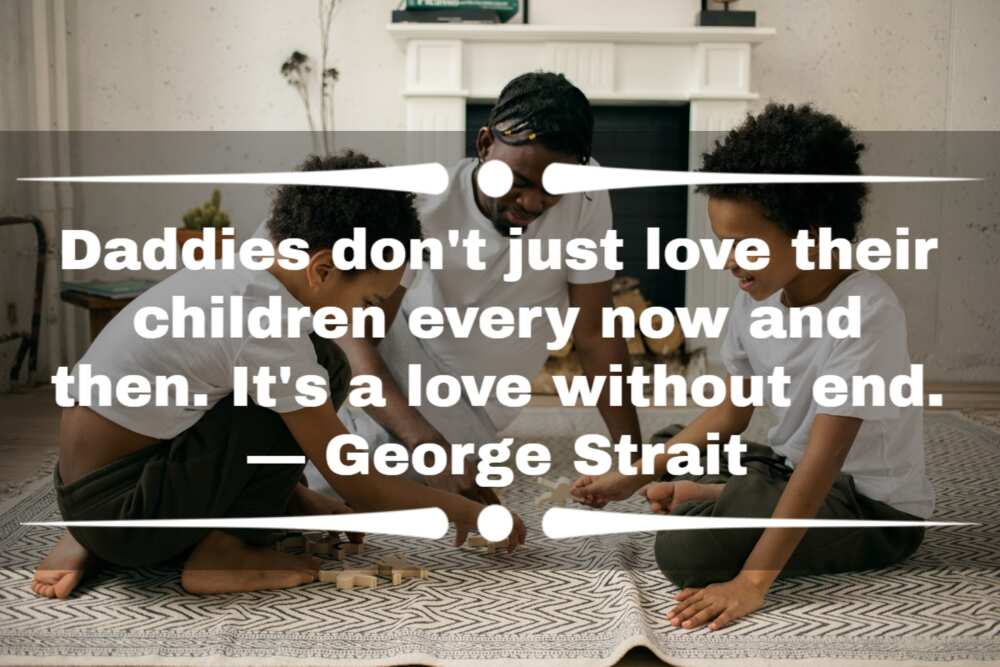 A son and father usually bond more through actions and fewer words. Here are the best father and son bonding quotes you can share to express your feelings about the unique father-son relationship.
A father and son bond is a true friendship no one can ever break.
Being a father means you have to think fast on your feet. You must be judicious, wise, brave, tender, and willing to wear a frilly hat and sit at a pretend tea party.— Matthew Buckley
Every dad, if he takes time out of his busy life to reflect upon his fatherhood, can learn ways to become an even better dad. —Jack Baker
A father and a son will always bond over sports, their love of food, and most importantly, their family!
No matter how old you get, as long as you have your son, you have your best friend.
My father didn't tell me how to live; he lived and let me watch him do it.— Clarence B. Kelland
The son can do nothing by himself; he can do only what he sees his father doing because whatever the father does, the son also does.
There is no greater bond than the one between a father and a son — strong, unyielding, everlasting!
The father who does not teach his son his duties is equally guilty with the son who neglects them. — Confucius
One of the best relationships in a family setting is between a father and a son. They understand each other well and enjoy learning from each other. The above father-son quotes reflect a unique way of sharing love between these family members.
READ ALSO: 53 grandson quotes for grandparents to express how proud they are
Legit.ng recently published an article about grandson quotes. One of the proudest moments of grandparents is the moments they share with their grandkids. They adore and cherish them both in words and deeds.
Grandsons are the pride of grandparents. They are a reminder of the good old days and the continuity of a generation. To put your love into words, send your grandson these grandson quotes and show them how much they mean to you.
Source: Legit.ng