Happy National Sons Day: best quotes, messages and wishes
Every year on March 4th and September 28th, National Sons Day is observed. This is a day to honour and celebrate the wonderful sons in your lives. It's a wonderful opportunity to show your son how much you value and love him. On this special day, do something out of the ordinary and create lasting memories with your son! You can send them happy National Sons Day quotes and greetings.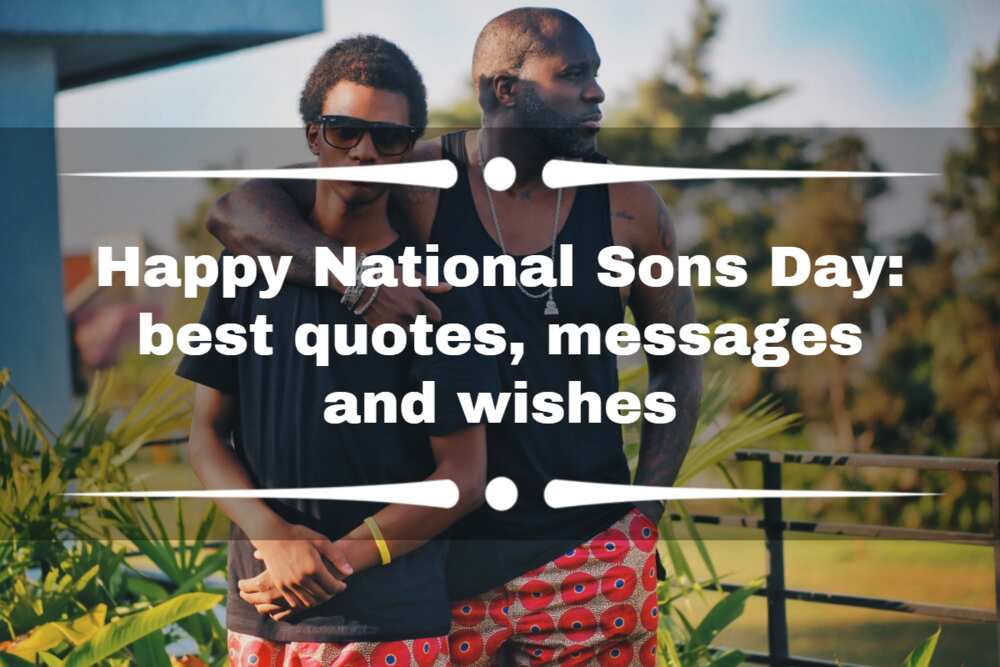 Celebrating happy National Sons Day is an important way to recognize and honour the special bond between a parent and their little boys. It is a day to show appreciation for all the joy, laughter, and love your son brings to your life.
Adorable happy National Sons Day quotes
Use this special day to express your gratitude for all your son gives to you and the world around him. Celebrating this day will remind your child of your love and support and remind him that he is appreciated and valued.
I love my son with all my heart. Forever and always.
Son, you may outgrow my lap, but never my heart.
The most important mark I will leave on this world is my son.
Giving your little boy a skill is better than giving him one thousand pieces of gold.
I know you must walk your path, but let my love be the light to guide you.
No matter how much I tell my son I love him, I always love him more than that.
Sometimes when I need a miracle, I look into my son's eyes and realize I've already created one.
Wishing a very happy National Sons Day to you. This day reminds us that raising our sons right is one of the biggest responsibilities on our shoulders.
When times are tough, when your friends turn against you, and your luck seems to run out, remember that I am always a phone call away.
It's a beautiful thing to see another adult out there in the world with my heart beating inside of them.
I am the happiest man at present since my child arrived on this earth, and I thank God for this! Happy National Son's Day.
May Lord protects you from all evils and adversities in life, and may you lead a healthy life as and always. Happy National Son's Day
Every mother hopes that her daughter will marry a better man than she did, and is convinced that her son will never find a wife as good as his father did. – Martin Andersen-Nexo
My love for you could circle the globe countless times, and when the globe is covered, my love could circle the galaxy forever, moving on.
National Sons Day message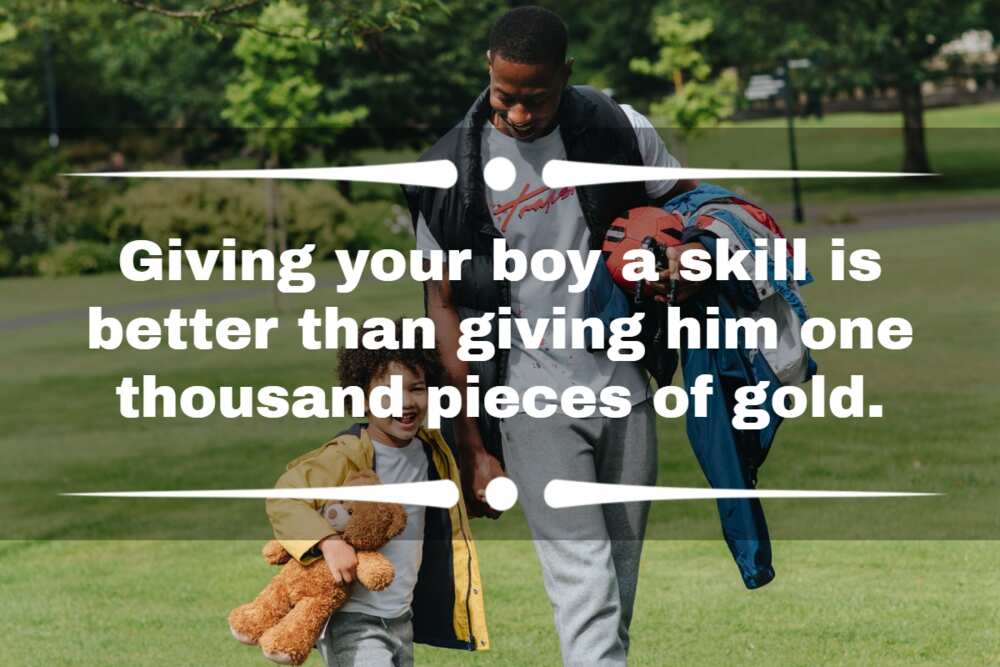 Celebrating happy National Sons Day is a beautiful way to strengthen the bond between a parent and a son. Below are messages you can share with your boys to make them feel appreciated.
My child is super awesome, and I am lucky because I get to be his mother.
From the moment they put you in my arms, it became my life's work to keep you from harm.
I see the best parts of myself reflected in you, but you've made all those qualities even better.
You may wonder sometimes why I do what I do. Just remember, my child, my every thought is for you.
When we are raising our boys, we are not just raising them, but we are also raising their coming generations. Warm greetings on National Sons Day.
Every day is a new day. Some days we laugh, others we cry, but you have blessed my life like I could have never imagined. Happy National Sons Day!
You don't raise heroes; you raise sons. And if you treat them like sons, they'll turn out to be heroes, even if it's just in your own eyes. – Wally Schirra
Be strong out there, my boy. Look for the love and kindness in others. Forgive yourself when you make mistakes, and enjoy the journey. – Kirsten Wreggitt
I pray for the health of my child and also for his wisdom every single day. May he develop into a sensible and wise man. Happy National Son's Day.
My boy happens to be awesome, and I happen to be the lucky father because I am his father, Happy National Son's Day.
My child helps to encourage me in my each day actions and occurs to be the beat of my coronary heart. Happy National Sons Day
Mothers all want their sons to grow up to be president, but they don't want them to become politicians in the process. – John F. Kennedy
Your son will open your eyes, broaden your knowledge, and help your sense of humour. – Michael Thompson
What to write for National Sons Day
National Sons Day allows parents to spend quality time with their sons. If you're stuck on what to say on this day, here are some simple yet adorable National Sons Day quotes to get you started.
There is no love more deep and true than the love I give to you.
I may have given my son the gift of life, but he gave me a reason to live.
You have been a blessing from the start; I love you, my son, with all my heart.
An enduring tenderness in a mother's love for a son transcends all other affections of the heart.
To my child, what an honour it has been to raise you! I am so proud of the man you have become.
I love my son. No matter where he goes in life, he will forever be on my mind and in my heart.
Happy is the son whose faith in his mother remains unchallenged. – Louisa May Alcott
It is not flesh and blood but the heart which makes us fathers and sons. – Friedrich von Schiller
You deserve the best I have to give, and that's my undying love as long as you shall live.
My son will never have to wonder where to go for a hug, love, or support. I will always be there for him, no matter how old he is.
I just love these little humans. They steal our hearts, and there is nothing we can do about it. Just beautiful. Happy National Sons Day!
If we all could see the world through the eyes of a child, we would see the magic in everything! Happy National Sons Day!
There are no words to describe how deeply I adore you. I love you because you are you; it's that simple.
You may no longer be small or require my assistance for everything, but you will always require love from my heart, especially when we are apart.
They say one plus one equals two, and two plus two equals three, but through love, our one plus one equals you, and two plus two equals us.
Cute happy sons day quotes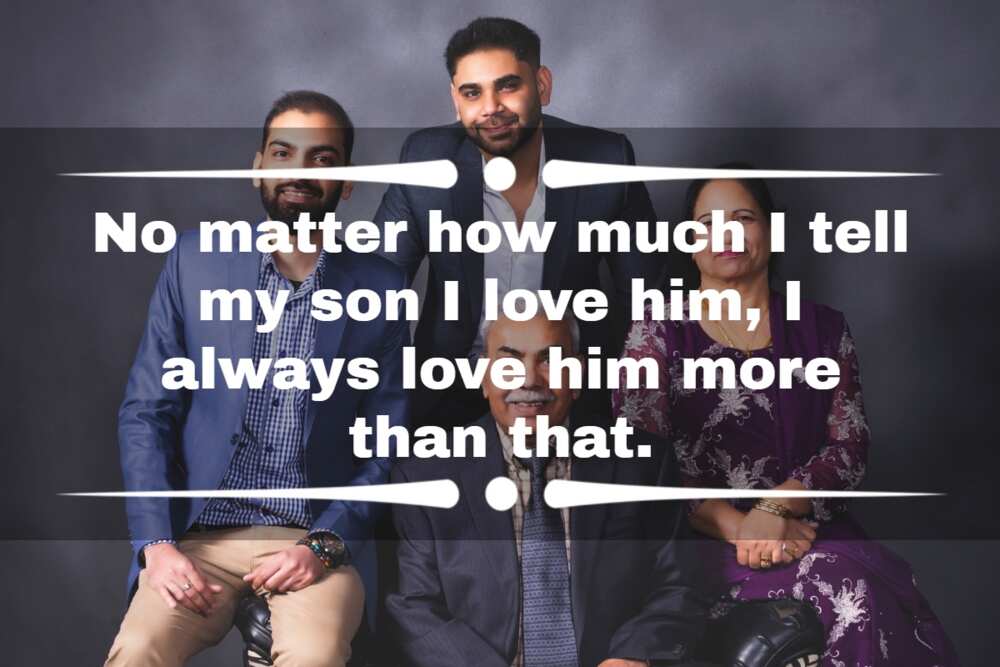 Sons are frequently a source of pride and joy for their parents, who may adore and admire their children. Here are some quotes to help you find the right words to express your feelings for your child.
My love always speaks to your heart as a long-lost counterpart.
You are ours. We are yours. From the moon to the stars, our love lasts as long as the wind soars.
My son is so much more than I could ever have imagined. Every day he makes my world better.
Always my son, forever my friend. My boy will always be the miracle that makes my life complete. Happy Sons' Day.
Your love discovered parts of me I never knew were there, and now my heart is open wide to love, completely exposed and bare.
There is so much you can give your child and teach him that he will take forward as a legacy. Happy National Sons Day.
You are the best thing to ever happen to me and have saved me in so many ways that you will not yet understand until you have a son.
Dear child, it's not your birthday, and I know it is quite alright, but I just want to take a few minutes to appreciate you for being a great son. You have constantly made me a happy father. Happy National Sons Day.
My son is the best gift I have ever received. He is the sunshine in my day. The joy in my soul. And the love of my life. I love you, my boy.
Never lose your kindness and compassion. In this cruel world, we need more nice guys like you! Keep doing us proud. Happy National Sons Day
Wishing a very happy National Sons Day to all. Sons are like a blessing and we must always be thankful that we have been blessed with such adorable kids.
When is National Sons Day?
National Sons Day is observed on March 4th and September 28th. This day is observed to emphasize the importance of properly raising sons and celebrating their development.
Parents and their sons share a special and unique bond, with parents offering them love, support, and guidance as they grow. Whether your adoring son is a helpless baby boy or a fully grown man, these happy National Sons Day quotes will make him feel extra special.
READ ALSO: 100+ ride or die quotes for your best friend or significant other
Legit.ng recently published an article with 100+ ride or die quotes for your best friend or significant other. Loyalty is rare, and finding someone who will always be there for you is the greatest blessing.
This devoted companion could be a partner, a friend, or a family member. Knowing they will always have your back will boost your confidence. And ride or die quotes will strengthen your bond even further.
Source: Legit.ng