53 things to do with your boyfriend: fun ways to spend time together
Relationships can get boring if couples don't take the time to do fun things together. Spicing up the relationship doesn't need to be complicated, and it is the simple things that count. Women are now often taking charge when it comes to doing things in a relationship, unlike before when the men took the lead. These are things to do with your boyfriend to make your relationship feel new and fresh.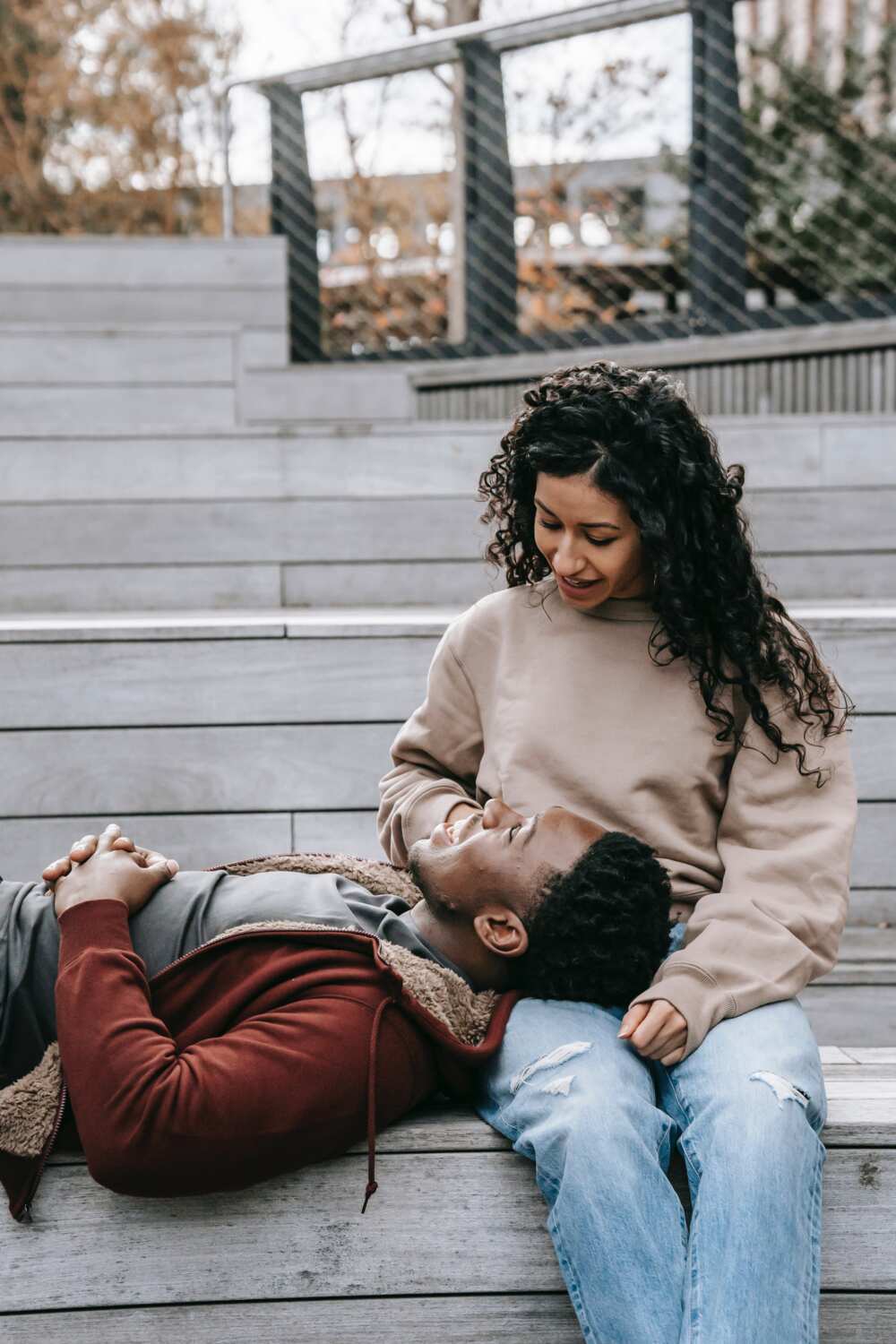 The couples that last are the ones that make an effort to work on their relationship. Spending time together is one way to cultivate a romance that lasts. As a woman, you must find exciting things to do with your man to keep the fire burning.
53 things to do with your boyfriend
If your love language is quality time, spending time with your man is vital. You don't have to wait for him to plan things; you can take the wheel. Below are fun activities you can do with your boyfriend.
1. Picnic
When the weather allows, one of the things a couple can do together is to go out on a picnic date. This is fun and adventurous, and will give your relationship a new dimension.
2. Volunteer
If you are wondering what to do with your boyfriend, volunteering in a cause you both believe in is a good choice. Taking part in community activities is fun and meaningful as you get to pay it forward.
3. Painting
Attending a painting class is one of the most interactive dates you can go on with your boyfriend. You can bring out your artistic skills on this date, and you get to keep the paintings.
4. Board game date
One of the fun activities that you can enjoy with your boyfriend is playing board games. These games can get competitive, giving you and your boyfriend something to bond.
5. Camping
One of the wildest things to do with your boyfriend is to wander out and explore the wonders of nature. You can watch the stars as you listen to the wild sounds of nature.
6. Play video games
While going on dates is fun, sometimes you want to chill at home. If you and your boyfriend are avid video game fans, try this as a date.
7. Visit a psychic for a reading session
This is arguably one of the most spontaneous things to do with your boyfriend. It is exciting and fun as you listen to whatever the psychic may come up with, whether you believe it or not.
8. Attend a cooking class together
There is always something to learn when it comes to cooking. Learning a new special recipe together gives both of you a chance to engage in something worthwhile.
9. Go on a road trip
One of the random things to do with your boyfriend is going on a spontaneous road trip. It is more exciting if you leave on the same day you came up with the idea, but planning never hurt anyone either.
10. Bowling
Bowling is a casual date that works for couples who love challenging each other. Both of you will be taking a shot at each other.
11. Get matching tattoos
If you are a risk taker, you can take your boyfriend to a tattoo shop where you can both get designs that means something. Ensure you both are into the ideas to avoid regrets in future.
12. Escape room
What better way to be romantic with your boyfriend than being locked in a room together? This trendy date will test your skills as a power couple, as it involves solving riddles and clues.
13. Beach date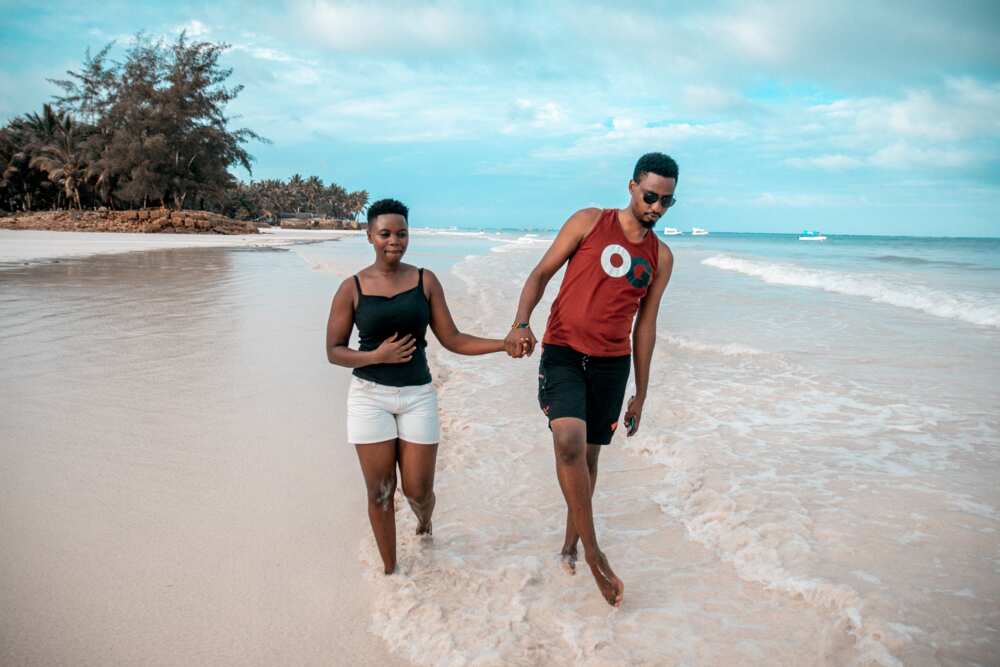 The beach has always been the most romantic place to visit with your boyfriend. Fun activities to do here include swimming, paddle boarding, kayaking or just simply walking by the water.
14. Amusement park trip
Amusement parks are excellent for your first date as they give you a chance for closeness and intimacy. The entertaining games in these parks are guaranteed fun and adventure.
15. Fire pit night date
No rule says you have to go somewhere to enjoy a date. One of the things for couples to do at home when bored has a fire pit date in their backyard. Roast some marshmallows and take your favourite drink while snuggling under a blanket.
16. Staycation
Taking a staycation at a nearby Airbnb (or even at home) is a romantic way to spice things up in your relationship. Just relax and enjoy each other.
17. Try new food
Try adding something new to your relationship by trying out a new cuisine or restaurant together. It can be a lunch or dinner date in or out of town.
18. Visit a farm
Visiting a farm near your area and picking up fruits, berries and veggies is a great outdoor activity with your partner. This activity will give you ample time together as you explore and taste fresh produce.
19. Vacation
Going on a vacation tops the list of things to do with your BF. Google the best destinations that you can afford and activities you can enjoy.
20. Town tour
You might need to learn more about your town, so this could be a good activity for you and your boyfriend. Explore the town and rediscover your roots.
21. Boat riding
Renting a rowboat, jet ski, or paddleboat is among the spontaneous things to do with your boyfriend. Sail away on the water for the day together and enjoy the sunset.
22. Attend a car show
If you have a boyfriend who is passionate about cars, visit the car show and let him take you through the vehicle. For most guys, talking about terrific and vintage cars will bring out the superhero in them.
23. Compile a playlist
Romance and music go hand in hand, and making a playlist for your relationship is a great way to bond. Choose songs that mean something to both of you and fit your love story.
24. Horse riding
Horseback riding is one of the most romantic adventures a couple can do together. Romp together through the wilderness and enjoy a kiss along the way.
25. Watch a movie in theatre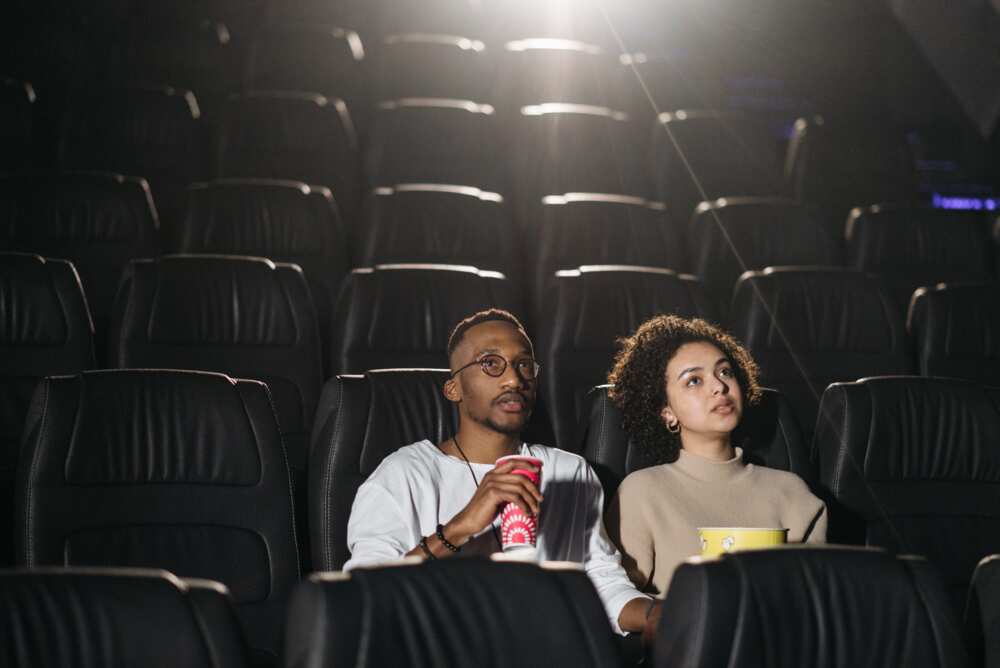 Going to a movie theatre with your boyfriend is among the top fun things you can do. Pick a movie you will both enjoy and discuss later.
26. Swim
Swimming is a great activity that works as a workout and as a good couple experience. Enjoying time together in the water is relaxing and romantic at the same time.
27. Snorkel with the dolphins
Playing with the dolphins is one of the best bucket list ideas for couples. This is once in a lifetime adventure with beautiful creatures both of you will remember.
28. Go canoeing
Canoeing is an excellent activity if you live in a coastal city. You can also enjoy canoeing if there are rivers around and bond with your boyfriend.
29. Reminisce
Make an album of your photos together and reminisce on the good old days. Memories always evoke great emotions that can strengthen your bond.
30. Dance
Dance is engaging and romantic. You can hit the club, play your favourite hits at home, and wear your dancing shoes.
31. Play golf
Golfing is one of the best social games, which can also apply to couples. Whether it's a full-on golf course or mini golf, you and your boyfriend should not miss out.
32. Take a scenic bike ride
Taking a scenic bike ride with your better half is one of the popular couple things that can act as a workout and a fun date. You can ride along a beautiful view or even around the city and enjoy the outdoors.
33. Scavenger hunt
Spice up your relationship by playing the scavenger hunt game with your beau. It is engaging and will have your adrenaline rush up.
34. Attend a concert
Going to a concert is one of the best hangouts you can go to with your man. Regardless of the band playing, you'll end up dancing and having fun.
35. Go for a walk
There's just something about taking a long walk and exploring new spots. You get to bond and create memories with your partner.
36. Play ping-pong
Ping pong is exciting, and the rules are the most exciting part. You can be risky by setting a rule that the loser slaves for the winner for the day.
37. Organize a trivia night
If you do not like dinners and outdoor activities, a trivia night with your boyfriend is for you. You can do online trivia games for couples, as a bit of competition in a relationship is healthy.
38. Go to the park
A common belief is that parks are for kids, which is untrue. You and your boyfriend can enjoy the park together. You can even set up a romantic picnic there.
39. Do a photoshoot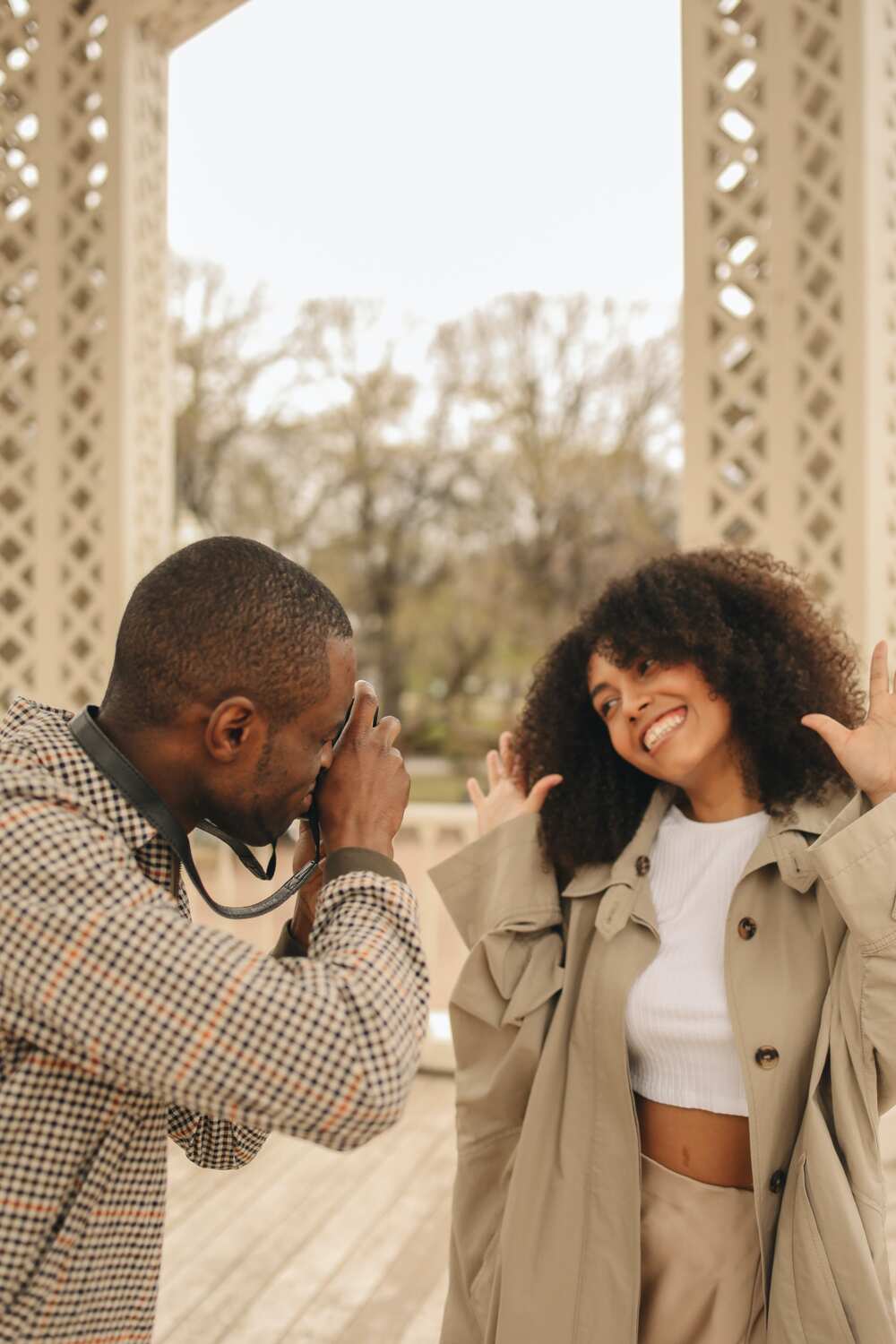 A photoshoot is a fun activity where you and your boyfriend can take cute photos. The best thing about a photo shoot is you get to keep the memories in an album or frame.
40. Spa day
The spa is a great place to relax, and what better way to relax than with your sweetheart? You will get to spice up your relationship and de-stress simultaneously.
41. Karaoke
One of the best ways to test your vocal cords is by singing karaoke with your man. If you are extroverted, you can challenge each other to a battle. Maybe even serenade him on that stage.
42. Visit the museum
If you haven't toured your local museums, there is much to learn. Let your boyfriend join you in exploring science, culture, history and art.
43. Netflix and chill
Hanging with your boyfriend can be as simple as watching Netflix in the house. Get the popcorn and your favourite beverages, and enjoy the night.
44. Listen to a podcast
If you love listening to podcasts, you can snuggle with your partner on the couch listening to your favourite podcast. An audiobook is a good option as well.
45. Fishing
Fishing can be a fun activity to do with your partner if either of you is a fan. You get to hang out as you throw in the bait for a catch.
46. Wine tasting
You can try a wine-tasting session if you and your man enjoy good wine. Whether it's a local winery or a country grapevine, this is definitely a romantic date.
47. Candlelit dinner
Going to a candlelit dinner is one of the oldest and most popular hangouts couples engage in. On this one, you can dress up and go to a fine restaurant near you.
48. Cuddle away
Cuddling with your boyfriend is a great way to bond without leaving the house. Snuggling and listening to each other's heartbeat will stir emotions and elevate intimacy.
49. Take a love test online
Whether you are together or in a long-distance relationship, this is a great activity. The test is done online, and it can help deepen your connection.
50. Get tickets for a comedy show
Nothing brings a couple together like laughter. Buy tickets for your favourite comedy show and enjoy the laugh with your boyfriend.
51. Visit a bookstore or library
If you love reading, take him to a local library or bookstore and sample books. Read to each other your favourite passage from your best author.
52. Try archery
Like Cupid, you and your man can try your hand at archery. Who knows, you might hit it off!
53. Coffee date
Visiting the coffee shop occasionally is a great way to reconnect as you enjoy the best coffee. You can cosy up in a corner with your boyfriend as you whisper sweet words.
For love to succeed, all parties involved must work on it. Women are often taking the front seat when spicing up the relationship. If you are wondering what fun things to do with your boyfriend, the list above is for you.
READ ALSO: How to chat with a girl you like? Useful tips to impress her
Legit.ng recently published an article about how to chat with a girl you like. Having a conversation with someone you're into can be challenging if you are the shy type. Here are some useful tips on how to keep the conversation going.
Women are generally good communicators, and as a man, it is essential to be able to converse with someone you like. You can introduce topics that both of you will enjoy so you don't get bored. Topics like movies, books, celebrities and politics are great icebreakers. Later you can introduce deeper topics as you get to know her.
Source: Legit.ng