MrBeast's girlfriend timeline: who has the YouTuber dated?
Jimmy Donaldson, famously known as MrBeast, is a YouTuber, philanthropist and social media influencer from the United States of America. The YouTuber has amassed an extensive following across social media platforms. He was named Creator of the Year at the 2020, 2021, and 2022 Streamy Awards. Apart from his fame and career success, his fans have been curious about his dating life. Who is Mr Beast's girlfriend?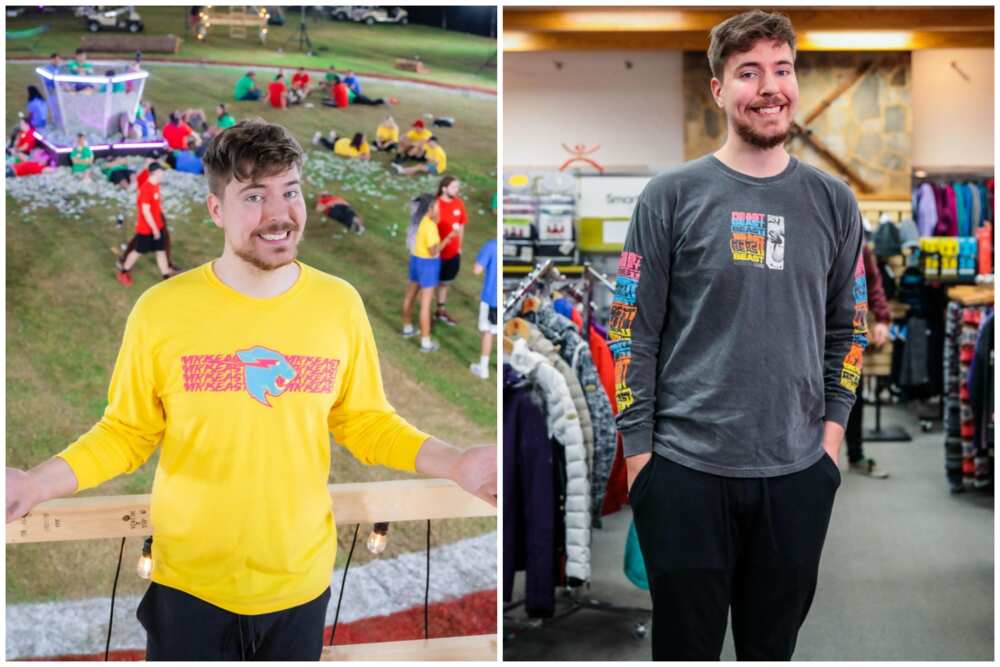 MrBeast was born in Wichita, Kansas, United States of America. He created his main YouTube channel in 2012, where he uploaded random videos. His YouTube is presently the among the most-watched YouTube channels globally. He is also a philanthropist known for supporting various charities. Often, he does not share much about his private life, resulting to many fans asking endless questions regarding his love life.
Profile summary
| | |
| --- | --- |
| Full name | Jimmy Donaldson |
| Famous as | MrBeast |
| Gender | Male |
| Date of birth | 7 May 1998 |
| Age | 24 years (as of 2023) |
| Zodiac sign | Taurus |
| Place of birth | Wichita, Kansas, United States of America |
| Current residence | Greenville, North Carolina, United States of America |
| Nationality | American |
| Ethnicity | White |
| Religion | Christianity |
| Sexuality | Straight |
| Height in feet | 6'3'' |
| Height in centimetres | 191 |
| Weight in pounds | 154 |
| Weight in kilograms | 70 |
| Hair colour | Light brown |
| Eye colour | Green |
| Siblings | 1 |
| Relationship status | In a relationship |
| Partner | Thea Booysen |
| School | Greenville Christian Academy |
| College | East Carolina University |
| Profession | Social media influencer, philanthropist |
| YouTube | MrBeast, MrBeast Gaming, Beast Philanthropy, Beast Reacts, MrBeast 2 |
| Instagram | @mrbeast |
| TikTok | @mrbeast |
| Twitter | @mrbeast |
| Facebook | @mrbeast6000 |
MrBeast's girlfriends' timeline
MrBeast has amassed an extensive fanbase on Instagram, TikTok and YouTube. His fame on social media has attracted attention to his personal life, and fans want to know who he has dated. Does MrBeast have a girlfriend? Yes, the American YouTuber is in a relationship with Thea Booysen. Here is what his dating life looks like.
Maddy Spidell
Maddy Spidell is an American dancer, stylist and social media influencer. She was born in Milwaukee, Wisconsin, United States of America. She started dancing at Young Dance Academy. She is famous on social media, with a massive following on Instagram and YouTube.
MrBeast dated Maddy Spidell for about three years. The two announced their relationship in June 2019. They have featured each another on their social media platforms.
Are MrBeast and Maddy still together?
No, they are not together. They ended their relationship in 2022 and never disclosed why they broke up. The two have never made an official announcement on social media concerning their break up.
Who is MrBeast's current GF?
Who is MrBeast dating? The YouTube content creator is dating Thea Booysen. She is a South African Twitch streamer, YouTube content creator and social media sensation. She plays League of Legends, The Witcher 3 and card games like Gwent. She is also an eSports caster and talented author known for The Marked Book.
How Did MrBeast meet Thea Booysen?
The YouTuber revealed, in a podcast, that he met his girlfriend in 2020 when he travelled to South Africa with his fellow content creators. He was going to Antarctica, and due to the COVID-19 pandemic at the Antarctic base, he had to stay for a few days in South Africa because the trip was postponed. He said he met his current girlfriend while having dinner with his friend.
After meeting Thea Booysen, he tested her to see if they were compatible because, according to the YouTuber, he doesn't get along with women if they lack certain traits. This is what he said in the podcast,
But I had to go through the test because I don't really get along with women if they don't love learning, they are not obsessive, they don't have a hobby…there are just certain things where if you have these traits, we get along really well…
Is MrBeast married?
No, the internet sensation is not married. He is in a relationship with Thea Booysen. The two started dating in September 2022. They are in a long-distance relationship because Thea Booysen is based in Cape Town. MrBeast regularly goes to visit her in South Africa.
FAQs
Who is MrBeast? He is an American YouTuber, philanthropist and social media influencer.
What is MrBeast's real name? His real name is Jimmy Donaldson.
Where is MrBeast from? He hails from Wichita, Kansas, United States of America.
Who is MrBeast's GF? Currently, he is in a relationship with Thea Booysen.
Is MrBeast's new girlfriend South African? Yes, she is a South African YouTuber, author, and internet sensation.
Are MrBeast and Thea Booysen still together? Yes, the two are still together.
MrBeast is an American YouTube content creator, social media influencer and philanthropist. The internet sensation has garnered immense fame across various social media platforms. MrBeast's girlfriend is Thea Booysen, and the two met in 2020 when he travelled to South Africa.
Legit.ng recently published an article about Jennette McCurdy's boyfriend's timeline. Jennette McCurdy is a writer, director and former actress from the United States of America. She is known for the television series The First Lady and Between.
The former actress is a singer known for her single, So Close. She has dated a few guys, and some of them were speculations. Some men she has allegedly dated include Graham Patrick Martin, Max Ehrich, Andre Drummond and Jesse Carere.
Source: Legit.ng