Nosa - Na Your Way ft. Mairo Ese: video, lyrics, reactions
Looking for a spirit-filled tune to start your morning? Well, the latest track by Nosa - Na Your Way will get you right where you want to be with the Lord. He sings so passionately and emotionally that you will be convinced about worshipping the most high. This is a lead single off the artist's upcoming worship album.
Nosa's worship tune is one of those touchy gospel songs that will make you feel connected to your saviour. He seems to be singing from the depth of his soul as the words come out subtly yet so powerfully. Acknowledging that God's way still remains, Christians and believers across the globe who listen to this tune will be moved.
Nosa - Na Your Way description
Released: 27th September 2019
Genre: Gospel
Format: Video
Length: 6: 31 minutes
Producer: Nosa S. Omoregie
Label: Chocolate City Music
The artist is a renowned Contemporary Christian singer, a songwriter, as well as a recording artist who is currently signed to Chocolate City Music, a Warner Music Group African partner. He became famous after his first single titled 'Always Pray for You' hit the music scene in Nigeria, where he is from. It has since enjoyed massive airplay across different music platforms hence earning him multiple nominations and awards. Apart from that, he is also known for several other major singles including the likes of 'Why You Love Me So', 'Most High' where he features hit-gospel artist Nathaniel Bassey and 'Always on my Mind'.
He is best known for the usage of pidgin English in his inspirational songs where he uses varying sounds, including high life. This tune, therefore, comes as a pleasant surprise as he sings almost in fluent English, probably to capture a newer audience. Chances are that you will love it.
Nosa - Na Your Way reactions and reviews
Such a powerful worship song is expected to attract a lot of attention and it has. Since its release a few days ago, fans and viewers on YouTube have expressed different sentiments about how the tune makes them feel. Here are a few of the sampled views.
Mr Cyude: Everything about this song is just perfect. The rendition, the sound, the musicians, the song arrangement, the vocals, the visuals, the spirit inside it, etc are just masterpieces.
adefemi adelusi: I cant keep calm. I just wanna play this over and over again. Can't get tired of it.
kukuakukua: I believe some songs are orchestrated by the holy ghost and it just touch your soul in an unexplained supernatural way. This is one of them
bunmi kosemani: @Nosa your source of inspiration will never run dry in Jesus name. This song....hmmmmmm....... can't stop streaming
Ola Olabisi: We are constantly exposed to how conclusive God is about us. His Providence, His love, His patience, So intentional.... God is just too much and I love Him. Na Your way, please have Your way in my life.
martins eleojo: This song just melts my heart....It's been on repeat all morning....Can't help but shed tears of joy every single time.....God bless you Nosa and Ese. "Na your way" is from a truly deep heart of worship.
Nosa - Na Your Way lyrics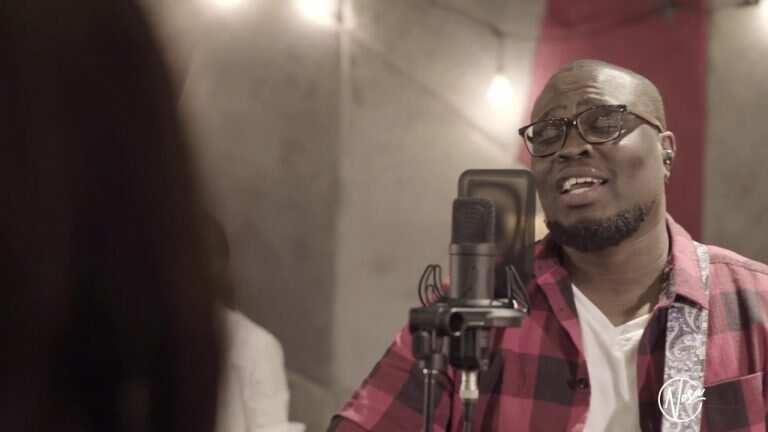 The lines keep replaying in one's head that it may be impossible not to sing along. If this is you, then getting the lyrics right would be great. Here they are:
Verse 1:
You still heal the sick
You still raise the dead
You still do amazing things
Na your way x 2
Verse 2:
You still hear our prayers
You still answer when we call
You always keep your promise
Na your way x 2
Chorus:
Na your way, Na your way, Na your way x 2
You're still moving mountains
With your great and outstretched hands
You still do impossible things
Na your normal way be that
You've never lost a battle
You have never known defeat
And you handed us your victory
Over sin, over death
Na your way
Na your way, Na your way, Na your way x 4
Bridge:
Holy God
Eternal God
Righteous God
Unfailing God
From age to age o
You're still the same o
Faithful God
Consistent God
Mighty God
Sufficient God
From age to age o
You no dey change o
Holy God
Eternal God
Righteous God
Unfailing God
From age to age o
You're still the same o
Verse 3:
You still bear our burdens
You still catch us when we fall
You still help our weakness
Na your way x 2
You still show us mercy
Your compassion never ends
You have loved us with an everlasting love
Na your way
Na your way, Na your way, Na your way x4
Holy God
Eternal God
Righteous God
Unfailing God
You no dey change o
You're still the same o
From age to age o
Na Your Way
Nosa - Na Your Way download
This is one of the most powerful songs you will probably come across. As such, chances are that you may want to save it in your playlist and add it to your favourites. Consider using the following reliable sites to do so.
Listening to the latest song by Nosa - Na Your Way will most likely help you to connect spiritually with your maker. The artist features Mairo Ese in this brilliant track. You should let your friends know that another excellent worship song is already out. You can also feel free to drop us your comments in the comment section below.
Source: Legit.ng