List of all Adina songs so far
As a beautiful woman with a charming voice – Adina becomes more and more popular due to her music videos of high quality, extremely melodic musical compositions, and charismatic appearance. Do you want to hear the music she produces? If yes, go on reading the article and listen to Adina songs.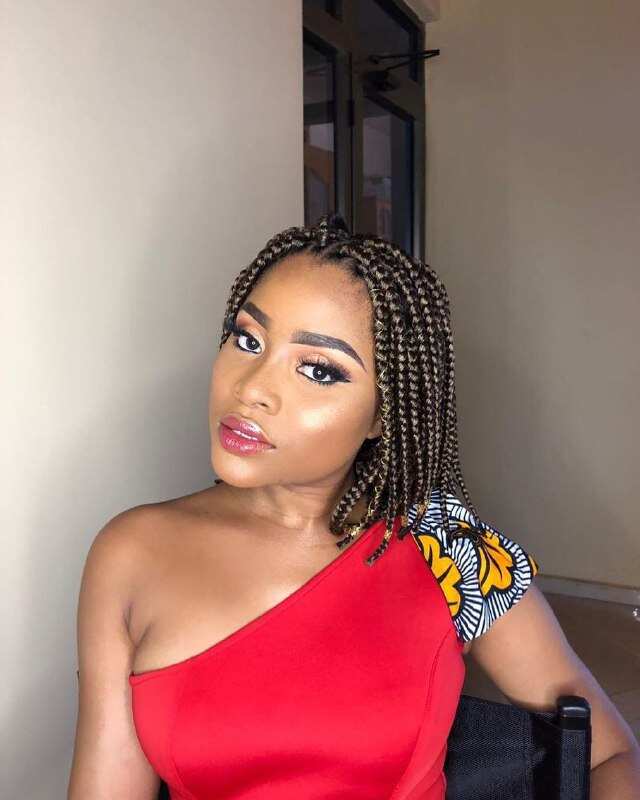 If you google 'Adina songs download', you will not find many of her compositions just because this star is still rising on the horizon of African music. However, it is enjoyable to follow this process. The twenty-nine-year-old girl is talented, and every her new song in combination with a music video becomes a masterpiece.
What is the full list of Adina songs?
Despite having a marvellous voice and a perfect feeling of rhythm, the singer does not have self-written songs. In an interview with DJ Candy Man on Atinka FM the girl confessed that she only plans to create songs on her own in the future:
"I just prefer to leave it to those who know how to write songs like Kidi, Kuame Eugene, E.L and King Promise but in the future, I will write my own songs".
However, it does not make her musical compositions sound worse, and you may really enjoy at least some of them.
Adina – Too Late
The song Too Late by Adina brought her the name of the best female vocalist at the 18th edition of the Vodafone Ghana Music Awards 2017. She left behind Nana Yaa, Efya, Mzvee and Becca. The woman commented on her victory:
"I feel like I have a responsibility not to let vocalists in Ghana down, but I am working on it to make sure I become a better version of myself any time."
The song itself and the music video tell the story of a girl with a broken heart, who does not lose her temper anyway and goes for a party with friends. There she sings:
"Baby boy really gave you all I had, but you played me, boy
Edey pain me boy
Never thought it would end up this way
It's a shame boy
Mede m'akoma maa wodidii agor
Such a silly boy baby."
The video gathered almost nine thousand views on YouTube.
Adina – Killing Me Softly feat. Kuami Eugene
This year Adina new song Killing Me Softly is nominated for several categories at 3Music Awards at once: Collaboration of the Year, Music Woman Of The Year, Song Of The Year, Highlife Song Of The Year, Highlife Act Of The Year, and Reggae/Dancehall Song Of The Year.
The musical composition is exceptionally rhythmic, and even traditional African motives can be heard in it. At the same time it is tender and kind:
"You are the reason why I am still alive
Cos I depend on you so I can survive
I promise secof of you ago change my life
My baby wait for me. I will soon arrive."
Moreover, the music video is exceptionally colourful and of high quality. Adina changes several bright dresses and lipsticks, and dances with Eugene in the beautiful garden, at the party and near the swimming pool. The video has already more than six million views on Adina's official YouTube channel.
Adina Feat. Sarkodie – Makoma
The collaboration of these two singers already gathered almost two million views on YouTube. Just watch this bright music video and listen to this powerful song Makoma. However, be careful, you may start singing "boom boom kye boom boom" and dancing together with Adina!
"Na makoma bo me boom boom kye boom boom
Odo ehh
Na makoma bo me boom
W'oa na me pe ehh
I'm so glad; you came my way
W'oa na me pe ehh
I go love you night and day."
Adina – On My Way
This song is about success, and the music video is about African reality. However, there is nothing tragic or sad in musical composition. The author sings that hard work is the way to the top of the world. So listen to this song that has gathered a bit more than one hundred thousand views on YouTube and sing together with Adina:
"My paddy you for hustle well well oo
Till life go be Jeje oo
If never know what you really want
It never goes be jeje oo
I'm on my way to the top
I never fear oo
Never stop
I ain't thinking to fall back
I keep on moving no more choke."
READ ALSO: List of all Lucky Dube songs so far
Adina - Boom Boom Beat
The young singer is apparently fond of boom boom rhythms in her songs. Boom Boom Beat is one more musical composition that will make you get up on your feet and move. Moreover, the singer of a model beauty will charm you in the hot music video, so do not hesitate to watch it because sixty thousand people have already done it!
"Listen to my heartbeat
(listen to my heartbeat)
Feel the thumping rhythm
From my head down to my feet
Listen to my heartbeat
(listen to my heartbeat)
Dancing and spinning and feeling free
Boom boom boom listen to my heartbeat
Boom boom boom moving with my feet
Boom boom boom listen to the beat with me."
Adina feat. Trigmatic – Coastal Vibes
Coastal Vibes was made for parties. Moreover, it was made not only for hot club parties but for family and friends meetings too. It is kind, bright and entirely lovely. Adina is as always gorgeous in the video, and you may even see her in a beautiful wedding dress there. So become one of one hundred eleven thousand people who has already watched this video on YouTube.
Adina – On The Mic Stay With Me
One may also see one of the first videos with Adina, where she performed a tender and beautiful song Stay With Me. Her performance and magical voice may really touch your soul and fill it with mild white sadness. So do not hesitate to listen to one of the most tender performances in the world, that, unfortunately, attracted only about six thousand YouTube views, but definitely deserves more.
Adina – Timeless Love ft Kidi
Timeless Love is the song where you may hear Adina speaking Spanish – the language of love and passion. You must have guessed that this is one more song about great feelings. However, unlike from the previous tender one it only starts with extremely mild notes, and then becomes passionate and kind of hot. So listen to it and sing together with the duo who swear each other in eternal love, and whose duet collected sixty-three thousand YouTube views.
"I have fallen in love
I just want you know that you are The one that I love
Cuando me enamoro
This is a timeless love
Cuando me enamoro
When I'm falling in love, you are The one that I want
I want you more and more
Anywhere you need me I can go
This is a timeless love
Cuando me enamoro
Cuando me enamoro."
Adina – Sa Sa (Watch Me Go) feat. E.L.
Turn on this crazy song at the party and dance with your friends. It will even make move those who do not like dancing. Even though this musical composition is not as famous as the other woman's ones, it is still cool and melodic.
VVIP – Give It To You feat. Adina
Adina's presence made this song better. Her tender voice surrounded by strong male ones is like a pearl in the sea. She sings sincerely and tenderly in this song:
"I just want to give it to you
My heart
I will give it to you."
DJ Black – Nobody ft. Adina x King Promise (Prod. by Coco)
It is one more song about eternal love. Adina's voice became a part of this song too. It is so melodic and recognisable that it is difficult to confuse her style with anybody else's. So listen to the musical composition and here are the lyrics for you to sing together with the girl:
"Together, forever, no matter the weather
Baby nobody but you year
Nobody but you
Nobody but you
Together, forever, no matter the weather
Baby nobody but you."
Opanka – Sure ft. Adina (Prod. by Ephraim Beats)
Sure is one more song featuring the female singer. It is about tenderness and love. It is a wonderful choice for a romantic evening with your beloved.
Teephlow – Forgive ft. Adina
The song Forgive and a music video to it tells about a love triangle, where Adina does not take part actually. The duo tells the whole sad story in one clip. This story is about the importance of forgiveness because once it may get too late…
"See this life wey we dey live
Me I know say everyone dey try to do good
But nipa Ankasa y3y3 weak
Somebody go fit hurt you
But maybe he didn't even mean to
Cos sunsum p3 nso honam no
Ny3 d3 bi a na infa no to oh
But challey no one is perfect
So I dey beg you
Forgive him if you can
Fakye."
This sad video with a rather rhythmic song gathered one hundred sixty thousand views.
K.K Fosu – Lovers Rock ft. Adina (Prod. by Ephraim)
KK Fosu is one more African rapper who managed to record a song with gorgeous Adina. In the music video to Lovers Rock, the girl appears in fabulous dresses, and one may even accidentally fall in love with her there. So listen to Lovers Rock and sing together with the duo and seventeen thousand people who have already watched this clip.
Flowking Stone – One Love ft. Adina (Official video)
To describe this song, only several simple words are enough. They are vacation, lovers, bed, and flowers. The melody is simple, and the lyrics are explicit. It will literally send your brain on vacation even if you listen to it in the crowded Lagos. So listen, contemplate, enjoy, and share with friends.
Fancy Gadam – I'm Black Star ft. Yaa Pono x Edem x Kuame Eugene x Kidi x Adina x Feli Nuna
All these singers worked hard to create such a friendly and warm musical composition I'm Black Star. As always, Adina's voice is heard there the most distinctively. So join this joyful party and sing and dance together with your favourite stars – Fancy Gadam, Yaa Pono, Kuame Eugene, Kidi, Feli Nuna and, of course, Adina.
It is difficult to mix up Adina songs with others. Her compositions are soaked with love, kindness and tenderness; her pleasant voice is melodic and charming. So watch this star rising, and she will give you the light of her art.
READ ALSO: List of all Davido songs so far
Source: Legit.ng