Cara Whitney biography: who is Larry the Cable Guy's wife?
Cara Whitney is an American author and a radio personality who worked as a radio DJ. She is also best known as the wife of famous American comedian Daniel Lawrence Whitney who goes by the stage name Larry the Cable Guy.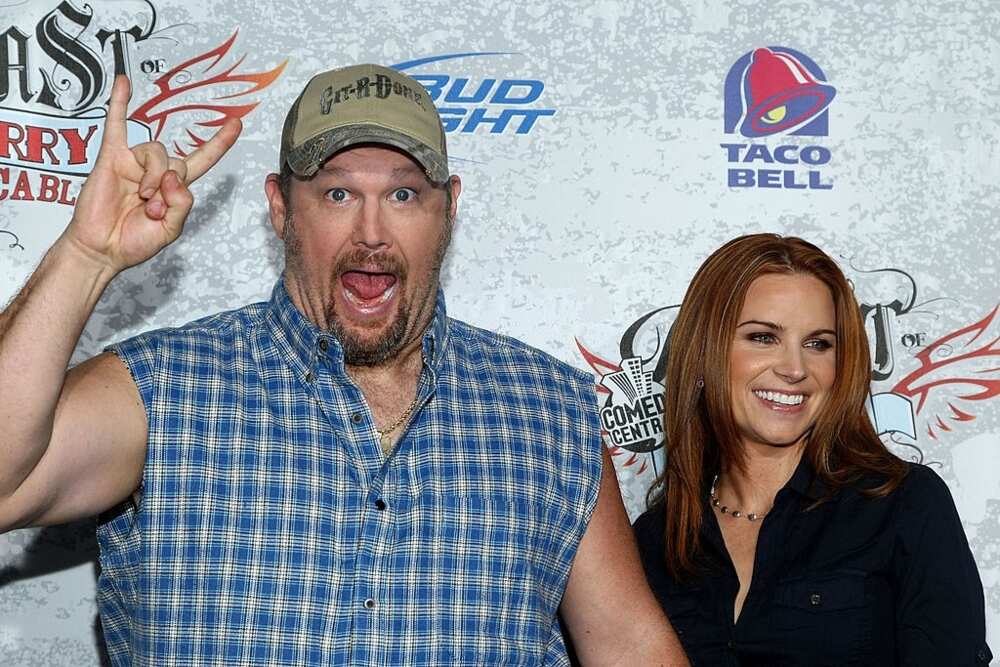 Marriage to a celebrity is no easy fate as it comes with intense media attention. This is a common occurrence to anyone who marries a celebrity. Cara Whitney has been married to her husband for sixteen years, but unlike most, she has successfully hidden most of her personal information from the public eye. Here is everything you need to know about Larry the Cable Guy wife, including details about her bio, age, career marriage, and more:
Who is Larry the Cable Guy's wife?
Birth name: Cara Whitney
Year of birth: 1976
Age: 45
Place of birth: Wisconsin, US
Ethnicity: White
Nationality: American
Height: 5 ft 4 in
Eye colour: Green
Hair colour: Brown
Children: Two
Profession: Author, Radio personality
Cara Whitney bio
Larry the Cable Guy wife was born in 1976 in Wisconsin, USA. She has not revealed her actual birth date so we don not know when she celebrates her birthday. As of 2021, the beautiful Cara Whitney age is 45.
Her childhood is also a mystery to the public eye; however, she revealed that she was brought up in a family of farmers. Her dad owns a farm in Wisconsin and is a cattle farmer. From her upbringing on a farm, she developed a vital interest and love for animals, especially horses. Cara, together with her husband, occasionally shares snaps with animals on their social media.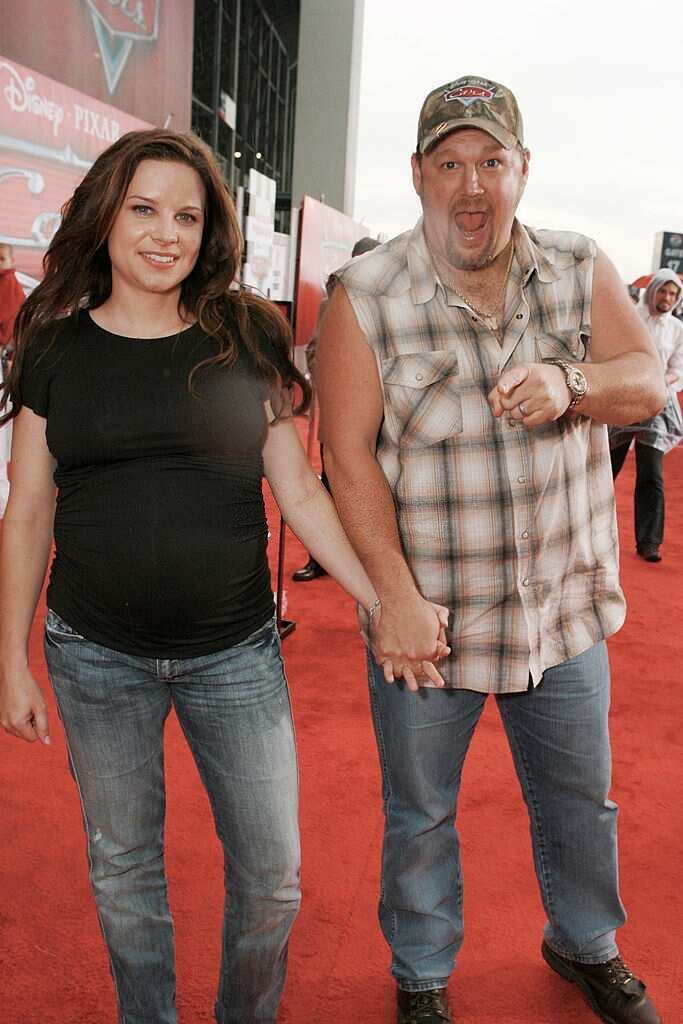 She attended a local high school while in Wisconsin. It is rumoured that it is during this period she became interested in creative writing and acting. While she has not talked about her education, it is said that she graduated college with a Bachelor's degree in 1998.
Career
Before Cara meet her husband, she worked as a DJ. After moving out of her hometown in Wisconsin, she settled in Los Angeles, California. While living in LA, she started working as a DJ for a local radio station in the city. Larry and his wife met while they were both working. However, after she got married, she has not worked as a DJ since.
Apart from her work as a DJ, she is also an author. As of 2021, Whitney has published three books. She is a religious parent, and this can be seen in her works. The celebrity wife recently published a book titled Unbridled Faith Devotions for Young Readers. It is a book for children aged 8 to 12, where the author reflects on her life on the 180-acre Nebraska farm she shares with a dozen horses, two kids, and her husband.
Here is a list of Cara Whitney books
Unbridled Faith: 100 Devotions from the Horse Farm (2018)
Unbridled Faith Devotions for Young Readers (2020)
Fields of Grace: Sharing Faith from the Horse Farm (2021)
When was Cara Whitney wedding?
Larry the Cable Guy and wife Cara got married on July 3, 2005. They both met in Los Angeles, California, while working in 2004. At the time, Larry was still building his career while Cara worked as a DJ. The couple has revealed that they fell in love after the first conversation they had. They had a common strange affection for the smell of cattle trucks.
Unlike most celebrities who spend months preparing for their special day and buying expensive outfits and gowns, the couple had an unusual wedding. Larry and Cara had a pretty simple event, as they wed in an open field in Nebraska. As for their outfits, both wore casual clothes. It is reported that the entire cost of the wedding was only $180.
How many kids does the couple have?
The couple are blessed with two kids, a boy, and a girl. Cara had her first child a year after she married Larry. Her first child is a boy named Wyatt, who was born in 2006. The following year she gave birth to a baby daughter named Reagan. The parents named her Reagan because Ronald Reagan, the 40th President of the United States, is Larry's favorite president.
Philanthropic works
Cara and her husband are heavily involved in philanthropic works and, over the years, have donated heavily to charity. Their son Wyatt was born with hip dysplasia, and after having a successful surgery, the family has dedicated their donations to help establish an International Hip Dysplasia Institute.
The family has also established a non-profit organization called The Git-R-Done Foundation; a name coined from the comedian's sensational catchphrase. Among other causes, the foundation is known for aiding veterans and children.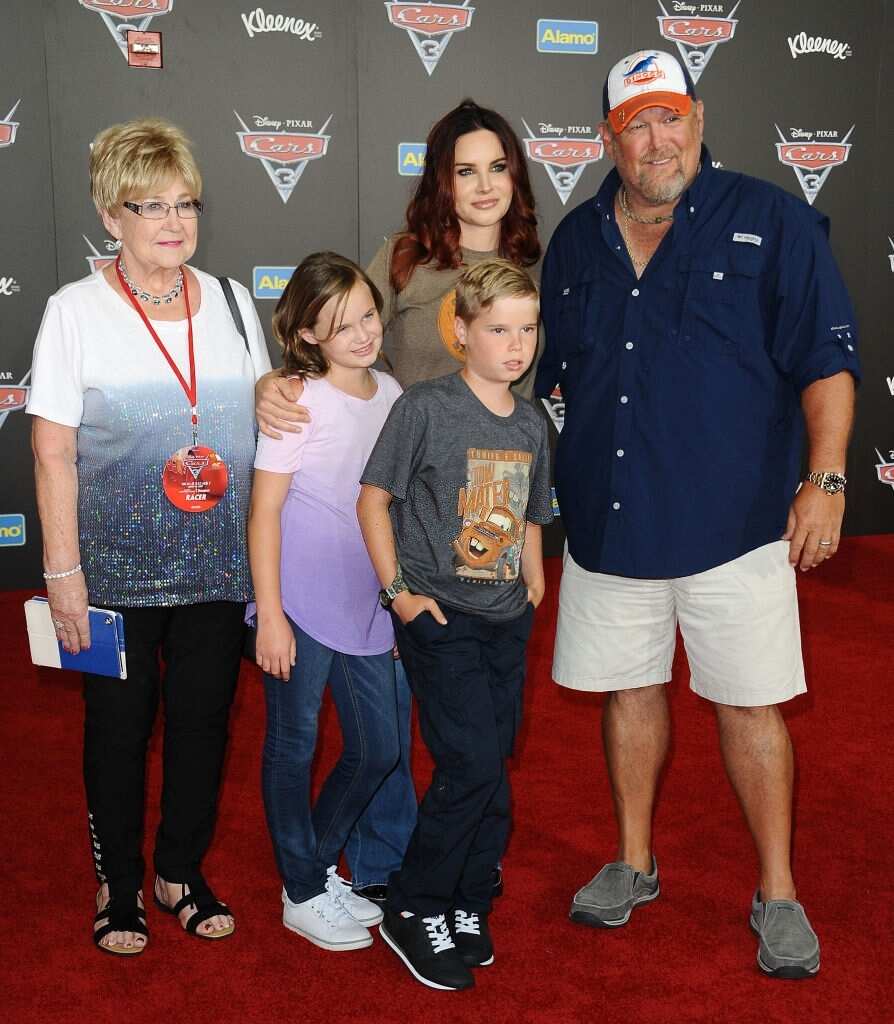 Cara Whitney has dedicated her life to serve God as well as educate young minds through her books. She is indeed a role model to many.
READ ALSO: Morgan McLeod biography: What is the Survivor contestant up to now?
Legit.ng recently published an interesting biography of Morgan McLeod. Morgan is a former reality television star and former NFL cheerleader. She once stated that her going to the Survivor was for her to experience a once-in-a-lifetime journey and show everyone that she is not all beauty without brains. Though she did not win the competition, she gained some fans and fame from being on the show.
After being one of the youngest contestants on Survivor: Cagayan (season 28), it seems like Morgan McLeod, or Mrs. Brown as she is currently known, has stepped away from the limelight and is presently enjoying her married life.
Source: Legit.ng