50+ happy birthday sister in law messages, wishes and quotes
One of the best gifts in life is a wonderful sister-in-law, and if you happen to get one, cherish her with all you've got. She can be your best friend, your favourite in-law, and she is the only one crazy enough to get along with your family. Bottom line, she is an awesome lady, and she deserves the best, especially on her big day. Here are some wonderful happy birthday sister in law wishes and quotes that you can send to her on her big day.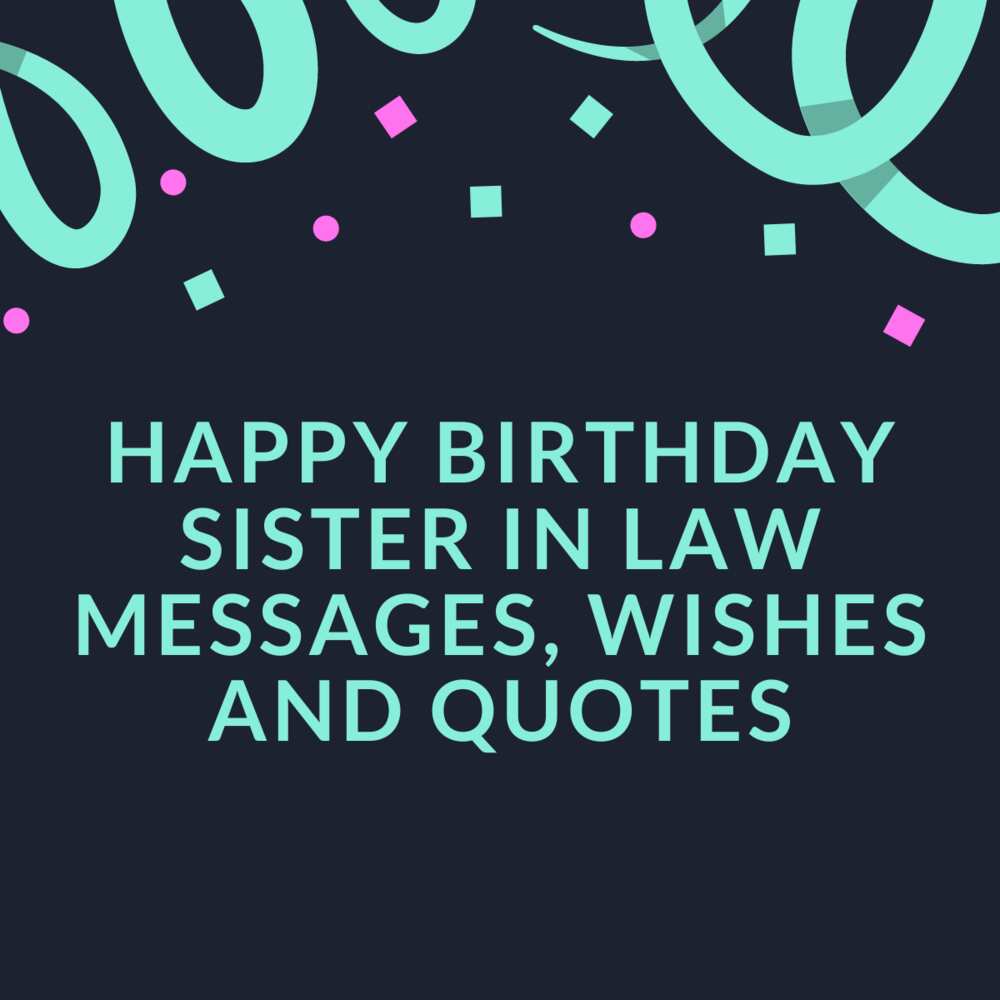 They are sisters, best friends, confidants, and partners in crime, all wrapped into one amazing package. If you love your sister-in-law and want to let her know just how much she means in your life, then use these sweet sister in law birthday wishes to celebrate her day.
So, how do you say happy birthday to your sister in law? Check out our compilation of the most amazing sister in law birthday quotes and wishes.
Sweet happy birthday sister in law wishes that she will definitely love
What can I write to my sister in law? Check out these amazing birthday wishes for sister in law that you can send to her on her big day.
On your special day, dear sister-in-law, I just want to let you know that I will always be there for you. I will never let you wander in the dark all by yourself. Happy birthday, dearest sister-in-law. You are such a big gift from God to my brother, me and the entire family.
Wishing you great health so we can have more afternoon teas together; more wealth so you can shop for that shoes you have been eyeing for this past few week; more love because you deserve it; and more blessings in your life, simply because you are such a wonderful person. Wonderful birthday, sis in law!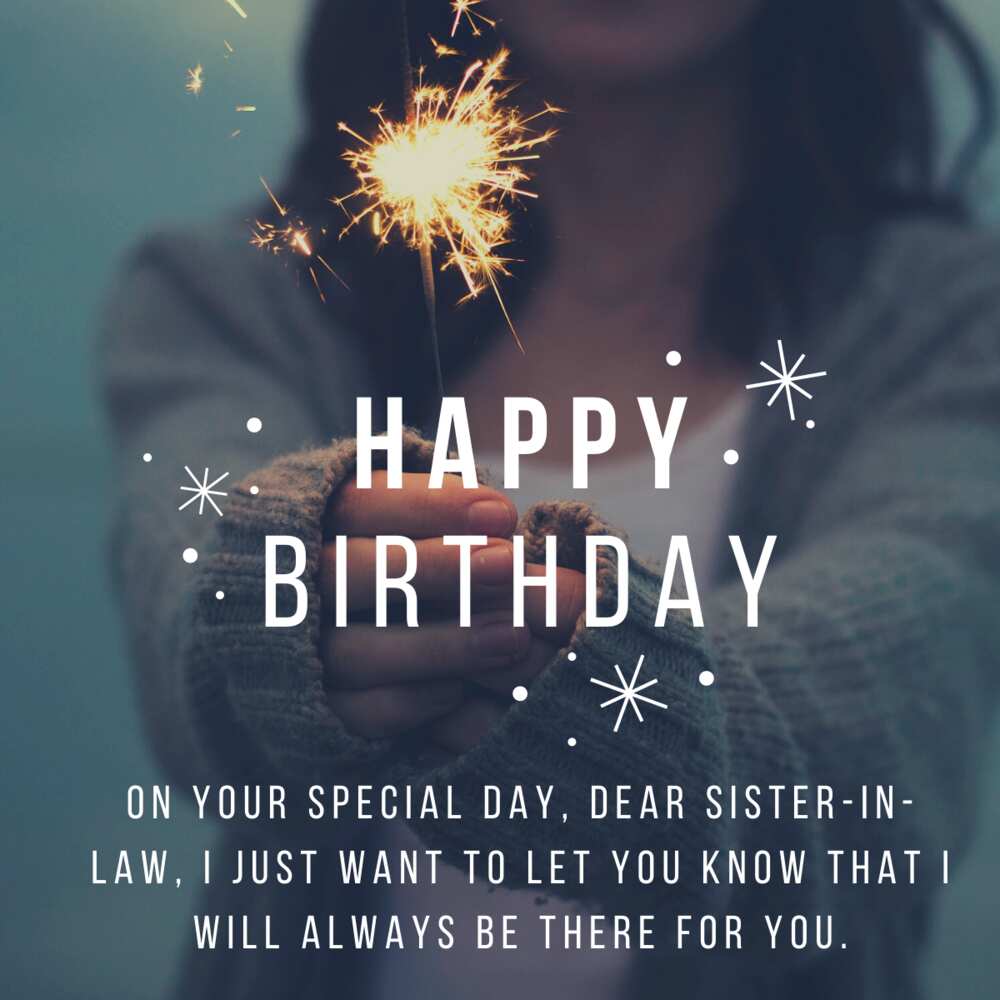 Sister-in-Law, I would hope that on your special day you are surrounded by love. But there really is no need to hope, because I will be there, so it's a given. I love you, not just because you are family, but because you are a remarkable person who I am glad to call my friend.
My brother is so lucky to have you as a wife. I pray each day that I will be as lucky to marry a woman just like you. You are a great blessing to our family. Have a fun-filled day.
Thank you, my sister-in-law, for giving so many reasons to smile. Happy B'day! May you have many, many more good years, fine times and great memories to share!
Happy Birthday. I am thankful to have you as my sister-in-law. You bring happiness and joy to people around you. I hope the coming year is filled with love and joy.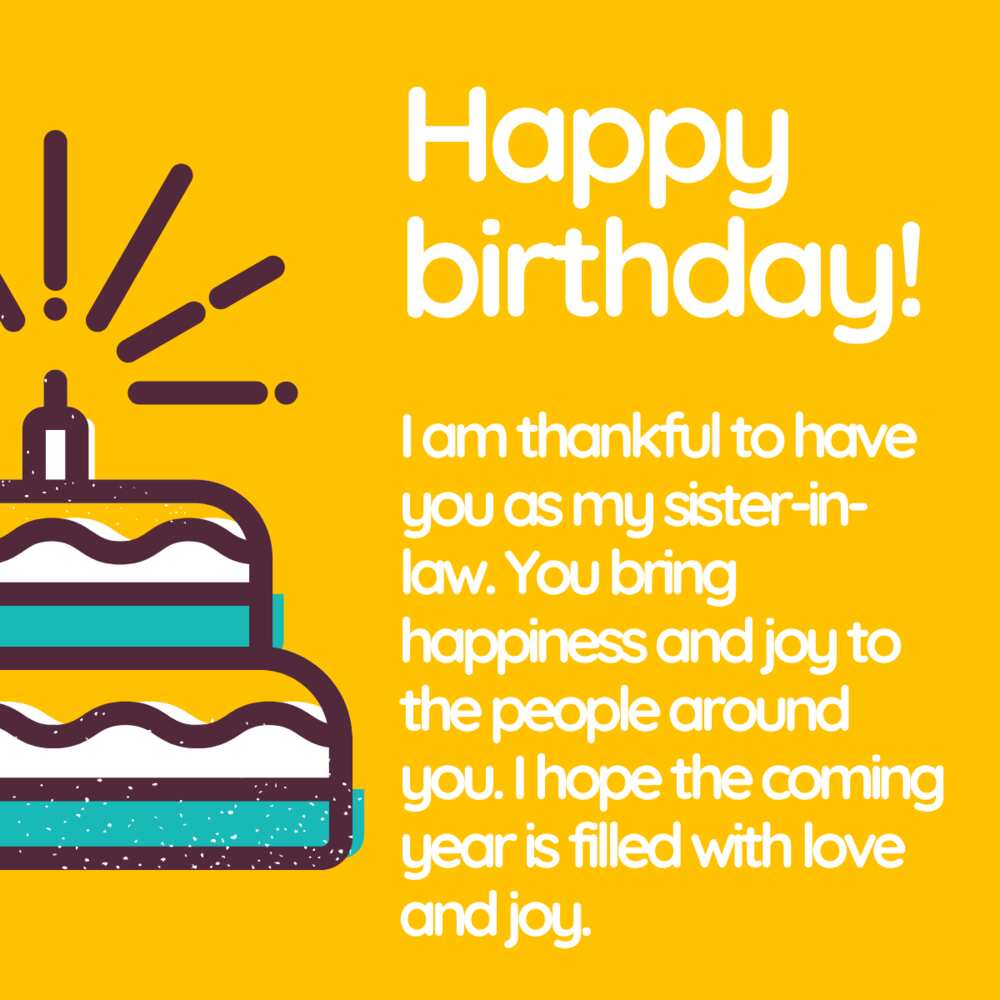 There's nothing on earth that can stop me from loving and caring for you, my dear sister-in-law simply because you are such a special woman. May God keep heaping the choicest of His blessings upon your inspirational life. Happy birthday.
People often refer to you as my sister-in-law or my brother's wife when talking to me, but I like to refer to you by your other title: my friend. I hope your special day is fun and fabulous like you.
You have no reason to love me and care me without sharing a blood bond, yet you do it with so much emotion, I cannot say anything but 'I love you'. Happy Birthday dearest.
Happy birthday to my sister from another mother. I want to thank you for being just as awesome as your brother. Both of you mean so much to me. Stay lovely.
I tried not to have any expectations when my brother married you, but it didn't matter because you exceeded all of them anyway. You are darling, dazzling, and delightful. May your birthday be even half as dear as you are to me.
You are a sister and friend combined into one. We have been through a lot together and have wonderful memories as evidence. I can't bear to be separated from you. I hope to see you soon. Happy birthday, my dearest sister-in-law. I hope you possess more happiness in your life.
Since I have such a large family, I have no shortage of in-laws. But the one in-law that I can always turn to for advice, support, and love is you. I am so glad that you are a part of my life, and I hope that your big day is full of cheerful people, cool presents, and chocolate cake.
To the person who inspires so much joy and life in those around her, I wish you more years of happy returns.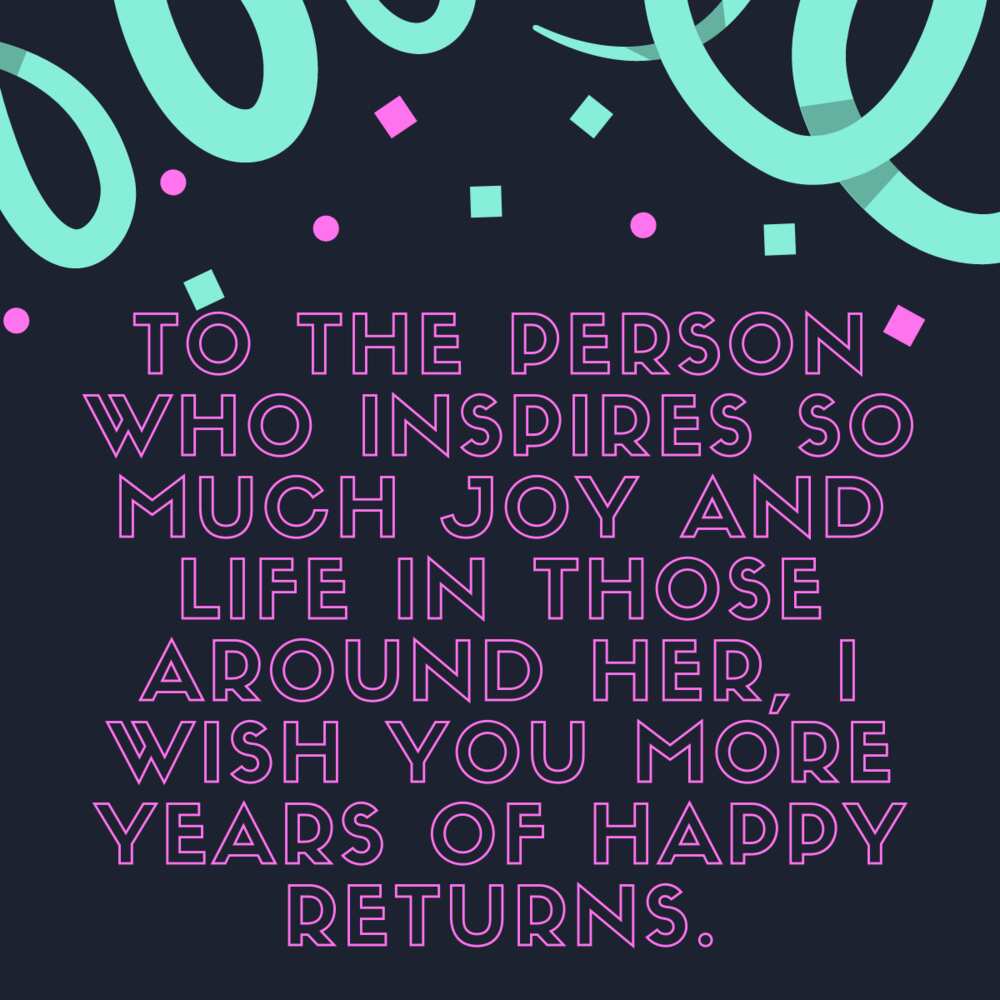 The clichés of the world teach us to have a love-hate relationship with a sister-in-law. But all I have with you is the loveliest relationship of all. Happy Birthday dearest.
After I met you I realized something: my wife must have learned her tenacity, strength, and charm from her older sister! Thank you for being a spectacular sister to both of us.
Dear sister-in-law, your birthday will always be a special day to me since it is the day you came into this world to bring happiness to our family.
I've always criticized my baby brother's choice in women, but when he met you, I was elated. I knew right away you were an extraordinary person, and I am so glad that he somehow tricked you into marrying him! I hope your special day is as joyous and sweet as you are.
I don't need Facebook to remind me that it's your birthday, Sister-in-Law. Who could ever forget such a talented, intelligent, and beautiful woman's birthday? May your day be truly spectacular.
May today bring you joy, and may each day that follows be filled with beauty & wonder.
I married your brother, and life threw another awesome package along with it – you. I am so glad to have you. Happy birthday, sister. Stay lovely.
Happy birthday to my phenomenal sister-in-law. May your big day bring you as much happiness and joy as you bring into the lives of others. God bless you.
I was so worried when my big brother married you because I thought that you would take my place in his heart. But now I realize how foolish I was because you have only made his heart bigger with your love. Thanks for always including me and making me feel doubly loved.
I know you think that no one loves you more than my brother does, but you would be wrong. I love you to bits and pieces, Sister-in-Law! By far the best thing my brother ever did was marry such an enchanting and special woman. Happy birthday!
Thank goodness my brother picked you to marry! I can't even imagine not having such a charming, fabulous, gorgeous, and incredible person in my life. May your big day be everything you want it to be and more.
Over the years you have always touched me with your ability to make others laugh. Your addition to our family has enhanced our lives in so many delightful ways. Thank you for being such a positive and bright person, and may your birthday be spectacular.
If sisters-in-law were Pokémon, you would be Pikachu: aka the very best. May you always win your battles in life and catch all your dreams. Happy birthday from your nerdy brother-in-law!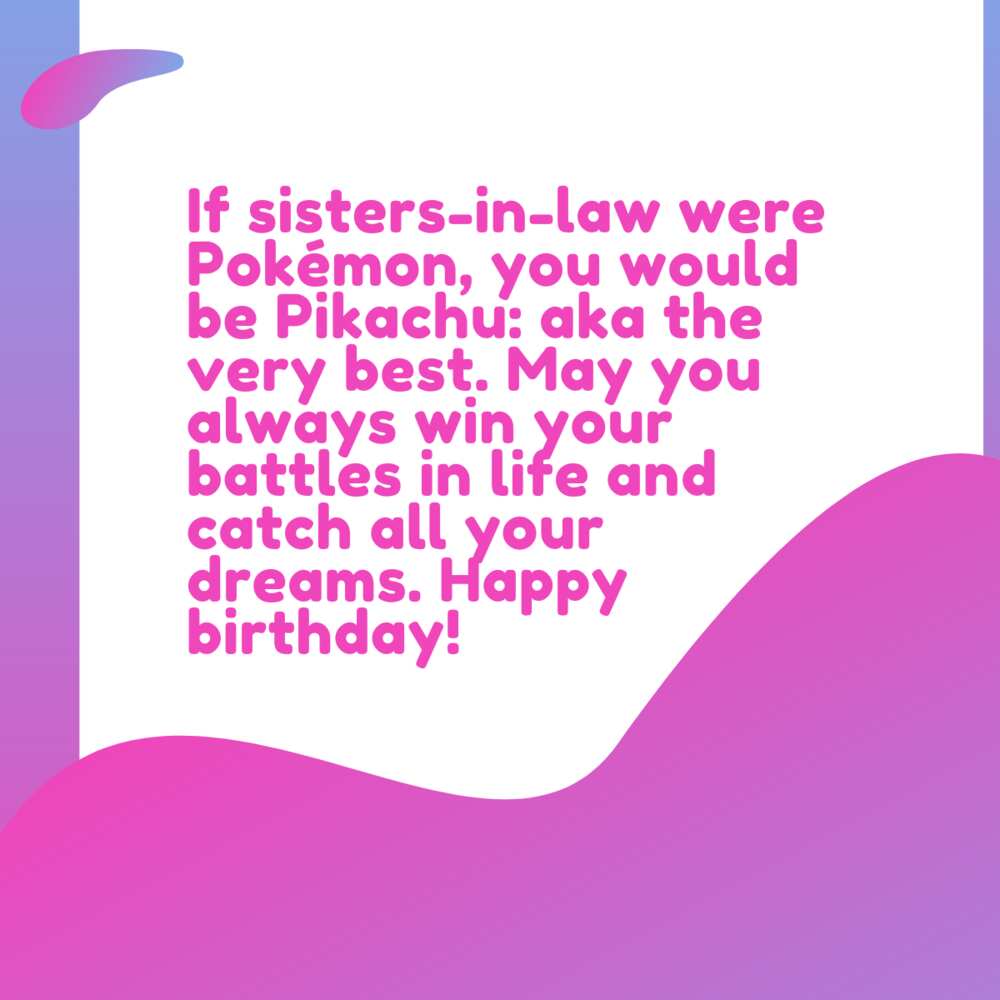 Happy birthday sister in law funny quotes
What should I write in my sister in law's birthday card? How about you pen down a funny wish that she will remember throughout the year?
Here are some of the funniest birthday wishes for a sister in law.
My dear, I guess you know that it is all downhill from here onwards?! But happy birthday all the same!
Happy Birthday to my amazing sister-in-law, who generally has good judgement but chose to be part of our nutty family for some reason.
I was thinking deeply of what present to offer you on your birthday until I remembered that you already have the best present in the world in me, the world's most awesome sister-in-law/brother-in-law. Hmm…what a lucky woman you are!
Thank God that I have a sister-in-law like you who tells me all the dark secrets of her brother. Otherwise, I wonder how I would tease and taunt my husband. Happy birthday!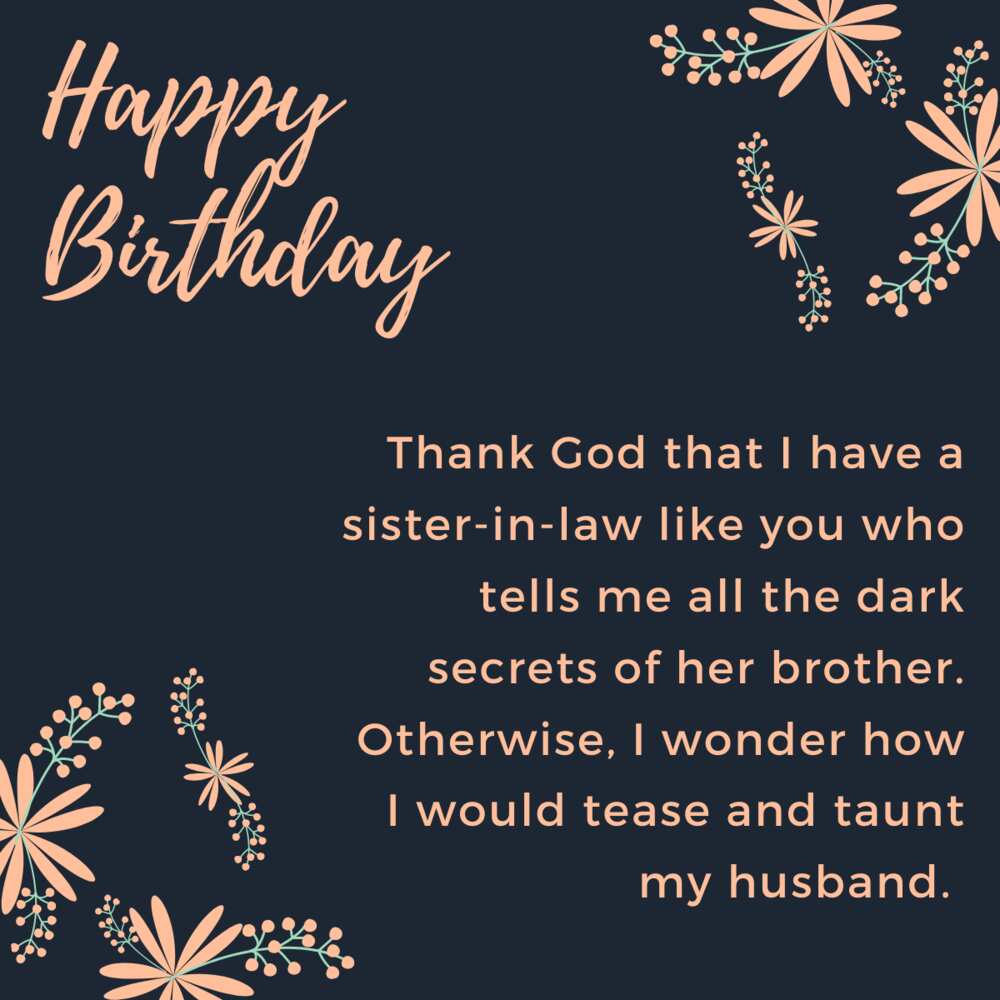 Dear sister-in-law, on this day, I ask that God bless you with a slim body and one heck of a fat bank account! And please don't forget me when the money starts rolling in! Have a fabulous party!
Just wanted to let you know that I'm thinking about you on your birthday, sister-in-law. Mostly I'm thinking about how weird it is that a nice girl like you married someone like my brother!
Happy Birthday to my sister-in-law, who is way too cool to be related to me by blood.
On your Big Day, dear sister-in-law, may God give you the body of Angelina Jolie, the wealth of Bill Gates, the compassion of Mother Teresa, the self-confidence of President Donald Trump, and the smile of President Obama.
Happy Birthday to my brother's better half. His way, waayyy better half!
My brother has done a lot of stupid, crazy things in his life, but marrying you was not one of them. In fact, it might be the only smart thing he has ever done! Thank you for becoming a part of our family, and may you have an enjoyable birthday full to the brim with hope and delight.
Dear sister-in-law, as you blow the candles on your birthday cake, take note of the fact that I love you more than Queen Elizabeth II loves to wear gloves.
On this day, I want to congratulate you on turning a new age and surviving another year of my brother. Keep it up!
May you spend your day relaxing, having fun, and being completely slaved over by my brother!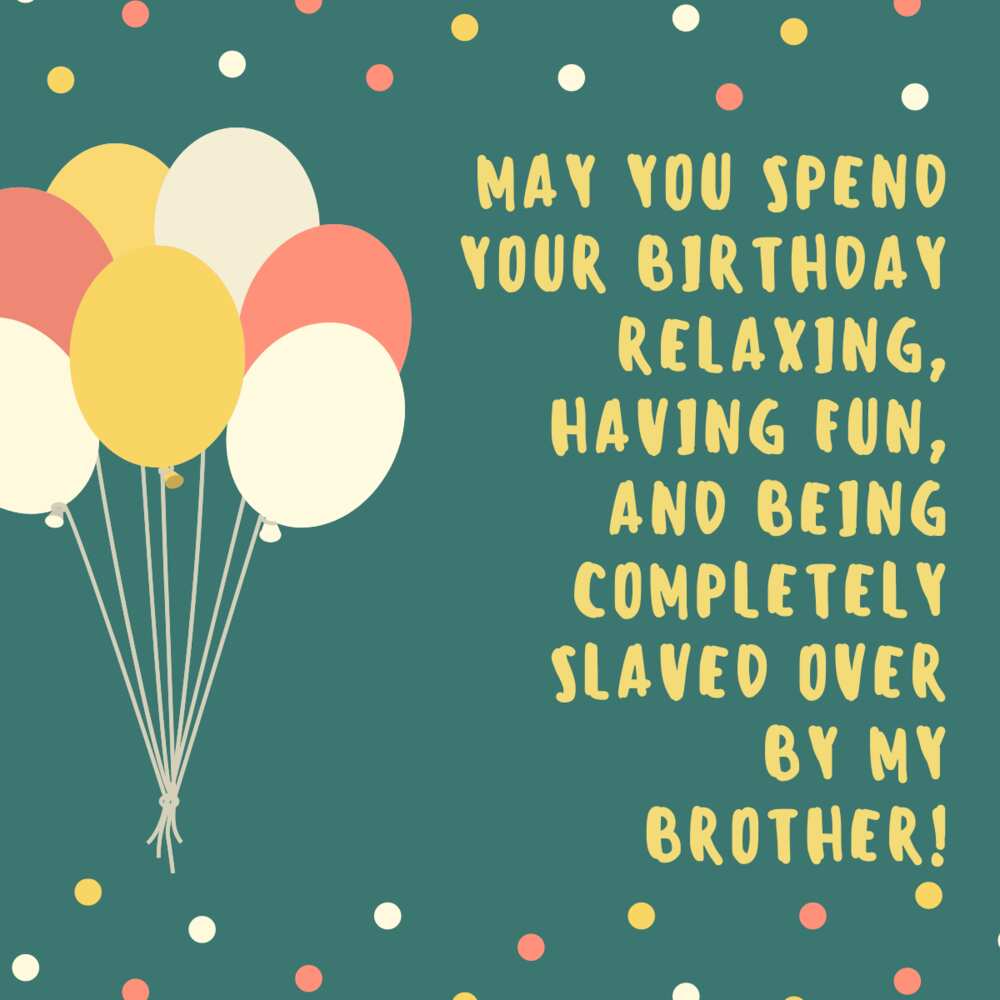 The day my brother married you I was nearly overcome with joy. Finally, he managed to do something right with his life! Just kidding. Sort of. I am delighted that you are my relative, and I hope your big day is as wonderful as you are a person.
Sister-in-Law, you have done the impossible. No, not just keeping my brother in line (although good job on that miracle), but you have managed to make family get-togethers tolerable! Your quick wit, charming grace, and adorable demeanor always brighten up our family functions.
My brother is such a lucky man to have you in his life. You guided, loved, and tolerated him over the years. I am very glad to have you in my life. Happy birthday, sister-in-law.
What can I do to make you believe that Facebook did not remind me of your birthday this time! Happy Birthday to the prettiest sister-in-law in the world. BTW, Facebook does remind my brother though.
Sisters-in-law like you are just like muffins on a bad day. You make me all soft and fluffy inside. Happy birthday, sweet sister.
Religious happy birthday to sister in law wishes
If she is a religious person, send her one of these wishes:
God made you the prettiest flowers of all and we are lucky that he sent you in our garden. Wish you a merry and prosperous birthday dear sister-in-law.
Happy Birthday to my wonderful sister-in-law! May God bless you with joy and love, on your big day and every day.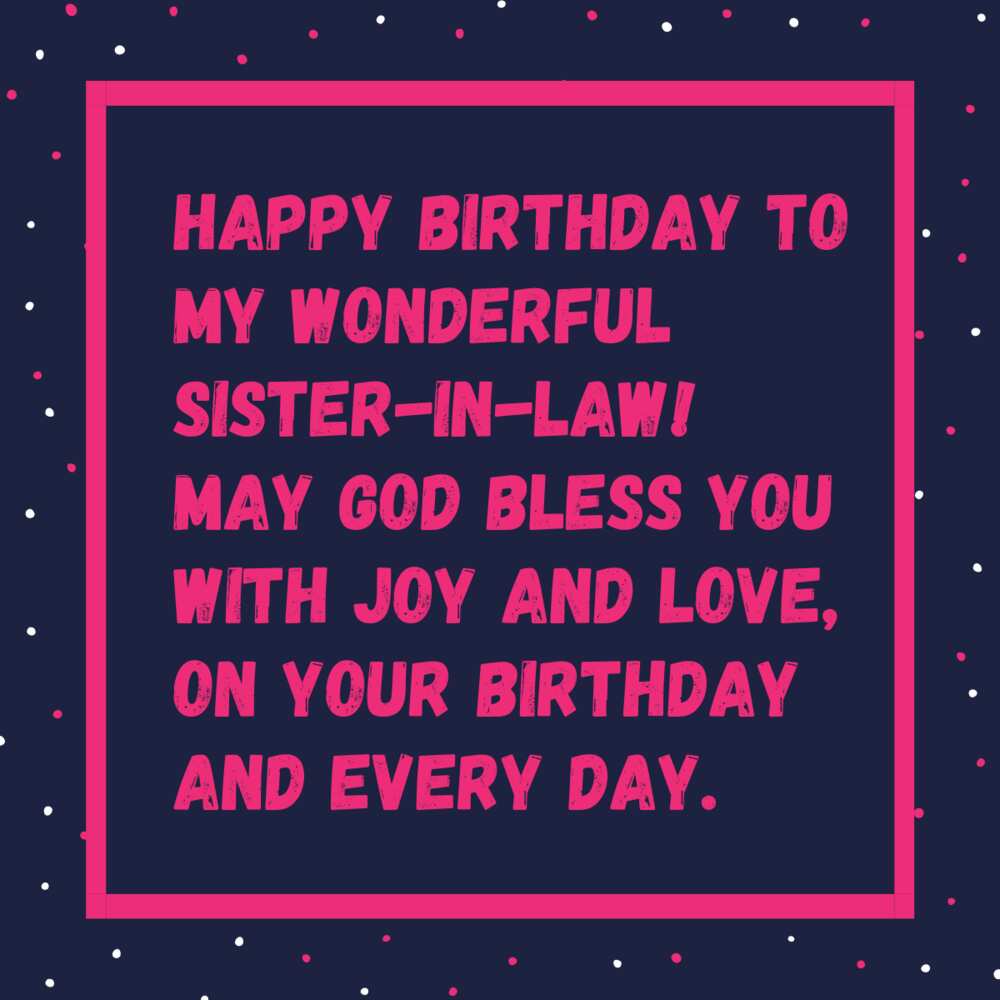 My dear sister in law, I pray your birthday would lead to a wonderful life just like you have imparted on my marriage to your brother
Your big and kind heart has made me astonished and restored my faith love and I cannot say enough thanks to God for sending you in my brother's life. Have a happy birthday my dear sister-in-law.
I thank God for giving you life, and for bringing you into my life. May you have a wonderful day.
You're the most adorable person I have ever seen and I thank God for sending you in my life. Only he knows how I craved for a sister before you came to my family. Have a great birthday dear.
I hope your day is special just like you. Sis, praying of you with love on your big day and wishing you everything that brings your happiness today and always.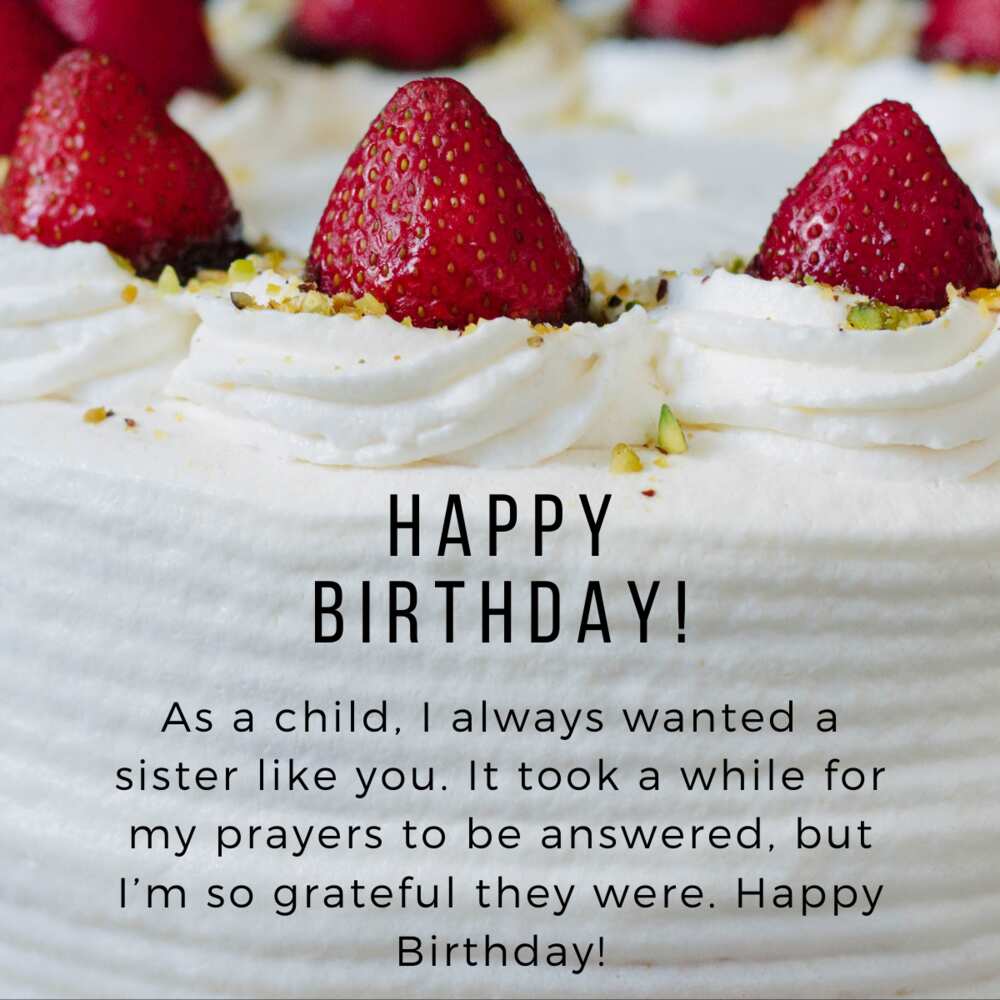 As a child, I always wanted a sister like you. It took awhile for my prayers to be answered, but I'm so grateful they were. Happy Birthday!
Having a sister-in-law like you is one of my greatest blessings. Happy Birthday!
No matter how she became your sister in law (either you married into her family or she married into yours), one thing is for sure, these happy birthday sister in law wishes will definitely tug at her heartstrings.
READ ALSO: 30+ inspirational recovery quotes to encourage you on your journey
Legit.ng recently published a wonderful list of recovery quotes that will motivate you and remind you why you are on this journey in the first place.
The post contains some of the most uplifting recovery quotes ever uttered, plus some inspirational recovery slogans.
Source: Legit.ng