50 romantic messages and love quotes for wife
Love quotes for wife – what may one need them for? Well, when you are married, you gradually run out of new words to say to your beloved spouse. Still, no matter how many years you have been together, she will be excited to hear something pleasant and unusual from you.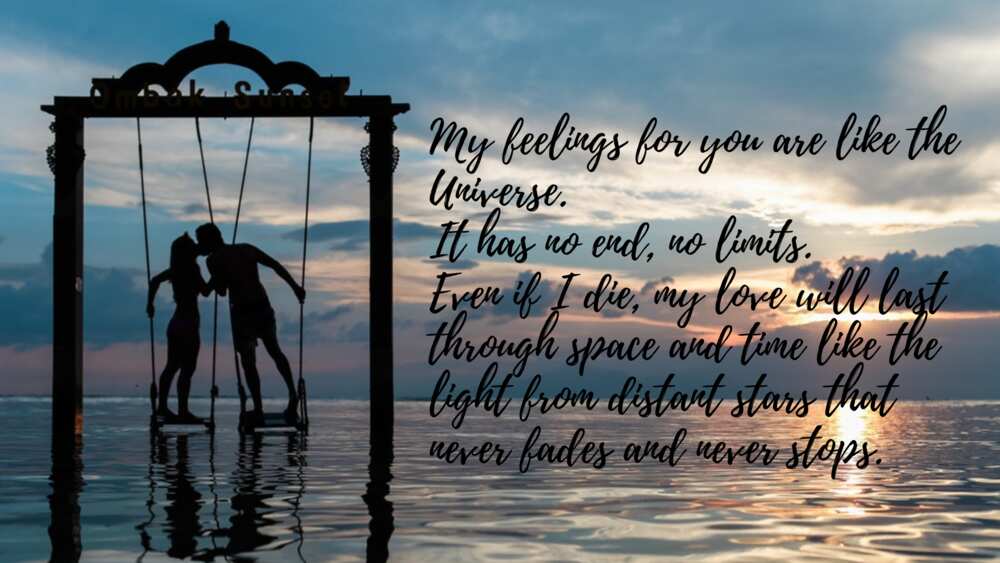 Sweet romantic quotes for wife are the best and easiest way to come up with a good message idea for your loved one when you are completely out of your own words. Pronounce them aloud, type them and send her as a message – use them any possible way you like to make her smile. This will be the best reward!
The most romantic messages for wife
In long-lasting marriages, people often lose this special feeling of flying without wings that accompanies the very first years of being together. Everyday work, household matters, children's needs and other routines can kill any romance between spouses. They live together, smile at each other but they lack this specific sparkle they used to have years ago.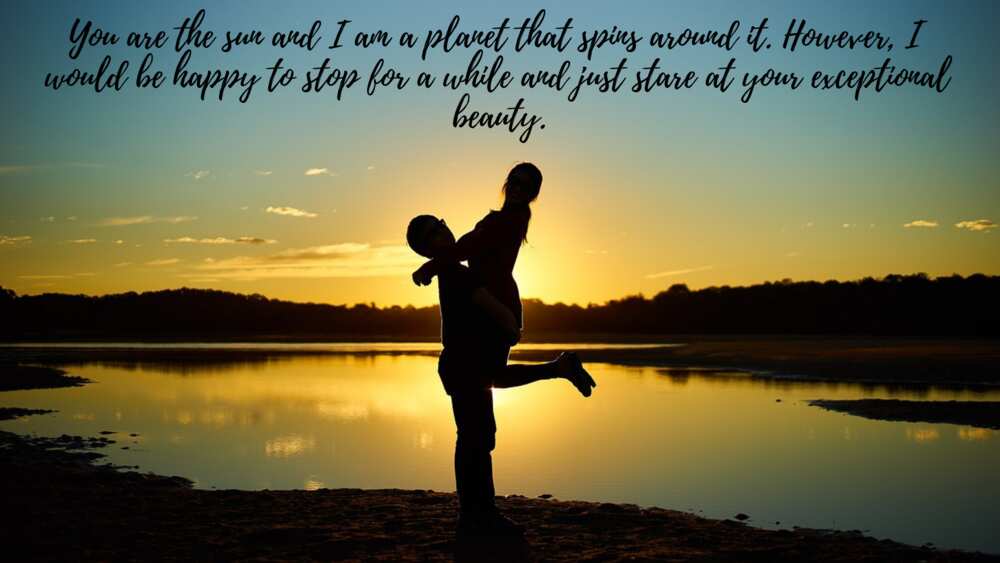 Still, you can save your marriage at this stage by saying something pleasant and lovely to your wife on every occasion. Women usually do a lot of work to provide their family with comfort, and they always wish men did know how pleasant it would be for them to receive a couple of kind words said with love.
So, give some attention to your wife and see how she will flourish with happiness.
You know, I have to give myself a good pinch from time to time to make sure I am awake. You are so unbelievable that I need to check whether I am not dreaming, whether I am really so lucky to live beside you. I adore you more than anything else in the world.
I cannot count the adorable moments you have given me through all the time we have been together. We have survived a mortgage, we have given birth to our precious kids, and you have always been by my side. I love you and thank you for this, my dearest.
Man can do sports and train his body to perfection. Man can do work, earn a lot of money and purchase a perfect house and a car. Still, no man can buy himself a perfect wife like you. I am happy that once upon a time you said "Yes" and became mine. I cherish you so much, my darling.
READ ALSO: Top 35 cute smile quotes and sayings
Sweet wife love quotes have the power to make your precious woman travel back in time to the days when you two were young, in love and very happy. Give her these priceless moments more often, and you will see her shine.
Our everyday routine makes life dull and colourless, but I want to add some colour to your day, my love. You are the sunshine of my life, and you are the love in my heart, you are everything a man may want, and I adore you so much.
"No man succeeds without a good woman behind him. Wife or mother, if it's both, he is twice blessed indeed." — Godfrey Winn
You have been making me smile for many years. You have brought peace, comfort and care into my days and nights. Life is like a rough sea, and I can cross it only if I can cling to you, my dearest love.
We have been together for many years, so I believe we still have many years ahead. The only thing I want to have through this time is to be able to hold your loving, caring hands until the end of my days.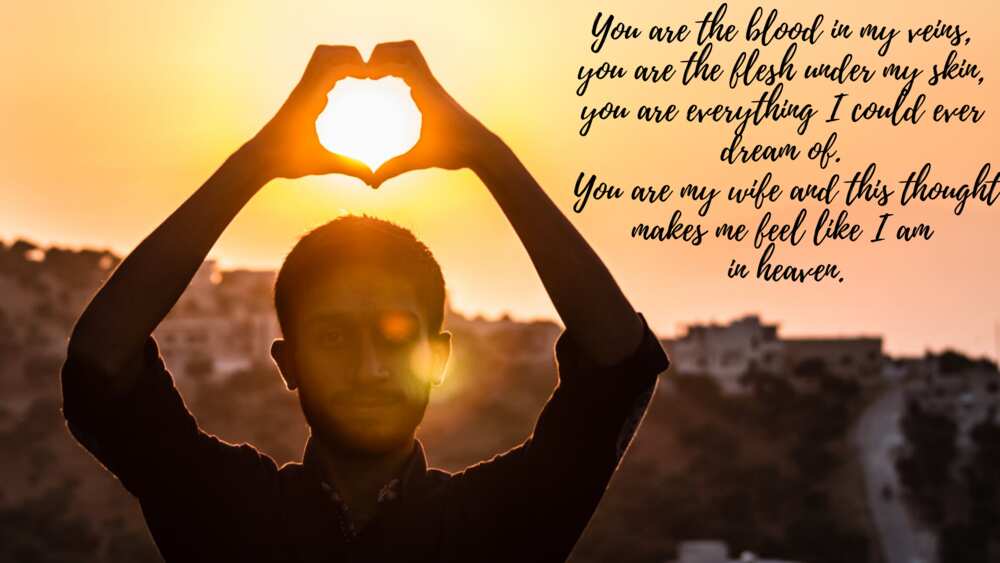 "Where can I find romantic words for my wife that will sound sweet enough to make her happy?" Many men ask this question when they are out of words for some reason. It is not hard to compose a good message full of sincerity when your heart is full of affection.
You are the best treat I have ever tried in my life. I will never get tired of this sweetness because there is never enough of you to me. I want to have you by my side every second and every hour of my life. You are the most delicious honey I have ever tasted.
Your lovely voice is the best music for my ears. Listening to you always makes me feel like I am in heaven. Talk to me, my dear wifey, because when you do, I do not hear all those everyday noises and hurdle.
This is a beautiful example of a cute love message for wife. There is a belief that women talk too much and your precious woman will be pleased to hear that her chirping is like music to your ears.
"A real man loves his wife, and places his family as the most important thing in life. Nothing has brought me more peace and content in life than simply being a good husband and father." — Frank Abagnale
READ ALSO: 35 funny Sunday quotes and sayings
You are the one who takes away the piece of my mind every day and every hour, but I am grateful for this. I love being excited by you this way. I adore you.
No words in this world can convey my feelings to you. These are not enough either. Instead, I am going to make my hugs and kisses rain down on you and all over you, my sweet baby.
"My most brilliant achievement was my ability to persuade my wife to marry me." — Winston Churchill
Your love does not let me fall; it helps me reach every goal. You are the air of my life, my dearest precious beloved wife. I adore you!
What a cute rhymed message for wife! It will bring sweet tears to her eyes and a smile to her lips.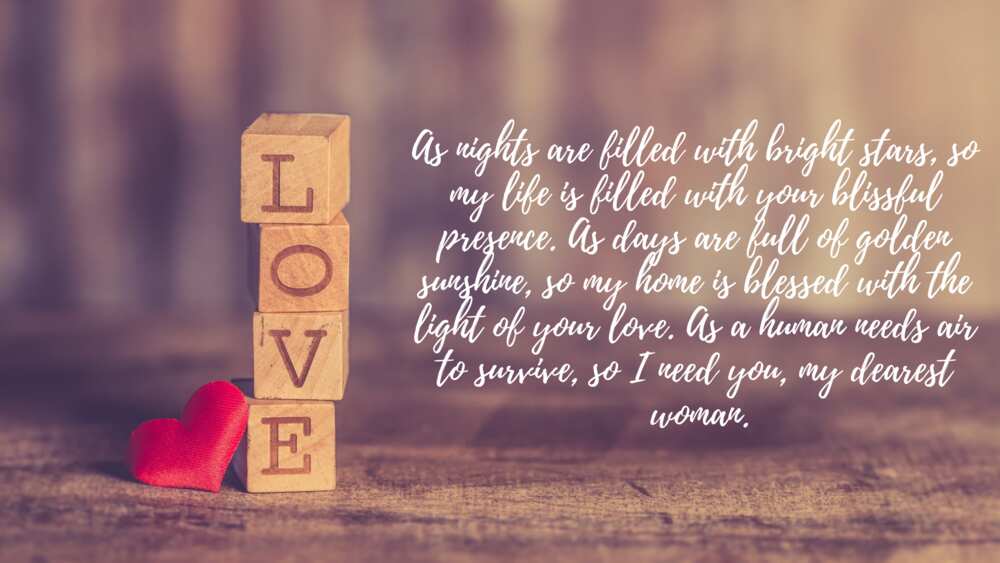 I want to see you beside me at any moment of my life. I adore you; I cherish you more than anybody else. Your presence gives me the strength to move on and to reach new goals. Everything I have, I have thanks to your help and support.
My heart keeps my body alive. You are my heart and my soul. Without you, I am nothing; I am dead and worthless. I thank you for every moment when you keep me alive.
"I love my wife, and I know she loves me. We're best friends. We're just lucky to have found each other. It takes a lot of work, but I just feel very blessed that I found the right person. It's a very fortunate situation, and not everyone has it." — Harry Connick, Jr.
The purest diamonds are very hard to find. You are like one of those precious gems – very hard to find and literally priceless. I am so lucky that such a rare gem now shines to me in my modest home.
This is one of the cutest and most romantic love messages for wife you can choose. Every woman will be pleased to hear that she is a rare gem, that she is like a precious diamond, as beautiful and as priceless.
READ ALSO: 30 positive Friday quotes
As nights are filled with bright stars, so my life is filled with your blissful presence. As days are full of golden sunshine, so my home is blessed with the light of your love. As a human needs air to survive, so I need you, my dearest woman.
Little girls cuddle with their Teddies when they feel sad and lonely. Let me be your Teddy, hug me, cry to me when you feel sad. You will never be lonely or depressed while I am here and even though your Teddy cannot love you, I can, and I do love you.
My day was hard and tiresome. Now I dream to get home to you as soon as I can only to see your adorable smile, to hear your sweet voice and to feel your tender arms around me! I crave you so much.
No matter how hard my days may be and how many problems I have to face until I know for sure that at night you will be sleeping next to me and I will be able to watch your dreamy smile. Stay with me forever, my beautiful wife.
Send this love msg for wife right before the end of your working day and see the smile on the lips of your woman meeting you at the door. Thinking about a night together after a hard day will be pleasant to both of you.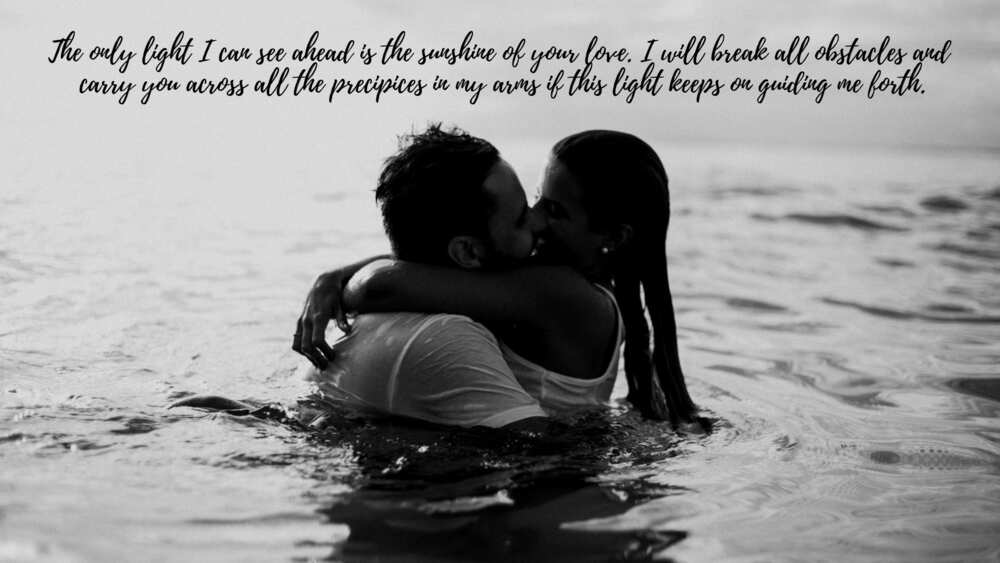 With time, everything gets older but not our feelings. I do not count years while you are by my side. With you, I am as young as on the day I first met you, and you are the same most beautiful girlfriend in the world.
My life is like a canvas to which I add pictures from time to time. I am not an artist, but you are the most beautiful, precious and exciting of all the pictures on it. No other masterpieces can compare with it, and this is what I appreciate about living with you, my precious wifey.
The moments that we share together are the sweetest time I can have in my life. I am fond of the cute feeling of your head on my shoulder, I love the way you share your thoughts and emotions with me, and I love you, my lady.
You have an incredible talent, did you know about it? It is your ability to make me feel like I am the happiest man in the world, and it does not matter what is going on around me. Even the saddest days look brighter when you are by my side.
"Let the wife make the husband glad to come home, and let him make her sorry to see him leave." — Martin Luther
Even though I am not a Superman and have no superpowers, I am ready to do everything I can to protect what we have together. I adore you and living with you is the best thing that has happened to me so far.
It is so adorable when people admit that they are not perfect. This love you message for wife will show your dearest woman that you are a human but a human who strives for perfection for the sake of her happiness. Such devotion can make any heart melt with pleasure!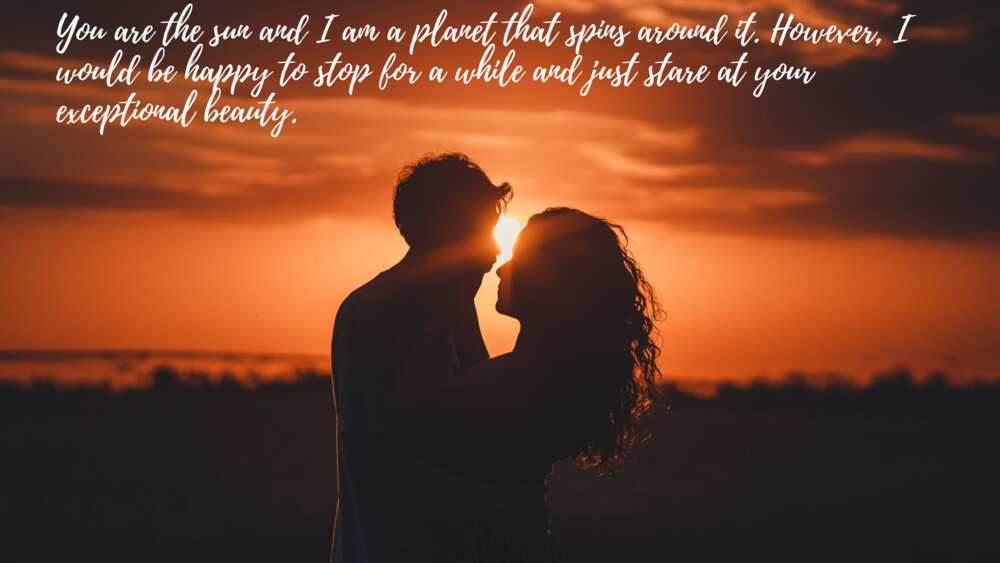 When I was so lonely and frustrated, you appeared in my life and showed me the miracle of your love. Thank you for being near me even at the darkest times. You make me whole and alive.
The only light I can see ahead is the sunshine of your love. I will break all obstacles and carry you across all the precipices in my arms if this light keeps on guiding me forth.
"In a happy marriage, it is the wife who provides the climate, the husband the landscape." — Gerald Brenan
When I was alone, I prayed for a miracle and so it happened. I met you, the most wonderful person in the whole world. I was blessed with your love, and I am so grateful for this.
My heart still skips a beat when I see you, my dear wife, even after all these years together. You still wake butterflies in my stomach because you are the prettiest woman in the Universe.
READ ALSO: 33 best prayer messages and blessings
You are the sun, and I am a planet that spins around it. However, I would be happy to stop for a while and just stare at your exceptional beauty.
You are the blood in my veins; you are the flesh under my skin; you are everything I could ever dream of. You are my wife, and this thought makes me feel like I am in heaven.
"No one can understand how close a marriage actually is. You just don't know: with a husband and wife, they have a special connection." — Omarosa Manigault Newman
My feelings for you keep me floating through any storms. Whenever I feel broken and lost, you are my guiding light. Until I have you by my side, I know that no troubles and no worries can take me. This is how I adore you.
Give preference to the most poetic and romantic wife quotes when addressing at the only woman in your life. Being compared to a guiding light will touch her heart, and she will be grateful to you for the devotion and trust.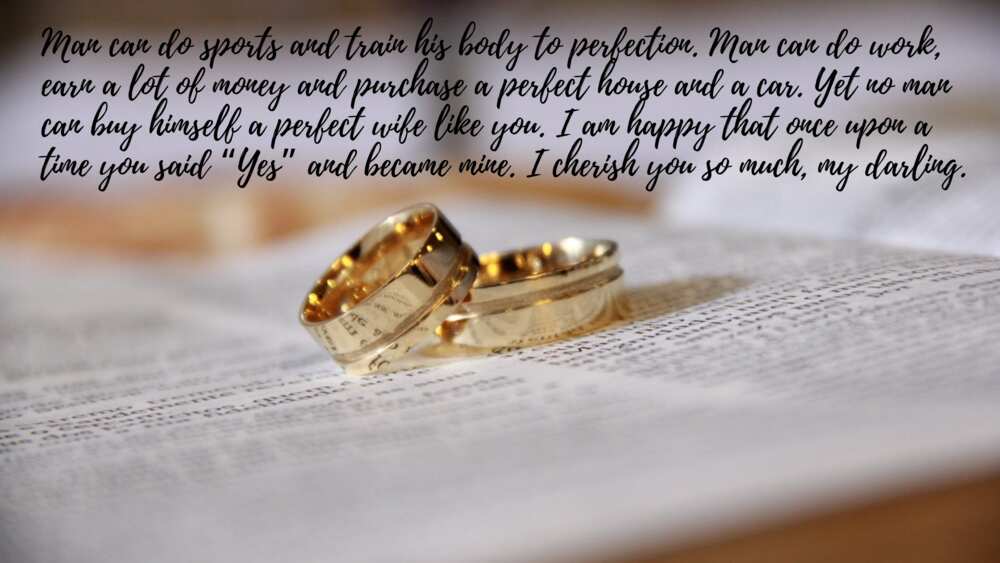 The only thing that brings sense into my life is your love. While you love me, nothing wrong can happen to me. While I love you, I will not let anything wrong happen to you. I promise it, my dear wife, you can trust me.
"Heaven will be no heaven to me if I do not meet my wife there." — Andrew Jackson
I have already made a lot of mistakes during my life, but there is one thing I would never redo. This was the only right thing I have done. I gave my heart to you the day we met, and I will never regret it!
If I were a ship, I would never want another captain but you. Now, I am a man, and I would never want another wife but you, my queen.
Many men say that married life is dull and joyless. They are either fools or unlucky to have such an ideal wife as I do. I would say that my married life is the happiest time I have ever had because I have you by my side.
The best love quotes for wife usually hint that she is the best woman ever and that living with her is a privilege every man would want. It is incredibly pleasant to feel so special.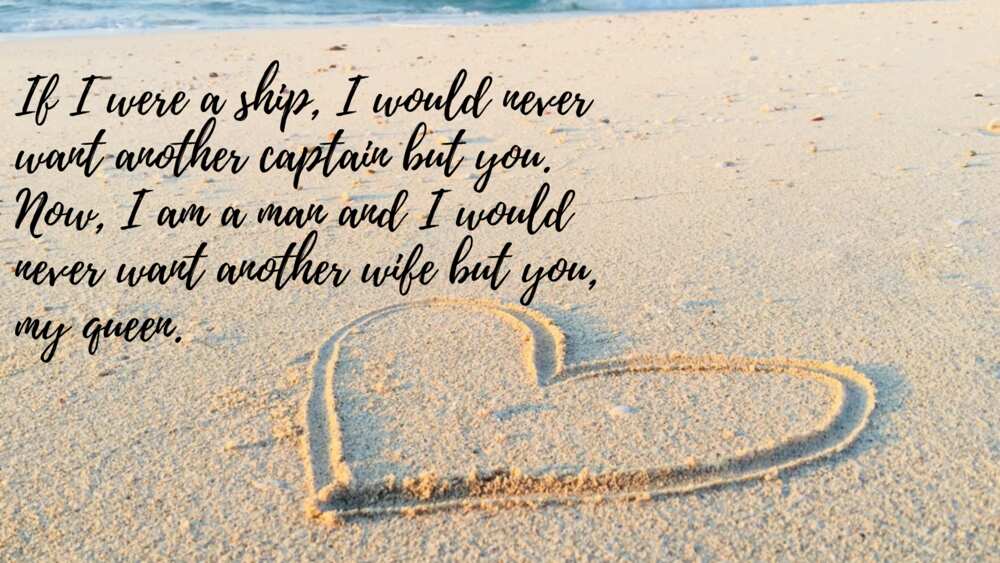 I have been alone for many years, yet now I can call all those years waiting for you to enter my life. Even now my heart skips a bit when you walk into the room because I am still in love with you.
Some people would leave their homes and strive for a better life, but I know that the best of lives is the one I already have, with you by my side. I would never ever want anyone else but you.
"A real man loves and respects his wife, and he is not only a good father but a man that his kids want to call 'Daddy.'" — Frank Abagnale
The reason why I adore you is the way you love me. I am sure that there has not been such love like ours in the whole history of humanity. It may sound too loud, but I do adore you more than I can tell. You are my only treasure, and I will cherish you forever.
I have decided to tell you one thing… You must know it. Every morning when I wake up and every night when I go to bed, I think of you and you alone. You occupy my mind and soul, and I am happy about it!
Nice wife love quotes are not always serious. Play a kind of prank that will make her feel mixed emotions when she begins reading and a big pleasant relief at the end!
"I love my wife; she deserves anything and everything." — Aaron Spelling
When other men say that there are no perfect women, I only laugh at them. They do not know that I already have one and this is you, my dearest wife.
While I still have blood in my veins, while I still have breath in my lungs, I promise you to be faithful and sincere to you, my darling. I do not ask for anything special in return; just love me as you have always done.
Women deserve care and adoration. Women deserve feeling special and cherished. Give your wife this feeling, and you will see how it returns to you. If you really have this feeling to a woman, tell her that she is dear to you every other day, not just on her birthday or another holiday. Life is not just prose. It is full of poetry and romance for those who know where to search for it.
Take advantage of the cutest love quotes for wife, send your dear one messages, leave small notes in her purse, and these little surprises will change your life for the better. A fresh sparkle of emotion is never out of place.
READ ALSO: 50 wedding wishes, messages and quotes
Source: Legit.ng