50+ adorable happy birthday aunt wishes, messages and quotes
Aunts are wonderful - they can be your bestie, confidant, and even partner in crime. These wonderful people need to be appreciated, especially on their birthdays. Have you been asking yourself, "What should I write in my aunt's birthday card?" Here, we have compiled a wonderful list of the most adorable happy birthday aunt wishes, quotes, and messages that you can use to wish her a great day.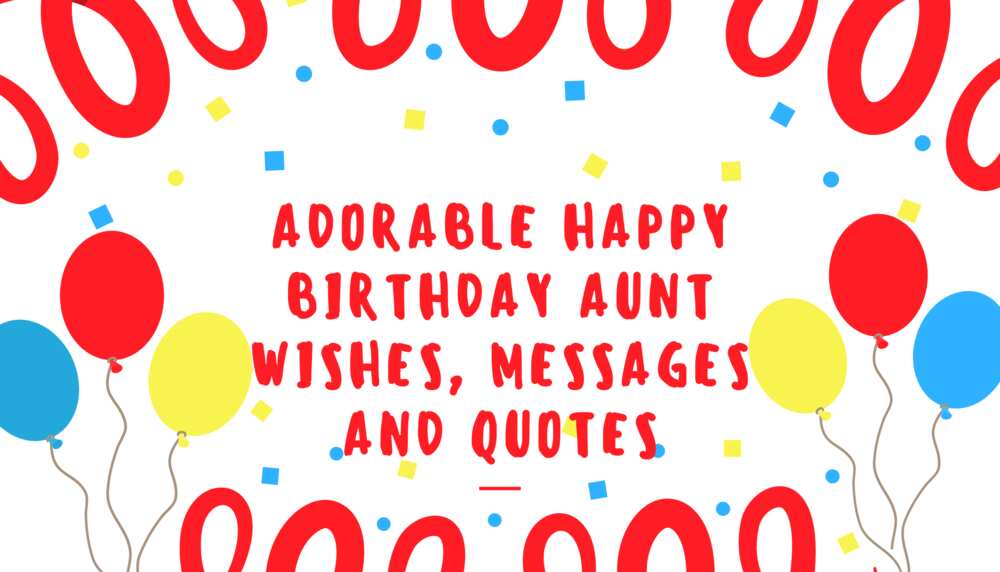 Don't know which happy birthday quotes for auntie to write on her birthday card? Go through this list of awesome happy birthday quotes for auntie.
Happy birthday aunt wishes
These happy birthday quotes for aunty are exactly what you need to show your aunt how much she means to you.
Happy birthday beautiful aunt. You've always been an important person in my life, not only as part of my family but also as my friend. I wish you all the love & happiness in the world today and always!
Here's wishing all your birthday wishes come true and then some. You are a constant light in my life, and you deserve everything you could ever hope for on your special day.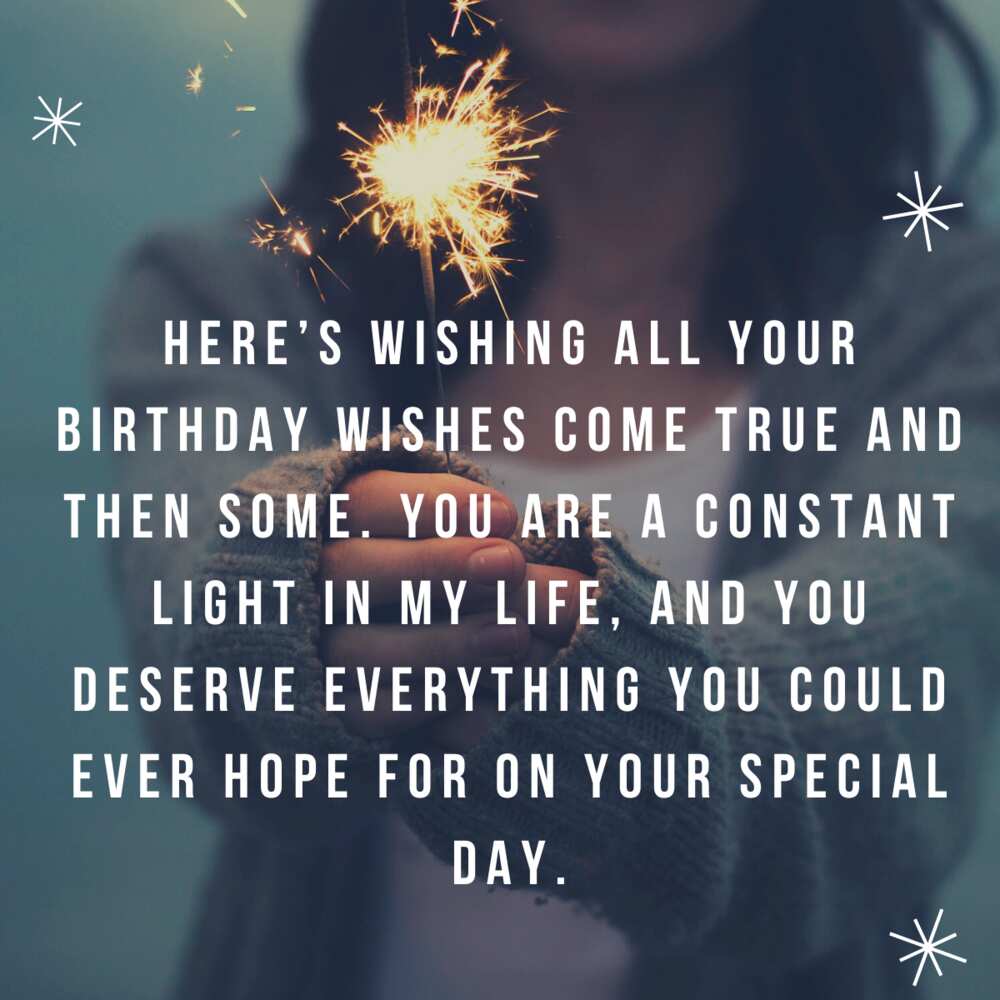 For all the times when I needed a second mom you were always there for me. I hope one day to be half the person you are. I also hope you get showered with sweets and presents on your special day and not just honeyed words.
Happy Birthday To My Amazing Aunt. You're such a special part of our family. And most important of all, you're a wonderful friend to me! I hope your celebration is the best one yet. Nobody deserves it more!
Dear Aunt, if life was a game of Mario Kart you would be my blue shell. Thanks for bringing excitement and adventure to my life. Happy birthday!
Thanks for feeding me throughout all of college. Just know that you are the best aunt ever. My stomach thanks you as well. Think of me when you are having that birthday cake later. If you need help I am so there for you!
You are such a kind, funny, smart, and seriously amazing aunt. Here's hoping your birthday lives up to how awesome you are.
Happy Birthday To My Warm & Caring Aunt. You brighten everybody's world with your smile! I hope your special day brings lots of laughter, fun & wonderful wishes your way!
For my wonderful aunt, happy birthday. Someone as sweet as you should be treated to a day filled with cake, presents and all the special people who make life worth celebrating!
You are truly a fantastic aunt and I wish you all the happiness this world can bring. I love you, best bday!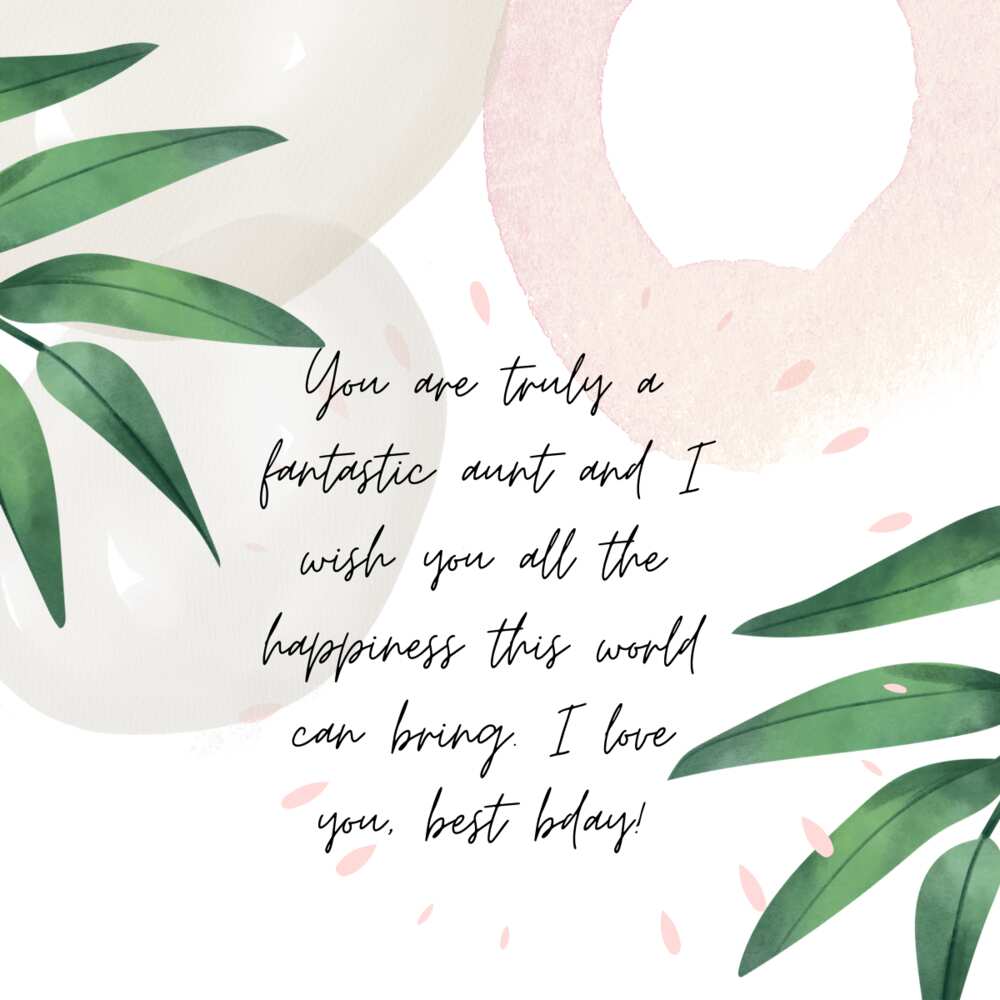 You are someone that I can lean on. You are someone I can trust and you are the one that I love to spend time with. I love you so much auntie, happy birthday!
When I need a friend I always think of you. I just want to let you know that you are in my thoughts on your special day.
I just wanted to let you know that I am so blessed to have such an amazing aunt in my life. You've enriched my life and have been a pillar of strength when I needed it most.
Happy Birthday. Smile your dazzling smile and enjoy yourself, because I can't imagine a woman who deserves to more! You've been more than an aunt, you've been a friend to me over the years, and so I want to wish you the most marvelous birthday ever. Go have fun!
Happy birthday to one of the most influential women in my life. You taught me so many things, and I want you to know that I look up to you in so many ways. Alas, for your birthday all I could get you was this message. Hey, you also taught me to be frugal!
My beloved aunty, thank you for all the life lessons you have taught me. My life would not be this great if not for you. I will forever cherish the wonderful memories we have shared, I love you! Wonderful bday!
Every time I think of you, I will always remember your tight hugs and your bright smile. I also think of how you always go out of your way to make us happy. Happy birthday, my beloved aunt! We love you!
Happy birthday to my amazing aunt. You always encouraged me to play and pounce on what I want. Today, I want you to have a spectacular day! Have a happy birthday and know you're surrounded by people who love you.
To the woman who should have been my mother: You've been more of a mother to me than my own. For all the times you've been there and really supported me I want to say thank you. You are truly the light of my life (and if you want to go all 80's then you're the wind beneath my wings as well).
Happy birthday. You've been at the center of all my sunny days so it's no secret you're my favorite aunt. Wishing you joy and luck for this next year!
Thanks for giving me advice on the complicated things in life. The things you just can't ask mom. Late night therapy sessions and ice cream binges with you are some of my happiest memories. I hope you know that you are truly appreciated.
On your birthday, I just want you to know how blessed I am to have you as my aunt. Wishing you many happy returns, dear aunt! I love you!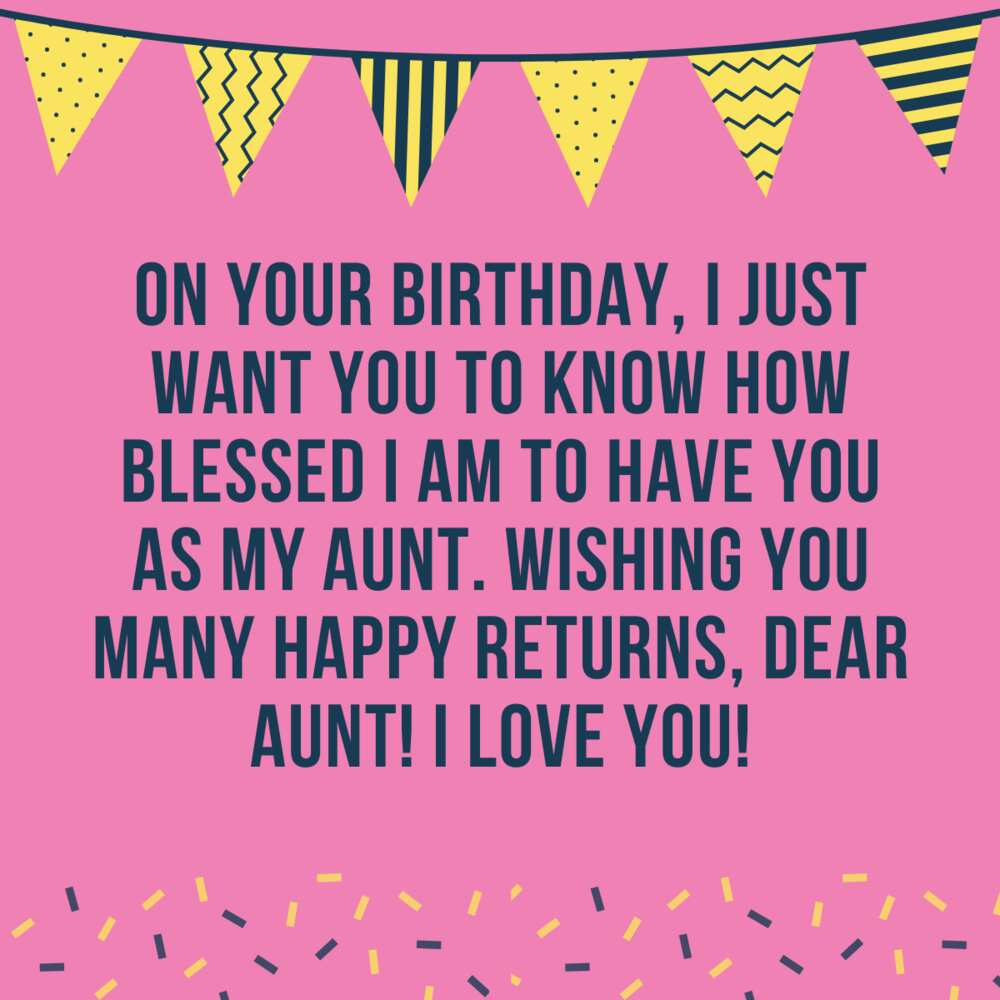 To my dearest aunt, I hope you get tons of love and support on your special day. And possibly lots of money. Not from me of course but from someone, someone who has money, not me.
Happy birthday to my wonderful aunt. You're the woman who encouraged me to spread my wings. I would not be who I am without you. So I hope you enjoy the freedom of the day and have a blast!
Life is an amazing ride, and I'm grateful to have you here with me the whole time. Thank you so much, and may you have everything you desire on your special day.
Because you are a very special aunt. It is so nice to have this chance to wish you the best of everything. Best Birthday Aunt, you're the best.
Disney should call you up, because you are such a fairy godmother to me! Thanks, for always making me feel like a princess in my own right. You bring magic into my life, and I hope your birthday is filled with love, joy, and a little bit of pixie dust.
Happy birthday to my awesome aunt. You have been such an important person in my life. Because of that, I want you to have the best day possible. I give you health and happiness for the rest of the year!
Dear aunty, another year has passed into your life, and this also means that you have become even wiser and stronger. Here's wishing you many joyous years ahead, Wonderful Birthday!
Happy birthday aunt! It's hard to pick just one positive thing about you, because you are overflowing with positivity. You are a bright spot in my life, and I really appreciate how wonderful you are.
When I need the guidance of a mom, the love of a sister, or the support of a friend you are always there for me. You mean so much to me, and I just wanted to let you know that I appreciate you far more than I ever tell you. Have a wonderful birthday filled with lots of love!
To the woman who has everything: just know you are my everything. I am so grateful to have you in my life, and I hope your birthday is just as phenomenal as you are.
I know words can never express how much you mean to me, but I hope to spend the rest of my life trying. You mean so much to me, and I know I don't express it nearly enough. Have a wonderful birthday Aunt!
Dear aunty, the word "generation gap" will definitely not work for us. For you have never behaved in a way that I will feel the age difference between us. Thank you for being my best friend and my partner in crime. Wonderful Bday!
Thank you for being my rock when I needed it most. I can never say enough how much I love you, but I'll at least try on your special day.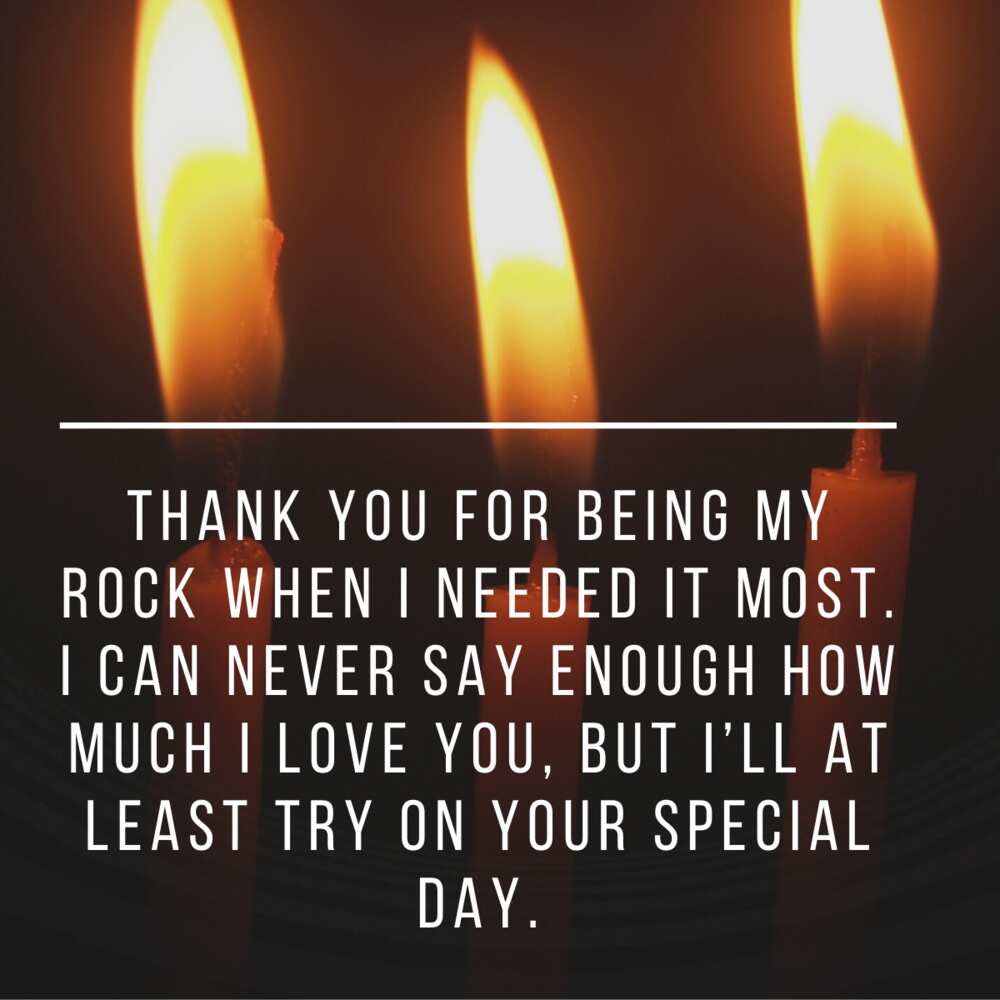 Thank you for being the other mother I received when I wed your nephew. You have always been warm and inviting, and I am so happy to be a new addition to your family.
Thank you for being a friend to me. You've always been there when I needed you. I want to travel endless roads with you, and I hope your birthday is filled with love, laughter, and endless fun.
I believe I am the luckiest person in the world for having such a caring aunt like you! I hope that all your dreams and wishes come true, wonderful birthday!
I cannot tell you how many times I have giggled when I'm with you and how many hugs we have shared together. But one thing is for sure… I am definitely thankful that you have always been there for me. Best bday, aunty!
Getting old is full of so many ups and downs, but you always manage to bring me up. I genuinely hope that as we get older we only remember the good times, because that's all I remember about my wonderful aunt.
My ever young Aunt, role-model like no other. Thank you for being so fearless. Because of you, I can dare. I consider myself lucky for having you. Have the best birthday, ever. Cheers to a beautiful year ahead. Happy Birthday Dear, Adorable Aunt.
They say with age comes wisdom, but really they mean with age comes the cajones to tell it like it is. You've always been a straight shooter and a source of guidance in my life. I'm looking forward to many more years filled with all the wisdom you can share.
Religious happy birthday wishes for aunty
If she is religious, send her one of these aunt birthday wishes:
To the best aunt in the world, may God continue to bless you with all the desires of your heart, happy bday!
Let God decorate each golden ray of the sun reaching you with wishes of success, happiness and prosperity for you. Happy birthday to my favourite aunt.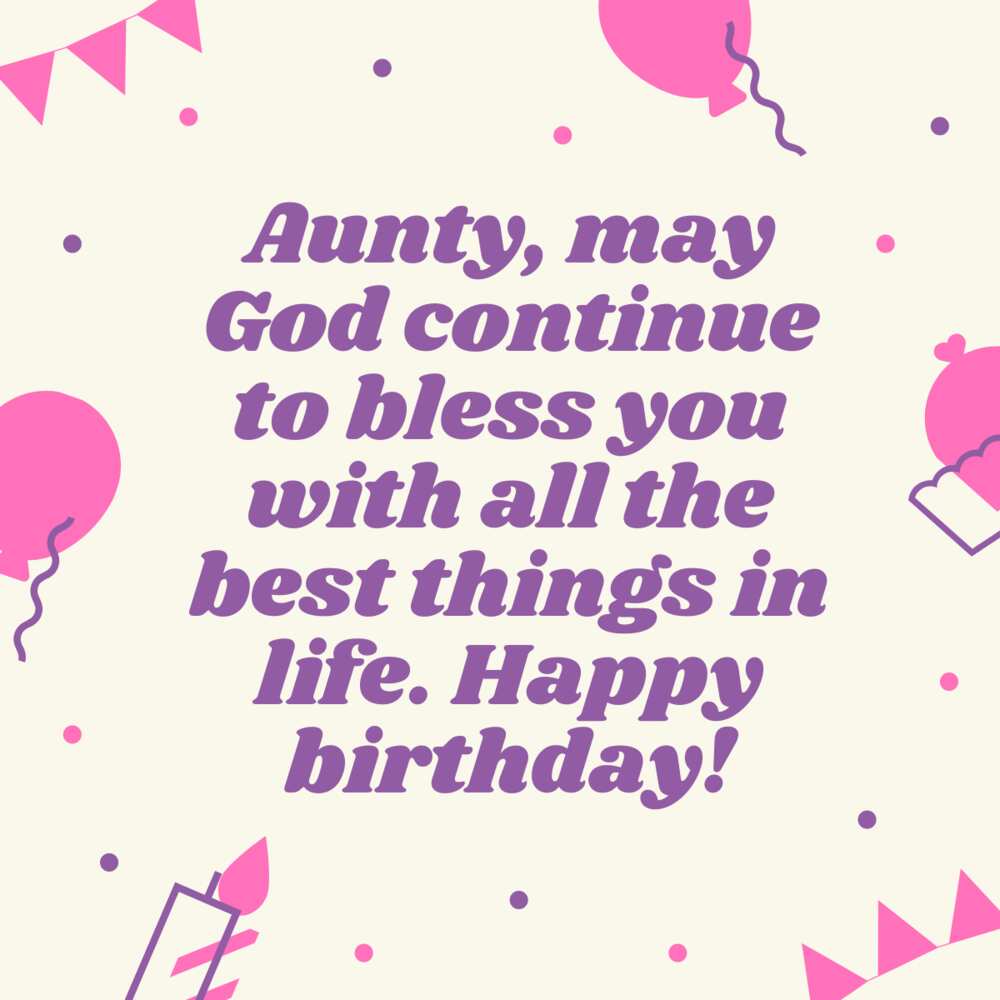 Aunty, may God continue to bless you with all the best things in life. Happy birthday!
May God shower you with so many blessings in your life! You are always in my thoughts and prayers, auntie. I love you so much, wonderful bday!
What can I say instead of happy birthday?
Birthday wishes for aunt do not have to be in the 'Happy Birthday aunt' format. There are other things that you can say to show your aunt that you appreciate her and wish her a wonderful day. Here are some more inspirational birthday message for aunt:
You are seriously awesomesauce! Enough said.
Just when I thought you couldn't get any cooler; you had a birthday and got older, wiser, and way better.
Thank you for always being you: the originator of cool. I looked up to you so much in childhood, and I look up to you even more in adulthood.
You're the kind of woman who doesn't just say nice things, but does nice things. Thanks for leading by example. If I turn out half as great as you I'll consider it a life well lived.
Our relationship goes beyond family reunions, graduations, and holidays. It's the type of relationship that will last a lifetime. Thanks for always being my closest friend.
When I need a mom and a bestie all rolled into one, I always look to my aunt.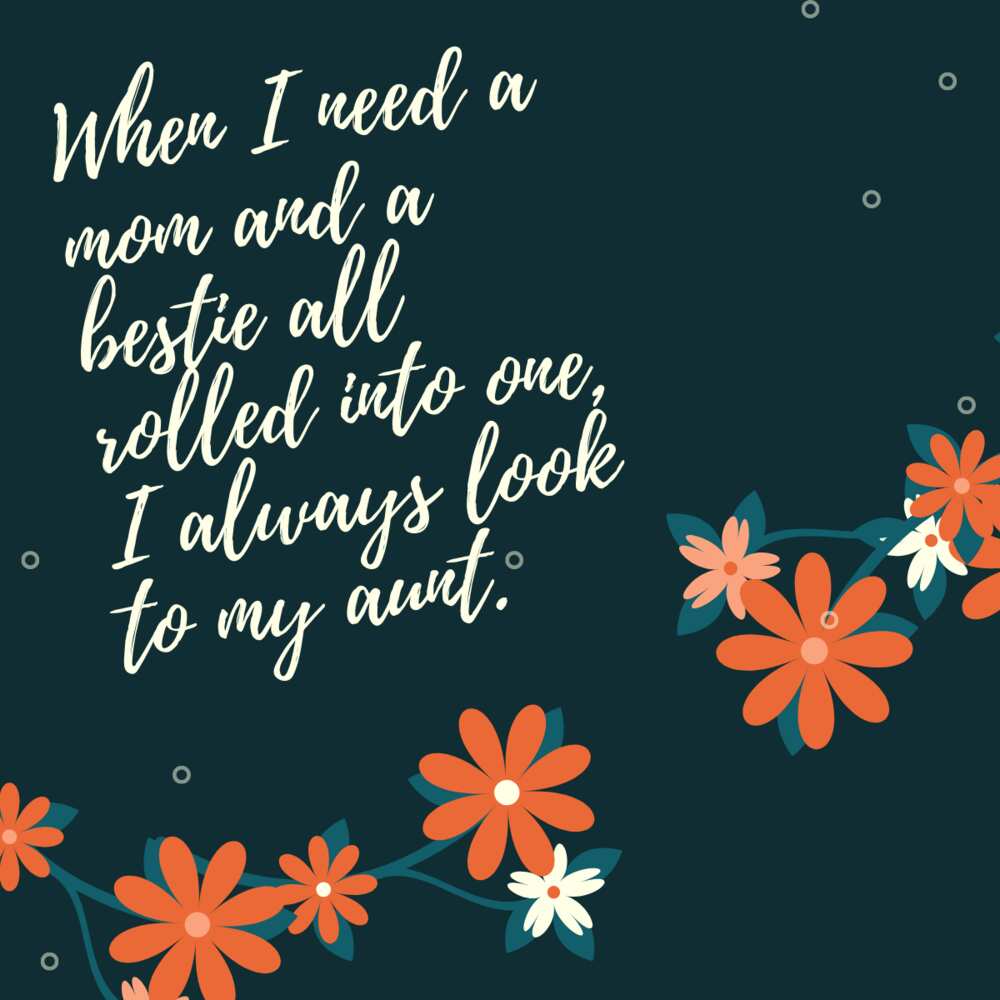 You are one of the most understanding women I know. You are so compassionate and have always been my own personal cheerleader.
Thanks for always being a rule breaker. You showed me how to live life to the fullest and to dream bigger dreams.
Aunt. Miracle-worker. Is there a difference?
You are the life of the party to everyone who knows you. You have that irresistible sparkle that just pulls people in. I am so fortunate to have you as a presence in my life.
Batman had Robin, and I have you. Some people call them sidekicks; I call them aunts.
Which of these happy birthday aunt messages and quotes did you like the most? Let us know in the comment section below.
READ ALSO: 30+ great queen quotes by and about iconic historical figures
Legit.ng recently published a list of some of the most famous queen quotes ever uttered. These quotes are undoubtedly full of wisdom that may help one navigate through life.
Everyone can stand to learn from these wise sayings. If you would like to get some wisdom from them, check out the list of queen quotes by Legit.ng.
Source: Legit.ng