30+ inspirational recovery quotes to encourage you on your journey
Dealing with addiction is undoubtedly hard, but if you have already accepted that you have an addiction and are looking for help in dealing with the situation, then you are already halfway there. While kicking out a bad habit may take a lot of effort, willpower, and determination, it is not impossible. Just as you began the habit, you can get rid of it as well. As you try to get back control of your life, you can use some recovery quotes that will motivate you and remind you why you are on this journey in the first place.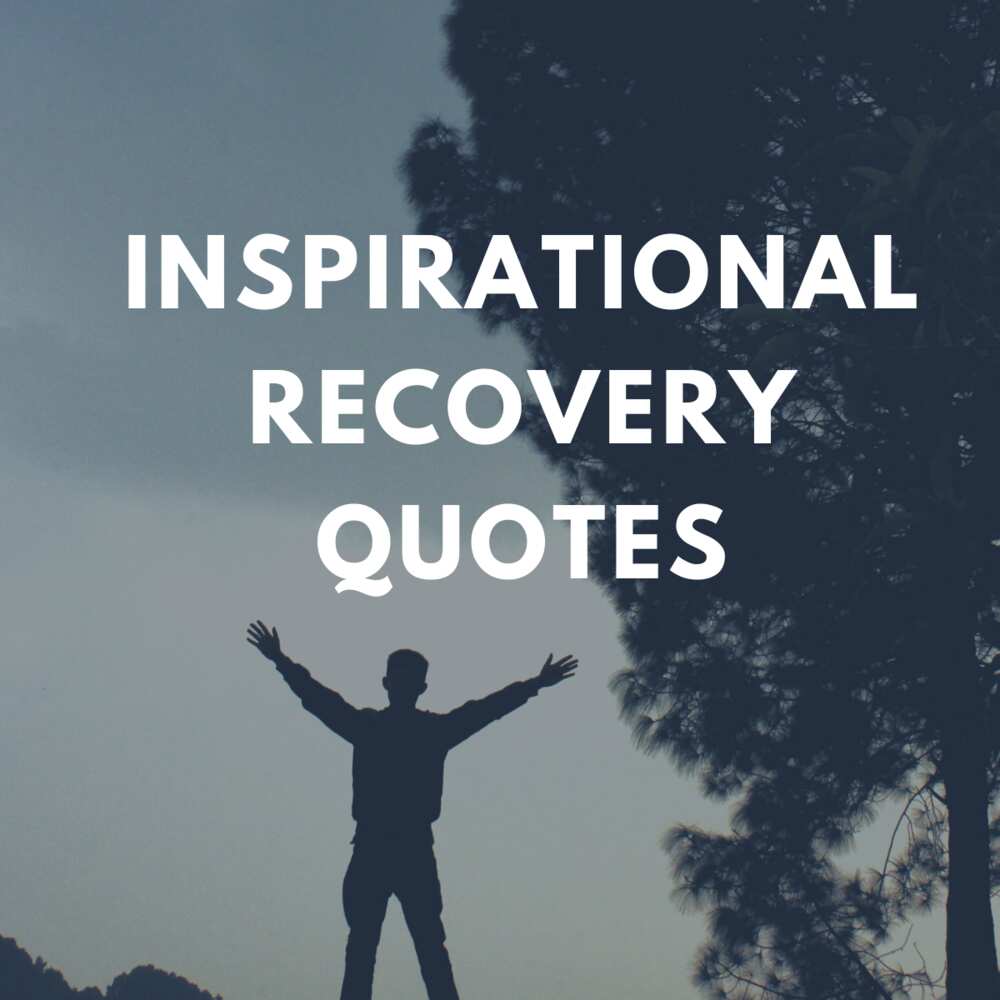 If you have landed on this page, congratulations, because you have already done a lot - you have decided to kick off this habit, and you are looking for motivation on how to do it. Luckily for you, this post contains some of the most uplifting recovery quotes ever uttered.
Here are some inspirational recovery quotes to motivate you while you are on the road to recovery.
Top 20 addiction recovery quotes
If you are on your way to getting sober, do not give up, because every step is worthwhile, and every sober day counts. Here are some uplifting AA recovery quotes that will remind you why you are on this journey:
It does not matter how slowly you go as long as you do not stop.
It's not that some people have willpower and some don't. It's that some people are ready to change and others are not.
I'm not telling you it is going to be easy, I'm telling you it's going to be worth it.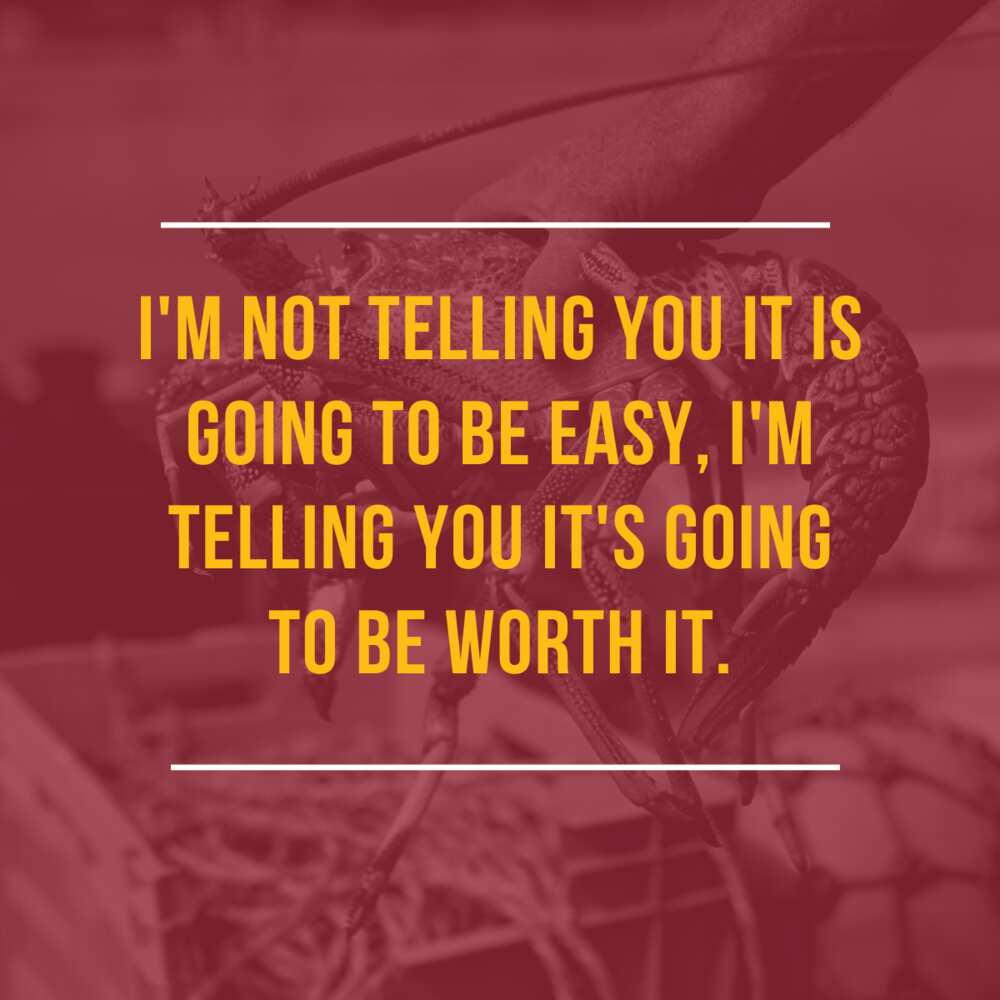 There is no shame in beginning again, for you get a chance to build bigger and better than before.
You don't get over an addiction by stopping using. You recover by creating a new life where it's easier to not use. If you don't create a new life, then all the factors that brought you to your addiction will catch up with you again.
If you find yourself in a hole, the first thing to do is stop digging.
Recovery is about progression not perfection.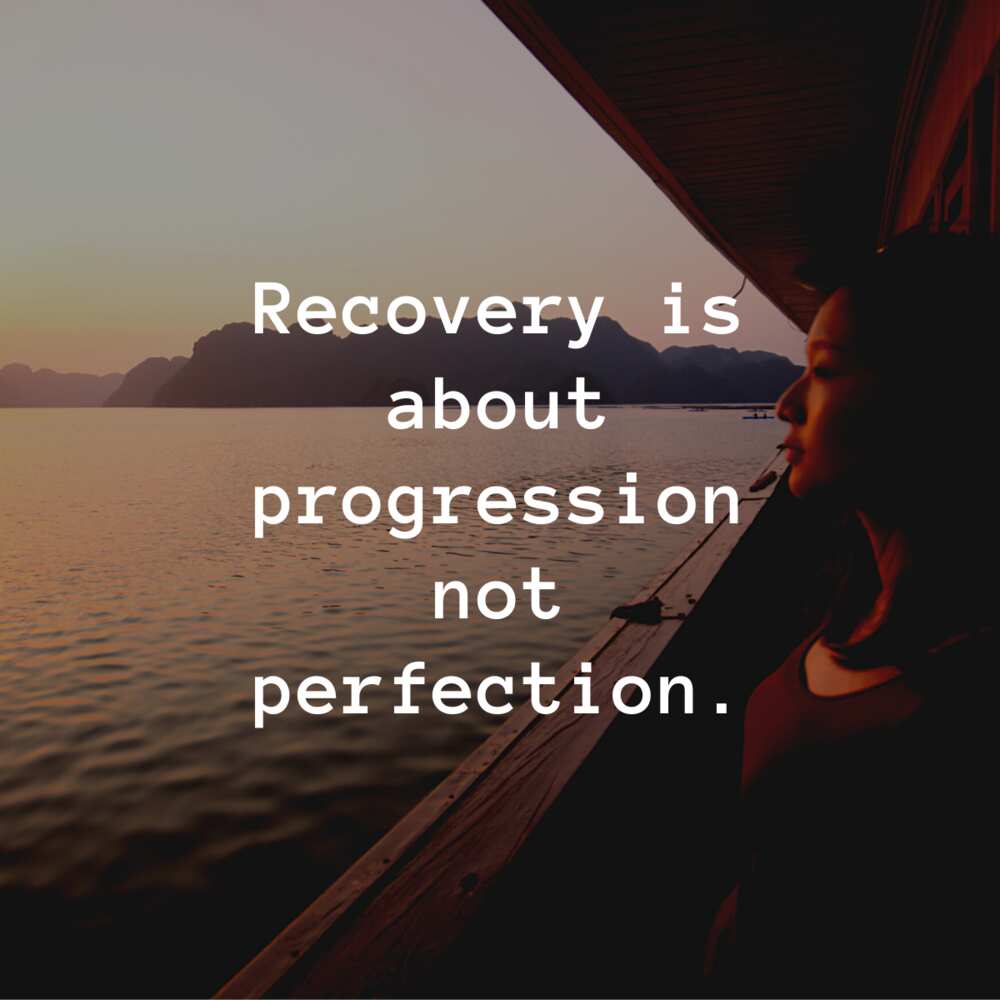 Recovery didn't open the gates of Heaven and let me in. Recovery opened the gates of hell and let me out!
Recovery is something that you have to work on every single day and it's something that doesn't get a day off.
My recovery must come first so that everything I love in life doesn't have to come last.
I know you're tired, I know you feel like giving up, but you're not going to. You know why? Because you are strong, and when you've survived through all the s**t your addiction has taken you through, you can survive recovery.
I would rather go through life sober, believing I am an alcoholic, than go through life drunk, trying to convince myself that I am not.
Addiction is the disease that makes you too selfish to see the havoc you created or care about the people whose lives you have shattered.
It's gonna get harder before it gets easier. But it will get better, you just gotta make it through the hard stuff first.
The goal isn't to be sober. The goal is to love yourself so much that you don't need to drink.
I understood myself only after I destroyed myself. And only in the process of fixing myself, did I know who I really was.
Recovery is not for people who need it, it's for people who want it.
You were never created to live depressed, defeated, guilty, condemned, ashamed or unworthy. You were create to be victorious.
I am not defined by my relapses, but by my decision to remain in recovery despite them.
Recovery is an acceptance that your life is in shambles and you have to change.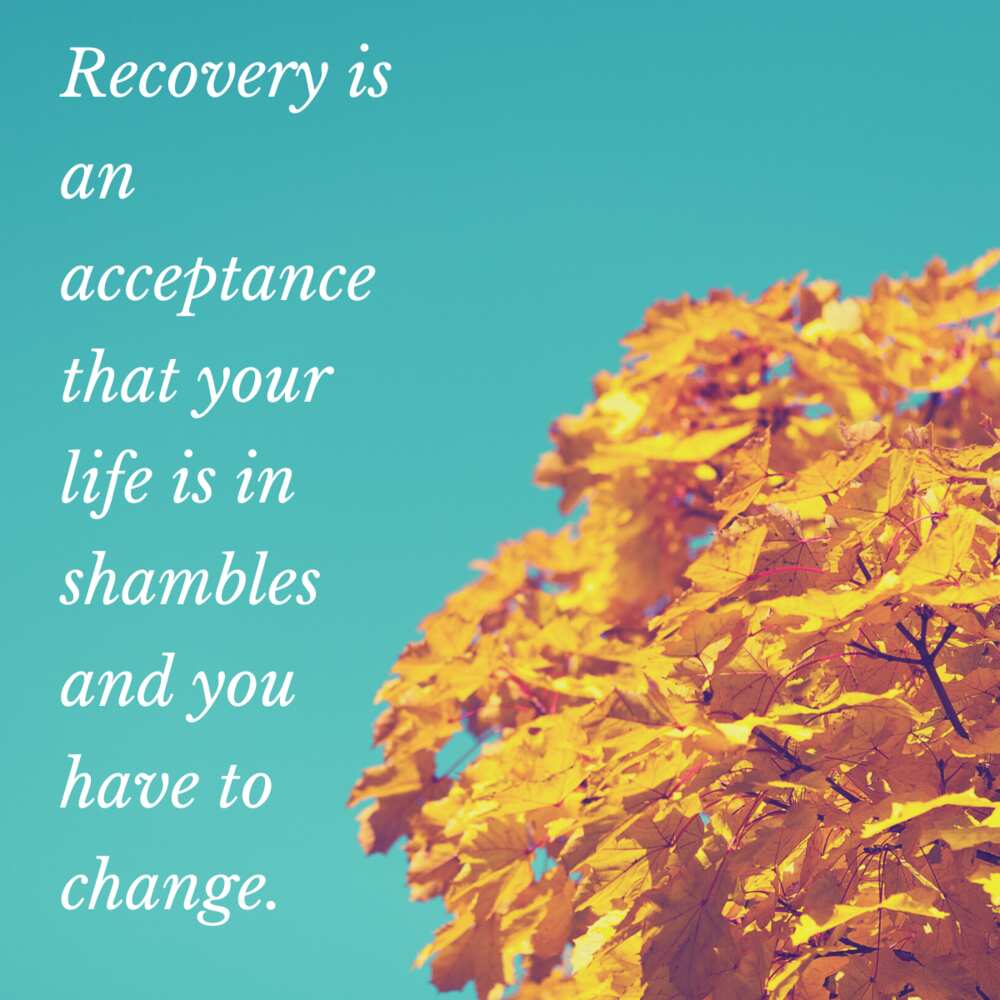 Recovery addict quotes
Use these quotes to remind yourself why you want to get over your addiction and get better.
Getting sober is a radically creative act. – Meredith Bell.
Change your thoughts, change your life.– Lao Tzu.
Recovery is not a race. You don't have to feel guilty if it takes you longer than you thought it would. – Unknown.
Believe you can and you're halfway there. – Theodore Roosevelt.
If we are facing in the right direction, all we have to do is keep on walking.– Zen proverb.
Fall seven times, stand up eight.– Japanese proverb.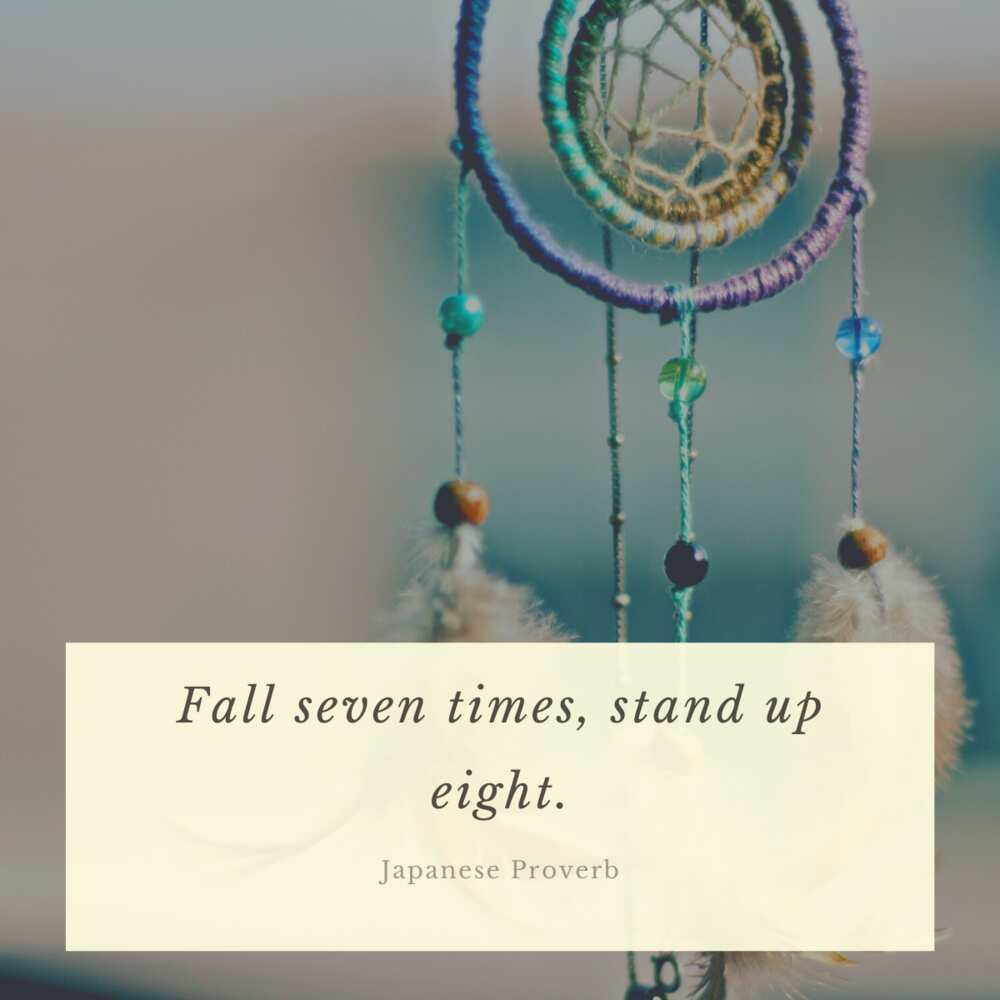 What lies behind us and what lies before us are tiny matters compared to what lies within us. – Ralph Waldo Emerson
I don't need alcohol to see the world in its depths, I carry the sun in me.– Lamine Pearlheart
Our greatest glory is not in never failing, but in rising up every time we fail.– Ralph Waldo Emerson.
Don't judge each day by the harvest you reap but by the seeds that you plant. – Robert Louis Stevenson.
Success is the sum of small efforts, repeated day in and day out.– Robert Collier.
Don't let the past steal your present. – Terri Guillemets.
The best way out is always through. – Robert Frost.
Hardships often prepare ordinary people for an extraordinary destiny. – C.S. Lewis.
The best way to predict your future is to create it. – Abraham Lincoln.
Celebrity quotes about recovery
Many world-renowned celebrities have battled addiction. Ben Affleck, Drew Barrymore, Robert Downey Jr., Fergie, and many other celebs have dealt with addiction. These celebs have overcome their battles with addiction and have continued to find success in their industries.
Here are popular recovering addiction quotes by some of the world's most famous celebrities:
Sobriety was the greatest gift I ever gave myself. – Rob Lowe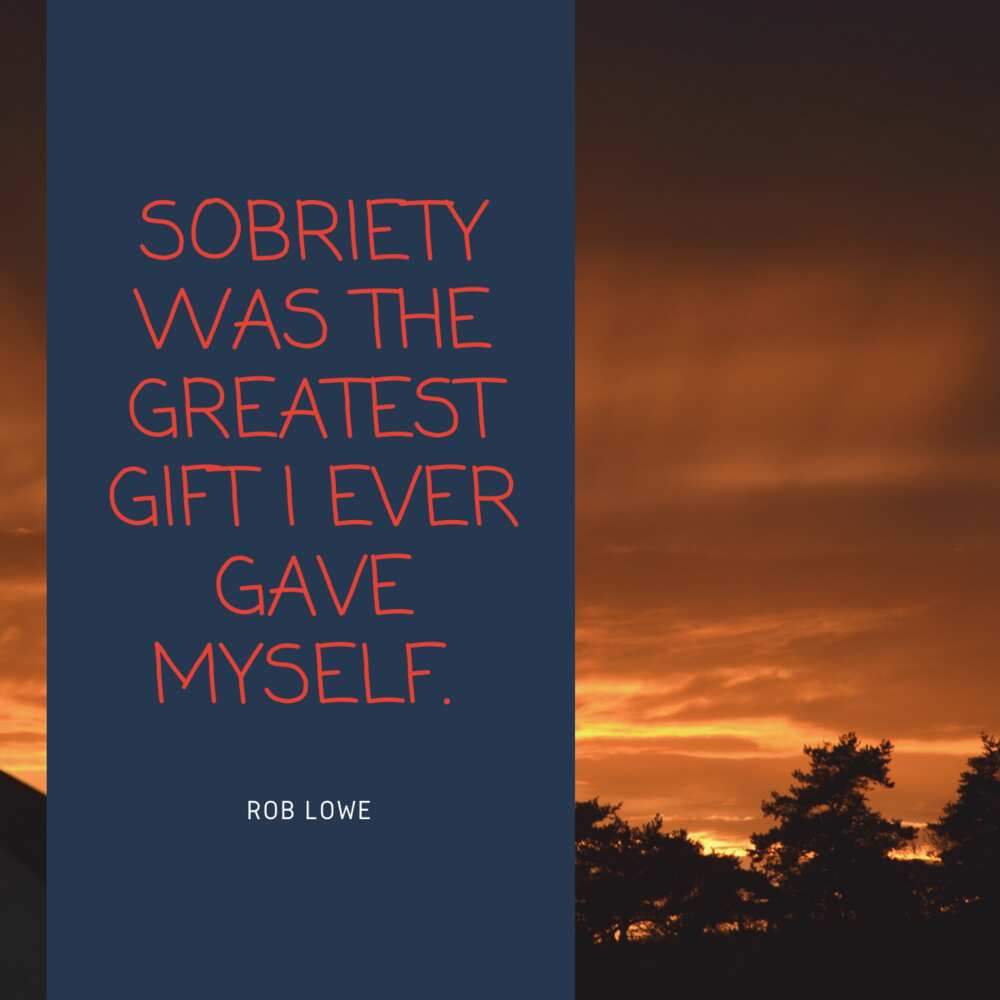 Not drinking makes me a lot happier. – Naomi Campbell
Ya think that the whiskey tastes good? Try a big cup of sobriety—now that is the good stuff! – Steven Tyler
I've never met an alcoholic in recovery who doesn't believe that this is the best thing they have ever done. – Adam Clayton
Don't pick up a drink or drug, one day at a time. It sounds so simple. It actually is simple, but it isn't easy—it requires incredible support and fastidious structuring. – Russell Brand
I wouldn't have been able to have access to myself or other people, or even been able to take in other people, if I hadn't changed my life. – Bradley Cooper
Sometimes you can only find Heaven by slowly backing away from hell. — Carrie Fisher
Getting sober just exploded my life. Now I have a much clearer sense of myself and what I can and can't do. I am more successful than I have ever been. – Jamie Lee Curtis
I avoid looking forward or backward, and try to keep looking upward. – Charlotte Brontë
Sometimes you've just got to give yourself what you wish someone else would give you. – Dr. Phil
Additional road to recovery quotes
These positive recovery quotes will motivate you and remind you that you can overcome your addiction. Don't give up!
Don't let the past steal your present. – Terri Guillemets
Sometimes we motivate ourselves by thinking of what we want to become. Sometimes we motivate ourselves by thinking about who we don't ever want to be again. – Shane Niemeyer
You can come out of the furnace of trouble two ways: if you let it consume you, you come out a cinder; but there is a kind of metal which refuses to be consumed, and comes out a star. – Jean Church
I think that the power is the principle. The principle of moving forward, as though you have the confidence to move forward, eventually gives you confidence when you look back and see what you've done. – Robert Downey, Jr
Recovery slogans
If you need something other than a recovery quote, use any of these inspirational slogans that will remind you of your goal.
First things first.
Live and let live.
Let go and let God.
One day at a time.
Cultivate an attitude of gratitude.
Misery is optional.
God never made no junk.
The key to freedom is in the steps.
HALT: Don't get too Hungry, Angry, Lonely, Tired.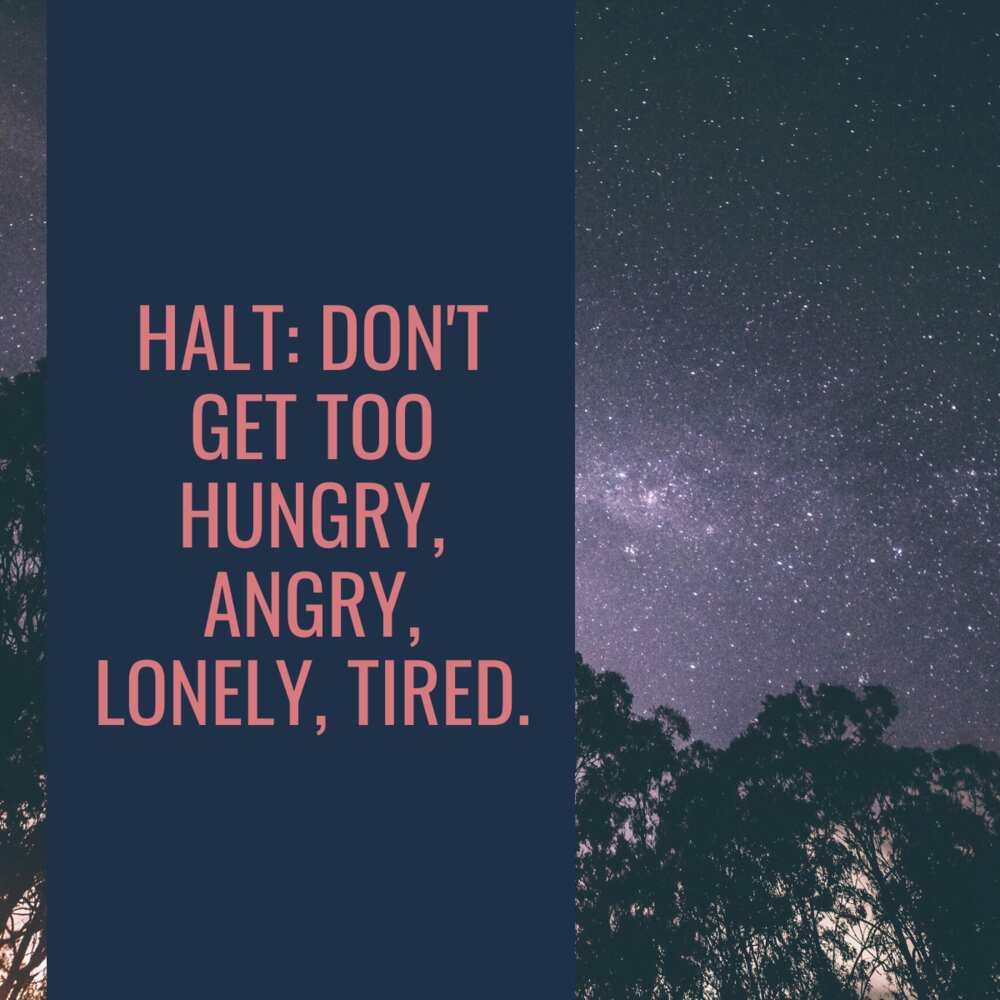 SLIP: Sobriety Lost Its Priority.
Progress, not perfection.
This too shall pass.
Stick with the winners.
H O P E: Happy Our Program Exists.
Recovery is a journey ...not a destination.
Turn it over.
Willingness is the key.
Do it sober.
Hugs not Drugs.
Recovery doesn't happen overnight.
If you want to stay clean, don't use.
Don't quit before the miracle happens.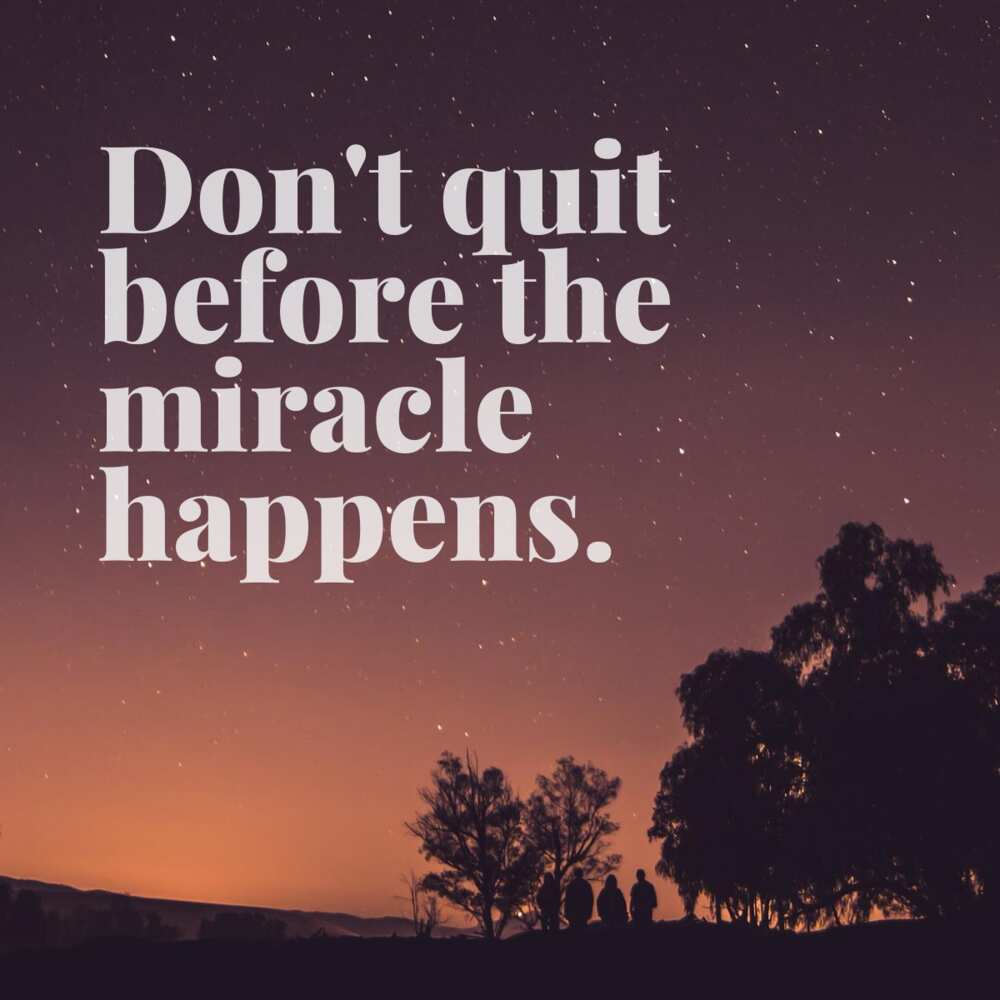 Change is a process, not an event.
Give time time.
You only get out of it what you put into it.
It's the first drink that gets you drunk.
Help is only a phone call away.
Nothing changes if nothing changes.
Seven days without a meeting makes one weak.
Use these inspirational recovery quotes to remind yourself why you want to get sober and to motivate yourself that indeed, you can make it! Good luck!
READ ALSO: Top 50 romantic missing you quotes and messages for her
Legit.ng recently compiled a list of the most beautiful romantic missing you quotes and messages that you can send to your girlfriend.
These quotes will help you to express how much you miss your girlfriend. She will definitely love them.
Source: Legit.ng