50 birthday wishes to my wife ideas to impress her
Which are the best birthday wishes to my wife? This is a question that frequently lingers in most husbands' minds when looking for the best way to please their wives on their special day. As a husband, you will want to ensure that your wife has the best time of her life on this day.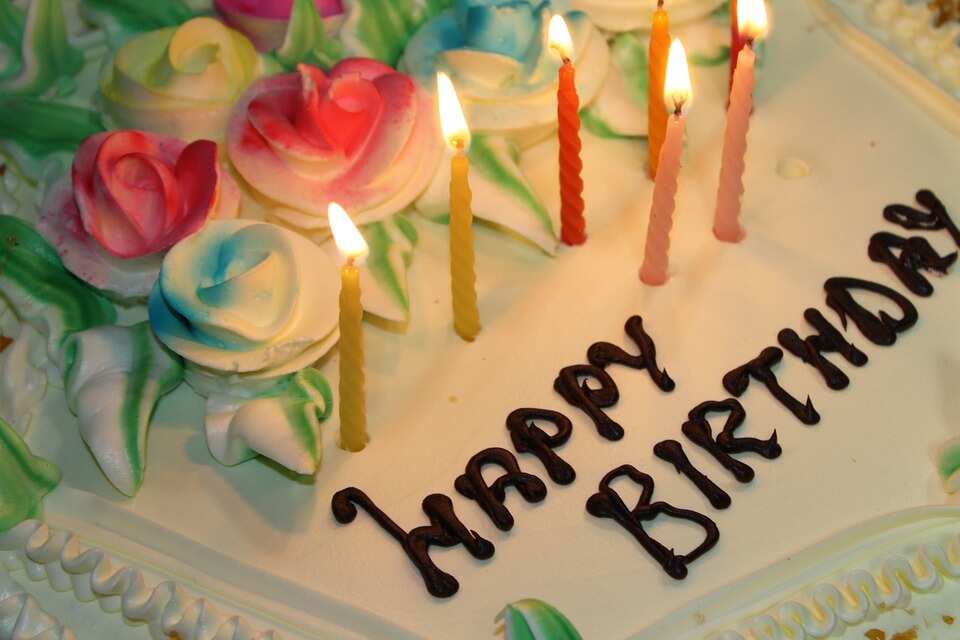 On this day, you have the chance to celebrate your wife's greatness, the great moments in your life as well as your togetherness. Buying her a gift is awesome, but you can make the day even better by adding a loving and heartfelt message. Give your spouse all the pampering, attention and love she deserves. Consider the following collection of birthday wishes to my wife to make her feel appreciated.
Romantic birthday messages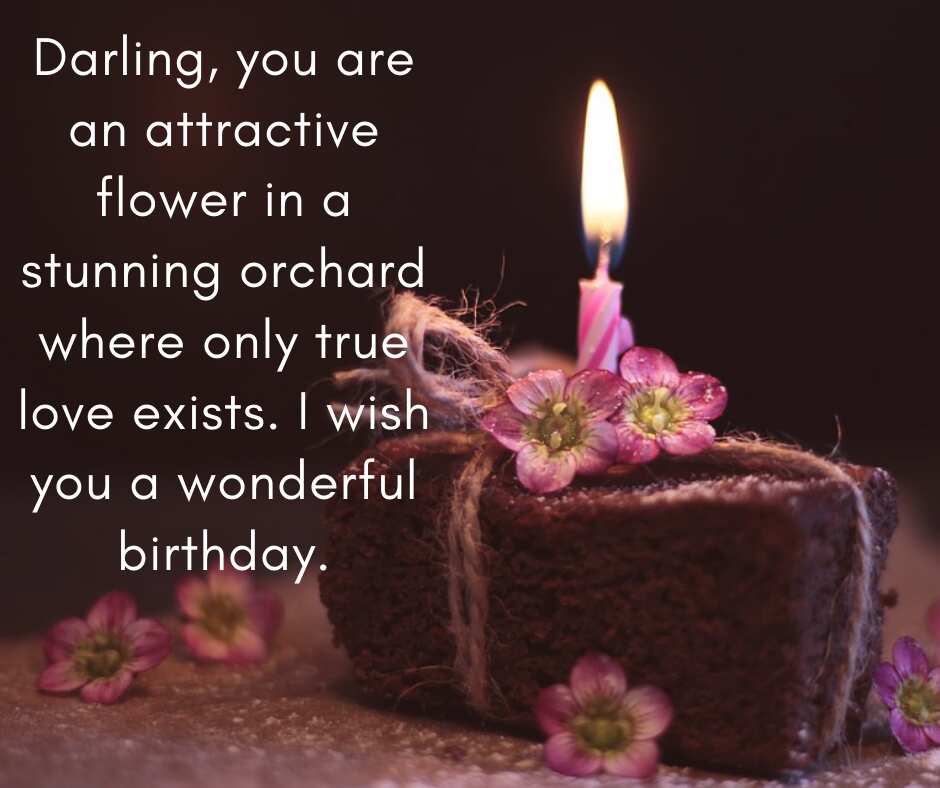 Celebrate your wife's special day with the happy birthday messages to my love messages below that will leave a smile on her face and fill her heart with happiness:
Dear wife, as you blow those candles on your cake, I want to express my appreciation for being a wonderful wife. If you walked away from my life, my heart would bleed. With you by my side, I look forward to a lovely day ahead. Happy birthday my love.
Everyone seems to know that you turned a year older except me. In my eyes, you have not changed at all. You are still as beautiful as I met you for the first time.
In this world, only a few people get to meet their soul mates. However, I have been privileged to meet and spend the rest of my life with you. I wish you a happy birthday.
I am sure you have a lot of things to do. On this particular day, I am taking them off your hands and doing them myself. Happy birthday, darling.
At some point in life, someone comes into your life, and they turn it upside down in the right way. You, my wife, are that someone. You are my life, and I wish you a happy birthday.
A single plant can start a forest, and a smile can make a friend. One touch can express love and kindness. You make my life sensible, my spouse. Happy birthday.
The love I have for you will never end. The smile I have every time I see and think of you will never fade. Happy birthday my lovely spouse.
Darling, you are an attractive flower in a stunning orchard where only true intimacy exists. I wish you a wonderful birthday.
With each year I will endear you more. Remember that your best years are still ahead of you. I will be there for you through thick and thin. Enjoy your birthday.
Sometimes words are hard to find to form that perfect line, to let you know that you are always on my mind. Happy birthday, dear.
READ ALSO: Top 50 birthday SMS, wishes and quotes
Happy birthday wishes to my love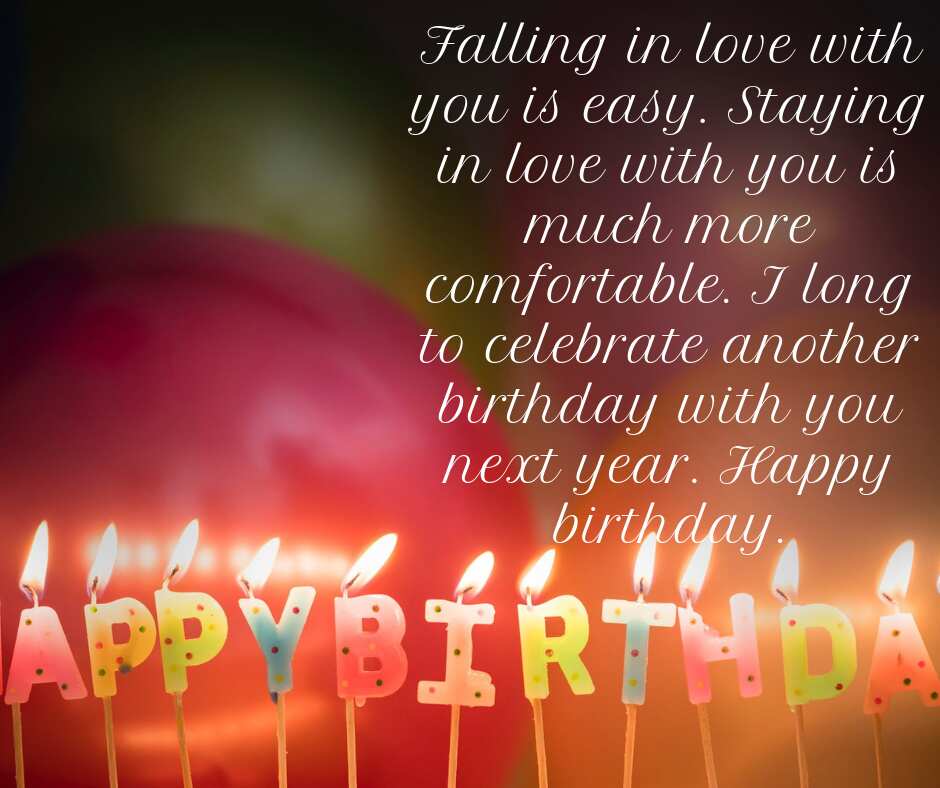 You can use the following birthday wishes for my wife:
My love, because of you, I wear a smile all the time. The flames of our love will never be put out. May our passion sparkle as bright as the sun to give you a great birthday. I love you.
To the world, you may be only one person. To me, you are the world. Happy birthday my dearest wife.
Our memories as husband and wife will never be snatched away from us. No matter how old we get and how many birthdays pass by. Keep in mind that I will always be here for you. Happy birthday my love.
On this particular day, let me take a small piece of the universe and offer it to you, like a simple gift for your special day. Have a wonderful birthday my wife.
Dear wife, I want to say how grateful I am to have you in my life. Best birthday to you and thank you for always supporting me.
Falling in love with you is easy. Staying in love with you is much more comfortable. I long to celebrate another special day with you next year. Happy birthday.
Being in love is not what gives me joy, but knowing that I am in love with you. Happy birthday!
Gorgeous, I am charmed by your exquisiteness and fascinated by your love. There is never a day that I will not think of you. I love you. May you have a wonderful birthday.
My love, may this day bring you everything you ever prayed for in life. I love you to eternity.
I am so happy that you decided to celebrate this birthday with me. Thank you for everything. I love you so much sweetheart! Happy birthday.
Sweet birthday message for her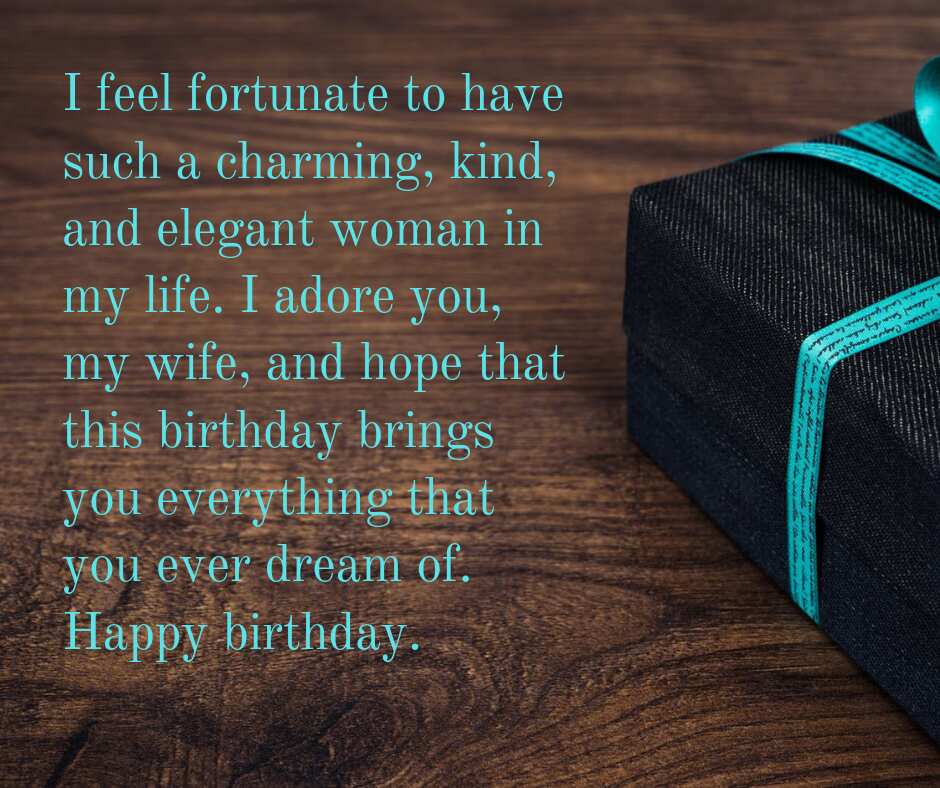 Here are some sweet birthday message to my wife to show YOUR affection. These birthday text messages will forever remain in her memory:
Some people read books and stories to find the precise meaning of love. However, all I have to do is look in your eyes. Happy birthday my cherished wife.
Because of you, our family is so strong. I love you and genuinely hope you will be blessed with many more years on earth, by my side.
Every time you open your special day gifts and admire them, I experience complete happiness because you are the most passionate gift to me.
The love we share is not comparable to any fairy tale. Ours is a story of love, joy and always holding each other dear. Happy birthday to my wife and to the mother of my kids.
You are an amazing mother, wife and homemaker. You, therefore, deserve a beautiful birthday cake, gorgeous gifts and much more. I hope that you will love what the kids and I have for you, blessed birthday message to my love.
On our wedding day, I thought you had never looked more stunning. Today as I look at you, I know I was wrong. On this day, your birthday, you are the most beautiful woman I have ever met.
I feel fortunate to have such a charming, kind, and elegant woman in my life. I adore you, my spouse, and hope that this special day brings you everything that you ever dream of. Happy birthday.
Happy birthday to the only girl who fills my heart and soul with joy. I cherish you, my wife. May joy and gladness accompany you on this day.
I wish the special girl in my life a happy birthday. You are such a passionate, kind and thoughtful wife. May this special day be as memorable as it can be.
It is difficult to explain how much you mean to me. There are no words, but I hope that my beautiful smile brings you a portion of my love. Happy birthday.
READ ALSO: Cute birthday wishes for best friends
Happy birthday wishes for lover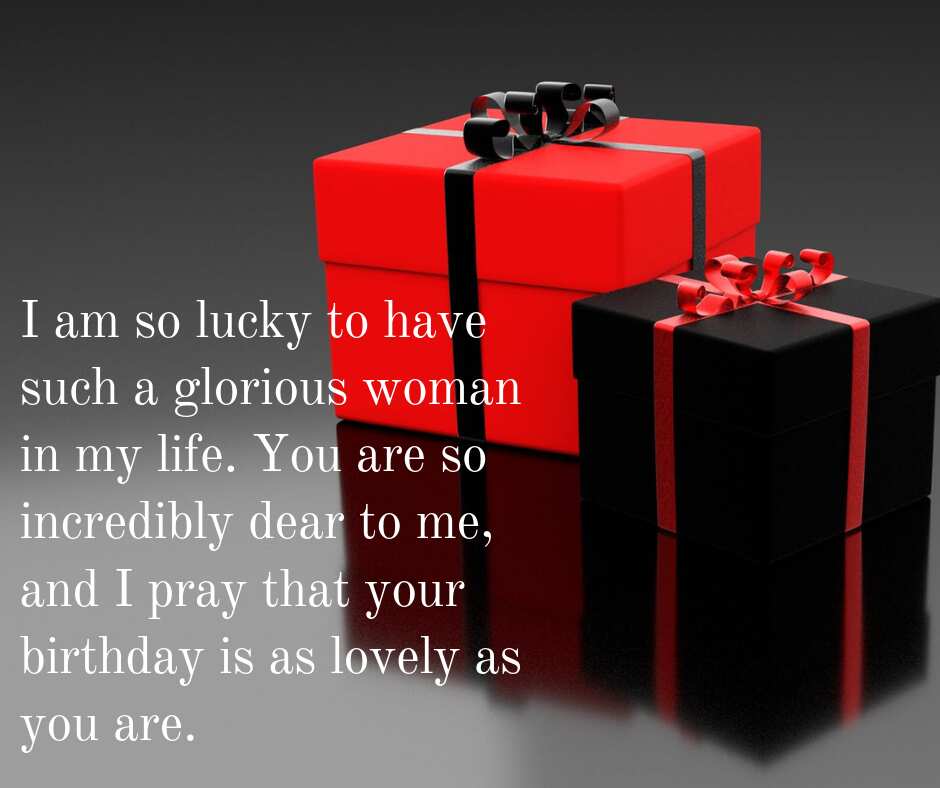 Here are some birthday wishes to a lover. Choose one that feels best:
May this day be as sunny as your smile, and as beautiful as you are. You glow every day, but on this particular day, you will radiate the brightest. Happy birthday my love.
In my life, I have not met a person as passionate as you. On your birthday, I celebrate your sweetness by feasting on this cake and making merry with some wine.
Thank you for all the happy memories you gave me. Even if we grow old and celebrate many more special days, I will always support you. Happy birthday.
I do not have enough words to show how I feel towards you. But my tight hug will make you understand how much I adore you. My prayer for you is always to be happy and joyful. Happy birthday message to you my wife.
Falling in love with you is a privilege. But being loved back by you is a blessing. Spending my life with you is a dream come true. I hope all your expectation get fulfilled on this day. Happy birthday my lovely wife.
On your birthday, I want to tell you how unique you are. You are special to all those who are lucky enough to have met you. People like you are hard to come by. Getting to have a wife like you is indeed a gift.
I am so lucky to have such a glorious woman in my life. You are so incredibly dear to me, and I pray that your birthday is as lovely as you are.
I am conveying this tender happy birthday message to my love. I am sorry I am not present to celebrate but know I am counting down the hours together with you. Happy birthday my love.
I want you to know that contrary to what many believe, I notice and appreciate all the little things you do. Those are the things that complete my life. If I happen to forget to mention it, it is because I am busy being awed by your beauty. Happy birthday to my love.
On birthdays people wish for many things. For yours, I hope that you only want one that you get to live for many years, so that we can spend them together. Happy birthday wishes to a wife so caring and passionate.
Funny birthday wishes to my wife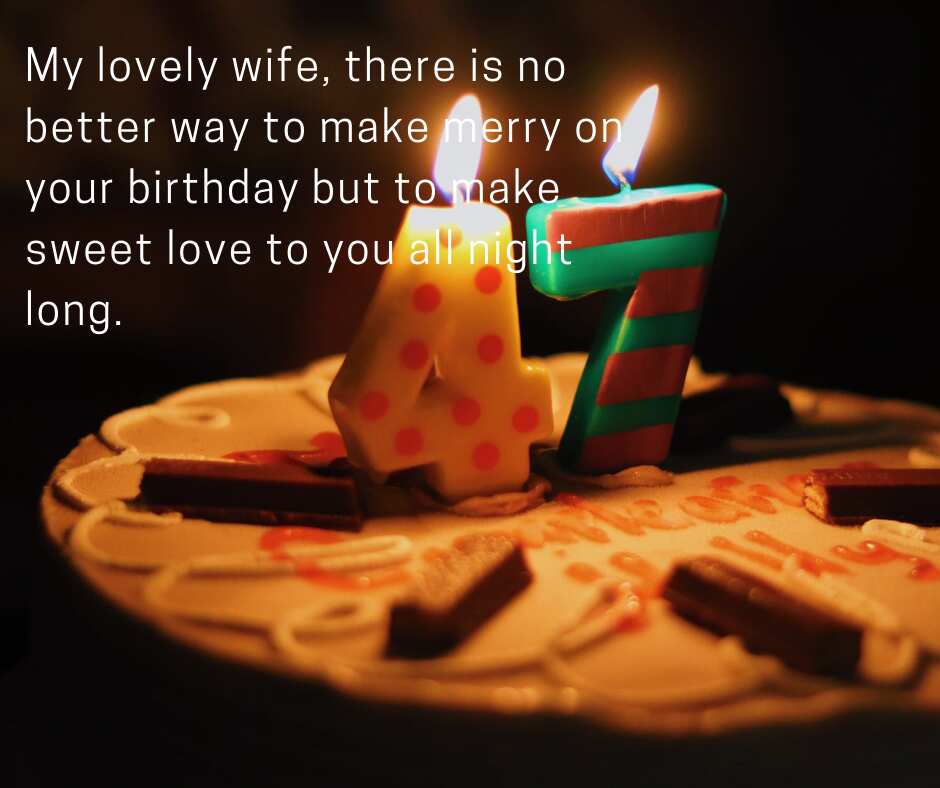 Make use of hilarious birthday wishes for wife on her special day to put a smile on her face all day long:
Dear wife, on this particular day, I wish you long life and prosperity. However, the long life is only on one condition, that you do not use anti-ageing creams. The only way to have a long life is to age. I am happy you are doing so gracefully.
Sweetheart, today we are not blowing off the candles on your cake. We are going to fan the flame so that the fire of love in our marriage can be kindled more and more.
My wife, may you have a long life like Methuselah. If your answer is Amen, it merely means that you may not have any tooth at the end. Happy birthday my love.
On your birthday, I only have one special wish; that nothing but death will separate us. If possible, not even death should do us part. I still want to marry you when we die.
Happy birthday to my gorgeous and grey-haired wife. Take note that I am not making fun of you. Grey hair is just but the colour of glory. Your grey hair is adding a crown to your beauty.
My lovely wife, there is no better way to make merry on your birthday but to make sweet love to you all night long.
Dear wife, you know that I love you so much. This is even if all your teeth are gone. At least you have me to eat your portion of meat.
I have been thinking of the most suitable birthday gift for you. Since you love candies than food, I decided to order a trailer load of it. This is my special gift on your special day.
Dearest wife, you have been there for me even on my darkest hours. As a result, I do not mind dying for you. Do not ask for physical proof of that. I am not ready to die yet. Happy birthday my loving wife.
Do not be worried about the wrinkles as you get older. I have the perfect antidote for wrinkles. It is called a pasted smile on your face. Smile is the best facial makeover and the most effective anti-ageing cream.
Being in love and having a happy marriage is a gift. As you celebrate your wife's special day, choose unique ways to express your love and appreciate her. The above birthday wishes to my wife will help you give her memories that will never fade.
READ ALSO: Romantic birthday wishes for lover
Source: Legit.ng