50+ cool happy birthday nephew messages, wishes and quotes
Is your nephew's birthday coming up? Is the question, "what can i say to my nephew?" troubling you? Worry no more, as this post contains a compilation of the most amazing happy birthday nephew quotes, wishes, and messages that you can send to him on his special day.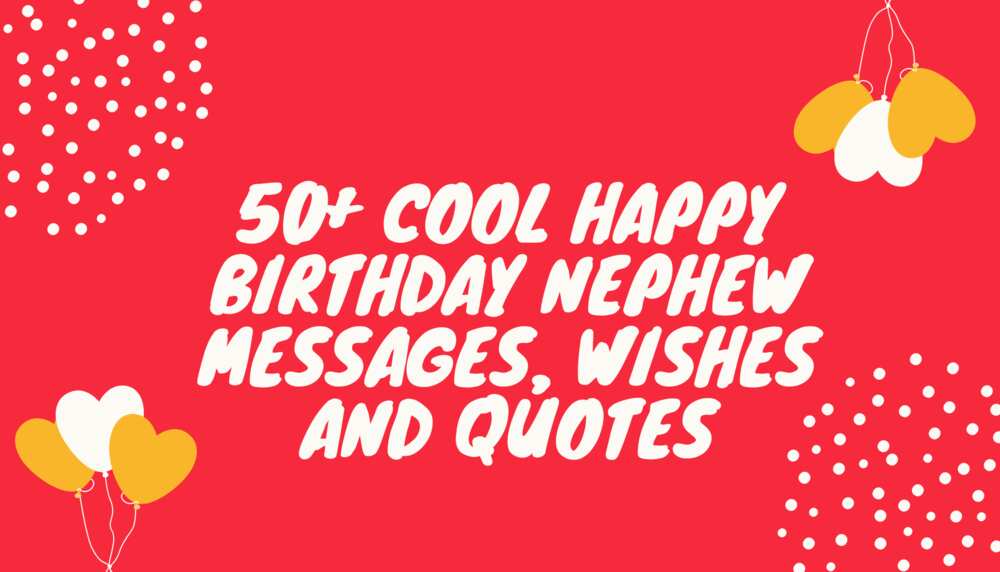 Just like anyone else, nephews too need to be pampered on their birthdays. You can make them feel loved by giving them cool gifts or even spending time with them. But before you do any of these things, you should find a way of showing them that you remember their special day and are wishing them the best. This is where birthday wishes for nephew come in.
Just a few words may change their entire day and make them feel more loved. Here is a compilation of some nephew birthday quote that you can send to him on his special day.
Cool happy birthday nephew messages, quotes, and wishes
Here are some amazing birthday wishes to a nephew:
You're the most adorable, talented, and mischievous nephew there is. Happy birthday to the perfect nephew!
It's not hard to pamper such an adorable nephew, but it sure is hard to restrain myself. May your birthday be filled with everything you hope for.
Happy Birthday to the most chilled out and relaxed beautiful baby ever, my gorgeous wee nephew. Your aunty can't be there, but I love you so much. Promise I will be home to see you as soon as I can! Have a fabulous day!
Happy birthday to my number one nephew! (Psst: but don't tell the others!)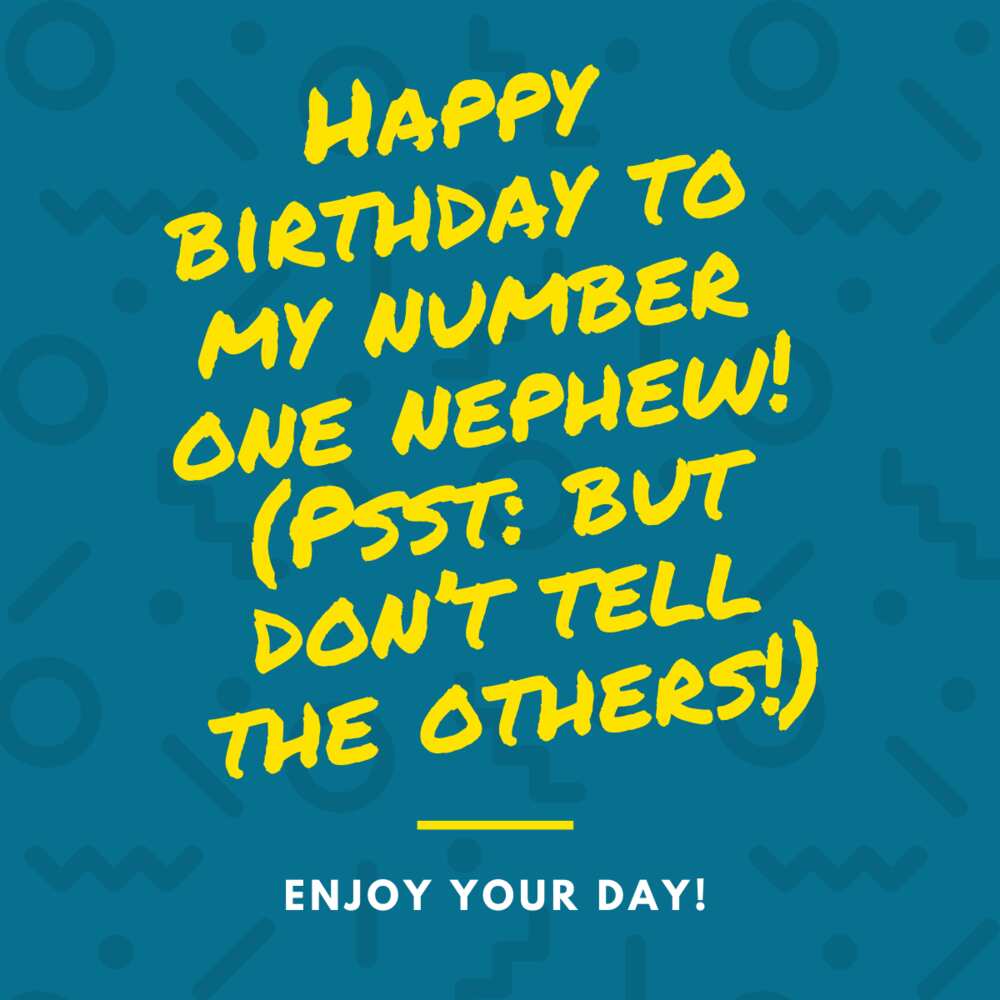 Look at what a grand journey your life has been so far, and it's only going to get even better. Happy birthday nephew God bless you!
Happy birthday to my firstborn nephew! You are turning six today. Wow time really does fly. It feels like it was just yesterday when I held you in my arms for the first time. You give me the best feeling ever, and you are the best thing that ever happened to me. I love you.
I wish your birthday was a national holiday so I could take today off and spend it with you. Oh well. I'll have to settle for just sending you this message instead.
If you ever need a friend just call me. I will always come to your aide. Never be ashamed to ask for help, because it's my pleasure to always be there for you. I love you so much nephew.
The best thing your parents ever did was have you. The second best thing was letting me spoil the mess out of you. Happy birthday nephew!
Always consider the weaknesses you have as motivation to improve. I know this year hasn't been the best for you, but I am confident that starting with this birthday, this year is going to be amazing.
You're less like a nephew and more like a son. I hope you understand how much I love and adore you. You've enriched my life with meaning and love.
Never be afraid of the unknown. Take this year to leap ahead without ever looking back. Birthdays are meant to mark more than the passage of time. They also represent new beginnings. Take every chance you can in life.
May you get what you want for your birthday, and may you always seek the right things. Remember to always move forward in life, because life definitely doesn't slow down for you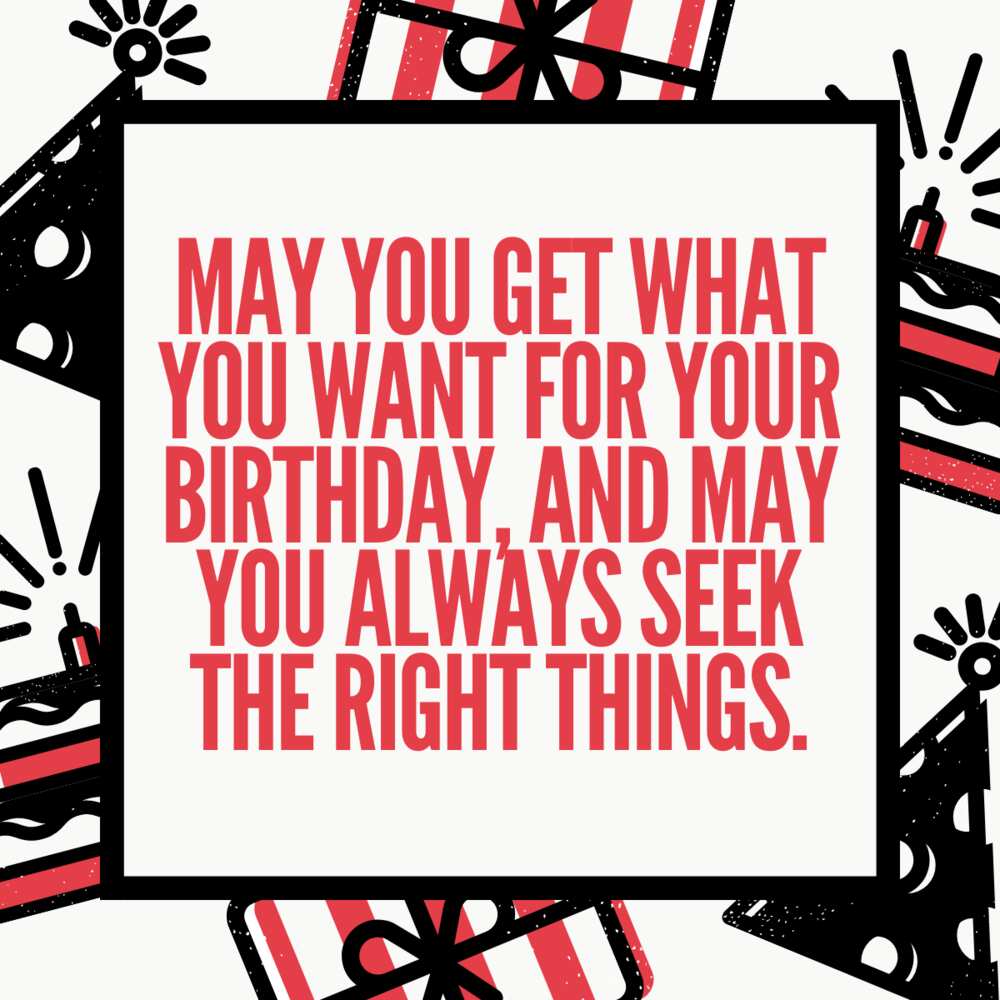 .Life is full of new challenges and opportunities. I hope you face them with courage and faith. Just know that you are in my thoughts today nephew.
It astounds me how much I love you. Wishing you the absolute best on your birthday nephew. May you get the biggest, shiniest, and coolest presents this year.
Remember you're never too old to dream a new dream nephew. Unless that dream is to become younger. Then you should really give up on that one. Happy birthday!
I can't imagine life without you, because you are the reason my life is so blessed. I hope that your life is equally blessed.
I thought for this birthday I would give you something you really want: I WILL watch a Spongebob marathon with you today. Only today though. There are limits to everything in life, and you should start learning them now.
Happy birthday, handsome! I still remember the day you born, your first step, first walk and everything of you. Time is flying so fast! I'm so happy that you've become a nice human being. Have a beautiful and holy day!
I hope all your flights of fancy come true today, and that you never stop day-dreaming. Happy birthday nephew!
Just know that you're kind of a big deal, not just today but every day. Stay classy and handsome nephew.
I can barely fathom all the great things you're going to do in the future. But I know that they will be exceptional.
Not even the cake stands a chance of being as sweet as you! Happy birthday to my absolute favorite nephew.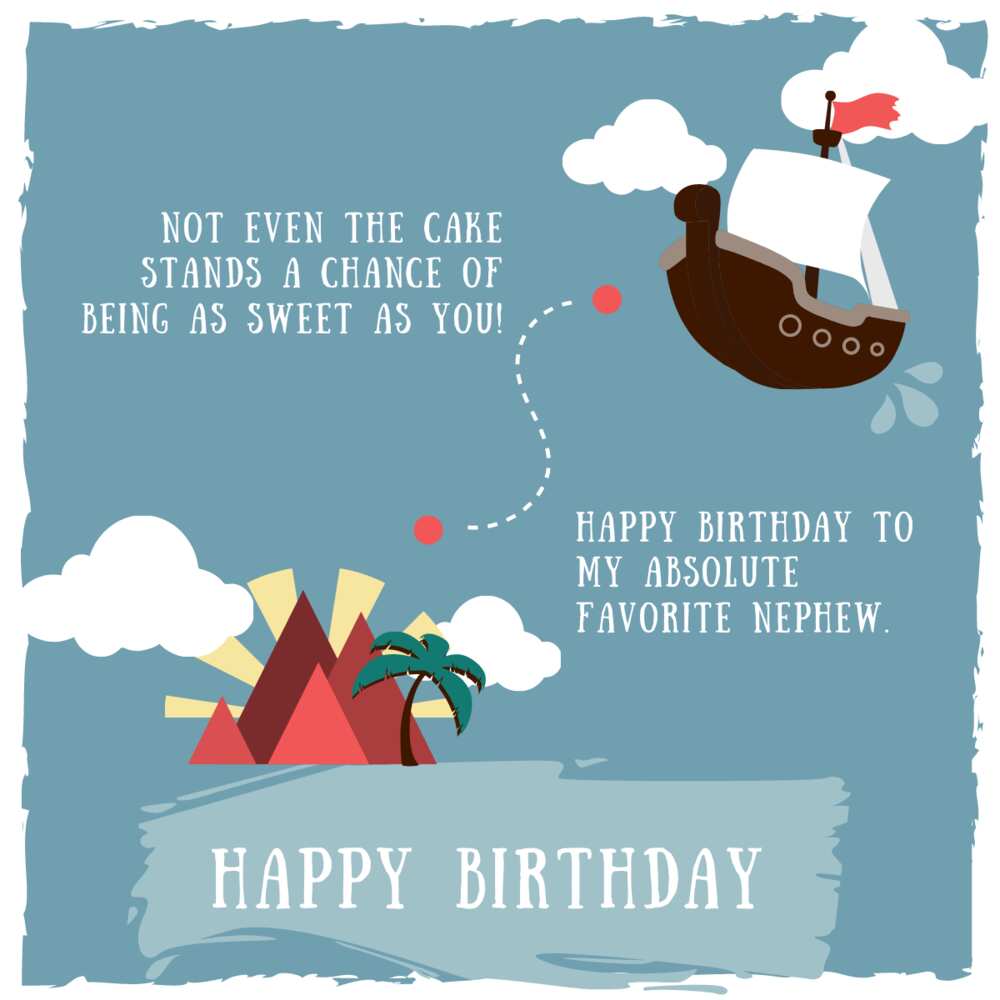 There's nothing we can do about having you as a nephew so this year we decided to embrace it. Just kidding. We love you nephew! If we had the choice we would still pick you every time, because you are an invaluable member of our family whom we could never be without.
From T-ball to college it has brought me such joy to watch you grow up. Continue to be as amazing as you can be. I can't wait to see all that life has in store for you.
People say that with age comes wisdom, but that's not true. I see tons of stupid old people! Thankfully, you are not one of them. Happy birthday to my nephew who always keeps his wits about him.
Happy Birthday to my nephew, who has grown up to be one amazing guy. And it's all because he had me as a role model, showing him what not to do at every step of the way.
Your birthday marks the beginning of a new year full of bright and cheerful moments. I know that this year will be spectacular for you.
Happy 21st Birthday, Nephew! Hope you enjoyed all the birthday money over the years, because you are officially cut off!
I love my sister to death – only because she gave me an amazing nephew like you. Happy birthday.
Our bond is so strong that if we were in an alternate universe you would still be my nephew. Mwahaha. You can't escape me even in sci-fi!
Somebody loves you and is thinking about you on your birthday. Actually, a lot of people love you and are thinking about you, but in this case, I'm talking about me, your devoted auntie. Happy Birthday, kiddo!
As you get older I may miss how cute you were when you were little, but I am so proud of the man you have become!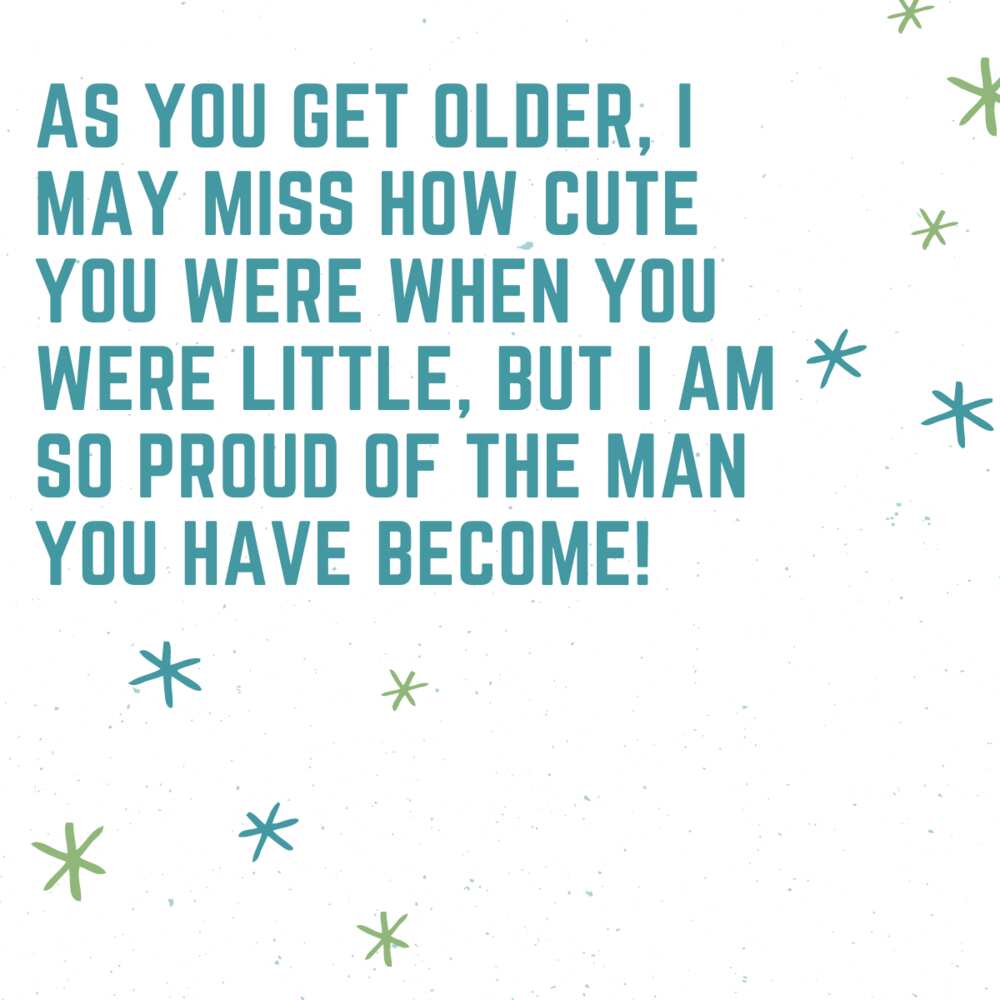 Happy Birthday to my adorable nephew! Wish I could be there to spoil you rotten on your big day, but I'm sure Mom and Dad have that covered!
The world just doesn't know how fortunate it is to have had another year of your awesome presence! Don't worry I will make it my life mission to rectify that problem nephew.
Happy Birthday! You turned out to be a pretty great guy, despite growing up with some seriously questionable role models such as myself.
You make me believe in magic and wonder again. Thanks for keeping me young at heart. You make me feel like life is a Disney movie, and I hope you always feel like a hero in real life.
In a life full of endless possibilities, so I'm glad you happened. Life wouldn't be the same without someone as wonderful as you in it. Happy bday nephew!
My nephew is turning 21 today. My feelings are as mixed as the drinks he will be legally enjoying tonight.
May every birthday be another chance to celebrate a new opportunity in your life. When someone is as amazing as you nephew, they will have so many opportunities. Always go for the road less traveled nephew. You'll be grateful in the long run.
Happy Birthday, Nephew! Hope you know how much we love and appreciate you. Whatever you do and wherever you go, we will always be rooting for you.
Dear nephew, you were a lovely child, you're a nice young boy and I know you'll become a wonderful man in the future. Happy birthday, my little nephew! Don't think too much about the thing you didn't get and be very happy in life with what you have.
My gentle nephew, happy birthday! You're an extraordinary creature of God with a lot of intelligence. In this little age, you already gain a lot of success in many ways. Proud of you, dear! A beautiful life is waiting for you. God bless you!
Happy birthday to my dearest nephew. The best thing to happen to me was to discover that I was your aunt. You are like a son to me, and I hope you see me as a second mother.
Happy birthday, my nephew! For me, you're my first child, my friend, and my daily companion. I can't express how much I love you and adore you. I'm so thankful to God for sending such a lovely nephew. Always be happy and remember that your uncle is always with you to support and cheer for you. Love you, dear!
May you have health and prosperity for the rest of your days. Or in the words of Spock: "Live long and prosper". Happy birthday to my favorite trekkie.
Funny birthday wishes for my nephew
Use these humorous happy bday quotes for nephew to let them know how much you love and appreciate them:
My beloved nephew, regardless of what your parents may have told you, just think of me whenever you feel like you want to do something you are not supposed to. I love you, happy birthday!
Happy 27th birthday, my first nephew! Your age is revealing that I'm getting old. Just kidding! Get married soon and make me grandma. Wish you very good luck in your life, my child!
Hey little boy, I may just like your mom… but I promise I will never use your secrets against you. Happy Birthday!
Do you know why your mom and dad hate me? It's because they have put a lot of their time and efforts to discipline you, yet, I ended up spoiling you. But I just can't help it… you are so adorable to resist! Happy Birthday!
All your life, I just want you to remember one thing – that being your aunt, I have all the powers in the world to spoil you than your parents. I love you! Happy Birthday!
Good looking, smart and talented – these are the traits that you have taken from me, your uncle. Happy Birthday!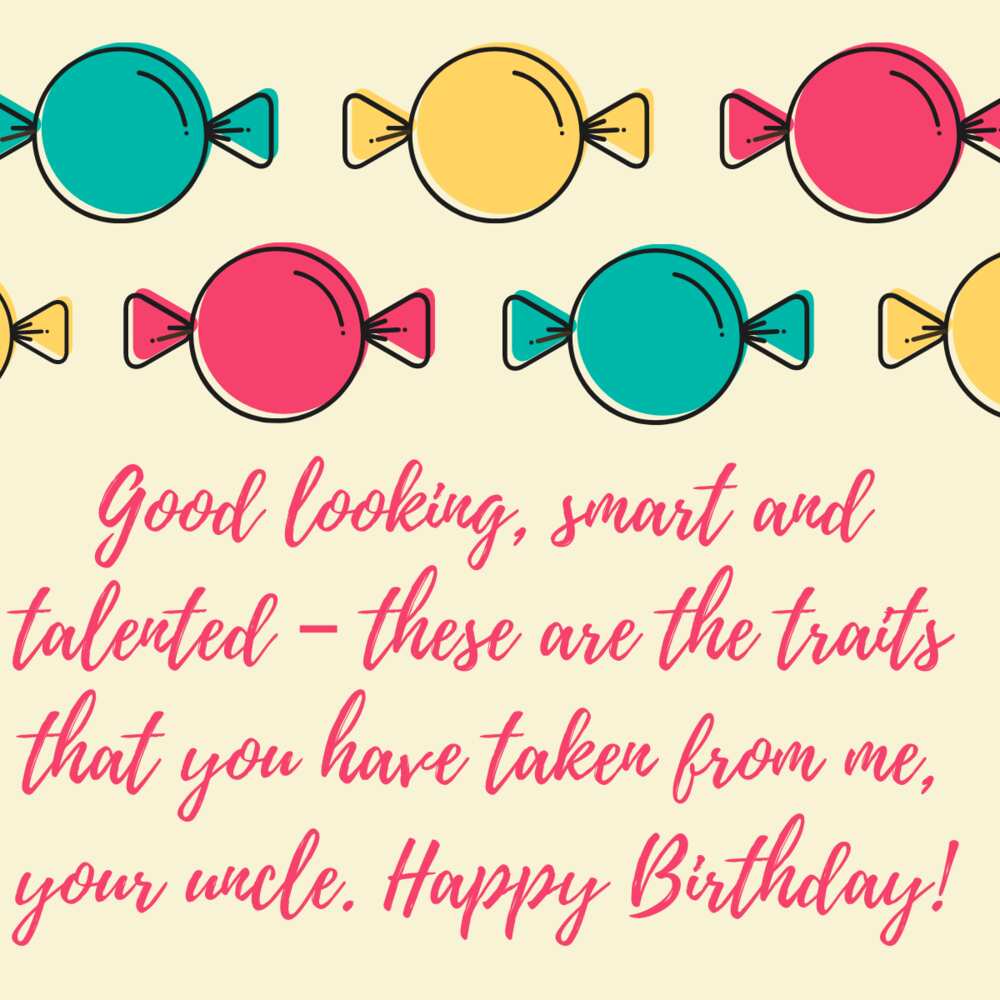 Regardless of what your parents let you know, think about your uncle at whatever point you have a craving for accomplishing something shouldn't. Happy birthday to you.
Next time your parents chide you, simply say 'Back off or I'll call my auntie'. You are now a year older, they should know that. Happy Birthday.
Happy birthday nephew poems
Happy birthday wishes to nephew may also come in the form of poems. Here are some poems that you can dedicate to them on their big day.
1.
No matter how many candles
I put on your cake today
It is not going to match the brightness
You emanate in any way
No matter how many decorations
I use to pep up the house
It is not going to match the joy
In my heart that you rouse
No matter how many sweet treats
I make for all the family guests
Nothing can sweeten my life
Like a nephew who is the best
Happy birthday
2.
Unlike all these years, I haven't got you
A cool gadget on your birthday
Or some other awesome gift
That would impress you in any way
I haven't thrown you
A really amazing party
Or given you a gift certificate
To fund your shopping spree
But there are pearls of wisdom
That I want to share with you
A wonderful life like yours
God gives to only a few
So make most of what you have
Delve deeper beyond the obvious
Live a remarkable life
By being kind and generous
Happy birthday
Which of these happy birthday nephew quotes will you be dedicating to your nephew? Let us know in the comment section below.
READ ALSO: 30+ great queen quotes by and about iconic historical figures
Legit.ng recently published a list of some of the most famous queen quotes ever uttered. These quotes are undoubtedly full of wisdom that may help one navigate through life.
Everyone can stand to learn from these wise sayings. If you would like to get some wisdom from them, check out the list of queen quotes by Legit.ng.
Source: Legit.ng