What to write in a wedding card: best wishes, quotes and messages
Wondering what to write in a wedding card? You have probably spent a lot of time searching for the best possible wedding card for your dearest ones, found something and brought it home, and now the hardest thing is finding appropriate words.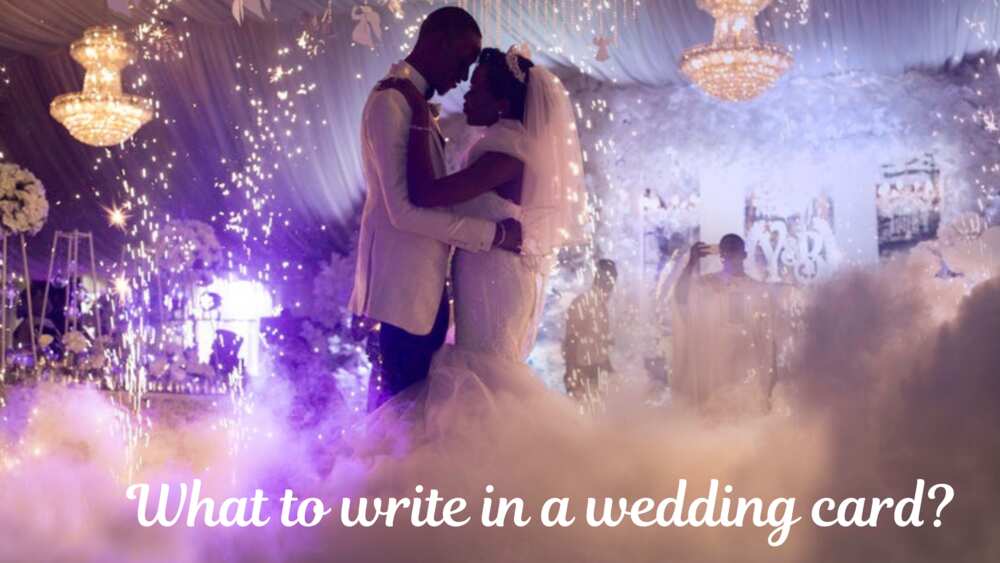 What should you write to make it nice and pleasant? In fact, a greeting meant for newly married is supposed to be sweet and sentimental. It is something as romantic as a pair of white doves, a fairy tale with a happy ending, or a lovely love song. A lot depends on your relationship with the couple; then, you will need to choose among funny, formal, casual, religious or other types of greetings.
The best wedding quotes for your close friends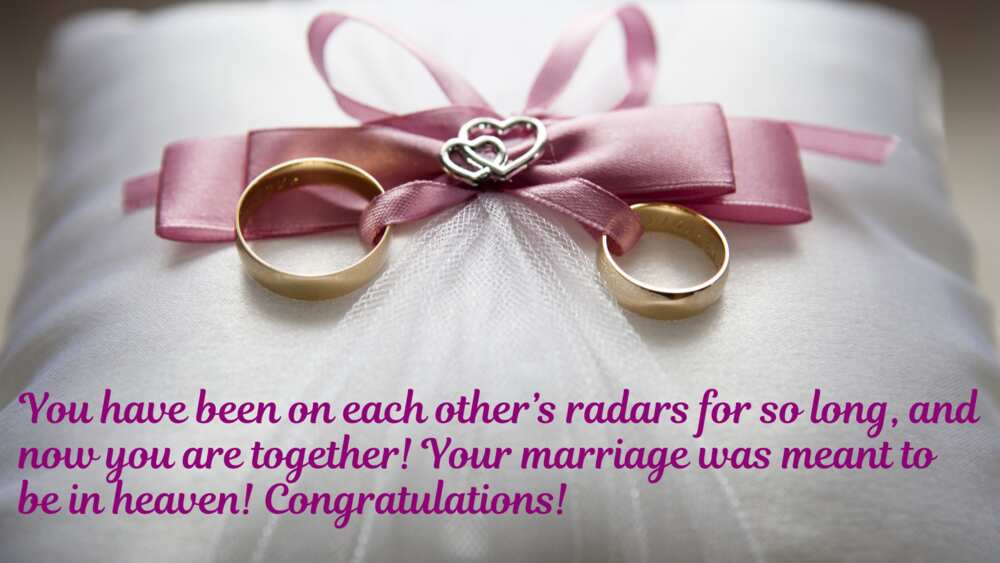 Greeting a close friend is always rather easy. You know each other well, you have certain inside jokes, and you can guess right what each of you wants to hear on your special days. You know the way your friend has passed to the day of happiness, and you can evaluate all the efforts that have been given to make your friend's dream come true. That is why it may be really easy for you to compose a heartfelt wish.
Wedding wishes for a friend are no way formal. Instead, they are really warm, sentimental, maybe even funny, and very sincere.
You come together in hope. You are joined by a sacred promise. You are united in love. My best wishes and congratulations to the ones I really love. May this special day become the happiest day in your lives!
You have been on each other's radars for so long, and now you are together! Your marriage was meant to be in heaven! Congratulations!
I am more than happy to see both of you together! You deserve this happiness and joy! May your love last forever!
You are my dearest friends, and now I rejoice with you! May your special day fill your hearts with as much happiness as they can contain!
READ ALSO: 50 best happy anniversary quotes, messages, wishes and images
You have been struggling for your love for so long, I know it. Now, you have joined your hands and hears to stay together until the end. May you be happy through your journey!
It is a new beginning of your gorgeous fairy tale. May you live happily ever after, dearest friends!
You have been a guiding light for each other for many years. Keep on, dear friends, walk this path hand in hand and shine for each other!
Like all the best things, for instance, friendship and chocolate, love tastes best when it is shared between two! May your special day be the beginning of the sweetest life shared by the two of you!
Cute and funny wedding card messages for the closest ones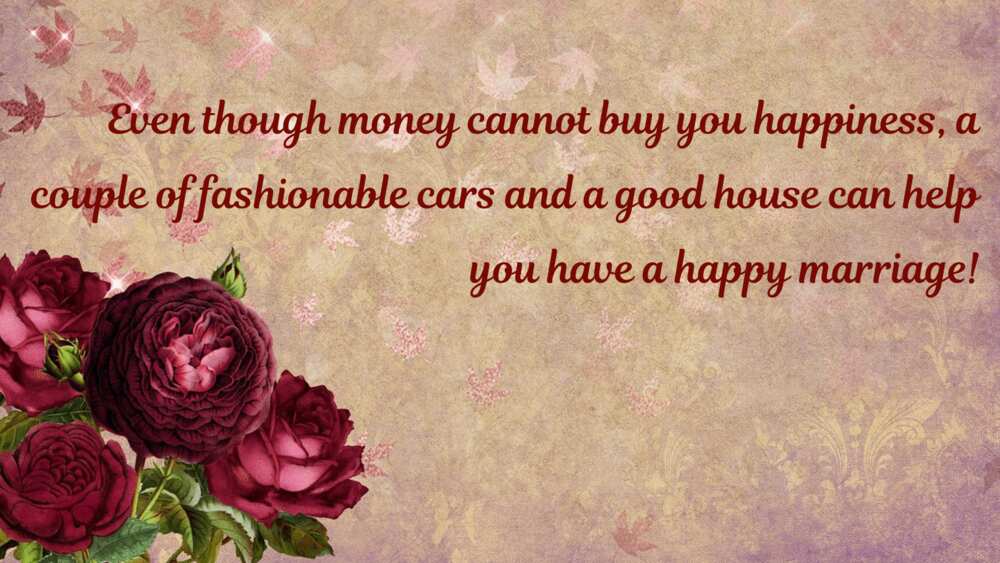 Funny greetings can uplift everyone's mood. If you are a close friend to the couple or just know that they will appreciate something daring and hilarious, try these samples. However, you should remember that it is essential not to cross the line. There should be no offensive jokes, no divorce hints, no "your better half", and nothing that can spoil the atmosphere. Even though you may know these two since your mutual nursery school years, it is better to avoid too much salt in your jokes.
What an excellent chance to eat something nice and drink good things while you are exchanging your vows. Thank you and congratulations!
Here is my marriage advice to you: Love each other, honour each other… and scrub the toilet in turns!
My sincerest thanks to you for this delicious free booze. You are adorable friends. Oh, and have a happy married life and so on, you know.
Married life is like attending a drama school. It is better when there is a lot of comedy than a bit of drama.
READ ALSO: Good night love messages for wife
Even though money cannot buy you happiness, a couple of fashionable cars and a good house can help you have a happy marriage!
Your love for each other is based on the fact that you hate the same things! Live with this fact, and make your married life happy and lovely!
Keep calm, friends! It is only your wedding…
Congratulations! It is time to update your status on Facebook!
Formal wedding congratulations to your boss or a person you do not know well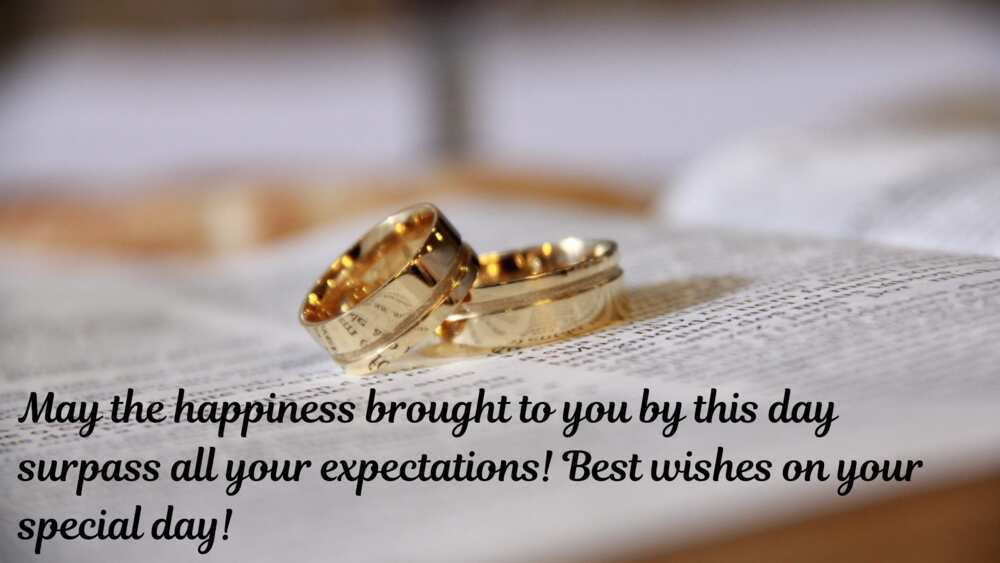 Greeting somebody whom you do not really know can be quite hard. However, there are simple and lovely formal quotes that will help you. Formal greetings do not require any special emotions because you are greeting almost strangers or the ones who are on a higher hierarchic level.
Congratulations! May your life be filled with happiness and love!
May the journey you started together be happy and joyful! Best wishes!
May your love grow with the years you spend together! Congratulations on your wedding day!
May the happiness brought to you by this day surpass all your expectations! Best wishes on your special day!
Thank you for inviting us to share this wonderful joy with you. May you be happy from now on in this beautiful, loving union!
May the shining joy that you experience today accompany you through the years! Congratulations!
May all the years ahead of you be filled with light, joy, and happiness of your love!
Please accept my sincerest wishes of a lifetime filled with the purest happiness and joy!
A couple of religious wedding messages for true believers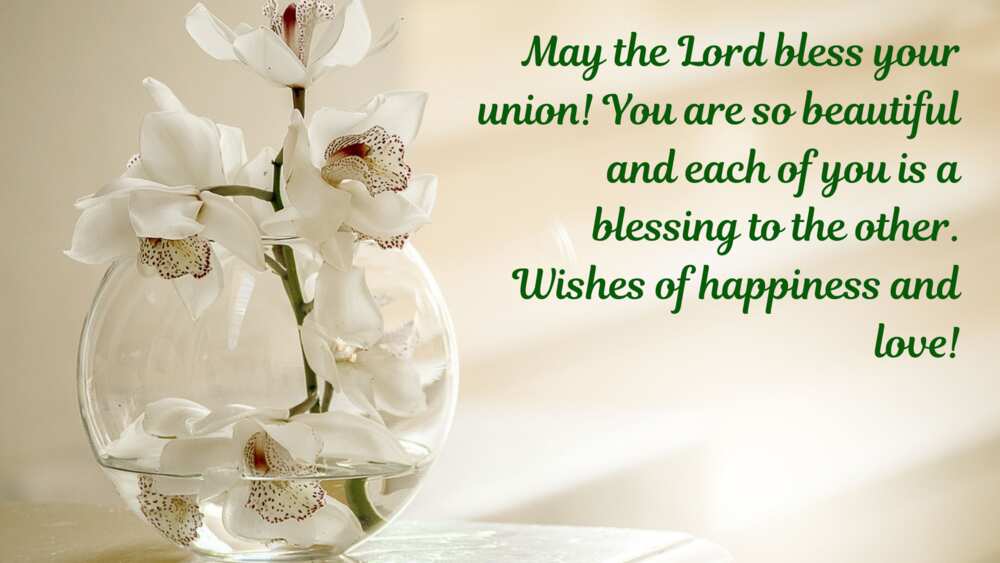 Faithful people treat weddings with particular respect because it is a union that has been blessed by the Lord. Greetings on such an occasion should match their beliefs as much as possible. Invent a tender greeting that is full of faith, and it will be your best gift.
May the Lord bless your union with love and happiness through many years ahead!
Congratulations! Indeed, it was God who poured His love into your hearts to make the happiest of unions!
May the Almighty who has once made you meet each other now bless your union with love and happiness and many delightful years ahead!
Congratulations on this blissful day! Sending you my sincerest prayers for everlasting love and happiness!
May the Lord bless your union! You are so beautiful, and each of you is a blessing to the other. Wishes of happiness and love!
May this journey through many long and happy years be blessed by God and all His angels! Congratulations to the new family!
The warmest belated wedding day wishes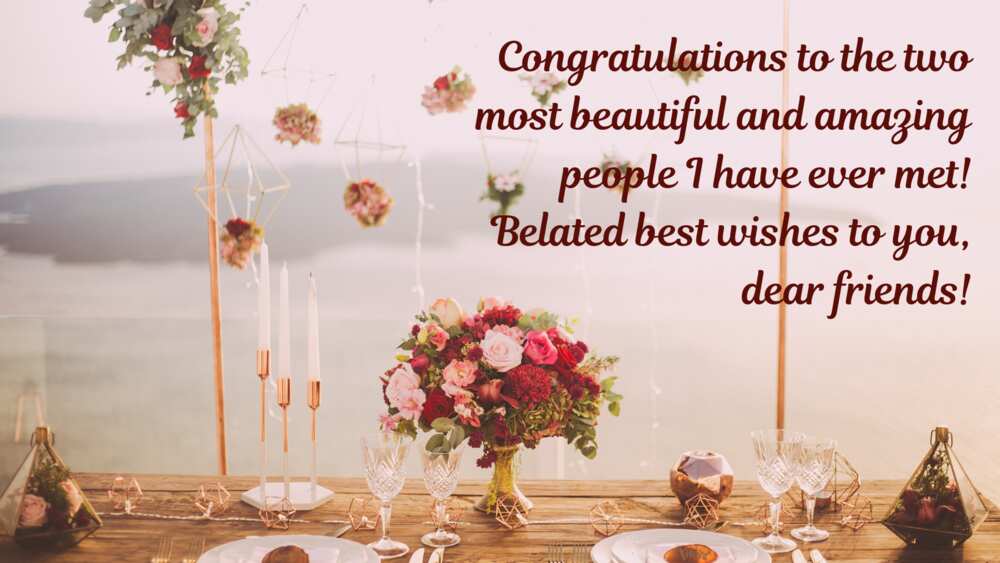 You are supposed to send out your greeting card with your best wishes either between the moment you receive your invitation and the wedding day itself or within a week or so after the wedding. It is better late than never; so, even if you have missed all the terms, try to improve the situation and send a couple of belated lines.
Belated congratulations to the happy couple! Many joyful years ahead and never-ending love!
Oops, it seems, I have missed your special day! Please, accept these belated wishes of eternal love and adoration from your stupid old friend!
Congratulations to the two most beautiful and amazing people I have ever met! Belated best wishes to you, dear friends!
When you were receiving your best wishes yesterday, did you ever think that somebody would remember about your special day the next day? I do! Belated congratulations and best wishes to you, dearest friends!
READ ALSO: Deep love messages for him
Belated congratulations for the gorgeous couple! May your life shine with happiness and joy!
Even though I have managed to forget about your wedding date, I still remember how happy I am to greet you on this special day! Congratulations and best wishes!
Belated but pretty much elated! Congratulations to the most beautiful couple and wishes of the most beautiful married life!
If you think that my greetings are late, I need to assure: I just did not want to disturb you on your wedding day! Congratulations and best wishes!
A little about wedding card etiquette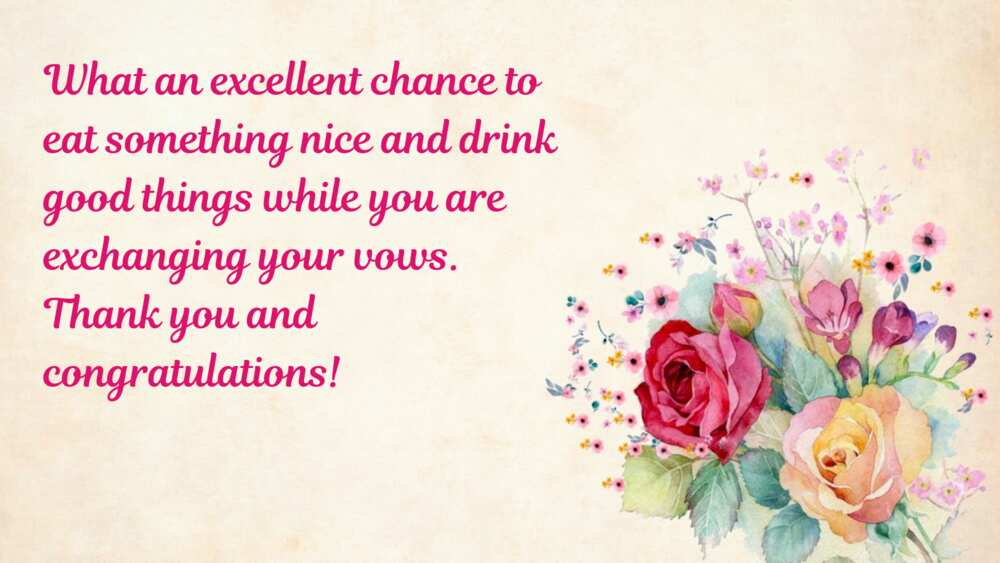 There are no precise rules, but a couple of simple tips may save you from a lot of trouble later:
Choose only appropriate greeting cards and words. A funny or casual one will not do if you are greeting your boss or somebody you do not know well.
Choose the most suitable words. Once upon a time, it was considered a bad taste to greet a couple (especially, the female) with the word "congratulations". This word could have been treated as congratulating her with finding a husband at last and reaching a certain social standard. Now, there is no negative connotation any longer, and you can use this word in the majority of cases. However, make sure that the couple you are greeting does not come from a conservative family because they may still consider this word offensive.
Always be laconic. Even if you are old friends and even if you have thousands of words to say to your loved ones, leave them for a personal talk. Use short and meaningful phrases for the greeting card.
Personalise the greeting and wishes. Make sure that the wedding day quotes you use match the interests and personalities of the newlywed. If new spouses are fans of Star Wars, choose a thematic wish. If a couple plans staying child-free, avoid wishing them having many children. If a couple is religious, make sure the greeting has a religious touch. Such customisation will not take you much effort, but the reaction of a couple will be priceless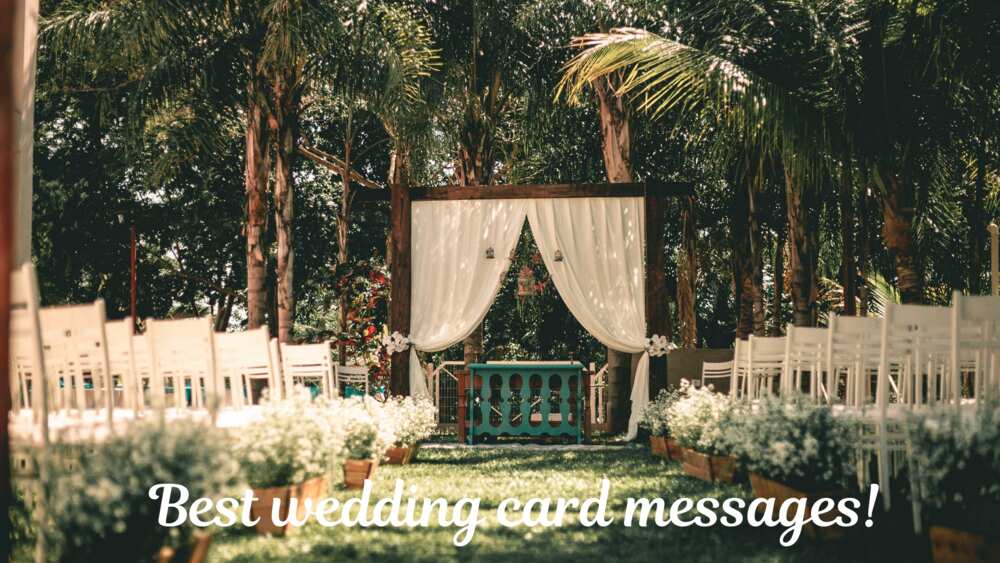 Although simple, these tips will help you make your wedding card message reach the very hearts of those for whom it was meant. It is a true delight for both the one who sends and the one who receives such a greeting.
Now, when you know well what to write in a wedding card meant for practically any person in the world, you may avoid a lot of problems in future. You should remember that in any case, even if you have lost all the words in your memory, you can always take advantage of the best-selected quotes and find enough inspiration.
READ ALSO: 50 romantic good night love message ideas for her
Source: Legit.ng