50+ great happy birthday brother in law wishes for your favourite bro
Relationships are built through efforts, and simple things such as remembering each others anniversaries play crucial roles. Considering that most brothers in law are fantastic and like blood siblings, this collection of perfect happy birthday brother in law wishes, quotes and messages will show you the creative ways of expressing love and care.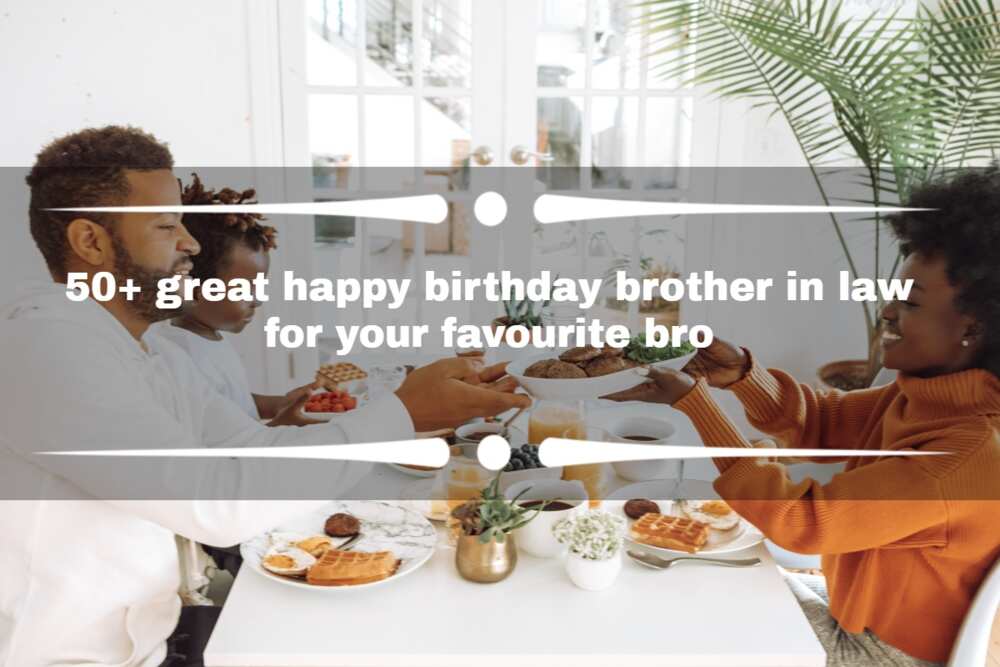 Sometimes everyone needs to be reminded how great they are, and birthdays are perfect times to do so. Birthday wishes for brother in law will make them proud of you. Unfortunately, coming up with an awesome message to send to them can be a challenge.
But how do you say happy birthday to your brother in law?
The purpose of a birthday message for brother in law is to tell them what you really think about them and how much respect you have for them. Luckily, there are numerous creative ways of doing so.
Happy birthday brother in law wishes
Here is a compilation of some happy birthday bro in law messages you can send to them to show you care.
Happy birthday to you, my beloved in-law! I am thrilled to be celebrating this special day with you. My only wish is for you to receive nothing but only great things here on Earth!
Blessed birthday dear in-law. It is an absolute honour to have you as a part of our family. May God bless you today and tomorrow.
Best wishes to my dear brother-in-law and my true friend! I feel lucky to have you in our family and wish you only the best things in life!
My sister adores you, my niece and nephew adore you, and even my parents adore you. I am no different. I adore you too. Happy birthday!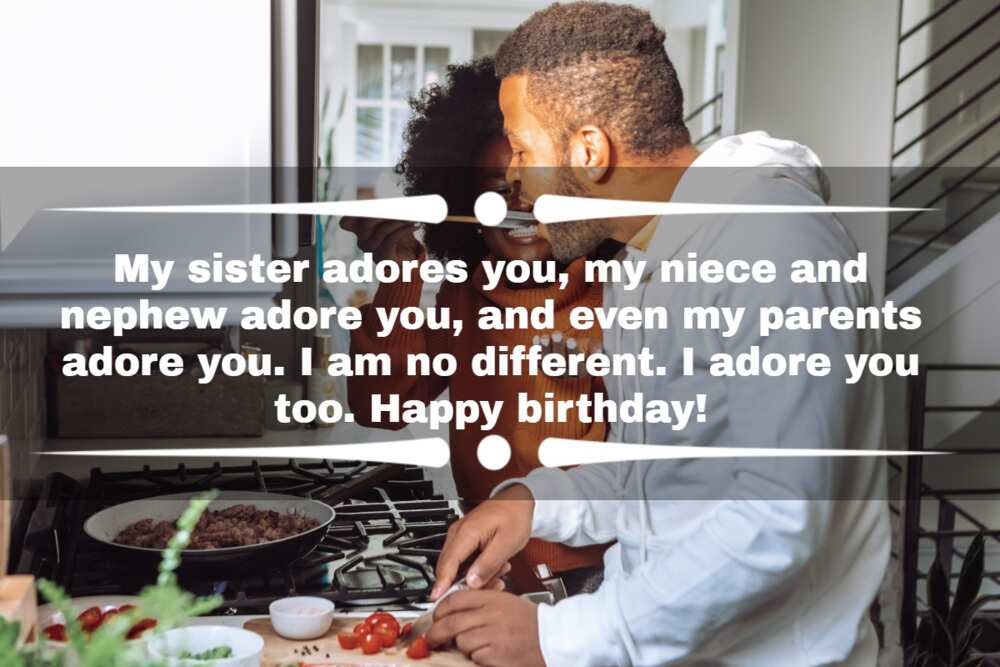 You are my wife's sister's husband, but that does not stop me from calling you a sibling of my own. Happy anniversary as you turn a year older and wiser.
Here's hoping your anniversary birthday is filled with a bunch of good presents, a load of good food, and lots of good company!
My eldest brother-in-law, congratulations for another year! Though you will be toothless soon, I know you are young at heart. I am kidding! May you lead a joyful and healthy life!
My favourite in-law, many congratulations on your special day! I hope this new year of your life will be full of light and want to see you happy and smiling always.
Happy anniversary! You are an incredible person and my true brother by heart. May this day be the beginning of the most joyful year of your life!
My husband always said he had a great sibling, and he was right! It's lovely having you as a brother-in-law. I hope you have a fantastic anniversary!
Dear brother in law, I hope that life treats you as well as you deserve, always offering you love, success and happiness. Blessed anniversary.
Happy anniversary to my in-law. Let's break out the good stuff, clink glasses, and get the toasts going! Cheers to an incredible man!
You are the best brother in law I could have, and you deserve to have a fabulous anniversary today.
You know I would not miss my in-law's birthday. I wish you a happy anniversary a bit late because I figure you might to spread the anniversary wishes out a bit! Happy belated goodwill wishes, I hope it was a good one!
Cheers to a brother-in-law who is a genuine class act! I feel so blessed to have you as a part of my family. Have a blast! We love you so much.
I never know what to write in cards. I wish you a happy birthday and let you know that you are a wonderful brother in law.
Brothers in law are a mixed bag. You never know what you are going to get. That's why I'm so happy we ended up with you! Have a fantastic anniversary!
Thank you for being so kind to me and for being very generous to my kids! I wish I could repay your good deeds someday! May you have a happy and prosperous life ever!
Emotional brother in law birthday messages
Sometimes you have to make a brother in law birthday wish emotional to capture the attention. Make him feel unique on their special day, and he will be happy.
Here are some of the most amazing happy birthday bro in law messages to send to him.
One of the people that I can look to in the depths of my despair is you. Thank you for being phenomenally wonderful to me. As you blow your candles, do know that you have made my life brighter with your presence in it. Have a fantastic day!
Dear in-law, you are the brightest and most loving soul I have ever known. I thank God for making us a family. Happy anniversary!
Never shall I forget the day you became part of this family. Continue to be the blessing that you are to my sisters/brothers and the rest of the family. Enjoy your day!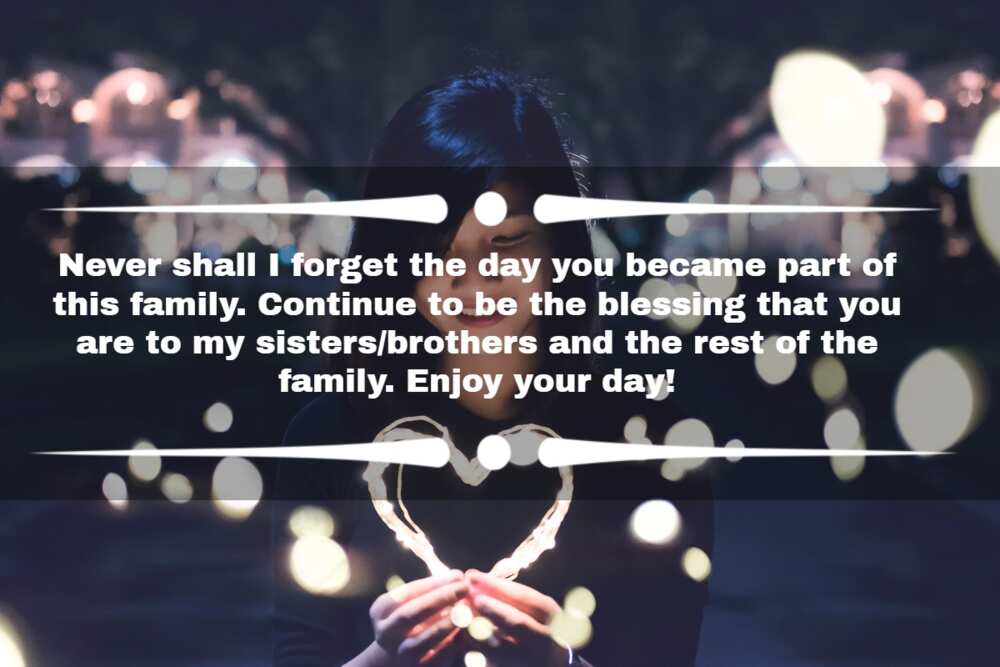 Thank you for being one of the people in my life who bring me warmth in this cold world. Happy birthday, my dearest brother-in-law. May you have the happiest and most prosperous year ever.
A message of blessings to a special brother-in-law. It feels so amazing to have such a marvellous person like you in my life. I could never ask nature for a better one.
You are sweet, kind, and loving. I thank my lucky stars for connecting us. On this special day, it is my prayer that God will bless you every day of your life. Enjoy!
You are a priceless jewel. May you never stop shining and inspiring members of this family. Blessed birthday!
My dear brother-in-law, on your "Big Day", do know that you are greatly loved and valued. May all your days be bright and full of sunshine.
Happy birthday brother-in-law funny quotes
Sometimes your relationship with your in-law may be based on teasing and jokes. These next funny brother in law bday wishes might offer the right tone. Other than wishing him all the best on his special day and they will give him chuckles too.
Happy anniversary, bro! May your day be more beautiful than a unicorn farting rainbows!
Happy birthday, brother! Although I am not sure why we were always celebrating you when it was your mummy who did all the hard work.
I know our family is a bit weird, but we are happy you are a part of it. Happy birthday, brother-in-law!
Happy anniversary to my brother-in-law! A great man who has the courage and strength to live with my sister!
Who needs a brother when I have got such an amazing brother-in-law! I am looking forward to catching up at your celebration party!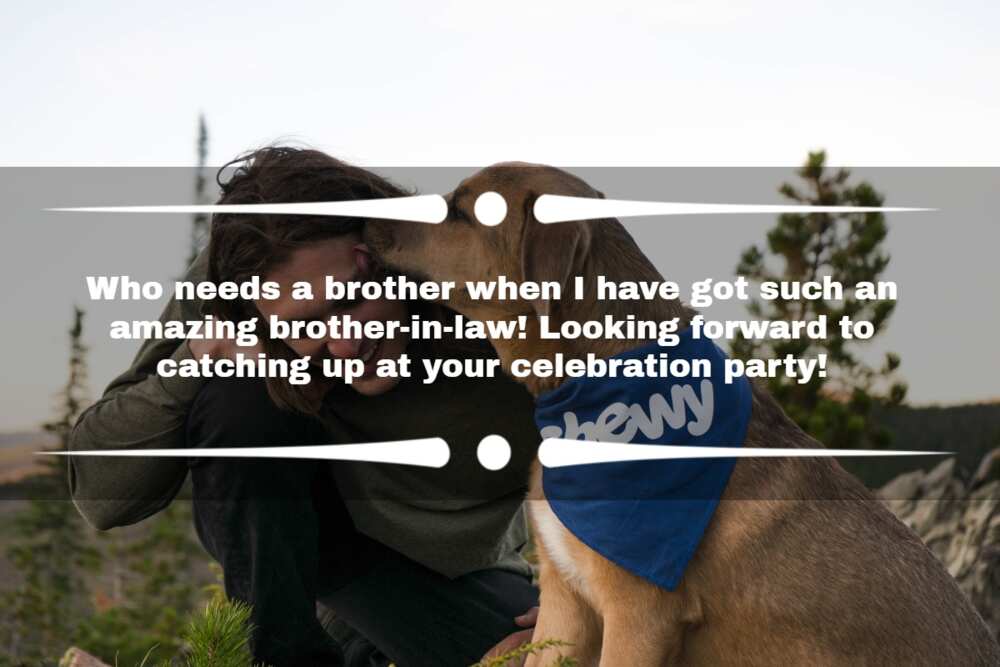 I am smiling because you are my brother-in-law. I am laughing because there is nothing you can do about it! Have a blast!
Wishing a happy anniversary to my favourite brother of all time - I know you're my only brother, but still. You are the best I could ask for all year round.
No matter how serious life gets, you have got to have that one person you can completely fool around with. So glad I have got you, bro! Have a brilliant birthday!
The funny thing about you is that even though you age, your maturity level always stays the same! Happy anniversary, brother!
Forget age. If you can still manage to blow out your anniversary candles, everything is dandy! Happy birthday!
Today is the anniversary of many great men: my sister's husband, my nephew's father, my parent's son in law, my brother in law and an all-round great guy. Who would ever imagine that there could be so many? The best of the anniversaries to you all!
Happy anniversary, brother in law! Congratulation on surviving another year of family madness!
A wise man once said, "Forget about your past, you cannot change it". I want to add: "Forget about your present. I did not get you one".
Blessed birthday to a brother in law who has the best sister in law in the world. You are one lucky guy.
Cute and unique happy birthday brother in law quotes
Creating birthday quotes for brother in law can often be difficult, especially when it comes to finding the right words to express yourself. You can use a brother in law birthday quote do the talking for you.
"All the world is birthday cake, so take a piece but not too much." - George Harrison.
"Do not just count your years. Make your years count." - George Meredith.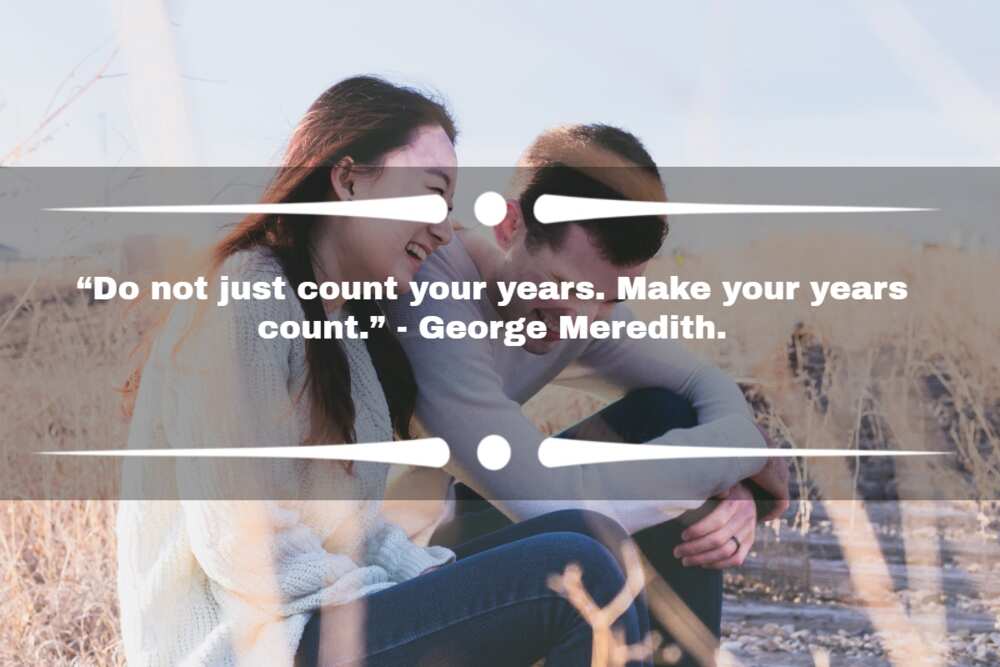 "You do not get older. You get better!" - Shirley Bassey.
"To the outside world, we all grow old. But not to brothers and sisters. We know each other as we always were. We know each other's hearts. We share private family jokes. We remember family feuds and secrets, family griefs and joys. We live outside a touch of time." - Clara Ortega.
"Never hold resentments for the person who tells you what you need to hear; count them among your truest, most caring, and valuable friends." - Mike Norton.
"The highlight of my childhood was making my brother laugh so hard that food came out his nose." - Garrison Keillor.
"We didn't even realize we were making memories. We just knew we were having fun." - Winnie the Pooh.
"Some people don't believe in super-heroes because they have not met my brother in law." - Unknown.
With these pleasant happy birthday brother in law messages and quotes, nothing can stop you now. Send them to your favourite brother in law to show him how much you care and think about him.
READ ALSO: Thank you for the birthday wishes: 50+ creative ways to respond
Legit.ng also published an article on creative ways to respond to birthday wishes. A simple response is a gesture of giving back respect and value to the person who made your special day fun and memorable.
Unfortunately, while well-wishes and greetings are always pleasant to receive, many people find themselves at a loss as to how to respond. Remember, there is almost nothing as fun as getting wishes, messages, and texts from relatives and friends during your special day.
Source: Legit.ng