LiAngelo Ball bio: age, height, net worth, girlfriend, tattoos
For basketball lovers, the name LiAngelo Ball is not unknown. At just 21 years old, the young star has been a celebrity since he was in high school. His and his brother's prowess at basketball has made them a household name.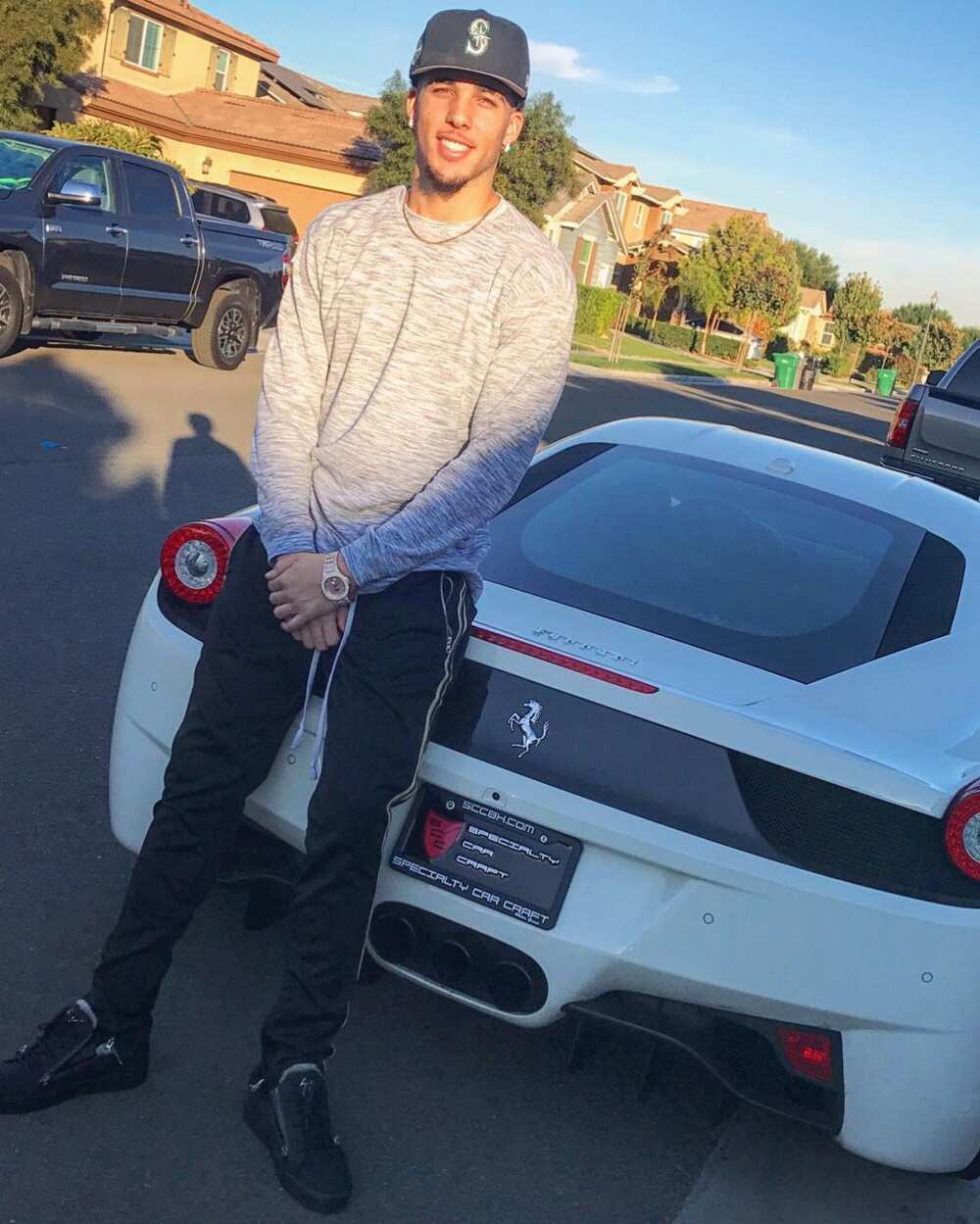 Here is all you need to know about the young basketball player.
Profile summary
Name: LiAngelo Robert Ball
Date of birth: 24th November 1998
LiAngelo Ball age: 21 years old
Place of birth: Anaheim, California, USA
Zodiac sign: Sagittarius
Nationality: American
Ethnicity: Multiracial
Siblings: LaMelo & Lonzo
Girlfriend: Jaden Owens
LiAngelo Ball height: 6 ft 5 in
Weight: 104 kgs
Eye colour: Brown
Hair colour: Black
Profession: Basketball player
Net worth: $5 million
Family and background
The basketball player was born in Anaheim, to LaVar and Tina Ball. His older and younger brothers, Lonzo and LaMelo, are famous basketball players.
According to his father, LiAngelo Ball NBA dreams began at a young age. Their father made the star and his brothers start training as soon as they could walk.
The youngest brother, LaMelo, began training when he was just four years old. Not only are the brothers great at basketball, but they also excel on the football field.
Thanks to his father and his training, he and his brothers became some of the most sought after basketball players in 2016. The star and his brothers attended Chino Hills High School, where they helped the team become one of the most formidable teams in the country.
Fun trivia facts about LiAngelo Ball
He is the second eldest of the Ball brothers.
His father and mother were both sportspersons. His father played both American football and basketball.
His father, LaVar, played for teams such as the New York Jets and Carolina Panthers. On the other hand, his mother, Christina Catherine Ball, played basketball in college.
The first time that the three brothers played on the same court together, they were eight, seven and four years old, respectively.
All three brothers played for UCLA, although LiAngelo was banned from the team indefinitely after a shoplifting incident in China.
As for LiAngelo Ball height and weight, he stands at 6 feet 5 inches and weighs 104 kilograms.
What are LiAngelo Ball stats?
Seeing that he has been training since he was quite young, it is no surprise that the player's stats are quite fantastic.
In High School, from his junior year to senior year, the young star played in 65 games. His total varsity game stats are 30.3 points per game, 1972 shooting points, and 64 offensive rebounds.
Is LiAngelo Ball good at basketball?
It depends on who you ask. Some believe that he has what it takes while others believe that his brothers are better than him.
They believe that the star is a one-dimensional player whose saving grace is his incredible affinity at three-point shooting. Another strike against the player is that compared to his brothers, Ball was the lowest-rated recruit of the trio.
His older brother Lonzo also stated that he believes that their youngest, LaMelo is the best player of them all as he is the most advanced scorer of them all.
Despite all of this, LiAngelo still believes that he has what it takes to be as good as his siblings. Instead of feeling intimidated by their success, he uses their wins as motivation.
Will LiAngelo Ball play in the NBA?
Sadly, he is not an NBA player just yet. He tried his luck in the 2018 draft, but he was not selected for any team.
However, Gelo has been making some steps toward his ultimate goals. Where is LiAngelo Ball? The star is currently with the Oklahoma City Blue basketball team.
He signed a contract with them on 9th March 2020. The City Blues are the G League affiliate of the NBA's Oklahoma City Thunder team.
While he is not on the pro ballers roster, Ball has a chance to prove that he has what it takes to be a better player. With his brother Lonzo already in the NBA (he played for the Lakers before being traded to the New Orleans Pelicans), and LaMelo already eligible for the 2020 NBA draft, a lot of eyes are on the star.
How much is LiAngelo Ball worth?
What is LiAngelo Ball net worth? Currently, his net worth is $5 million.
His family is quite well off. Lonzo's net worth is $6 million, LaMelo's is about $400,00 while their father LaVar, is worth about $4 million.
Who is LiAngelo Ball girlfriend?
Jaden Owens and Gelo began dating in 2018 after the basketball player broke-up with his longtime girlfriend, Isabella "Izzy" Morris. At the time, Jaden was a student at Plano West High School in Texas.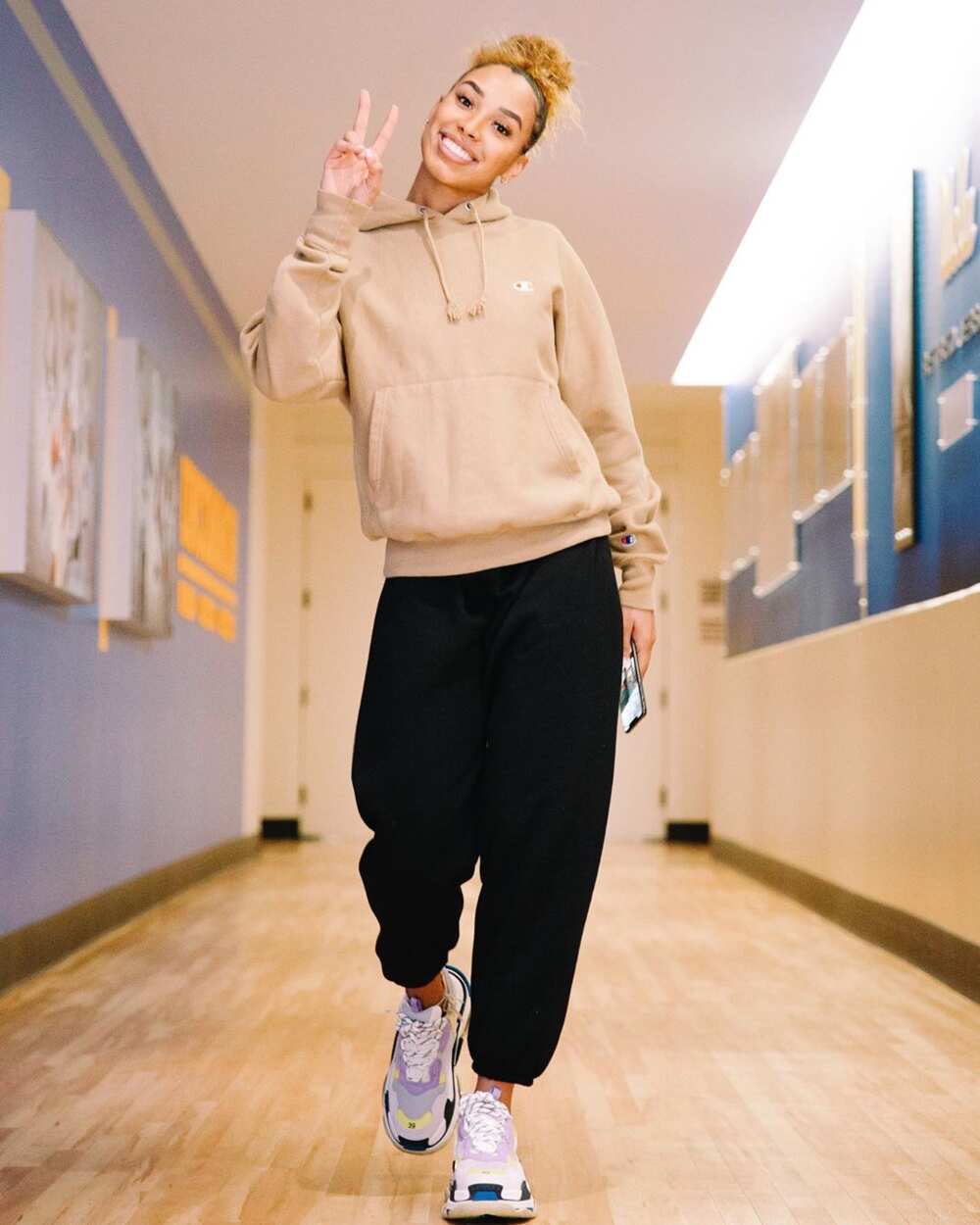 Quick facts about Jaden Owens:
Like her boyfriend, she is a basketball player and plays the point guard position
She is quite tall and stands at 5 feet 7 inches
She first went to UCLA before transferring to Baylor University where she plays for the Baylor Lady Bears women's basketball team.
While she is often accused of talking too much, she is also praised for her intelligence and spirit.
LiAngelo Ball tattoos
While their father is against tattoos, all three brothers have a lot of ink on them. Some of his tattoos include
The number 21, which is a tribute to his deceased friend Nnamdi
The word prevail on the left side of his stomach
His right leg has a lion with a basketball on the front and two inscriptions at the back.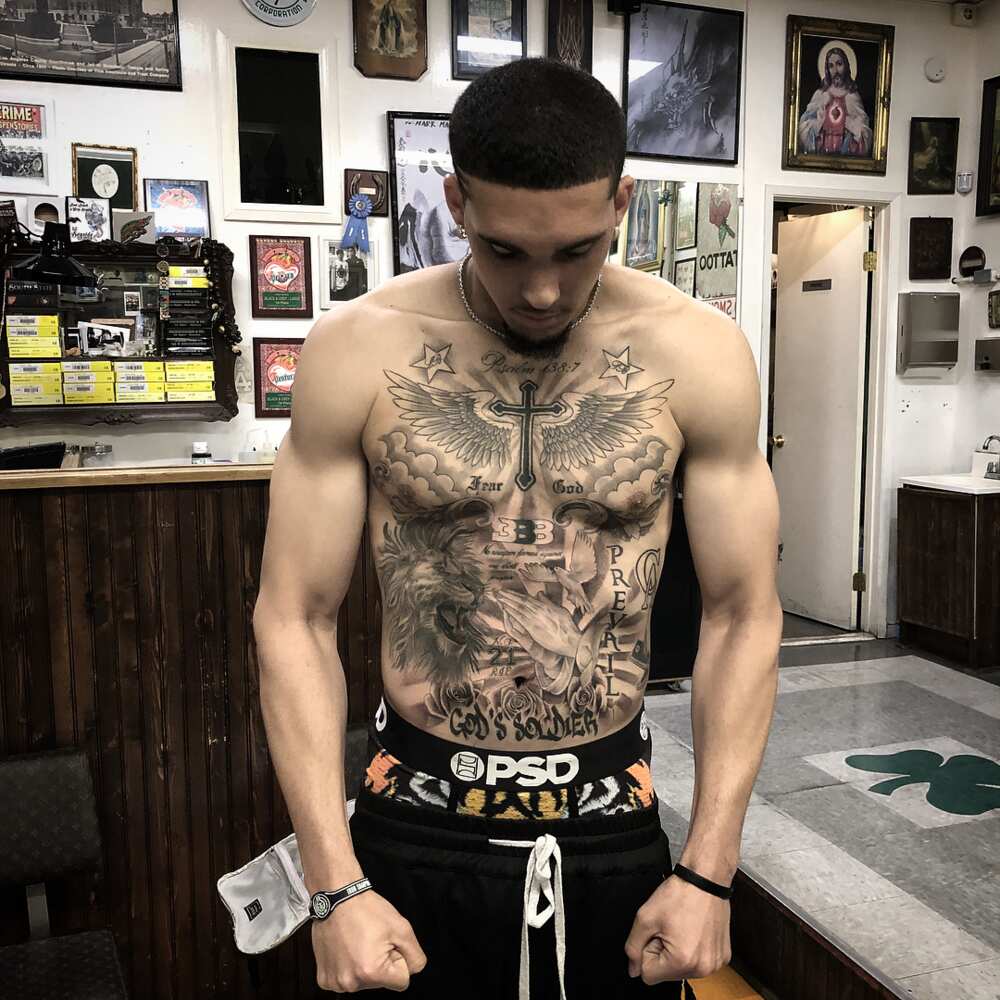 For a more in-depth look at all his ink, you can watch the family's web show 'Ball in the Family' on Facebook. The specific episode is titled 'Meeting Halfway' - season two, episode 17.
You can also follow him on Instagram for his pictures. LiAngelo Ball Instagram is @gelo and he has 2.3 million followers on the platform.
LiAngelo Ball has been playing basketball almost all his life. While he has not been drafted yet, he has some real potential, and hopefully, he shall be picked by an NBA team soon.
Source: Legit.ng