10 highest paid motivational speakers in 2021 (list with photos)
Who are the highest paid motivational speakers in 2021? In the business, sports, and academic worlds, successful people understand that both their heads and hearts have to engage to achieve results. As a result, they occasionally rely on motivational speeches to infuse team spirit and determination into the workplace.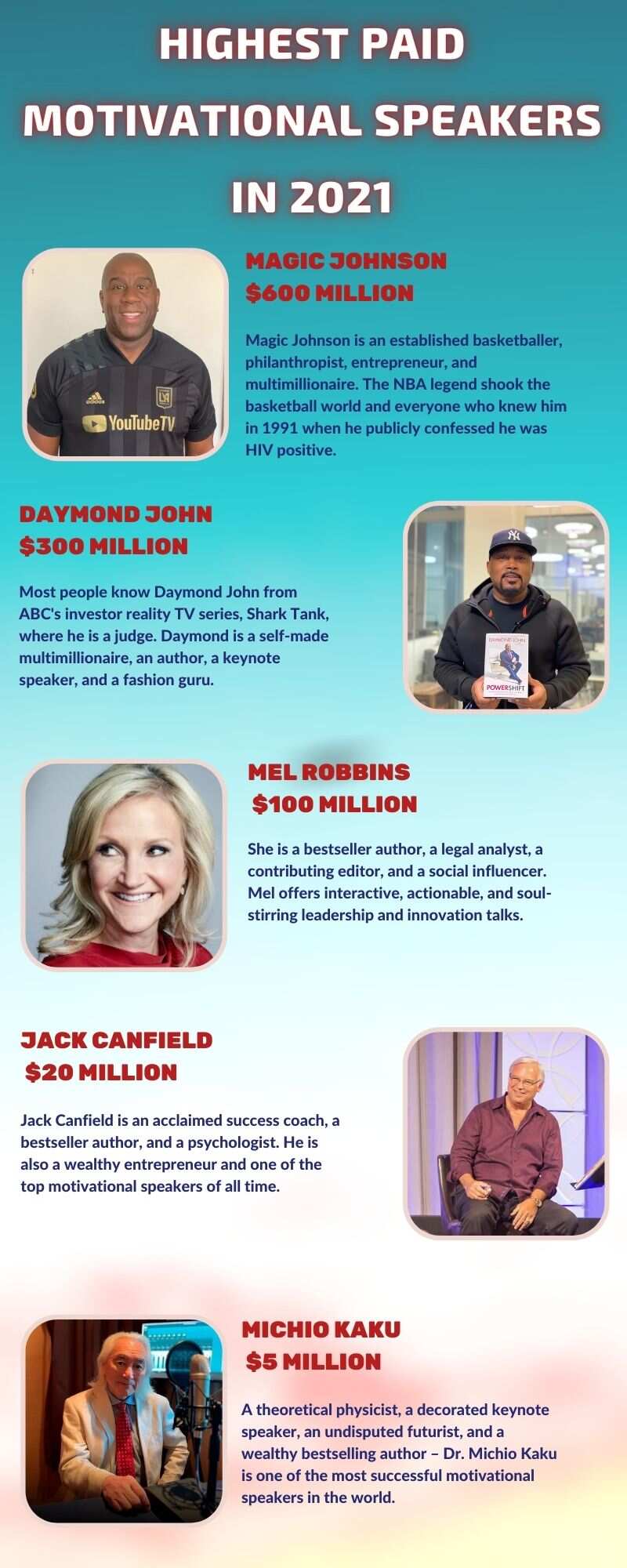 The highest earning motivational speakers embody emotional intelligence and are always willing to inspire, challenge, and impact the lives of those who care to listen.
So, how much money do speakers make? On average they make between $200 to $10,000 per gig.
Highest paid motivational speakers 2021
From successful sports personalities and scientists to self-made multimillionaires, we list the 10 highest paid keynote speakers 2021 with their net worth.
10. Robyn Benincasa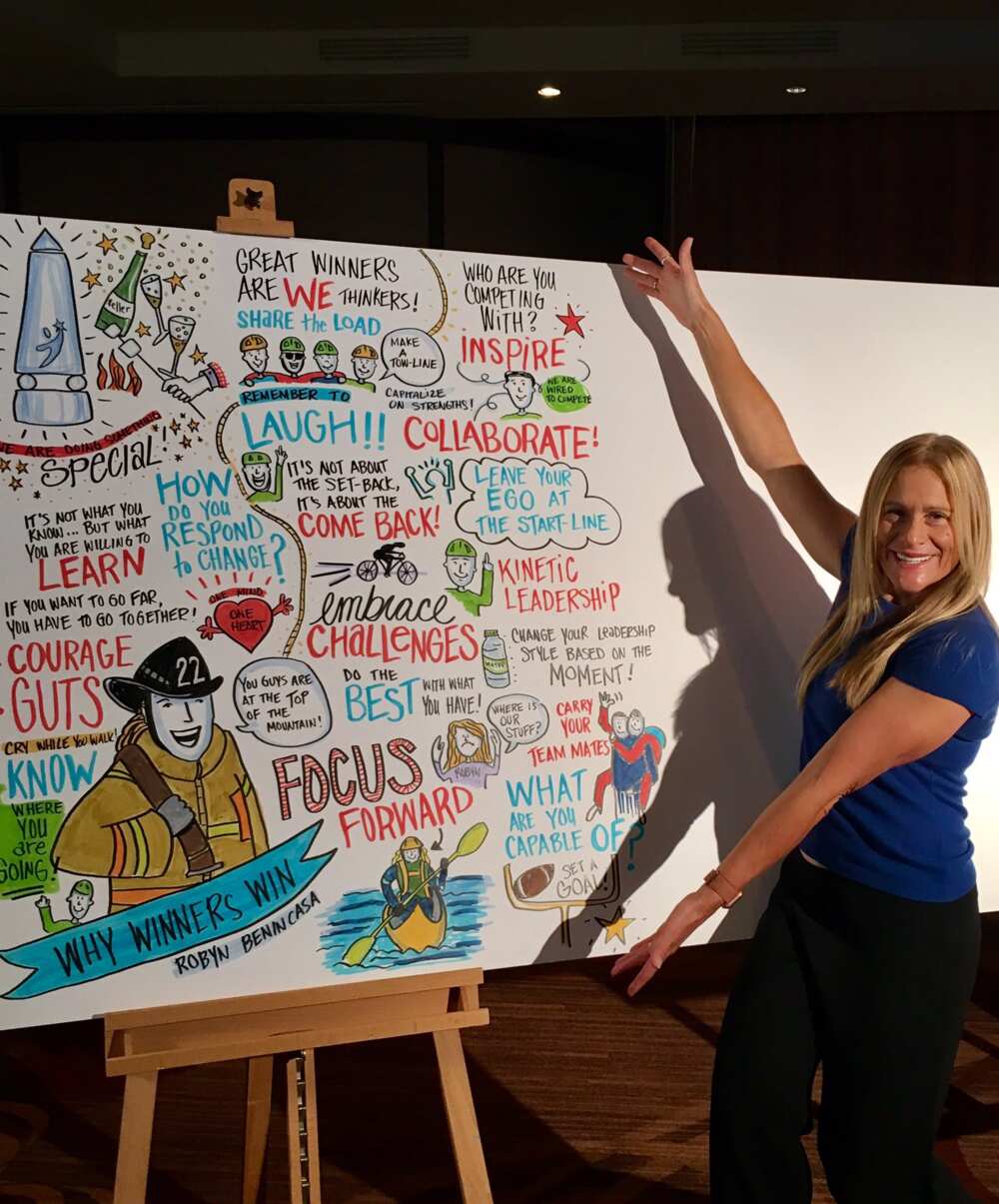 Whether it is the USA Network, CNN, or NBC, Robyn Benincasa has featured in all of them. She has also featured on ESPN, ABC, and the Today Show.
So, whenever you think of the most popular keynote speaker on news media, Robin Benincasa is the name that should come to mind. She currently charges $20,001-$30,000 for motivational speeches and appearances.
Robyn's CV is very impressive. She is a CNN Hero, a racing and paddling champion, a decorated firefighter, and to top it up; she is a bestselling author.
Robyn is a two-time winner of the Adventure Race and a three-time Guinness Book World Record holder in long-distance kayaking.
Benincasa is known for her inspirational leadership book, How Winning Works. Usually, she talks to her audience about winning, success, and leadership.
Robyn has a marketing background but is interestingly a fulltime firefighter, something that has nothing to do with marketing. She is the founder of a foundation for surviving athletes, Project Athena.
Robyn is known to tailor her content to suit the needs of every audience that she addresses. Her talks are energizing and practical. She motivates everyone who listens to her speak.
9. Shawn Achor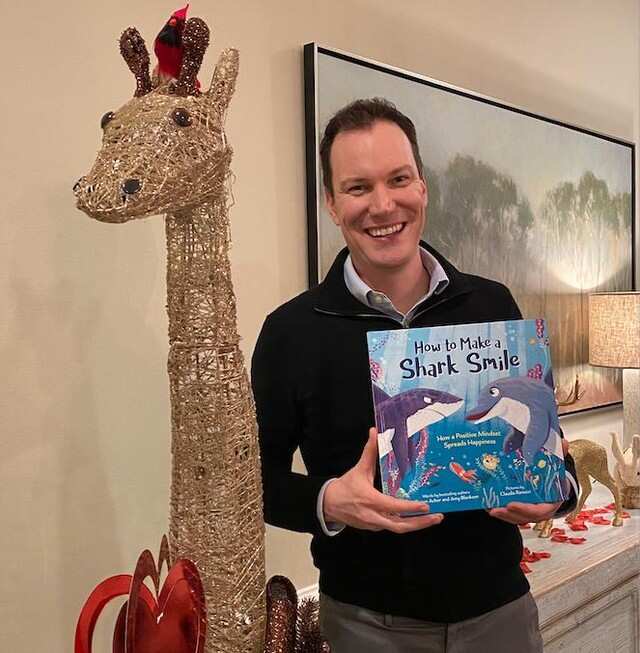 Born in Texas in 1978, Shawn Achor is one of the top motivational speakers in the world. He is famous for talking about success and individual happiness.
Shawn also likes to motivate through writing. Most of his writings talk about leadership, education, and positivity.
Shawn has an online workshop called the Orange Frog that teaches leaders to apply research-based principles to become better.
Achor is the author of some of the bestselling motivational books, such as Happiness Advantage and Big Potential. For those who listen to him regularly, he talks about seven actionable positivity-impacting principles.
Do motivational speakers make good money? Well, Achor charges $40,001-$50,000 for public speeches. That is good money for a lot of people in this day and age.
He is the founder and president of Good Think, a happiness consultancy company. As a happiness consultant, Shawn has featured in many shows, notably The Oprah Winfrey Show. He and Oprah have a comprehensive happiness course that helps people fight stress and live happily.
Shawn's research work on stress management and happy living has been listed in Harvard Business Review, among other publications. As a public speaker, Achor has traveled over 50 countries addressing CEOs, school children, sportspersons, farmers, just to name a few.
8. Molly Bloom - $500,000
Charging $20,001-$30,000 for keynote speeches, Molly Bloom is a sensational American motivational speaker, author, and entrepreneur. Bloom is known for inspiring the creation of Molly's Game, a game that turned out to be an award-winning movie.
The movie features Idris Elba, Jessica Chastain, and Kevin Costner. Molly's Game is a story about a high-stakes game. The movie Molly's Game came out in 2017 and earned a nomination at the 2018 Academy Award.
Bloom has had an exciting journey. When she was a teen, Molly was diagnosed with scoliosis. The condition meant that her skiing career, which had just begun, will end prematurely. Well, Molly never gave up.
She chose to undergo surgery, and a year later, she was back skiing to everyone's astonishment. She even joined the US skiing team and was ranked third in North America at the age of 21.
Molly's brother Jeremy is also an accomplished skier who competed in the Olympics. Jeremy once played for the Eagles of Philadelphia.
In 2013, Molly's life would take a dramatic twist. She was charged in California for running a high-stake betting games.
Incidentally, the game attracted notorious Hollywood celebrities like A-Rob and Leonardo DiCaprio. Molly was fined $200 and sentenced to serving the community for 200 hours.
As a keynote speaker, Molly has featured in Los Angeles Times, Vice and Vulture. She talks about her story, the challenges she had to face, and her eventual triumph.
Her accomplishments earned her a spot among the highest paid motivational speakers in the world.
7. Bethany Hamilton - $2 million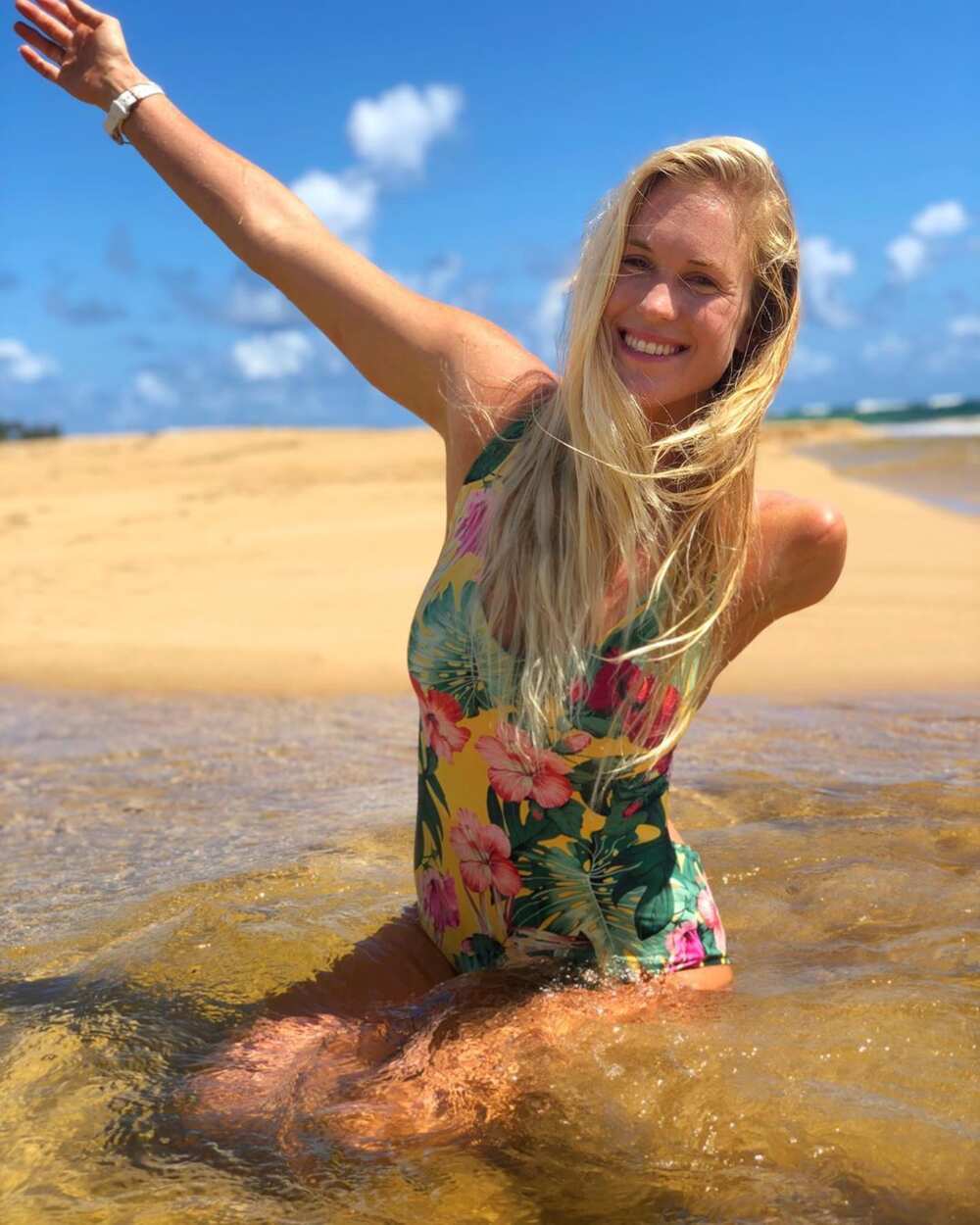 Always speaking about hope and faith, Bethany Hamilton inspires thousands. As one of the richest and top paid motivational speakers, she charges $30,001-$40,000 for keynote speeches.
As a young surfer aged 13, Bethany was attacked by a shark that ripped off her left arm. The ugly incident, however, did not stop her from pursuing what she loves.
Bethany's resilience got her back to surfing a few months after the accident. Her tenacity paid off quickly, and within two years, she won her first-ever national surfing title.
Hamilton shares her remarkable story everywhere she goes, and her narration has even featured in countless biographies. She talks about not settling for mediocrity but always aiming higher despite physical limitations.
Bethany has excelled beyond expectations, and she is currently one of the most accomplished professional American surfers. For most people, she is the 'Queen of Surfer.'
Bethany cemented her legacy as one of the old-time best when she beat the world's best during the 2016 Fiji surfing competition. To crown things, she is a Surfing Hall of Famer.
Using her personal experience as the ground for motivating people, Bethany also inspires through writing. Her inspirational book Body and Soul is a New York bestseller.
She also has a motivational documentary known as Unstoppable that describes her passionate surfing life and resilience. Through her 'Friends of Bethany' foundation, she motivates amputees to learn to trust Jesus Christ for strength.
6. Abby Wambach - $4 million
Abby Wambach is a wealthy, accomplished US national footballer. She is 6th on our list of highest paid speakers in America.
Born in 1980, Abby started playing soccer at a tender age. She joined the local girls' soccer league, where she became a sensational scorer.
She was so terrific in front of the goalpost, averaging 9 games or more per game. Incidentally, junior girls' league became so small for her that she was moved to the boy's league.
Abby then moved to high school, where she continued her impressive scoring record, and it culminated in her making the Parade Magazine All-American Team cut.
It was at this time that the University of Florida came calling. She joined the college on scholarship while pursuing what she loves most, soccer.
In college, Abby set a new record of the most hat tricks (10). She helped the college team win the SEC Championship four times consecutively plus the NCAA championship.
After setting all possible records with the University of Florida, Abby thought it was time to conquer other challenges. She left the university to Washington Freedom.
Abby has two Olympic gold medals. She has won the US Soccer Athlete of the Year a record five times and the FIFA World Cup.
Though she is retired from soccer, Abby remains arguably the most decorated footballer in American history. She now spends time delivering keynotes and promoting her NY bestselling book, Wolfpack.
5. Michio Kaku - $5 million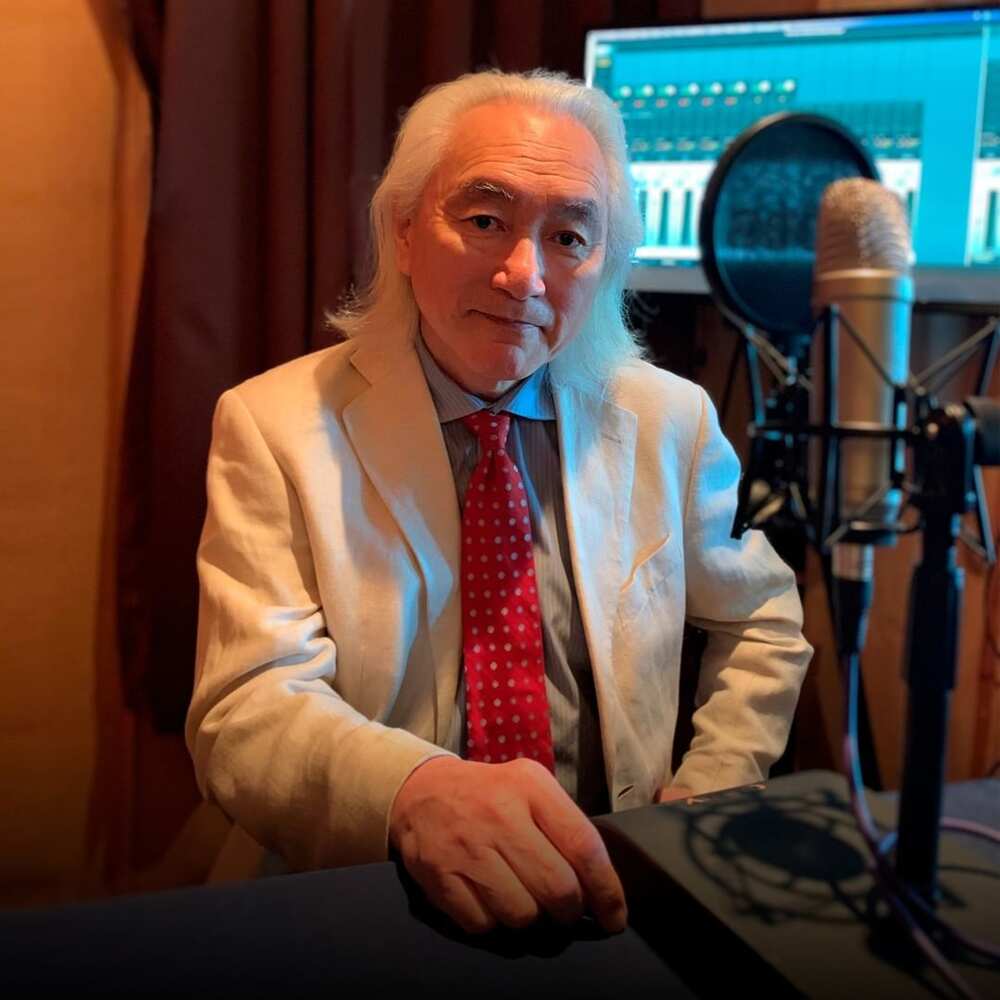 A theoretical physicist, a decorated keynote speaker, an undisputed futurist, and a wealthy bestselling author – Dr. Michio Kaku is one of the most successful motivational speakers in the world. He is one of the most mentioned names in the world of invention science.
His bestseller book, The Future of the Mind, has been ranked first by both the NY Times and Amazon. He also has another top seller, The Future of Humanity, which was ranked number 1 by amazon in 2018.
Other top sellers include Physics of the Impossible, Hyperspace and Vision, and Physics of the Future.
It is in Physics of the Future that he interviews at least 300 world's most accomplished scientists and Nobel laureates. The book gives an overview of what the future of science will be.
Like most of his books, Physics of the Future was ranked top by Amazon in 2011. As for Physics of the Impossible, it has garnered impressive reviews from The UK Guardian Newspaper, New Scientist Magazine, and LA Times.
Michio is a regular on Discovery Channel and BBC, where he shares his understanding of the power of the human mind in innovation, business, and medicine.
He also shares the message on more than 100 local radio stations. Michio has appeared on Tech-TV, Fox News, CNN, and Good Morning America.
Michio currently has over 738,00 followers on Twitter. The doctor is a graduate of Harvard, where he coincidentally taught. He has also lectured at Princeton.
Michio claims his goal is to complete Albert Einstein's well-known 'Theory of Everything" dream.
4. Jack Canfield - $20 million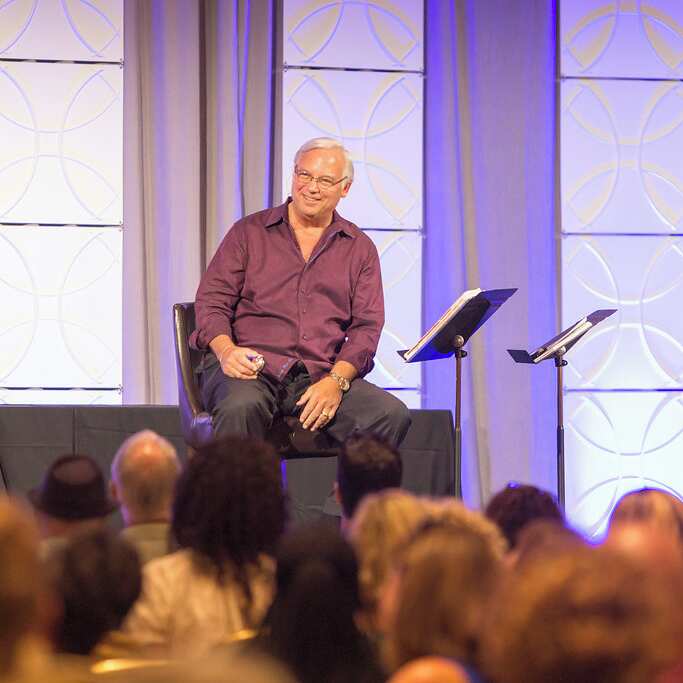 Jack Canfield is an acclaimed success coach, a bestseller author, and a psychologist. He is also a wealthy entrepreneur and one of the top motivational speakers of all time.
Jack holds a Master's Degree in Psychology from Harvard. He develops audience-tailored methodologies when drafting his keynotes.
He understands what drives his audience and how better to inspire them. He shares his message of success in universities, media outlets, professional associations, and foundations.
Jack has toured more than 200 nations, spreading the gospel of success. He is known for NY bestsellers like Dare to Win, Chicken Soup for the Soul, and The Power of Focus.
These three books and four others earned him an entry into the Guinness Book of World Record. What is more, his book Chicken Book for the Kid's Soul holds the record of the most massive signing. Over a million copies of the success book have been sold.
Canfield is the only author known to have won the South California Book Publicist and ABBY Awards in the same year.
Canfield is also popular with TV and radio motivation programs. He has featured in Oprah Winfrey Show, Eye to Eye, Inside Edition, and CBC Evening News.
Jack is the founding president of the Canfield Training Group, a training firm for corporate leaders, motivators, and educators. He also founded the Foundation of Self-Esteem, a welfare program for human resource experts and social workers.
3. Mel Robbins - $100 million
Commanding at least $50,000 for appearances, Mel Robbins takes home one of the highest paid motivational speakers salary packages. She is a bestseller author, a legal analyst, a contributing editor, and a social influencer. Mel offers interactive, actionable, and soul-stirring leadership and innovation talks.
As a CNN commentator and analyst, Mel won the Most Outstanding Talk Show Host during the 2014 Gracie Awards. That is in addition to multiple CNN awards.
She hosts a talk show after her name, The Mel Robbins Show that airs nationwide. She also contributes to Success Magazine as a chief editor.
Mel Robbins co-founded Inspire52, an inspiring, fun, and news website. Mel is also the co-founding president of 143Studios, an established digital media brand.
Her success story and accomplishments make her one of the most sought after motivational speakers in the world. She gives practical, stern, real-time advice to whoever she addresses.
Her top inspirational book called The 5 Second Rule is a NY bestseller. It enjoys more than 36 translations.
The book broke the self-publishing record in 2017, and this led it to be recognized by Amazon as the fifth most read book. It was also recognized as the number 1 audiobook intermediary.
In early 2019, Mel organized a free one-month Mindset Reset motivational program that attracted more than 250,000 people. Her TED talk is arguably one of the best of all time, amassing at least 18 million views.
2. Daymond John - $300 million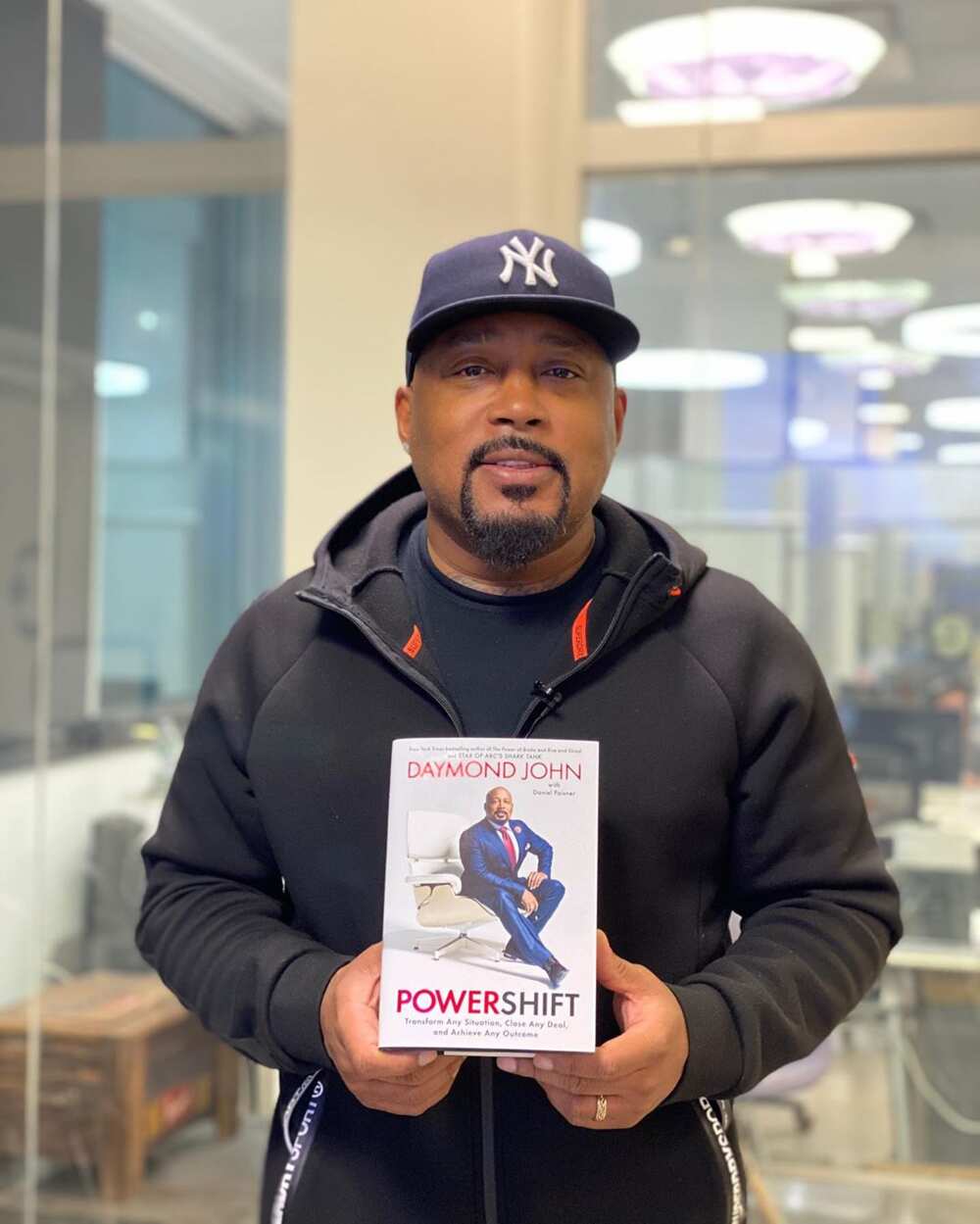 Most people know Daymond John from ABC's investor reality TV series, Shark Tank, where he is a judge. Daymond is a self-made multimillionaire, an author, a keynote speaker, and a fashion guru.
Unlike most sharks, Daymond had a very humble beginning. According to him, he is living the American dream, and it is all due to sheer determination, taking risks, and staying authentic. Daymond was born in 1969 in Brooklyn.
He saw his parents separate at the age of 10, and this forced him to start working early. His first job earned him $2 an hour.
In the fashion world, Daymond is known for founding the multimillion clothing brand FUBU. Over the last few years, Daymond has inspired many through his speeches and books.
Some of his top honors include two-time NCAAP Entrepreneur of the Year awards, Brandweek Market of the Year Award, and two-time Congressional Achievement Award.
His NY bestseller, The Power of Broke motivational book, talks about how anyone can make it despite humble beginnings. He has interests not only in fashion but also in entertainment, business consultancy, and digital branding.
The groundbreaker is one of the highest-earning motivational speakers who ask for at least $50,000. He is known to teach his audience winning business tips and strategies.
He shares how entrepreneurs can improve staff morale to increase productivity and sales. From students to corporate CEOs, Daymond always has the perfect content to suit all.
1. Magic Johnson - $600 million
Magic Johnson is an established basketballer, philanthropist, entrepreneur, and multimillionaire. The NBA legend shook the basketball world and everyone who knew him in 1991 when he publicly confessed he was HIV positive.
This, however, did not deter him from being a role model. On the contrary, the disease stirred in him a fighting spirit that saw him establish the Magic Johnson Foundation.
Magic Johnson has always carried the message of hope with him. He talks openly about the killer virus, and he is a notable keynote speaker on World Aids Day. Through his philanthropy acts, his foundation has donated about $1.1 million to CBOs.
After making the astonishing news, Magic Johnson decided to venture into the business world. He created the Magic Johnson Enterprises that would support several businesses. Magic Johnson also has interests in real estate.
In 2012, Johnson bought majority stakes at MLB's LA Dodgers, where he is a co-owner. He also co-owns WNBA's LA Sparks and MLS's LA FC.
Johnson also has business interests in EquiTrust (a life insurance company), SodexoMagic (a catering service), and Aspire (a television network).
Other notable interests include Unchartered Power (a renewable energy company), Short Tracker (a wearable tech company), and Walker & Co (a healthy and beauty brand).
Remarkable accomplishments on Johnson's career include the 1979 overall top draft and five championships with the LA Lakers.
He is also a three-time NBA MVP, a two-time All-Star MV. Today, he is one of the top black motivational speakers in the world.
All the above highest paid motivational speakers have an inspiring story to share. They all suit different audiences, and so it is up to you to decide who to listen to. They charge differently and have had different journeys to success. They might be what you need to reset your mind and bounce back.
Source: Legit.ng