Mesut Ozil bio: age, wife, net worth, statistics
Mesut Ozil is a renowned German footballer who currently plays for Premier League club, Arsenal. Mesut is widely regarded as one of the game's most creative midfielders. His impeccable passing and assist skills have earned him admiration across the football world. Ozil has won numerous personal and team titles at the club and national level throughout his career.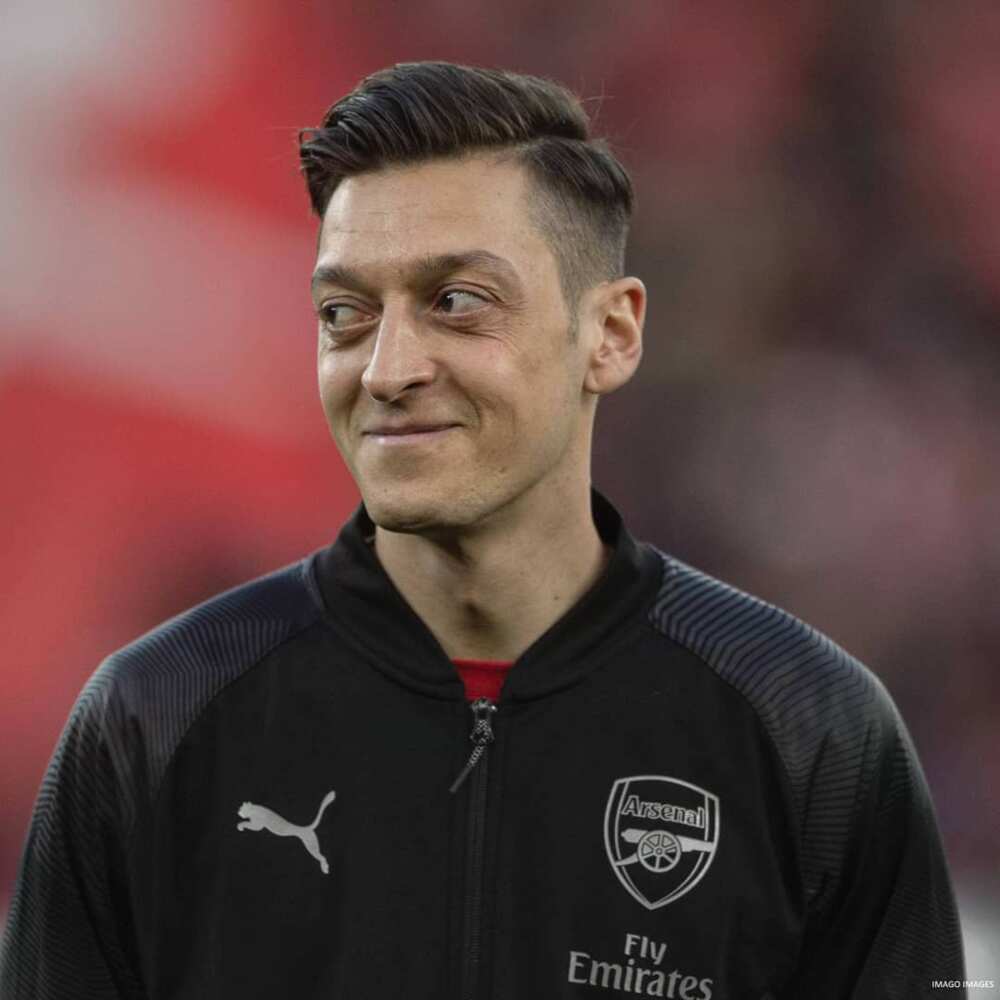 The player was born on 15th October 1988 in Gelsenkirchen, West Germany, to Mustafa and Gulizar Ozil. Mesut Ozil age is currently thirty-one years. He grew up alongside three siblings, Dugyu, Nese, and Mutlu Ozil. The player had a profound interest in football since his childhood. He began his professional career when he joined Schalke 04's football academy, where his talent quickly caught the attention of club scouts in the German Bundesliga.
Mesut Özil profile summary
Name: Mesut Ozil
Nickname: Der Rabe, Nemo, and Der Neue Diego
Date of birth: 15th October 1988
Place of birth: Gelsenkirchen, West Germany
Parents: Mustafa and Gulizar Ozil
Siblings: Mutlu, Nese and Dugyu Ozil
Age: 31 years
Height: 5 feet 11 inches
Weight: 76 kilograms
Profession: Soccer player
Position: Attacking midfielder
Team: Arsenal FC
Wife: Amine Gulse
Religion: Islam
Nationality: German
Horoscope: Libra
Net worth: $100 million
Early life
Mesut grew up in a poor home during the German industrial decline. The unemployment rate for immigrant families such as Ozil's was over seventy per cent. However, everything that Mesut laid his hands on went well, starting from his academics to following his football passion. His footballing journey began when he started playing in a playground near his home. Besides playing, he would enjoy watching his brother Mutlu perform dribbles.
Mesut took ball control lessons from his elder brother whom, despite loving football, never believed that immigrants could ever make it in football. During the time, Ozil's neighbourhood, which had around sixteen thousand immigrants, was never regarded as a potential breeding ground for future footballers.
Club career
Mesut has played for various clubs throughout his career. These include Schalke 04, Werder Bremen, Real Madrid, and Arsenal.
Schalke 04
Ozil joined Schalke's youth academy in 2005 after playing reserve football for clubs such as Rot-Weiss Essen based in his hometown of Gelsenkirchen. After joining Schalke 04, he was deployed as a central midfielder. He soon became part of the starting lineup at the club with several people describing him as the 'next big thing' in German football. He left the club for Werder Bremen in 2008 after disagreeing with the management on salary-related issues.
Werder Bremen
Mesut joined Werder Bremen in January 2008 for an alleged €5 million transfer fee. Bremen landed the player's signature after fending off competition from the likes of VfB Stuttgart and Hannover 96. The two clubs were unwilling to pay the €5 million transfer fee for the player. The player scored his first Bundesliga goal playing for Werder Bremen against Karlsruher SC in April 2008.
In 2009, Ozil scored the winning goal against Bayer Leverkusen as Werder Bremen won the DFB-Pokal by a solitary goal. He was also instrumental in Bremen's journey to the UEFA Cup final, although the team ultimately lost to Shakhtar Donetsk. In the 2009/2010 Bundesliga season, Ozil stepped up to fill the gap left by Diego, who had transferred to Italian club Juventus. He was named the best Bundesliga player during the first leg of the 2009/2010 season.
Real Madrid
After the 2010 World Cup in South Africa, Ozil became one of Europe's most sought-after talents. Real Madrid, Barcelona, and Arsenal all lined up for the player's signature. Renowned English striker Wayne Rooney supposedly asked his then Manchester United manager (Alex Ferguson) to sign the German playmaker.
In August 2010, Werder Bremen announced that a deal had been struck for Ozil's transfer to Real Madrid. This came after a round of rumors alleging that Ozil was set to move to Barcelona. Talking about his £16.6 million transfer to Real Madrid, Ozil praised Madrid's history, top-notch squad, and stadium as some of the factors that lured him to Spain.
He played for the club until the end of the 2012/2013 season. His three-season stint in Spain saw him become one of the most respected midfielders in Europe. In his last season at Real Madrid, he created more assists than any other player in the Spanish La Liga.
Arsenal
Ozil left Real Madrid for Arsenal in September 2013 for an undisclosed fee. However, it was alleged that the transfer fee was about €50 million for five years. The transfer made Mesut the most expensive German player by then. Sometime in 2016, contract leaks showed that the German's transfer fee was £42.5 million, with an additional €6 million distributed over six years. Ozil cited a lack of faith from his Real Madrid bosses as the primary reason he left the club.
2013/14 season
Ozil made his Premier League debut on 14th September 2013 against Sunderland. He provided an assist for Olivier Giroud's goal. Arsenal went on to win the match by three goals to one. He made his UCL (UEFA Champions League) debut in an Arsenal shirt on 17th September of the same year. Mesut was instrumental in Arsenal's FA Cup victory over Hull City in 2014.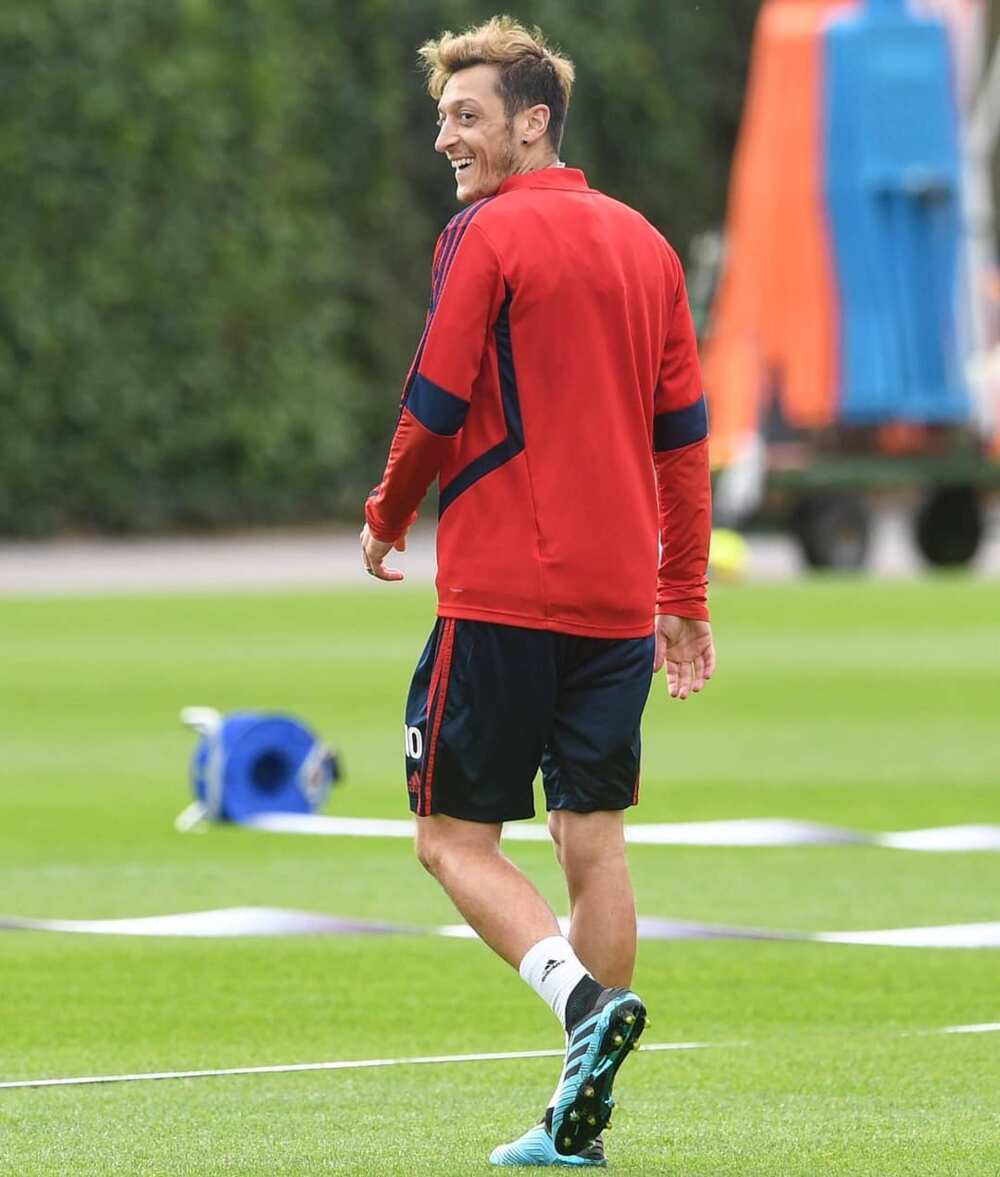 2014/15 season
Ozil returned to Arsenal's training camp after Germany's 2014 World Cup victory in Brazil. The 2014/15 season was one of Ozil's best with Arsenal. He provided both assists as Arsenal beat Reading in the FA Cup semi-final. He was also part of the Arsenal squad that demolished Aston Villa by four goals in that season's FA Cup final. Arsene Wenger, who was then Arsenal's manager, praised the German playmaker describing him as 'having a very strong influence.'
2015/16 season
Mesut began the 2016/16 career on a high when he scored against Lyon in a pre-season match. He then became the first player in Premier League history to provide assists in six consecutive games. He ended the season with twenty assists across all competitions. This earned him the season's Arsenal Player of the Season Award.
2016/17 season
The midfielder was again instrumental in Arsenal's journey towards the 2017 FA Cup victory. His attacking partnership with Alexis Sanchez was particularly impressive during the 2016/17 season. He created thirteen assists and scored twelve goals during the season. Despite the excellent performance, though, Arsenal missed out on a Champion's League spot.
2017/18 season
The player entered his last contract year during the 2017/18 season. A knee injury kept him out of several matches as the season kicked off. A series of injuries towards the end of the season also kept him out of Arsenal's last games of the season. He was, however, crucial in the club's run to the EFL Cup final.
2018/19 season
Ozil got his preferred number-10 jersey after the departure of Jack Wilshere. He also became one of Arsenal's two vice-captains. The midfielder began to make fewer appearances due to a string of injuries and a significant dip in form. The 2018/19 season was Ozil's worst in terms of goal contributions. He netted six goals and only managed four assists throughout the season. After his club lost the UEFA Cup final to Chelsea, Ozil voiced his discontentment with the club's manager. This sparked rumors surrounding a possible move from Arsenal.
2019/20 season
Mesut made his 2019/20 debut in a draw against Watford. He was left out in fixtures against Manchester United and Aston Villa, much to the chagrin of a section of the club's fans. He also featured in the Carabao Cup match against Nottingham Forest.
German national team career
Ozil was eligible to play for the Turkish or German national football teams. He chose to play for Germany and got called up to the under-17 team in 2006. In 2009, he was voted man-of-the-match when the German under-21 team beat their English opponents by four goals to nil. His debut with the senior team came in 2009 when he featured against Norway. He scored his first senior team goal in a friendly against South Africa on 5th September 2009.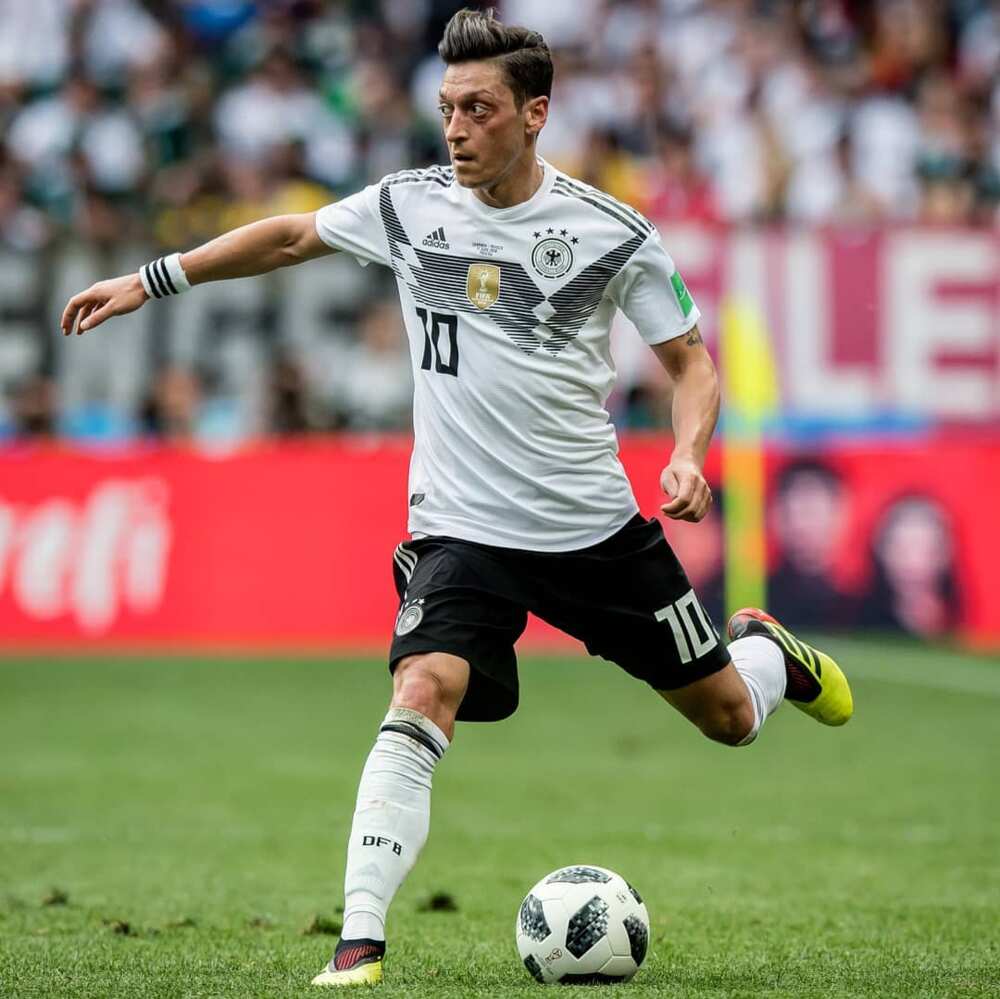 2010 World Cup
Ozil was named in the German squad to represent the nation in the FIFA World Cup tournament held in South Africa. He started in all matches and provided an assist as Germany beat Australia by four goals in the first group match. In the last group match, Ozil scored the final goal to ensure Germany progressed to the next stage as the group's winners.
In the round of 16, the midfielder was instrumental as Germany beat England by four goals to one. He provided an assist for Thomas Muller's goal. In the quarter-final match against Argentina, Ozil again provided an assist for Klose's goal as Germany edged out the South Americans by four goals. Ozil was among the ten players nominated for the Golden Ball award in the 2010 World Cup.
2012 UEFA Euro competition
Ozil was one of the German team's best players during the 2012 Euro qualification. He scored five times as Germany won all ten group games. The playmaker provided seven assists, more than any other European player in the competition. The team was drawn alongside Portugal, Denmark, and France in what was widely regarded as Euro 2012's 'group of death.'
Germany lost to Italy in the semi-final stage of the competition, but Ozil won two Carlsberg awards for his prolific display. He was the tournament's highest assist provider.
2014 World Cup
Ozil was Germany's top scorer in the 2014 World Cup qualification rounds. During the World Cup tournament held in Brazil, he played as a left-winger after an injury to Marco Reus. He was in the starting lineup of all his country's matches, helping Germany become the first European team in history to win a World Cup tournament held in South America.
2016 UEFA Euro competition
The playmaker was part of the German squad that played in the 2016 Euro tournament. Portugal was the eventual tournament winner. Ozil scored and provided several assists as Germany progressed to the semi-finals, eventually losing to France by two goals.
2018 World Cup
Mesut was part of the 23-man squad chosen by Joachim Loew to represent Germany in the 2018 World Cup held in Russia. The team performed dismally and got eliminated from the competition in the group stages. Ozil averaged 5.5 chances every ninety minutes, better than any other player in the 2018 World Cup.
Political controversy and retirement from German football
In 2018, Ozil sparked controversy when he posed for photographs alongside Tayyip Erdoğan (Turkish president) and İlkay Gündoğan. Ilkay and Ozil are both of Turkish descent, and thus, the move was seen as a form of political support for the Turkish president and his policies. The photos caused an uproar on social media, with some people criticizing the two players for what they termed as a 'lack of loyalty.'
In response to the allegations, Ozil stated that the photos were simply a form of respect to the highest office in his parents' country. He also said that his conversations with the president revolved around football. The player then retired from the German team in protest to what he termed as racial discrimination within the German Football Federation. His retirement attracted criticism from numerous players, managers, and fans.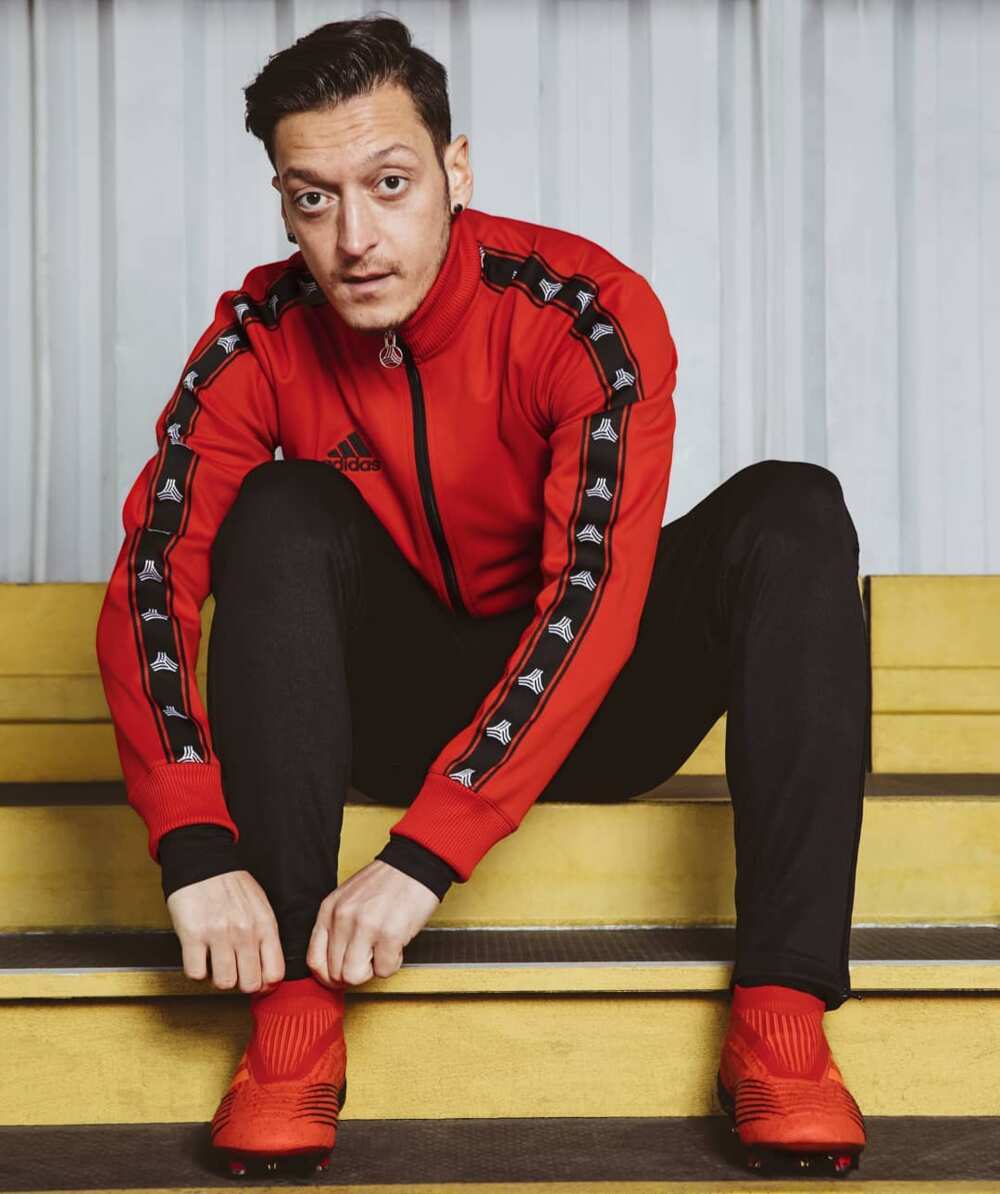 Religion
Mesut Ozil is a practicing Muslim who regularly recites verses from the Quran before matches. He also observes fasting in Ramadan according to Islamic guidelines. He, however, admits that he does not follow the Ramadan schedule strictly due to the nature of his career. The footballing profession requires players to eat and drink a lot to maintain peak fitness.
In May 2016, Ozil performed the pilgrimage to Mecca (known as Umrah). In one instance, a fan threw a piece of bread at him as he prepared to take a corner kick. He picked the piece, kissed it, and expressed gratitude for the food given to him as required by Islam. In 2010, the player received the Bambi award for setting a great example of integration within the German society.
Philanthropy
In 2014, Mesut donated his entire Word Cup winnings (£237,000) to cater for medical fees for 23 children in Brazil. He termed the decision as his gratitude to Brazilians for their hospitality. In 2016, he toured the Zaatari refugee camp in Jordan and signed autographs, handed out jerseys and played with children. The player also worked with a charity known as My Shining Star aimed at helping sick children realize their dreams.
Mesut Ozil net worth
The player's net worth is currently estimated at $100 million. The player's salary, endorsements, and sponsorships are the most significant contributors to the player's net worth. Mesut Ozil salary is allegedly £350,000 per week.
Mesut Özil stats
There have been some amazing Mesut Ozil stats at club and national level throughout his career. Here are the top Mesut Ozil statistics related to appearances, assists and goals.
Arsenal FC: 43 goals and 74 assists in 233 appearances
Real Madrid: 27 goals and 80 assists in 159 appearances
Werder Bremen: 16 goals and 54 assists in 108 appearances
Schalke 04: 1 goal and 5 assists in 39 appearances
Awards and honors
Here are the player's top honors throughout his playing career.
Arsenal Player of the Season: 2015–16
Best German Abroad (Kicker Magazine): 2016
Bundesliga top assist provider: 2009–10
FIFA Ballon d'Or: 2010 (13th place), 2011 (11th place), 2012 (14th place), 2013 (16th place)
FIFA FIFPro World XI 2nd team: 2013, 2016
FIFA FIFPro World XI 5th team: 2014, 2017
FIFA World Cup top assist provider: 2010
German Football Ambassador Public Award: 2015
Germany national team Player of the Year: 2011, 2012, 2013, 2015, 2016
IFFHS World's Best Playmaker Silver award: 2013
Kicker attacking midfielder of the year: 2010
Kicker Bundesliga Team of the Season: 2008–09
La Liga top assist provider: 2011–12
Laureus Media Award: 2014
PFA Fans Player of the Month: April, November & December 2015
Premier League top assist provider: 2015–16
UEFA Best Player in Europe Award: 10th place 2012
UEFA Champions League top assist provider: 2010–11
UEFA Europa League top assist provider: 2009–10
UEFA European Championship Team of the Tournament: 2012
UEFA European Championship top assist provider: 2012
UEFA Team of the Year: 2012, 2013
Who is Mesut Ozil wife?
One of the common queries among football fans concerns Mesut Ozil girlfriend. The prolific playmaker has been in various relationships before his recent wedding with Amine Gulse. Here is a look into Mesut's relationships.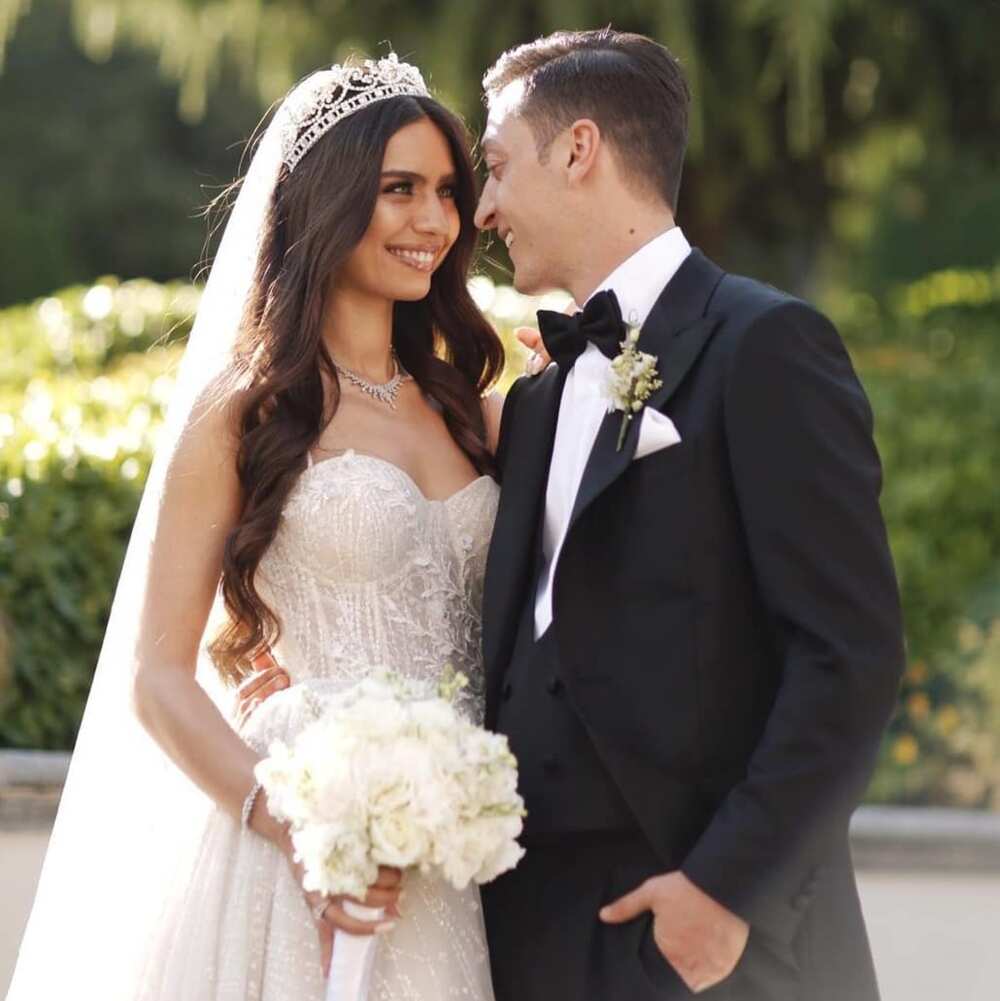 Anna Maria Lagerblom
Ozil allegedly dated Anna Maria between 2009 and 2010. Anna was seen continuously during the 2010 World Cup in South Africa. After the World Cup, the couple's relationship began fading. It was alleged that Anna found it challenging to settle in Madrid after Ozil's move from Werder Bremen. The two ended their relationship in September 2010.
Aida Yespica
Aida was at the center of a controversy involving Ozil, Real Madrid, and Ozil's father. Ozil and Aida purportedly dated between 2012 and 2013. Real Madrid alleged that Aida was affecting Ozil's performance on the pitch due to his frequent visits to see her. The relationship later ended.
Mandy Capristo
Mandy and Mesut dated between 2013 and 2014 and briefly in 2015. Capristo is a German model and singer. After Ozil transferred to Arsenal, Mandy moved with him to London. The relationship ended after rumors surfaced that the player was cheating on his girlfriend.
Melanie Rickinger
Ozil and Melanie dated briefly in 2014 after the footballer ended his relationship with Capristo. Rickinger was the girlfriend to Christian Lell, a former Bayern Munich player. The relationship sparked controversy between Ozil and Lell when the latter accused Mesut of exchanging steamy messages with his girlfriend.
Amine Gülşe (2015-present)
Amine Gülşe was Miss Turkey 2014. The model was linked to Mesut Ozil after the two went out on a date in London. In July 2019, the two got married in Istanbul in a ceremony attended by the Turkish president, Recep Tayyip Erdogan.
Mesut Ozil tattoos
Since transferring to Arsenal, Ozil has been spotting a tattoo on his left arm. The tattoo is an image of a roaring lion with the words' Only God can judge me' beneath it. The tattoo has been the subject of mixed reactions from fans, with some terming it as poorly-done. Others seem to think it is a befitting tattoo for a person of Ozil's professional stature.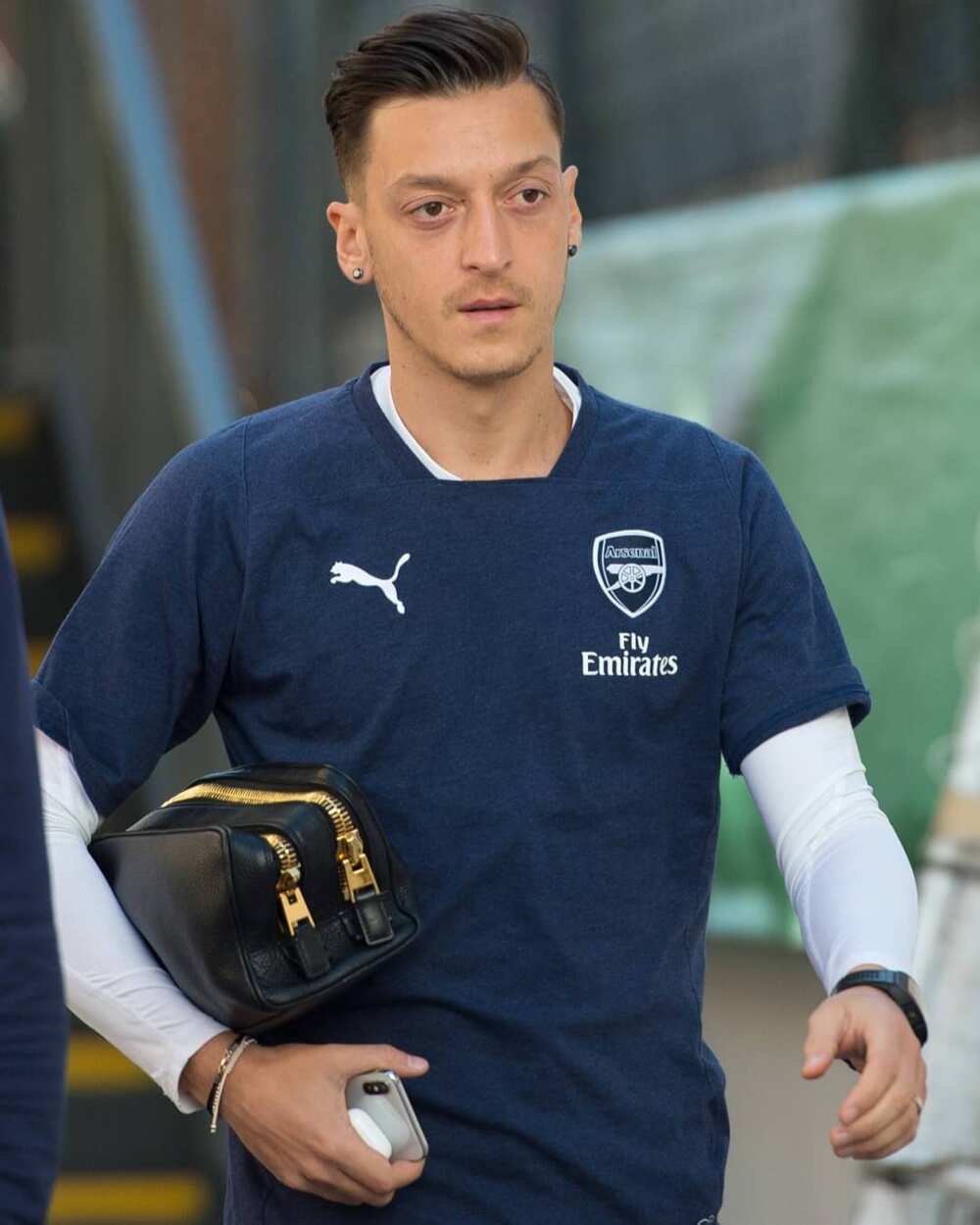 Mesut Ozil is one of the most creative playmakers in the footballing world. His contributions to his teams at club and national level are quite significant. Despite a few controversies on and off the field, the German midfielder's footballing legacy will undoubtedly remain for quite a long time. His ability to balance his career with his personal and philanthropic life is also quite impressive.
Source: Legit.ng