Erling Haaland bio: stats, goals, age, father, salary, transfer
When Erling Haaland scored nine goals in a single match at the 2019 FIFA U20 World Cup, not many people were paying attention. However, the case is different today as he is currently the highest goal scorer in the 2019/2020 edition of the UEFA Champions League. Interestingly, he is just 19 years old, but he has an incredible success story.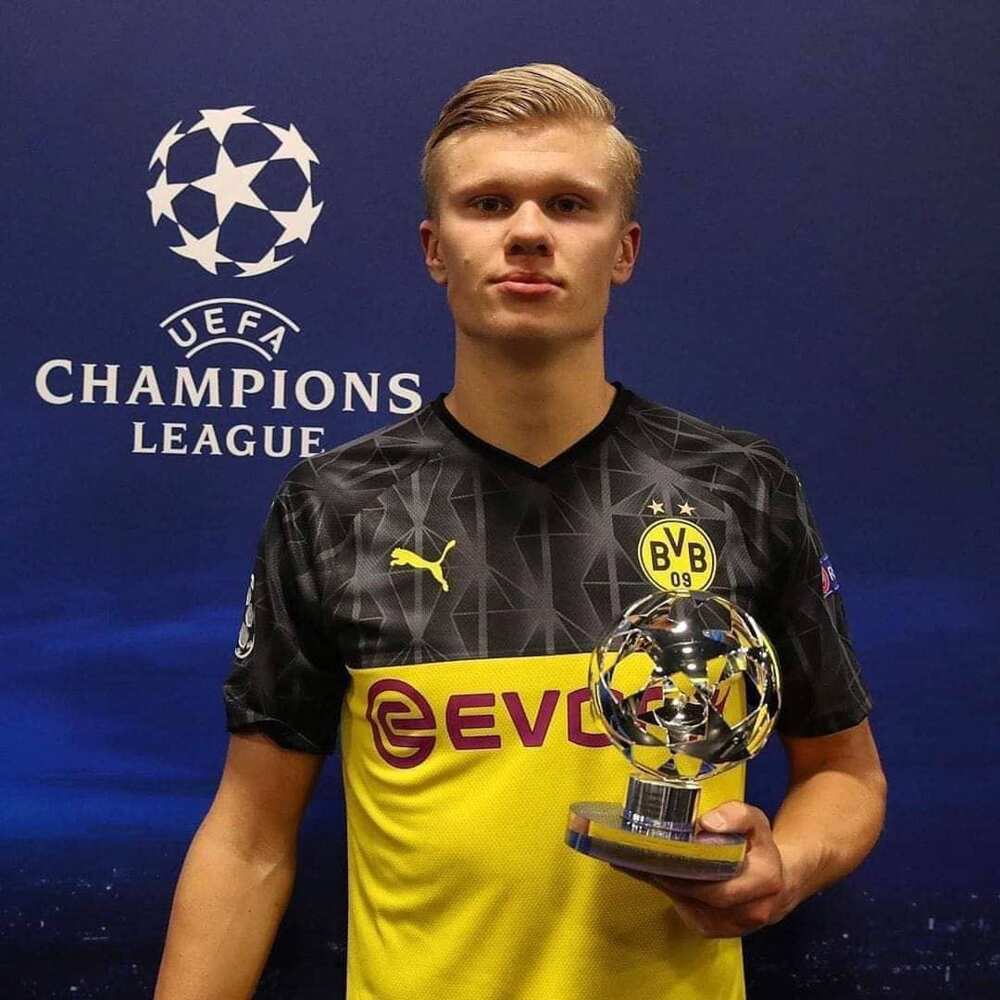 It is no news that Erling Haaland recently joined Borussia Dortmund in December 2019. Erling is the son of Alf-Inge Haaland, a former Manchester City defender. He started his career at Bryne, and not long ago, he made a move to Germany from Red Bull Salzburg.
Haaland profile summary
Full name: Erling Braut Haaland
Nickname: The manchild
Place of birth: Leeds, England
Date of birth: 21st of July, 2000
Age: 19 years old
Height: 1.94 m
Profession: Football player
Playing position: Striker
Nationality: Norwegian
Parents: Alf-Inge Rasdal (father) and Gry Marita (mother)
Siblings: Astor and Gabrielle
Background information on Erling Haaland
Erling Haaland lived most of his life in Norway after his father, who is also a professional football player, retired to his hometown. As the second child, Erling grew up with Astor, his elder brother, and Gabrielle, his younger sister in Bryne, a city in Norway. However, the talented player was not born in Norway. So, where was Erling Haaland born? He was born in Leeds, England. His father was a player in the English league at that time.
Erling enjoyed the football game as a child. He was also involved in different sporting activities like handball, golf, and athletics. But then, his deep passion for football was immediately recognized, and by 2006, he was registered in Bryne Fotballklubb, a local academic club in his hometown.
Erling Haaland football career
The life of young Erling Haaland is centered on his football career. At the age of 15, he made his debut into the beautiful game. Bryne Fotballklubb gave him this golden opportunity due to his hard work and dedication. He kept on producing outstanding football skills, and by 2017, football scouts in Molde brought him out of his comfort zone in Bryne into Norway's first league.
At Molde, the young footballer started learning the ropes of top-flight professional football as he trained with the club's first team. One year after he arrived at the top Norwegian club, he made his first appearance and registered a goal in the same match. After finishing the 2018 season as the Molde's highest goal scorer, it became apparent that the young player was destined for the big stage. For his outstanding performance, he was awarded the Eliteserien Breakthrough of the Year for the same season.
Top European clubs like Juventus and Leverkusen tried to sign the young prodigy, but the talented player was not interested in big names. In August 2018, he made a move to RB Salzburg, where he would get more playing time and the chance of proving his worth.
The club unveiled him in January 2019, and, by July, he had registered his first hat-trick for the top Austrian club. After one month, he scored another hat-trick and kept on scoring. At his tender age, the Norwegian striker has no problem in breaking records. His goal in a Champions League game against Napoli made him the only teen to score one goal in 4 consecutive games.
Currently, Erling Haaland Dortmund move in January has produced eleven goals already. Interestingly, the tall striker has made just five appearances. On the international stage, the talented player started playing for the senior team on the 5th of September, 2019. Although, he had featured for Norway's youth team from the U15 to U21 level.
It is rumored that he was invited to play for the Three Lions team, but is Erling Haaland eligible for England? Yes, he is, through his father's influence, and also for the fact that he was born in England. However, he has made his choice to remain a Norwegian player. Fortunately, his mentor, Ole Gunnar Solskjaer, who is the current coach of Manchester United, is the most successful Norwegian player in history.
His transfer
As a talented player, Erling Haaland transfer to a top-flight club was bound to happen. But the young player is more concerned with playing time. For this reason, rather than go to the top Italian side, Juventus, he made a move to Salzburg for 8 million Euros.
Ever since he signed for the Austrian club, RB Salzburg, the star player has attracted different clubs. Even though he was valued at 45 million euros in January 2020, the buy-out clause in his deal with Salzburg was straightforward: any interested club must pay 20 million to the Austrian Bundesliga club to get the striker. The rest was up to his agent and his father, Alf-Inge.
Today, the black and yellow BVB No. 17 shirt is Erling Haaland Dortmund jersey. He made a move in January 2020 and has featured for Dortmund in the Champions League. However, many have wondered: Can Haaland play in the Champions League? Yes, he can because UEFA has modified its rules. In previous seasons, players were not allowed to feature in another club after leaving their club in the January transfer window.
Erling's stats and goals
Without a doubt, Erling Haaland goals scoring record at 19 years is nothing short of amazing. The young striker's ease at scoring is unbelievable. His young career has recorded forty goals already in thirty appearances in the 2019/2020 season. This proves how impressive Erling Haaland stats is at his tender age.
He scored 20 goals while playing for RB Salzburg. His total goals for Borussia Dortmund is 10. The remaining goals were scored in the Champions League. He has scored more UCL goals than the whole Barcelona team.
Erling Haaland Bundesliga debut is still trending across different social media platforms as that was when he scored his usual hattrick. He also scored twice in his German cup debut and UCL debut. But how many hat tricks does Haaland have? He has six hattricks so far and still counting.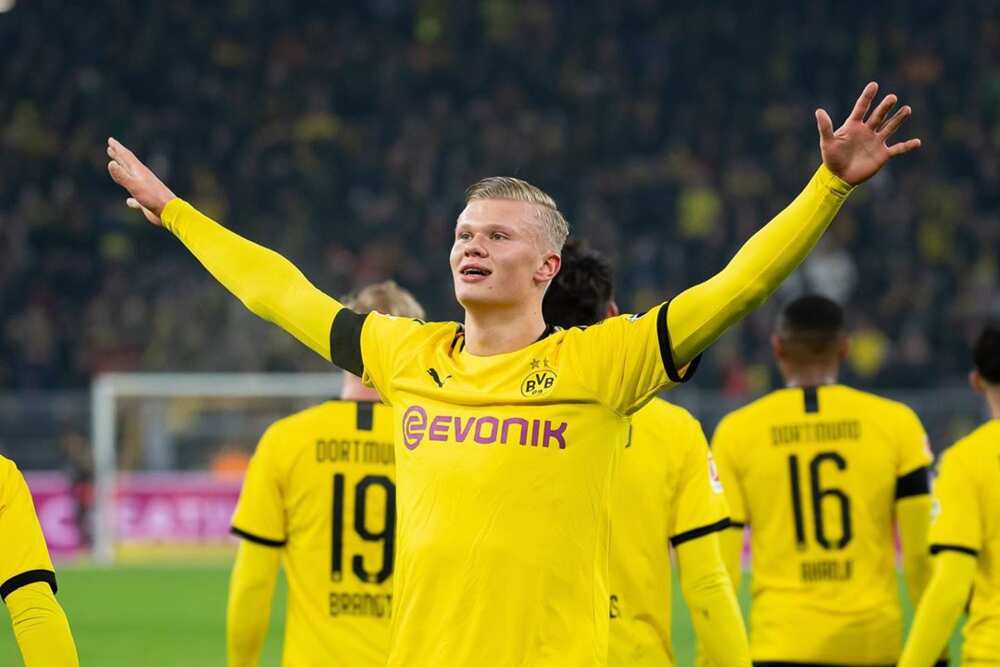 How old is Erling Haaland?
The tall striker was born on the 21st of July 2000. Erling Haaland age is 19 years old currently.
Who is Erling Haaland father?
The name of Erling Haaland father is Alf-Inge Rasdal. He is an ex-player, and also serves as his son's agent. He is a former defender that spent most of his playing days in the English Premier League. The major influential figure behind Erling's young career is his father.
He featured for Leeds United and later moved to Manchester City. His career was shortlived after a horrendous tackle from Manchester United's Roy Keane sent him out of the pitch and out of football.
Erling Haaland salary
Erling is currently playing for Borussia Dortmund in the German Bundesliga. His transfer was sealed with a 21 million euros deal that would expire by 2024. Currently, Erling Haaland Dortmund salary is 150,000 euros per week.
Truly, Erling Haaland is destined for greatness, and he is already stepping into it. Being a tall striker, he has revealed that he would like to be the next Zlatan Ibrahimovic. Consequently, the world is waiting to see how that turns out in the future.
Source: Legit.ng