Iwan Rheon bio: age, height, girlfriend, movies and TV shows
Iwan Rheon is famously known for his outstanding career as an actor, singer and musician. His role as Ramsay Bolton in the hit HBO series Game of Thrones saw his popularity skyrocket.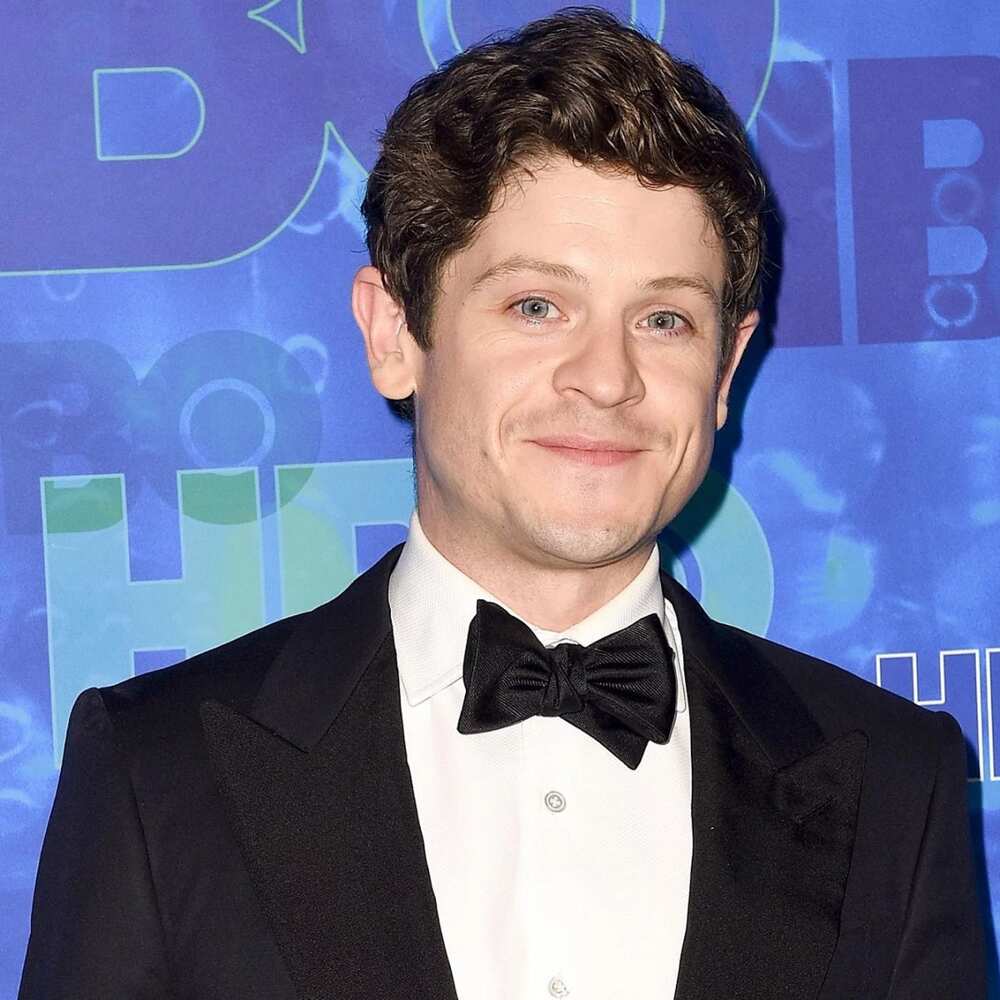 During his 18 years in the acting scene, he has featured in several movies and series, some of which have won international awards. Also, his career in music is thriving as he has released three EPs with numerous songs. Read more about Iwan Rheon bio.
Profile summary
Name: Iwan Rheon
Age: 34 years old
Date of birth: May 13, 1985
Place of birth: Carmarthen, UK
Zodiac sign: Taurus
Nationality: Welsh
Parents: Tomos and Einir Rheon
Siblings: Aled
Girlfriend: Zoe Grisedale
Children: 1
Eye color: Blue
Hair color: Dark brown
Height: 5 feet 8 inches
Weight: 68 Kgs
Profession: Actor and musician
Background
Iwan Rheon was born on May 13, 1985, to parents Tomos and Einir Rheon in Carmarthenshire, Wales. His father worked as an accountant while his mother was a social worker.
He has an older brother by the name Aled who pursues a career as a musician. When Iwan was about five years old, his family relocated from Carmarthenshire to Cardiff, where he spent the rest of his childhood.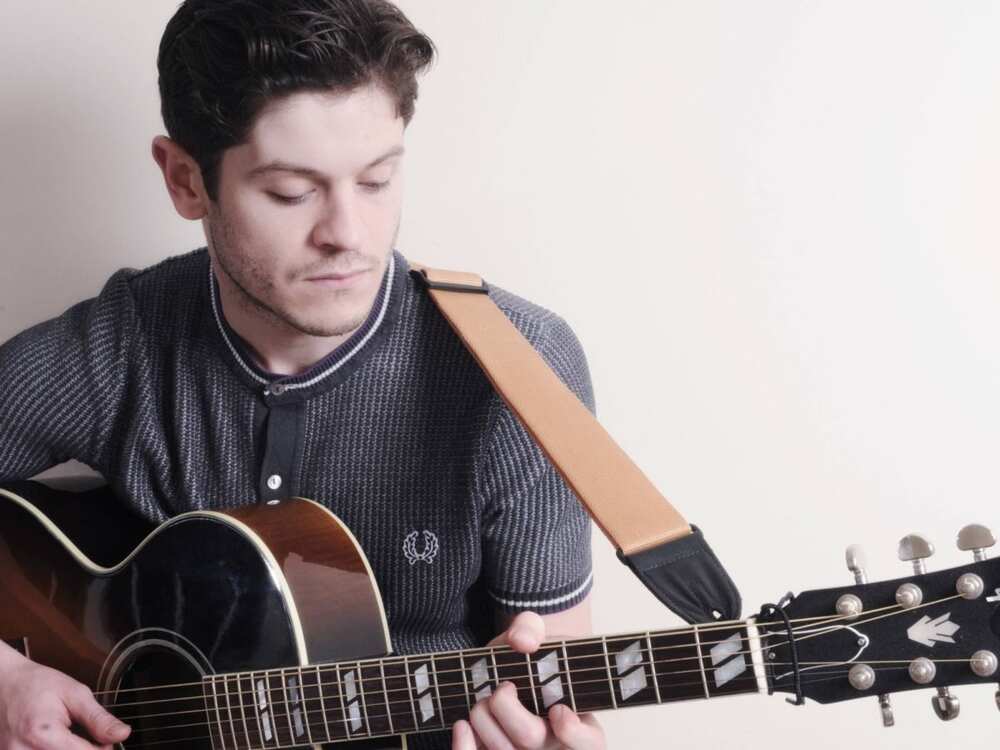 As for his studies, he attended Ysgol Gyfun Gymraeg Glantaf, and while he studied, he also took part in acting in school drama competitions. After a while at the educational institution, he left for National Eisteddfod of Wales.
From the National Eisteddfod of Wales, he proceeded to join the London Academy of Music and Dramatic Art. It is from the institution where he acquired the skills he is currently using in his career.
Body measurements
Besides his career, he is also known for his stunning looks and athletic physique. Iwan Rheon height is 5 feet 8 inches while he weighs approximately 68 Kgs.
He has beautiful blue eyes and dark brown hair which is a bit curly. Iwan Rheon age is 34 years old.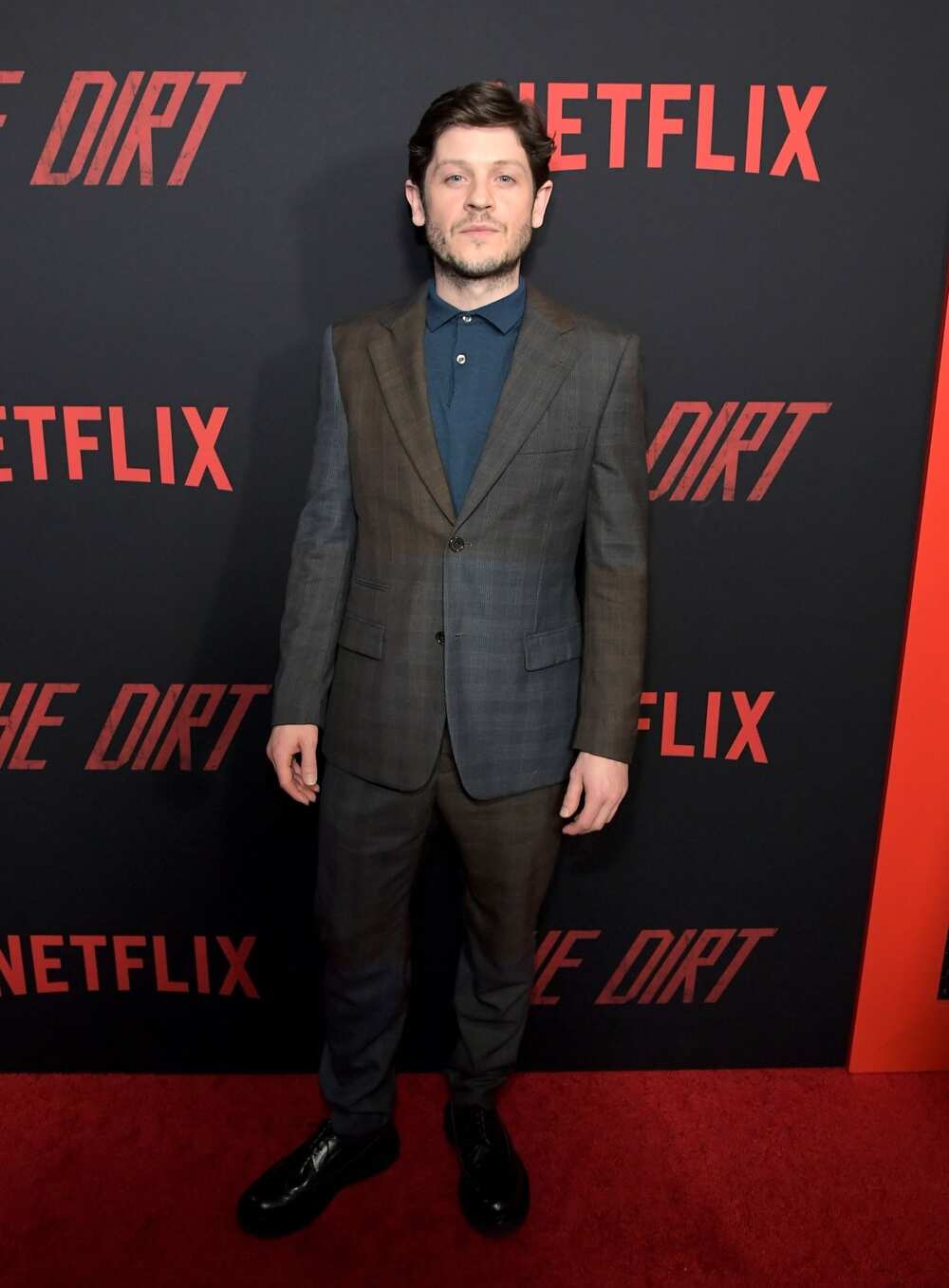 Career
He went into music when he was only 16 years old and was a member of The Convictions. He later opted for a solo music career and went on to release tracks such as Top of the Road, Feel It Coming, Can't Avoid the Sun, You Are in Me, among many others which have enjoyed immense success in the music industry.
So far, he has released three EPs: Tongue Tied (2010), Changing Times (2011) and Bang, Bang! (2013).
In 2004, he played the role of Macsen White in Pobol y Cwm. After that, he enjoyed portraying various characters in TV series such as Misfits, Game of Thrones, Our Girl, Vicious and Riviera.
Some of the most notable Iwan Rheon movies include Resistance, The Back of Beyond, Daisy Winters and The Dirt.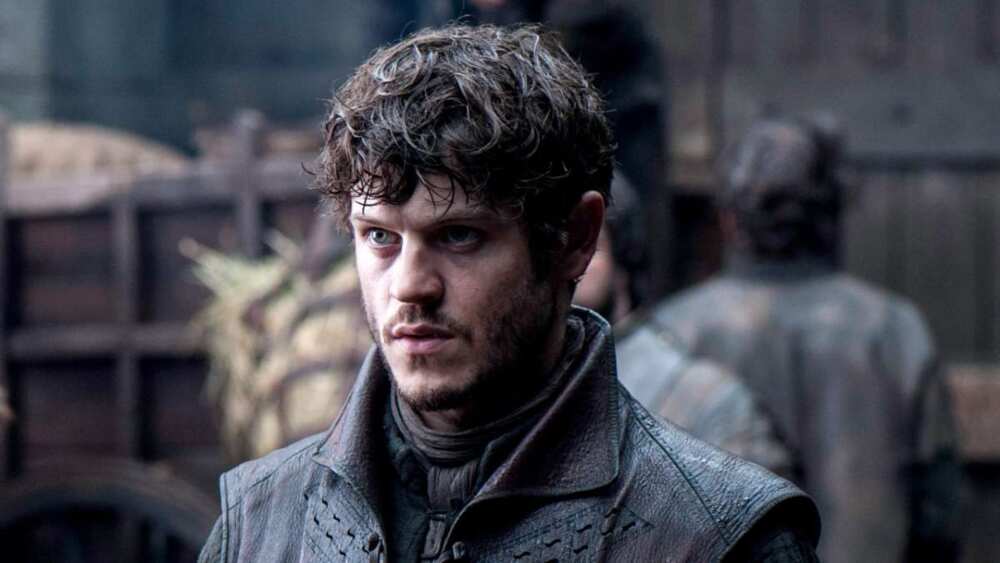 Here is a list of Iwan Rheon movies and TV shows.
Pobol y Cwm (2004) as Macsen White
Caerdydd (2006) as Daniel
Misfits (2009-2011) as Simon Bellamy
Coming Up (2010) as Luka
Secret Diary of a Call Girl (2011) as Lewis
Resistance (2011) as George
Wild Bill (2011) as Pill
The Back of Beyond (2012) as Petesy
Game of Thrones (2013-2016) as Ramsay Bolton
Vicious (2013-2016) as Ash Weston
Our Girl (2014) as Dylan "Smurf" Smith
Under Milk Wood (2014) as Evans the Death
Residue (2015) as Jonas Flak
Alien Invasion: S.U.M.1 (2017) as S.U.M.1
Urban Myths (2017) as Adolf Hitler
Riviera (2017-2019) as Adam Clios
Daisy Winters (2017) as Doug
Inhumans (2017) as Maximus
Family Guy (2017) as George Harrison, John Lennon and Ring Announcer – Voice role
Mission of Honor (2018) as Jan Zumbach
Berlin, I Love You (2019) as Greg
The Dirt (2019) as Mick Mars
Four (2019) as Hitman
Besides music and acting, he is also an excellent stage performer who has featured in works such as Eight Miles High, Spring Awakening, The Devil Inside Him, Remembrance Day and Foxfinder.
Awards and nominations
As an A-list actor, he won the award for Best Supporting Actor in a Musical at the 2010 Olivier Awards.
He has also been nominated in several categories such as Best Actor at the SFX Awards, UK (2012) and Outstanding Actor - Drama Series at the Monte-Carlo TV Festival (2011).
Iwan Rheon net worth
His net worth value is approximately 4 million US dollars. Since he is still active in his career, his net worth figure is likely to rise in the coming years. However, details of his annual salary are currently not available.
The Ramsay Bolton actor gets a significant portion of his wealth from the earnings of his acting and singing careers. So far, he has appeared in several movies and TV series whereas his songs are available on various online commercial platforms.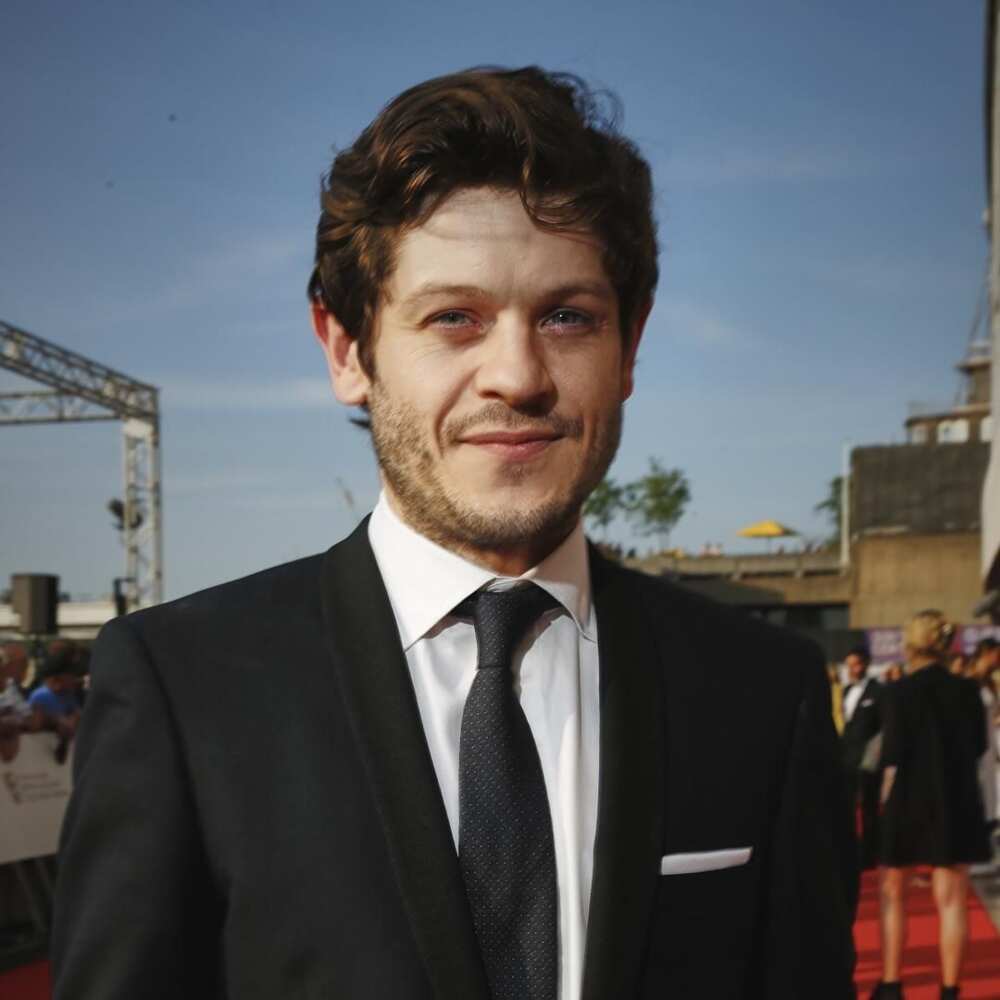 Who is Iwan Rheon wife?
Iwan is not a married man, but that is not to say that he is single. Currently, he is dating his longtime girlfriend, Zoë Grisedale.
The couple found love on their first meeting at Brittany resort and went skinny-dipping. Together, they have a child, born in August 2018, but her name is not yet disclosed to the public.
It is reported that Iwan named his album Dinard in honour of the resort where he met and fell in love with Zoë Grisedale. Iwan Rheon girlfriend is an actress and film writer.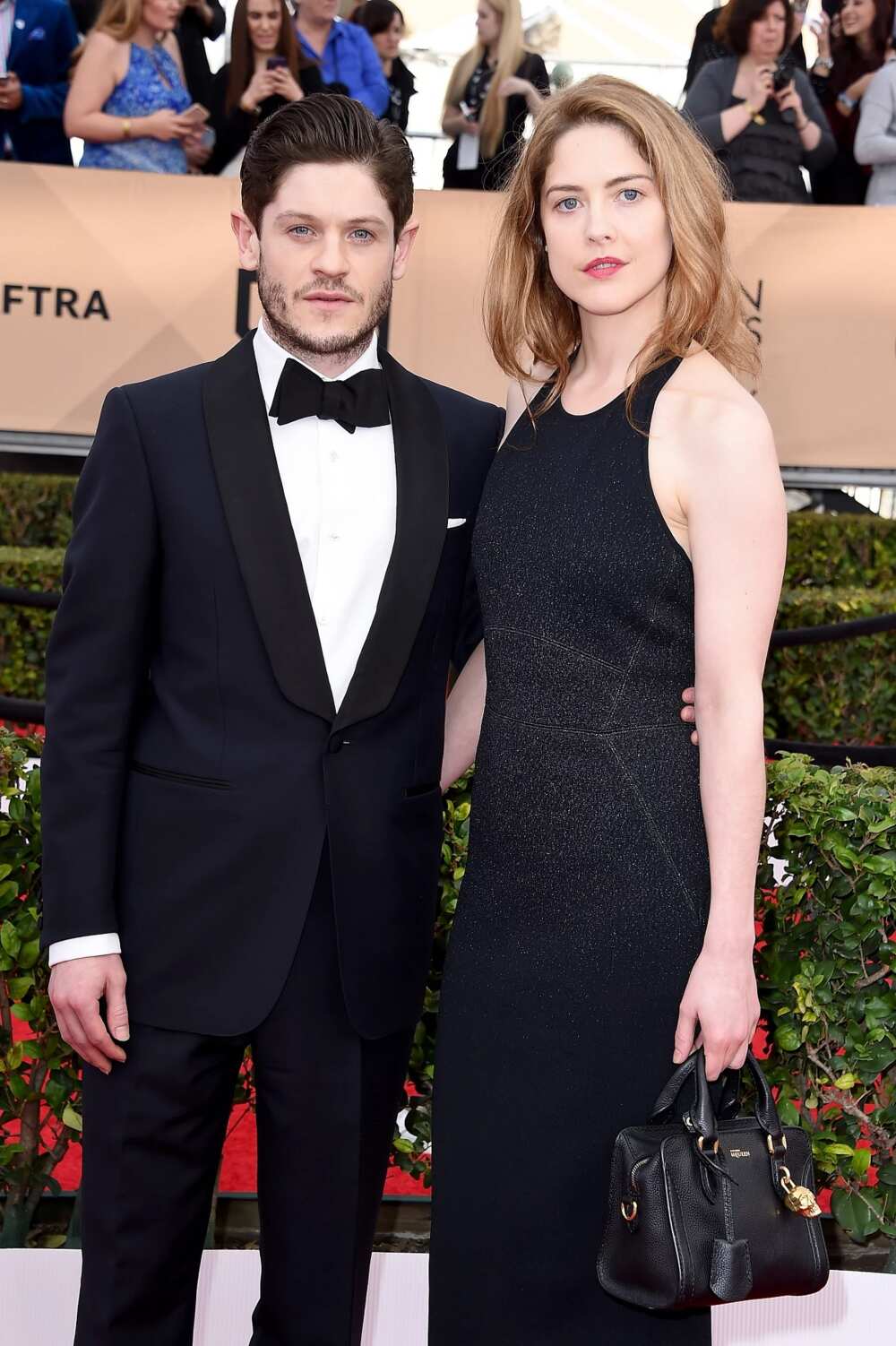 Most asked questions about Iwan
Find answers to the most asked questions about Iwan Rheon here.
1. Who is the actor who plays Ramsay Bolton?
Iwan Rheon played Ramsay Bolton in the hit series Game of Thrones.
2. Is Iwan Rheon gay?
The multi-talented Welsh is not gay. He has a girlfriend.
3. Does Iwan Rheon speak Polish?
He speaks Polish. He learned the language when he played the role of Polish pilot Jan Zumbach in Mission of Honor (2018).
4. Is Iwan Rheon single?
No. He has a girlfriend called Zoë Grisedale.
Social media
The award-winning actor is available on Instagram, Twitter, and Facebook. From the number of followers on each of the platforms, you will concur that he is a likeable personality.
He has 984K followers on Instagram, while his Twitter account has approximately 287,000 followers. His Facebook account has over 196,000 followers. He is an active user of the platforms and frequently posts details of his personal and professional life.
Iwan Rheon stands out as one of the multi-talented celebrities in Hollywood. He is enjoying immense success in the entertainment industry as an actor and musician.
Source: Legit.ng