Neymar Jr. bio: age, net worth, stats, does he have a son?
The Brazilian professional footballer, Neymar Jr, is currently a player for the Brazil national team and Paris Saint-Germain, a French club. He is praised for his incredible skills in dribbling and finishing, long shots, key passes, and the ability to play with both feet. This may have resulted from his early practice and love for street football and futsal from a very young age.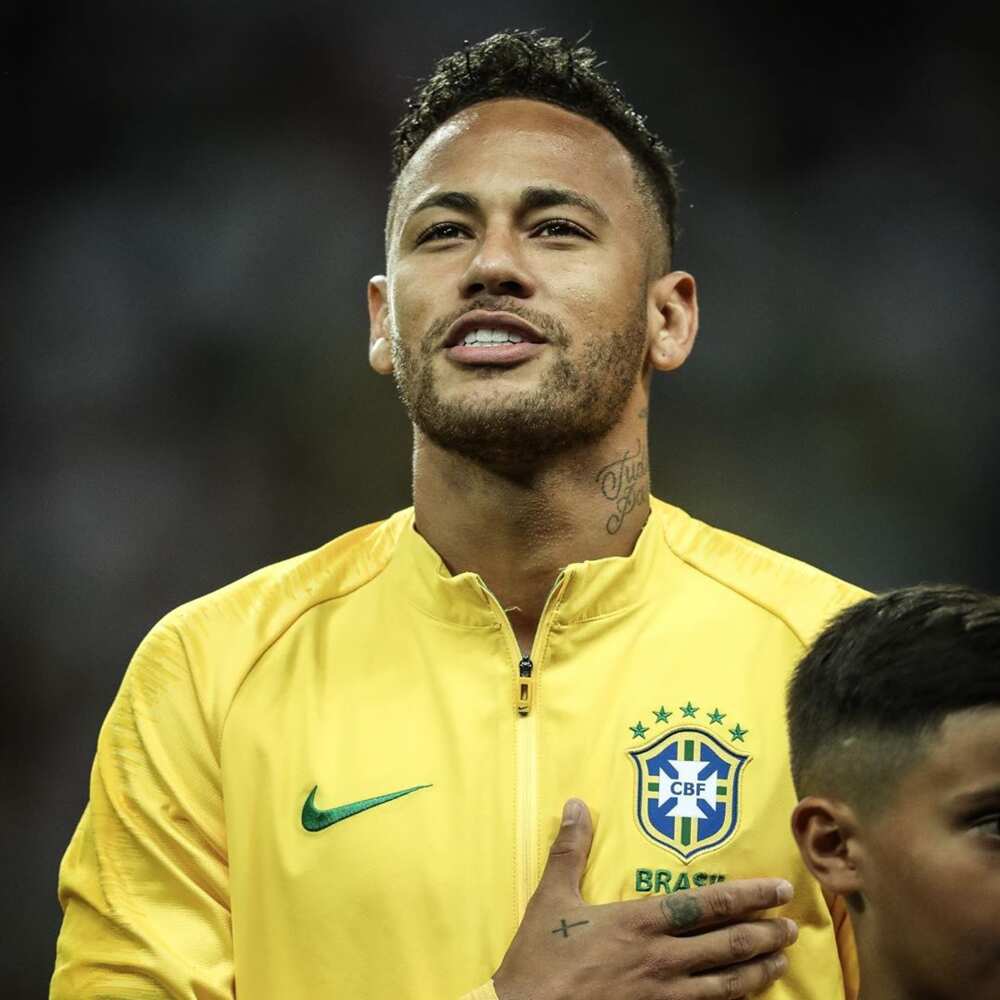 Neymar began his professional soccer career at the early age of 17 years. He started off at a club known as Santos where he led the team to win two Campeonato Paulista championships. These were the 2011 Copa Libertadores and Copa do Brasil. In both 2011 and 2012, he was named South American footballer of the year which followed Neymar's transfer to Barcelona and later to Paris Saint-Germain.
Neymar Jr. profile summary
Full name: Neymar da Silva Santos Junior
Date of birth: February 5, 1992
Age: 27
Profession: Footballer
Current club: Paris Saint-Germain(PSG)
Shirt number: 10
Positions: Forward, Attacking midfielder
Salary: $90 million
Net worth: $185 million
Nationality: Brazilian
Marital status: Single
Child: David Lucca da Silva Santos
Religion: Christian
Height: 1.75m
Weight: 68kg
Hair colour: Black
Eye colour: Brown
Instagram: @neymarjr
Twitter: @neymarjr
Facebook: @neymarjr
Early life
Neymar Jr. was born on February 5, 1992, in a place called Mogi das Cruze, Sao Paulo. His parents are Nadine da Silva and Neymar Santos Sr., the latter is a former footballer. His father has always been by his side and supported Neymar Jr. throughout his life and career.
They moved to Sao Vincente in 2003 where Neymar joined Portuguesa Santista. In the same year, they moved to Santos and Neymar shifted to play for Santos FC. As he was leading a successful career, his family managed to buy a house which was their first property. Neymar's contract to an upgrade to the Santos first team occurred when he was 17 years old. This was his first professional contract which paved the way for sponsorship deals.
Paris Saint-Germain
On August 3, 2017, his former team, Barcelona, officially announced the transfer of Neymar to Paris Saint-Germain. Neymar's transfer remains to be the most expensive as his representatives paid 222 million pounds to the club. Normally, La Liga receives payments to facilitate the release of a particular player, and they later give the cash to the selling team.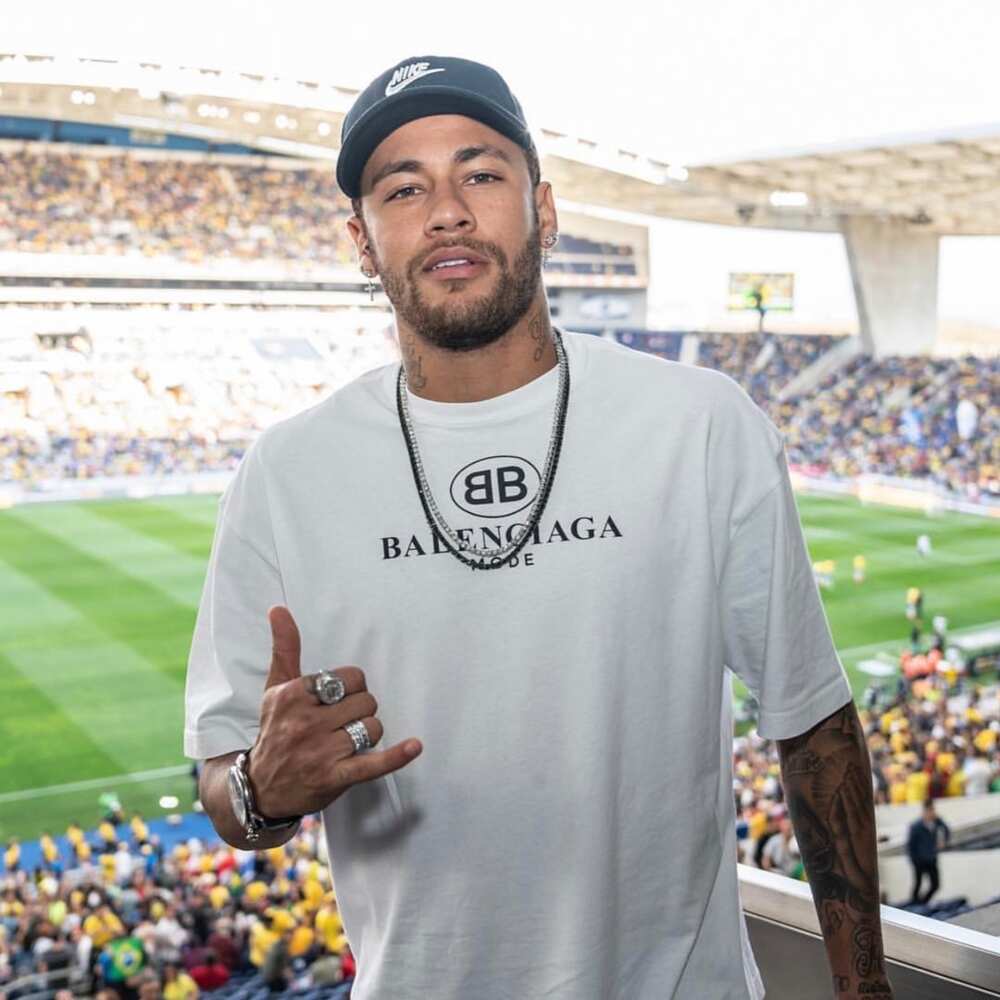 However, things occurred differently during Neymar's transfer as the money was directly transferred to Barcelona since La Liga had rejected the payment. This is because they claimed that PSG had violated Financial Fair Play rules. Nevertheless, he still joined the team and was given the number 10 jersey. Neymar's contract with the team ends in 2022.
READ ALSO: Sadio Mane bio: age, wife, club, salary, stats
Neymar's stats
Below you will find the stats of this young and talented footballer that will impress you whether you are a football fan or not.
The 2014 World Cup
On June 2, 2014, he was declared part of the Team Brazil in the year's FIFA World Cup. In the first match of the tournament, he obtained his 50th international cap after beating Croatia with a good 3-1. He also led the team to beat Cameroon with 4-1 and emerged victorious against Chile during the penalty session.
However, he was not able to continue participating in the World Cup as he underwent severe injuries while playing against Columbia. This did not prevent the footballer from appearing on the 10-man shortlist for the tournament's Golden Ball Awards. He was declared the third top goal scorer and received the Bronze Boot.
2015 Copa America
At the age of 22, Neymar had already scored 40 goals in 58 international competitions. On March 26, 2015, he led the Brazilian national team to a friendly win against France with a 3-1 score. After a few months, he also led the team to beat Peru 2-1. Unfortunately, they got beaten by Columbia when the game ended at 0-1.
2016 Olympics
In June 2016, he was chosen to be the team captain of the Brazil squad. On August 13, Neymar scored the first goal of the match and led his team to victory. On the 18th of the same month, he scored the first and final goals of the game against Honduras where the game ended with a 6-0 win.
After two days, he scored the first goal against Germany, and the game ended with a win for Neymar's Brazil team at 5-4 after he scored the winning penalty. This victory led the team to receive their first Olympic gold medal in men's soccer. Allegations from former Brazil players about Neymar being unfit for the captain position ceased after the victory.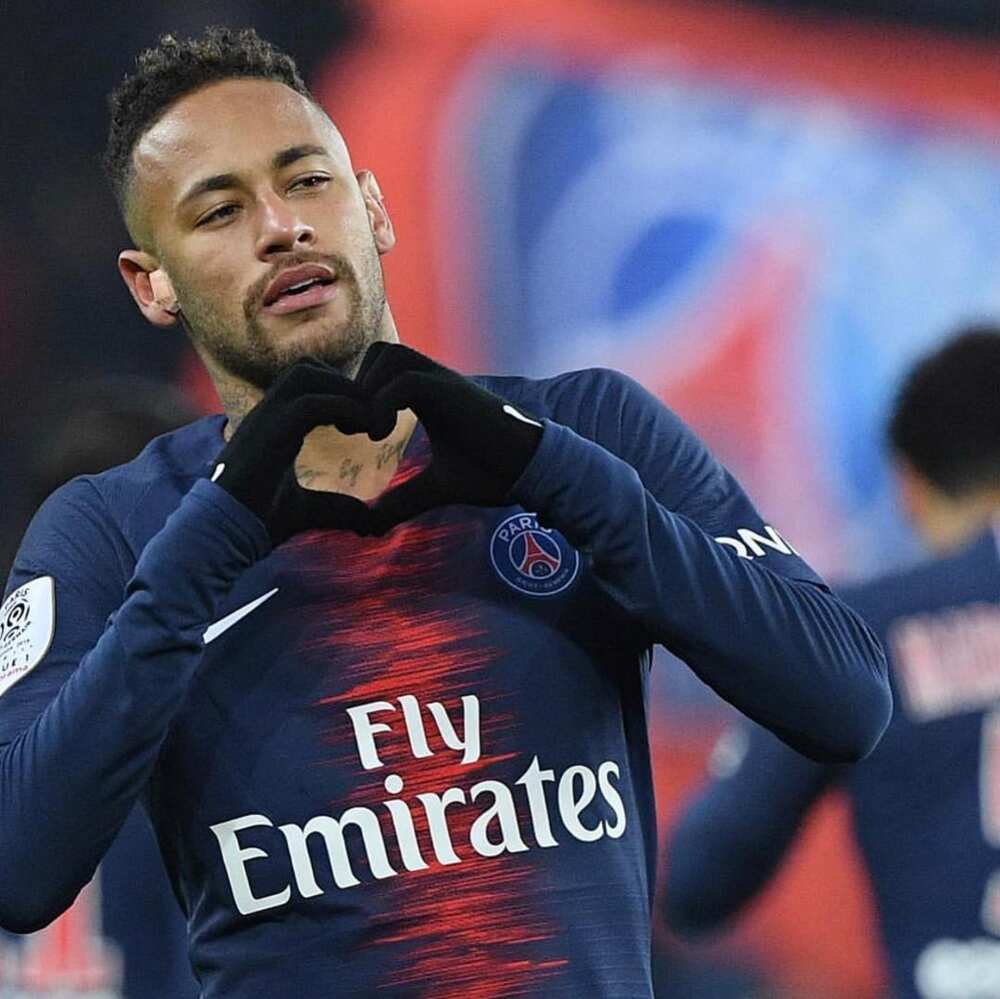 2018 World Cup
After three months of being absent from the field due to a foot injury, he scored a goal during a friendly match with Croatia on June 3, 2018. The match, which took place at Anfield, ended at 2-0. In the following week, Neymar Jr. was declared the third highest goal scorer after scoring his 55th international goal during a match against Austria.
On June 22, he scored the second goal as they played against Costa Rica. Following this goal, the footballer was listed in the all-time scoring chart at third position after Ronaldo and Pele. On July 6, Brazil got eliminated from the World Cup after losing to Belgium, 2-1.
READ ALSO: Eden Hazard bio: age, height, wife, salary, religion
2019 Copa America
On June 5, 2019, he suffered an ankle injury during a Copa America match against Qatar. Regardless of Neymar's injury, Brazil still won at 2-0 and Qatar got eliminated from the tournament. However, the footballer is expected to be absent for weeks so as to recover.
Neymar's salary and net worth
In reference to Neymar's age, it is quite impressive that he makes an approximate $90 million as salary. Neymar's net worth is estimated to be around $185 million.
Religious status
Neymar is a Pentecostal Christain. Occasionally, he has been spotted wearing headbands written '100% Jesus'.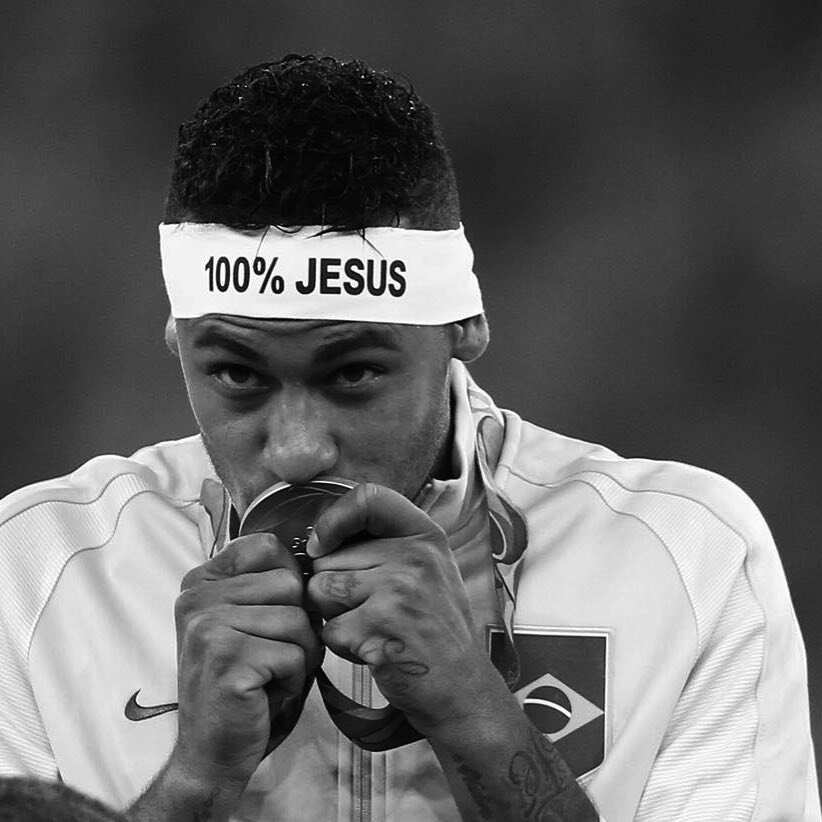 Family
There is no mention of Neymar's wife as there is no record of this. However, David Lucca is the name of Neymar's son whom he had with ex-girlfriend Carolina Dantas.
Neymar has an incredible relationship with his sister Rafaella Beckran. He has a tattoo of her face on his arm while she has a tattoo of his eyes on her arm as well.
Neymar Jr. Instagram followers are currently at 120 million, symbolizing that many people support and believe in him. Regardless of all the praises he receives, he believes that there is always room for improvement. Numerous former and current professional footballers such as Ronaldinho, Ronaldo, and Xavi, among others believe that Neymar is headed to becoming the best footballer in the world. Well, considering his exemplary performance so far, it would be hard not to believe so too.
READ ALSO: Paul Pogba bio: age, height, salary, net worth, girlfriend
Source: Legit.ng