Marco Reus is among the trendiest football players on the planet today. Besides his expertise on the pitch, he also has the appearance of style icons. The footballer has almost perfect fashion sense and is among the best-dressed footballers of our time. From his past days when he wore out-of-the-ordinary and flashy hairdos, the German star seems to have matured in recent years.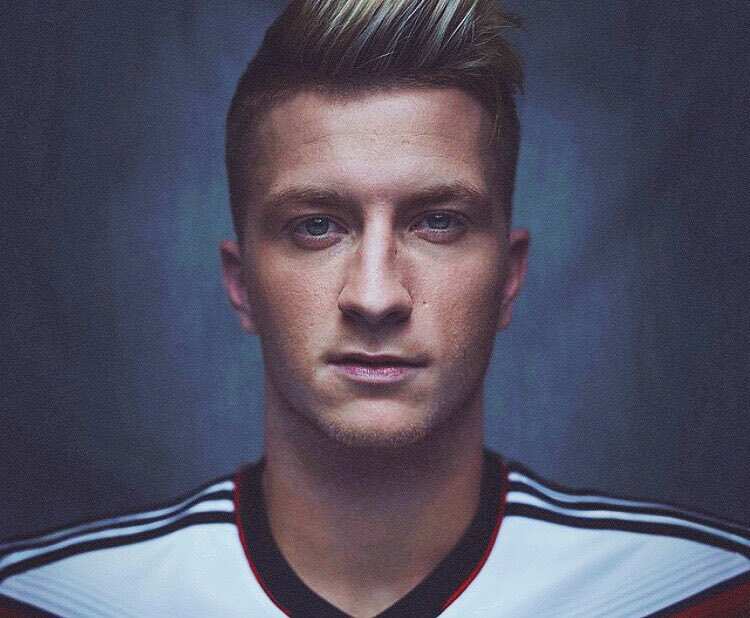 Marco Reus is a professional football player who is an attacker well-known for playing for his country's national team and Borussia Dortmund. His career dates back to 1994. Having played critical roles for both his country and club, Marco took part and represented his country in the FIFA 2018 World Cup in Russia.
Marco Reus profile summary
Real name: Marco Reus
Date of birth: May 31, 1989
Age: 30 years old
Place of birth: Dortmund, Germany
Father: Thomas Reus
Mother: Manuela Reus
Siblings: Yvonne and Melanie
Girlfriend: Scarlett Gartmann
Children: 1
Zodiac sign: Gemini
Height: 5'11" (180 cm)
Weight: 75 kg
Profession: Footballer
Nationality side: German
Marital status: Unmarried
Car collection: Range Rover, BMW, Mercedes
Hobbies: Playing football, video games, watching movies, etc.
Awards: Footballer of the Year in Germany
Net worth: $20 million
Career
In 1994, Marco began playing football for a local club called Post SV Dortmund and later, in 1996, joined Borussia youth ranks. In 2006, during summer, he left Borussia Dortmund and joined Rot Weiss Ahlen, an under-19 team. This was his first professional and senior football club to join. Up to 2009, he played for Rot Weiss Ahlen and was featured in about five games for this club's second team where he scored a goal in the first two games. In this club, he scored five goals and made 44 appearances. The star made his global debut in 2011, a year after the first call-up; Marco Reus injury made him miss out on the World Cup.
In May 2009, Reus signed a contract for four years with the Bundesliga - Borussia Mönchengladbach. Together with the team, he played in Bundesliga's German league. Out of the 99 appearances he made, he scored 37 goals over the three years he was part of this team. He left the club in 2012.
The biggest offer of Reus came when he was reckoned to join one of the top football clubs of Germany in 2012 known as Borussia Dortmund. He had previously played for the youth team of this club. Afterwards, Reus sealed a deal for five years with this club at an amount of €17.1 million. Officially, Marco became part of Dortmund on 1st July 2012. He established himself in the first season of joining this team and contributed to the team's success of reaching the finals of the UEFA Champions League.
On 29th September, Marco scored two goals for Dortmund, pushing the team to the top position of the Bundesliga table after six games.
On 3rd October, he started scoring for Dortmund, which earned them a draw that took the team to the Premier League Champions. This marked Marco's first appearance in the Champions League. On 21st November in the Champions League by Dortmund, Reus scored the first goal for the team.
In a dazzling performance in the 2015-2016 Bundesliga season, he scored a total of 12 goals for Dortmund. As the season came to an end, he had a tally of 23 goals in only 43 appearances. This season witnessed one of the best performances of the team in the series.
For the other seasons, Reus appeared in fewer games, though his performance remained outstanding. In the three following seasons in Bundesliga, he played 30 games and accumulated 15 goals, which is deemed to be an above-average performance.
Globally, Marco made his German under-21 debut against Turkey on 11th August 2009. He went on to the senior level and made another international debut with Germany in May 2010 against Malta. In total, he made 19 appearances for the German national team, scoring seven goals.
Marco Reus transfer
On 1st July 2012, Marco Reus moved from Borussia Monchengladbach to Borussia Dortmund. This transfer window period will come to an end on 31st August 2019.
Marco Reus girlfriend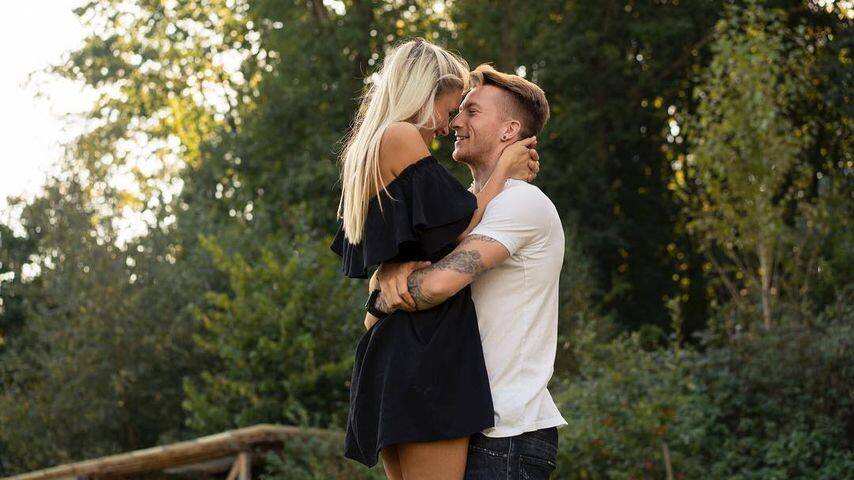 Marco has never been married before. However, he has been in different relationships in the past years. Between 2009 and 2013, he was dating Carolin Bohs, but they separated. Bohs was believed to be a German TV presenter and had known the football player since their teenage days. After the end of this relationship, he began dating Scarlett Gartmann, a German model. These two have been together from 2014 to date. The two welcomed their first child, a girl, in March 2019.
READ ALSO: Neymar back to Barcelona: could we see a re-union?
Marco Reus net worth
The net worth of Marco is approximated at $20 million. Marco Reus salary is around £160,000 on a weekly basis; he is Borussia Dortmund's highest paid player.
Height and weight
Reus is of an athletic build but with a slim body, which enables him to have the best speed required for a forward; this complements the star's creativity. That said, this celeb has good body weight and height. He weighs about 75 kgs and stands at 5 feet 11 inches (1.80 meters).
Marco Reus tattoos & their meanings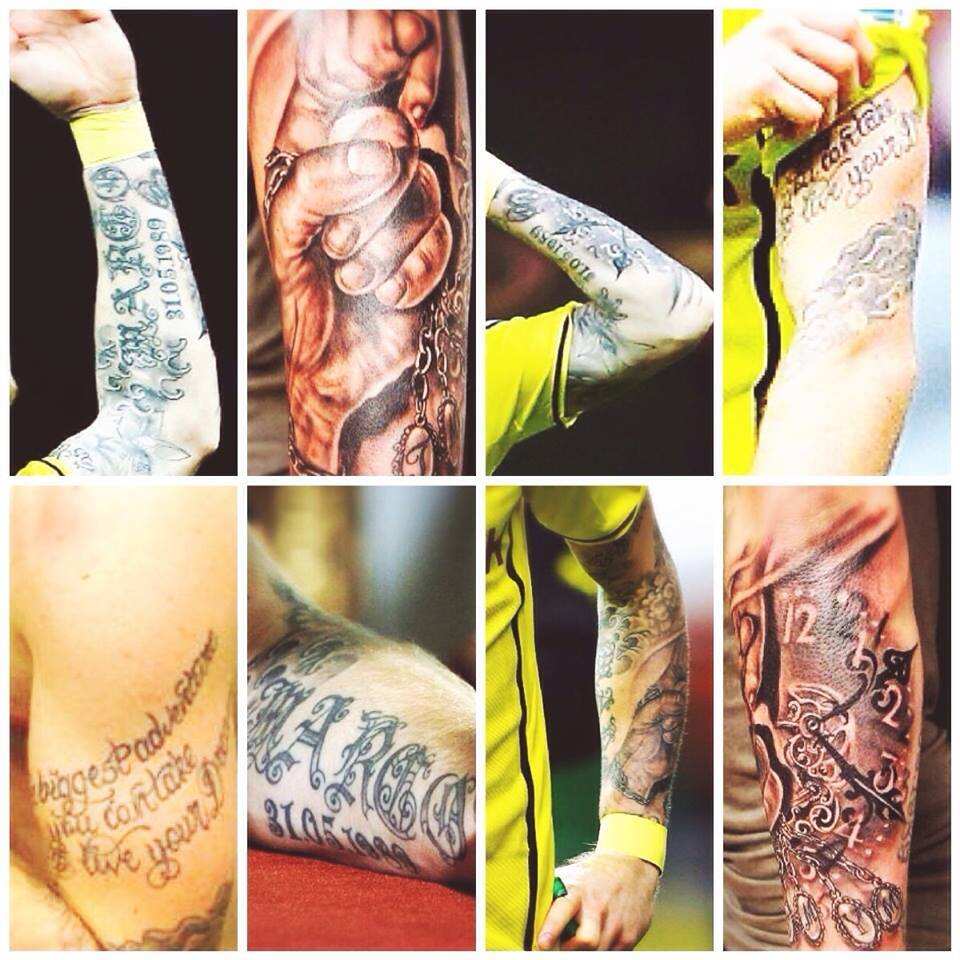 The Borussia star Reus is among the footballers who are in demand in the world today. He is easily recognizable in the football arena due to the tattoos on his body. Discover the name and meaning of each of Marco Reus tattoo below:
The first tattoo is that of a child's hand holding an adult's index finger. This is inked on his left forearm. Some sources have it that this is a representation of Marco's hand being held by his nephew, Nico.
There is Reus's birth date engraved on the left forearm as well. The tattoo is written MARCO and 31.05.1989. His name is written in bold letters above the birth date.
There are four pendants engraved on Marco's left forearm with alphabets T, M, Y, M. The baby's hand seems to be reaching out for these pendants. The pendants are the initials of family members' names: T for his father Thomas, M for his mother's name Manuela, Y for his elder sister's name Yvonne, and M for Melanie who is his other sister.
There is a half clock tattoo on Reus's left forearm. The clock shows a specific time that is not clear, and the reason for it is also unknown.
There is a phrase, "The biggest adventure you can take is to live your dream", written on his upper left arm. Below this quote is "fire".
There is a cloverleaf band on the star's left wrist.
The footballer has a lion on the left shoulder.
There is a flower on the inner part of the left elbow.
READ ALSO: Aaron Wan-Bissaka to Manchester United: is it a done deal?
Marco Reus haircut 2019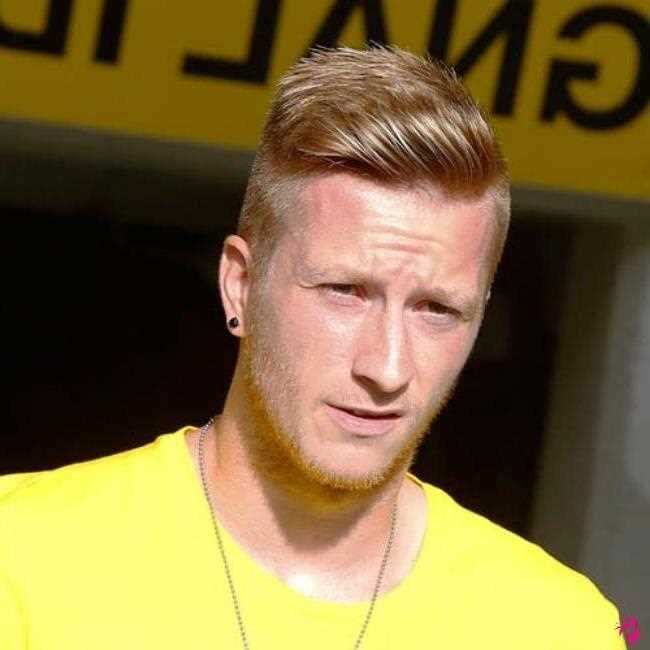 The Marco Reus haircut could be one of the best cuts anyone can get. The hairstyle primarily consists of a fade or undercut and a comb-over. However, this renowned football player has rocked a faux hawk and a textured slick back in the past. Even though you cannot copy his topnotch skills on the field, you can definitely style your hair like this star.
The name of the hairstyle is a comb-over fade. It is a high fade and the hair left on top is long. While styling the haircut, apply pomade and then brush the mane to one side to have that desired textured look.
Marco Reus stats
Appearances: 27
Starts: 27
Minutes played: 2,322
Substitute appearances: 0
Substituted: 5
Possession: 1,407
Goals: 17
Assists: 8
Shots: 70
Own goals: 0
Penalties: 3
Penalties scored: 3
Yellow cards: 3
Straight red cards: 1
Fouls committed: 31
Crosses from open play: 19
Free-kicks: 26
Marco Reus is among the best players in the world. Despite the many cases of injuries he has experienced in the past, he still does not disappoint when he gets the chance to play soccer.
READ ALSO: Tanguy Ndombele to Tottenham Spurs: will it happen?